Sims 4 Star Wars CC & Mods: The Ultimate List
This post may contain affiliate links. If you buy something we may get a small commission at no extra cost to you. (Learn more).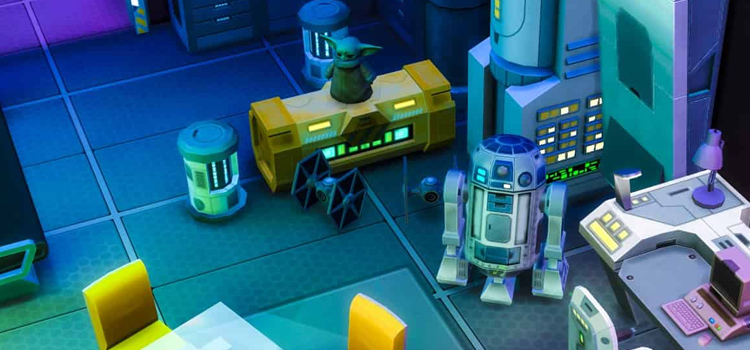 Much like Star Wars, The Sims 4 appeals to all demographics – even those that aren't usually enticed by gaming.
This makes the two a match made in heaven. And it was only a matter of time before they came together in something like the Journey to Batuu DLC expansion to TS4.
But Star Wars DLC isn't the only way to get some medichlorians into your Sims' life. Modders have been hard at work making Star Wars CC since the release of TS4, and we'll be taking a look at some of the best ones around.
15.

Versatile Star Wars Hats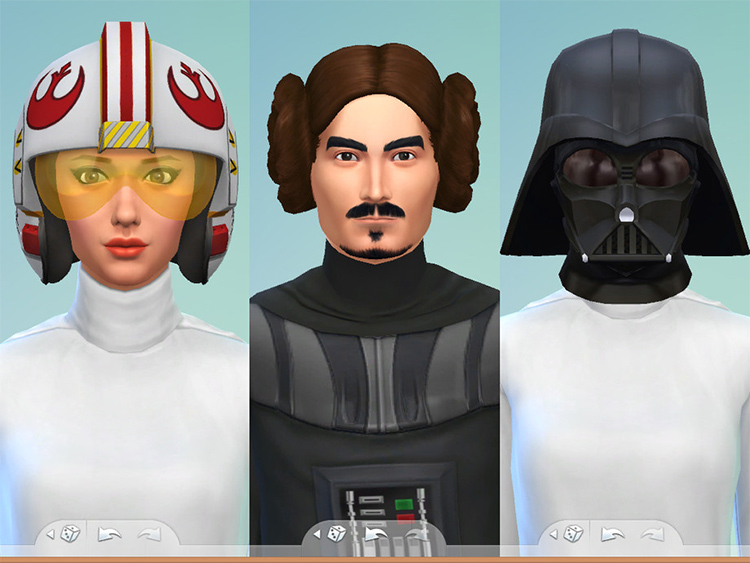 A lot of fans in real life enjoy cosplaying characters from the Star Wars franchise, whether they match their gender or not.
While these Star Wars hats were already in the base game, they were regrettably locked to just one gender or the other. With this nifty mod, you can now switch them around at will.
Make a sexy female Vader, an eccentric male Leia – or just use these as accessories for whatever costume you may be coming up with.
14.

Ahsoka Tano's Face Paint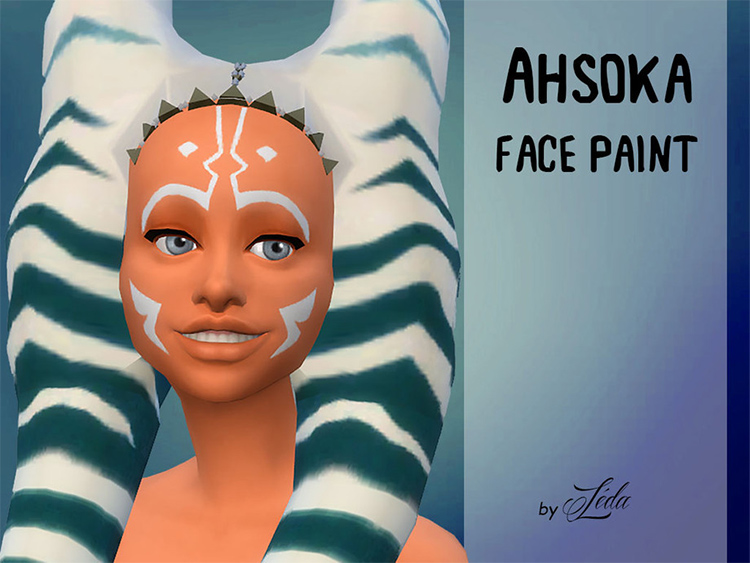 Few characters from Star Wars' universe are as bad-ass as Ahsoka Tano, a Jedi trainee-turned rebel leader who played an important role in resisting the Galactic Empire in the space between the first two trilogies.
This Face Paint mod will let your Sims carry her fighting spirit with them. It'll take a true connoisseur to realize they're not really from Planet Shili.
The same author also offers us a generic Togruta face paint, and one modeled after the wise and patient Jedi Master Shaak Ti.
13.

Star Wars Christmas Sweaters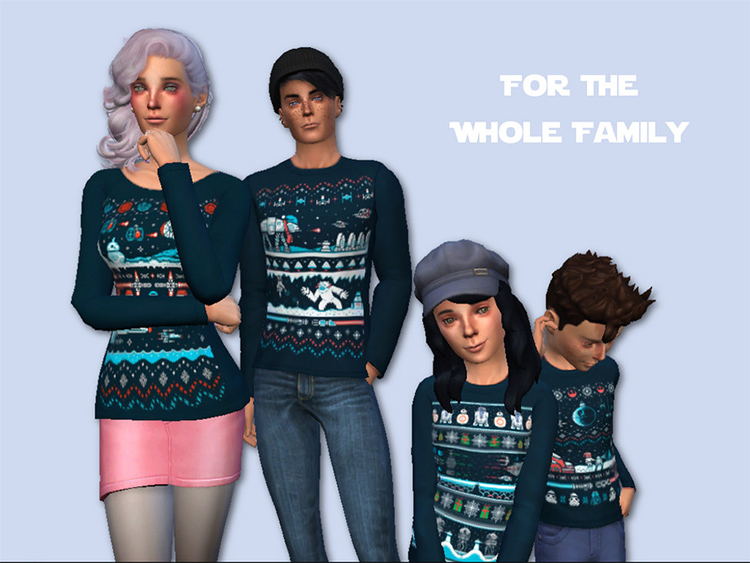 The holidays are a special time of the year when we can let go of our mundane worries and dive into what's most important – friends, family, and Star Wars marathons.
These Star Wars Christmas Sweaters are perfect for keeping your Sims warm during the cold months, while also showing their Star Wars pride.
They come in three distinct models depicting iconic battles and memorable scenes full of details like the Death Star, BB8, and Luke hanging upside-down in Hoth.
They're all a charming aquamarine base color that lets the knit patterns stand out.
12.

Baby Yoda Earrings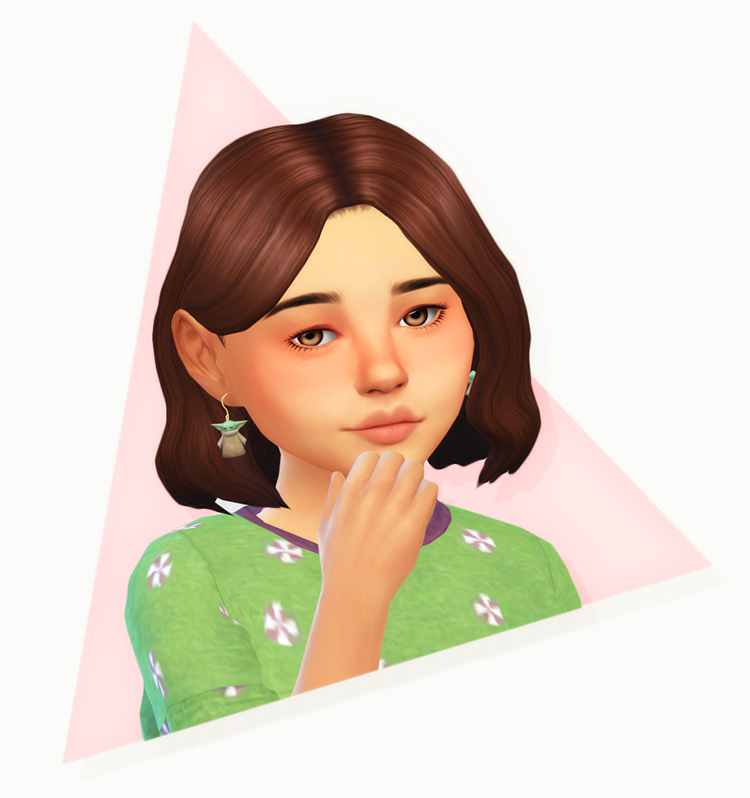 Another fantastic way for your Sims to show their Star Wars fandom in style are these Baby Yoda Earrings, available in eight different colors.
Baby Yoda is simply adorable, and after so many Mandalorian memes, there isn't a soul left that doesn't recognize the little blueish bundle.
These earrings would be the envy of everyone around you in real life, and they definitely will be in the virtual realm of The Sims 4.
You'll be hard-pressed to find a more delicate accessory to show your love for galaxies far, far away.
11.

Printed Bodycon Dresses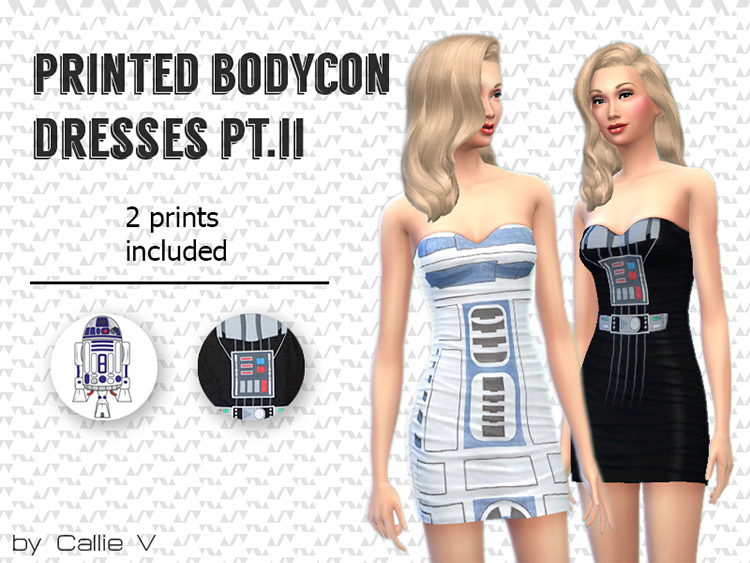 Maybe rather than delicate accessories, you'd rather your clothes just screamed Star Wars everywhere you went.
Then these Printed Bodycon Dresses might pique your interest.
This sci-fi themed set of tight sleeveless short dresses are fantastic to go out and party with your Star Wars fan pride spilling out of every one of your pores as you dance the night away – or, well, as your Sim does.
There's a Light Side option based on the most famous droid in the world – R2D2 – and one for the Sith within you that's based on Darth Vader's high-tech suit.
10.

Star Wars Fanboy Teez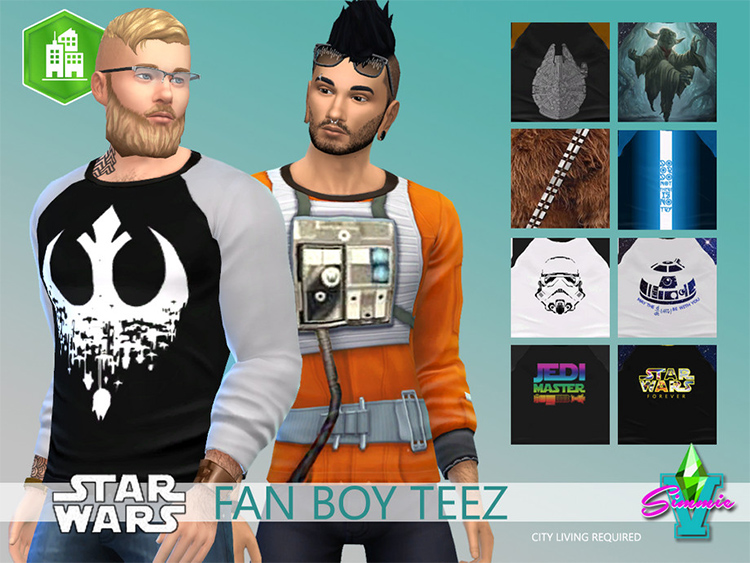 A better option for everyday wear might be these Star Wars Fanboy Teez, with designs that are a bit more on-the-nose than our previous entry's.
This pack of t-shirts features ten amazing designs depicting the Millennium Falcon, a stenciled Stormtrooper helmet, a Rebel Fighter's outfit, and even Chewbacca's hairy Wookie chest!
These are just the thing you need to celebrate the arrival of Journey to Batuu – or simply to let everyone know how much of a turbo-nerd your Sim is.
9.

Star Wars Travel Poster Teez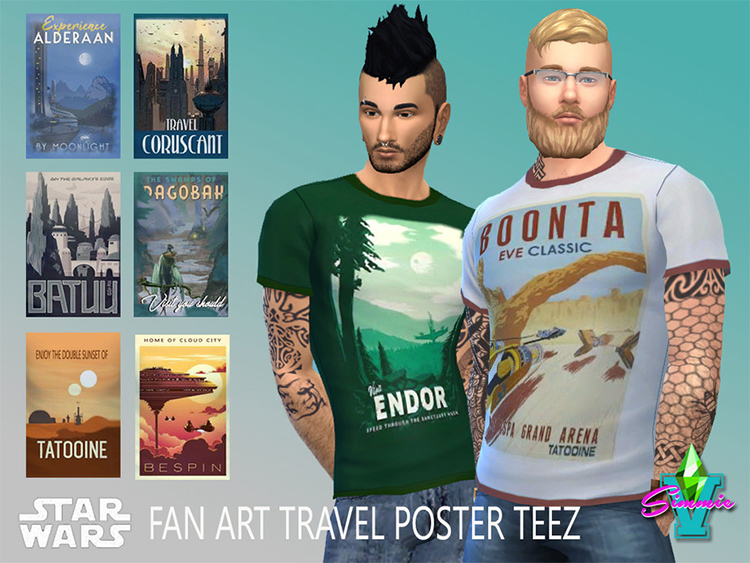 The same author brings us these Star Wars Travel Poster Teez that may be better suited for a Sim who prefers a little bit of subtlety and taste, over looking as if they're wearing Chewbacca's pelt on their torso.
These t-shirts feature designs mimicking 60s-70s style travel ads, with captions like "Travel Coruscant", "Experience Alderaan by Moonlight" and simply promoting touristic events such as the Boonta Eve Classic on Tattooine.
This pack includes eight fantastic designs wearable by all genders and body types.
8.

Lightsabers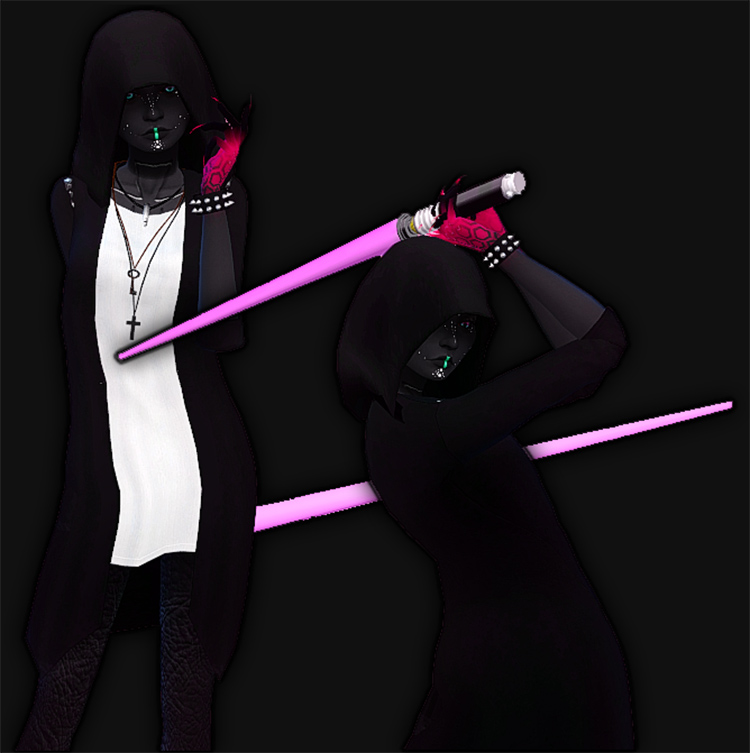 If you want to immerse your characters in Star Wars lore and can't wait until you get Journey to Batuu, then this Lightsaber CC accessory might be the thing to grab.
They're probably the best in the market, with a healthy glow and slim design that stands miles ahead of some of the other lightsabers out there.
One of their best features is that they come in eight different colors ranging from Dark Side red to Mace Windu purple.
Variety won't be an issue with this set!
7.

Jedi Knight Pose Pack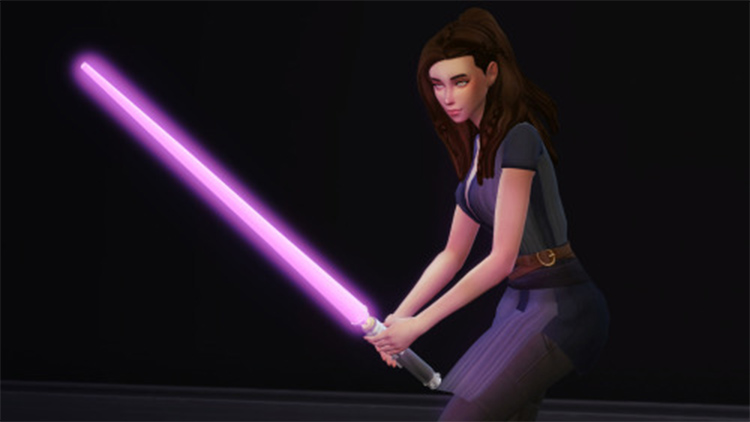 Once you've got your lightsabers, you need a way to show them off other than walking around with a sword stuck to your hand – and what better way than with a Jedi Knight Pose Pack?
This collection of poses by Cazmari includes everything you need to take cool screenshots or craft interesting scenes. There are defensive poses, mid-swing poses, and even some iconic Force-wielding ones.
Another option comes by the hand of Simunderstood, who offers the more combat-focused Lightsaber Fighting Pose Pack.
And if you want a direct link to the pose pack, you can find it here on Sim File Share.
6.

Star Wars Art Collection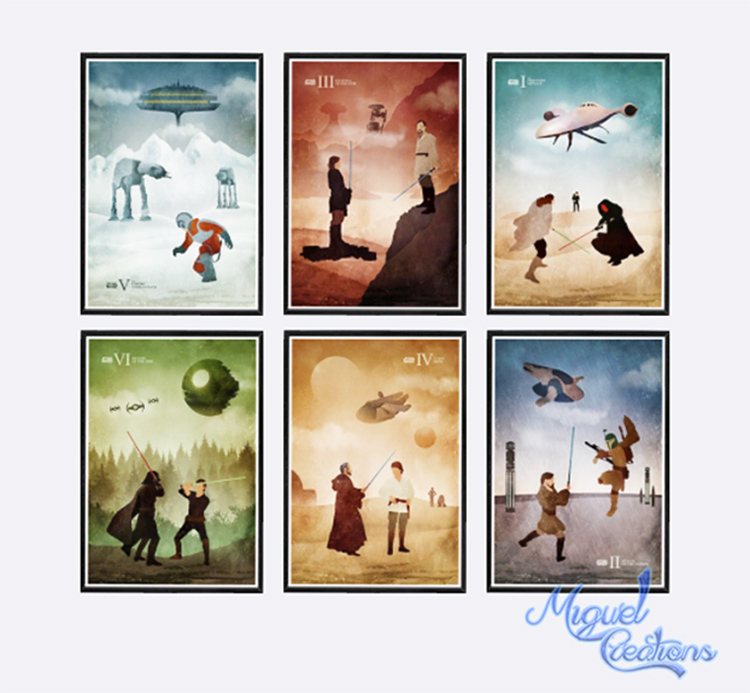 Once you're done outfitting your Sims, it's time to decorate their homes with merchandise worthy of a true Star Wars connoisseur.
These tasteful and artsy Star Wars posters/pictures feature some of the most iconic scenes, characters, and locales from each Episode in the first two trilogies in styles ranging from stencil to Pop Art.
They'll fit in any bedroom inhabited by a Star Wars lover, and make fantastic details to bring some personality into other areas of the house.
5.

Star Wars Custom Sims
Do you want Rey in your game? Kylo Ren? Maybe Obi-Wan Kenobi?
Don't worry, the creators found on StarWarsSims' Tumblr have you covered.
This convenient Tumblr page brings together many artists and creators that breathe to life Star Wars characters in The Sims 4.
They have a varied catalog from all three trilogies organized by episode, and plenty of them don't even use CC or stuff from DLC expansions.
I'm especially fond of Qui-Gon Jinn, who looks identical to Liam Neeson in The Phantom Menace, and Jaina Solo from Star Wars Legends.
4.

Rey Outfit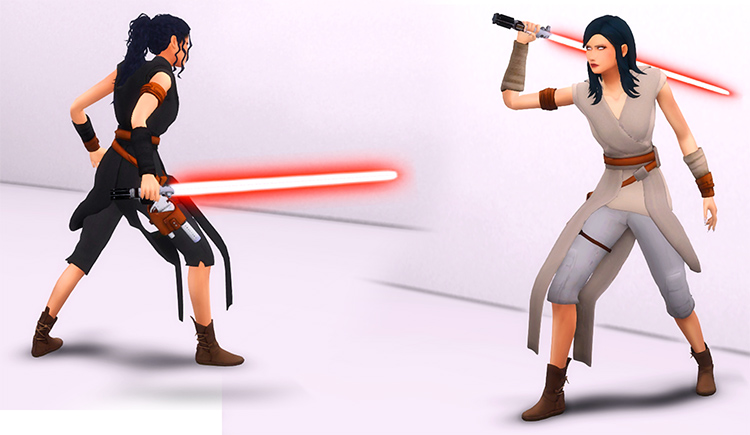 Rather than downloading a character's likeness, you can always dress your own Sims up as your favorite heroes – and few outfits are quite as high-quality as these Maxis Match Rey robes.
There's a certain softness to these flowy robes that makes them stand out from the rubble. They're simple, appealing, and will look fantastic on any female Sim. They're also available in several colors ranging from the original beige to darker shades.
This outfit was made by the same author as our previously covered lightsabers, so they make a fantastic combo together.
3.

StarWarSims – Stuff Modpack
Rather than hunting for individual bits and pieces of CC, I prefer comprehensive modpacks where I can have fun discovering new things as I play with them.
This StarWarSims Modpack is just that for Star Wars-themed furniture.
It features fridges with Star Wars posters, trash cans with Star Wars-themed decals including the Rebel Alliance and Galactic Empire's symbols, and giant rugs with fantastic ukiyo-e style illustrations.
There's also a grill shaped after the Death Star, and a kitchen set modeled after Darth Vader's high-tech chest-piece.
It's quite varied, and you're sure to love it.
2.

Star Wars Bedroom Set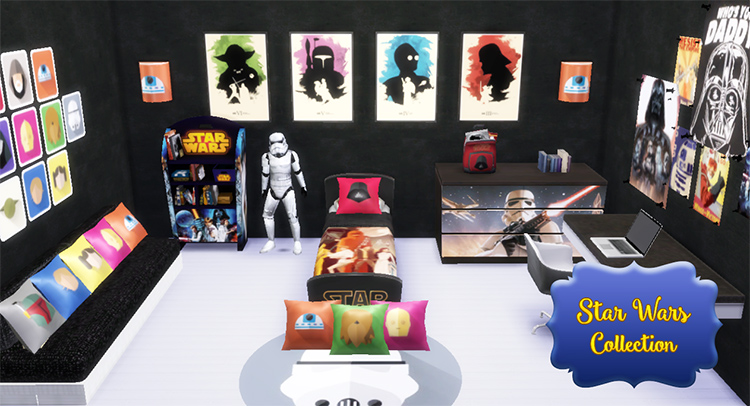 Every respectable Star Wars maniac has a room dedicated to storing their collectibles and basking in the smell of plastic and ink while enjoying some Jedi meditation – and this Star Wars Bedroom Set CC is ideal to help your Sim decorate theirs.
It includes an amazing Star Wars-themed rug, modern furniture with Star Wars decals, tons of posters, and other forms of tasteful decorative art.
There's even a life-sized Stormtrooper model statue to add to your collection!
Whether you're designing a showroom or a very sci-fi loving kid's room, this bedroom set has you covered.
1.

From a Far Galaxy
Sure, getting some Star Wars-themed appliances or decorating your room with merchandise is cool.
But what about turning your home into the inside of a Star Wars spaceship?
The From a Far Galaxy modpack features everything you need to design sci-fi starship interiors. It includes several Star Wars-specific items such as flyable Tie-Fighters (which take the place of photo drones), an R2D2 jukebox, an AT-ST walker mailbox, and much more.
There's even alien flora for your garden and the space chess table seen in the Millennium Falcon.
Whether you want to add a couple of small high-tech details to a space or turn it into the Death Star, this is the way to go.
Browse:
Lists
Star Wars
The Sims 4
Video Games