Sims 4 Starbucks CC & Lots: The Ultimate Collection
This post may contain affiliate links. If you buy something we may get a small commission at no extra cost to you. (Learn more).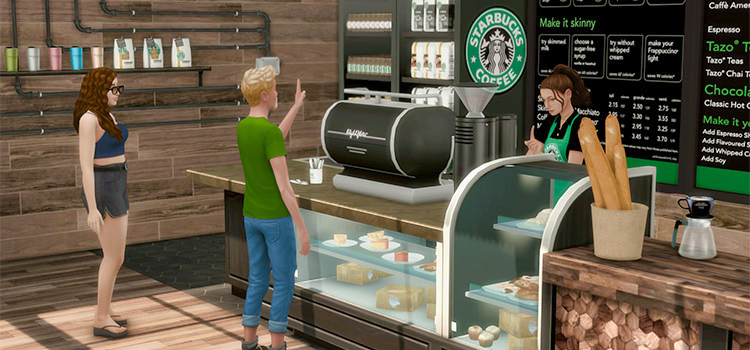 It's the middle of the day.
Work is boring, energy is low, and your Sim needs a little pick-me-up. What to do? They could powernap at their desk. They could walk around the office to wake up.
Or they could grab a nice, tall, iced beverage from the Starbucks one block over.
I don't usually install custom community lots. But I love high-quality custom clutter.
I love it when a home (in The Sims) is overflowing with random objects.
Makes it look more used, you know?
So I've listed a bunch CC packs that are full of Starbucks-themed items, along with a few custom Starbucks building lots for you to add to your bustling Sims community.
TS4 Starbucks Lots
1.

Starbucks – Collab with Insimniacreations by Bean's Builds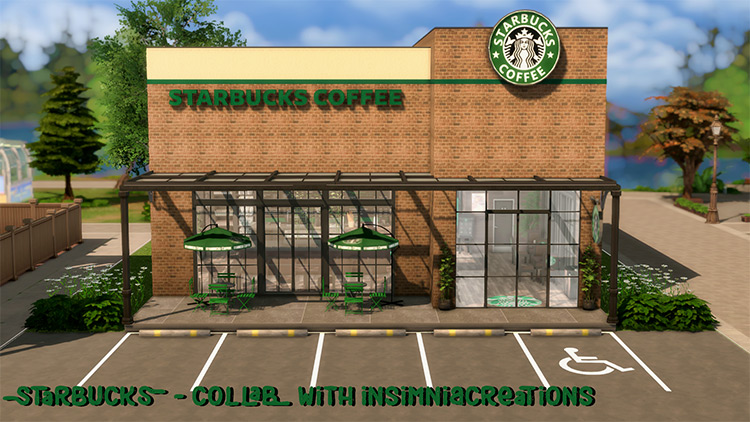 This is one posh Starbucks build, and the little details in it give so much character.
The hexagonal wooden texture of the counters, for instance.
Or the huge, floor-to-ceiling windows that give the place gorgeous natural lighting.
Or the Starbucks logo floor print at the entrance.
The whole vibe of the place is very cozy and homey – as most coffee shops tend to be. And it makes for a beautiful community lot.
If you're a big fan of social interactions and out-in-the-world gameplay (as opposed to just staying in your Sims's home neighborhood), this is an excellent lot to put down.
P.S. Do note that the functional café counter by Insimniacreations isn't free. However, it is optional. You can still download the lot and put it down even if the counter isn't there.
2.

Starbucks To Go! by ArLi1211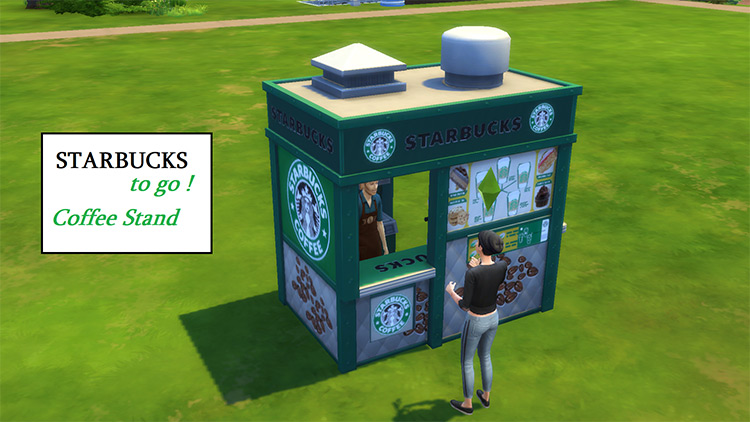 Expansion Pack Needed: The Sims 4 Discover University
If you have Discover University installed, this Starbucks coffee stand will be a great addition to your gallery.
It's basically a recolor/revamp of the Coffee Stand, Britechester edition.
So it functions as it usually does in the game, and it still counts as a buyable coffee cart.
Find it in the Outdoor section for $1,000 Simoleons.
You can order the usual drinks and snacks for your Sims from it, including scones, chocolate croissants, coffee and matcha tea.
Biggest difference is that everything is green and distinctly Starbucks-themed.
3.

Starbucks Coffee Shop V2 (Furnished) by ddaengsims
Expansion Pack Needed: The Sims 4 Get to Work
Game Pack Needed: The Sims 4 Spa Day
This custom fully-furnished Starbucks lot needs both Get to Work and Spa Day to work.
It's a bit demanding, sure.
But if you have both packs installed, I highly recommend you give this lot a try!
The outside looks like a suburban, small-town coffee shop with wooden panels and a rough stone floor exterior.
However, the use of dark colors and metal finishes in the interior makes it a feel little more contemporary and fashionable.
Sort of like a mom-n-pop coffee shop in an urban settings.
All that is to say, it's a beautiful community lot that would make for fantastic indoor shots and scenery for story-driven gameplay.
Because it's so heavily furnished, the file is a little big. So if you're downloading it over a slower connection, just know there are quite a few odds n' ends in this lot.
TS4 Starbucks CC: Décor Items, Clutter, & Misc.
4.

Starbucks Coffee Shop CC Set by ddaengsims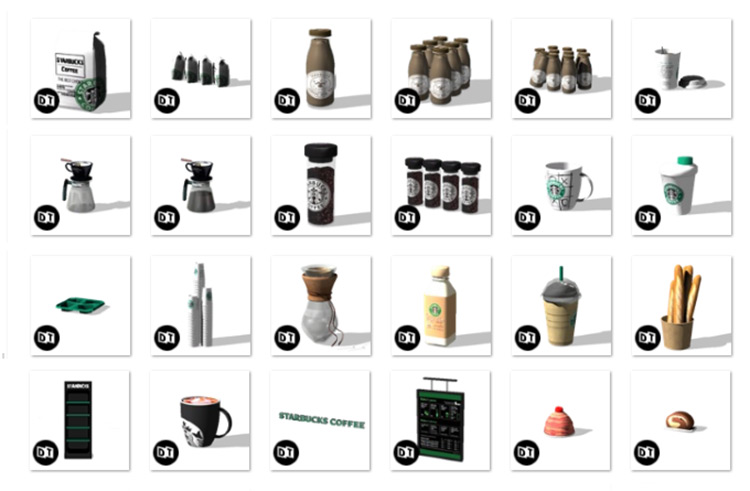 This is undoubtedly the most extensive custom Starbucks CC stuff pack on this list.
If you don't want to download any of the custom Starbucks lots from the previous category, you might as well download this set.
It's got literally everything you need to build a Sims 4 Starbucks coffee shop – and then some.
I'm not just talking coffee cups, café tables, and a Starbucks sign (that is all here though).
I'm also talking bagged coffee with the Starbucks logo. Jars full of coffee beans, and a basket of French bread with the Starbucks logo on the side.
Even a custom Starbucks menu board and a Starbucks tray.
There's even an empty Starbucks coffee mug, and a Starbucks coffee mug with Latte art.
And don't even get me started on the decorative mini cakes and the paper bags…
As if that wasn't enough, this pack also includes Starbucks barista uniforms for Male and Female frames. Find them in CAS and try them on!
I don't even know how many objects are in this pack, but I think the preview photo speaks volumes.
The creator was also kind enough to include the necessary meshes in the download!
5.

Starbucks Paper Coffee Cups (With Names) by Descargas Sims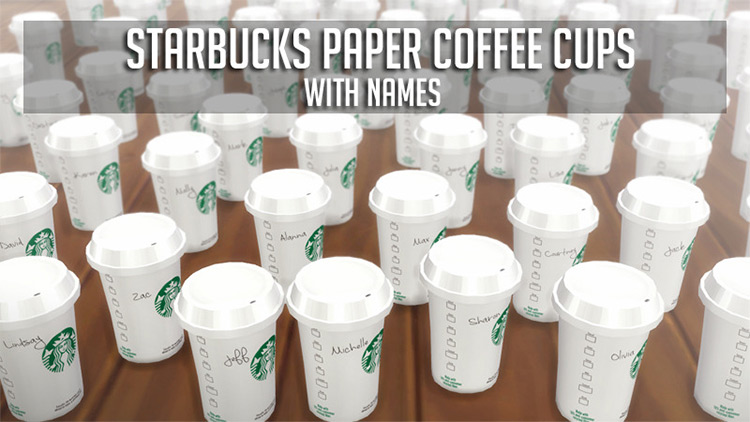 This is an incredibly ambitious project, and I cannot even begin to imagine how many recolors the creator had to do just to achieve it.
As the name suggests, this custom object is a Starbucks paper coffee cup with a handwritten customer name on the side.
Already, the concept is cute. It adds a bit of personality to your game.
What's impressive is that Descargas Sims created different swatches with different names.
And they split those options further into two categories: typically Male names, and typically Female names.
For the Female category, there are 85 swatches. Yep! That's 85 totally different female names. For the Male category, there are 41.
So that's a grand total of 126 unique names scribbled on the side of a coffee cup.
And you can even check the notes on the download page to see what names are included!
Like I said; it's incredibly ambitious.
The actual download link for the .package files is a little hard to get through. You'll have to navigate through quite a few pages.
So if you're having trouble with the main download link, I've included the direct Simsfileshare links below:
One for the paper cups with the Female names, and another one for the paper cups with the Male names.
6.

TS4 Star Coffee Set by Helen-sims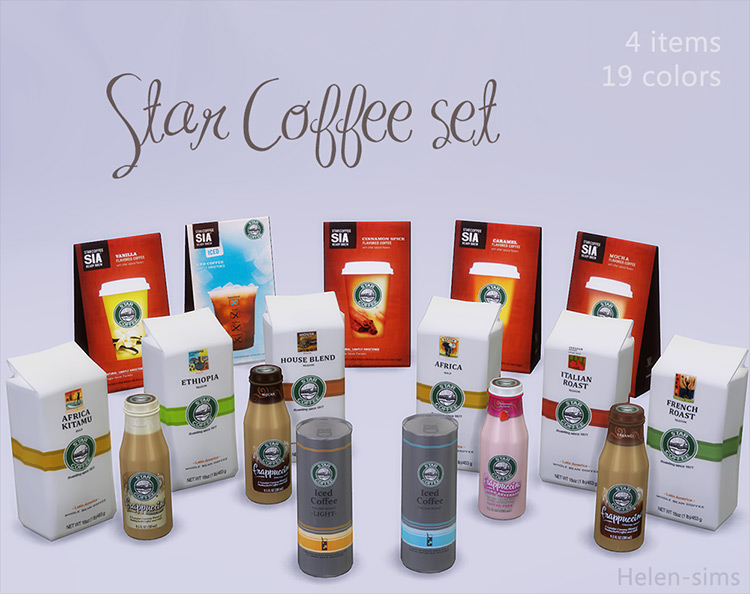 It may not say "Starbucks" on the packaging.
But check out the logo, the colors, and the font.
If you're looking to decorate your custom Starbucks lot, or you wanna show off how expensive your Sim's tastes can be, these'll do in a pinch.
Bags of ground roasted coffee, bottled Frappuccinos, and cans of iced and instant coffee—there's definitely a sizable amount of custom décor in this pack, to be sure.
They also look really good in-game when lined up on a counter.
It may not be Starbucks, but it's definitely a passable clone.
7.

Starbucks Drinks Set by simmerkate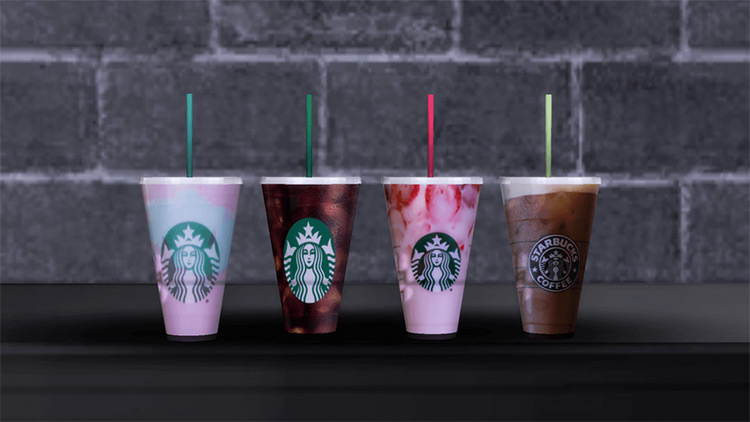 For those sweltering summer days when your Sim needs something to cool them down and pick them up, simmerkate's iced Starbucks Drinks CC can add the perfect visual touch.
It's one miscellaneous object with four swatches, and each swatch is different iced drink.
It doesn't say what these drinks are, sadly. But they look beautiful. And refreshing.
Definitely up to the standard fare that Starbucks usually dishes out.
My best guess would be that one of them's a berries-and-cream-based drink. There's definitely an iced mocha-something in there as well.
8.

TS4 Starbucks Frappuccinos by cropzsims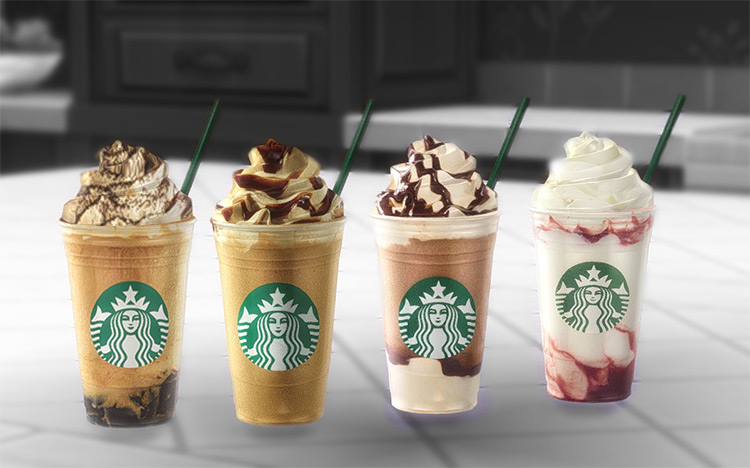 If you're looking for something a little heavier, thicker, and richer than iced Starbucks coffee, then here you go:
Cropzsims's TS4 Starbucks Frappuccinos, in all their syrup-and-whipped-cream glory.
As far as stereotypical Starbucks fare goes, this one definitely takes the cake.
It's exactly the thing that springs to mind when someone says "Starbucks coffee."
When you go to Starbucks, odds are three different tables will have at least one Frappuccino sitting on it.
So it makes sense for there to be a Sims version of this Starbucks treat, and it can definitely help a ton with decorating a café or setting the scene for a story.
And thanks to the .package file names, I can tell you the flavors you'll get for this download: caramel, regular coffee, mocha, and Seriously Strawberry.
Cute, right?
9.

Starbucks Fall Drinks Collection by mel bennett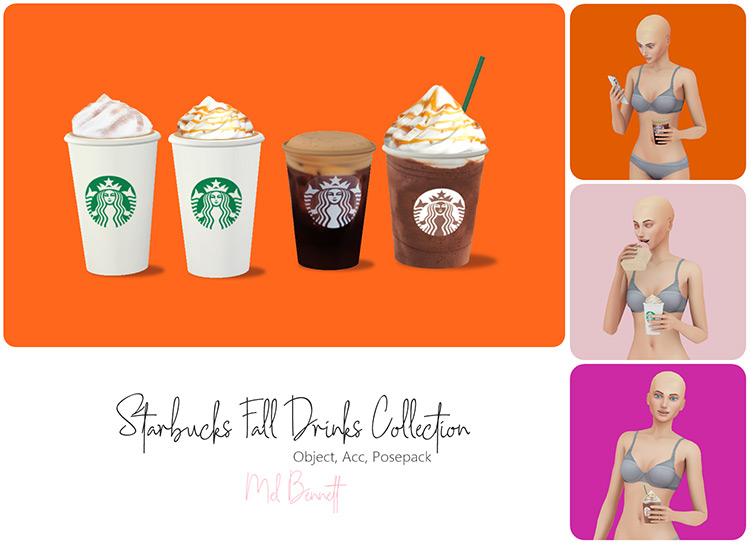 Mel Bennett is one of my favorite custom TS4 pose creators.
They create a lot of high quality packs with excellent concepts.
These drinks just happen to be part of a pose + accessory pack, but Mel Bennett was awesome enough to include three of them as decorative objects/clutter.
There are three .package files for the three drinks.
The Pumpkin Spice Latte in the Starbucks paper cup has a Salted Caramel Mocha swatch, so that's one object with two swatches.
And the other two have their own files: the Pumpkin Cream Cold Brew and the Salted Caramel Mocha in a plastic to-go cup.
They're also available as accessories if you want to take some pictures using the poses in the pack.
10.

Sims 4 Starbucks Set (Part #2)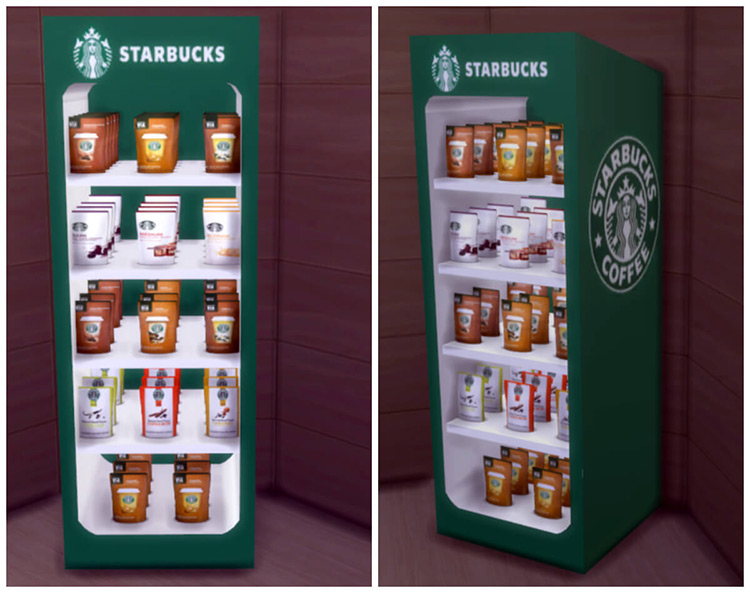 This custom stuff pack contains a decent amount of usable furniture and decorative items.
The crowning glory, for me, is the Starbucks refrigerator.
It's a great display object that you can slot into a corner for your custom coffee shop – and it actually works!
You don't need to turn on bb.moveobjects if you want to place objects on the shelves, like in the preview photo.
Each shelf has 15 slots, and there are about four shelves plus the very bottom. I'm not about to do the math, but it can definitely hold a decent amount.
The same can be said for the decorative/clutter items in this pack.
There's a decent amount of coffee packs, mugs, and to-go paper cups. Awnings, an umbrella table, and a bright Starbucks sign make for a grand total of 21 custom Starbucks items.
If you don't want to download any of the custom Starbucks lots mentioned earlier in this list, then this custom stuff pack is more than enough to help you build your own.
Just don't forget to grab the meshes!
They're linked right above the download CC button on the main CC page.
Browse:
Lists
The Sims 4
Video Games