Best Steampunk Mods & CC For The Sims 4
This post may contain affiliate links. If you buy something we may get a small commission at no extra cost to you. (Learn more).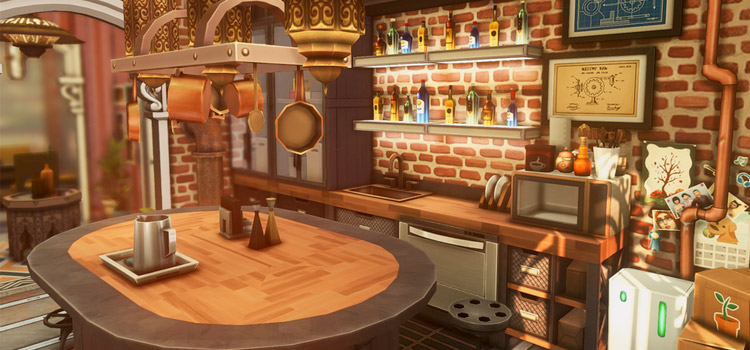 Steampunk is one of the most popular sub-genres of Sci-Fi.
Foregoing the typical futuristic angle for a 19th-century retro twist, steampunk has its own unique fashion, décor, and architectural style.
Since The Sims franchise has heavily favored futurism, there's a whole untapped market bridging steampunk and The Sims 4 together.
While our fingers are crossed for a steampunk-themed pack by EA one day, we can thank the many talented CC makers for holding us over with these great items.
15.

Steampunk Set v1
This set from StrangeStoryteller is the ultimate Steampunk starter pack for your female Sims.
It's a collection that includes a hat, jacket, skirt, stockings, and boots, all of which fit the desired aesthetic.
We counted 69 color variations, but it's possible that there's more.
Teens to Elders can wear these items and they're also base-game compatible.
And best of all?
It's disabled for random.
So you shouldn't have to worry about random townies walking around like they're at a Steampunk convention!
14.

Vera – Steampunk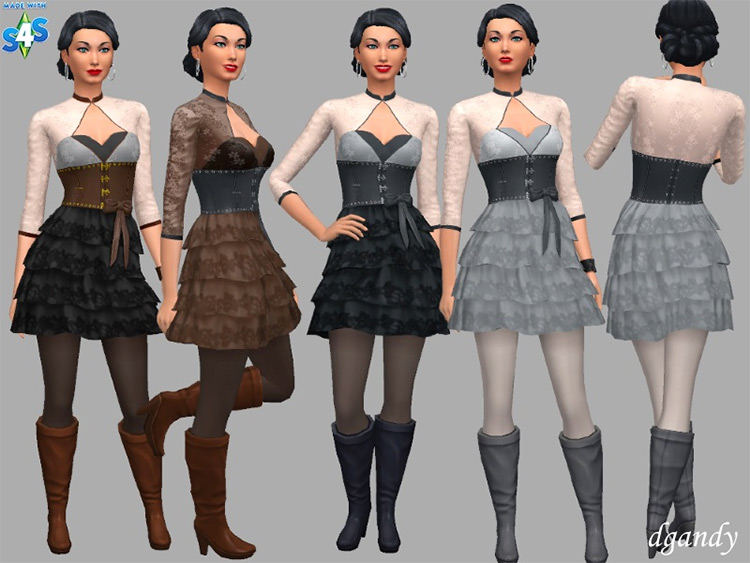 Leather, silk lace, and ruffles = gorgeous.
Dgandy's Vera Steampunk Dress has all of those things and more.
The lace top, leather exposed corset, and voluminous ruffle dress are all signature steampunk.
Plus if you want some variety there are four options for the dress, and you'll only need the base game to download it.
Tip: the stockings and boots featured in the photo are also base game, so be sure to add those for the full look.
13.

Steampunk Dress (Bluerosesims)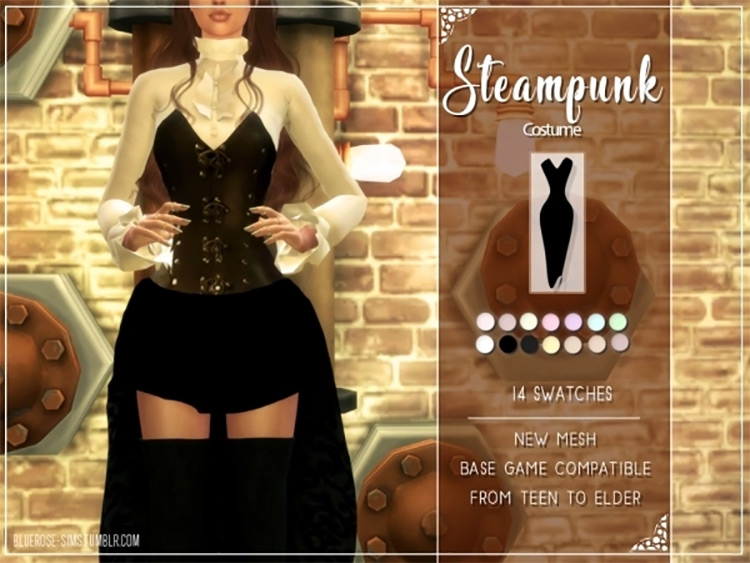 This one's no ordinary steampunk dress.
It's form-fitting, and has a sleek silhouette.
A nice alternative to the often full-shaped steampunk garments.
And this custom CC by Bluerosesims comes with a tight-fitting corset, shorter skirt in the front, and then a long train in the back.
These pair super well with thigh-high boots or stockings.
Teens to Elders can wear this CC, plus it's base-game compatible and comes in 14 colors.
12.

Steampunk Dress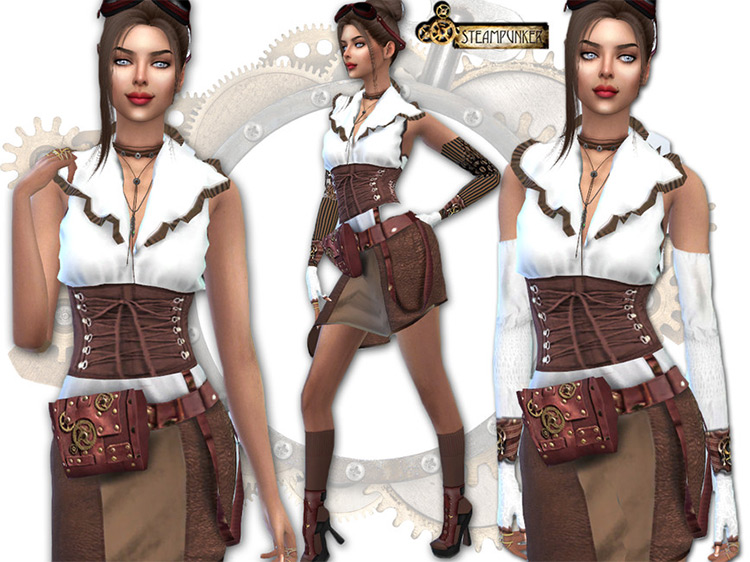 Who says less is more?
Because that's certainly not true when it comes to SimsHouse's Steampunk Dress CC.
Seriously, there's so much going on with this dress – and it's all awesome:
The lace-strapped corset, arm-length sleeves, satchel belt, and asymmetrically cut skirt makes this dress quirky and fun.
Wear it in brown, green, and blue. And if you don't like the sleeves there's even a sleeveless version.
11.

Isabela Set
Steampunk furniture for The Sims 4 is so hard to come by.
So the Isabela Set from Soloriya is definitely a rare find.
You get 14 items in total in this set, including a furniture set with a loveseat and chair, and steampunk-specific décor like wall pipes and a ceiling airship.
Buy in three swatches for this pack, or if you'd rather download the items separately instead of as a collection, you can find each one here.
10.

Steampunk Corset
If we've learned anything about steampunk dresses, it's that the corset is the heart and soul of the outfit.
Let's say you already have the perfect dress for your steampunk ensemble, but you still need that finishing touch.
Say hello to Puresims' Steampunk Corset CC!
A studded belt, lace-crossed tie in the back, and front zippers makes this corset stand out from the rest.
It's an HQ/Alpha mesh, base-game only, and available for Teen to Elder.
9.

Now You See Steampunk Glasses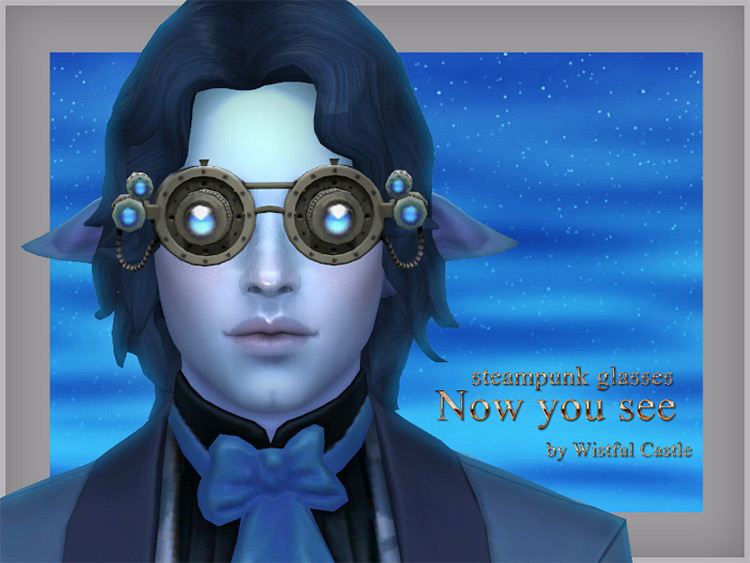 Look, you just can't have a Steampunk-themed world without engineer glasses.
Thankfully, these custom steampunk-styled glasses by WistfulCastle will fill that much needed requirement.
Beyond the two main lenses, there are an additional, smaller two per eye with a metal-plated frame.
Ages Teen and up can wear them, and there's 10 swatches in all.
8.

TS4 Googles
We've got another StrangeStoryteller creation here.
These Goggles are similar to the last entry, but with two key differences:
They're missing the extra lenses on both sides, and your Sims rock them on their foreheads/hats instead.
There's two textures, four metal colors, and eight glass colors for each swatch.
You'll find these in the eyeglass category, plus they're also disabled for random.
7.

Tori Steampunk Dress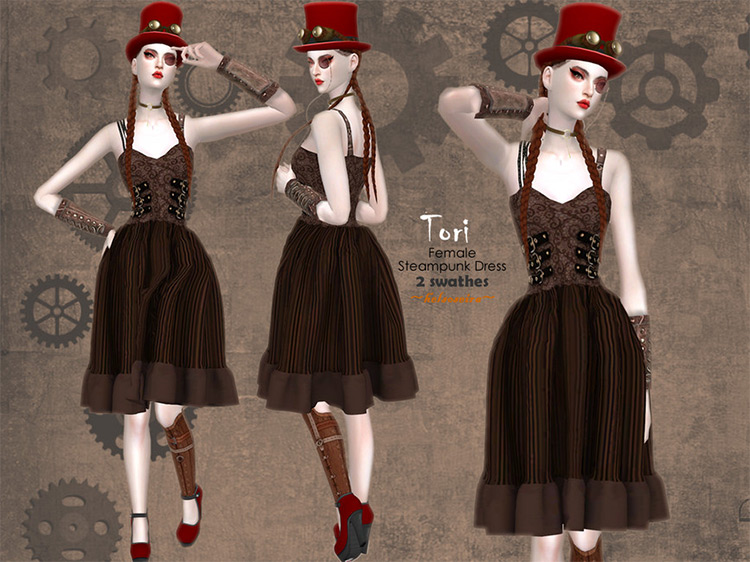 The last CAS item on our list is a bit different from all the rest.
Helsoseira's Tori Steampunk Dress CC is shorter with a more defined shape, and the corset is adorned with buckles instead of the usual strappy lace.
If there's such a thing as a subtle steampunk dress, this would be it.
Could make for a really cute Spooky Day outfit as well!
There are two swatches in total, and Teens through Elders can wear this beauty.
6.

Vintage Wall Clock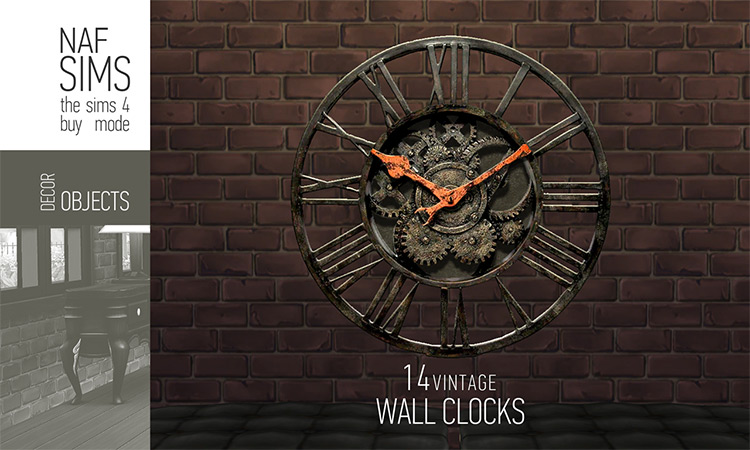 Vintage to us, but modern and chic to those in steampunk worlds.
That's the best description of this vintage wall clock CC by nafSims, which comes with 14 different variations to help find the perfect centerpiece for your Sim's steampunk-themed home.
But what's the best thing about this collection?
The clock only takes up one tile, no matter what size or design you choose.
Buy one in the electronics section. But be prepared to drop some coin for it, since each clock costs §2,000!
5.

Steampunk Telescope
Can we be honest for a moment?
The in-game telescope in The Sims 4, well… it's just awful.
It's huge for no good reason.
And while it does help boost your Sims' logic skill, there are several other ways to do so that's less of an eyesore.
Soloriya's Steampunk Telescope is a must-have for two reasons:
It gives your scientist Steampunk sims more decor for their office/lab, and can also be used in normal gameplay as a visual alternative to the gigantic hunk of metal.
It's not functional. But here's a cute pose pack made specifically for it.
4.

Industrial Decor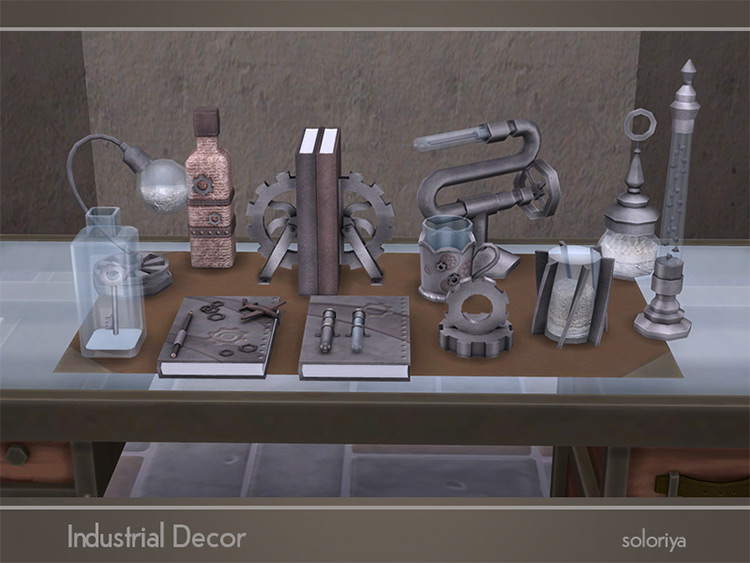 It's safe to say that if you need Steampunk decor CC, the talented Soloriya should be your first stop.
Mechanically inclined Sims looking for bits and bobs to clutter their workspace will find all they need in this custom industrial decor set.
There are twelve items in all, including books, notepads, and a bunch of other things we don't quite understand… but we like them all anyway (looking at you, key in an empty glass jar.)
But what's that?
You don't have anything steampunk-themed in your Sim's home to set these on?
Hmm…
3.

Industrial Set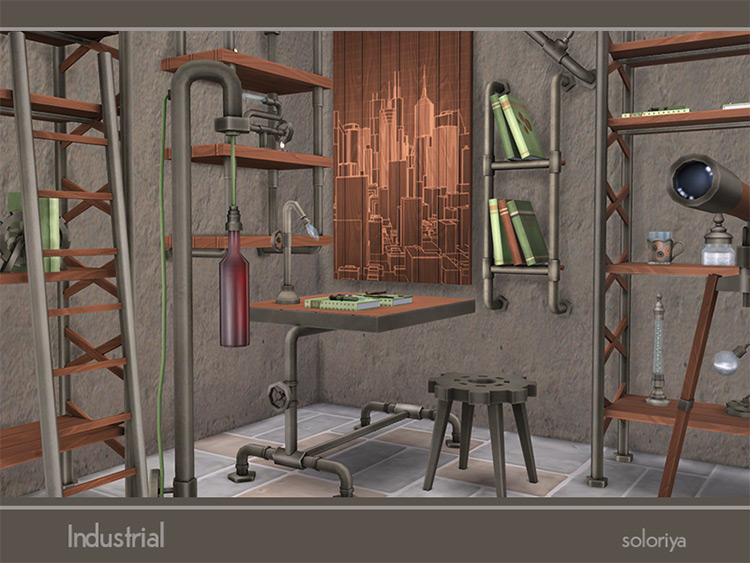 If you need a full pack of furniture and décor to go along with the previous set, then you'll need Soloriya's Industrial Set, too!
It's the perfect companion furniture set for the Industrial Décor – literally, it was made to match and coordinate with that set.
You'll find a bookcase, desk, storage shelves, and more in this 14-object set.
Definitely more than enough space for all your belongings.
Bonus: there's also another decorative telescope in this collection!
It's all Maxis-Match friendly, and you can buy these items in wood, copper, or silver.
2.

Hot Air Balloon Lot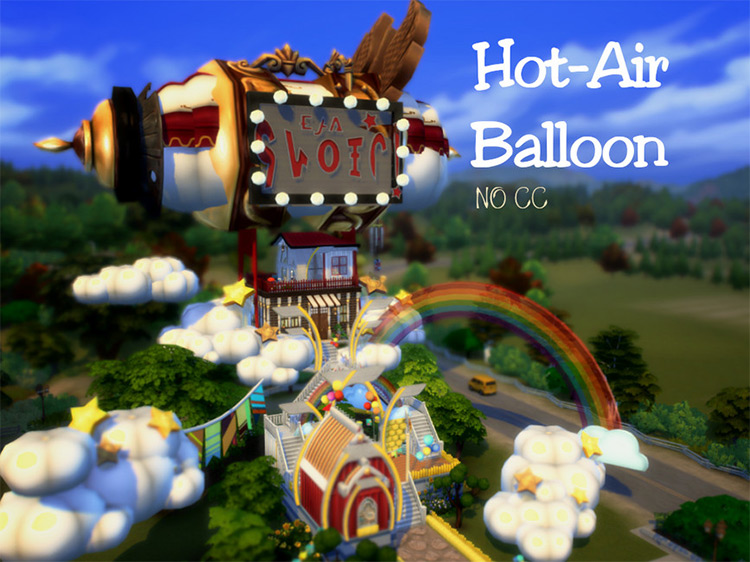 Read this with me:
A Hot. Air. Balloon. House.
We could honestly just leave it there. But it's our job to tell you how awesome this lot is.
Full disclosure: you'll need a lot of packs (expansion, game, and stuff) to use this one. Be sure to check the Creator Notes to find out exactly which ones you'll need to use for this lot.
Surrounded by floating clouds, stars, and rainbows, you'll find this incredible custom build made by VirtualFairytales.
This multi-story lot is functional, meaning your Sims can live and work in it as normal.
And while the house doesn't actually float, there's a control room and decorative ticket shop for immersion.
We're blown away by the sheer talent on display in this build. Highly recommend adding it to your game if you can.
1.

Steam Dragon Lot (No CC)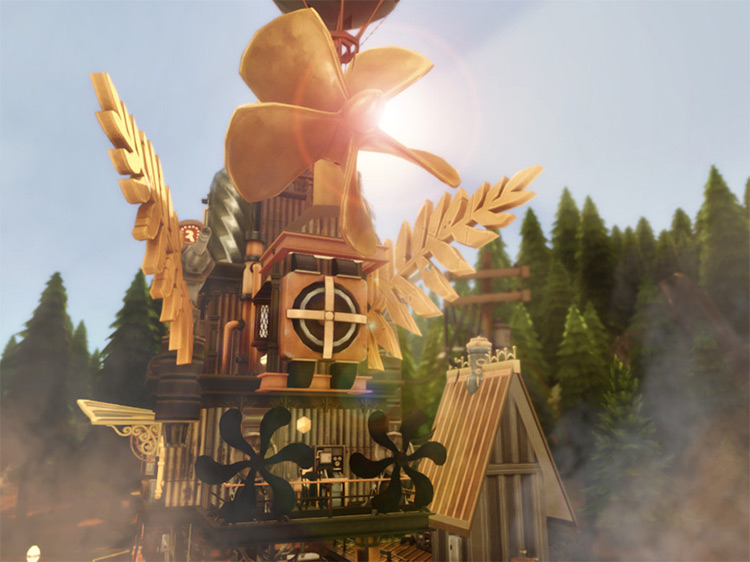 Wow.
If the last entry blew your mind, be prepared for how in-freakin'-credible this Steam Dragon house is!
The same exceptional creator of the Hot Air Balloon Set, VirtualFairytales, crafted this 30×20 lot featuring an absolute steampunk masterpiece.
The exterior is an absolute work of art:
You'll find gant fans, rounded windows, and a balloon-esque addition at the very top – all of which use in game assets!
While the outside has the patented industrial look, the inside is far more modern and chic.
This would clearly be where a very wealthy or crafty member of your Sim society lives.
You'll need a lot fewer packs to download this lot & get it working.
But again, double check the creator notes for this one to make sure.
Browse:
Lists
The Sims 4
Video Games