Best Storytelling Poses For The Sims 4 (All Free)
This post may contain affiliate links. If you buy something we may get a small commission at no extra cost to you. (Learn more).
Storytelling Simmers, this one's for you.
Some of us play The Sims 4 to conquer all the expansion pack challenges (like The Realm of Magic and Jungle Adventure).
Some of us play The Sims 4 with the intent to get ridiculously rich.
And some of us plays The Sims 4 just to watch the world burn (literally).
But there are a few Simmers out there who get really invested in their Sims' storylines. Or they make their Sims carry out their own original stories and plots.
Whichever it is, it's doable.
And the TS4 community of content creators makes it super easy with all of these really cool storytelling pose packs.
1.

Berry's Hard Cry Pose Pack by berrysweetboutique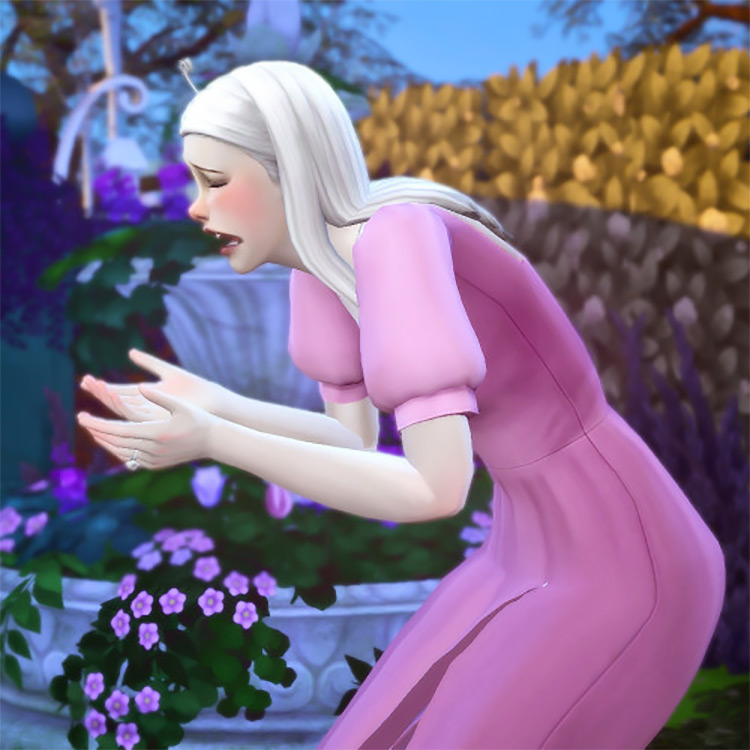 If you ever need to portray your Sim bawling their eyes out, this pose set is exactly what you need.
It contains three solo poses for one heartbroken, grief-stricken Sim.
The base game does have animations for sobbing, but they're usually cartoonish and/or goofy.
I think the closest we can get to something serious is when a Sad Sim gets the urge to "Cry it Out" under the covers. Otherwise, everything stays true to Sims 4's patented hyperbolic facial expressions.
Berrysweetboutique's poses manage to visually capture the raw realness of an emotional breakdown without making it look gauche, funny, or cartoonishly exaggerated.
2.

Hard Times by theebonysimmer
Got a Sim who's a bit of a workaholic?
Always burning the candle at both ends and the midnight oil just to stay on top of their workload?
I'm familiar with this practice.
Unfortunately, I don't have a loving co-worker/significant other to come and gently comfort me as I stress over stacks of paper.
But your Sim does! Especially with this incredibly tender workplace pack.
There are 5 poses in total: two solo shots of your Sim stressing out, and three paired poses of your Sim's significant other lovingly soothing them with a kiss.
It's a very sweet and gentle scene that's especially perfect for an office romance narrative.
3.

Summer Road-Tripping Pose Pack by sandy-sims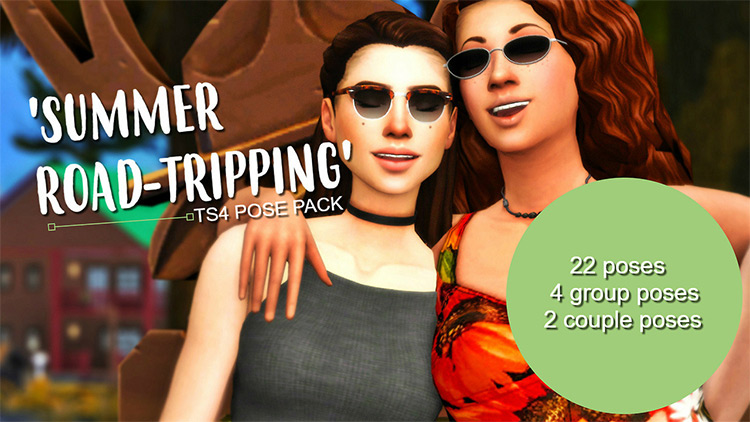 Road trip!
Before I get into the details, lemme just give a head's up:
This pack is kinda hard to setup. You definitely need a bit of patience and painstaking effort.
Teleporting Sims and assigning them poses inside objects can be tricky. And you, unfortunately, don't have the option to skip that with this pack, otherwise all context flies out the window.
But if you want some incredibly detailed – and high-quality – screenshots of your Sims hitting the open road for the summer, then this storytelling pose pack by sandy-sims is a real winner.
It's a mix of posed group shots (like they're aware of a camera) and stolen shots (like from an unknown third-party's perspective), which I think is pretty clever.
You can have pictures that look like your Sims took it and story scenes.
There are a total of four group poses (max five Sims) and two couple poses (which, by the way, are really cute and cozy).
The group poses are a little tricky to setup, so make sure you check the creator's preview photos for teleporter guides.
And the pose list will also tell you which accessories you need (like "camera," "truck," etc.) so make sure you download all the ones the creator linked before playing!
Note: the original '98 GMC Sierra truck CC that they linked is no longer available, but you can use this GMC Sierra by sg5150 or this Ford F-150 by LorySims instead.
4.

Father-Daughter Day Pose Pack by katverse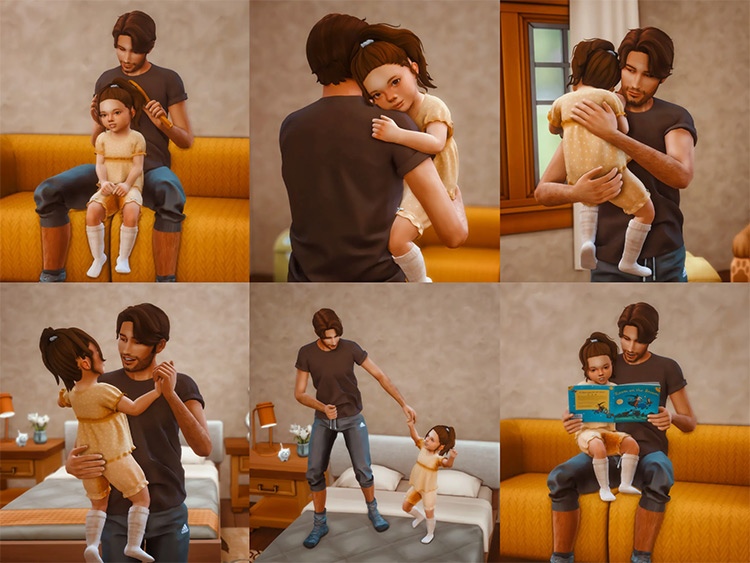 How cute is this pack? No, really.
These poses literally portray one of the most wholesome scenes you could ever see.
A father-daughter day event is always so precious to see, and katverse's pose pack captures those tender loving emotions perfectly.
From the dad patiently brushing his daughter's hair, to him dancing with her around the room, it's all detailed and beautifully executed.
If you have a dad-daughter-focused narrative for your Sims, please use this pack.
It's too adorable!
5.

Cabin Fever: A Story-Telling Pose Pack by All Harlow's Eve
This is an interesting one for sure.
The creator made these in response to a request, which means that the poses fit a specific story.
However, if you're spinning a sleepless night narrative for your Sims, this pack will provide some excellent screenshots!
Some of the poses are meant to be paired but, honestly, the solo poses can sort of be mixed and matched as well (especially with the Sim on the top bunk).
So I'll just go with the creator's description of six adult Female poses and two adult Male poses.
I do think the poses can be unisex, though. Especially if that would fit your storyline more.
Quick note regarding the bunk bed: the creator made the poses before EA released bunk beds, so they matched the height of the top bunk Sim to the custom bunk bed they linked in the description.
If you try to use base game bunk beds, the top Sim will be halfway in the mattress, so. Just a head's up!
6.

Loser Squad Trash Poses by Shyysims
If you need more truly random slice-of-life screenshots to fuel your story, this hefty Sims 4 pose pack will do in a pinch.
It's full of single-shot scenes from very simple narratives.
For instance:
Friends in a diner, an adult pushing a baby in a stroller, a bummed birthday, and even a quick casual stroll (among others).
It's all in here.
It's a great way to fill up a scene, provide some background texture, or transition from one narrative to the next.
There are 6 couple poses, 2 group poses, and 3 toddler poses.
The poses are also separated into four individual .package files:
Couple & Group poses, Diner Scene, Stroller Poses, and Walking Poses.
So you can keep and discard what you need!
One final note: the stroller that the creator linked in the description doesn't seem to exist anymore, so I used SimmerKate's Designer Toddler Stroller instead.
7.

One Day Posepack by simmerberlin
This is similar to the previous pack (Loser Squad Trash Pack by Shyysims) in that it's as random as they come.
But just like Shyysims's set, that's what makes this pack cool.
This depicts sweet little slice-of-life scenes that any Simmer could use to pad a narrative.
Day at the beach with friends, chill home night with the fam, casual ukulele practice in the afternoon … you know. Just random, wholesome moments that can be used as filler for on-going plots.
Set up is pretty easy, too.
The the in-game list has thumbnails and accessory descriptions (i.e., "balloons," "beer hand," "ukulele," and so on).
8.

Pose Dump #2 by simmerberlin
This creator honestly releases some of the most creative Sims 4 custom poses I've ever seen.
I'm obsessed with their work, and they have a lot to give.
Take this amalgamation of pose sets mashed up into one awesome variety pack:
Love Hurts, I Just…, and Crazy Little Thing Called Love.
There's an obvious theme here – but it's pretty darn incredible just how many narratives they were able to spin from one single concept.
And they're not tiny pose packs either, no.
For instance, Love Hurts has 6 poses.
I Just… and Crazy Little Thing Called Love has 10.
If you ever need a casual, wholesome, or emotional spin on a romance-based storyline, this pose dump's definitely for you!
9.

"Storytelling" Pose Pack #1 by sandy-sims
So, I'm not too sure what's going on here. But it's definitely an intriguing scenario!
A Male Sim finds a female Sim passed out on the floor, doesn't look too happy about it, picks her up, and puts her to bed.
He then passes out on a couch while seemingly keeping watch over her.
Female Sim wakes up, sees Male Sim, and yawns.
I dunno about you, but I'd read that story.
The creator doesn't explain the narrative in the description either.
They just tell you what you're getting (seven couple poses and four individual poses) when you download the pack.
I think this could work for storylines with alcoholic Sims and Sims prone to fainting (due to a weak constitution or whatever).
Hey, some Simmers write very specific stories, okay?
Point is, the poses in this pack are beautifully made.
10.

Celebration: A Mini Gift! by simmerberlin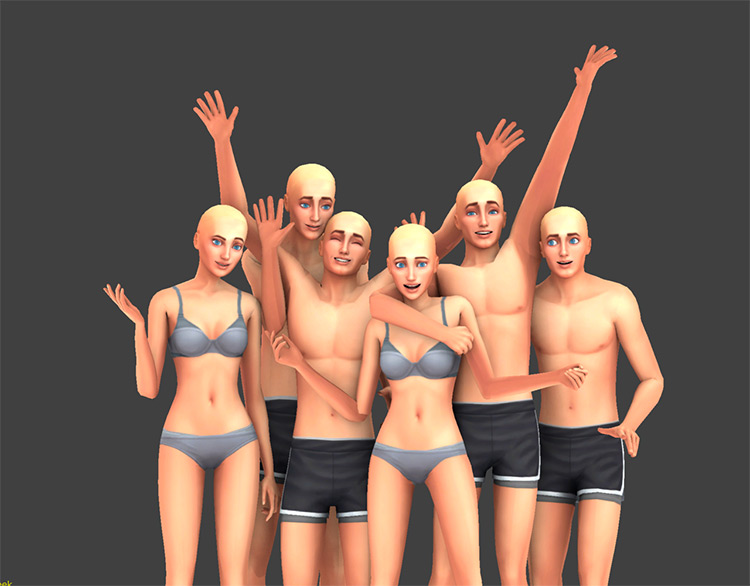 Victories taste so much better when they're celebrated with friends, no?
This pose pack may not be as extensive or as pose-heavy as the others on this list – but the 2 poses that are in here are undeniably useful.
Got a group of disenfranchised teenagers who just had a major ride-or-die moment together? Use the group hug.
Got a couple of college kids out on a road trip, snapping photos at every major landmark/tourist attraction along the way? Use the first pose.
Spinning the narrative about a bunch of really close siblings who haven't seen each other in ages?
Both pose work incredibly well.
Basically, if you've got a group event worth celebrating, simmerberlin's pack is a great go-to pose.
11.

Let It Snow Poses by simmerberlin
Come on; everyone has a use for ice skating poses.
After-school skating activity? Cute first date? Young, fresh love on the rink?
Whatever it is, this pack probably has a pose (or two) that you can use.
It's got 4 wholesome couple poses – a Parent and their Kid, two Adult friends, two Child friends – and 5 playfully flirty poses coming together to make one balanced pose pack.
The poses themselves are pretty easy to figure out in-game.
They're labeled on the list as c1 (for Child), m1 (for Male), x2 (for random Sim), and so on.
There are also custom thumbnails, so assigning them should be easy.
12.

Extra Storytelling Poses by solstice-sims
Okay, so. This one's a bit of a doozy.
But I'm not going to deny how incredibly creative and one-of-a-kind these poses are.
They're straight from the creator's own original fantasy story, which would explain the unique titles and concepts.
Nevertheless, they're pretty well-made.
They're also just ambiguously general enough that they can be used in other non-canon storylines.
There are three separate sets in this pose pack: (1) on the way to school, (2) encounter, and (3) after shadow.
The first set can be used to portray any general group of friends (or even siblings) walking somewhere.
The second set, I really like. A group of Adult/Young Adult Sims witnessing something that either horrifies them, disgusts them, or shakes them to their core. Really good for a horror or thriller narrative.
The third set is incredibly specific, but it definitely suits a fantasy/supernatural concept.
And speaking of fantasy…
13.

Wand-erlust Pose Pack by CazMari
As a Harry Potter and Lord of the Rings nerd, I love a good magic duel as much as anyone.
Sims posing threateningly with wands?
Yes, please.
If you (like me) took several dozen screenshots when The Sims 4: Realm of Magic expansion pack came out, then you're going to love this.
This pack gives you 9 extra poses of wand-waving, spell-slinging, magic-missile-ing goodness.
And if the sheer awesomeness of the concept wasn't enough, this pack also has one of the more organized in-game pose lists around: thumbnails, labels, and clear, emotion-based descriptions for each pose. Makes it all incredibly easy to know which poses you're assigning.
14.

Story Poses 1–07 by inabadromance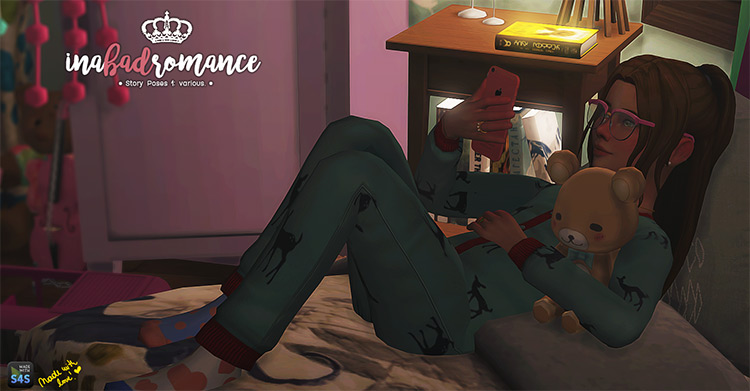 This pose pack is pretty similar to the Extra Storytelling Poses pack by solstice-sims.
But this creator made all 18 poses for their own original story, so the pose descriptions (i.e., "Reyes," "Laura," "Emilia,") don't make much sense.
However, the preview photos and thumbnails make it easy to tell which is which.
The poses themselves follow a very family-based theme:
Lots of Adult-Children combinations that are simple but heartwarming, like playing the piano and preparing for a school play.
Most of the poses will need accessories to provide context.
Thankfully the creator links all of them in the description.
15.

Drunk (Couple) Poses by Akuiyumi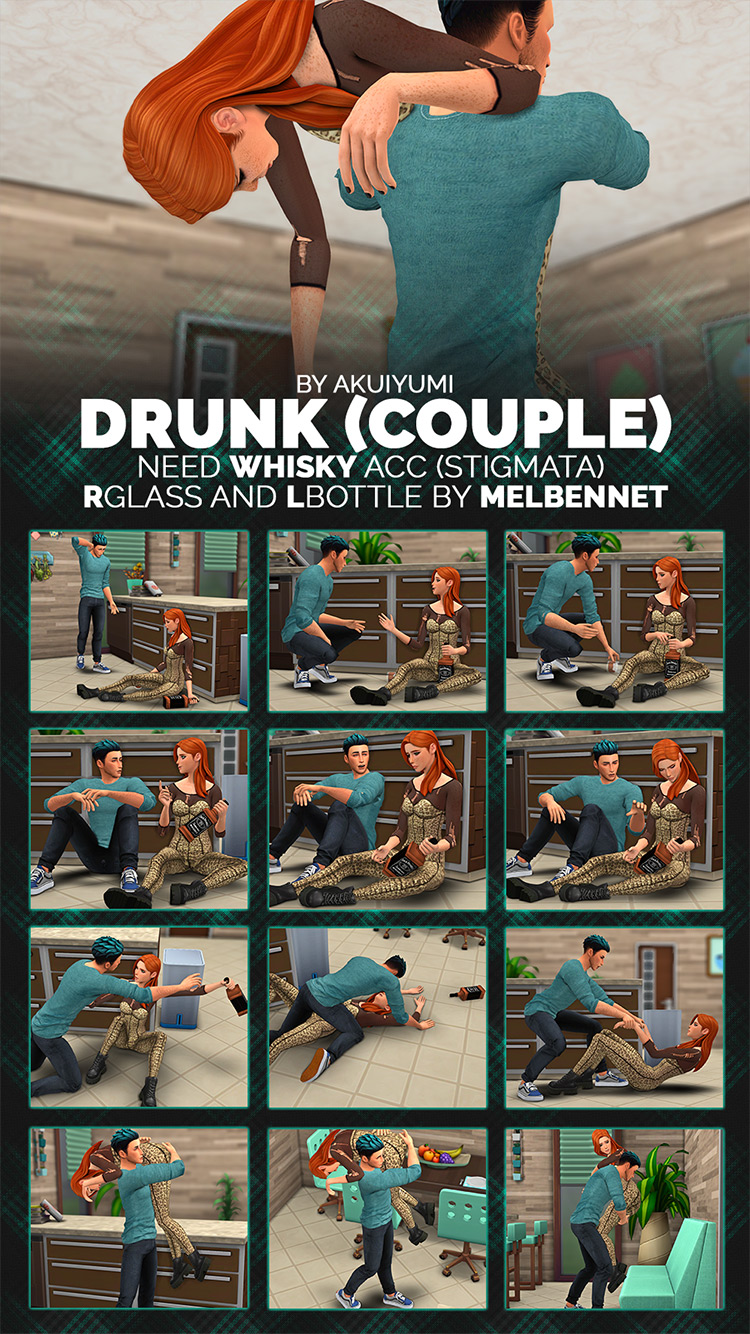 This pack is incredibly clever and incredibly creative.
Easily one of the more unique set of poses I've found—if not for the concept, then for the execution.
Preview photos paint a pretty clear story:
A Sim finds someone they know drunk off their rocker. They try to placate them and manage, after a struggle, to get them to drop the bottle.
Then they carry them off and deposit them somewhere probably soft.
It's a cute & clean storyline that would fit well with the aftermath of a particularly intense session of drinking.
And I've gotta mention the expressions of the drunk Sim…
They're absolutely perfect.
They look wild, wasted, and just a little out there – in the best possible way.
Honestly, this is one storytelling pose pack from this list that I had a lot of fun with.
Browse:
Lists
The Sims 4
Video Games