Best Sims 4 Strapless Dress CC (All Free)
This post may contain affiliate links. If you buy something we may get a small commission at no extra cost to you. (Learn more).
Dresses are one of the most versatile types of clothing out there. You'll rarely find two that are exactly the same.
There are a million different types and one of the most popular, for good reason, is the strapless dress.
It's a fairly recent design, when you think about it. Not all that long ago, a woman showing her shoulders would've been strung up in the town center for indecency.
Thankfully, those days are long gone. And now we can all try so much more of what fashion has to offer.
And our Sims should use all the variety they can get, honestly. I always hate to see two or three townies in the same place wearing the same clothes.
Well here's some custom-made strapless dresses so you no longer have to worry about your Sim blending into the crowd.
1.

Pierre Balmain Evening Dress
Just in case you weren't aware (like me), Pierre Balmain is a fashion house.
At one time it was a really, really big one, known for sophistication and elegance.
Dresses like this one are a perfect example of that.
It's got a rich vintage style that's still perfect for any Sim, no matter the occasion.
The waist is cinched with a bow/belt, and the flowing skirt below it is just breathtaking. Everyone one of the 36 swatches are beautiful, whether you go with solids or the floral designs.
2.

Sylvia Dress
This dress is one that's sure to accentuate all your Sim's curves.
It's similar to other dresses you may find in the game, but in a much more stylish, smoother cut, and with some stunning color palettes.
The royal blue in particular is incredible – your Sim will be stealing everyone's thunder.
Something that's so great about strapless dresses is that they leave so much room up top for accessorizing.
You can kick things up a notch even further with a nice necklace, or perhaps even a collarbone tattoo!
3.

Celeste Dress
Pepperoni-puffin is a master CC dressmaker.
Which is why this Simmer's dresses are featured three times on this list. Hey, when you've found the best, you've got to take in everything they've got.
The attention to detail here is almost as impressive as the dress itself. The gather lines shift towards the big beautiful ribbon that sits upon your Sim's hip and drapes downward.
As I pointed out above, the plus side of a strapless dress is more open space.
A possible downside is that many of them are so long, that no one will see your shoes.
But with a dress this lovely, no one will be looking at your Sim's feet anyway.
4.

Renee Dress
I don't always get very excited over CC. But when I do, it's CAS things like this dress, again from Pepperoni-Puffin.
This is a much lighter and more casual look, perfect for any Sim in the spring.
It stops just above your Sim's knee, creating a classy look that just can't be topped.
I know the Sim year doesn't necessarily reflect the real year. But after the long winter, I'm so ready for dresses like this.
5.

Elodie Dress
Here we have a dress that will really raise the bar for elegance in your Sim's life.
This one is more fitting for formal settings.
And with twenty swatches, it's sure to be an awesome choice for every event.
A dress like this can be used year-round, too.
Indoor Christmas parties, summer soirees, you name it.
No matter what, your Sim will look stunning.
As far as simple long dresses go, it really doesn't get much better than this CC!
6.

Kendra Dress
Now the texture of this dress is the first thing that caught my eye.
Those lines and color combos make it look like your Sim is wearing the whole ocean, with rippling waves circling their body.
And this is one of the shorter dresses on this list.
It has a tapered bottom, starting at the mid-thigh, and then slanting down closer towards the opposite knee, and a straight cut across the top – no straps, of course.
It's funny how often you can just look at a dress and see its intended use. This one was listed by the creator, Sifix, as a party outfit. And I can totally see why.
Surely anyone who puts this on will feel like having fun!
7.

Cornelia Gown
I think this might just be one of the most amazing dresses available to our Sims.
Things get fancy in a hurry here.
The bust is simple and smooth, but the rest of the dress flows downward, all the way to the floor. Like a river of silk.
Or cotton.
Or polyester.
You never know what a Sim's clothes are made of, unless they're knitted.
I think The Sims 4 really lacks options for those super rich, sophisticated Sims, so this is a must-try for your high-brow ladies!
8.

Winnie Dress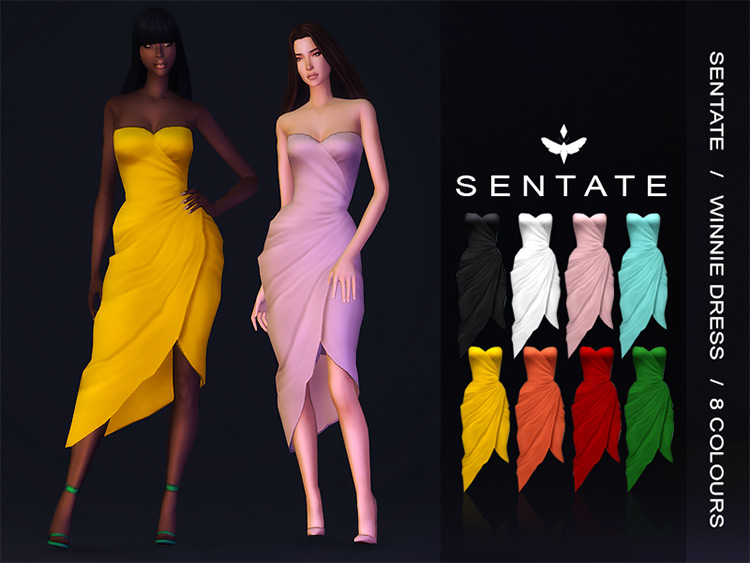 CC Creator Sentate, the same genius who brought us the previous dress, has struck gold again.
This Winnie Dress has all of the class and elegance you could want, with a little less of the intensity.
And your Sim can show more skin here thanks to the asymmetric hem that reveals a whole lot of leg.
There's also a slight gathering at the Sim's hip that really makes the "wrap" effect pop.
Browse:
Lists
The Sims 4
Video Games