Best Sims 4 Strawberry Dress CC To Try Out
This post may contain affiliate links. If you buy something we may get a small commission at no extra cost to you. (Learn more).
Everyone loves strawberries. You know, unless they're allergic or something.
When it comes to food, they serve as some of the best flavors, and have spread to basically everything. Candy, ice cream, cake, milk…just to name a few.
Then, of course, you have strawberry scented sprays and candles.
But what about… clothes?
You may not get to enjoy sweet flavors or smells this way. But the aesthetically pleasing appearance of a strawberry cannot be overlooked.
Such a cute & simple design is a perfect choice for casual, warm weather outfits. And in this CC list you'll find the best of the best for your Sim!
Strawberries Dress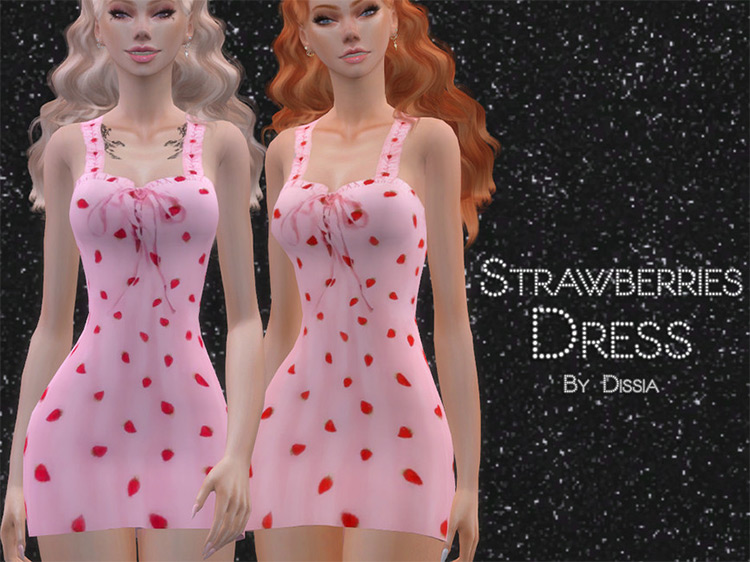 This is just a pretty short dress, and I do mean that both literally and figuratively.
The strawberry pattern here is a little spaced out. And the red contrasts nicely against the pink.
It also has a nice sundress style, which will make for a great spring or summer outfit.
There's just something about fruit that gives those vibes, right? Pineapple was really big for a while, but I'd rather have this!
The great thing about a fairly subtle design like this is that it's not too busy, so you can still accessorize to your heart's content without worrying about your Sim looking garish.
Strawberry Dress Collection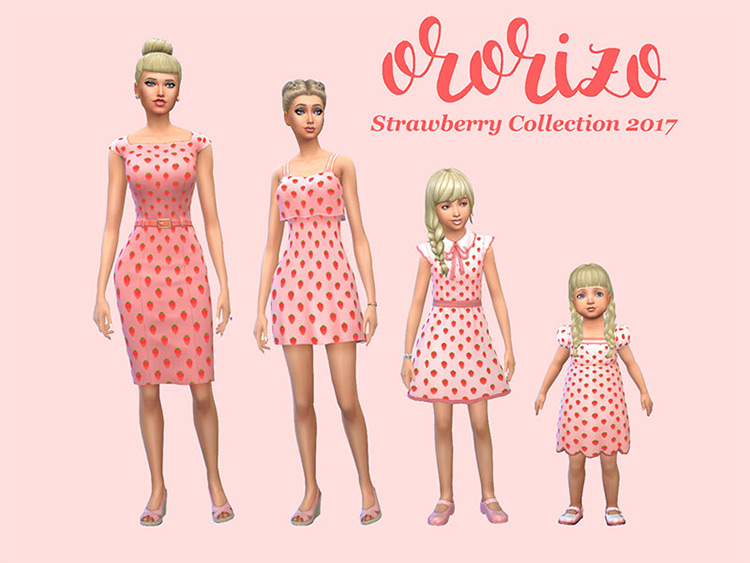 With this collection, you can have strawberry dresses for the whole family!
There are four here in total, and all are basegame compatible except for the child dress, since it's a recolor of one from the Romantic Garden Stuff Pack.
But it's a small price to pay, and everything here really is gorgeous anyway.
The adult dress is the classy, belted dress, only new and improved now that it's pink and covered in strawberries!
Then there's the sundress intended for teens in this collection. Somehow, just adding this pattern and color scheme is like a breath of fresh air.
I've said it before, but sometimes a recolor is all you need to make an old item feel brand new.
Lastly, there are the dresses for children and toddlers. They match the other version, but have some darker edging as well.
Joliebean's Strawberry Dresses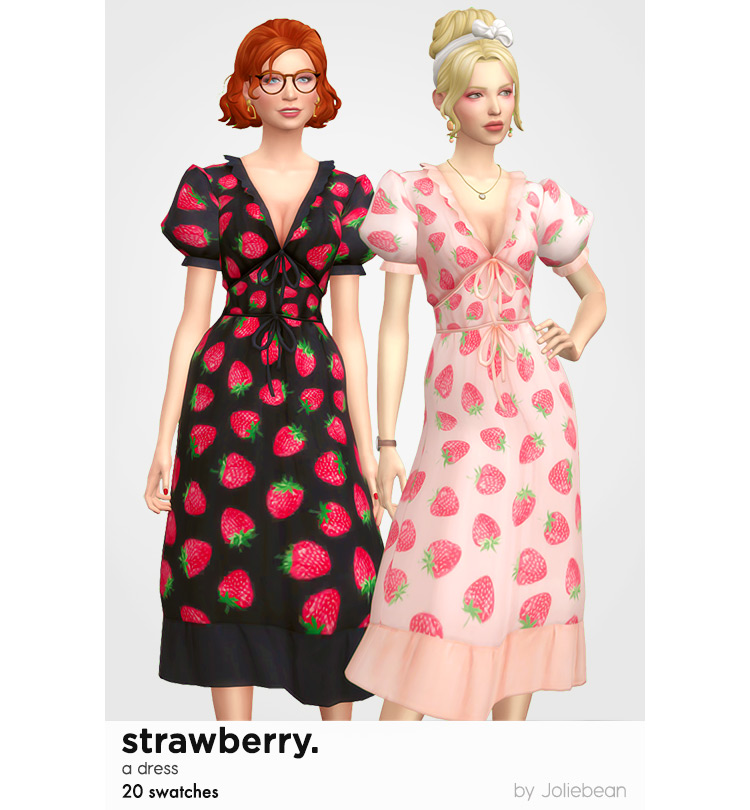 This is the dress that made me realize this craze was a real-life thing, not just something Simmers decided looked cute.
The creator mentions how expensive the real dress is, and after some Googling, I must agree. Joliebean really does have us covered!
It's basically a replica and your Sims can indulge in the look completely free of cost.
The swatches here are lovely, with the typical pink based style we've seen so far, as well as a new look – black with strawberries!
Strawberry Dress with Puffy Sleeves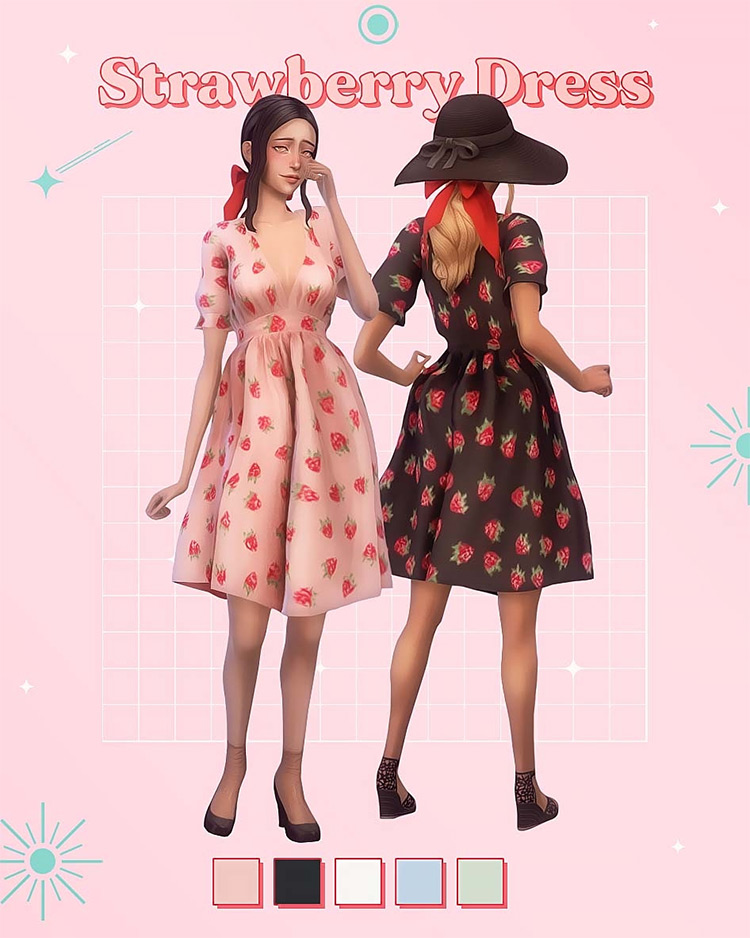 I must say, it's really amazing how differently people have interpreted this look.
The strawberry design hasn't been the same once so far, and this is no exception!
The dress itself is a fun, slightly fancy style. There are puffy sleeves, and a steep V-neck cut leading to a cinched waist.
It's very pretty, right? I bet you already can't wait to use it for your Sims.
But wait, there's more!
The strawberries… sparkle! Yep, there was only one other thing that could take this look to the next level, and Miiko went there.
There are also five swatches here, so if you want to switch things up and try out blue, yellow, or green with strawberries, you totally can now.
Strawberry Outfit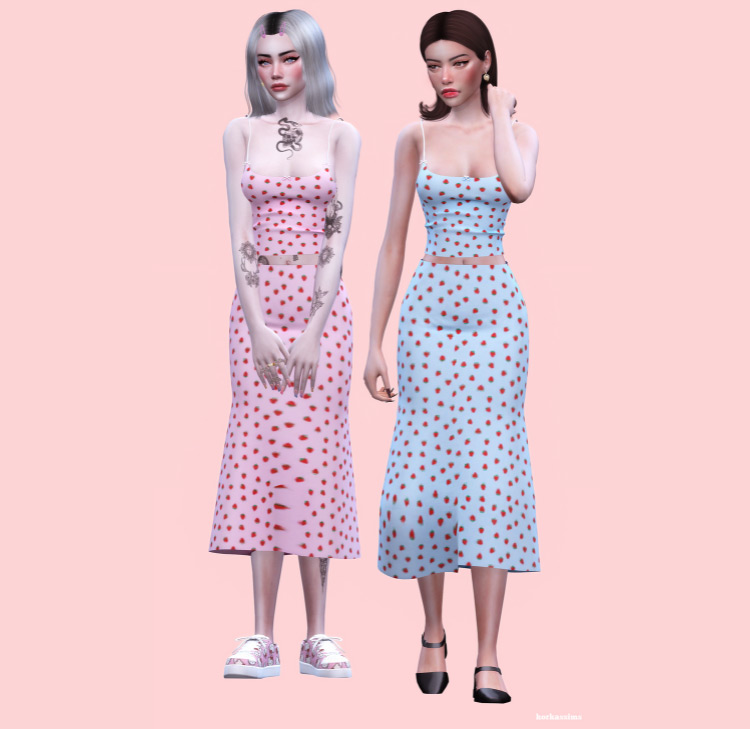 Here we have an outfit that will allow you a bit more customization.
It's a two-piece item, meaning a top and skirt.
So if you want, you could just pair one or the other with something else – even more strawberr -themed clothes, perhaps?
But you can always just stick to the classics and have your Sim wear these together. There's just a small gap between the bottom of the top and the top of the skirt.
Man, fashion can get complicated.
Vintage Strawberry Dress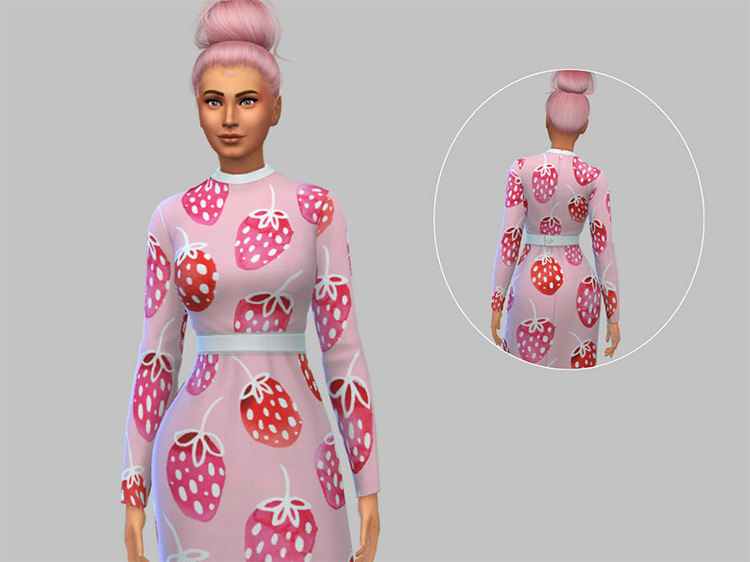 Ooh, vintage. One of my favorite words.
Old school styles can really bring some variation to The Sims that you otherwise wouldn't have much of without CC.
This dress features a modest design of a high collar, long sleeves, and a length that goes past the knee.
It reigns supreme as the dress with the biggest strawberry design on this list – so far. They're big, bold, and beautiful, with a somewhat gradient-like coloring.
The trim is white along the collar and waist. All together, this makes for a very classy look.
Artlos' Strawberry Dress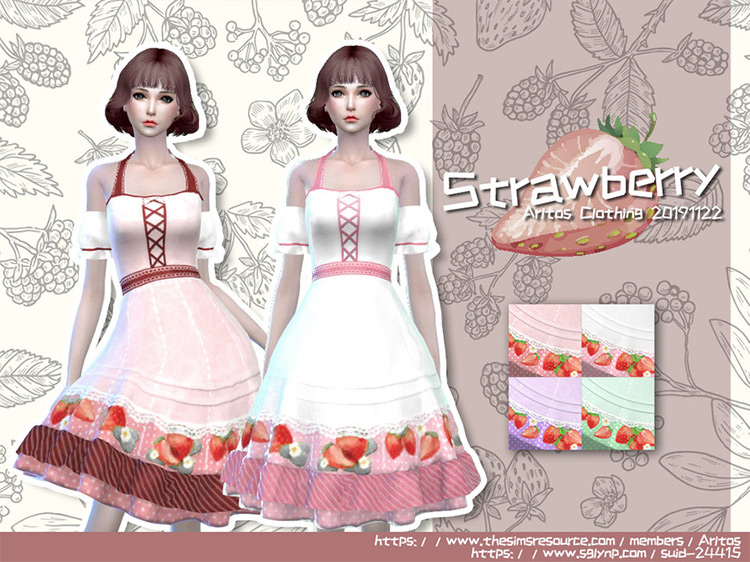 Creator Artlos has a totally different take on strawberry dresses.
Here, the berries are incorporated in a simple design encircling the bottom of the dress.
They will always be red, but there are some really great swatches here that they complement well, like purple, green, and dark red.
I never would have expected strawberries against purple to look so good, but it really does!
The styling here is halterneck, so the strap just goes around your Sim's neck, creating a free and relaxed look.
Marjorie Dress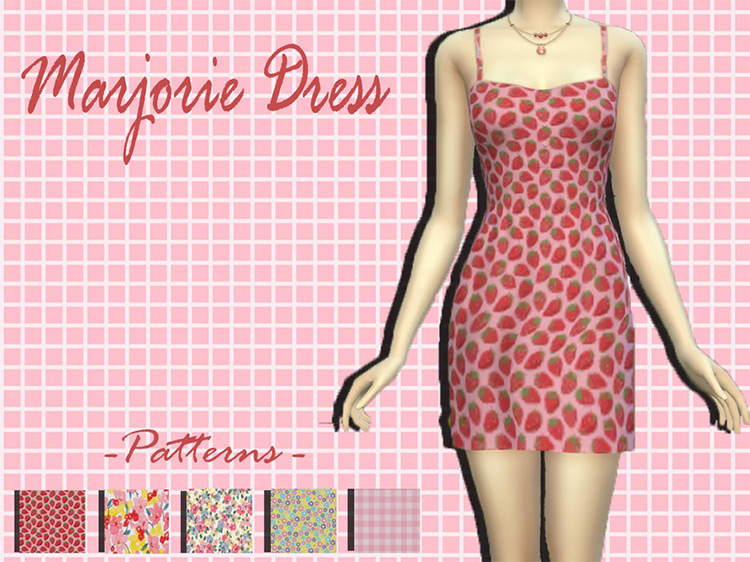 Now we're back to the traditional black-against-pink strawberry dress style.
Not that I'm complaining, though. Not for a second!
This beautiful design is busy, but not at all in a bad way. It's a sundress, so it is rather short and has thin straps… making for another great hot weather option.
For some reason, I keep envisioning these dresses paired with a sunhat, some really snazzy sunglasses, and heeled sandals.
That might just be my own personal style creeping in, but such a nice pattern creates so many possibilities.
Strawberries clearly aren't an 'out there' design. In fact, it's quite popular! But it's not overdone, so you can utilize that with your Sims to get them looking their best.
Browse:
Lists
The Sims 4
Video Games