Best Sims 4 Suburban House Lots (All Free To Download)
This post may contain affiliate links. If you buy something we may get a small commission at no extra cost to you. (Learn more).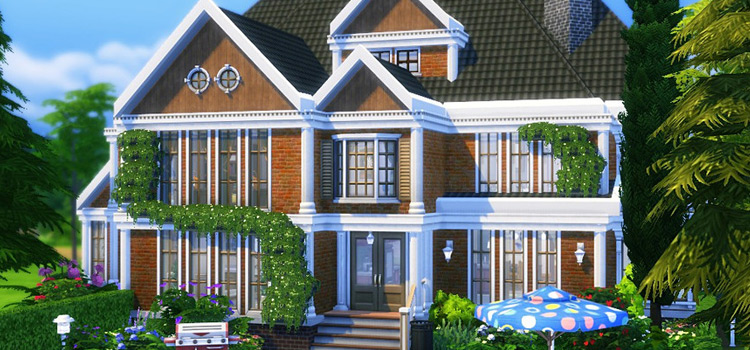 Suburban homes are one of the easiest builds to find out there.
With The Sims 4 being the perfect simulator to experience a happy suburban life in, it makes sense that suburban houses are a popular choice.
The unfortunate part (or fortunate, depending on how you look at it) is that there are so many different types of suburban houses – it's nearly impossible to make up your mind.
I'll be the first to admit that I've spent hours upon hours looking for just the right home for my next sim family. And the worst part is, sometimes I'll spend more time looking for the house than I will actually using it!
But on the bright side, all that time Internet surfing has made me something of an expert Sims 4 lots. And this list will help you get some great ideas to start out!
1.

Luxury Suburban House
If a taste of luxury is what you want, then this build will deliver.
It has 4 bedrooms, 2 bathrooms (thankfully Sims don't seem to mind sharing), and a totally decked out garden.
Aside from the actual garden part and grill area to cook up those vegetables, it also has a pool, jacuzzi, and even a water slide.
I'm not sure what I'd do with all that stuff, honestly.
I think it would be tempting to just live outdoors at that point.
2.

Quiet Alley
One of the best parts of living in a suburb is the lack of noise.
Suburbs are usually a great place to lead a relaxing, fulfilling life for this very reason.
The Quiet Alley build is a calm suburban home, outfitted with 6 bedrooms and 4 bathrooms.
And considering how much space it has to offer I think it's a pretty great choice for a legacy build.
But even beyond legacies, the fact that this home is spacious and fully furnished will do wonders for any sim family.
3.

Big Blue Suburban
It's big, it's blue, and it's the suburban house of your dreams.
It's the Big Blue Suburban!
The name might not be the most creative, but the home itself is well-built and full of character.
Bright color aside, the fully furnished interior is more than enough to make the Big Blue Suburban a charming home choice.
This build is what is known as a Craftsman-style house.
Craftsman homes are characterized by low triangular roofs, eaves that hang, exposed rafters and beams, and tapered columns. Covered front porches are also common.
As you can see, this blue three-story building has many of those features.
The more you know!
4.

Newcrest Suburban
A more appropriate name for this build is the "Gingerbread Suburban", because that's exactly what the color scheme looks like.
On the other hand, it's fully furnished with modern amenities, which is probably more than what most Gingerbread houses have.
I usually love it when a Sims build tries to match the aesthetic of one of the building locations. But with Newcrest having no preset buildings, it's a little hard to make a build that matches it!
Still, this Newcrest home is about as close as you can get to a true Newcrest building because of its modern suburban look.
With 5 bedrooms, 3 bathrooms, a living room, a dining room, and a study, this home is a winner no matter where it's located!
5.

Cozy Beach Life House
Nothing says luxurious fun like living in a beach house year-round.
But nothing says "family home" like a cozy suburban.
The solution?
A suburban beach house!
This tropical home is the ideal compromise between constant-vacationing and family rearing.
Compared to the other builds on the list, it's a little on the smaller end with 2 bedrooms and 2 bathrooms.
But really, it's plenty big enough for a family of 3 to 4.
The inside is furnished with a beach and nautical theme, but the decorations are balanced and "normal" enough to not be overbearing.
6.

A Very Basic Suburban House
Cottage-y and charming, this suburban is a great starter home.
It's big enough to fit everything you could possibly want without being absolutely enormous – i.e., you won't have to worry about so much building.
The inside is decorated with the sort of modern chic furniture you would expect from a modern suburban.
But that doesn't mean it's lacking in personality, though!
Sprinkled throughout the rooms in this house are special little objects and decorations that really bring it to life, from a cat poster in one of the bedrooms to a stack of magazines in the living room.
7.

Suburban Hamptons House
This truly one-of-a-kind house is a suburban home only in name.
Based on the real-life luxury villas in New York known as the Hamptons, this build will blow your suburban dreams out of the water.
And speaking of water, this spa-like location has a gorgeous swimming pool, in addition to 3 bedrooms and 3 bathrooms.
Thanks to its size and comfort, this Hamptons lot is still a great house to use as a suburban family home – but you'll definitely be making your neighbors envious.
8.

Skyborough Estate
The Skyborough Estate is like if a medieval fantasy castle meets modern suburban design – and I love every inch of it.
Although it's no bigger than some of the other houses we've looked at (it clocks in at 3 bedrooms and 4 bathrooms), the style alone is enough to make it look grandiose.
But unlike the outside, the decorations and amenities on the inside are fully modern.
To be fair, that's likely for the best anyway.
Medieval amenities aren't anywhere near as convenient.
9.

American Dream Suburban Family Home
For many, the American Dream is synonymous with a pretty suburban family home, complete with a white picket fence.
I'll be honest: this build will disappoint you if you're looking for a white picket fence.
But if you're looking for a place to raise your sim family, then you're in for a treat!
And really, I think the stone fence looks better anyway.
The pool in this build is smaller than sim pools usually are, so that might be a bummer if you're looking to throw lots of pool parties.
But the spacious house more than makes up for it.
10.

Japanese Suburban Home
All the American and Craftsman style homes can be a bit much – especially when you're looking for anything else.
This totally normal Japanese suburban-style home is a breath of fresh air compared to all of the other lots on this list.
Like many average Japanese suburban houses, this build is boxy and minimalist, while still retaining the comfort of home.
It even has balconies!
The backyard is mostly empty, which is a downside here.
But the 3 bedrooms, 1.5 bathrooms, and all the other rooms are all fully furnished.
That kinda makes up for the backyard right?
Browse:
Lists
The Sims 4
Video Games