Sims 4 Sugar Baby CC, Mods, Traits & More: The Ultimate List
This post may contain affiliate links. If you buy something we may get a small commission at no extra cost to you. (Learn more).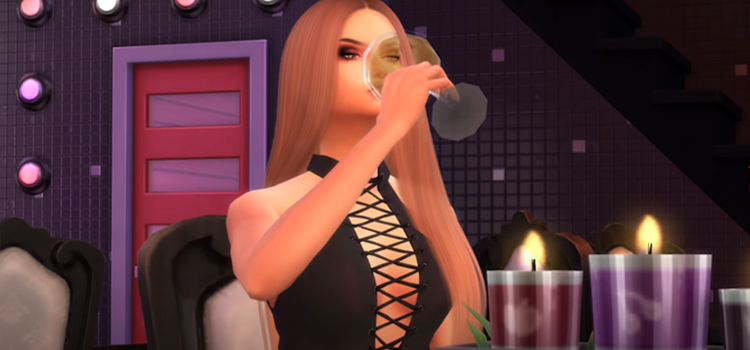 Sugar babies have gotten a lot of attention all over the Internet, from their creative ways to make ends meet, their luxurious lifestyles, and their exceptional fashion sense.
When I see a lot of the sugar baby culture out there, I can't help but be reminded of some of our favorite late 90s/early 2000s classic movies and their characters. One of the biggest influences that come to mind is Cher from Clueless.
And while she may not have fit the bill when it comes to what really makes a sugar baby, I'd say the perfect hair, the perfect outfits, and the money all became a part of what we've become familiar with today.
So let's be real here when: it comes to your Sims game, sometimes it's hard to give your Sim the life they deserve.
That job as a detective is keeping the bills paid, but they can't afford all those fancy furnishings for their house. And spamming the motherload cheat can take all the fun out of playing the game!
So here we'll dive into everything for sugar baby sims, from custom content to add-on mods, and help your Sim get the lifestyle that they deserve.
15.

Walk In Closets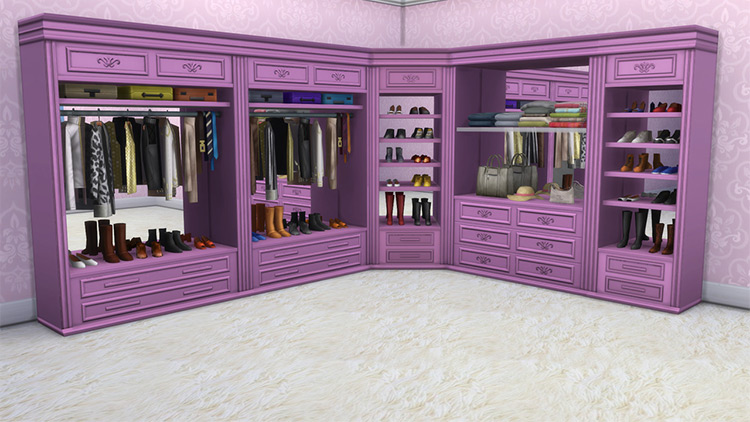 In order to really capture the aesthetic of a sugar baby, we need to start at the basics.
That's right, a walk-in closet.
Where else is your Sim going to put all the cute clothes that she gets? Their space needs to be just as luxurious as the rest of their lives, whether they're living in a big house or they're in an apartment by themselves. It needs to be decorated accordingly, and what better way than with a larger than life closet?
These closets come in multiple colors to match whatever scheme you've picked out for your sugar baby Sim. It features a wrap-around design to maximize the things they can show off, and comes with clothes up on display.
What more could possibly tell the world how much money they're raking in?
14.

Shoe Platform
Do you need a little extra space to display your Sim's extensive shoe collection?
Maybe your Sim has more of a taste for shoes than clothes in general. Or maybe that's how they get their money from their sugar daddy (we don't judge, your Sim's got her own life).
Either way, this shoe platform CC is the best way to make sure that all of her favorite pairs of heels, sneakers, and more are up for show!
This is sure to make any space look a little extra fancy. I mean come on, doesn't the monochromatic color scheme and the simplicity of the whole thing make it look expensive?
Not to mention, there are so many varieties that come with different selections of shoes, they can switch up their display as often as they switch up their entire wardrobe!
13.

Beauty Guru Makeup Clutter
Your sugar baby needs to look their best at all times.
And what better way to show off their makeup skills than with some good old fashioned makeup clutter?
This selection features two palettes from Huda Beauty, All Nighter spray, and more- the perfect array of products for any Sim who definitely isn't an amateur when it comes to makeup.
If you love the idea of your Sim having some extra makeup laying around in their bedroom or bathroom, there are other options to choose from as well.
Like the Anastasia Beverly Hills Collection, complete with contour, highlight, and eyeshadow palettes, which can be found here.
12.

Shopping Bags
After a long day of shopping with your sugar daddy/momma, your Sim is bound to have a ton of bags from all of the high-end stores they hit up.
Why not keep them around to show off that expensive taste?
These shopping bags used as decor would look perfect in any closet or bedroom, just to reiterate that your Sim really, really likes shopping.
And they're not afraid to admit it.
11.

Portable Suitcase Dresser
Not all sugar babies are in the business just for material things. Some of them want the money to travel!
It can get pretty expensive planning out all of those trips. Luckily, they've got a solution at their fingertips.
Even if they were planning on embarking on a trip with their partner, they're going to need some luggage to help them get around… and that's where this suitcase CC comes in handy.
Of course, this isn't your average suitcase.
It's also a fully functioning dresser!
This can be carried around in your Sim's inventory to make wardrobe changes quick and easy, no matter where they're off adventuring to. And when they get home this CC is stylish enough to be used as decor in their home, too.
10.

Maserati Convertible
You want a hot body? You want a Maserati? You better work, sugar baby!
Sorry, couldn't help myself.
But seriously, what more could your baby want than their very own car?
Sure, they may not be able to drive it. But it'll sure look pretty in their driveway. And is the perfect way to not only soak up all of the gifts they're showered in but flex on the entire neighborhood, too.
Maserati not your thing?
Check out all the different convertible options, or any other style of cars, over at Lorisims blog and find the best one that suits your Sim's luxurious lifestyle.
9.

S-Club WM Nails
These nails are perfect to make your Sim match that sugar girlfriend aesthetic.
It's no secret that having your nails done all the time not only looks gorgeous, but having them this long is an instant way to tell the world that you don't play around!
Being a little extra is definitely not a problem. In fact, you wouldn't have it any other way!
And that's the exact energy that we get from sugar babies, so make sure they aren't caught without their nails done.
8.

Chantilly Lace Lingerie Set
It's no secret how a lot of sugar babies get their money, and if that's the case then it's our job to make sure they're looking as good as possible when they need to rise to the occasion.
Lingerie sets are the easiest way to turn your Sim from ordinary into super sexy.
And with a set as dainty as the Chantilly Lace Lingerie Set, there's no way she's going to disappoint!
This CC set comes with 5 different color options to properly set the mood. Like white for an innocent and sweet look or a light blue for something a little more daring and out of the ordinary!
7.

Baddie Sims Collection
There are a lot of reasons why this CC set is so great.
For starters, it has just about everything you need to create a great sugar baby outfit, from the long hairstyles to the designer handbags. It's like a one-stop-shop for the perfect fit.
Not to mention these feature the best pieces to get your Sim dolled up for meeting their sugar daddy/momma.
Whether they're being taken out for dinner, going to the hottest spots in town for a night of clubbing, or even getting to reap their rewards by being taken out shopping, this collection is just what your Sim needs to look as expensive and refined as ever.
6.

Gucci Costume Dress
No one can resist the little black dress.
And this is exactly what I look for when I try to find the perfect one.
Not only does it have status to show off how well your Sim is making it as a sugar baby, but the long sleeves with the deep-plunge neckline make this dress a nice option for when you're Sim is being treated to a fancy date night.
Make sure to find the perfect pair of black heels and some simple jewelry, and this will be a classic look that you won't be able to resist.
5.

Fawn Watch And Bangles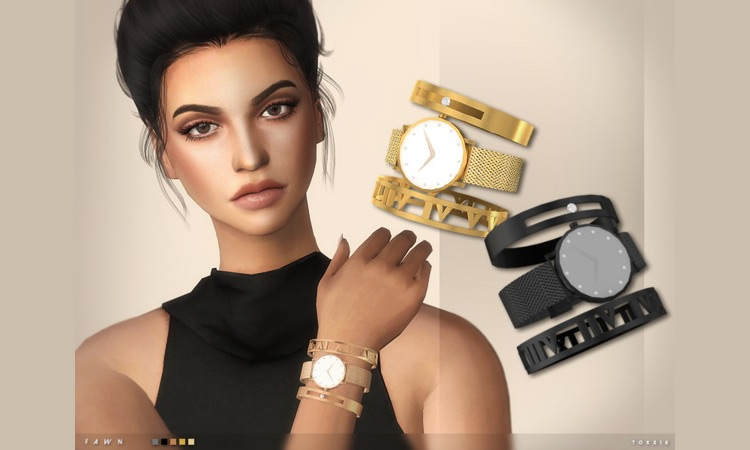 Watches have been used for as long as anyone can remember as a sign of wealth.
They're one of the best accessories because they bring together form and function, all on your wrist.
What makes this watch CC stand out is its use of simple bangle bracelets to make it different from the wrist. Because who can resist a little extra bling?
The Fawn Watch And Bangles are sure to amp up any look that you're going to give to your sugar baby Sim. And can easily become a staple piece that you can use for their entire rotation.
4.

Big Faux Fur Coat Accessory
Fur coats can be a bit intimidating.
Sometimes they're too big, too poofy, too long, and can accidentally turn what should have been a daring and fun outfit into a Cruella DeVille cosplay. Yikes.
But with this fur coat accessory, there's no need to fear them anymore!
These coats are just right when it comes to every aspect: the length, the poof, everything!
Better yet, these coats will make sure your Sim gets her champagne taste warm and fashionable, no matter the weather.
Be sure to check out every option too, because this fur coat comes in 10 swatches.
3.

Sugar Traits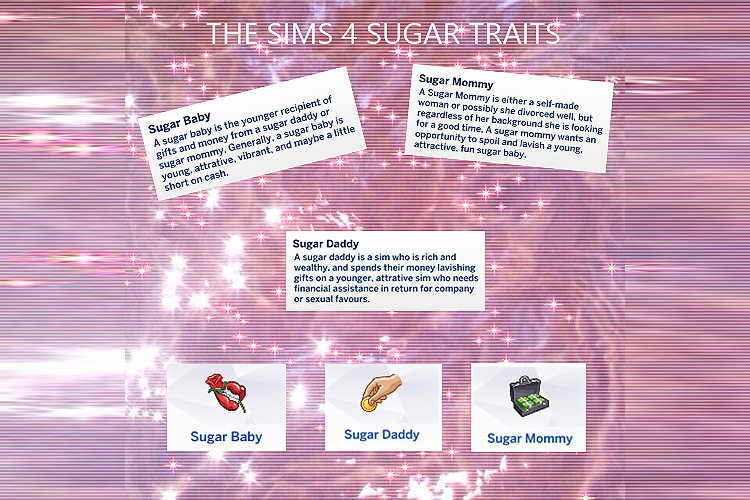 Anyone can dress the part.
But are you willing to fully commit to the idea of having a sugar baby Sim?
If your answer is yes, then this personality trait is exactly what you're looking for!
Finally, it's not just about the money or the people that they're seeing. It's all about the attitude.
And with the Sugar Traits, your Sim is sure to be in the right mindset to achieve their sugar baby dreams.
Don't worry, we didn't leave Sugar Mommies and Sugar Daddies out of the conversation.
If you would much rather live out your fantasies of showering someone in gifts and money, there are personality traits in this mod for those types as well.
2.

Sugar Baby Career Mod
The Sugar Baby Career Mod is just so detailed. Really a must-have in my eyes.
Complete with a set schedule for when they're on the clock, a set pay grade, and some days off, your Sim can feel like they're moving up the corporate ladder… if doing that didn't come with all the stress and boredom of having a traditional job.
1.

Sugar Life Mod
This is everything you need in more to create your wildest dreams of having a sugar baby relationship.
With the Sugar Life mod, your Sim can go around town seeking a special arrangement with the Sim of their choice.
Even Sims who don't have the reciprocating traits – they just need to have a high romantic relationship!
Your Sim can ask for daily allowances, propose to your partner, and if you're playing the role of the sugar mommy/daddy then you can even have multiple partners.
Watch out though! Jealousy is still a thing, and you have to be careful of your performance and how you maintain your romantic relationship. Lots to keep you busy here.
Browse:
Lists
The Sims 4
Video Games