Sims 4 Summer CC: Clothes, Décor & More (All Free)
This post may contain affiliate links. If you buy something we may get a small commission at no extra cost to you. (Learn more).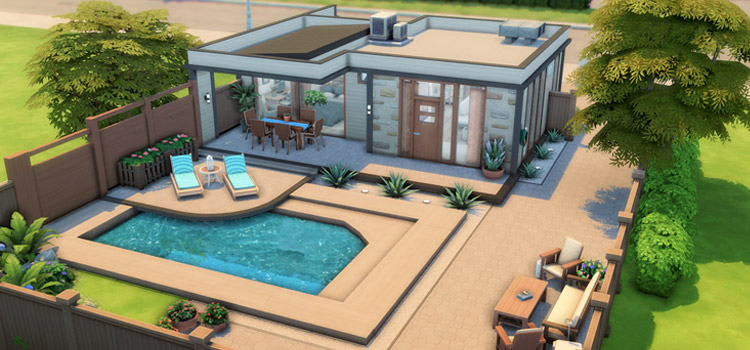 Listen, I'm not a big fan of summertime in the real world.
I don't like the heat, I have an irrational fear of sunburns, and I absolutely hate how chlorine feels in my hair.
That being said, I really enjoy seeing my Sims thriving in the summer. This is most likely another case of living vicariously through my Sims, but that's a conversation for another time…
There are already so many elements in The Sims 4 that make for a fantastic summer. But I've put together a list of CC items that are going to really push your summer gameplay over the top.
From clothing to food, your Sims are going to be living their absolute best lives.
1.

Summer in Mt. Komorebi by Joliebean
Now I know what you're thinking. Mt. Komorebi is the least summer-y of all the available worlds in The Sims 4.
And you're correct.
But CC creator Joliebean has done a beautiful thing with this pack.
They've taken their love of Japanese dramas and turned out a successful addition to Snowy Escape.
There's a wide variety of options containing a new top with twenty-five swatches, a skirt with twenty swatches, some sandals with ten swatches, hair CC, and a hat with seven swatches.
2.

Summer Florals Collection (Inspired by H&M) by Quirky Introvert CC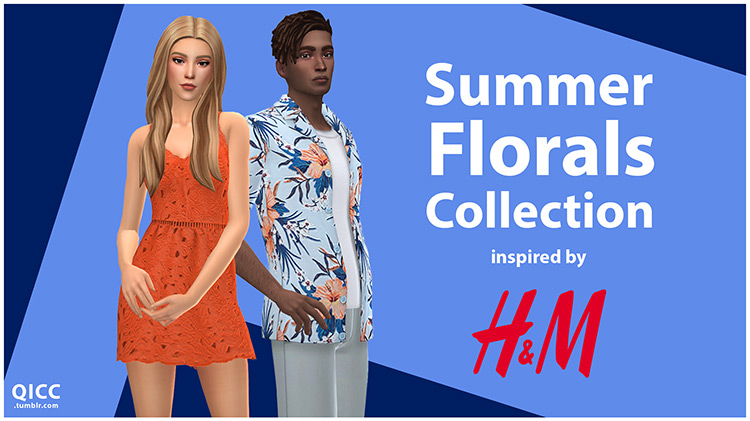 I'm feeling nostalgic with this one!
If you've been with The Sims for a while, then I'm sure you remember the iconic Sims 2: H&M Fashion Stuff pack.
Quirky Introvert CC has created an amazing collection of twenty-two items for both men and women, that'll have your Sims looking their very best all summer long.
There are six hairs (three for men, three for women) all with eighteen swatches, as well as eleven clothing items for women and ten clothing items for the guys.
All of the swatches are bright and summery, and they would make for a great photo op for your Sims couples if their outfits matched.
3.

Summer Basics Collection by Kumikya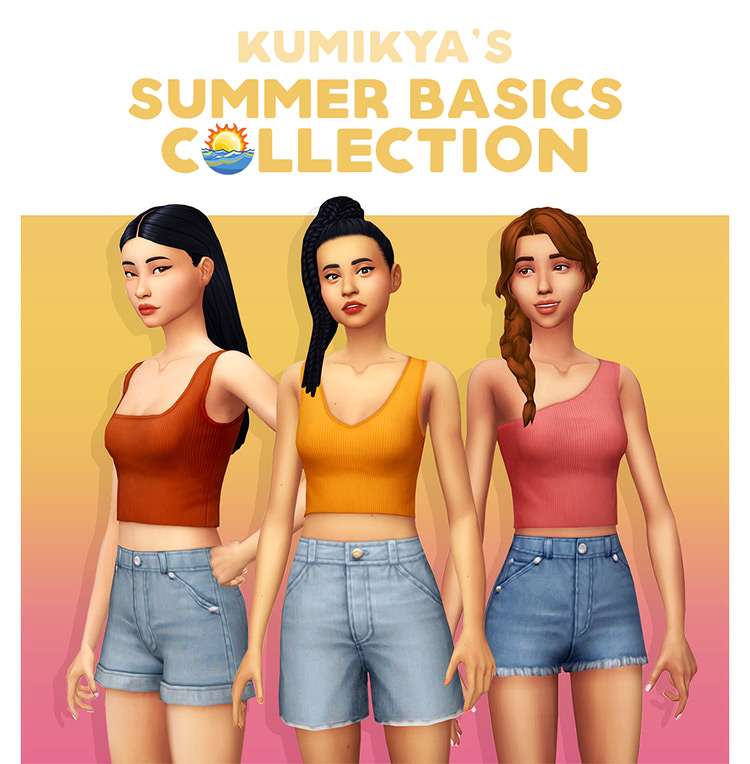 Even though I don't like summertime, I actually love shorts.
I usually put my Sims in shorts all the time, even if I'm playing in fall or winter. So this pack is a winner in my book!
Kumikya has created a great little collection of shorts and tanks for your Sims to stay cool all season long.
Along with three variations of denim shorts with nine swatches, it also comes with three different ribbed tank tops in eighteen swatches. So you're gonna have a lot of options.
4.

Horololo Shorts by Trillyke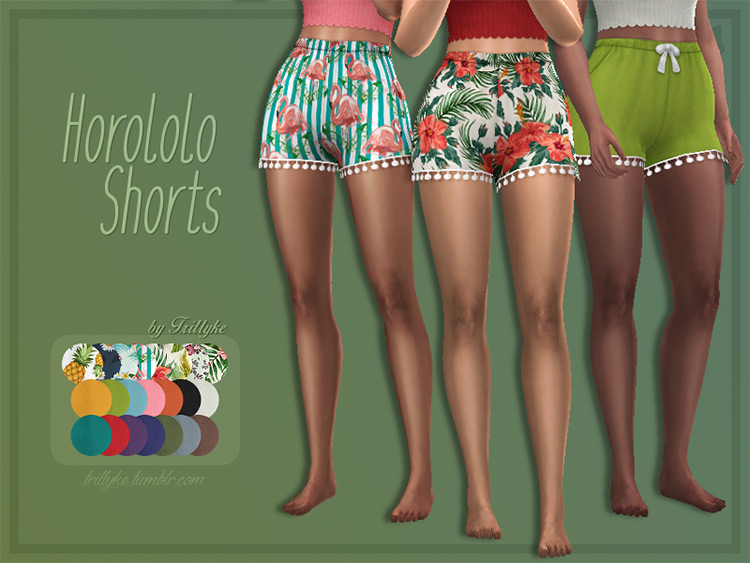 I couldn't create a list of summertime items without including these shorts by Trillyke!
I personally use these shorts in my game all the time, and not even just during the hotter seasons!
With fourteen solid swatches and eight patterns, these are so incredibly versatile. I've used them for not only summer outfits, but also workout gear and pajamas as well.
5.

Wave Bikini by Trillyke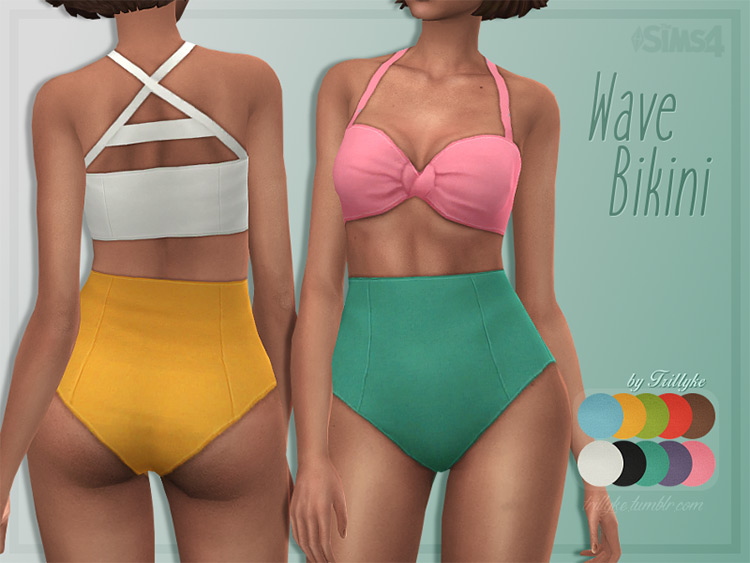 I couldn't pick just one item by Trillyke, so here we are again.
This bikini is one that I use all the time, and honestly it's just one of the best that I've found.
It comes as a set of two items, so you can mix and match the colors with other items in your game.
There are also ten swatches of nice solid colors, so they're going to go with basically anything.
6.

Dead or Alive Swimsuits Set 2 by Astya96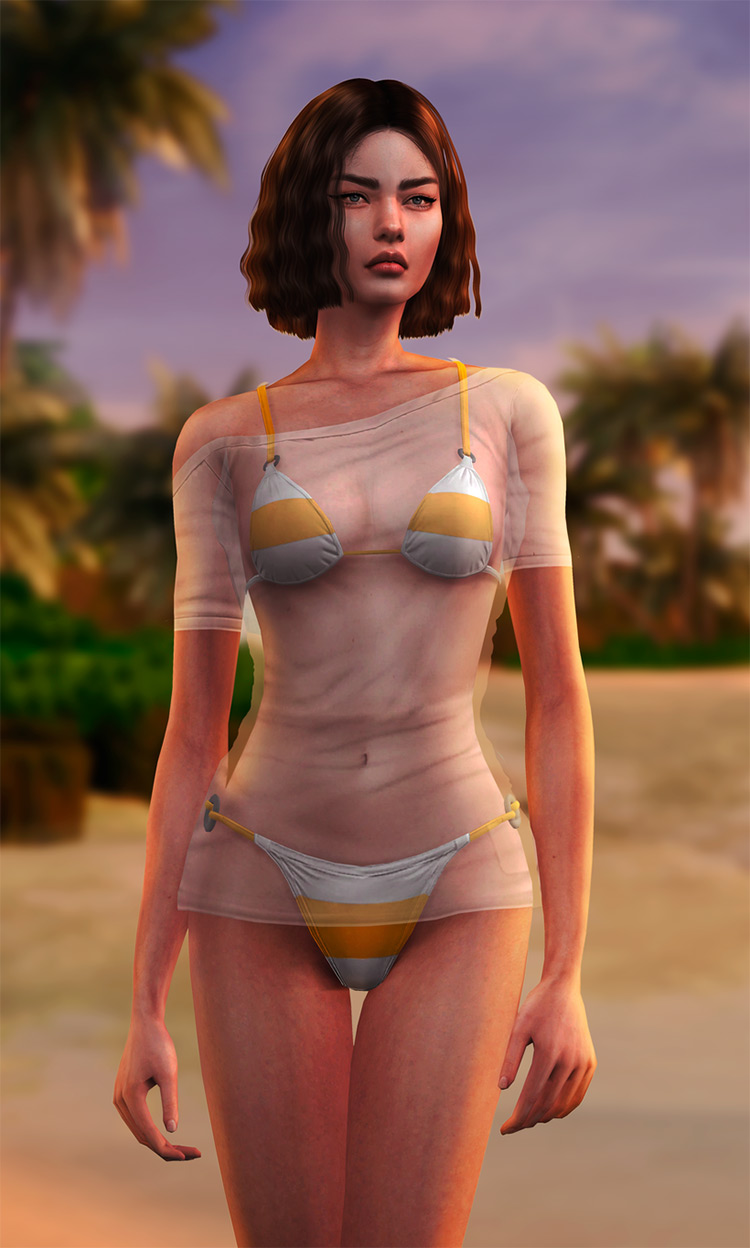 One of the best things about Sims 4 CC is that you can insert all your other favorite fandoms into the game, so that your Sim-selves can also enjoy them.
This set of swimwear by Astya96 is nice on its own. But the fact that it's based on suits from Dead or Alive just makes it even better.
Even if you aren't a DOA fan, you can still appreciate these swimsuits because they're so, so nice!
The set comes with eight pieces total, each one coming in varying numbers of swatches. And it even comes with an incredibly well-made accessory shirt that's sheer and off the shoulder, and makes for an incredible cover up.
7.

Summer Garden Set by Kardofe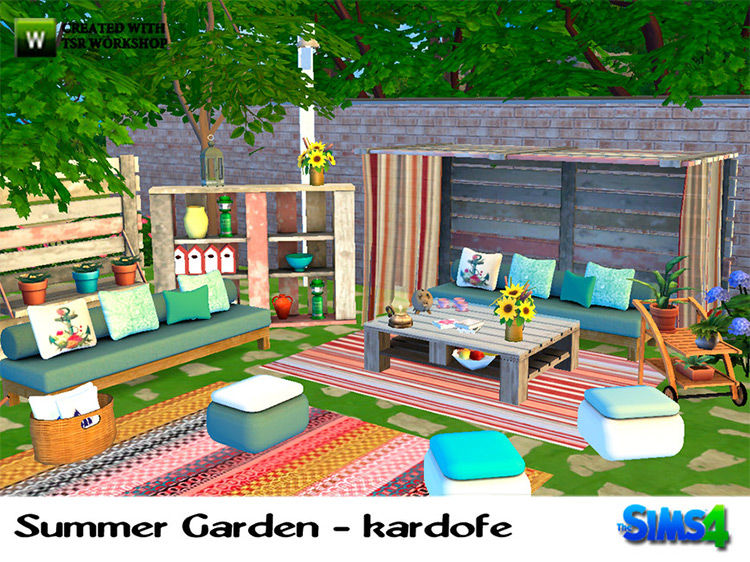 Now that you have some great options for summertime clothing, let's move on to a great place to hang out.
This summer garden CC set by creator Kardofe comes with eleven pieces of furniture that are mostly made of pallets, which is incredibly neat!
This set would look great outside your Sims' homes, or could even be used in a park build for your towns.
8.

Summertime Shorts by Emmibouquet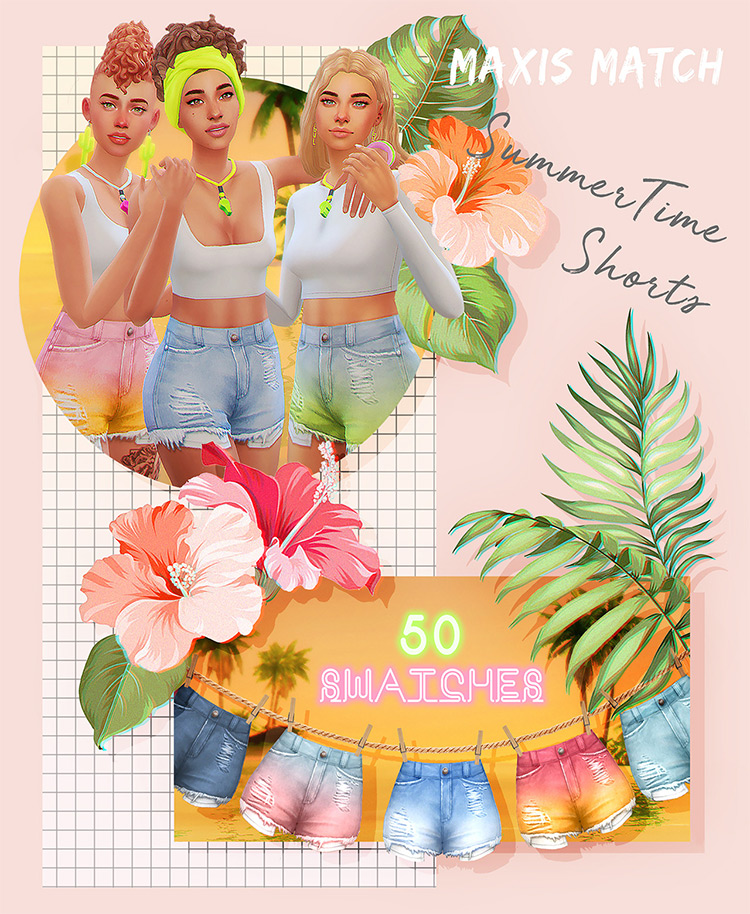 I don't know about you all, but one of my favorite things to do in-game is to pretend that the outfits I put on my Sims have been purchased with their own simoleons.
I also like to use varying swatches of pieces to show that my Sim alters their clothing every so often (don't we all?)
So when I found these shorts, I could just picture a Sim working so hard to dye their denim shorts!
If you want your Sims to stand out in the sun, then these summertime shorts are perfect. Because they come in fifty of the coolest swatches that I've seen in a while.
9.

Summer in Sulani Hair Pack by Wild Pixel and FiveSim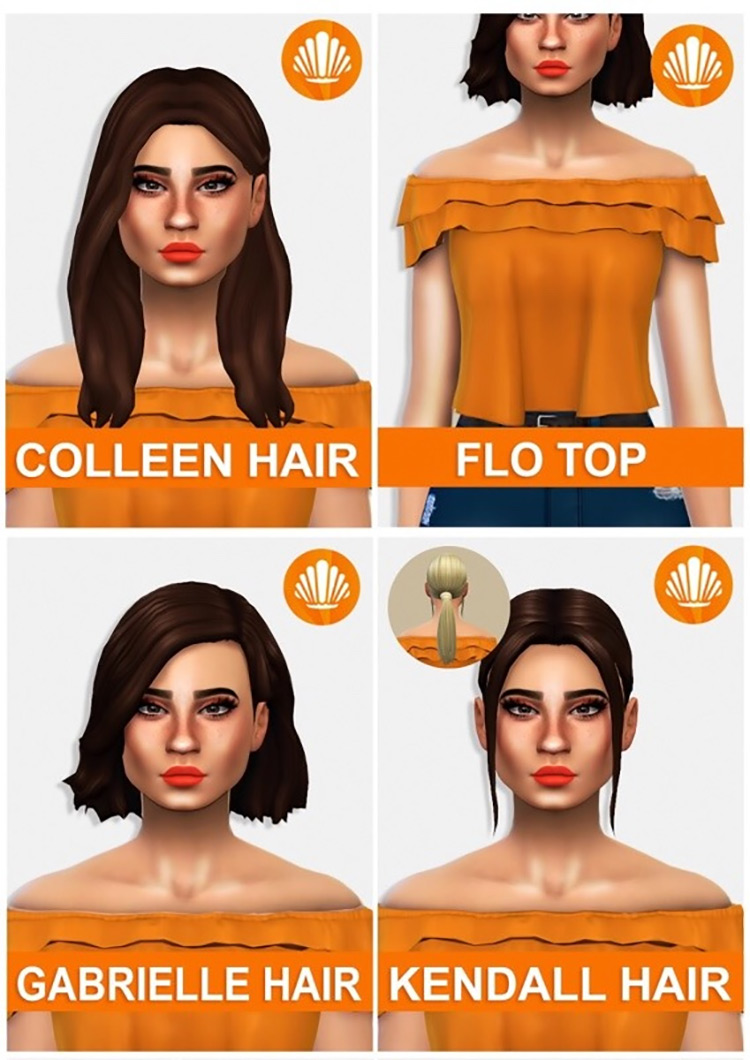 We can't spend all of this time talking about clothes and ignore our Sims' hair.
Well this great little CC pack comes with nine hairstyles that look like they came right off the beaches of Sulani.
They're sunny, cute, and just picture perfect.
10.

Bubble Tea by Littlbowbub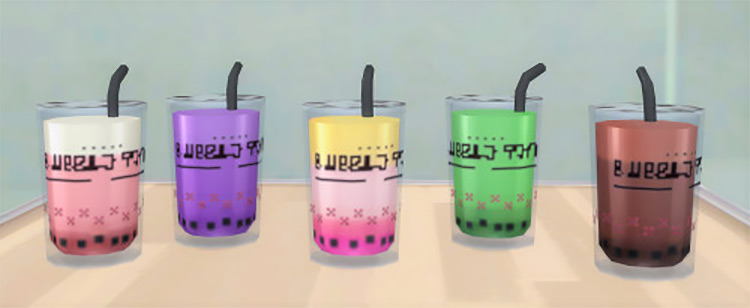 This creator has brought us so many great food additions for our games, and this Bubble Tea is perfect for your summertime hangouts!
This is a premade item that you can get from any fridge. And it comes in at a low price of five simoleons!
There are also five great flavors here too, so your Sims are going to really enjoy this drink day or night.
11.

Trip to Hawaii Float Lounger by Hodiernus
One of the best additions that we got with Island Living (at least in my opinion) was the ability to use a pool float in both the ocean and pools!
My Sims seem so relaxed while floating around, and it's just so enviable.
This great recolor of the Float Lounger by Hodiernus adds six of the cutest patterns for your Sims to enjoy. I'm personally in love with the ice cream cone swatch!
12.

Summer Blushes Part 2 by Miiko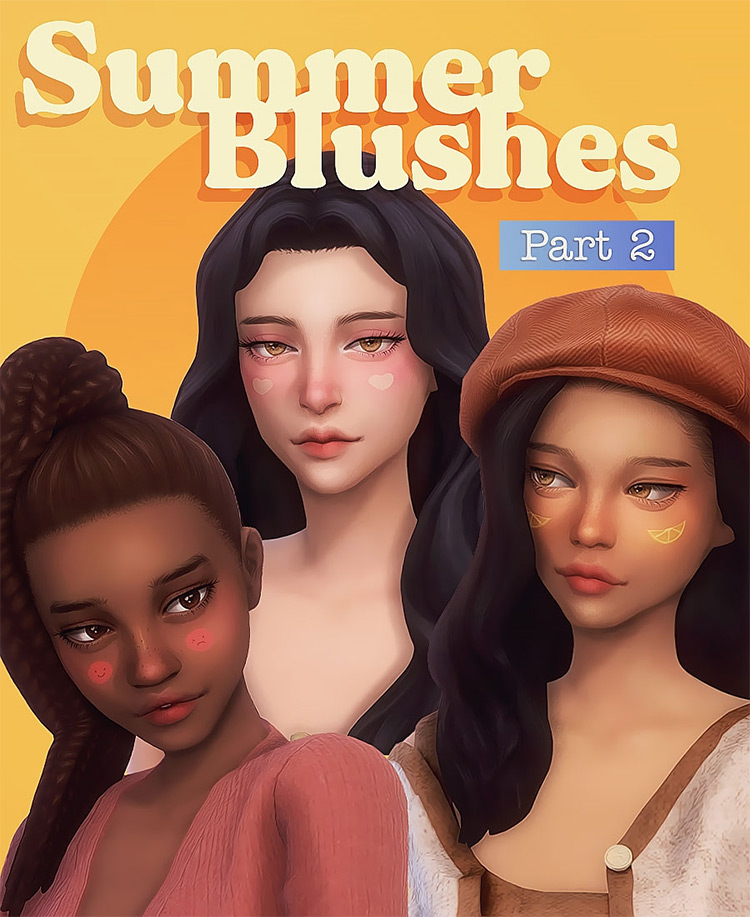 One of the many reasons I spend so much time in CAS is because of the amount of makeup I have for my Sims.
And this summer blush is definitely one that I have in my own game.
It comes with three adorable options, and they're shaped like a smiley face, a heart, and an orange wedge. How cute is that?!
They can also be put on as face paint as well as blush, if you want to pair them with something else.
13.

Fair Stuff Pack by Necrodogmtsands4s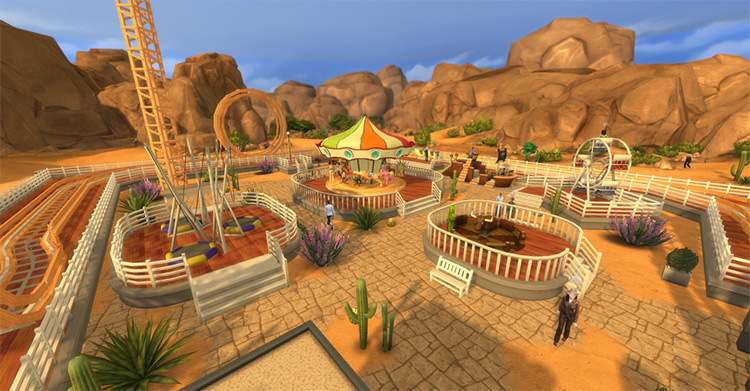 When I think of summers, especially as a kid, I always think of going to the fair.
And this fair-themed stuff pack by Necrodogmtsands4s is incredible.
They've created an entire amusement park and put it all together in a park for your town. And I really cannot believe this is real. It can add so much to your gameplay!
Could you just imagine a first date at the fair?
Or a family outing?
Sign me up!
The pieces from this pack can also be used in other locations within your game, so the opportunities for summertime carnival fun are truly endless.
14.

Cotton Candy Machine by Icemunmun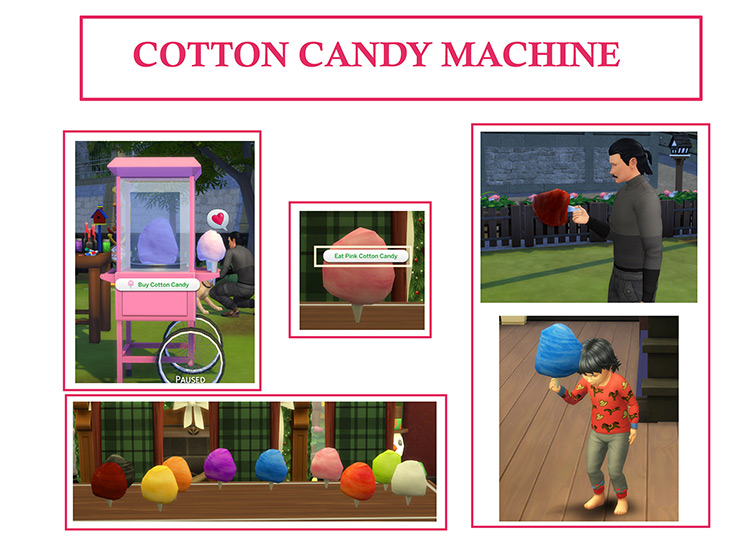 One of the best parts of going to the fair is food, right?
Icemunmun has created a functional cotton candy machine that your Sims can enjoy, either at the amusement park (from the previous pack!), or even from the comfort of their own homes.
This item can be found in Build/Buy mode under misc appliances, has nine swatches, and has ten flavors available.
Each of the flavors even comes with their own moodlets, so try out the different flavors and see which ones your Sims prefer.
15.

Functional Pet Bed House by Readheadsims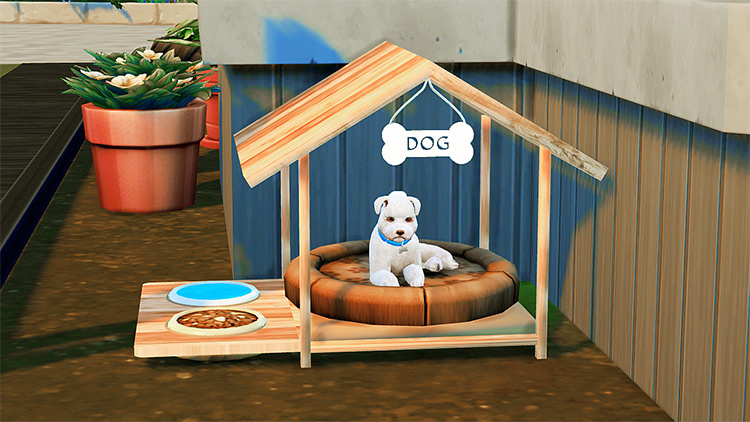 We're rounding out this list with an item for your furry family members.
This adorable small pet bed by Redheadsims has a built-in food and water bowl space, and it's covered too. So your pets can enjoy some time outside without getting too hot.
Just a heads up, this one is only for small cats and dogs. So maybe if you have a bigger breed, check this one out for them when they're puppies or kittens!
Browse:
Lists
The Sims 4
Video Games