Sims 4 Summer Shoes CC (Guys + Girls)
This post may contain affiliate links. If you buy something we may get a small commission at no extra cost to you. (Learn more).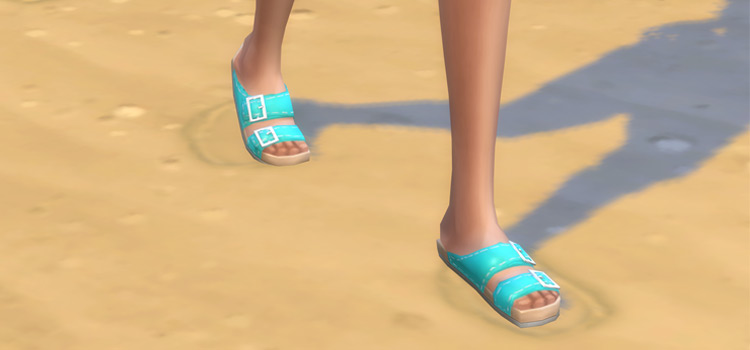 Summer is undoubtedly my favorite season, both in The Sims and in real life.
Heading out to the beach, drinking lemonade by the pool, eating ice pops in the sun – it all reminds me of the best parts of being a kid. Not to mention a heavy dose of vitamin D does wonders for your skin and mood.
While you may already have your curated selection of sundresses and shorts, it's time to find the perfect pair of summer shoes to show off in – and of course to inevitably pop off so your sim can dig their digital toes in the sand.
So let's check out the best CC shoes for your sim to enjoy the heat in, and look good doing it.
1.

Monster Goff Crocs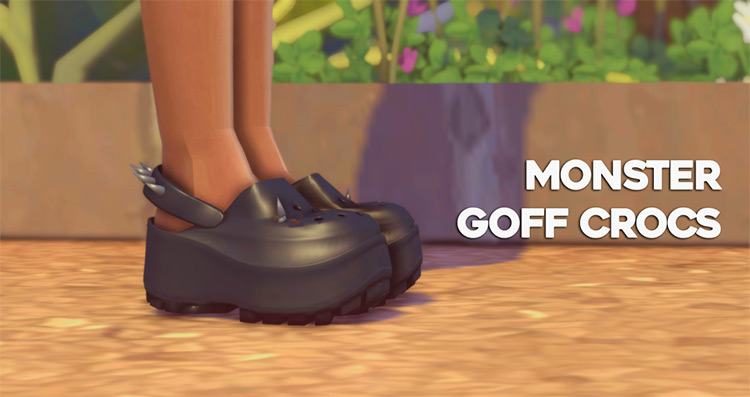 You can run, but you can't hide from the fashion sensation known as crocs.
No matter how you feel about them, they're back and they are here to stay.
These fun crocs come with spikes for your goth and punk sims, and without spikes for everyone else.
They also have a chunky platform version as well as a regular option. I personally like the chunky ones, they're so cute and add that little extra oomph that I'm always looking for in outfits.
2.

High Heels 850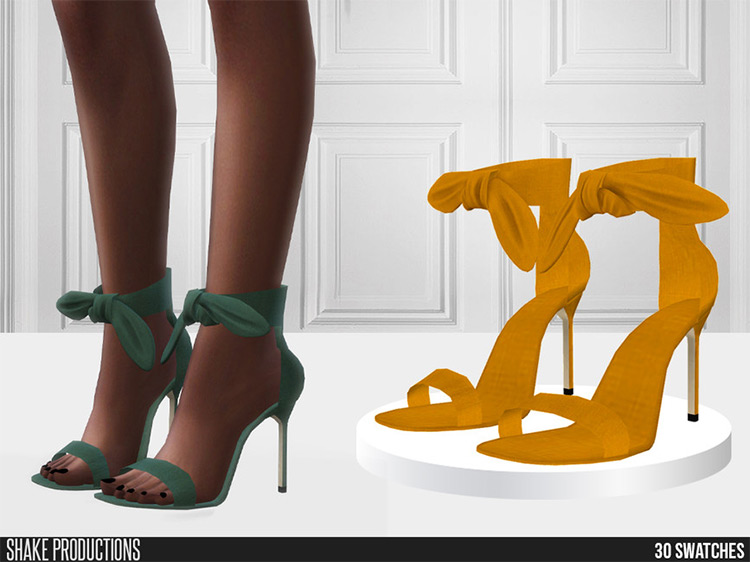 These high heels scream summer vibes!
I love the cute little bow on the ankle strap, the open toes, and most of all the height.
While these shoes may not be practical in soft sand in the real world, your sim can strut their stuff down the sand on Sulani beach without a second thought.
30 different color choices are available for your sim to color coordinate their dream summer outfit with ease.
3.

Pool Sliders for Men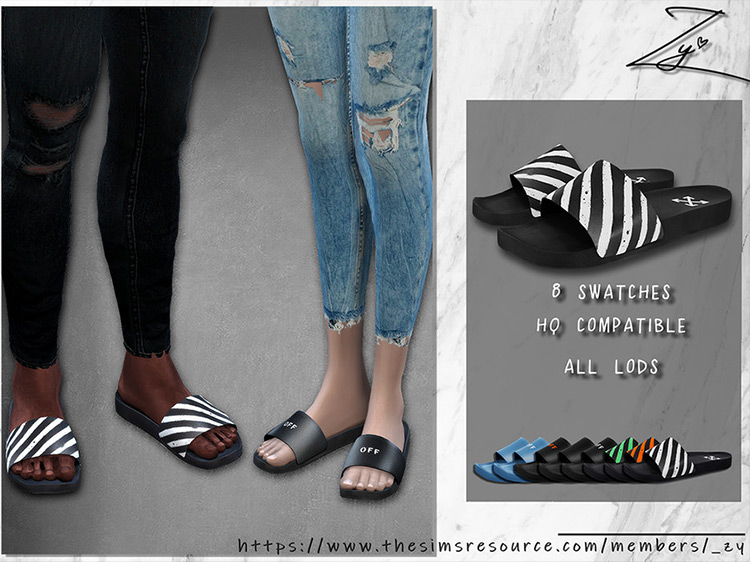 I don't want you thinking for a second that I forgot about your male sims – or your sims who prefer function over high fashion.
Lots of people don't like the feel of a strap between their toes, and I'm sure some of your sims feel the same way.
These fun sliders are exactly what your sims need to cool off by the pool, or just walk around downtown San Myshuno. They come in 8 unique swatches, including a refreshing steely blue.
4.

Simple Sandal (Female)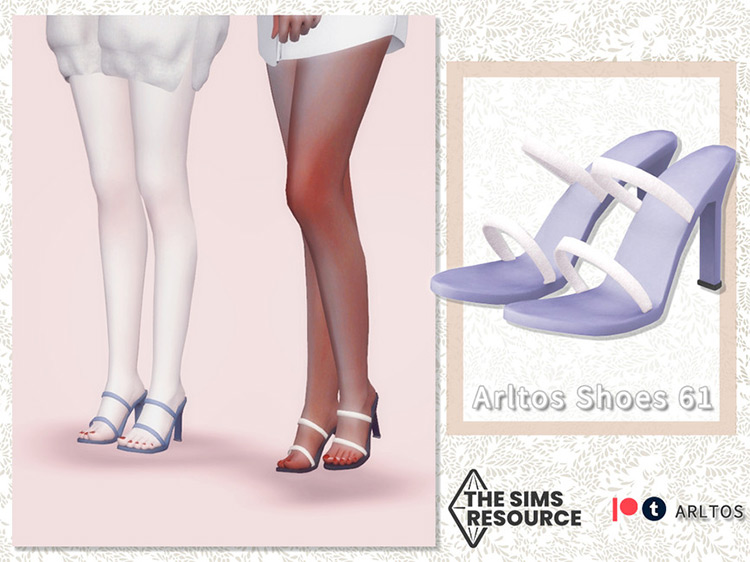 These sandals may be simple in their design, but I believe that's what makes them absolutely timeless.
Who could go wrong with strappy sandal heels?
Heels like these are the perfect excuse to take a trip to Brindleton Bay, soak in the sun, and maybe grab a couple puppy cuddles.
This CC comes in 13 fun color swatches, and these sandals are easily adaptable to a cute summer dress and an oversized sunhat.
5.

Ann Demeulemeester Heeled Sandals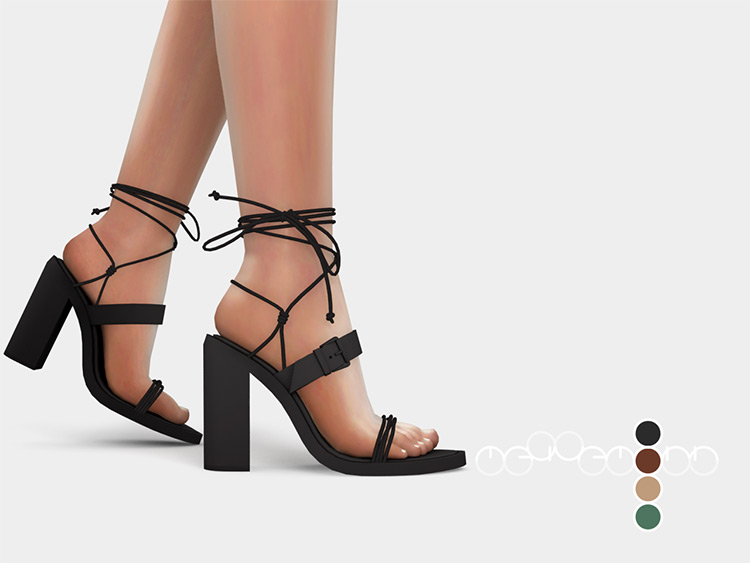 I'm head over heels in love with these sandals.
Okay maybe that wasn't the best pun, but I stand by it!
High block heels like these are so fun for the summer, especially when they have open toes and strappy ankle ties like these do.
Not to mention the modern buckle strap in the middle of the shoe. These heeled sandals come in 4 different colors, but black will always take the cake for me.
6.

Lace Sandals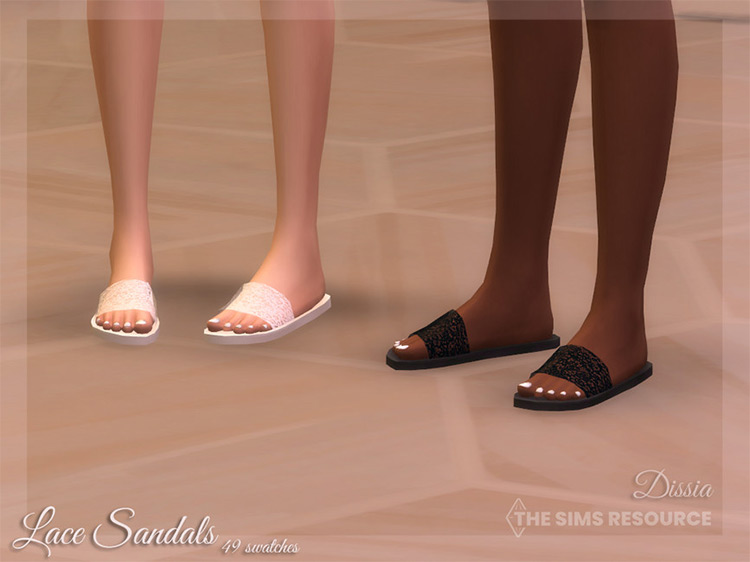 I swear I had a pair just like these in high school! These sandals are the perfectly balanced summer shoes.
Not only are they functional and light (which is amazing if you are clumsy like me), but the lace helps them become dressy enough to wear out without feeling like you're dressed down.
And what's the most amazing part about these?
They come in forty-nine different colors. Forty-nine!
So get your sim out on the town in these comfortable yet stylish sandals. The options are endless.
7.

Female Geta Sandals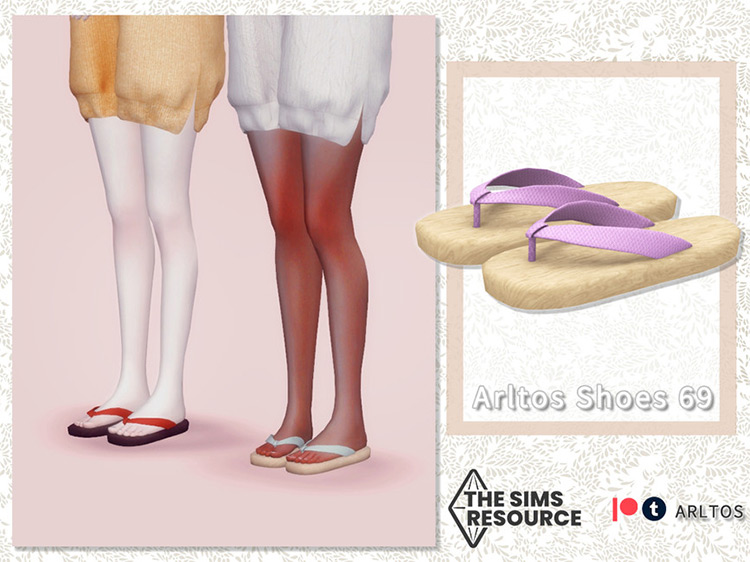 I'd say these sandals are the harbinger of summer.
Once I bust these babies out I know it's time for ice pops by the pool and salt in my hair.
While trends may come and go, nothing will ever replace the simplicity and functionality of just regular old flip flops. There are 8 colors available for you to choose from here, including a fun wood base option.
So choose wisely! Your sim might be so comfy in these traditional sandals that they wear them straight into the fall.
8.

Scandal Sandals (Maxis Match)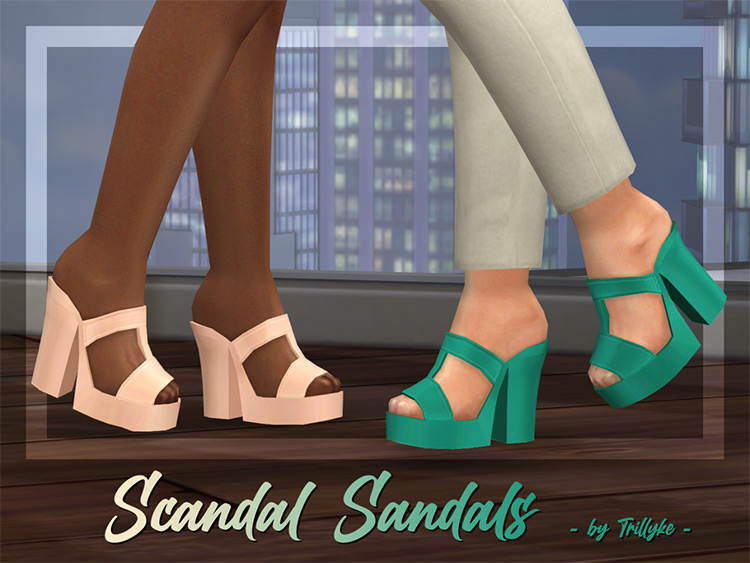 These platforms are called "Scandal Sandals" for good reason.
Chunky platforms like these bring me back to dancing the summer nights away.
They have the stability of wedges and the personality of a girl's night out, which is the perfect combo to take your sim and her girlfriends out to Planet Honey Pop.
You get 20 show stopping colors to sift through, ranging from bright summer colors to warm winter tones.
9.

Summer Sandals (Female)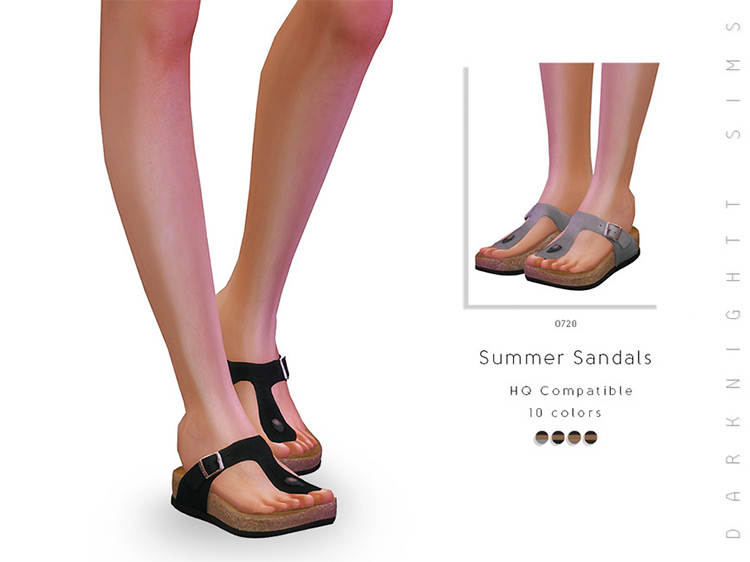 Sometimes you can see comfort in just the picture alone, and these sandals are no exception. Can you just imagine how comfy these shoes are?
While comfort is clearly in mind with these cute open toed sandals, the stylish t-strap accented by a chic buckle make these a summer must have.
There are 4 muted tones available for these chunky flats, making them easy to pair with any summer outfit.
10.

Fashion Street Sandals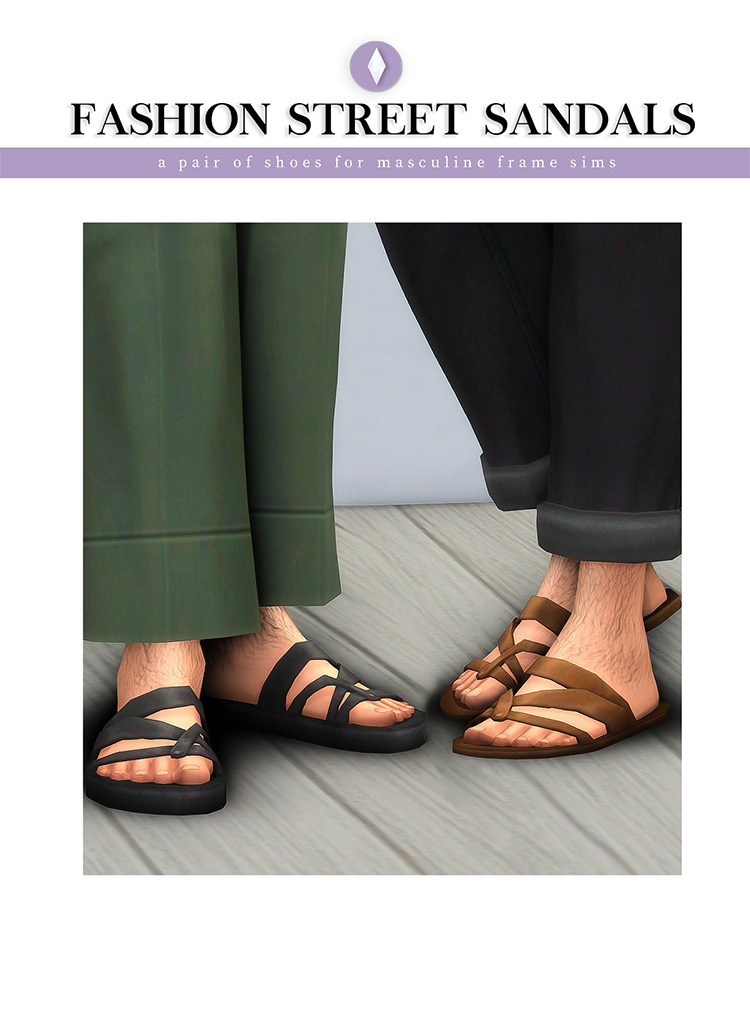 If you bought the Fashion Street Kit and saw these bad boys, I'm sure you were as excited as I was.
Until, of course, you realized they are only exist attached to one full body outfit. I will never understand some of the choices EA makes.
Once again, content creators have swooped in and made the impossible possible. Thanks to CC creator Nucrests, these detached sandals come with the original eleven colors, and have been modified to give you the option of regular or platform soles.
11.

Bambam Sandals (New Mesh)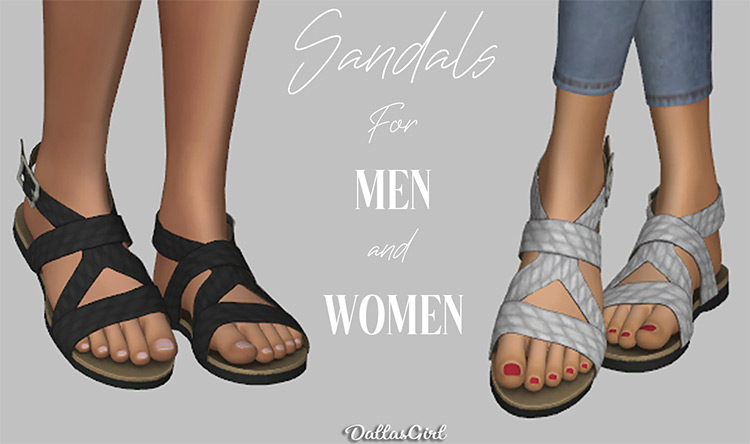 Cute and casual, these sandals are ideal for long walks on a boardwalk or out boating on the sea.
I'd say these shoes are especially neat because this CC download comes with nail polish colors for your sims' toes, which can be found under the 'socks' and/or 'tattoo' sections in CAS.
With 30 different colors, including a bright teal, pretty lavender, and a gorgeous deep red, you can color coordinate your sims' outfits to your heart's content.
12.

Childhood Sandals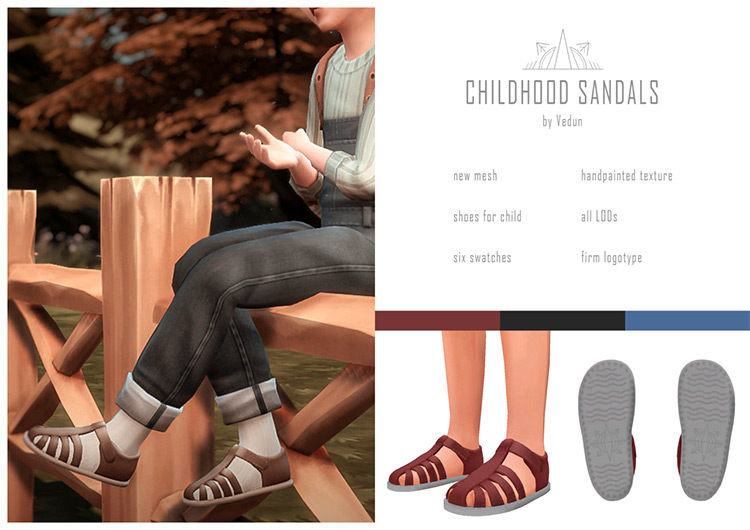 The tagline for these sandals is spot on: "Sandals straight from childhood".
I feel like everyone has had a pair nearly identical to these at some point in their childhood, and for good reason. They're breezy enough for summer, but you can run as fast as you want without tripping or having your tiny toes slip out.
Six colors are available with these iconic children's shoes which, like Trix, are only for kids.
13.

Victoria Set (Five Items)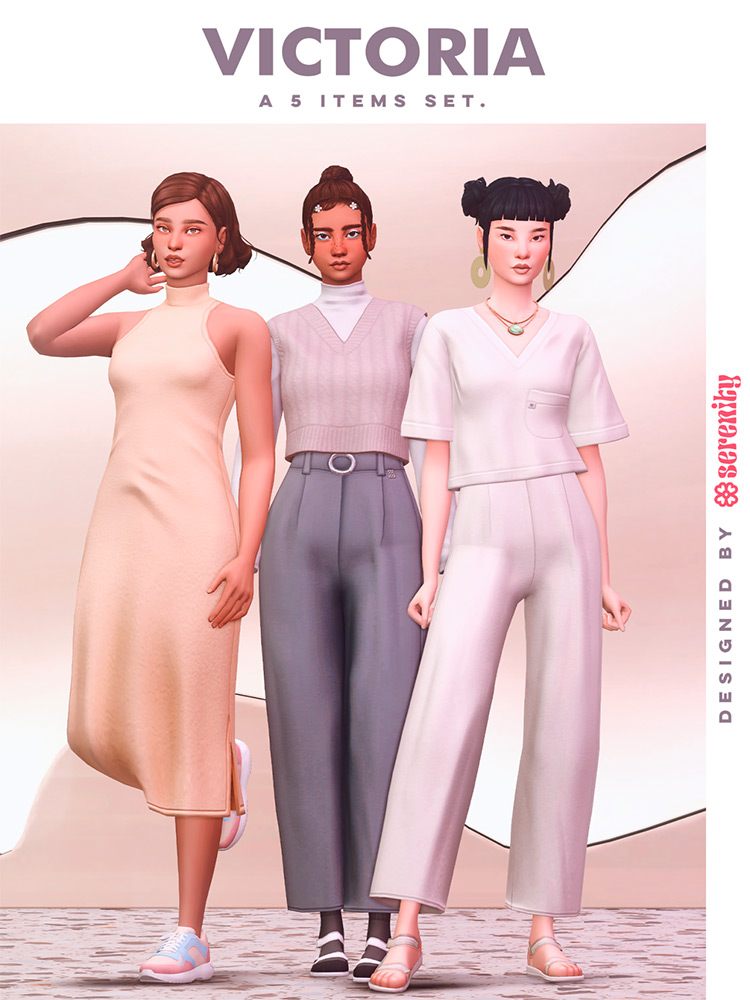 While this CC set may come with four business casual clothing items, it also comes with the perfect pair of business casual sandals.
These sandals come with or without socks, so no matter what side of that debate you're on, you can have it your way.
They also offer a whopping amount of thirty different color swatches, including monochrome and multicolor options.
Personally, I love the pastel multicolor swatch. It's just too cute!
14.

Studded Gladiator Platform Sandals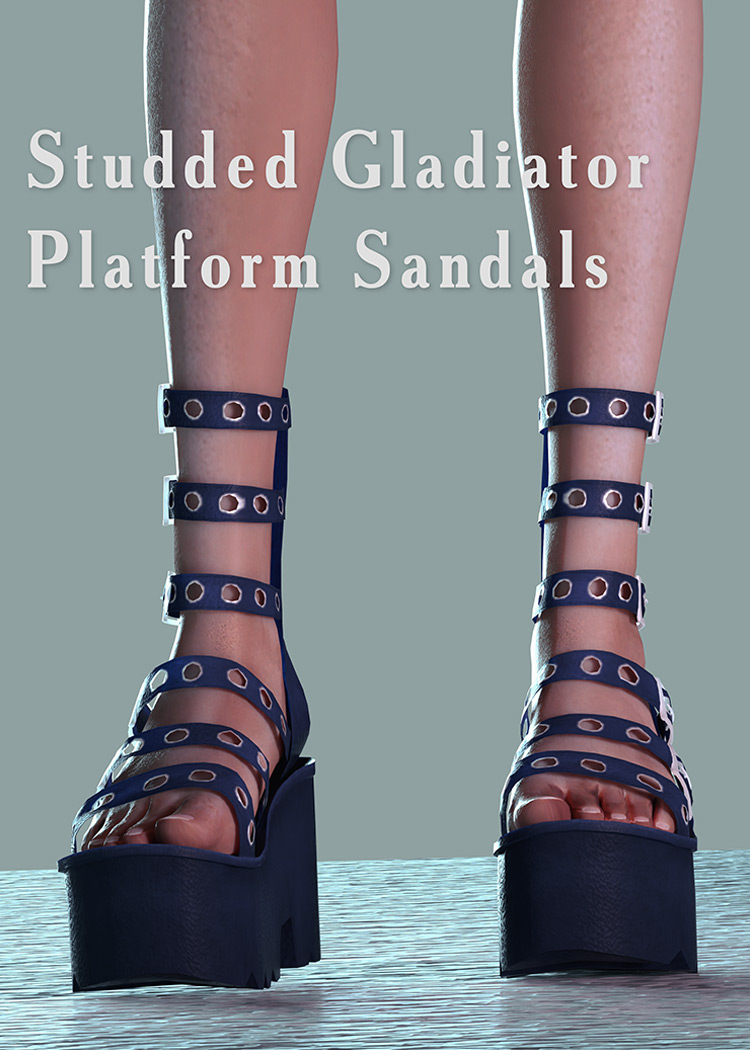 Okay, how fun are these clunky gladiator sandals?
They're such a cool mix of those famous gladiator sandals you see every summer and the studded platform boots that are iconic in the goth community.
These are great for your goth, punk, vampire, or your generally edgy sims who want to keep their style, but also want to feel the summer breeze on their feet.
You have the choice between twenty-four exclusive colorful swatches, and any sim aged teen through elder can rock these awesome sandals.
15.

Jius (Kitten Heels with Bow)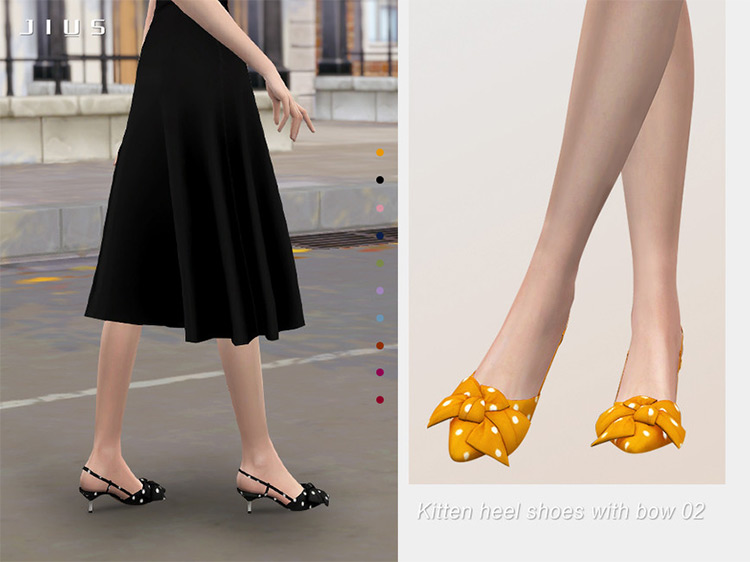 These slingback kitten heels waltzed straight out of the 1960's and into my heart.
There are 10 fashion-forward color swatches included with these kitten heels, and you can find them under the everyday and party sections.
Your quirky sims, or your era playthrough, would be incomplete without these heels adorned with polka dots and a bow.
Browse:
Lists
The Sims 4
Video Games