Best Sims 4 Sundresses: Free CC For Summer Fashion
This post may contain affiliate links. If you buy something we may get a small commission at no extra cost to you. (Learn more).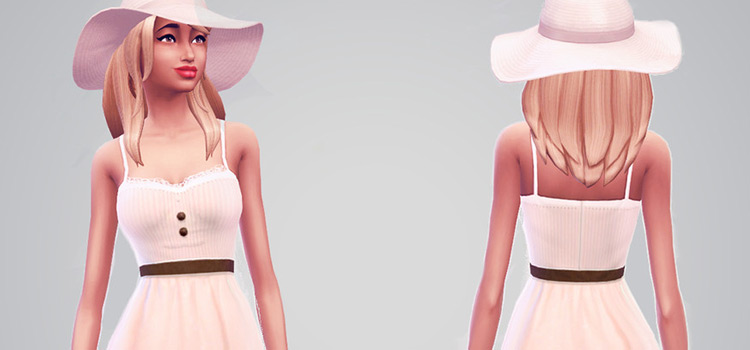 It's that time of year already! Pants are too hot, shorts are in, and crop tops are great but not always easy to style.
Skirts are fun but not every day(well, maybe…)
What's easy, breezy, and beautiful (other than cover girl)?
Sundresses!
Sundresses are a definite piece in every Sims wardrobe. They're versatile, and you can never have enough of them. Produced with various different cuts, styles, and colors, your Sim can look like that super stylish cutie all summer long.
Unfortunately the sundress choices in-game just won't cut it. And it's fun to indulge in the massive collection of CC online, right?
But let's be honest: who has the time to find the perfect dress? I guess I do, cause I've compiled all the best CC's for your Sim's summer collection.
From flirty florals to breezy maxi dresses, you'll find it all here.
10.

Simple Sundress
This classically simple sundress designed by Pizazz comes in ten colors and has a simple cut that'll hug your curves in all the right places.
Yes, it may seem a little plain.
But simplicity makes for some of the best looks.
You know that whole 'less is more ideology', doesn't just apply only to makeup. It works for fashion too!
Add some pizazz to this look by dressing it up with chunky espadrilles or stilettos.
If you want a casual effortless look here, throw on some sneakers or sandals with a fun hairstyle.
I promise you'll look fresh and chic.
9.

Shirred Cami Sundress
The Shirred Cami Sundress by MsBeary can be worn as a daily look, or you could even save it for a beach date.
This mini is ultra-flirty with its smocked bodice, ruffled hem, and 22 vibrant colors all in this one CC pack.
Feel free to match it with your favorite accessories every time you go out.
If you have the Island living extension pack you'll definitely want to have this light dress in your closet.
8.

TatyanaName Patterned Sundress
Nothing screams "summer fling" like a low-cut V neck maxi sundress.
TatyanaName created this beautiful patterned long dress with five color options in total.
Get ready for those summer cocktail parties sipping those delicious Margaritas, and looking like the 'Queen of Summer' every night.
I'm sure with the right accessories you'll be turning heads left and right! Maybe even score a few free drinks.
7.

Flared Floral Sundress
New York City, one of the world's fashion capitals, is also one of the most humid places during the summer months.
Despite the heat, if there's one thing New Yorkers truly care about (other than their coffee and bagels) it's that New York City fashion.
Created by NYGirl Sims, this flared floral dress has quite a few gorgeous patterns to choose from.
If you own the Sims City Living pack, let your Sim strut down those city streets in this fun and flirty floral mini.
6.

Sarah Sundress
Attending a summer wedding, or a nighttime party, or a new date?
Well this gorgeous long sundress with a grape & grapevine pattern should do the trick for all three scenarios.
Designed by Supernerdylove2, the dress is tied at the top with a thick ribbon/bow with 6 colors to choose from.
If you're just one of those Sims that is always dressed to impress, you're going to want to have this piece.
This sundress is great for formal events if you dress it up.
And if you're a soon-to-be bride, whip this out for an engagement party. You'll look extremely graceful and sophisticated.
5.

Skarlet
Try this Skarlet dress with 17 color choices, you'll have plenty of looks to go around!
This sundress is something we would see the queen Cardi B wearing.
And the design gives off some serious FashionNova vibes.
If your Sim has a curvier body type, you're unquestionably going to want them in this dress.
Not only will your date be left speechless, you won't go unnoticed by others either.
4.

Bomber & Dress
Want to look like you spent hours putting together the perfect outfit, when all you really did was download some CC?
This cute chic look comes with a super stylish bomber jacket available in 22 colors. That's a lot of styles!
For sure this sundress is great for an evening out in the city, and the bomber jacket adds a sporty accent here. Yet it still has that feminine touch that's accentuated with the floral patterned sundress.
3.

Nika Sundress
What better way to sport some retro fashion than this fitted summer dress with the classic bow tie designed by Helsoseira.
Some may avoid wearing anything that's close to 60s/70s inspired pieces, afraid of looking like their Sim got caught in a time warp. Fair enough.
But this is the worlds of The Sims, so stand out!
I fell in love with this dress at first glance, I couldn't help but imagine the lovely Audrey Hepburn sporting this piece. Maybe even pairing it with some hair bows to accessorize.
But for something a bit more casual, I suggest pairing it with a nice big sun hat (still thinking of Audrey Hepburn and her fabulous hat in My Fair Lady).
You'll look like a classic beauty!
2.

Lace Neckline Sundress
We usually associate sundress with flowers and frills, but why not be daring and add some lace?
This dress created by Sims House comes with seven color options, a lovely plunging lacy neckline, and a frontal slit to show off those killer legs.
With some stilettos and accessories, you'll be the Kim Kardashian of the evening.
Actually if you really want that Kardashian look then pair this dress with some cute nails and you'll be well on your way to the VIP room.
1.

Lilly Pulitzer Sundress
There's no better place to look fun & preppy than on a college campus.
If you have the Sims 4 College expansion pack, you're going to want to own this sundress. It's basically perfect for all you college girls out there!
And this design is inspired by the stylist Lilly Pulitzer, also known as the 'Queen of Prep'.
TheMaddyMaries created a lovely mid-thigh colorful sundress here with a lovely scoop neck and a bright pattern, which is really representative of the Lilly Pulitzer style.
She's known for bright, colorful, floral prints, and is a brand popular with high society.
So be sure that your socialite Sim owns this piece!
Browse:
Lists
The Sims 4
Video Games