The Sims 4: Best Super Mario CC To Download
This post may contain affiliate links. If you buy something we may get a small commission at no extra cost to you. (Learn more).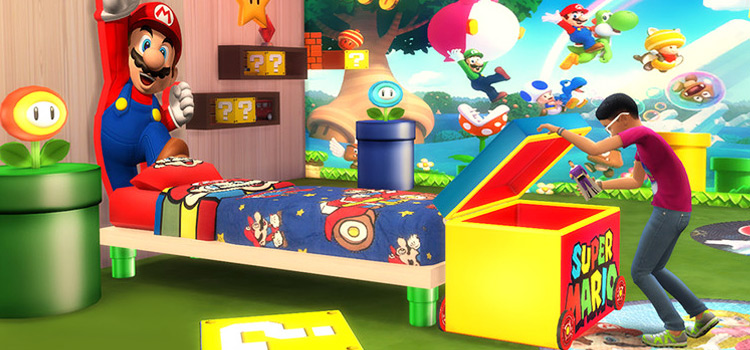 Super Mario has been the face of gaming for as long as I can remember. The Italian plumber has made an appearance in almost every video game genre, and it seems like his list of accomplishments will only continue to grow.
It's one of the very few gaming franchises that can claim to reach as many demographics as The Sims. Everyone likes at least one Mario game, just as basically everyone loves playing The Sims.
For this list we're bringing the Mushroom Kingdom right into The Sims 4 with fan-made CC and custom mods, all of which show the community's love for gaming's patron deity Mario.
There's apparel, furniture, and a couple of surprises in this list full of CC that'll have you saying "It's a me, Mario!"
14.

Mario Wallpapers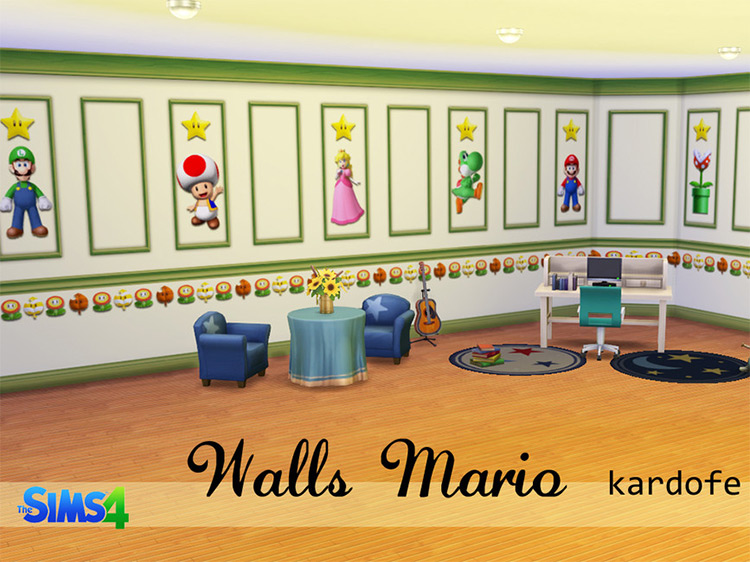 Let's start with some decorations for your Sim home – specifically, wallpapers depicting some of the most famous characters in the Mushroom Kingdom.
These wallpapers by creator Kardofe feature decals of Mario, Luigi, Peach, Toad, Yoshi, and more that'll adorn your walls wonderfully.
The wallpapers' design is pretty tasteful, but it's also a bit too "serious" for a kid's room (unless that kid lives in a posh mansion). It's better suited for a sort of showroom or museum where you display items from your favorite games – or maybe just Super Mario merchandise.
13.

Super Mario Knit Sweater Collection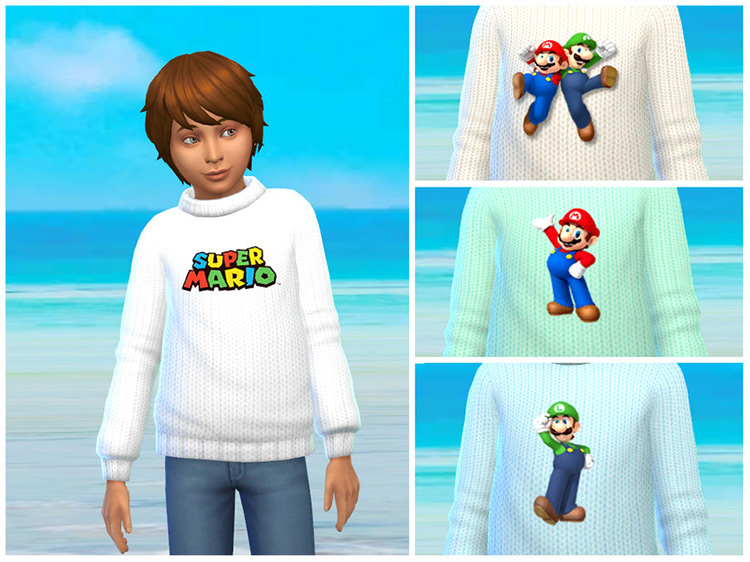 Moving on to the apparel section, we find the Super Mario Knit Sweater Collection. Perfect for keeping gamers warm during the winter months.
Sim Creator Ann made these knit patterns herself and then decided that the best way to market them was to add Mario and Luigi prints to these hand-knit sweaters.
She was right.
The designs include one with the Super Mario logo, one depicting both brothers in a victory jump, and some dedicated to each of the Mario Bros. showing off their best angles by themselves.
12.

Children's Super Mario Costume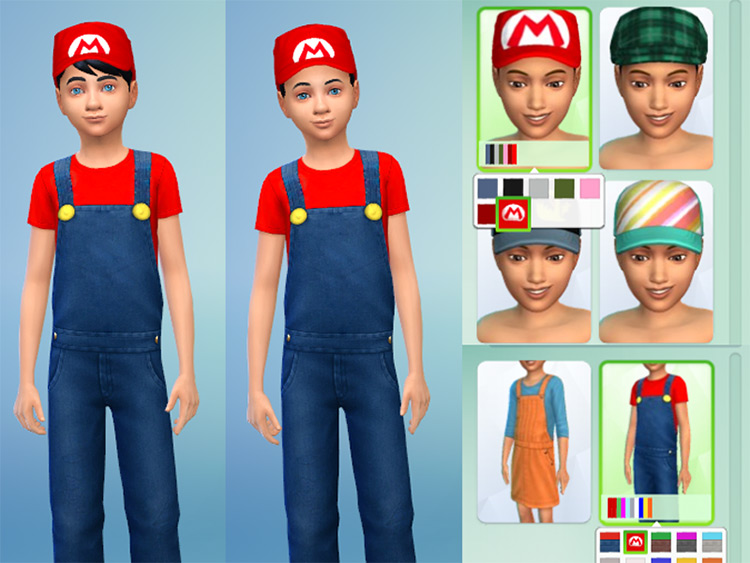 Sure, a knit sweater with a Mario print is cute, tasteful, and pretty practical.
But sometimes a kid just wants to take things to the next level, and this Super Mario Costume may be just the way to do that.
This costume is just perfect. The jean overalls are on-point, and the hat has a nice, big, red "M" that can be read from miles away.
Something like this would've been such a nice and simple costume during my childhood… Instead, I forced my mom to scour the city on Halloween, looking for an XL vampire suit that would suit my chubby self. Sorry, mom!
11.

Mario, Luigi, and Peach Full-Body Costumes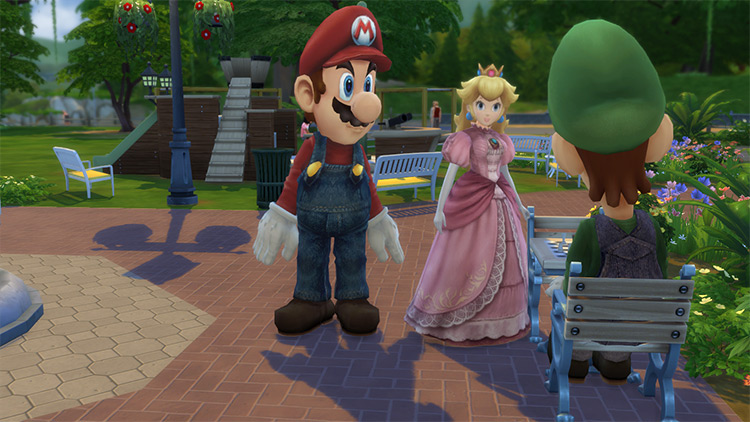 Now here's something a little bit disturbing by creator Cepzid.
This costume set features full-body costumes that'll turn any Sim into Mario, Luigi, or Peach as they looked in Super Smash Bros. Brawl.
It's like something you'd see at a theme park, except decidedly more trippy.
In any case, these costumes are the most accurate way to bring the Mario Bros. and their beloved Princess to TS4. If only their faces were animated…
10.

Super Mario Skirt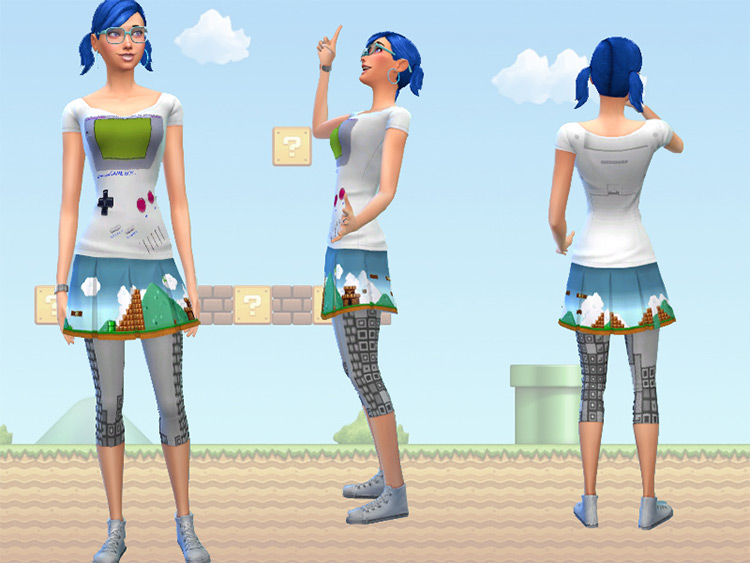 If you're into colorful clothing and creative designs, you'll love this Super Mario Skirt by creator Black_Phoenix.
This skirt is part of a set aimed at gamer girls, which includes a Game Boy shirt, Tetris leggings, and this Super Mario Skirt.
This genius design loops around, creating the illusion of a continuous Super Mario level. All the staples are included, such as the mystery power-up blocks and the castle at the end.
9.

Super Mario Bros. Designer Print Skirt
Not everyone likes their clothes to be entirely taken over by games.
But that doesn't mean they don't want to show their fandom love.
For fashion-minded girls looking for a way to tell everyone how much of a Mario geek they are, there's this Super Mario Bros. Designer Print Skirt.
Creator Simhead82 took the style of a Louis Vuitton print bag and replaced their logo with icons you'd generally see in Super Mario games, such as pixellated question marks, fire flowers, and 1-Up mushrooms.
Honestly, this would look as fantastic in real life as it does in-game. Get this one for sure.
8.

Paper Mario Fanart Arm Tattoo Set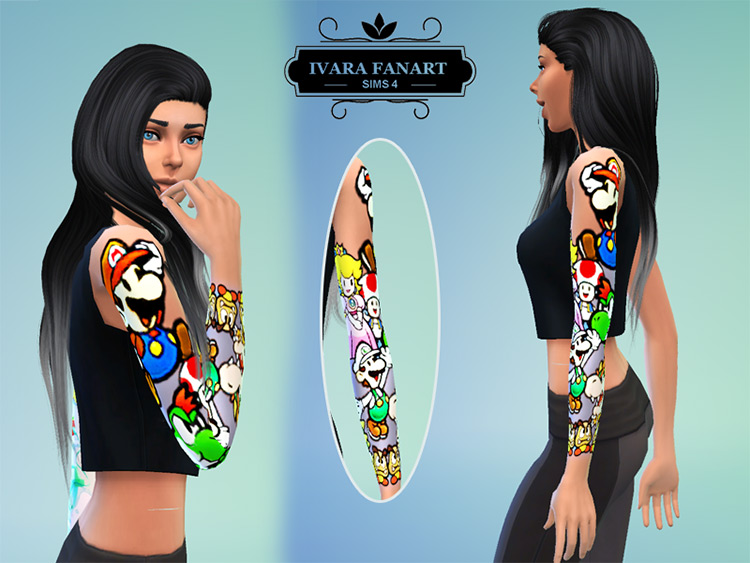 Clothes come and go, but tattoos? Tattoos are forever!
They're the ultimate commitment to your fandom. And here's a fantastic option for Sims who want to take the leap.
This Paper Mario Fanart Arm Tattoo Set by Ivara features an intricate, colorful design depicting many characters from the Paper Mario spin-off.
If you're going to get something Mario-related tattooed, you can't go wrong with Paper Mario. That game is the bomb, and its paper cut-out art style is timeless.
Both left and right arms can be coated with this fantastic design. Regrettably, it's the same for each arm. So you'll have to find something else if you want both your arms tattooed – unless you don't mind having arm tattoos that mirror each other.
7.

Super Mario Bros. Sweaters for Kids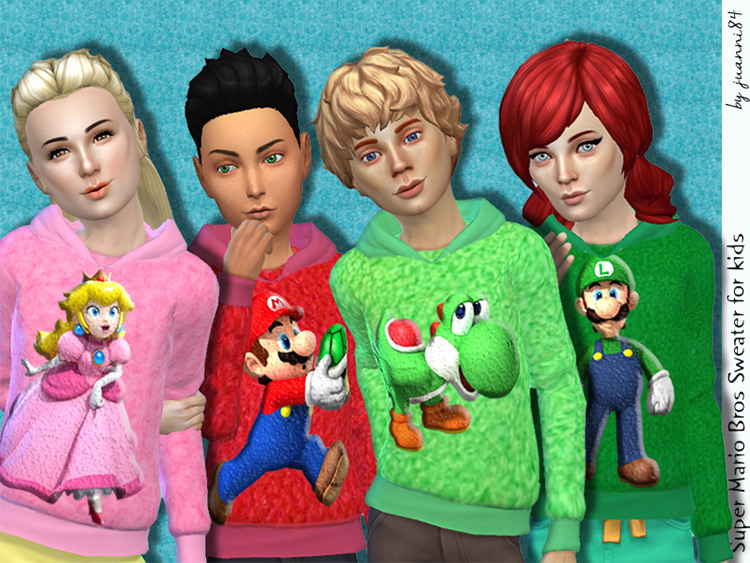 Back to children's apparel, we're taking a look at Juanni84's Super Mario Bros. Sweaters for Kids.
These hoodies feature prints of Mario, Luigi, Peach, and Yoshi on a textured fabric that looks warm and fluffy. The images also look fluffy like the fabric, which gives it a unique style.
Your Sim kids will love them, and they'll be protected from the cold during a trip to the movies or an especially chilly night.
6.

Super Mario T-Shirt Collection for Girls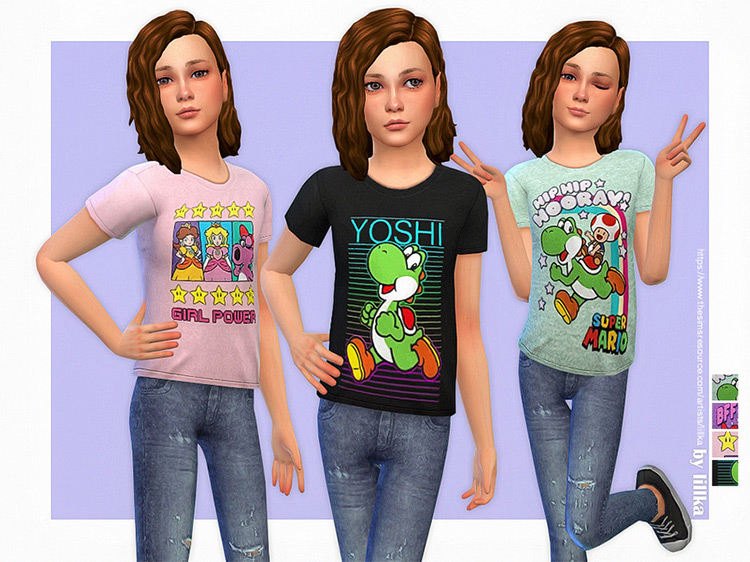 It's not cold enough to warrant a hoodie all the time, and some of us just can't go a single day without showing the world just how obsessed we are with the Mushroom Kingdom.
Creator Lilika brings us an excellent option for Sim girls with her Super Mario T-Shirt Collection.
The set includes four creative designs, including fan-favorite Yoshi and the strong and independent women of the realm like Peach, Daisy, and Birdo.
5.

Super Mario Hat Collection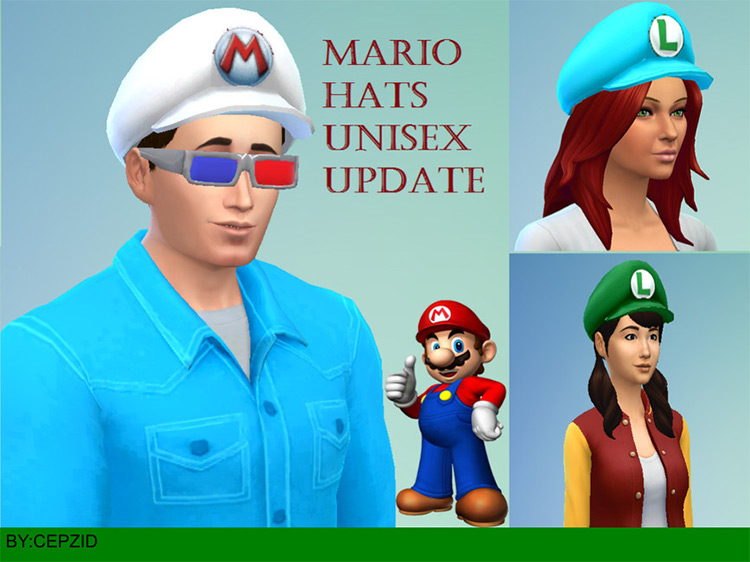 What's more iconic than Mario's hat? What about Luigi's? Wario's?
You get the point.
This CC set by Cepzid includes great-looking hats from essential characters in the Super Mario franchise and some variations like Fire Mario and Fire Luigi.
Sims of all ages and genders can wear these.
4.

Mario & Luigi Outfits + Hats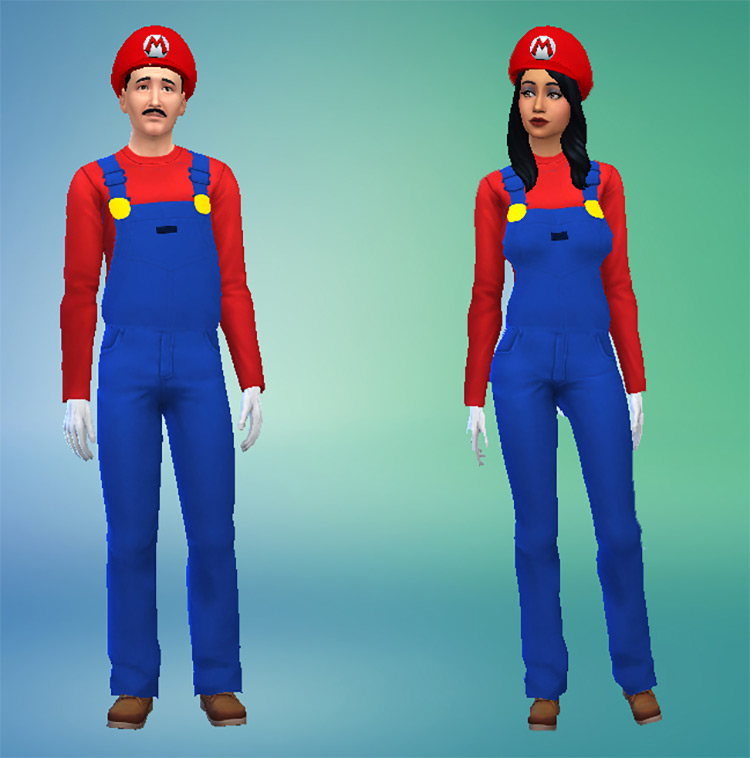 If you liked the previous hats, you'll love these outfits, also by Cepzid.
This CC pack includes Mario and Luigi's costumes in eight total swatches for each of their alternate forms, such as Fire Mario, Ice Luigi, and more. Their hats are also included, but only in four swatches – so get the previous pack too if you want variety.
All adult male or female Sims can wear these overalls and become the hero they've always wanted to be.
3.

Gloomy Manor from Luigi's Mansion
If you're looking for a way to immerse yourself in the Marioverse, look no further than the Gloomy Manor from Luigi's Mansion.
This 50×50 lot by Kasumi_Sasori was created by following the floor plan of the mansion on the 3DS game. Everything in it resembles the original game's décor, from the basement to the attic.
There may not be ghosts here. But the caskets guarded by knight statues and the creepy paintings on the wall keep the eerie atmosphere alive.
It's fully furnished, and you won't need to download any additional CC to use it.
2.

Textured Mario Hat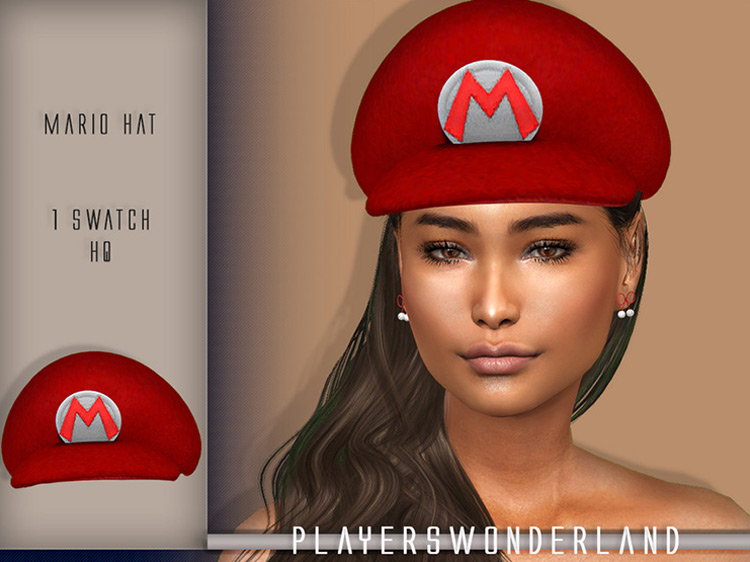 We've already covered Mario Hats on this list, but not all CC is created the same.
And this iconic item deserves all the attention it can get.
Unlike our previous hat CC set, this one only comes in the one red color – but it's intricately textured and simply gorgeous. Of course, that's because it's meant to be used with the HQ mod – so snag this if you're really into detailed screenshots.
Creator PlayersWonderland also offers us Mario's Captain Hat from Super Mario Odyssey in much the same quality. I'd love to own one like this in real-life.
1.

Super Mario Kids Bedroom Set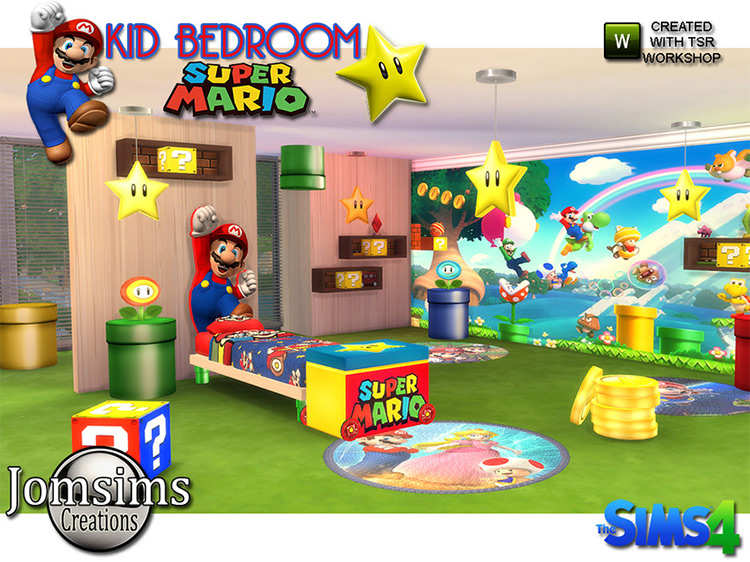 Very few times has it been easy for me to pick the top spot for a ranking. But this was a slam dunk.
Honestly, I could just have filled the entire list with items from this set – but I like our readers to get as many great pieces of CC as possible.
Creator Jomsims poured their childhood love for Mario into this Sims 4 bedroom set, which contains a ton of incredible Super Mario-themed furniture and décor items. These include Power Star ceiling lamps, Warp Pipe decorations for the floor and ceiling, and even a pile of giant coins to act as a table.
Of course, the Super Mario wallpaper and rugs are also beautiful.
This gives lots of options to create your own take on the Super Mario bedroom. Any kid would love to spend their tender years in this Super Mario wonderland.
And hey, if your adult sims love Mario too then you've got plenty of bedroom stuff here for them as well.
Browse:
Lists
Super Mario
The Sims 4
Video Games