Sims 4 Superhero CC: Clothes, Costumes & More
This post may contain affiliate links. If you buy something we may get a small commission at no extra cost to you. (Learn more).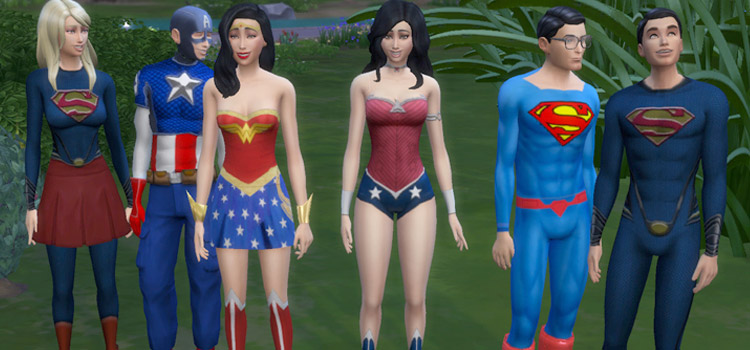 Whether we like it or not, superheroes in fiction are as common as adorkable romcoms and cheesy horror movies.
Whatever streaming platform you go to, there's bound to be shows or movies detailing a masked hero's journey in saving the world from evil.
And even though superhero plots are as predictable as they come, millions of fans continue to patronize Spider-Man reboots, DC films, and MCU's unlimited supply of content.
The reason?
We want what we can't have.
And well, superheroes have a ton of that!
We might not get to play the role of a hero in this lifetime, but who's to say our Sims couldn't roleplay for a bit?
And with all this great superhero-themed CC, you can build your own bunch of OP characters, or just let your Sims celebrate all of their favorite fictional heroes.
1.

Heroes Posters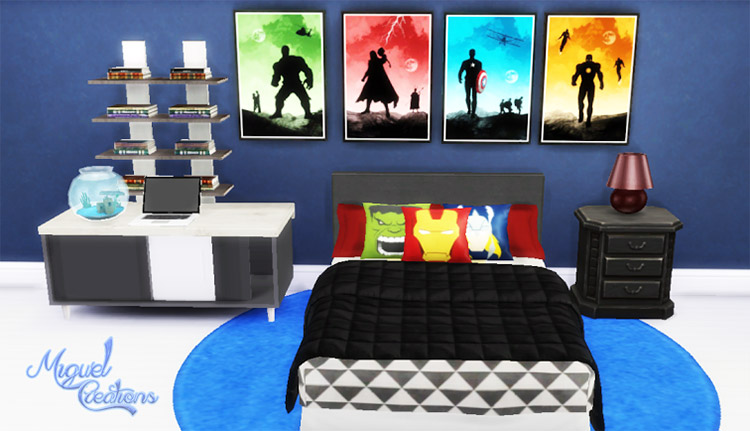 A true nerd's lair would have posters of top comic book heroes instead of wallpaper.
Why waste that precious amount of space for some cheap beige paint when you can get a glow-in-the-dark image of Batman or Spider-Man?
I'm sure your Sim's roommate or partner wouldn't mind if that makes you happy!
So get this collection of Heroes Posters which includes images of Green Lantern, Batman, Captain America, and more, all in a variety of designs.
2.

Happy 2016 Sweet Taco Plumbobs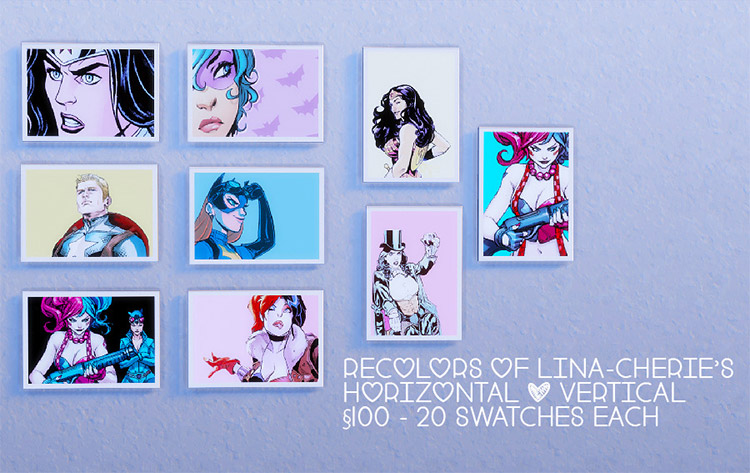 Who needs the works of Renaissance artists when you can admire framed portraits of fan-fave superheroes?
Deetron-sims has put together a massive collection of here which includes, not one, not two, but more than 20 superhero artworks in modern styles.
Even better, this CC pack comes with a Shiny Catsuit, jacket, and a cape that could create a pretty generic (but effective) supersuit.
3.

Superhero Onesies and Masks for Toddlers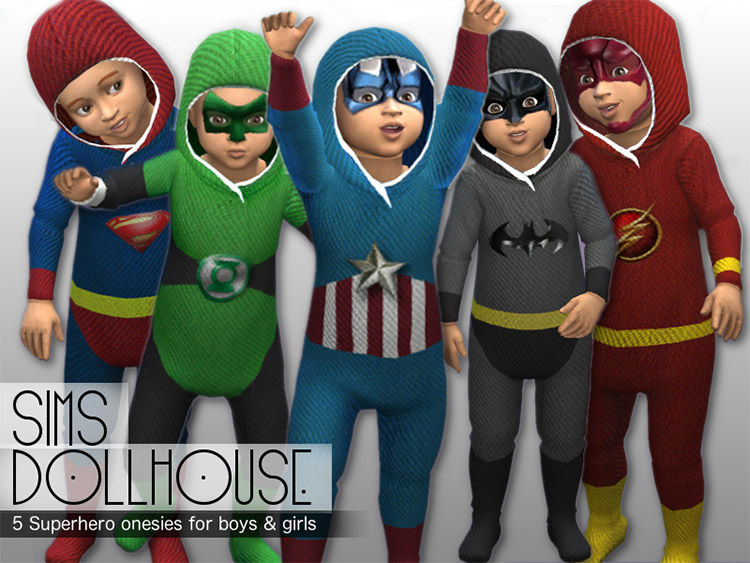 Becoming a Sim child doesn't sound bad at all when you think about it.
Especially if it means getting superhero onesies that look more comfortable than anything in the real world.
I mean really, who doesn't want to take an afternoon nap in a Superman onesie?
4.

Magical Fighter Poses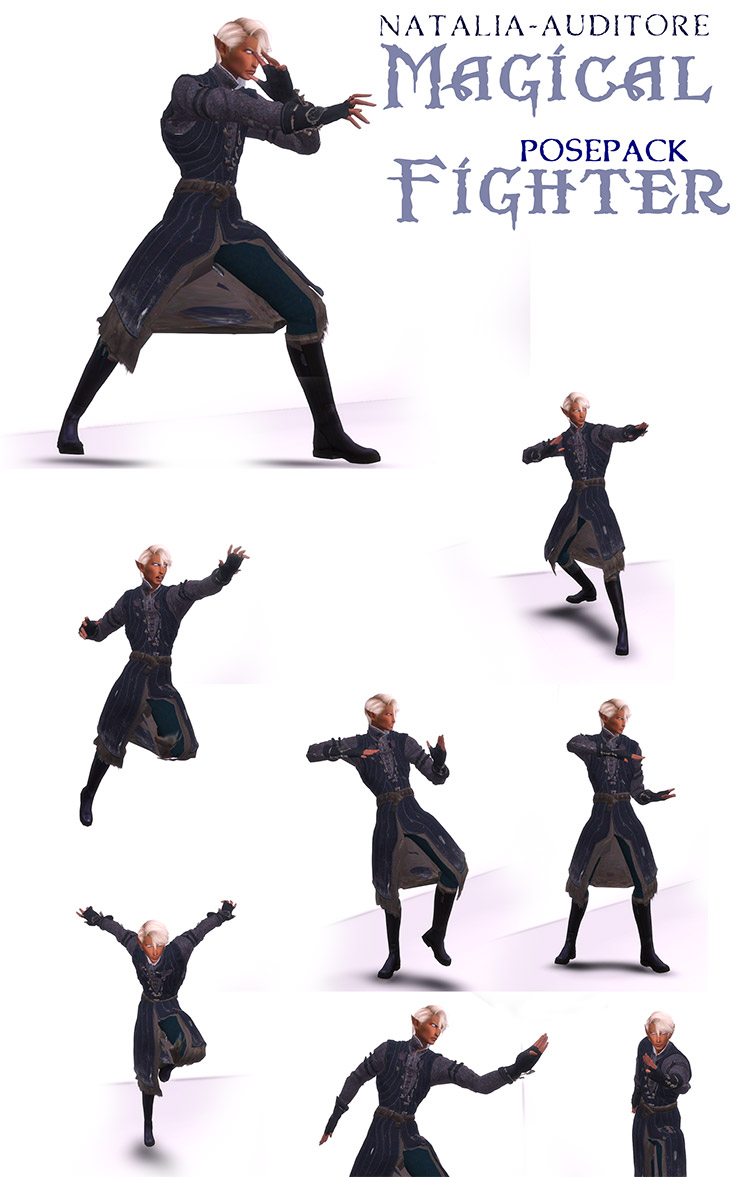 TBH, I could care less about the plot of a superhero show or movie, as long as the fight scenes are cool.
Flying kicks, gut punches, magic blasts – if all these things are included in one beautifully choreographed fight scene then I'm sold, no ads needed.
Among the three though, I'm pretty biased with magic-based fights, so this Magical Fighter pose pack takes the cake for me!
5.

Uncanny Skintones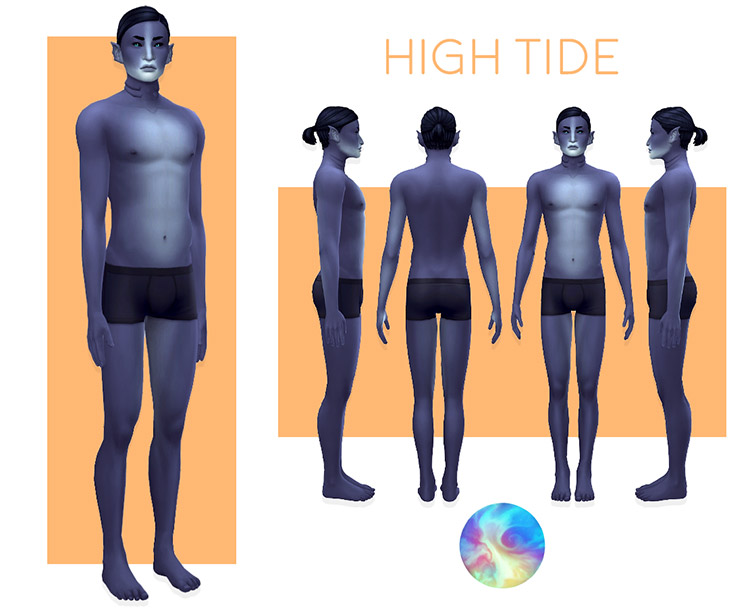 Since we're talking about building Sim superheroes, there's no need to limit your imagination here.
Ghosts, vampires, and even the Grim Reaper are a common presence in TS4.
So we're going no holds barred on creating the most epic look for your Sims.
Let's start by applying some of these custom skintones on your Sims, to get that visage of an intergalactic guardian of the universe
Beat that, Star-Lord!
6.

Psylocke Set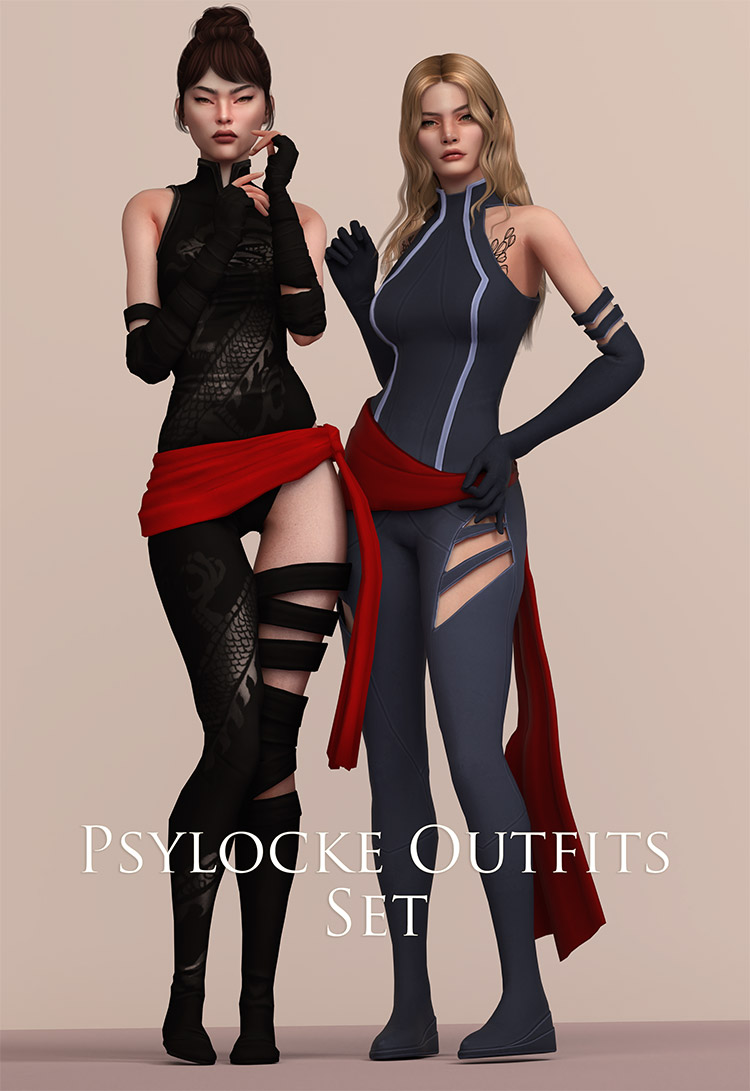 Despite looking sexy, this Psylocke CC Set is definitely a hazard on the battlefield.
Olivia Munn, the actress who played Psylocke in 2016's X-Men: Apocalypse, even had a hard time squeezing into this swimsuit without some healthy coating of oil.
Battling superpowered aliens and humans in this scanty thing would do more harm than good.
But at least there's plot armor, right?
If you don't care about physically scarring your Sims for life, then by all means, go flaunt this custom CC outfit from astya96.
7.

Totally Spies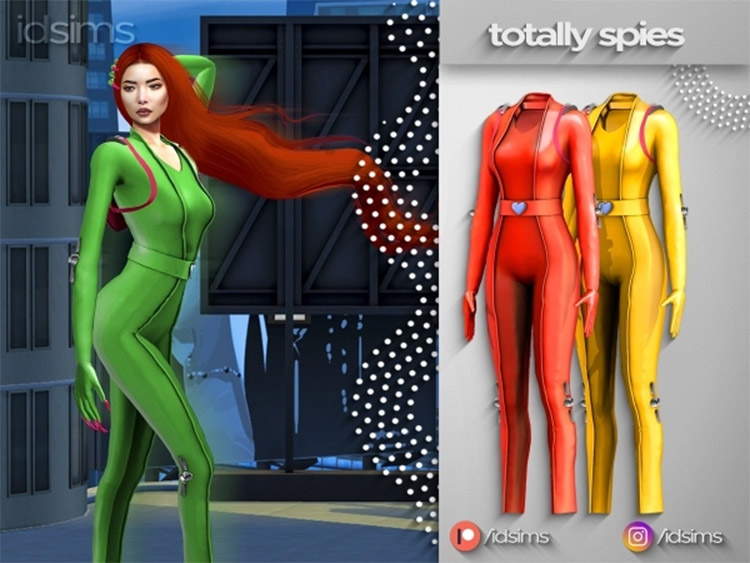 Back when Cartoon Network still had amazing shows, I was completely in love with Totally Spies.
Sam, Alex, and Clover made crime-fighting and espionage a fun career to pursue – if only it were that easy.
Moonlighting as an international spy while balancing high school drama would be a nightmare to handle.
But the three girls made it so easy that I hoped I'd get WOOHP-ed.
In loving memory of this awesome show, you can have your Sims wear the iconic green, yellow, or red spy suits as they save the world from evil rockstars, chaotic circus owners, and mean girls.
8.

Deadpool Costume
Deadpool—the Internet's favorite superhero—has finally come to make his superhero landing in this list.
2016's Deadpool really did a number on Wade Wilson's popularity, to the point where every scene in the movie is high-quality meme material.
Thanks to his powerful meta-humor, Deadpool dominated the box office – and scored Ryan Reynolds some high-budget sequels.
He's a cocky 'lil mutant, but he's got the skills and an awesome bloodstain-proof suit to back it up.
And now your Sims can bring this attire into their world, too.
9.

Wonder Woman Set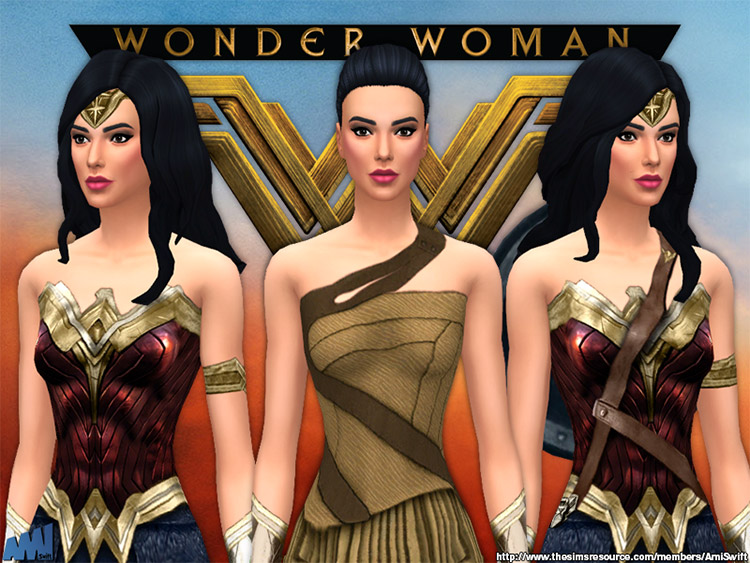 What else is there to say about this lady?
Wonder Woman is one of the strongest (if not the strongest) female superheroes of all time.
Born as the daughter of Zeus and Queen Hippolyta of the Amazons, not many could hold a candle to Wonder Woman or Diana Prince.
Virtually unmatched in strength, speed, and sense of justice, Wonder Woman is simply that top-of-mind character for female superheroes.
If it's the essentials you're looking for, then definitely snag this CC set for your Sims!
10.

Teen Titans Costume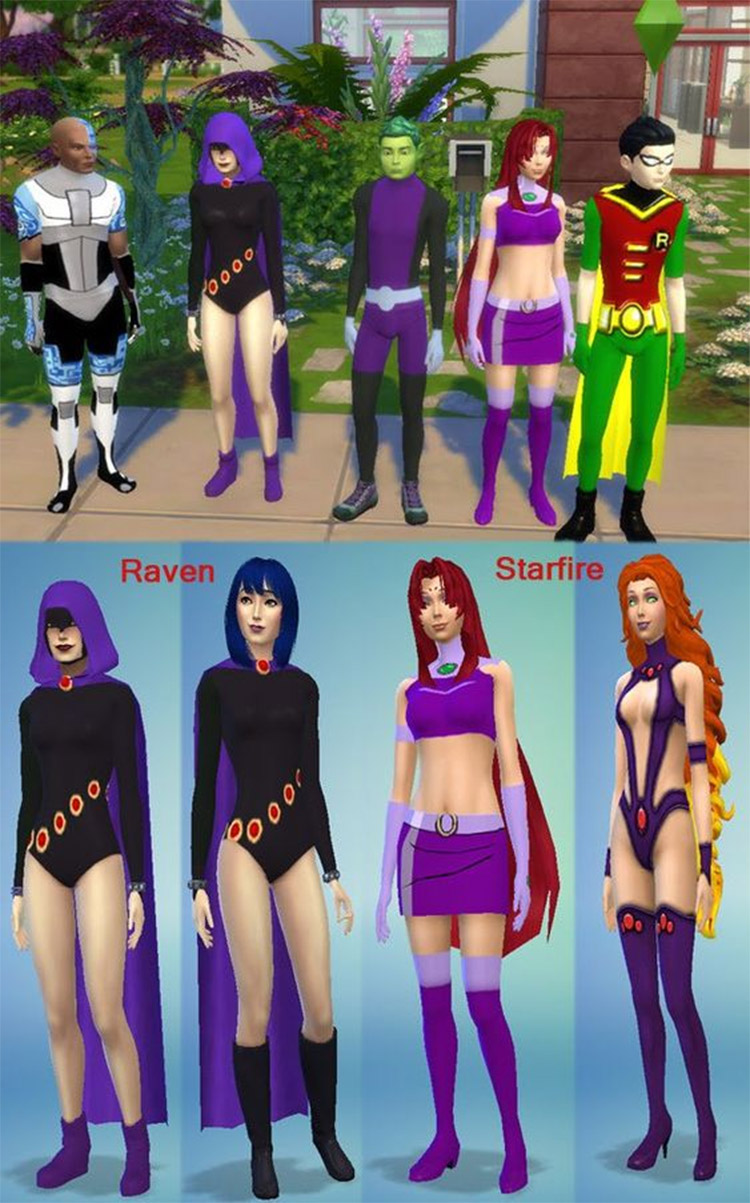 As a fan of the original Teen Titans series, this CC pack is a nostalgic trip back to when Cartoon Network was still worth watching.
At first glance, the Teen Titans might seem like it was put together by a group randomizer.
But surprisingly, Cyborg, Robin, Beast Boy, Starfire, and Raven have proven to be a formidable team capable of protecting New York City and battling mega villains such as Slade.
And with this costume you can whip your teenage Sims into shape, whether it's for Halloween or cosplay, or just for fun around the neighborhood.
11.

Superman
I don't want to bore you with an introduction to Superman, because he doesn't need any.
Known as the first widely hailed superhero, Superman was essentially the beginning of everything.
With his godlike strength and tenacious sense of justice, this Kryptonian survivor is the ultimate symbol of heroism.
But there's an alternate universe where he pretty much killed a lot of people while wearing this suit. Maybe your Sim can do a better job with it…
Welp, we can't all be perfect amirite?
12.

Iron Man and Spider-Man Set
The Marvel Cinematic Universe has created a lot of memorable ships (Rocket and Groot, anyone?)
But none are as adorable as the father-son duo of Tony Stark and Peter Parker.
We were first introduced to their charming chemistry in Spider-Man: Homecoming and everyone thought that this ship would sail forevermore.
But – SPOILER ALERT – not everyone gets to have a happy ending when you're battling an alien who wipes out 50% of all living things.
Still, Iron Man and Spider-Man were glorious together while it lasted.
And your Sims can continue the legacy by getting this MCU-inspired CC set from AmiSwift.
13.

Marvel's X-Men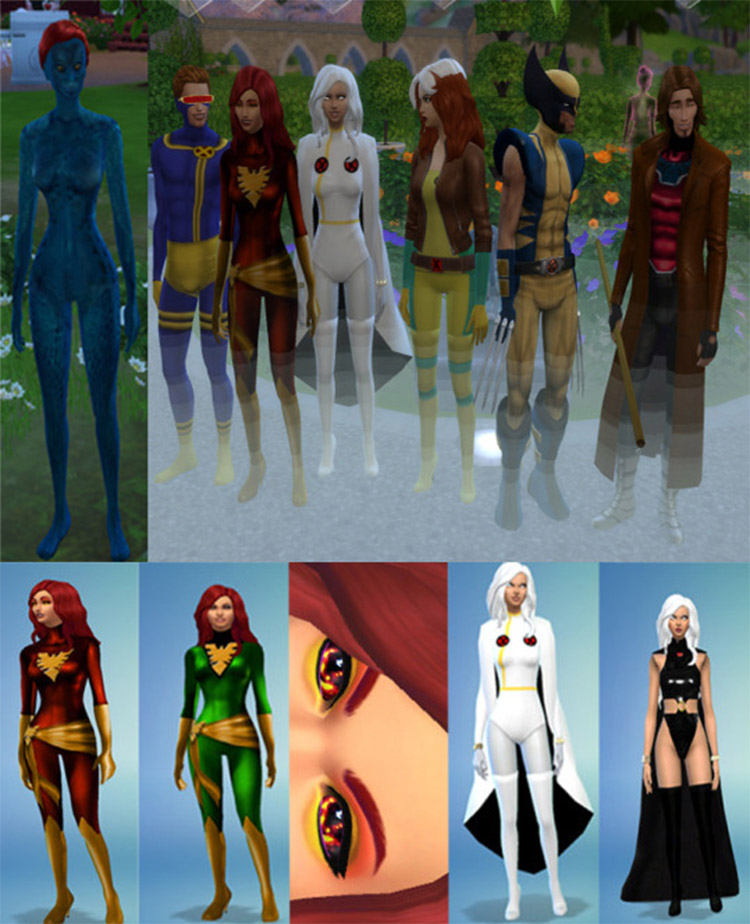 The X-Men has a long, loooong history.
Like, since 1963.
They have a good (sometimes controversial) run in the comics, but it's obvious that a certain studio is having a hard time translating that properly on the big screen.
A lot of people have a love/hate relationship with X-Men movies – but even with the consistent release of bad adaptations, fans are still hopeful that someday a director would get it right.
But we can always relive the glory of mutants by dressing up as Jean Grey, Gambit, Storm, Cyclops, and many others, all with this CC pack!
14.

An Incredible Family Affair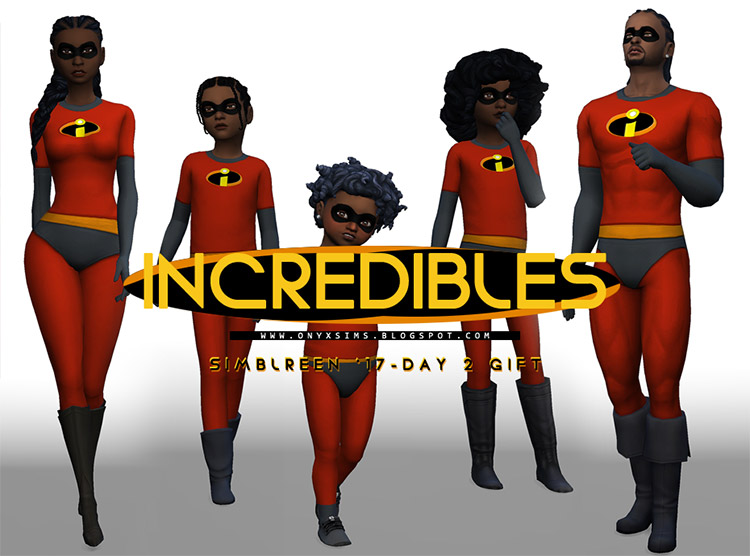 Don't settle for just one sidekick – because with this CC pack, you can have an entire family of supers!
Get the whole Sim fam bam together here to fight bad guys and nosy neighbors – or just to attend the local comic book convention.
Either way, this pack is sure to have the perfect super suit for each member of your Sim's household.
15.

Armageddon Mod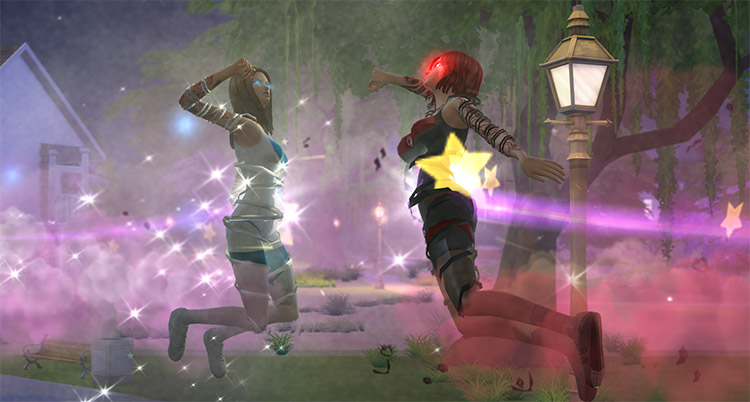 There are always two sides to the same coin, which applies to this epic mod created by Sacrificial.
You have two options to go for here:
Become a superhero, or a villain.
If you choose the hero, you can instill superhero traits into your Sims and have them pursue a career of saving other Sims who seem to be combusting out of nowhere.
If you choose the villain, then your Sim will be granted supernatural abilities, and get custom quests where causing chaos and corruption is a brand new hobby.
The power is really in your hands, and whatever you choose, Sims are going to burn anyway.
Browse:
Lists
The Sims 4
Video Games