Best Sims 4 Superman CC (Outfits, Shirts & More)
This post may contain affiliate links. If you buy something we may get a small commission at no extra cost to you. (Learn more).
Created back in 1938 by Jerry Siegel and Joe Shuster, Superman has become one of the most recognizable and beloved characters worldwide over the last 80 years.
A great way to celebrate our love for Superman is helping him take a breather from all the world-saving and live as a normal human being in The Sims 4.
Alternatively, our regular, non-super Sims can also benefit from some Superman-themed merch.
Don't Sims read comics?
Well after exhaustive research, I've come up with some of the best Superman CC you can snag for The Sims 4.
10.

Lego Superman T-Shirt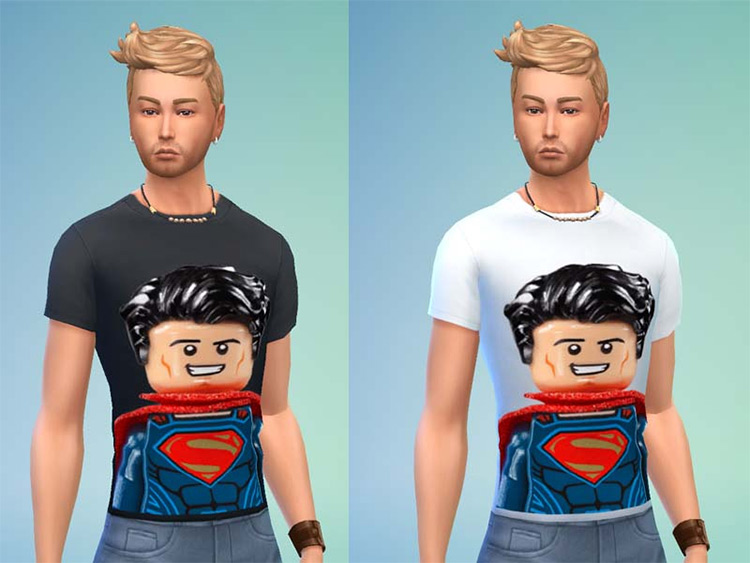 We'll kick things off with a fun and casual Lego Superman T-Shirt by Marylu84cz.
You may think it's a bit childish for an adult Sim, but the Lego movies are enjoyable for audiences young and old.
Plus, everybody loves Lego!
Why would your Sims be any different?
The Lego version of Superman is one of Kal-El's best incarnations. We don't really get to watch Superman having fun all that often – much less in Zack Snyder's grimdark reboot.
Also, Lego abs!
9.

Superman T-Shirt for Pets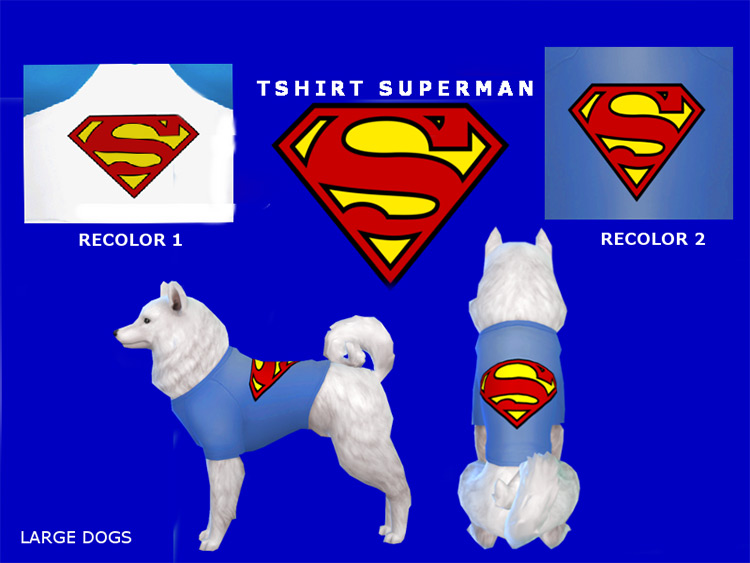 Dogs are man's best friend – meaning super-dogs are Superman's super friends!
Now, you can have your own super good boy protected from the cold winds of Autumn and Winter with this pet t-shirt.
I say "good boy," but it really doesn't have to be a dog. This CC is available for large dogs, small dogs, and cats!
Creator MarideSims4 made the right choice going for the soft blues of Superman's classic outfits, and the logo looks adorable on our furry friends.
8.

Superman Logo Caps
Next up, we have a wonderful assortment of Superman-themed caps featuring the superhero's logo in different colors and styles.
Both genders will set fashion trends with these bright-colored caps.
There's a pink one, a black one, and two with Superman's red and blue palette.
My favorite part about this CC set is that it includes a cap with Superman's first logo from 1938 – a simple red S inside a yellow badge.
At a glance you wouldn't even recognize it!
7.

Sexy Superman T-Shirt
If you've got a Sim with a High Metabolism that spends most of his time in the gym, they'll love this Sexy Superman T-shirt by Ade_Darma.
Instead of being printed on, the Superman logo on this shirt is cut out from the fabric – leaving a sexy window for your Sim's tight abs and big pecs to peek through.
Even if your Sim doesn't regularly have such chiseled muscles, don't worry.
This CC set actually includes LumiaLoverSims' muscled body mesh to save everyone the trouble.
Get this if your Sim can't help but find himself doing push-ups on Sulani's coasts every morning.
6.

Stylish Superman Shirt
For less exhibitionist Sims, creator Bukovka brings us this stylish black and gold Superman t-shirt.
Instead of just showing your love for Clark Kent's secret identity, this shirt actually tries to be fashionable.
There's more to it than just the picture of Superman flying toward the front – though, admittedly, it looks terrific as a gold on black print.
This t-shirt is ideal for confident but sober geeks that break the mold and don't fit into stereotypes.
You can love comic books without disregarding fashion.
5.

Superman Logo Tattoo
Superman has one of the most iconic logos ever made.
It's recognizable far and wide across the world!
And you know what people do with recognizable logos? They get them tattooed!
I mean, you're not going to get Walmart's logo tattooed – but this big S means a lot for some people.
It can remind you of better times, inspire you to be a hero, or just let you show your geeky love for comic book heroes wherever you go.
What sets this tattoo set by Nightflier apart from other CC is how it looks like an actual tattoo rather than just a sticker.
Most people who make tattoos for TS4 just ignore how they look on the skin once they're fully healed – just a bit faded, with softer edges and skin-like texture.
4.

Batman vs. Superman Set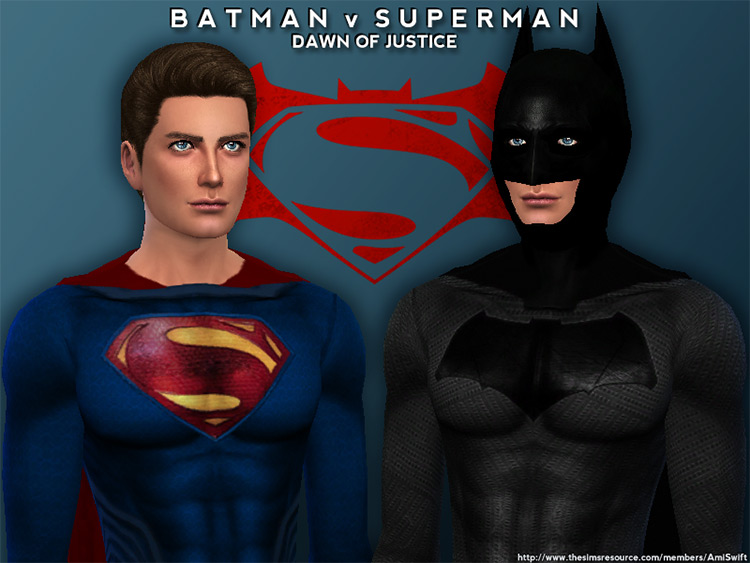 Batman vs. Superman was a divisive and underrated movie that sort of collapsed under its own weight.
I mean, Batman and Superman's popularities are enormous. And people's expectations for the film were just too high to meet.
If you're among the few that actually liked it, then you'll enjoy this CC set by AmiSwift, which brings us Batman and Superman costumes for men and women based on their appearance in Dawn of Justice.
I love these costumes because, despite being highly detailed, you can still tell it's a costume rather than Batman or Superman's actual threads.
It adds a bit of realism to your Sim's Halloween outfit.
3.

Superman DC Cinematic Universe Multipack
The latest cinematic series in Superman's long career has taken a turn for the dark and gritty under director Zack Snyder.
To reflect this, Superman's outfits in these movies are darker in color.
They also have a rugged texture that suggests they're something more than a costume – something that actually offers protection.
Creator Xdbogoss94 sought to capture this grimdark but functional look in his DC Cinematic Universe multipack, which includes several versions of Superman's suit as seen in BvS: Dawn of Justice, Justice League, and Man of Steel.
2.

Injustice 2 Superman Set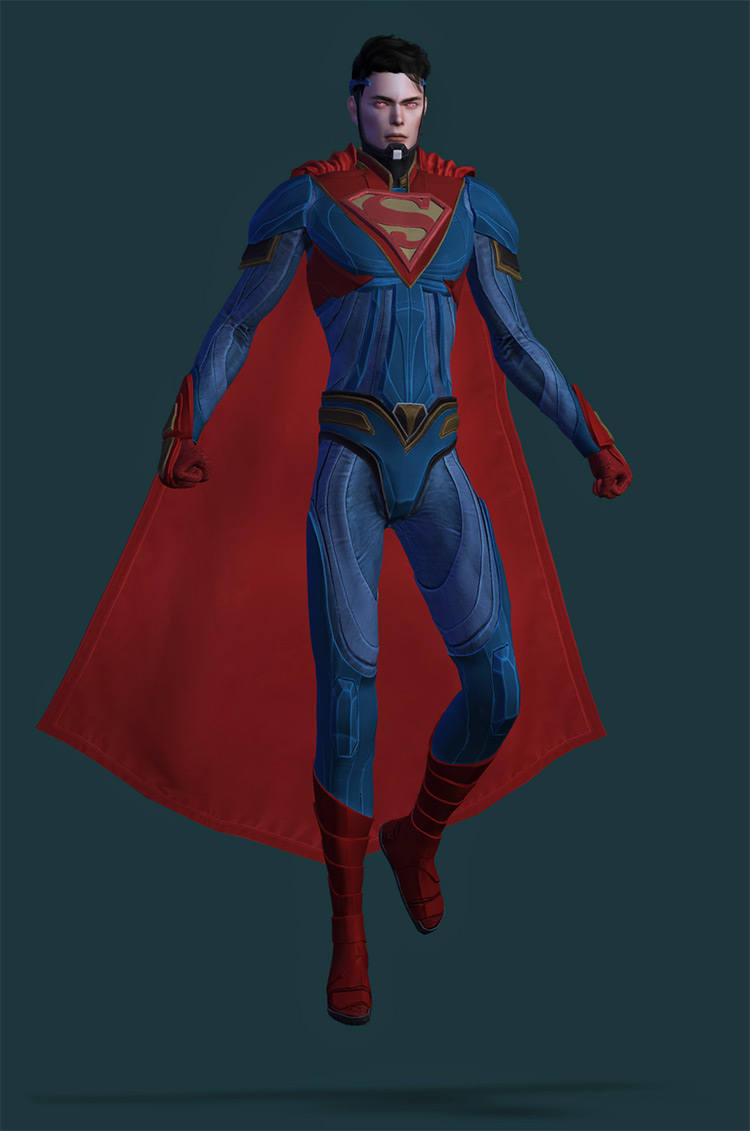 One of my favorite multiverse versions of Kal-El comes from Injustice: Gods Among Us, where the most powerful being on Earth forms the One Earth Regime and rules over the planet as a ruthless dictator – all in the name of peace.
Superheroes are getting into fistfights all the time.
But as Mortal Kombat's Teen-rated cousin, Injustice is especially full of violence.
Fittingly, Superman's outfit looks really protective. It even has knee and elbow pads – and the metallic face frame is pretty cool.
This custom outfit by PlazaSims will help you get this authoritarian overlord into The Sims 4.
1.

Classic Superman Suit
Injustice's Superman may be bad-ass.
But nothing beats the iconic simplicity of classic Superman.
This outfit by Cloud2Creations has absolutely no frills.
It's just bright-colored spandex, a cape, and a lot of muscle (which comes included with the suit).
In addition, this CC set features several alternative color palettes for you to play around with. Maybe you can have an entire family of buff Kryptonians whose names all begin with an "S" living together.
My favorite little detail about this set is how you can choose between light and dark muscle marks, depending on whether you want your Sim to look like a beefcake, or just your friendly neighborhood hero.
Browse:
Lists
The Sims 4
Video Games