Best Sims 4 Sweater Dress CC You Can Download (All Free)
This post may contain affiliate links. If you buy something we may get a small commission at no extra cost to you. (Learn more).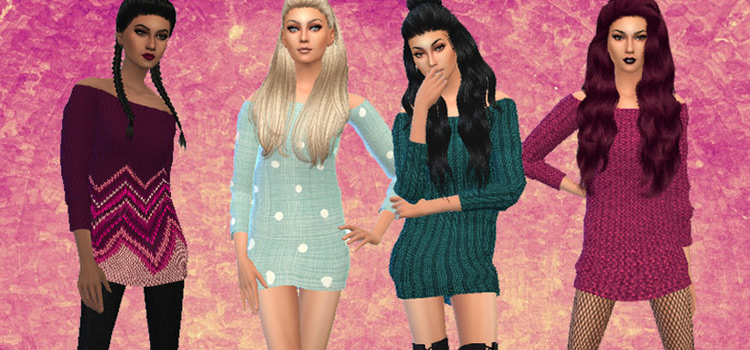 Clothing in The Sims has evolved to fit our real life trends. But even with the newest installment in the series, we're still left wanting more in terms of styling.
Don't get me wrong, I love the outfits and color options provided in the base game… but when it comes to fresh content, it feels like you have to break the bank on expansion packs for any change of scenery.
Especially compared to the endless possibilities of clothing customizations in Sims 3, I'm still left wishing for more CC in TS4. Specifically some adorable sweater dresses.
As a lover of both fashion and The Sims, I've scoured the Internet for a whole bunch of the best sweater dress CC for TS4 that'll spice up your Sim's life.
All adorable, totally free, and guaranteed and make your playthrough more fabulous!
12.

Lucy's Sweater Dresses (Kids)
Children's clothing can be boring. It really seems limiting to the imagination of your Sim's child.
Luckily with this sweater dress combo outfit, you've got a fun and easy way to style an every-day look that doesn't feel too bland.
This colorful, coordinated outfit would be perfect for any young artist who dreams of becoming the next big name.
Or maybe a pop star! The possibilities are truly endless.
The set comes in four bright colors that are great for all seasons.
11.

Knit Sweater Dress
Paired with cute socks and some funky winter patterns, this adorable sweater dress pack has you ready to walk out into the cold in style.
Toss in a cute beanie while you're at it – this is absolutely the perfect outfit for one!
Who knew that a dress could work in the dead of winter? Well, I guess creator EsyraM, and a big thanks to her for this cute CC pack.
10.

Crochet Effect Knitted Mini Dress
Here's a sweater dress that's fun, colorful, and can be accessorized up or down depending on the event.
I can totally see a flirty heartbreaker Sim wearing this out on a date. Or to her lover's wedding… either seems to be a good fit for any outgoing, scandalous Sim.
Try giving her a top knot and some nude heels to round out this look!
Added note, this outfit would look absolutely stunning on any sim with deeper complexions!
9.

Cowl Neck Sweater Dress
Calling all Star Trek fans! I think I've found a sweater dress that'll fit right in on the Starship Enterprise.
I mean seriously, does anyone else get major Star Trek vibes from this CC?
Because with those color options I can easily see any Trekkie planning their own extraterrestrial adventures with this trendy yet classic take on those uniforms.
Just be careful who you dress in red… we all know how that ends up!
8.

Mo Bounce Dress
This sweater dress includes the cartoon-like style of the original Sims 4 clothing, yet provides a more street-style twist.
You could say it's more of a hoodie dress, but same concept right?
Equally as comfy and stylish, if I do say so myself!
Pair this with a fun updo, funky tights, and a pair of chunky combat boots.
Boom, instant selfie-worthy outfit.
7.

Turtleneck Sweater Dress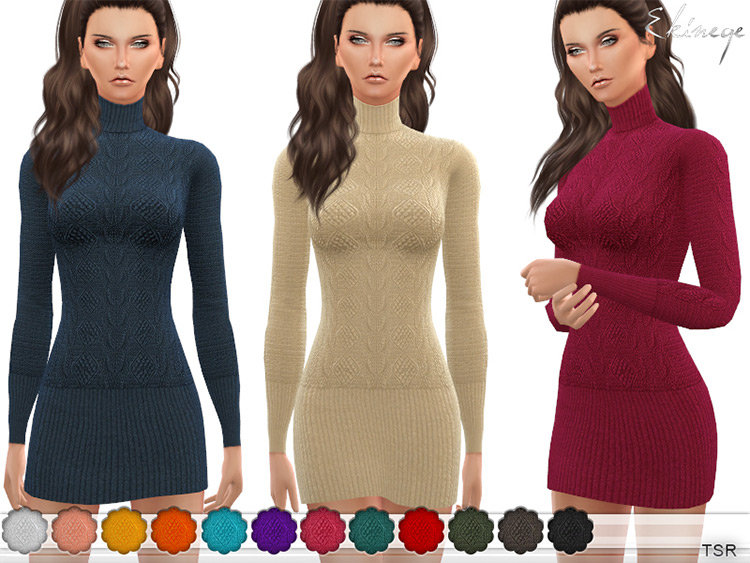 Classy, minimalistic, timeless.
Three ways you can style this sweater dress for your Sim!
Wear it with tights and high heels for a more sophisticated party look, or with knee-high socks and slippers for a cozy night in.
No matter how you choose to style it, this sweater dress is the perfect basic to have in your wardrobe.
With 15 different shades in total, you'll be ready for anything the seasons(or your neighbors) throw at you.
I mean, they're called basics for a reason, aren't they?
6.

Crochet Sweater Dress
Another take on the classic sweater dress, this is a bit lighter-weight and allows for the perfect springtime garden party. Or even a summertime beach cookout top.
This modest yet sexy dress will have heads turning. Soon you'll find yourself fighting off eligible Sims!
The crochet look really seals the deal with its semi-revealing boho style.
Plus you'll find 18 shades are included in this pack, ranging from a sultry burgundy to sassy lime green.
Fitting for any & all Sims, and their wonderfully unique personalities.
5.

Trillyke – Deja Vu Dress
Okay, imagine this with me: a bookworm Sim who spends her time learning new cooking recipes. Or practicing her painting skills after absolutely acing her schoolwork…
Maybe even a family-oriented nanny Sim who wants nothing more than a massive family?
That's exactly who I would imagine wearing this.
Cute and modest, this sweater/dress combo is practical and stylish.
And it comes in about 12 color combinations to mix and match with different accessories.
4.

Riley Dress
If you're looking for a relaxed-fit casual sweater dress then look no further.
This turtleneck comes in eleven colors and fits loosely on your Sim to provide maximum comfort.
Add some fluffy slippers or a pair of colorful heels and you're either ready for a night in, or a fun night out on the town.
This CC is another great basic to have in your clothing rotation that brings a small chunk of reality into your beloved simulation.
3.

Loose Sweater Dress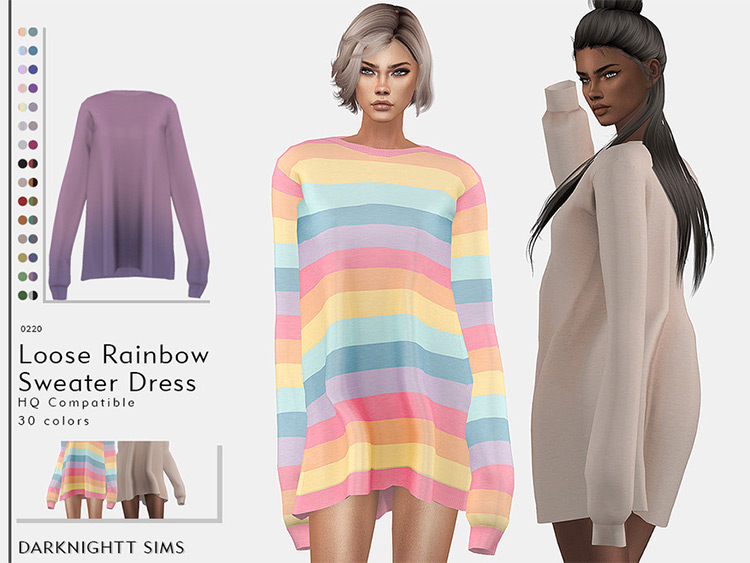 Okay, I may have been a bit selfish to include this sweater dress so high up.
But in my defense it looks exactly like an outfit straight out of Ariana Grande's closet!
God she's gorgeous, huh?
The oversized fit, the sweater-paws, and the wearable/everyday vibe from all 30 colors. It just gives off that famous large sweater & knee-high boots look we all know Ari for.
To achieve Miss Grande's look, pair this sweater dress with knee high or thihg-high boots, or thigh-high socks with some high heels, maybe some hoop earrings, and that signature high ponytail!
2.

Diana Sweater (Top & Dress Options)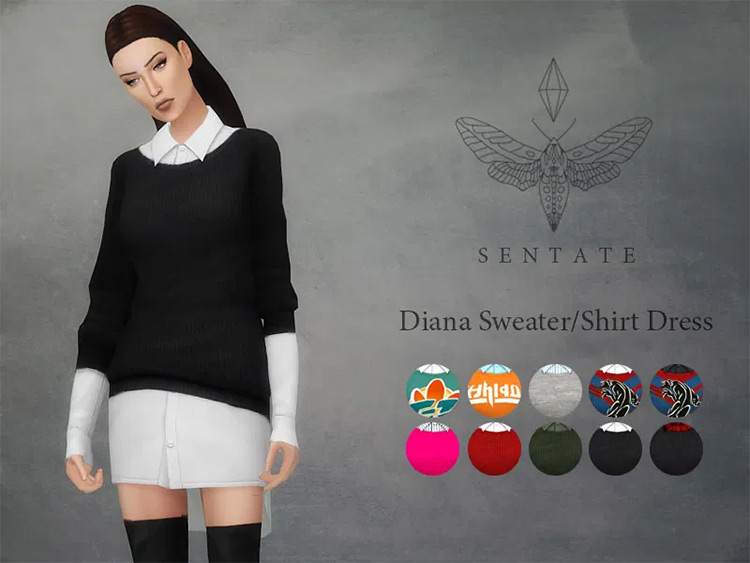 Now this dress allows for so many unique pairings. Great for a business casual type of look for sure, as the ten color combinations allow for bright interesting patterns that feel tame too.
All while also providing more basic options for less adventurous Sims.
Fun or moody, this sweater dress should fit well with any lady.
The layered sweater over the dress shirt allows you to decide whether you want to create Wednesday Addams all grown-up, or maybe even the next Agnes Crumplebottom!
Or maybe some kind of weird hybrid…
1.

HALO Sweater Dress
Last but certainly not least, this super trendy street-style sweater dress really "ups" the style factor of any closet.
If you're a fan of the boundary-pushing looks seen on K-Pop idols, you'll love how this strappy sweater compliments a rising-star Sim.
The dress comes in about fifteen swatches that all have their own fresh charm to them.
Looking through Helsoseira's collection of CC, it's a no-brainer that they're heavily inspired by Korean street style.
So if you're a loyal K-Pop fan I would highly recommend giving this dress a look, maybe even dig into Helsoseira's entire CC library.
Especially if you want to create the next big idol group of San Myshuno!
Browse:
Lists
The Sims 4
Video Games