Sims 4: Best Sweaters, Sweatshirts & Hoodies CC To Download
This post may contain affiliate links. If you buy something we may get a small commission at no extra cost to you. (Learn more).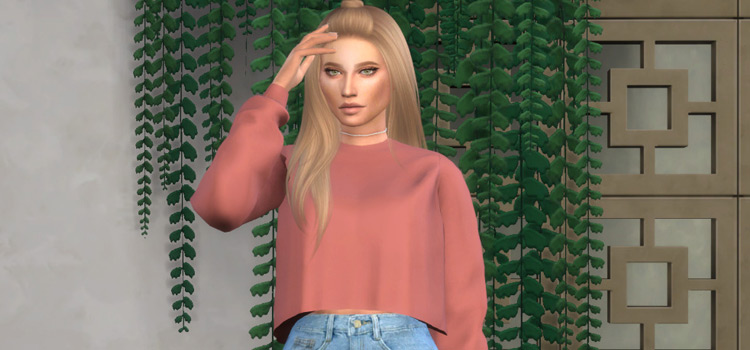 If there's one thing I love more than chocolate and fried chicken, it's the comfy feeling of sweaters. Safe, homey, and warm, sweaters embody the perfect childhood we wished we had. It's the next best thing to having real human affection.
Sadly, not all countries are privileged with so-called "sweater weather". For tropical countries, people have to make do with wearing sweaters in the office, cinema, and fitting rooms.
Because let's be honest: no one wears sweaters when it's always 30 degrees out (86 Fahrenheit for Americans!).
But styles of sweaters have evolved beyond seasons. And thankfully, the world of The Sims is not as strict when it comes to dress code.
I can argue all day on why gorgeous sweatshirts are immortal pieces of Sims fashion, but let's just dive into the custom content yeah? You'll find plenty here to enjoy.
20.

Basic Hoodie
Don't let the name fool you.
Basic is just another word for classic, and with Floraltaeny's mesh recoloring, it's justified.
This hoodie is the kind of stylish protection you wear during chilly winter mornings and lonely afternoons.
No matter how dull you may feel, its pastel color can simply light up your day.
Or I can just admit I'm a sucker for pastel swatches.
19.

Lara Hoodie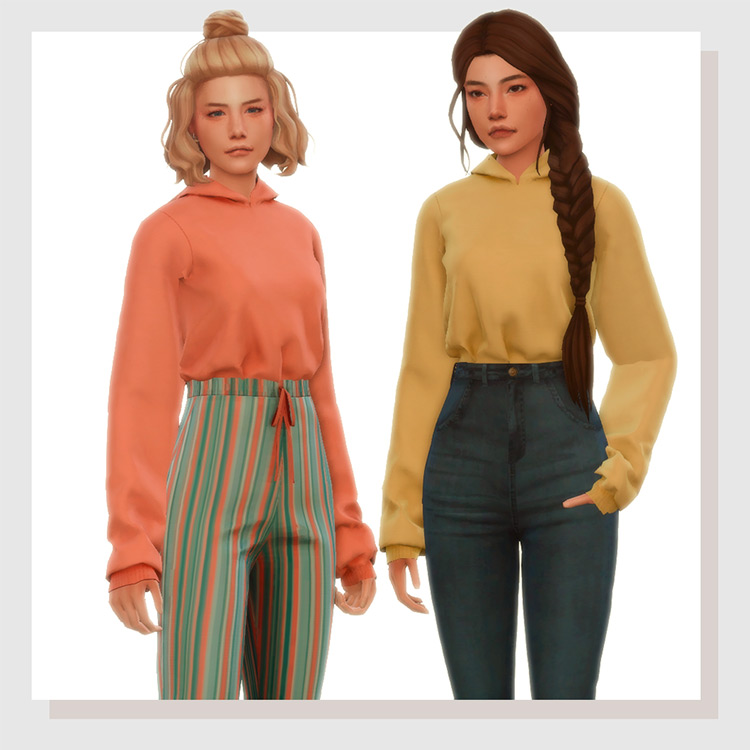 Whoever invented crop hoodies should be honored by a Sims version of Anna Wintour.
It's such a chic upgrade from the usual baggy design, making it more convenient to wear high-waisted jeans and shorts without tucking in the excess material & looking like melted ice cream.
This Lara Hoodie has one of the best meshes I've seen for crop hoodies, not to mention it has 20 swatches to pick from that'll give Crayola a run for their money.
18.

Savage Crop Hoodie
I know what you're thinking, "Shouldn't a hoodie cover the whole torso? It's to keep it warm, right? Why is it cropped to the chest? Wouldn't my tummy feel cold?"
These thoughts also constantly cross my mind, especially seeing over-the-top cropping that reaches just until the collarbone.
But it's a trend that took hold and still looks like fire (like, Alicia Keys fire).
This Savage Crop Hoodie might give your Sim hypothermia during winter. But it's a crazy hot top to show off some figure for the other seasons.
17.

Sports Hoodie + Pants 3
ChloeMMM is one of my go-to CC creators whenever I'm looking for one-of-a-kind pieces.
This Sports Hoodie is no exception.
I'm not exactly sure what's written on the straps (please listen to the sound of my heart?).
But it sure did leave a unique imprint on an otherwise simple design. If weight loss challenges and constant exercises are frustrating your Sim, then maybe this trendy outfit can give that much-needed push.
16.

Nancy Hoodie
Having the Golden Days CC pack from Clumsyalienn would give any Sim a better wardrobe.
But the Nancy Hoodie paired with Chloe Jeans are a standout (both part of the pack, all free!)
It's the perfect girl crush look to wear on the first day of college orientation, where first impressions are everything.
If your Sims are college majors at one of the campuses in Britechester, then they've already aced their course to be a trendsetter.
15.

Ugly Sweater
Why this is called ugly is baffling to me.
Collared sweaters are a great choice to impose a dual effect, where you can look sweet and intimidating at the same time.
It's a classic style that just screams, "I'm smarter. Don't test me."
Although the collar is an optional add-on, I would recommend you keep it on your Sim. Why?
Well, confidence is better served through an Ugly Sweater. If you can pull it off then you've got my respect.
14.

Ghostin Top
Pastel-colored sweatshirts cropped to complement high-waisted jeans are my kryptonite.
So this Ghostin Top's hovering a bit high in this list.
Because this is exactly the kind of sweatshirt I'll find at Uniqlo, I was instantly sold.
Their LifeWear concept perfectly fits the objective of every Sim fanatic: to improve (virtual) life.
So if you love your Sim, then give them the gift of practical clothing that's available in 25 colors.
13.

Teeny Crop Top
Imagine stretching out on your bed after a long day at work, surrounded by pillows and a fluffy comforter to keep you warm during a rainy day.
This Teeny Crop Top makes me feel those things and more.
The snug design, knitted texture, and minty color are so refreshing. It feels like I'm drinking a cup of green tea, but through clothes!
This 180-degree reaction is a direct result of how good this top is.
12.

Cherry Sweater
Now here's a sweater that says naughty on the front and nice on the back.
Santa's workshop worked overtime to produce this sexy top, exclusive to stylish Sims only.
If you're planning to seduce Father Winter when he visits for Winterfest, then make sure he sees a treat.
11.

GOLDEN GOOSE High Neck Sweater
The best kinds of sweaters are the ones where you can hide your hands and act like the flailing, inflatable tube man.
But if you're attempting to make a high-fashion Sim, then just hide your hands.
Whether you're attending a black and white party or simply strutting by, this high-neck sweater is a sleek stunner to showcase your fierce passion for fashion.
10.

Short Hoodie
Here's another hoodie that shows some midriff. Only this time, it's from my fave ChloeMMM.
What I love about this CC is the design placement. One sleeve is plain while the other has patterns, creating a unique look that would be a hit in real-life.
A Short Hoodie would be a fitting choice to flex your Sim's – emphasis on your Sim's – peak physical condition, while looking amazing all together.
9.

Brooke Sweater
Want to see what Christmas looks like as a sweater?
Introducing the Brooke Sweater!
Whenever your Sims are feeling cold, waiting for Father Winter to appear in thin air, this sweater won't fail to keep them toasty.
To celebrate the most wonderful time of the year, it's only appropriate to wear a wonderful sweater to keep the festive spirit alive.
8.

Kumikya's Sweater Collection
If bear hugs can be made into clothes, then this sweater collection from Kumikya crushes.
The vibrantly bright colors on visibly soft texture is an efficient combination to wrap Sims in cozy fashion.
This CC is the perfect sweater; comfort is felt and seen when worn.
I wouldn't know if your Sim would feel the same way, but we can assume they'll look great in it.
7.

Frilly Sweater
Have you ever considered wearing a sweater with frilled-neck lizard sleeves? I'm sure you did.
One way or another, those frilly sleeves will find its way into your closet because it looks.
So. Good.
This CC is a prime example of how small details can play a huge part in improving the overall style of a garment.
In this case, those frills boosted this sweater pretty high up on my ranking.
6.

Off-the-Shoulder Sweater
Having shoulder cut-offs on a sweater does defeat the purpose of keeping the whole length of the arm warm… but for the name of fashion, it's time to innovate!
Although the mesh is cute enough, the recoloring make it all the more adorable.
The color palette alone radiates warm, fuzzy feelings that prove why sweaters deserve to be a trend for a thousand more years. Maybe even more.
5.

Dreamers Pack
One of the things I love most about sweaters and hoodies is the practical design.
These can be worn by virtually anyone and still look like they own the look, even your dog (but with some modifications).
That's why this Dreamers Pack is such a relief to find, because it captures the convenient beauty of unisex clothing.
Both Andy and Jessie Sweaters have 20 swatches compatible with males and females alike.
The wacky style and eccentric colors give off a youthful touch that even your Sim's grandparents can pull off. Which just proves why sweaters are more universal than the English language.
4.

Tay Sweater
Truth be told, I didn't find many patterned sweatshirts or sweater CCs that I liked when I was searching for this list. But when I saw the Tay Sweater from Daisy Pixels, I was blown away.
First things first, the mesh is a piece of work.
The uneven cropping and the long sleeves (and striped colors) all make for a cute combination.
Second, it's a pack of solid colors and striped patterns. The 20 solid and 10 patterned swatches put H&M and Forever 21 to shame.
If these sweaters are not on sale at some point soon, I'd riot.
3.

Pari Sweaters
I don't know why tucked-in sweaters have such an effect on me. But I trust my preferences when it comes to style.
If you're in love with this sweater as much as I am, you're in luck.
You got two options to choose from: both displaying different styles and colors, but ultimately the same.
Sweaters like these are the perfect choice to wear for any casual occasion under any weather.
It has that breezy vibe that promises not to roast you when worn on a sunny day. Rain or shine, the Pari Sweater has got you covered.
2.

Aurora Sweater
This CC would probably be Sleeping Beauty's favorite sweater if she woke up after a hundred more years.
Being put to sleep for eternity while wearing a gown must've been uncomfortable!
If Prince Philip wasn't a jerk, Princess Aurora might've discovered the magic of sweaters and its power to conjure peaceful sleep. Maybe even a nice little princess tiara.
But your Sims' are not doomed like Princess Aurora.
They can still enjoy this lovely off-the-shoulder sweater that has 8 patterns painted with charming muted colors.
If you're looking for a trusty sweater to keep you pretty at all times (even while sleeping) then here's your best bet!
1.

Monica Sweater
There might've been a time when you've thought about wearing sweaters for the rest of your life.
I did, it's just too bad our physiology is not meant for mods. Because this CC pack from Daisy Pixels is a sweater lover's dream.
It has all the best patterns imaginable including a great collection of solid colors.
Thinking about what your Sim should wear for the rest of their short lifetime will not be a problem anymore.
With a stylish sweater like this, your Sim can brave any storm.
Browse:
Lists
The Sims 4
Video Games