Sims 4 CC: Best Swimwear & Bikinis For Guys And Girls
This post may contain affiliate links. If you buy something we may get a small commission at no extra cost to you. (Learn more).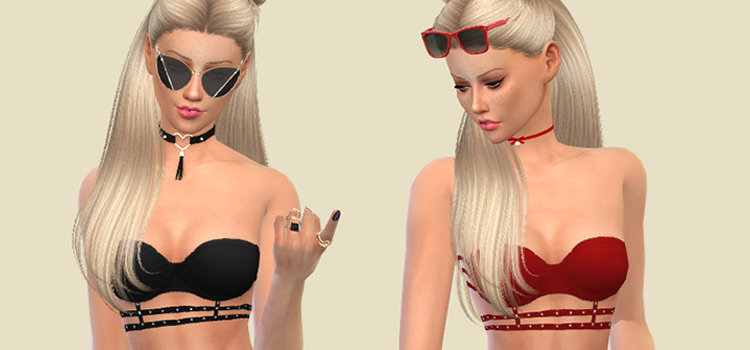 As we countdown the end of summer inside our homes, the simulated realities of The Sims 4 have never looked more inviting.
Palm trees and beaches are a far cry from our current living situations (well, for most of us!)
But fret not – TS4 has enough custom content to keep your sunseeker cravings in check!
From the tropical Eden that is Sulani to the infinite summers of the Seasons expansion pack, there's always a perfect world waiting for you.
But as far as the base game fashion goes… it has no place in the sun.
To brighten up our days poolside, here are the best swimwear CC for women and men to take a shine to.
Swimwear & Bikini CC For Girls
---
Lola Bikini Set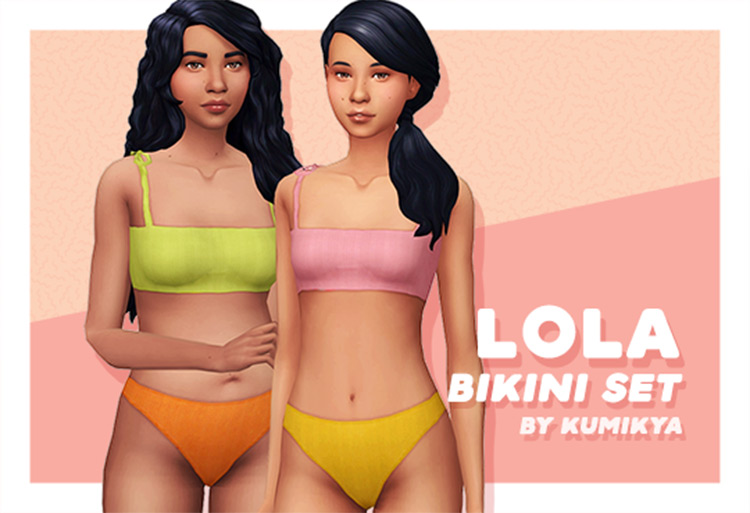 A true sunseeker knows that the best way to absorb all that sun is with a nice bikini.
The Lola Bikini Set from Kumikya is just the right collection to kickstart your summer agenda!
Whether it's to show off your Sim's newly toned body from non-stop workouts, or to flaunt those cheeky bottoms, this bikini will highlight those features you spent hours tweaking.
With 17 colors available, don't just settle for matching bottoms and top colors. Go crazy and diversify, girl!
Myla Swimsuit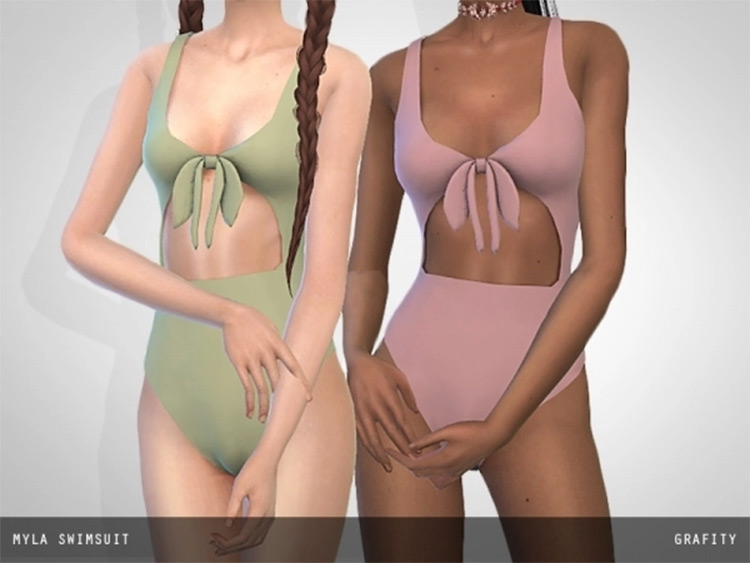 The tie-front top design looks a bit dainty, but this monokini marvel is far from conservative.
Although this one-piece two-piece hybrid literally left a gaping hole in the middle, it won't hurt your chances to become a Beach Queen.
Just make sure your Sim won't overstay her welcome on a towel or lounger, because that rainbow-shaped tan line will not look pretty.
Gradient Swimsuit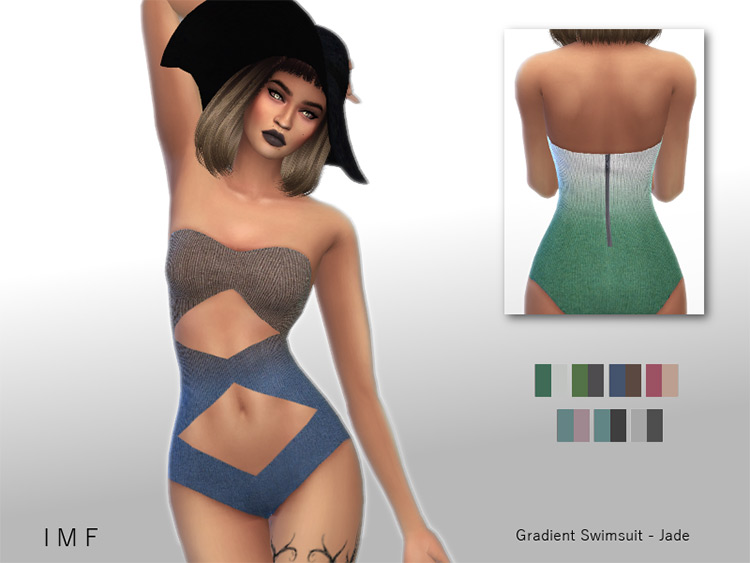 In every generation, there's always an iconic bikini moment that spawns hundreds of gifs and thousands of YouTube views.
To get yours, all you need to do is have a confidently hot Sim wearing hotter-than-the-sun swimwear like this Gradient Swimsuit CC.
This daring bikini will make your sexiest two-piece look like child's play.
In other words, this is Bangerz-era Miley, while your precious two-piece is Hannah Montana singing "Nobody's Perfect."
This specific style cuts open in all the most eye-catching places. It shapes your body exactly as it is.
Pulling this off won't just be a summer achievement, it would be an island-wide fashion statement!
Sol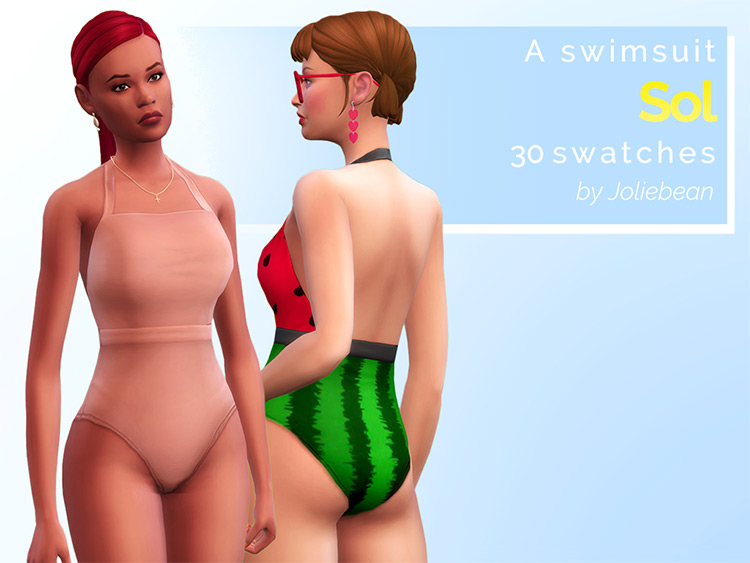 Did you think there was no such thing as a high-fashion swimsuit? Think again, sis!
This Jolibean creation covers more skin, but delivers one of the best swimsuit styles I've seen online.
The high-neck one-piece CC is stylish enough to carry you straight from the ocean to wild Kava parties without changing outfits.
And if that quick fashion transition is not enough to convince you, then how about the staggering collection of 30 colors including a watermelon print?
Coco Swimsuit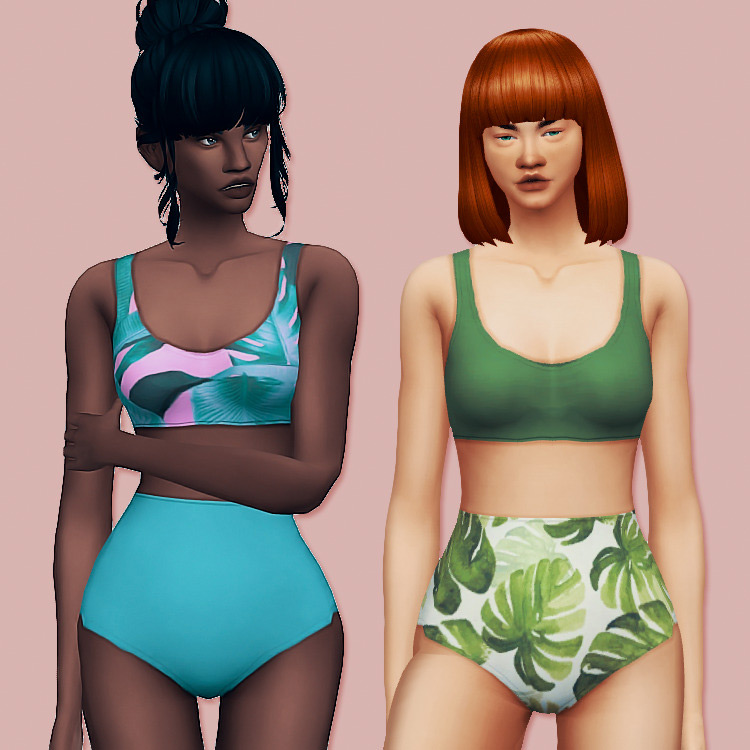 In a sea of monotonous colors and skimpy black ensembles, printed swimsuits make the beach a better place.
It's hella cute, creative, and most importantly: practical.
This Coco Swimsuit is made to outlast all the fun activities above and beyond the water.
Whether you go snorkeling, aqua-zipping, or building sandcastles by the beach, there's no beach experience too uncomfortable for this sporty-looking outfit.
This CC has 5 patterns and 7 solid colors available for you to mix and match. There's a lot of choices here, whether you're beach-bound or poolside.
Belt Swimsuit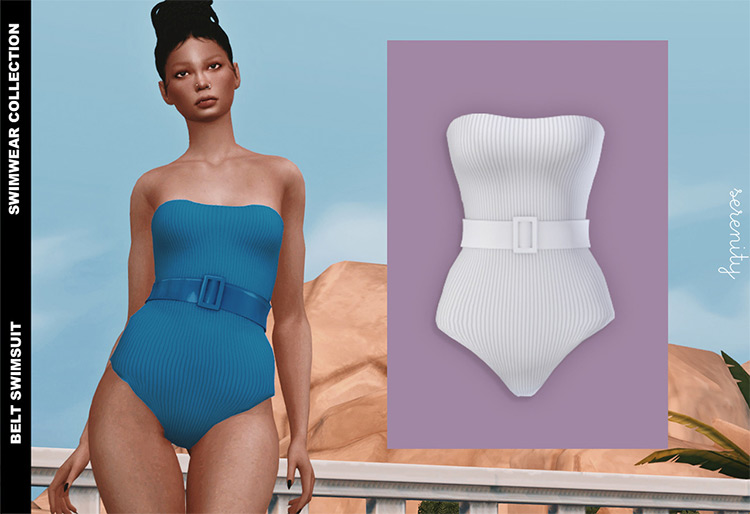 I'm not sure what purpose a belt serves on swimsuit other than looking good – very, very good.
This Belt Swimsuit might not be as iconic as Ursula Andress's white bikini in "Dr. No" – but I don't doubt the customization skills of dedicated Sims players to make it so.
15 colors in, this stunningly unique piece from Serenity has all the makings to turn your Sim into the next beach babe blockbuster to emerge from the sea.
Two-piece Mesh Bikini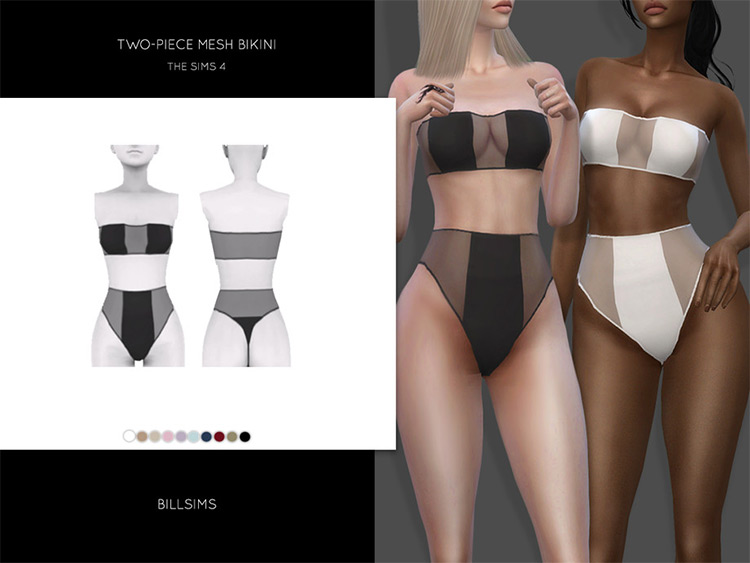 This is, without a doubt, the most revealing swimsuit CC I've added in this list.
And you can obviously see through it (kinda, not the naughty parts).
The sheer material of this mesh bikini leaves little to the imagination and covers only the most sensitive areas.
But even with the absolute lack of modesty, its overwhelmingly sexy style puts any girl in the Fast & Furious franchise to shame.
This CC is a Bill Sims creation, and it will take you far beyond your fashion comfort zone in the world of sexy and glamour.
But if you ever wish to get out of bikini rock bottom, then it's time to let loose with this mesh bikini CC!
Unholy Swimsuit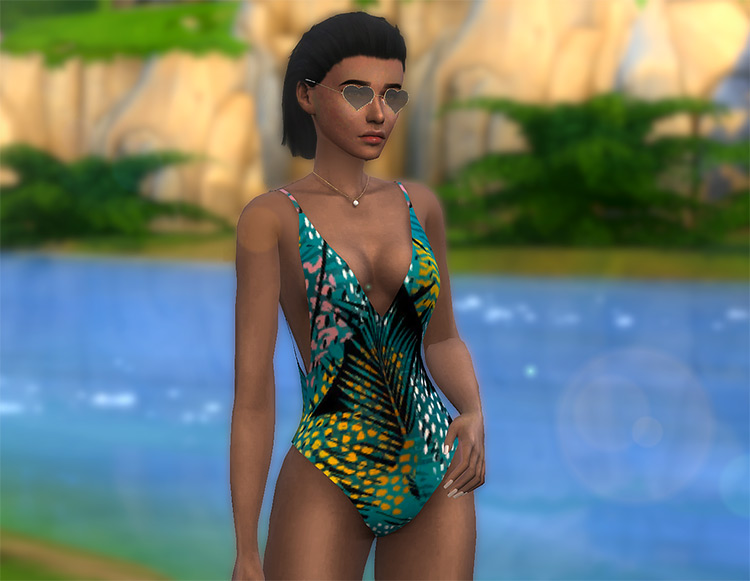 This next custom content will certainly be an unpopular outfit choice for your next church service.
Suitably named Unholy Swimsuit, CC creator Christopher067 has blessed us with a seductive one-piece that took the plunge on all sides.
Even though this looks like a PR nightmare waiting to happen (one slip of the nip and that's it) there's no denying the beautiful patterns included in this design.
You have 32 colors and 32 patterns to choose from, totaling 64 options that would probably cause your phone to blow up from all the selfies.
Jolie Swimsuit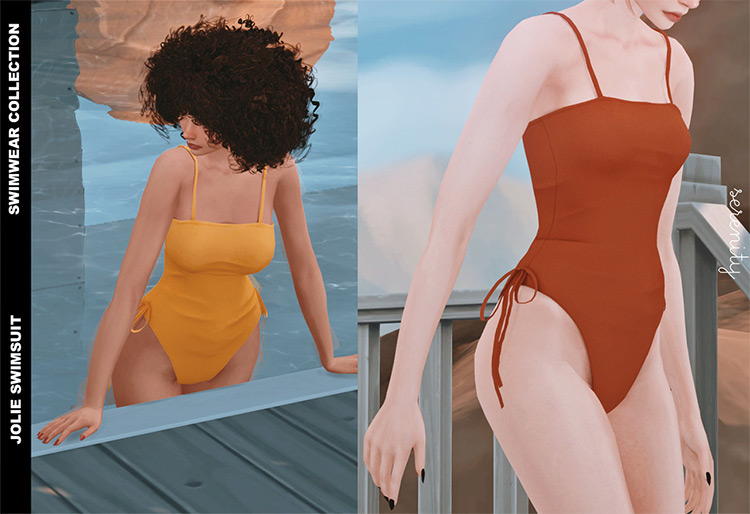 Recreating a Baywatch moment is totally possible.
Especially when this Jolie Swimsuit could be the next big thing in real life.
But since the real world is a chaotic mess, we can all settle for our Sims to get wet and wild in style!
This one-piece ensemble has 17 colors ranging from light pastels to vibrant variations that would bring a pop of color under the sea.
With the sun's rays, this CC will continue to dazzle, with or without the sunburns.
Artie Swimsuit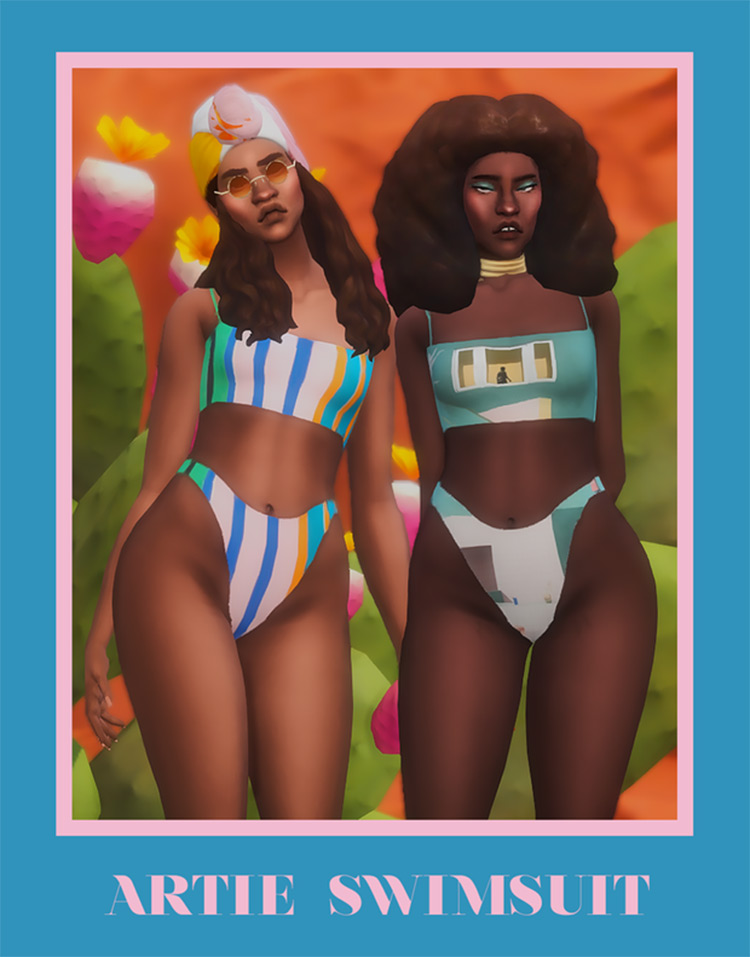 Splashing in here is this two-piece stunner from creator TipTopTab!
The first time I saw it, there was no question that this CC felt like the best-of-the-best for girls swimwear.
Apart from the amazingly detailed 90's-inspired patterns, the high-cut bottoms and strappy top are a perfect combination to balance the demanding heat, and enjoying the activities of summer.
Practical and sexy, the Artie Swimsuit is TS4's best bet to create an instant beach outfit that would last beyond a hundred sunsets.
Swimwear CC For Guys
---
Sulani Swimming Shorts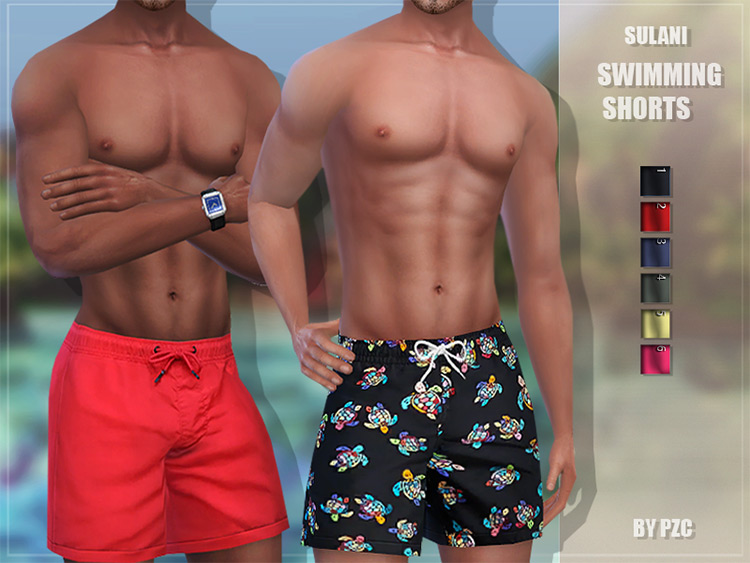 Choosing items from the men's swimwear department is not my forte, but I know how to look for the good ones and the bad ones.
This one certainly falls on the good side.
The Sulani Swimming Shorts are as basic as they could comes. But it buoys itself with cute designs that would leverage the hype for summer.
Also, I wouldn't particularly mind seeing male Sims wearing turtle-printed trunks.
Swimming Fun Shorts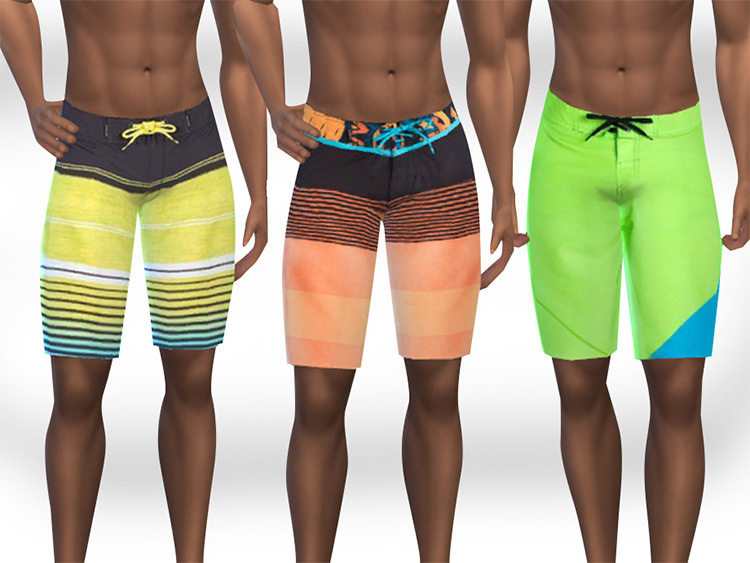 With these vibrant colors, you can rest assured that your Sim will be a beacon of style from miles away.
Whether you're executing aqua-zip flips and tricks or drifting off on an outrigger canoe, there's plenty of fun to be had with a trusty pair of neon-colored trunks!
Horizon Swimming Trunks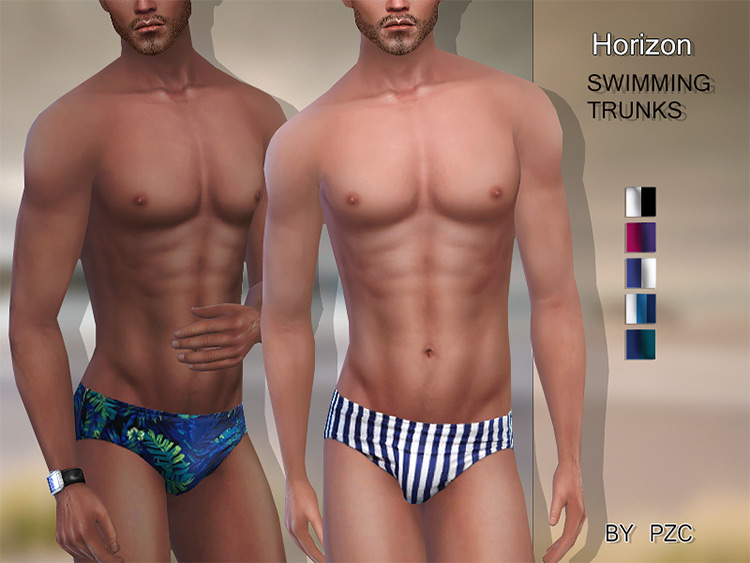 It's not just the ladies who get to flaunt itsy-bitsy pieces of swimwear.
But even the men can understand how daunting it is to wear speedos.
You know, the kind of swimwear that's one unit of clothing away from birthday suit.
One thing's for sure, though: Sims are shameless beings. And some guys wouldn't hesitate to wear this Horizon speedo.
Even when Sims are not rocking a David Beckham or Daniel Craig physique, you've got to admire a Sim's confidence.
Beach Board Shorts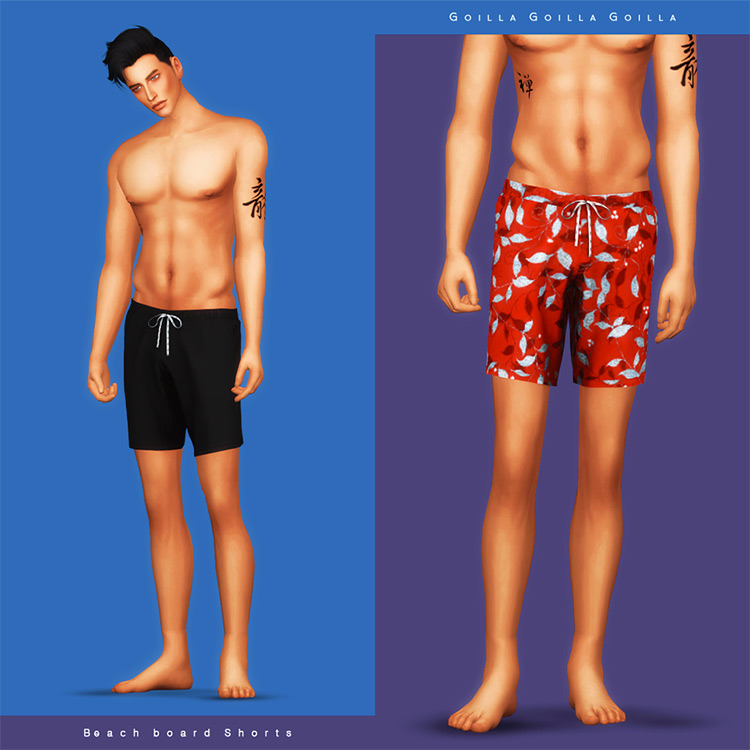 It must be refreshing to solely wear shorts on a hot summer day. Especially with this CC from GorillaX3.
The mid-length style designed with 25 colors and patterns is must-have swimwear for any Sim who spends too much time getting baked under the sun.
Also, look at how those hip bones are highlighted. Like damn, boy!
Gorilla X3's Board Shorts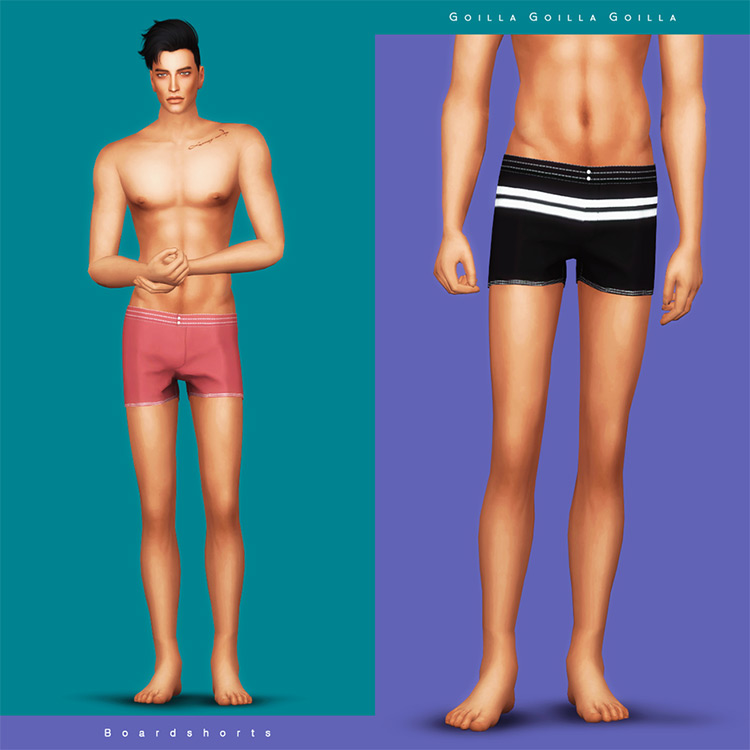 This back-to-back entry from GorillaX3 features a shorter (and tighter) style than the Beach Board Shorts.
This square leg swimsuit borders between the modesty of trunks, to the brazen display of speedos.
If you're someone who falls in between and want a more comfy outfit, this CC is just the right pick to show off and tease at the same time.
Sulani Swim Shorts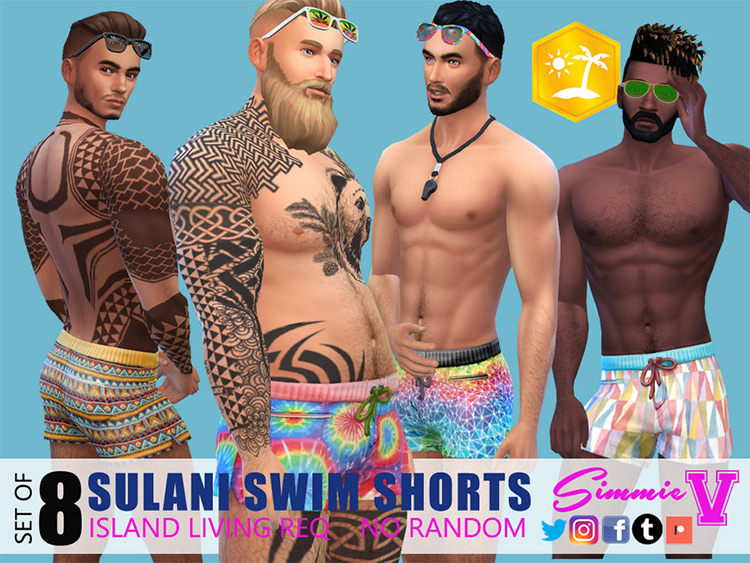 Hell yeah, it's summer baby!
This Sulani Swim Shorts CC gives typically solid-colored trunks a much needed design upgrade, showcasing the bubbly vibe of the season.
From tie-dye to Aztec-inspired prints, these short goodies are cute add-ons on any body type.
Retro Swimming Shorts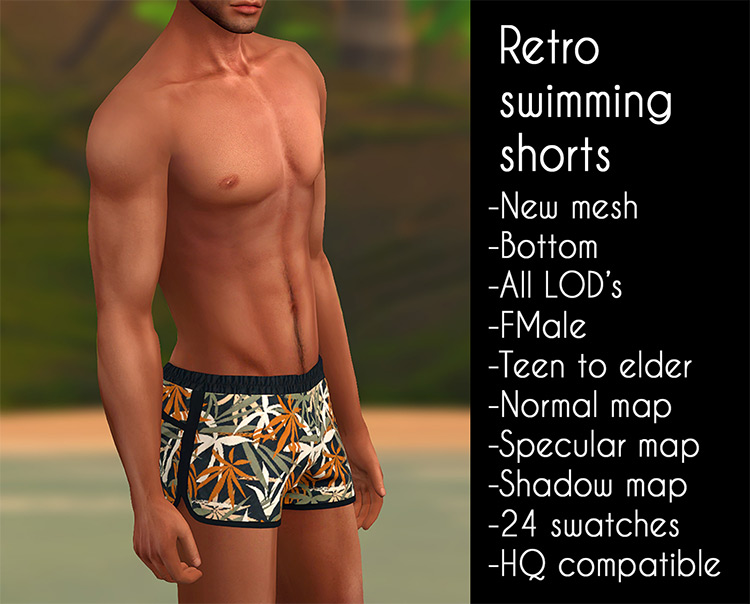 The world of the Sims needs more characters to wear square leg swimsuits.
And this CC is providing in more ways than one.
With 13 solid colors and 11 patterns to cap off the whole season, your Sim has no choice but to work on that beach bod and strut along the shore with these Retro Swimming Shorts.
Mr. Summer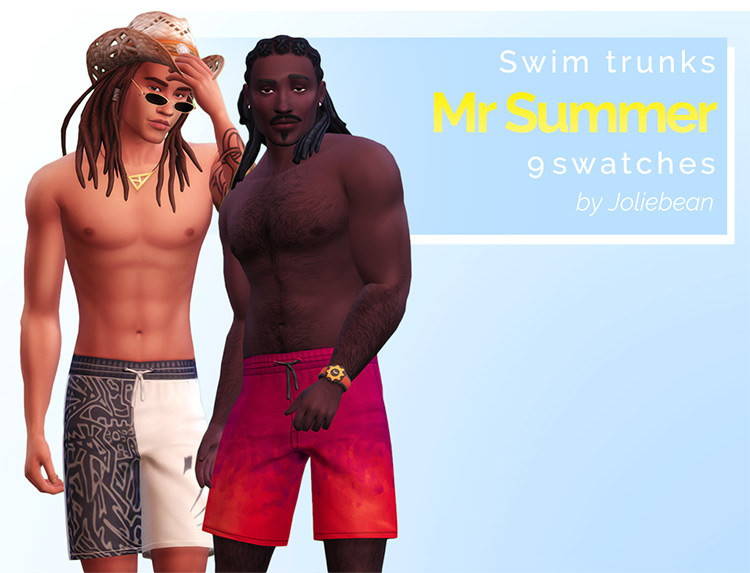 Why aspire to be a Zac Efron when you can be TS4's Mr. Summer?
With just a little touch-up on the biceps, pecs, six-pack abs, obliques, and this killer swimwear, your Sim will be summer-ready for the chaotic energy of the season's festivities.
And by festivities, I mean hot tub WooHoos, water balloon fights, and seducing mermaids in style.
Swimwear Shorts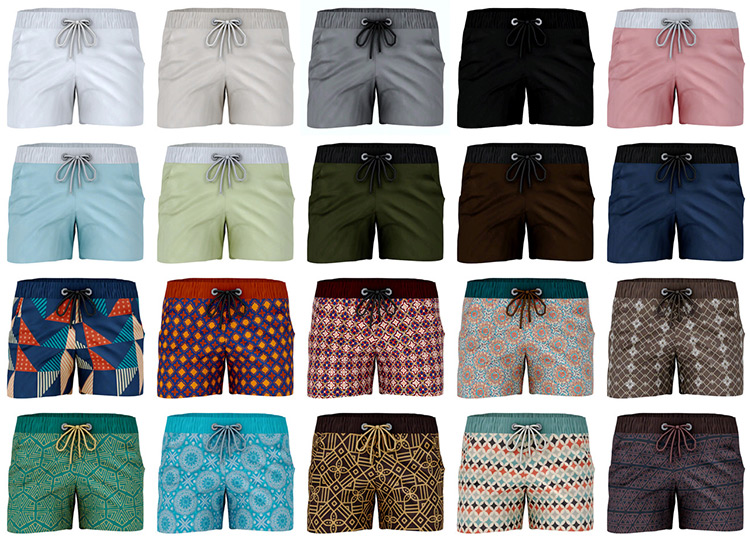 Before seeing this CC, I never knew how good pastel-colored shorts could look on men.
Now that I've seen it, I definitely want pastel-colored shorts on my male Sims.
Even though the patterns are nice, the Swimwear Shorts' specific style works so well with the pastel palette. Right now I'm just gushing over it.
So whenever you're moving into Island Living, make sure you pack up these shorts and never take them off.
Surfs Up! Board Shorts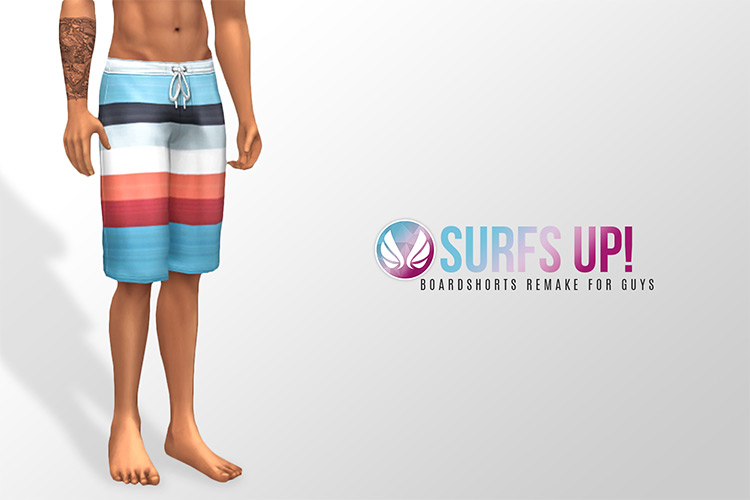 As great as the other items are in this list, this surfer classic takes the cake as some incredible swimwear CC for guys.
Surfs Up! Board Shorts contains 15 solid colors as well as 15 patterns, all diverse enough that you'll be able to stylize for any occasion.
Available from teens to elders, this CC will leave your guy with a sunny disposition, and summer will definitely be yours for the taking.
Browse:
Lists
The Sims 4
Video Games