Custom Swords For The Sims 4 (CC + Mods)
This post may contain affiliate links. If you buy something we may get a small commission at no extra cost to you. (Learn more).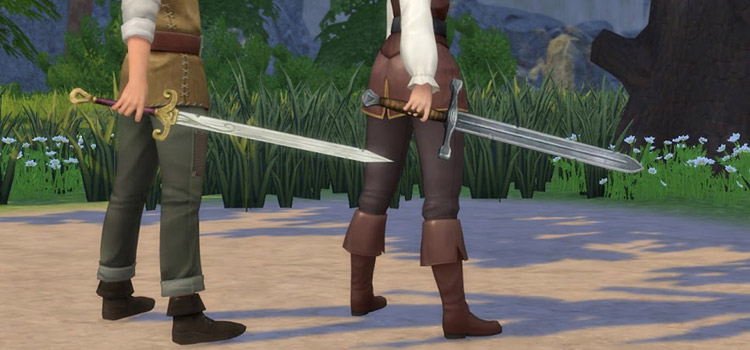 Swords are true weapons of battle. And also a great item to hang on your walls if you like that kinda décor.
From the medieval era style to Chinese warriors, and even to Jedis, they all use types of swords to fight their battles.
And if you want some of these added into your gameplay, here's some pretty neat sword CC for The Sims 4.
Battle in style, en garde!
Great Sword CC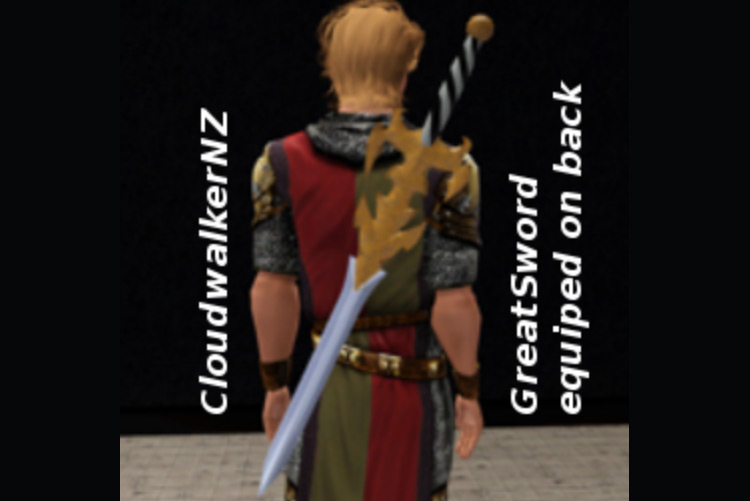 This sword is a great looking dagger that can be worn on your Sim's back.
Never thought you'd see something like this, right?
A cool choice for a Halloween costume, or just if your Sim really wants to be a true warrior. They can't go around slashing, though.
And this CC comes in 3 recolors including a luscious golden staff, featuring a steel blade finish too.
Medieval Conversion Sword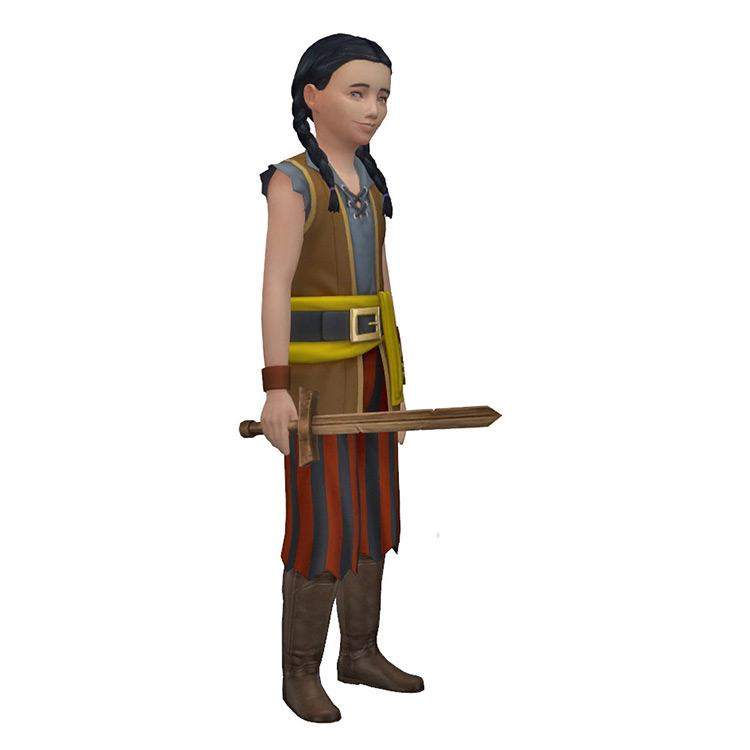 This next sword takes conversions from The Sims Medieval game, converts them into CC, and has them ready to go for The Sims 4.
You'll find 8 different swords here, including a wooden sword, a skull patterned sword, and a narrow blade style, among others.
Great variety, neat designs, and a history dating back to other Sims games, all make these swords great for any old style towns.
LongQuanJian Sword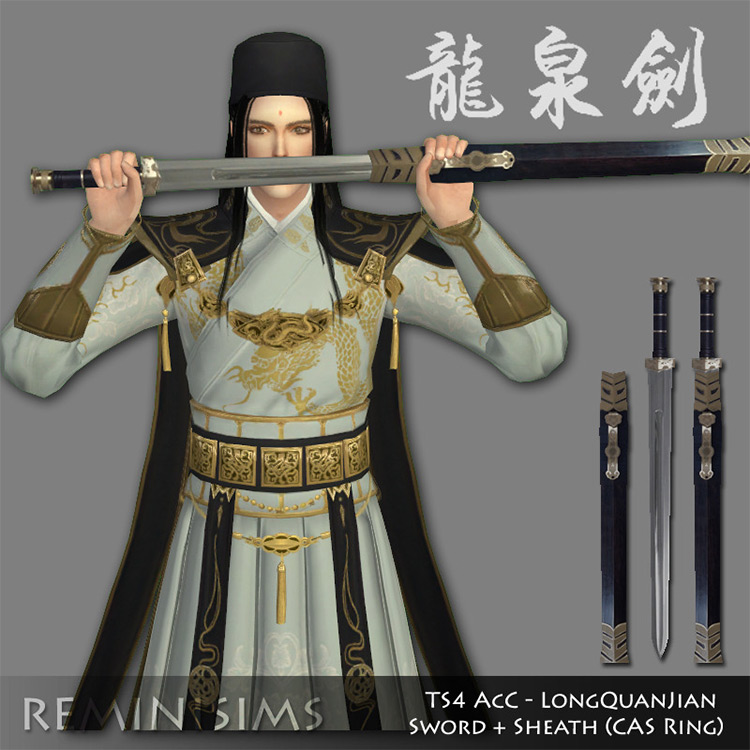 Creator Reminisims provide us with this next sword CC, perfectly fitted for a Chinese Warrior.
This sword comes with a sheath too.
In case you don't speak sword, that's a cover for the sword to stay sharp when not in use.
Offering shades of gorgeous navy black and gold, this could be great for an ancient warrior build (do people do that?). Or even for any anime fans out there.
Snag this CC and unleash your inner warrior!
Wall Swords Set
Want to show off all some famous daggers to your Sim friends and family?
Now you can with this CC collection of wall swords by SrslySims.
This pack includes a wide variety of décor swords, some including dagger bends, and others featuring straight blades.
Gold or silver, large and small, there's just so many to pick from in all types of colors and sizes.
The most unique sword in this collection has to be a Viking sword made out of a tree branch, featuring an axe like blade.
And if you're going for a Viking build in The Sims 4 then you'll love our collection of fan-made Viking stuff.
TS4 Wall Mounted Swords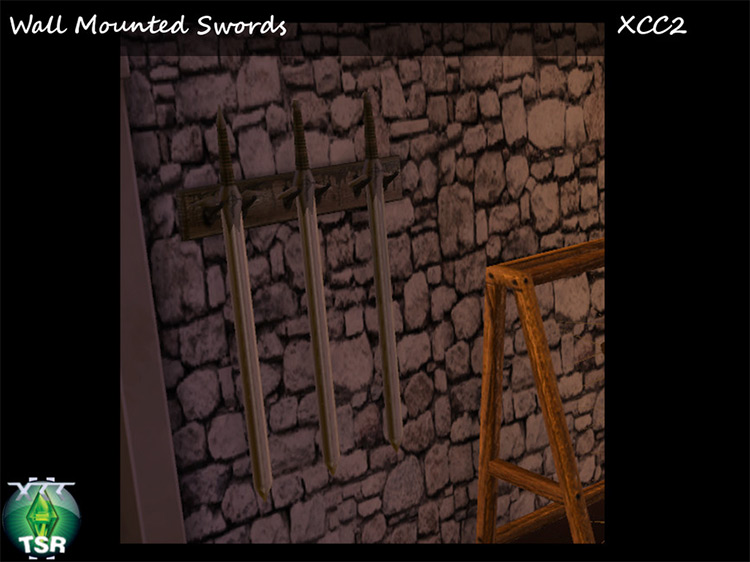 Going back to the medieval theme here, these are perfect for any homes trying to match that same aesthetic.
You'll find straight blades with tiny staffs here. All extremely accurate for those times of early medieval culture.
Brittle, swift, and gloomy are the words that come to mind for this specific dagger.
Again, just wall-mounted options though. No attacking the neighbor.
Sword Master CC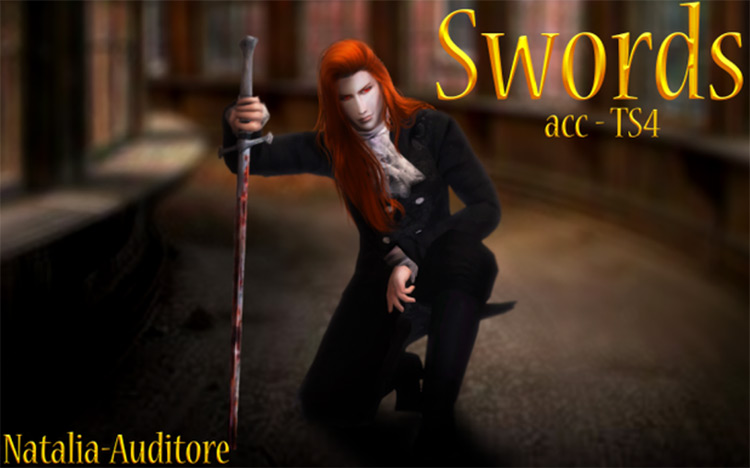 Here's a TS4 sword set that not only includes a badass sword, but also features sword poses for your Sim to show off their new flashy toy.
This set features 5 color variations, including a jet black staff with a bloody blade.
If you want an awesome sword for your Sim (and to look cool holding it) then definitely give this a download.
There are 10 unique poses that go with this sword, including various swinging positions and a dope kneeling pose with the blade set into the ground.
Now your Sim can become a true sword master.
Double Sword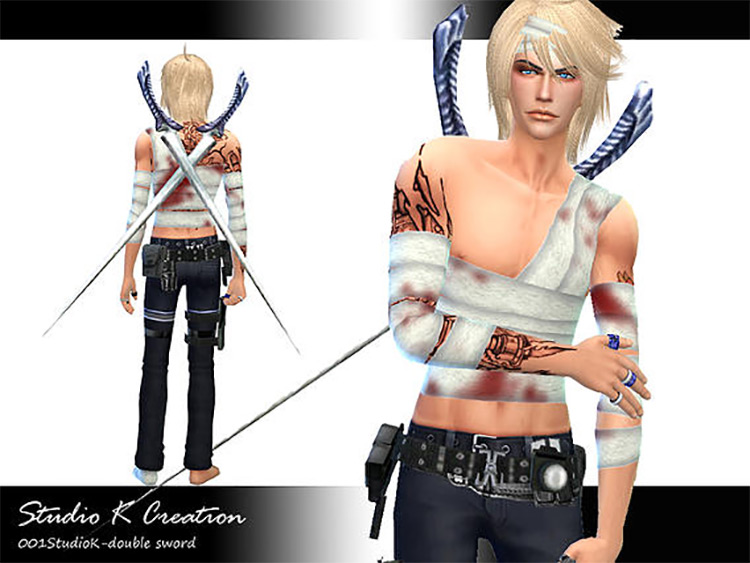 Studio K tops this list with this extravagant double sword CC that really breaks the mold.
Worn harnessed onto your Sim's back, this custom sword comes with an ice blue staff finished, polished with lightning solid steel.
It really looks great.
And since you're getting double, you know that if one sword ever breaks, you'll be able to pull out a second one.
Now that's badass.
Browse:
Lists
The Sims 4
Video Games