Sims 4 Table Lamps CC: The Ultimate Collection
This post may contain affiliate links. If you buy something we may get a small commission at no extra cost to you. (Learn more).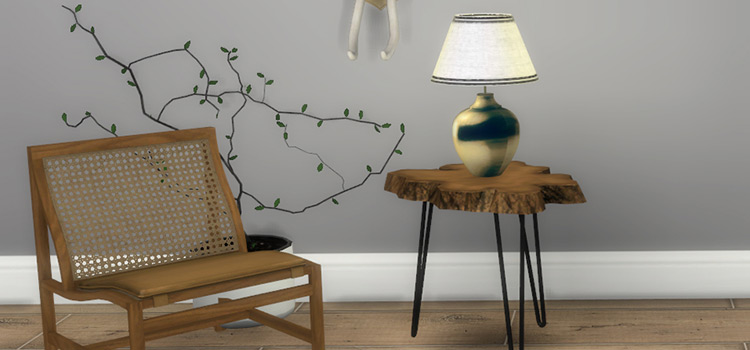 The right lighting can brighten up the atmosphere in any room- quite literally. The trick, of course, is finding which lighting is right!
In The Sims 4, where your options for furnishings and interior design are nearly limitless, this problem is magnified.
There are literally thousands of lamps to choose from, with custom content offering unique and special designs all over the web.
Let's say you're ignore floor lamps, ceiling fixtures, nightlights, etc… and you're only looking for table lamps, well there are still loads of options!
1.

Zirconium Desk Lamp
Desk lamps give me the coziest feeling.
I know this CC looks almost industrial, but the idea of my sims sitting at their desk at home reading a great book or studying for school fills me with warmth.
This desk lamp may or may not be made of zirconium, and also it's not adjustable as its design implies.
But I don't think your sim will mind.
They'll just be happy to have this great lamp on their desk!
A cool slate grey is the default, but there are 3 other swatches if your sim prefers a splash of color while they're studying.
2.

Lilit Table Lamp
This lamp is what I would call ballerina-esque: and yes, that's exactly what it sounds like.
Elegant, modern, and totally what a famous ballerina would have in her home, the Lilit table lamp is too good to be true but not too good for you.
Put simply, it's gorgeous but usable in any sim's home, famous ballerina or otherwise.
Although it's a simple design, the lily buds (which you can call Lilit buds if it makes you feel better) adorning the base take it to the next level.
This CC even has darker and lighter versions in a couple different colors.
3.

Oganesson Table Lamp
This tall table lamp looks like someone took a regular floor lamp and just made it shorter.
The result is a lamp with a unique but enticing shape.
If you think about it, this lamp is about as generic as they come… it's just less common to see the "slim, tall, and nothing else" design in a table lamp!
Coffee tables and low end tables are the ideal homes for this CC. And any interior design that includes tall decorations (think houseplants and vases) will also benefit from it.
Yes, it may only have 4 swatches, but the design is versatile!
4.

Gold Table Lamp
Sometimes all you want is a simple design.
And this table lamp more than delivers.
It does its job, it won't bother you, and it's the most functional wallflower you'll ever meet.
The best part is that there's no limit on where you can use this lamp.
Any sim could use a lamp like this in their bedroom, living room, or super-secret basement room, no matter who they are. It's just that good.
And if gold isn't your thing, don't worry – the Gold Table Lamp does, in fact, come in colors other than gold.
5.

Fluffy Table Lamp
Fluffy furniture means that every piece of furniture is like a new, colorful pet – which is great in the case of The Sims 4, since not everyone has the Cats & Dogs pack!
Being digital, you don't even have to worry about cleaning all of that fur.
But only rugs and pillows can be fluffy, right? Wrong.
With this CC, even your table lamps can be covered in a thick layer of fur.
And since it's another lamp with 4 swatches, your color options are limited. But it covers all of its bases well, offering cream, blue, pink, and purple options.
6.

Cassandre Table Lamp
Vases make a great decoration. But if you have no fresh flowers to put in them (and antique vases don't work for your sim), then why not add a lamp on top?
This Cassandre Table Lamp looks like an ornate vase turned table lamp, and I love every second of it.
The abstract patterns on the base look like beautiful stone.
Unlike many of the other vases on this list, this CC has 8 total swatches, including a couple with unique lamp shade patterns – just another reason why this lamp is so great!
7.

Industrial Lamps
The good thing about table lamps is that they can add so much character to your home so easily.
Take these industrial lamps, for example.
Just one CC and you're well on your way to creating a steampunk wonderland for your sims to frolic in. Besides, if steampunk isn't your thing, there are always more modern industrial builds to go for.
With 3 swatches, your options for colors are a little limited – but the possible uses for this lamp aren't!
8.

Boron Table Lamp
On the other side of the spectrum, this Boron Table Lamp is also full of personality.
And the difference is that this lamp is all natural.
Money may not be able to grow on trees. But according to this CC, lampshades definitely can – and while lamps are nowhere near as useful as cold hard cash, they're still great!
There are 3 swatches here, all of which change the color of the lamp "trunk" and nothing else.
For the ideal build, you can match the wood of the table lamp to the wood used in the rest of the room.
9.

Living 1 Table Lamp
Paintings really bring a room to life.
And they have the same effect on a table lamp.
The cute birds on this CC lamp are too stylistic to look like they're really going to fly away, but they make great living room companions.
Stylistic or otherwise, they'll still be a fresh breath of life in any home and any room.
This CC has 5 recolors (mainly changing the colors of the birds), but the furnishing set that it's from has a bunch of extra lamp designs and vase versions of every lamp.
10.

Enigma Table Lamp
This 1-swatch wonder is sure to steal the spotlight in any room.
It may only have one swatch and one design, but it's a real enigma of a design.
It's similar to the shape of a sitting person with their arms resting on their knees. But because of the blocky shape, it could really be anything – so long as you squint at it.
This CC was originally intended for use in a bedroom. But it's up to you if you really want this lamp to watch your sims sleep.
Who knows, maybe your sim would actually find it comforting.
11.

Desk Lamp 2000 Set
Some people would argue that the cold, white design of these desk lamps isn't suited for a home.
But if your Sims enjoy being in a perfectly sterilized environment, well this is the set for them.
Even aside from its uses in offices, libraries, and other clean public environments, there are plenty of modern interior designs that this CC calls to.
With 8 different designs, it'll be even easier to find a situation for each lamp.
On top of that, each design has 8 swatches all to its own.
But there aren't any patterns, just clean basic colors.
12.

Fungal Phosphorescent Lamp
There's no shortage of unique table lamps on this list. But this one takes the cake.
It's barely recognizable as a lamp to begin with, and I mean that in the best way possible.
This Fungal Phosphorescent takes the shape of three adorable (or creepy or gross, depending on how you look at it) mushrooms growing in a little dish. And they glow!
The distinctiveness of this CC doesn't stop there.
Forget the plain, desaturated colors of other table lamps. Because the 5 recolors this 'lamp' offers are vibrant neons, so there's no way you can forget that you're literally using mushrooms as lighting.
If you like the trippy aesthetic (while keeping within the Maxis Match theme) then you've gotta give this one a try.
13.

Lamp Conversions
We all know that The Sims 3 had some great furniture, including the stuff that content creators have made.
Of course, they don't work in The Sims 4.
These Sims 3 Lamp Conversions will let you use some of the best table lamp CCs from generations past.
Most of them are your typical vase, light, and lampshade design. But the set has a few stalk and light desk lamps, too.
The usual design might be better for most household applications. But the desk lamps will be better for recreating a Pixar studio. Just sayin'.
14.

Fi's Faves
Here's some CC that's a little different from the others, in that it's a collection of lamps from different creators, rather than just one lamp.
The upside is that these lamps come in all sorts of styles, from some with feather tassels to a literal teapot with a lampshade attached.
And since they're all from different creators, the number of recolors involved does vary.
However, they are all unique Maxis-match meshes.
Browse:
Lists
The Sims 4
Video Games