Sims 4 Tails CC: Cats, Dragons, Foxes & More
This post may contain affiliate links. If you buy something we may get a small commission at no extra cost to you. (Learn more).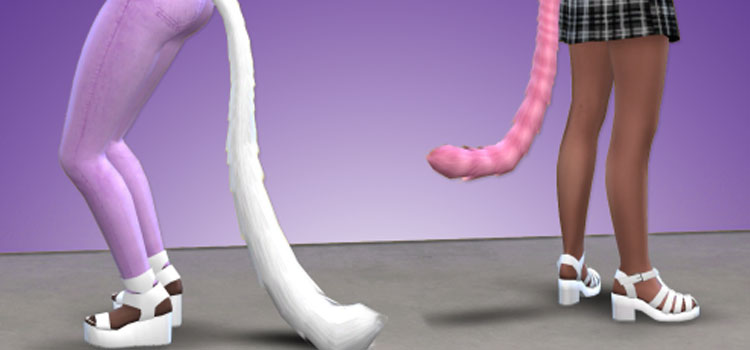 What's great about The Sims is that you genuinely don't need an excuse to dress your Sim up in full costume.
A hotdog, a gladiator, and Darth Maul walk into a bar on a regular Wednesday afternoon, and no Sim will bat an eye.
So you can't really blame simmers for wanting to collect TS4 CC of costumes and accessories of all kinds.
Whether you've made it so your Sim has mythical, bestial, fantastical, or infernal origins or you just really want them to kill it at the next costume party, here are some neat custom tails your Sim probably wouldn't mind adding to their wardrobe.
1.

Naga Snake Tail CC by Merman Simmer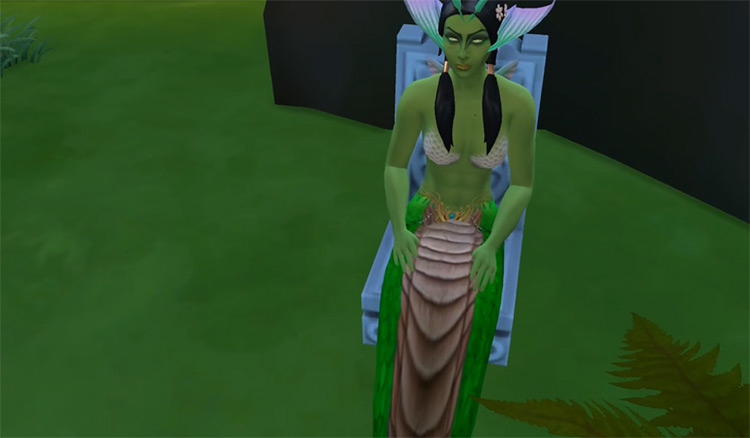 Let's start this list with one of the more complicated items in this haul, because why not?
This gorgeously imposing Naga Snake Tail CC by Merman Simmer is something I genuinely wasn't expecting to find. But I'm happy I did, because this is an incredibly unique concept that I think was executed pretty well.
I mean, everyone wants to be a mermaid or a merman or a seductive siren Sim of the sea, right?
But how many people actually know about Nagas, let alone want to be them?
This, for me, definitely stands out as far as fantasy creature CC pieces are concerned.
The creator themselves posted a YouTube video explaining how to use this CC correctly. Highly recommend you check it out.
Do note that you'll need the creator's additional Feet Remover mod to make it look like your Sim-Naga is floating. You can find it on the same page as the Naga Snake Tail download. I've also linked it below, just in case.
Additional Files Needed: Merman Simmer's Feet Remover Mod
Where to Find: Body > Clothing > Bottoms
2.

Nightcrawler Tail Unisex by NotEgain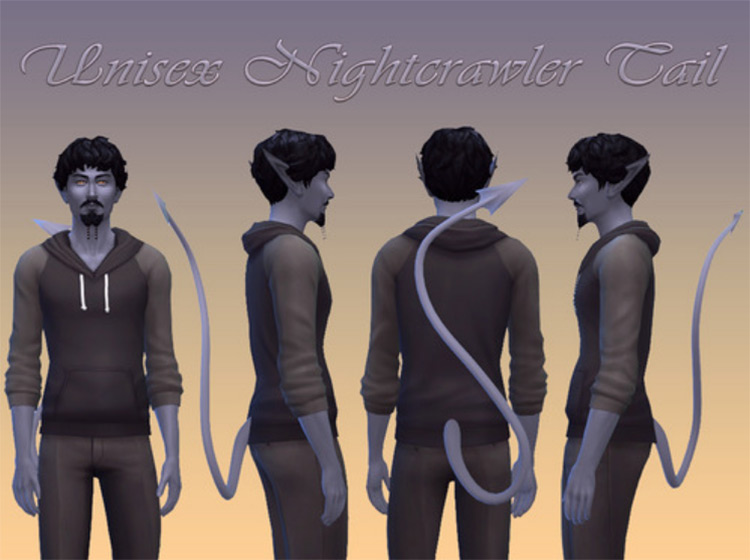 Even if you aren't a giant comicbook/superhero nerd, who doesn't know Marvel's Kurt Wagner aka the beloved blue Nightcrawler of X-Men fame?
Okay, maybe you don't know him. That's okay.
For those of you who do, this custom Sims 4 tail by NotEgain is exactly what your Sim needs to look like this teleporting acrobat.
I mean, EA has already given us a basic blue skin swatch, right? All you really need is short curly hair and all-yellow eyes and, voila. One of Xavier Academy's most notable characters, ready for action.
What's awesome about this tail is that it actually works with all Sims 4 skin colors. Which means it'll change color according to your Sim's skin.
It's not actually a plain blue accessory. So if you'd rather use this tail as a generic demon tail, you can definitely do so. We do love ourselves a nice versatile piece of CC.
Where to Find: Head > Accessories > Glasses OR Body > Accessories > Rings
3.

Dragon Tail by Zaneida & The Sims 4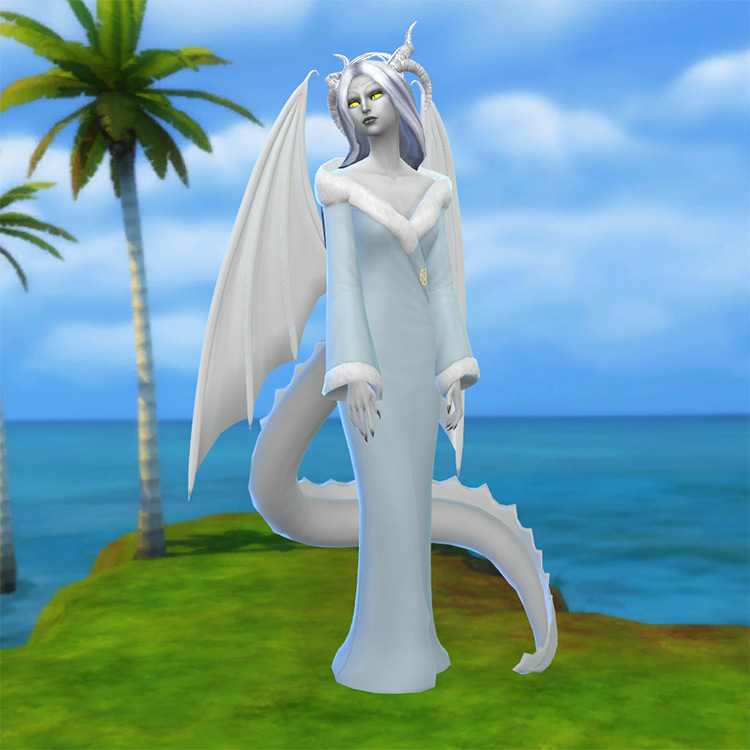 This here's another imposing (but awesome!) tail CC to add to your collection.
It's a simple dragon tail that curls ever-so-lovingly around your Sim. And just like the Nightcrawler tail, this one changes color according to your Sim's skin. So your Sim can be a green-skinned, red-skinned, or gray-skinned half-dragon humanoid without needing to switch out tails or enter CAS again to change the color swatch.
The tail looks pretty cool with fantasy skin colors.
But be warned: if your Sim's skin is a normal flesh-y tone, the tail ends up looking like it belongs more to a soft-bellied lizard or iguana.
Which, as you can imagine, isn't very intimidating.
Where to Find: Body > Bodies and Skin Tone > Tattoos
4.

Cat Ears & Cat Tail by NotEgain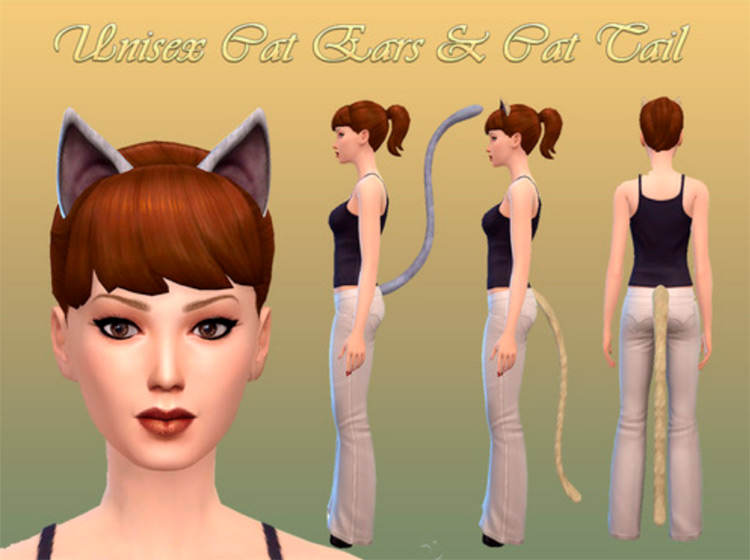 Can you really consider anyone to be cat girls or cat boys if they don't have ears to go with their twitchy elegant tails?
Didn't think so.
Ergo, this awesome CC set – still by NotEgain – comes with both cat ears and a cat tail.
There are four variations of the tail in total, and each variation comes in 19 different colors.
Also, each variation actually differs based on their position and the Sim's movement. So one variation of the cat tail is pointed downwards and moves with your Sim's upper body while another variation of the cat tail points upwards and doesn't move at all.
And vice versa.
The effort and attention to detail for the tail alone is pretty impressive, which is why I think this item deserves a solid spot on this list.
The creator has more detailed notes about each variation – and where to find them – on their download page, so make sure to read thoroughly!
Where to Find: Head > Accessories > Glasses OR Head > Accessories > Hats
5.

Ao no Exorcist – Rin Okumura's Tail by kiellessa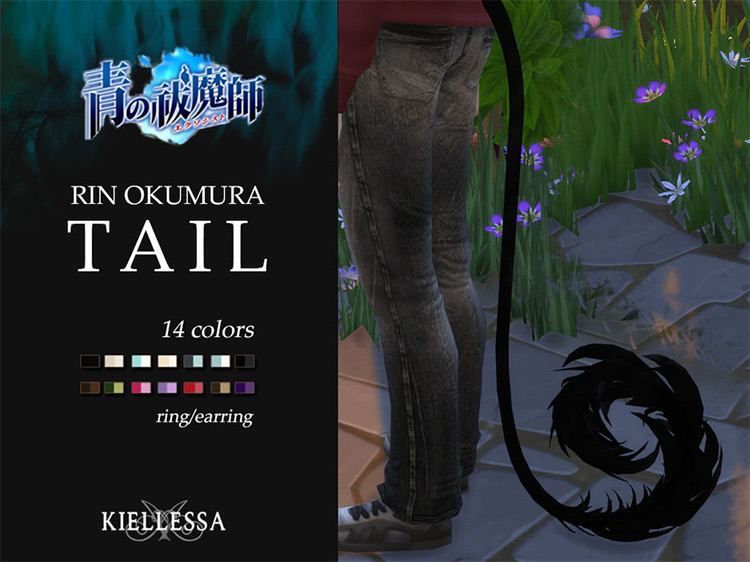 I'll be honest: I have no idea who the creator is referencing with this tail.
But I'm including it in this list because look at those edges. Look at that detail. Look at how wispy and intimidating and straight-up otherworldly it looks!
Even if you don't know who the heck the CC creator is trying to emulate with this tail, you can still use it to create some infernal shadow demon or shade, and none would be the wiser.
It comes in 14 colors, too, so there's plenty of leeway for variation and customization.
It's a really cool tail, is what I'm trying to say.
Where to Find: Body > Accessories > Rings OR Head > Accessories > Earrings
6.

Devil Set & Rhea Natas by LittleDoxy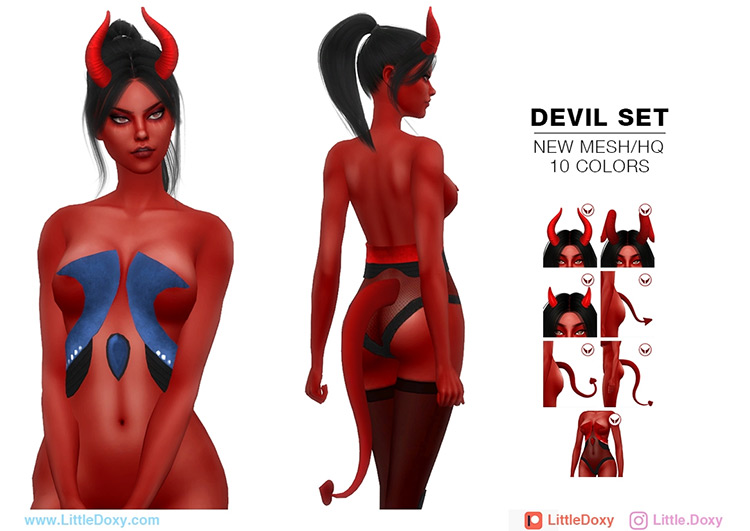 For the subtle sultry demon or Sim succubus, LittleDoxy's Devil Set is a fairly interesting concept that you might want to look into.
There are three different horns and three different tails in the pack, all of which are pretty distinct in terms of size and design.
Thankfully, the creator didn't just resize the same tail—which would have yielded three different variations regardless (but would have also come off as kinda lazy). They changed the curl, too.
So the smallest tail actually pokes straight out while the medium-sized tail curls up and inwards. The biggest one is arguably the droopiest, hanging almost straight down and not defying gravity much.
Basically, the attention to detail for this pack is pretty darn awesome. And I 10/10 recommend.
Where to Find: Body > Accessories
7.

Tail of a Lizard by Zaneida & The Sims 4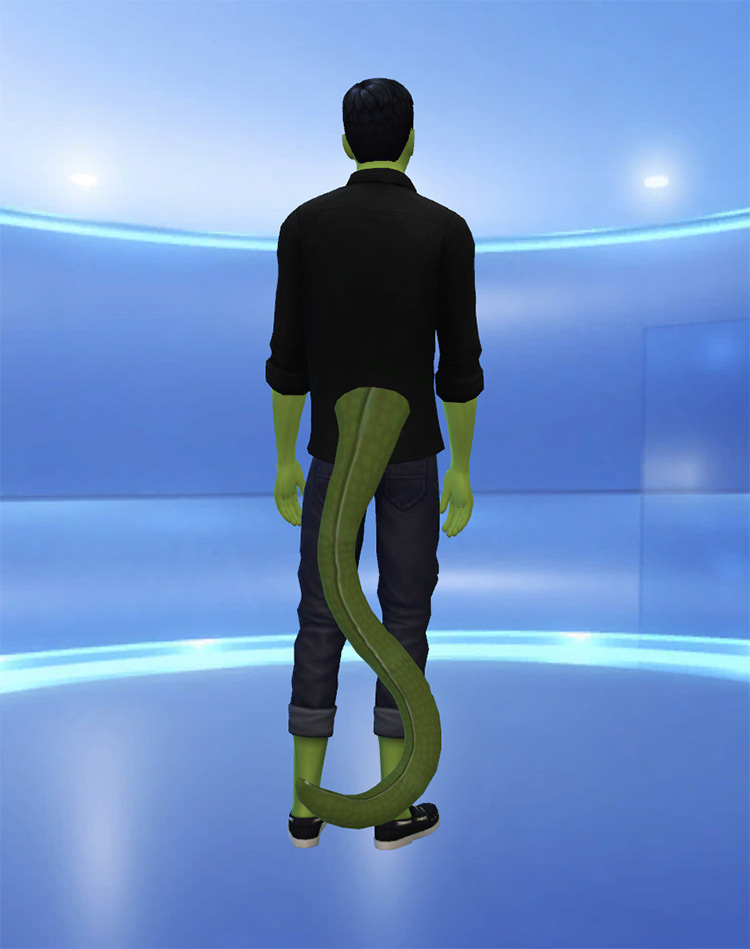 Remember the dragon tail from earlier? And how I said flesh-y colors on it would make it look like a soft house-grown lizard?
Turns out, that CC already exists. And it's made by the same creator.
Zaneida & The Sims 4's Tail of a Lizard CC actually has a different texture, shape, and design from their Dragon Tail CC—a feat I can already applaud, seeing as the two are both reptilian in nature (and therefore very easy to just clone and slightly modify).
Unlike the dragon tail, this custom lizard tail doesn't take on the Sim's skintone. Instead it comes in 16 color swatches.
And six of said color swatches are all varying shades of green.
I think this works better given the nature of the tail and its in-game mesh. If you're big into lizard people, do check this out.
Where to Find: Head > Accessories
8.

K/DA PopStars Ahri – Set001 by AleNikSimmer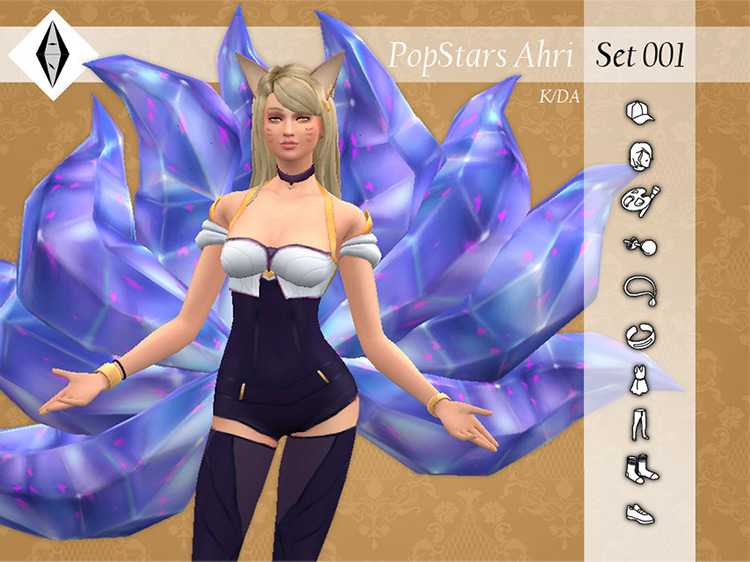 Yet another pop culture reference, but this time I do get it.
Riot released the song "Pop/Stars" back in 2018 to promote new skins. In doing so, they accidentally created a legitimate CGI K-pop group known as K/DA.
Fans of the music video (which, by the way, now has 400M+ views) are well aware of what the characters look like. Ahri, the group's "visual," is styled as a mystical nine-tailed fox with crystal tails.
Now your Sim can replicate this iconic look with AleNikSimmer's CC.
It's actually a whole pack filled with nothing but accessories and mods to make your Sim look exactly like K/DA's Ahri (her ears, her hair, her eyes, her outfit—you name it). But you can choose to just download that awesome tail if that's what you're after.
I feel I should warn you, though; that tail is massive.
Where to Find: Body > Accessories > Stockings
9.

Kitsune Accs TS4 and TS3 by natalia-auditore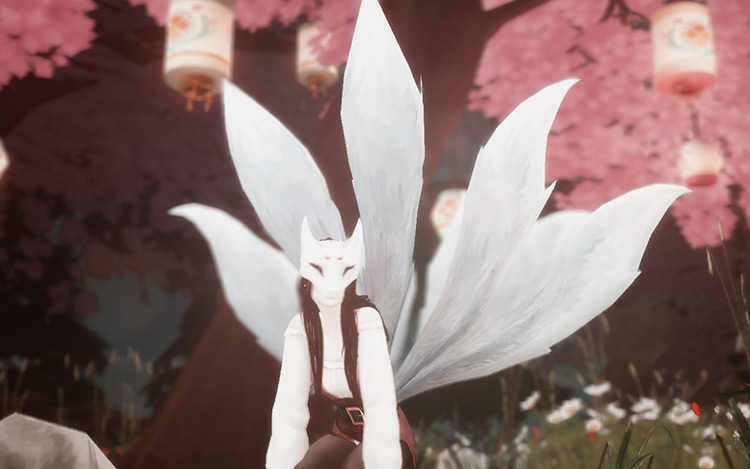 I saved the best for last. Not even kidding.
This is my favorite Sims 4 tail CC.
The concept uses lore that I'm personally interested in, the execution is near flawless, and it translates in-game really, really well.
The previous CC is a stylized nine-tailed fox tail (I believe it's called kyuubi in Japanese? I'm sorry if I'm wrong, please don't come for me).
But this one shows a regular mythical nine-tailed fox tail in all its fiery, majestic glory.
And oh is it glorious.
This CC comes in 20 different color swatches so you can definitely change the color to fit your own personal lore for your fox-Sim. And nine-tailed foxes are supposedly spirits or otherworldly nature guardians, so a fierce humanoid fox with a stunningly pink tail would not be a stretch of the imagination.
At all.
I personally just love how majestic and regal the red and orange swatches look.
The whole look – the number of tails, the shape of each tuft, the edges, etc. – just makes it seem like my Sim's walking around with flames constantly framing her. And believe you me, I am not opposed.
Where to Find: Body > Accessories > Rings
Browse:
Lists
The Sims 4
Video Games