Sims 4 Taylor Swift CC: Hair, Clothes & More
This post may contain affiliate links. If you buy something we may get a small commission at no extra cost to you. (Learn more).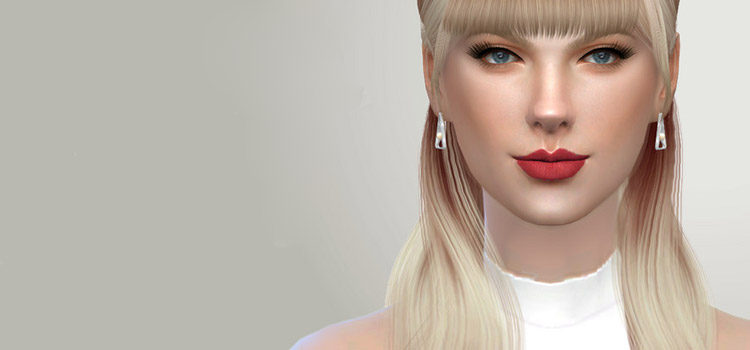 I was 14 when I first got to know about Taylor Swift who, in many songs, made my high school life more melodramatic than it should be.
With the release of Fearless in 2008, almost all of my batchmates became lovesick high schoolers who wished to have the same love story as described by Swift.
She was a powerhouse back then.
And more than a decade later, her growing discography remains as a place of comfort in an era dominated by TikTok remixes and Cardi B bops.
Taylor is by no means a saint in the music industry. But there's no mistaking that she's become a music juggernaut, influential enough to have Sims 4 custom content made in her name.
So love her or hate her, we're sharing some of the best CC that'll reignite your inner Swiftie!
Taylor Swift Poster Collection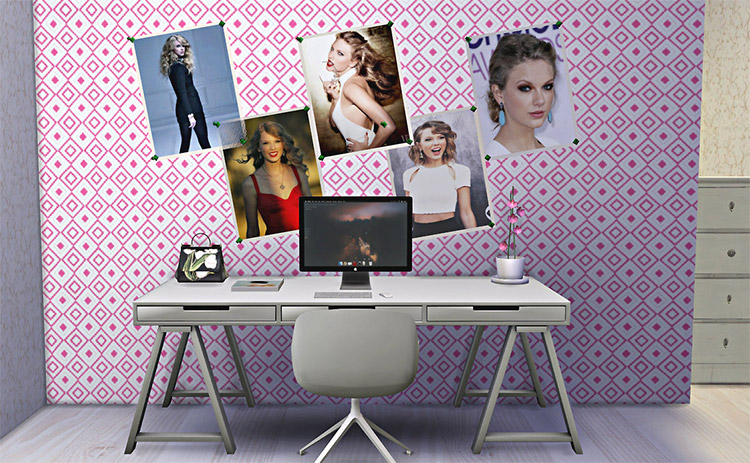 At birth, Taylor Swift seemed genetically coded to become America's Sweetheart.
She has that natural Barbie blonde hair and soft blue eyes that appeal to most.
Plus she has an impeccable talent for writing hit songs about her failed relationships.
In hindsight, she's the perfect poster girl for PG-13 music. And my mom would definitely approve.
If you have the same love for Taylor as moms do, then hang one of these posters on your Sim's bedroom wall to prove your loyalty!
Taylor Swift Album Prints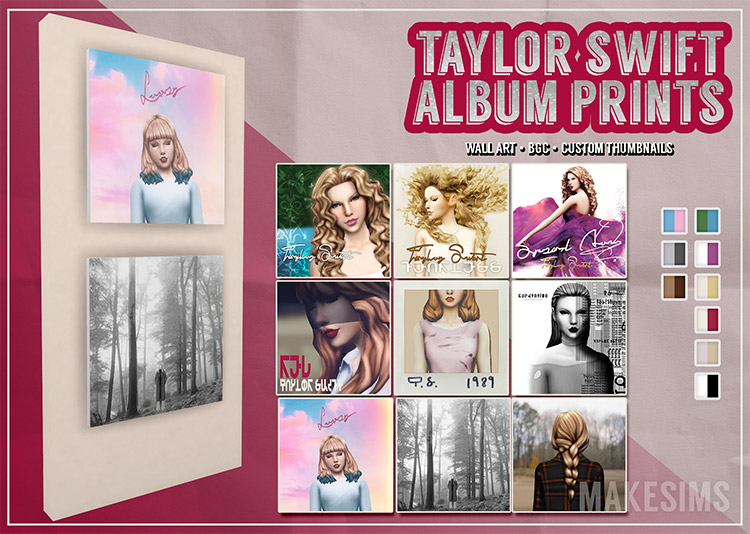 I'm mature enough (I think) to admit that no matter how many times Taylor writes and sings about her personal life, I won't ever get tired of it.
From breaking up with a Jonas Brother to dissing Kanye, all of that stuff has produced memorable music and karaoke sessions with friends.
And now, with the release of Fearless (Taylor's Version), I still know the lyrics to all the songs I've pretended to hate before.
Have a piece of Taylor's masterpieces over the years – starting with her debut album to 2020's evermore – with this CC by creator Mal.
Blank Space Dress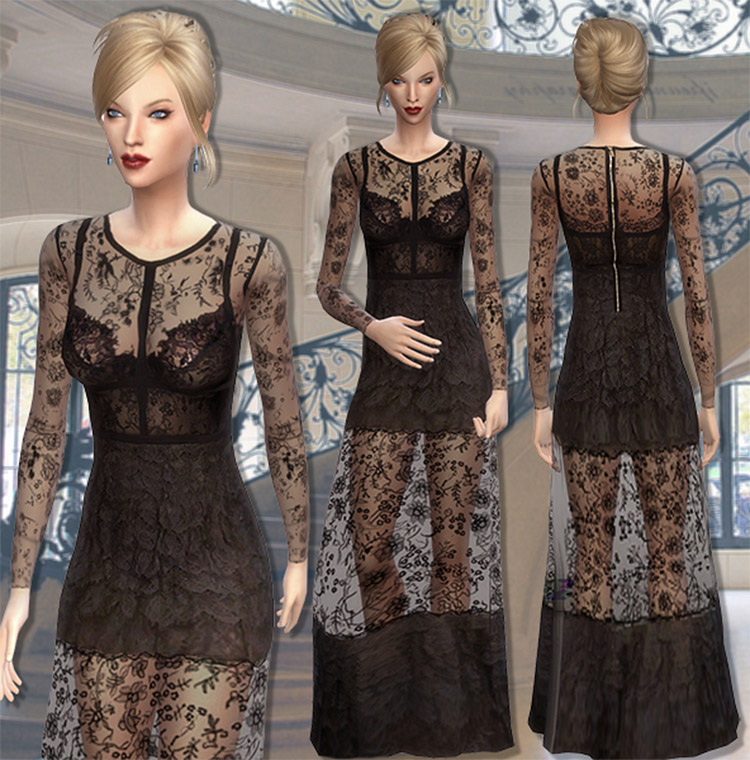 Taylor pretty much cracked the formula in creating a mega-hit when she got Max Martin on board to produce "Blank Space."
The Swedish hitmaker was already a legend before Taylor came into the picture, producing classic hits such as the Backstreet's Boys "I Want It That Way" and Britney Spears' "…Baby One More Time."
But when you add in Taylor's autobiography and affinity for bad boys, then you've most definitely secured the number one spot in the Billboard Hot 100.
If your Sim still has a blank space in their closet, then you shouldn't miss out on TSwift's lacy ensemble from the music video!
Bad Blood Dress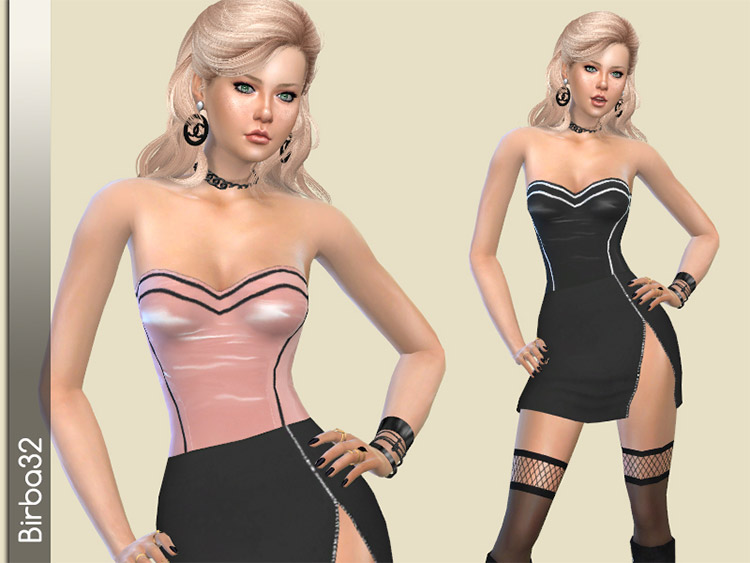 Taylor is not the best action star.
But the cast of her "Bad Blood" music video was enough to distract viewers from her stiff martial arts.
Backed by the likes of Gigi Hadid, Hayley Williams, Zendaya, and more, Taylor called on the power of her squad to battle a backstabbing Selena Gomez.
But not before training how to beat a b*tch in under 4 minutes.
And like any practical female fighter, Taylor just had to have a tight-fitting latex dress as her chosen armor.
Dress your Sims in the same outfit whenever it's time to end pesky relationships with other Sims, all thanks to this CC.
The Cardigan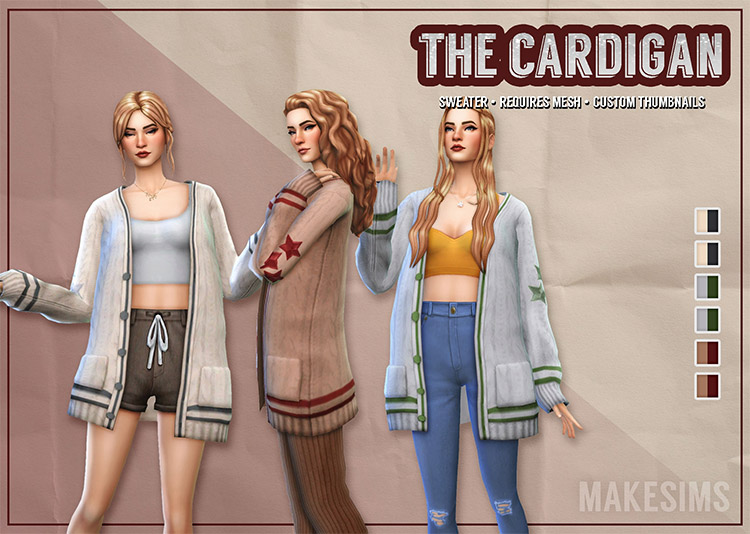 Taylor Swift's folklore felt like a warm slow-burning hug after a stormy night.
The lead single, "cardigan" took that up a notch by reminding us of young love, and how it would always remain special over the years.
Of course, being the businesswoman that she is, Taylor was sweet enough to sell the symbolic cardigan as one of her merch.
And just like how TayTay described it, it looks as comfy and pleasant – even for Sims!
Now you can get the cardigan with this Sims 4 CC from Mal, because it sure ain't restocking too soon in real life.
Reputation Cold Shoulder Glitter Bodysuit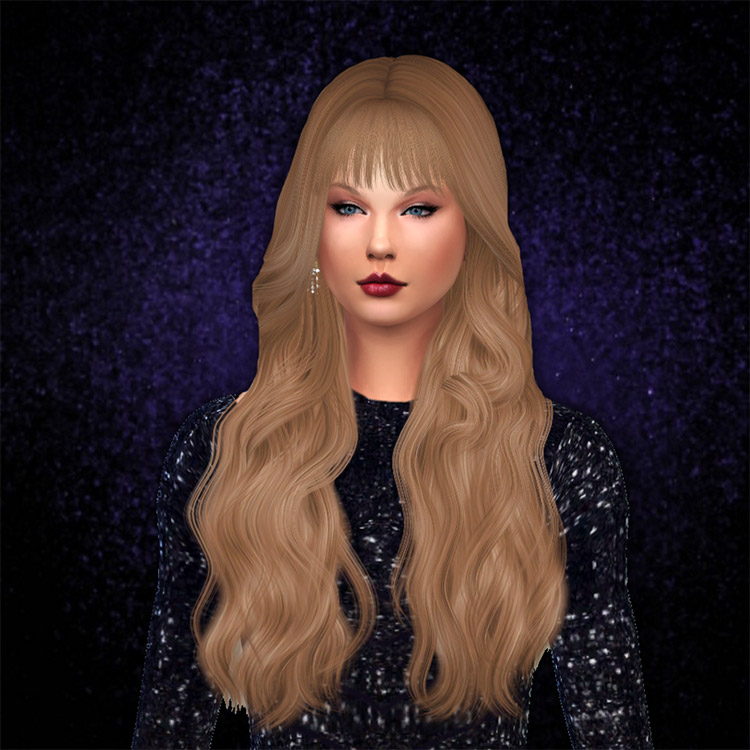 I'm part of the population who thinks that Reputation shouldn't have happened.
It was like watching a teen Disney star discover how to be rebellious for the first time and it just. Didn't. Click.
Now, don't get me wrong – there were some bops.
But out of all the albums she released, this one's going to stay unplayed for a long, long time.
Still, her costumes during the Reputation Stadium Tour were fire. And you could clearly see that in this CC by FREYSSIMS.
If your Sim's going to be labeled as a snake, then might as well shine in a glittery black bodysuit!
Folklore CC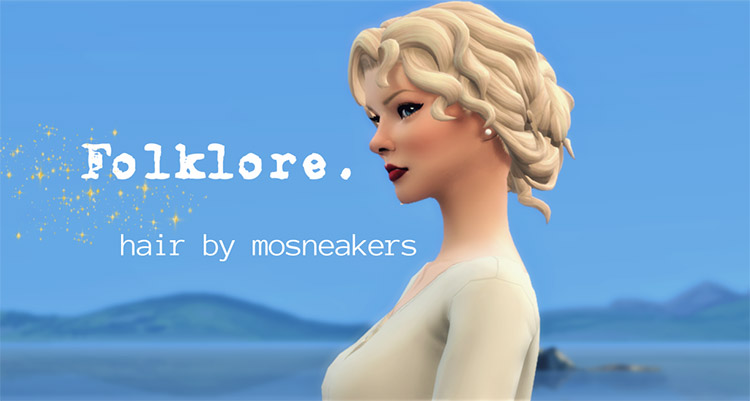 If it's not obvious yet, I'm in love with Taylor Swift's folklore.
It's like the big sister to Fearless and Speak Now.
Folklore also consists of love songs and stories told in the form of Taylor's signature poetic flair.
With a dash of curse words, by the way.
If you weren't in love with cottagecore before, then this album and CC will convince you to ditch everything and build a house in the middle of nowhere.
But you can also get your Sims into the aesthetic of folklore with this custom hair by mosneakers.
Junior Jewels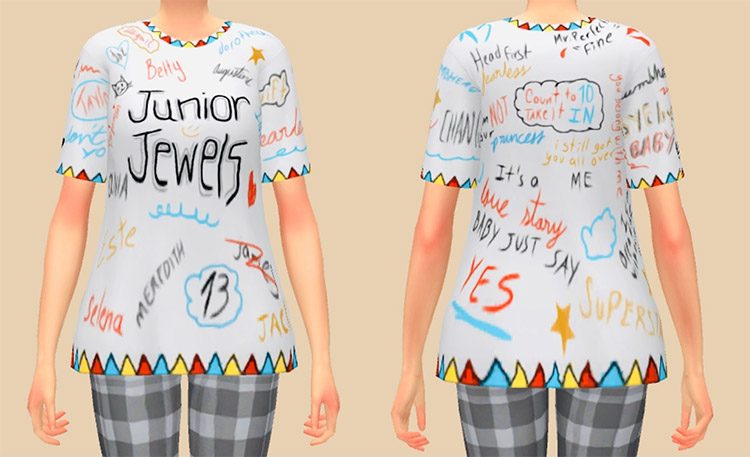 One of the main songs that converted 2000s kids into Swifties was definitely "You Belong With Me."
This bop resonated with millions of boys and girls who all had one-sided love affairs with their crushes, only to lose them to a more popular girl.
The song and the music video had all the makings of a blockbuster Wattpad story.
The MV even managed to snag the MTV Video Music Award for Best Female Video from Beyoncé's "Single Ladies" which started the whole feud with Kanye West.
He just had to admit that three dancing ladies are no match for hopeless romantic teenagers who pine over that popular jock.
Get TayTay's iconic shirt from the music video with this CC by PLUMBHEAD.
Taylor Swift by Daisy Villaruel
Taylor's style evolution throughout the years has made many leaps and bounds.
But her look from the Red era remains one of my favorites.
With '60s blunt bangs and long hair, her retro look during the 2010s was a big motivator for me to try it out myself – only to fail miserably.
It marked the country star's detachment from her signature curly locks and flower headbands, creating a more mature image brought by her fourth album.
If you're missing that era, then get Daisy Villaruel's version of Taylor Swift for your Sims 4 save.
It's just incredible.
Taylor Swift CC Set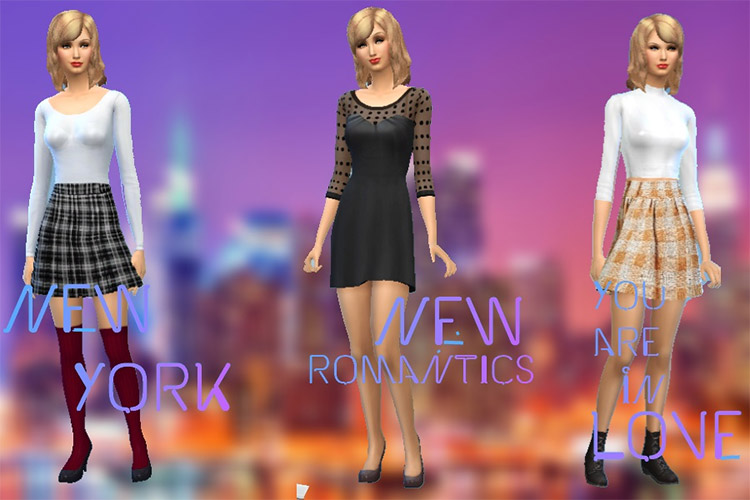 On top of her uncanny skill to create hit after hit, Taylor's also blessed with solid style.
Her outfits – in music videos and real-life – have never been so rudely bashed by critics.
We could thank her stylists, of course. But it's also because Taylor was the one wearing it that these pieces became popular as they did.
For the ultimate collection of TayTay's lookbook, download this CC pack by mickeymouse254 and get your Sims looking like household pop stars in no time.
Browse:
Lists
The Sims 4
Video Games