Sims 4 Tea Sets & Tea-Themed CC (All Free)
This post may contain affiliate links. If you buy something we may get a small commission at no extra cost to you. (Learn more).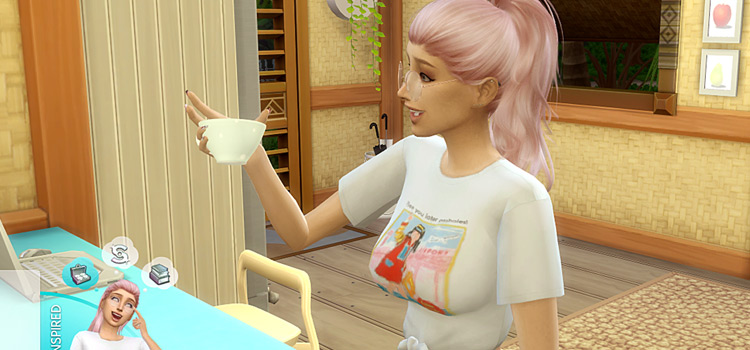 Did you know that the British drink approximately 100 million cups of tea daily?
That's almost 36 billion cups per year, enough to fill a small lake!
This may not be the most mind-blowing fact you've learned today – but that's a ridiculously large amount of tea consumption.
So what is it about aromatic boiling water that's got even Queen Elizabeth II so hooked?
The answer lies in the brew, plus an excuse to throw parties in the afternoon.
And we can get your Sims into the tea craze too with this collection of custom content.
10.

Tea Poses
Learning tea etiquette is crucial.
Especially when there's a one-in-a-million chance for you to receive an invite for tea at Buckingham Palace.
Where the royals live, it's important to not over stir, not wrap your hands around the cup, and surprisingly, not to have your pinky out.
Drinking tea with the Queen is hard work.
But your Sims would only need this pose pack to fit in perfectly.
Consume the Queen's favorite drink like a true royal by getting this pose pack from Natalia-Auditore.
9.

Tea Time Decor
Hosting a tea party soon?
Try not to make a fool out of your Sim by displaying an incomplete tea set.
Even if it's just a small gathering for afternoon tea, it's necessary to at least have essential equipment on hand for guests.
Some examples are teapots, tea infusers, dessert plates, sugary finger food, and about five other things that I couldn't bother to remember.
If you don't have the time to track them all down, then download this custom décor CC set from SIMcredible to catch them all!
8.

Tea in the Garden Set
After a day of meeting the Grim Reaper and almost getting eaten by a cowplant, an afternoon tea session in an outdoor pavilion sounds like heaven.
And that's exactly what you'll get here.
Have your Sims enjoy a fancy cuppa in peace with this CC set by Severinka.
7.

Small Tea Set
Weekly tea parties might sound redundant and boring, but here's how you can look forward to it every time.
Change up your tea set in five different ways with this custom CC pack by Maruska-Geo.
Pour out one of life's greatest pleasures, all from patterned equipment designed to keep you craving for more.
6.

Grace Brunch Set
Thinking about spending the rest of your Sims' life drinking coffee for breakfast?
Come on, dream a little!
Trade your cup of joe with a this massive CC set, complete with tea boxes, cutlery, teacups, teapots, and fancy-looking napkins.
Let your Sim enjoy their mornings with class.
5.

Vintage Tea Set
According to tea historians (yes, they exist), tea has been around since the 2nd century BC.
It's older than wine and coffee.
Yet people still love the taste of crushed leaves mixed in hot water.
Whatever your preference may be, no one can deny that tea has prevailed throughout history because it does more good for a person's body than a caramel macchiato from Starbucks.
So let's go back to its roots and brew wonderful tea daily with this vintage CC set by pocci.
4.

Tea Time Set
Who says tea time can't be romantic?
Level up your Sims' dating game by hosting an afternoon tea time consisting of Twinings tea and a rose-filled teacup.
Shower those rose petals around saucers, and prepare for a blissful time of tea-sipping with your Sim's loved one.
You could even spice things up with some adorable date poses.
3.

Wonderland Tea Party
Now that you've fallen down the rabbit hole for all things tea-related, it's time to look at one of the most iconic tea parties ever:
The Mad Tea Party.
It features dozens of steaming teapots, delicious treats, and nonsensical poetry and riddles.
Not to mention it's a never-ending social event between a talking hare and a character called "Mad Hatter".
Don't worry though, with this Wonderland Tea Party set you can bail out anytime.
2.

Rubus Tea Time
Forget about fine china – it's time to modernize your Sim's new afternoon ritual with this Rubus teatime CC set by wondymoon!
Prep your dining table with silver or golden-striped tea equipment, including teacups, plates, teapots, a table runner, and lots more.
Oh, and did I mention there's cake too?
1.

Teanmoon's Tea Party
Here's something interesting to try out during your next TS4 session:
Host a Victorian-themed tea party!
With Teanmoon's custom CC set, you could quickly organize a traditional afternoon tea session with other Sims.
You could even offer them some costumes to get that immersive experience. And we've got a whole host of Victorian-era stuff to help you class up the place.
Look and drink like a noble by getting this CC pack, which comes with 38 items in all.
Browse:
Lists
The Sims 4
Video Games