Sims 4 CC: Best Teen-Themed Clutter Packs
This post may contain affiliate links. If you buy something we may get a small commission at no extra cost to you. (Learn more).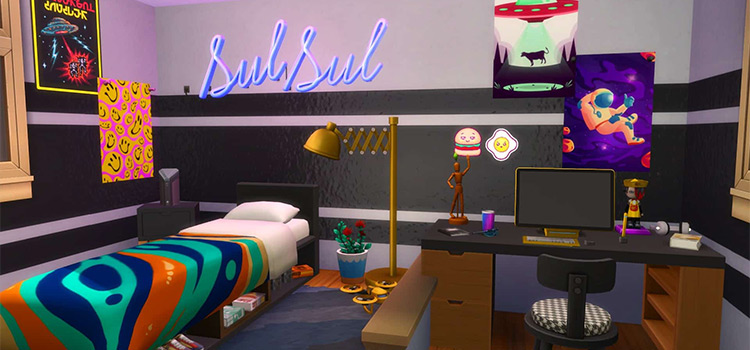 Having your own room as a teen is like having an entire canvas to paint your personality, your hopes and dreams, and your aspirations onto.
So shouldn't your Sim's space reflect that as well?
I like my Sims' rooms to reflect their traits – this means I obviously have an insane amount of clutter, carefully designed to show what my sims truly care about at whatever point they are in their lives.
One of my favorite sim groups to decorate for are the teens. They're moody, their tastes change depending who they're friends with, and they're just fun to imagine what their hopes and dreams are based on all those factors.
Do I put too much thought into my sim's inner lives? Maybe. And I would argue though that the clutter I have found on the way has absolutely made it worth it.
1.

Dorm Room Art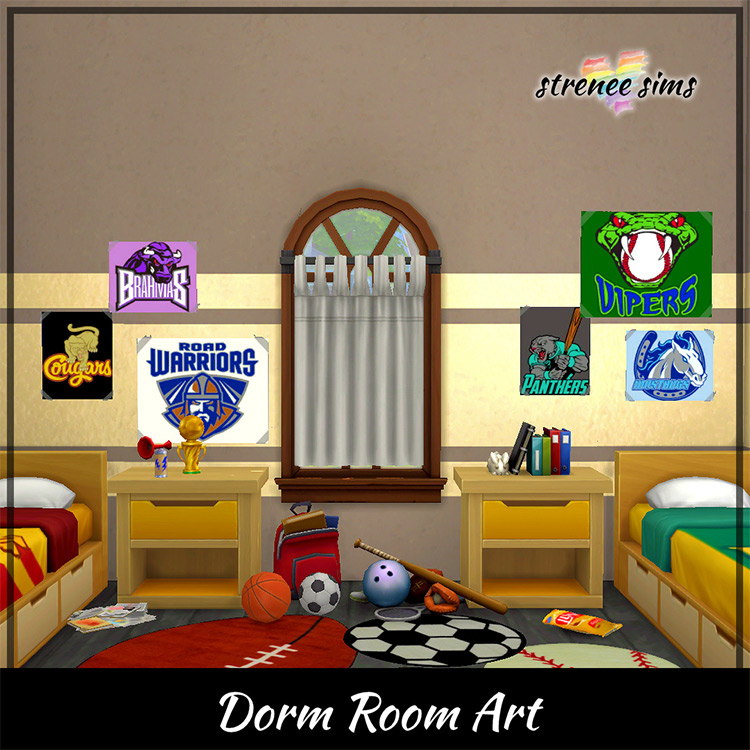 While your teenage sims may not yet be in college, they should certainly start thinking about if that's the path they want to take.
So why not start decking out their rooms in the sports team of their choice?
I love the variety in the gamer posters and the font choices for the positive affirmation posters. I will stay rad, taped up wall poster on the wall. And maybe I'll stay in bed, too.
2.

Simlish Records Part 3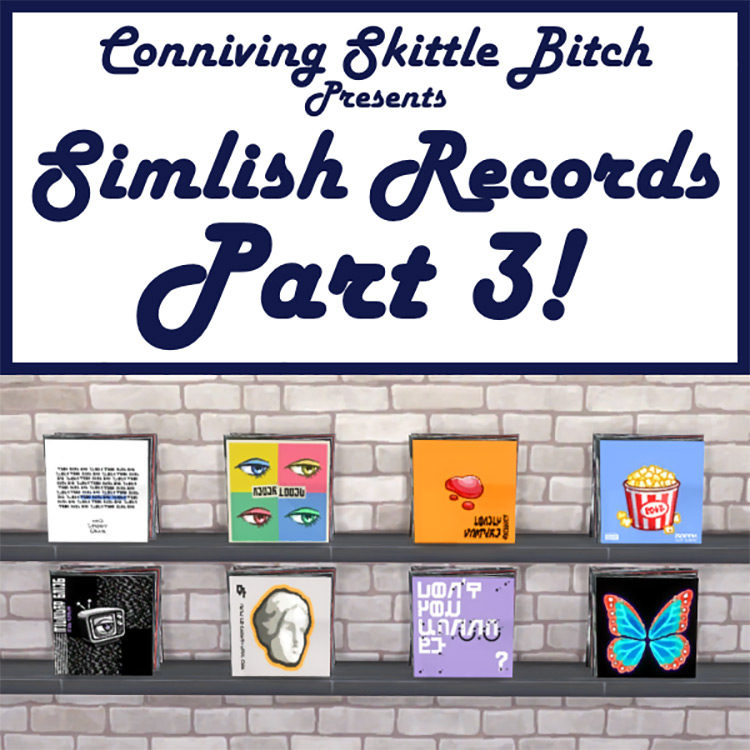 Vinyl will never go out of style and your teens know that.
Put these one a shelf next to a record player and your sim will be the coolest one in their friend group.
These records are based on real world bands like Weathers, The Faim, and Happy. Instead of just being copies of their cover art, this content creator used symbols from the game to replicate them.
3.

Pufferhead Stuff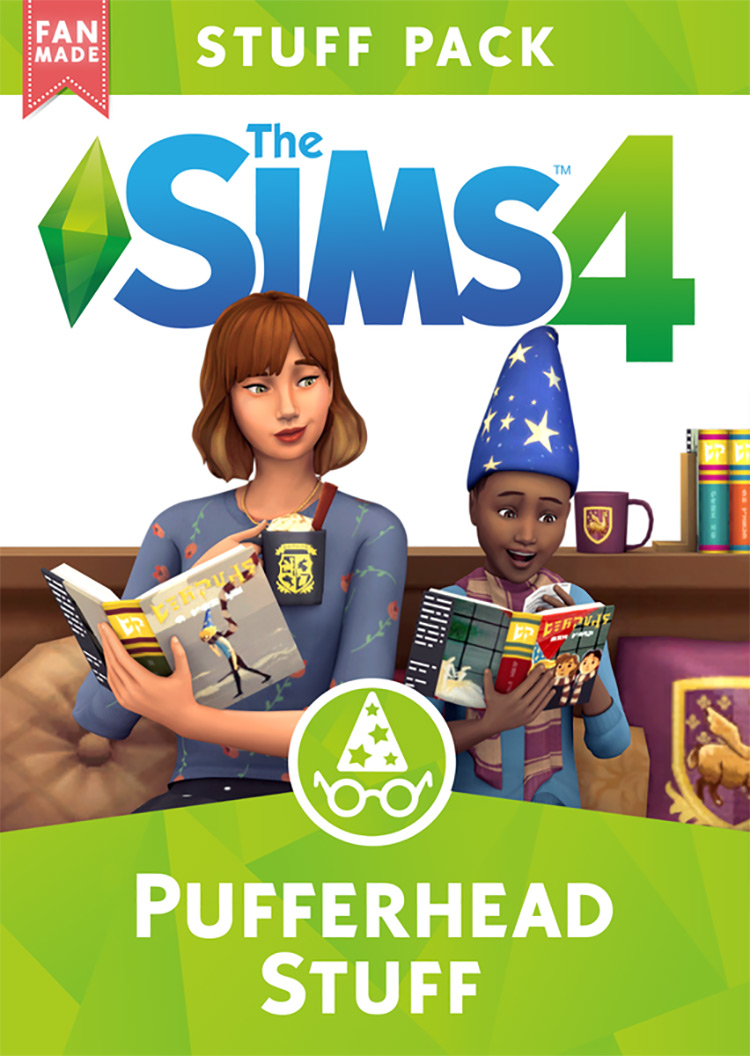 Let your teen delve into a charming fandom by decorating their room with their favorite character, Henry Puffer.
This is one of my favorite fan made stuff packs. A sim world lacking a wizarding school and a brave but flawed hero is not a world I want my sims living in.
Enter Henry Puffer, the character loved by Sims of all ages.
This pack comes chock full of Puffer memorabilia, including readable books, décor, movie posters, furniture, and even clothes. Enjoy figurines of your favorite characters, your own owl complete with a domed cage, and banners to represent your favorite Harnocks house.
4.

Dexter Sneakers (Messy)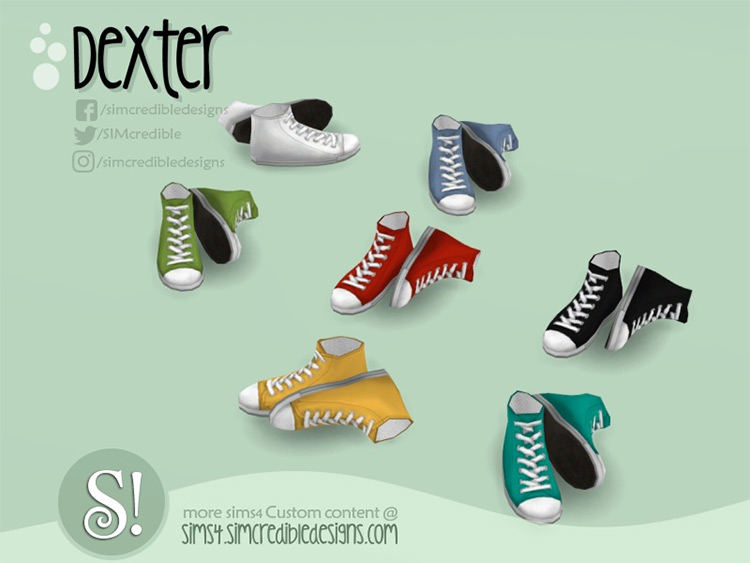 Does anyone ever grow out of leaving their shoes wherever they want after a long day on your feet?
They may, but that day certainly hasn't come for your teenage Sims.
These sneakers are unisex and could be put near the front door, in the middle of their room, or anywhere that really communicates that there are teenagers living in the house.
5.

Bathroom Industry – Cosmetics Clutter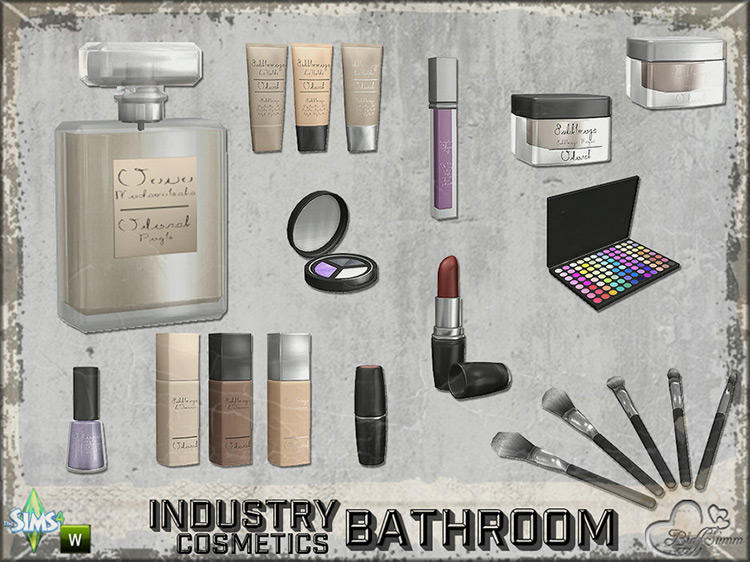 Now that your sim is a teenager and likely getting some fun new skin issues, they're probably going to want to start delving into the world of makeup.
This CC set comes with lipsticks, an eyeshadow palette, perfume, face creams, nail polish, foundation, BB creams, and a set of makeup brushes.
If you have the vanity table from the Vintage Glamour pack, these would look perfect scattered around it. If you don't, these would look equally good on a desk, next to a big mirror, or even placed on a shelf or on the sink in the bathroom.
6.

Surfer Girl Decorations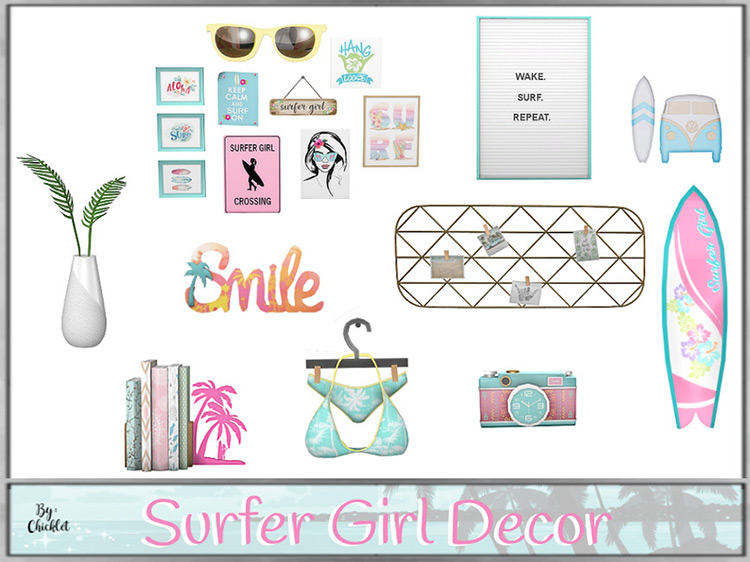 If your sim dreams of the waves in Sulani (or is lucky enough to already live there), this set will showcase their surfer aesthetic.
There are ten objects included in this set, which includes a stack of books with palm tree bookends, a message board you can lean against a wall, a decorative vase with some tropical leaves, a bathing suit on a hanger, a cute camera clock, some fun wall décor, and of course: a surfboard.
7.

Millennial Bedroom CC Part 1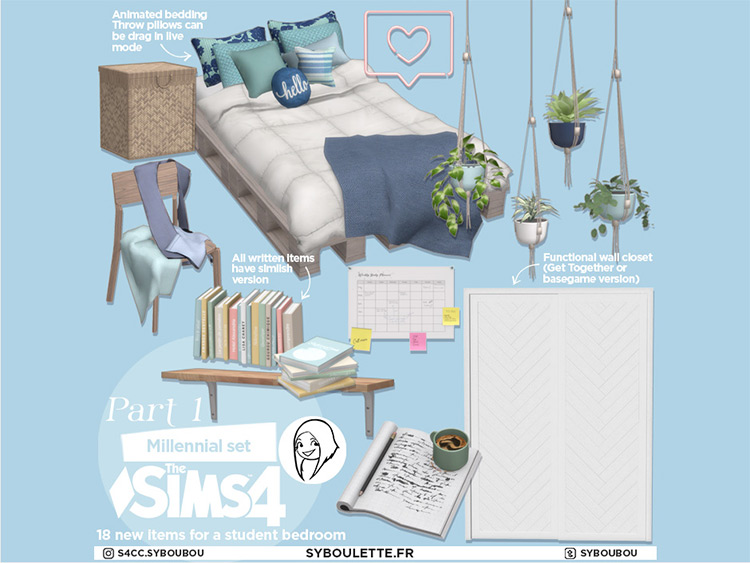 I know that even the youngest millennials are in their mid twenties, but how do you not associate 'millennials' with 'teenagers' after hearing the two together for so long?
My favorite parts of this set are the hanging plants, the neon heart sign, and the bedding which can be manipulated in live mode.
There are also books with titles in English or Simlish, a cup of coffee sitting on top of an open notebook, a functional wall closet, a calendar, and a chair covered in clothes – which is probably the most realistic teen decor I've seen.
8.

Squishmallows Collectibles & Plushies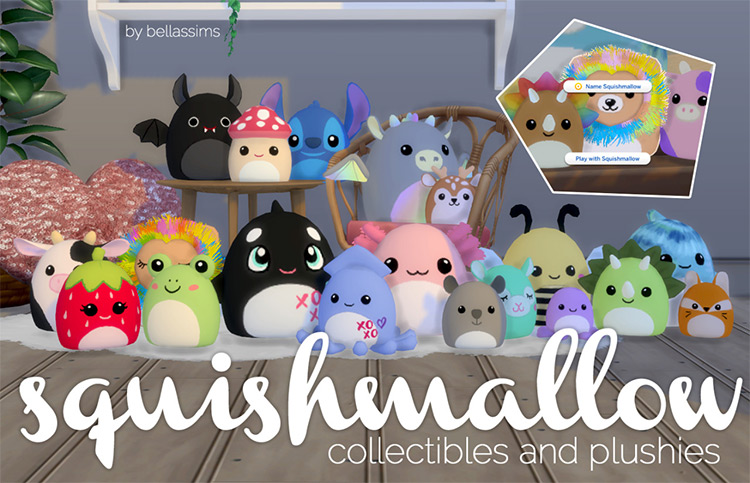 A few months ago I had some friends over and discovered they had never heard of squishmallows when they inquired about my giant squishy avocado.
I honestly thought they were messing with me.
One day later, both had their own giant squishy friends to call their own. They chose a rainbow cat and a stingray, but you can't go wrong with any of them.
Now your sims can also have an embarrassingly large collection of these cute plushies with one hundred and seventy-five squishmallows to choose from in this huge CC set.
These can be downloaded as décor or as a collectable item, replacing the Mysims trophies in the world.
9.

Skateboard and Poses by Haneco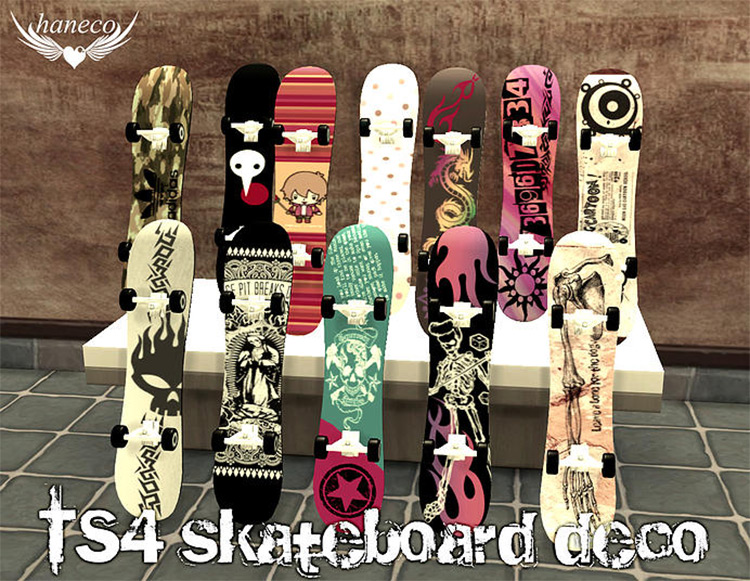 Not only does this pack come with poses, but it also comes with some skateboards in cool designs for your sim to display.
These grungy designs can be placed against a wall, left by the front door, or hung in your sim's room as an act of rebellion or simply because your teenage sim likes to get where they're going faster.
10.

Gabrielle Dressing Closet Clutter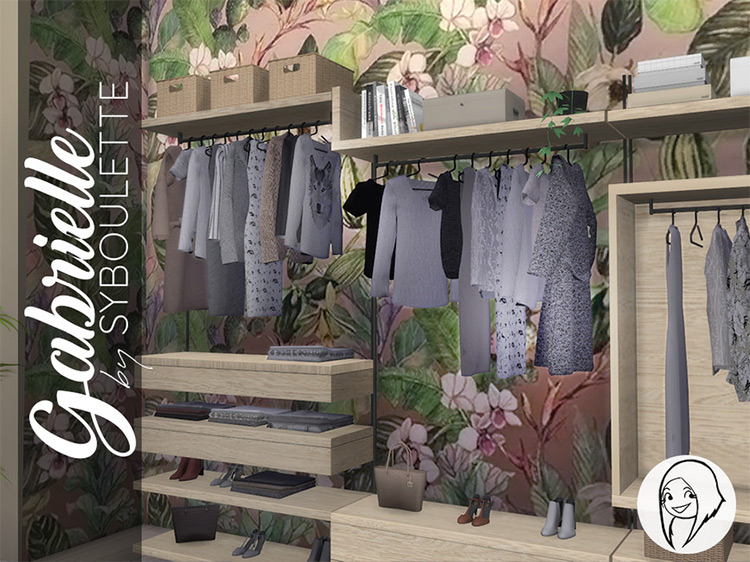 Truthfully, this set has so many great pieces of clutter.
Even if you don't want to make a wall into a closet, it has shirts, dresses, cardigans and shirts on hangers you can place around your lazy sims room, as well as shoes and purses to leave by the door or throughout their room.
One of my favorite bits of clutter here are the stacks of folded shirts, because we all know how much easier it is to leave them on the dryer or on top of the dresser than it is to put away.
11.

Modern Teen Room: CC Pack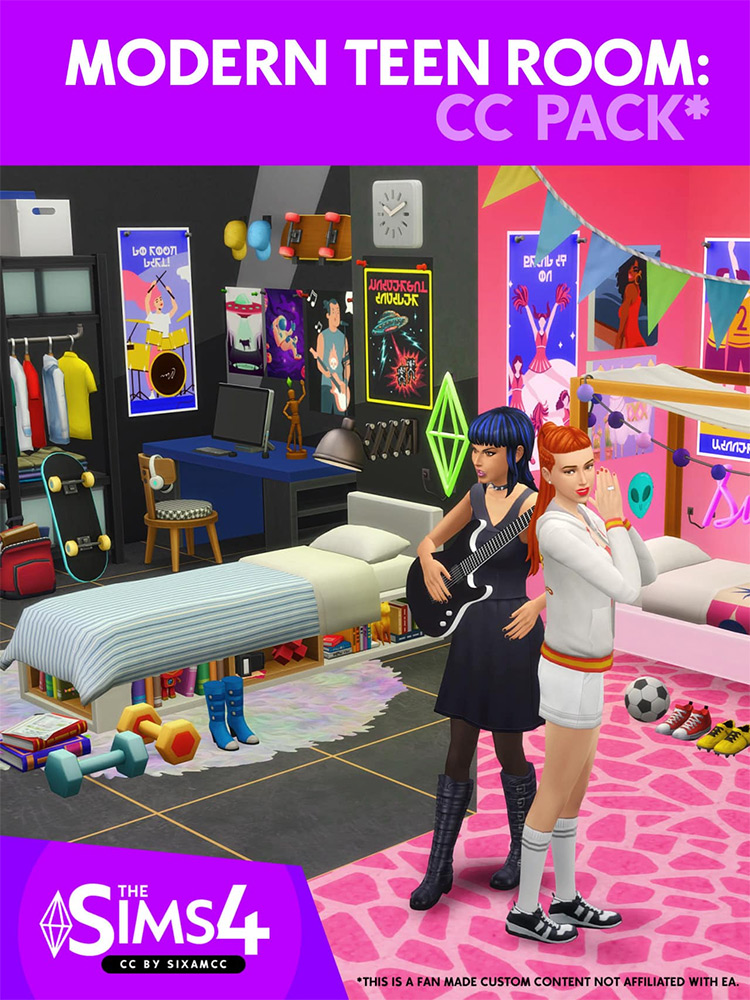 This amazing pack was designed with the different teen personalities in mind, which is exactly why I love using clutter.
There are 36 items included, some of which are pieces of furniture, mattresses, and two new computer models.
The rest of the items are functional decor like headphones and speakers, and of course some clutter to fill up your space without making it feel messy.
12.

Crossline Bed Messy Blanket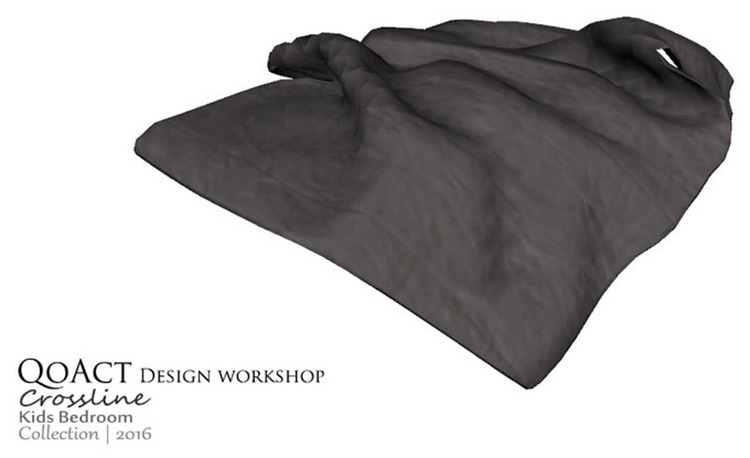 To be honest, I still have trouble remembering to make my bed.
And I certainly didn't make the bed when I was a teenager.
This messy comforter will fit brilliantly into your teenage sim's room. It'll look way more realistic, and will give their parents something to complain about.
The comforter fits this bed and uses these pillows as some extra decor.
13.

Marjolaine – Pile of Novels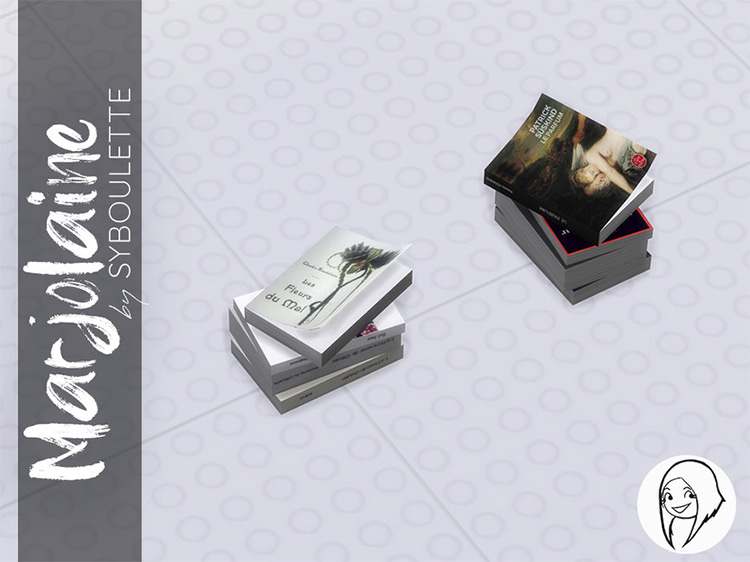 If your sims love to read, why not show it with piles of books throughout their room?
My sister loved to read and had a closet filled with books – and as a teen always had some on shelves, her desk, and next to her bed.
The books in this pack come with two different covers from classic French writers in either a messy pile, or a neater pile, all to place whenever your heart desires.
Browse:
Lists
The Sims 4
Video Games