Sims 4 Thanksgiving CC: Décor, Food & More (All Free)
This post may contain affiliate links. If you buy something we may get a small commission at no extra cost to you. (Learn more).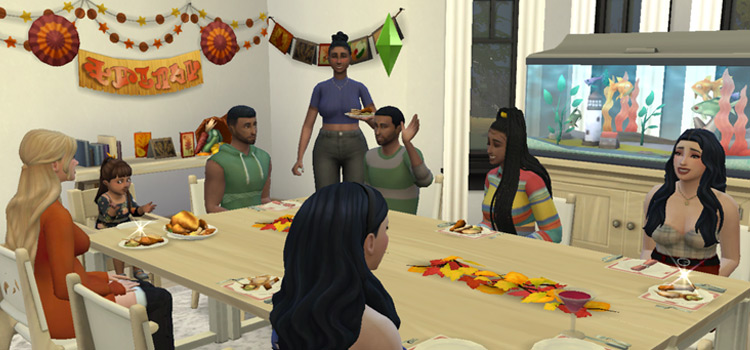 Thanksgiving is a time of family, coming together, and stuffing turkey.
Everyone wants some smoked ham. And everyone can't move after eating the biggest meal of the year.
This is also basically the last real holiday before the winter comes in for most people, and before we get to break out all the awesome Christmas CC.
So for this list we'll take a look at some of the most relevant Thanksgiving CC available for The Sims 4.
Garden Rake and Shovels
Time to clear the leaves with this handy tool kit for autumn.
And the kids might end up making a mess anyways, so it's good to have a rake handy.
This rake and shovel CC set is an essential item whenever the trees start shedding their leaves.
Also great for digging in the pumpkin patches for Thanksgiving. It everything you need to clean up the yard before the big dinner is here.
Ham and Cheese
The turkey is an obvious Thanksgiving favorite.
But for me the smoked ham is the underrated gem.
Thanks to SIMcredible, all of us ham fans can enjoy this food along with some tasty white cheese on the side.
A gorgeous décor meal that comes in two color variants.
Cozy Falls Pillows
Ready for your post-Thanksgiving meal nap?
CC Creator neinahpets gives us an awesome pillow set themed to perfection for Thanksgiving, and fall in general.
We get classic auburn and orange colors in 5 unique sets – perfect to bring out as the leaves fall to the ground.
I'm getting a little tired just looking at these things. Might take a quick 5 then get back to this…
Falling Leaves
It's a good thing we had the rake earlier on here, because it'll be perfect for these fallen leaves.
With this CC we get a great patch of fallen orange leaves.
And this is sure to give the exact vibe we need for a Thanksgiving meal.
For those who have Seasons installed, this is perfect for when Turkey day comes around too.
Cozy Sweaters For Fall
SimmieV gives us our next item with these cozy fall sweaters.
There's just something about this time of year and being cozy, not to mention a nice thick sweater to hide that Thanksgiving belly.
The sweaters are uniquely sewn with 16 different designs, my favorite being the rough orange finish with falling leaves.
A perfect outfit for dudes to wear to Thanksgiving dinner.
And if you want even more sweater ideas then check out this other list of CC we made.
Aurum Bedroom Decorations Clutter
Here's a nice clutter pack of various decorations by popular creator wondymoon.
This set features a "FALL" letters décor piece, beautiful branches, a light-up pumpkin, and my favorite: a Thanksgiving wreath made of fall leaves.
It's ultimately a great set to add more decorative pieces for Turkey Day, and have the family in awe of all your fall-inspired items just lying around your Sim's home.
Cornucopia Sticker
Another Thanksgiving cornerstone is the good old cornucopia.
While I couldn't find a physical cornucopia décor piece, this awesome sticker does the trick.
Maybe we can ask one of those CC creators out there to dive into making a décor one? You know, for the table and stuff.
But either way, this large sticker can help you get in the spirit, just giving your family another friendly reminder…
It's Turkey Day!
Thanksgiving Tracksuit
We can't forget about the kids.
And to be fair, they help make a lot of holidays fun.
Christmas opening gifts, Easter going egg hunting, you know how it goes.
For Thanksgiving, they typically are only good for making a mess.
But besides that point, let's check out these custom Thanksgiving-themed tracksuits for toddlers.
These designs are all unique, and they feature a cool turkey and chick animation on all of them.
My favorite is the all-smoky brown tracksuits with the little turkey man with a top hat.
With a collection of creative designs, and even the attention to make every bird unique across all 6 swatches in this CC, these tracksuits are just super awesome.
Thanksgiving Paintings
Adding some new paintings can always do the trick to liven up the place, if you're having hard time picking out how to decorate your Sim's house for a holiday like Thanksgiving.
Creator spitzmagic gives us 4 beautifully crafted paintings in this set, expressing all the main aspects of Thanksgiving.
We've got a filled cornucopia, pumpkins, and the always effective "Happy Thanksgiving" painting with floating leaves.
This is an easy addition to your game for a quick Thanksgiving vibe, with unique designs across all 4 paintings.
Feast Day Apron
This Thanksgiving, the men are doing the grunt of the cooking.
Well I guess it doesn't matter who's doing the cooking – but today we're putting it on the men.
These aprons by SimmieV feature 8 awesome designs, most of which are plaid patterns done in Fall colors.
We also have a few that feature a turkey on it, with a similar design and color scheme to the toddler tracksuit CC we mentioned earlier.
These aprons are the perfect Thanksgiving attire, sporting the cooking aspects of the holiday.
Plus these all come with unique designs fitting for both the Fall and Thanksgiving as a whole.
I'm definitely thankful for this set!
Browse:
Lists
The Sims 4
Video Games