Sims 4 Tiana CC From The Princess And The Frog
This post may contain affiliate links. If you buy something we may get a small commission at no extra cost to you. (Learn more).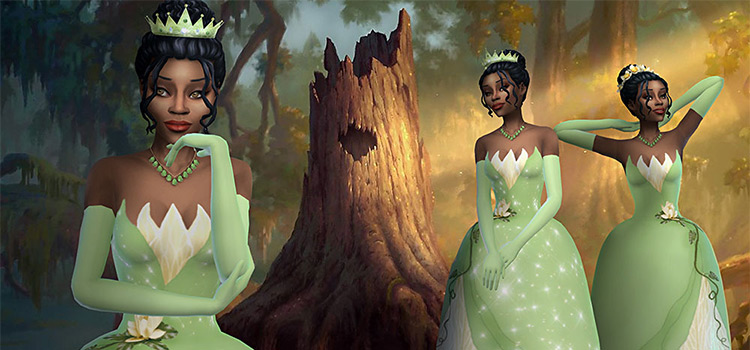 The third generation of the princess challenge stars Tiana, whose story starts once she turns into a young adult.
The main requirements for this playthrough are that your sim must have the ambitious trait, your father must die before you transition into an adult, you must have a food aspiration, and you have to marry a sim with something green (eyes, hair, skin, etc.).
Last but not least, Tiana must own and run her own restaurant if you have the Dine Out expansion pack.
And here's some great CC to help you along the way.
1.

Super Ampon Tiana Dress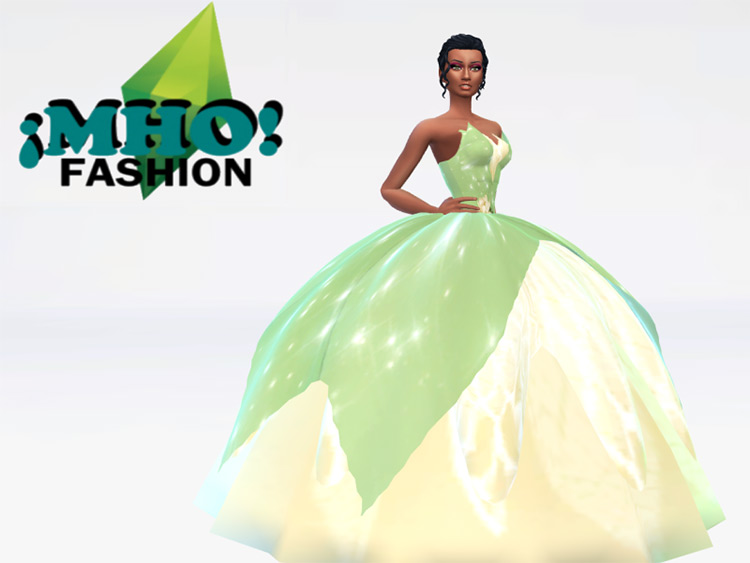 This gorgeous ball gown will catch the eye of any prince, frog or not.
I love how the green fabric lays on top of the rest of the dress, it reminds me a little of Tinker Bell's outfit.
This ball gown only comes in the color scheme you see here, but what else do you truly need for a 1920's New Orleans ball?
Let Tiana stand out with this outfit just like she stands out with her work ethic and kindness.
2.

CC 1920's Lace Dress by Sims From The Past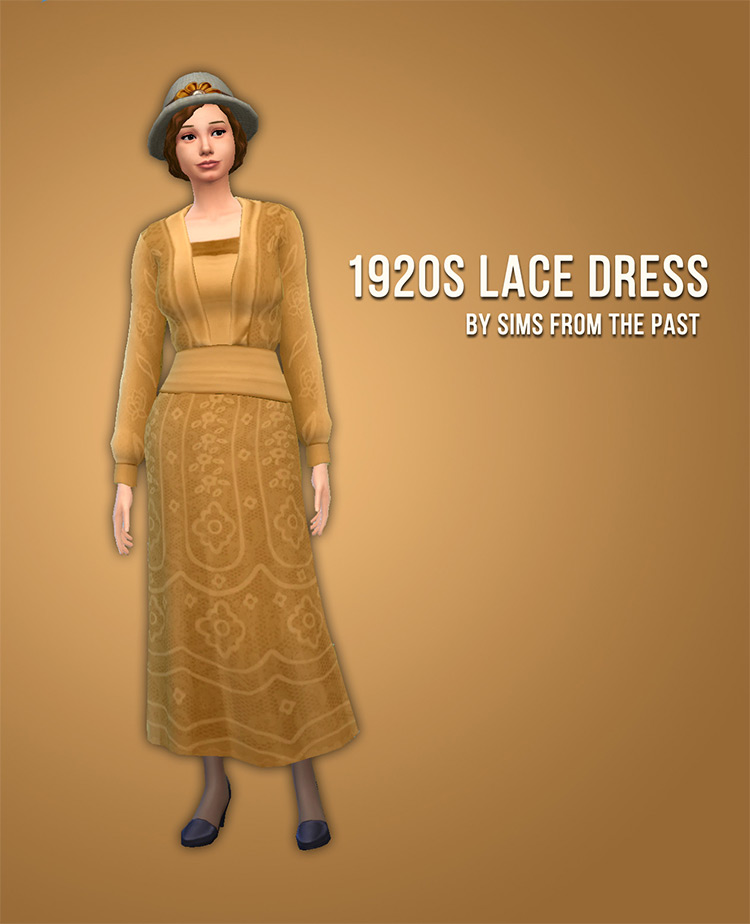 There are mad flapper vibes coming from this dress which takes a leap right out of the 20's and into my heart.
This amazing outfit comes in eight different swatches, so even if you have grander ideas for your simTiana's outfit, you can easily dress the rest of the town in appropriate attire.
3.

Tiana's Palace (Restaurant Lot) by w-sims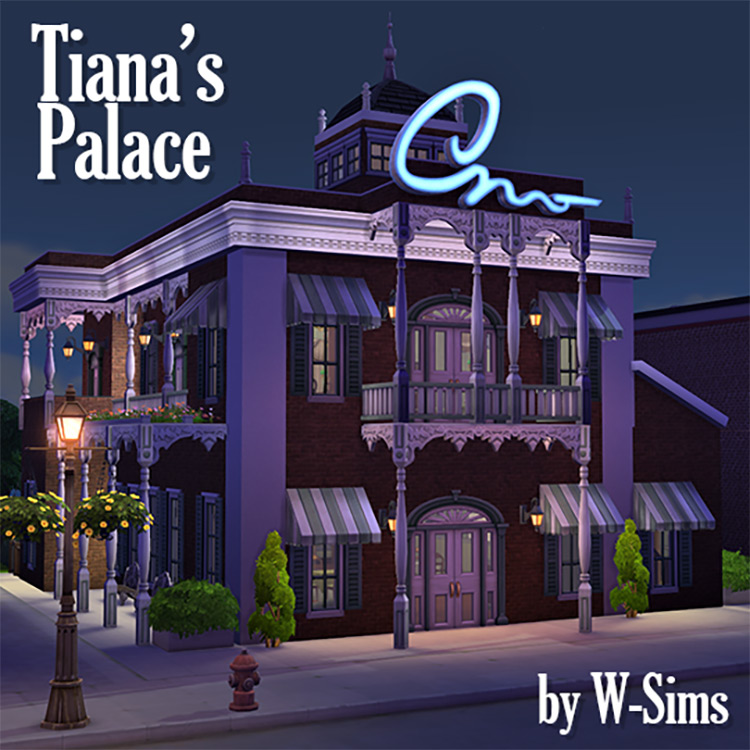 This labor of love is not only a beautiful replica of Tiana's Place, it's also a fully functional restaurant.
Have your girl slinging beignets and other New Orleans delicacies to the rest of the town after she finally saves up enough to purchase this dreamy diner.
There is a wishing well and a piano on the lot as well as courtyard seating and gorgeous early 1920's ambiance. The easy to manage size of the place will help your Tiana sim achieve her lofty dreams in this perfectly designed restaurant.
4.

Tiana Sim Build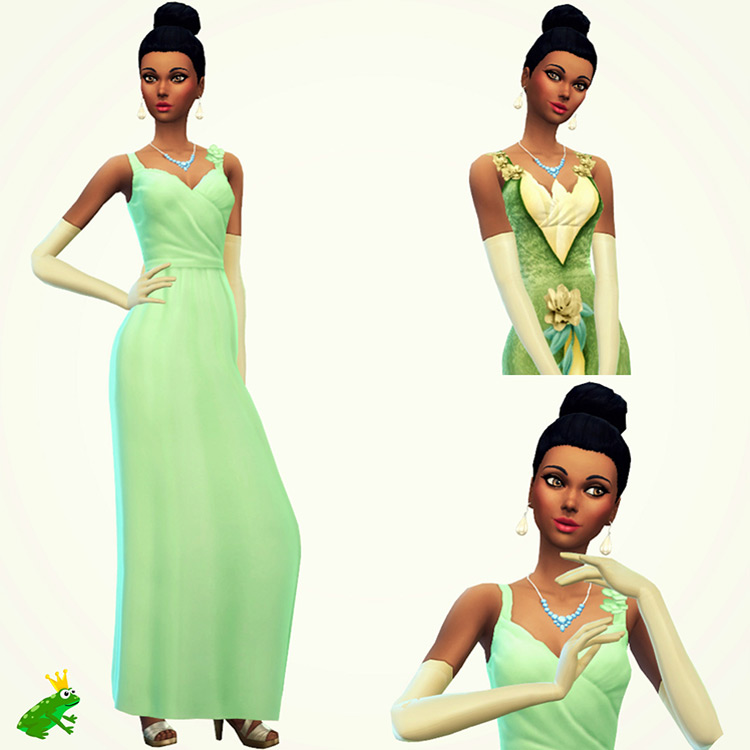 Is custom sim creation not your thing?
I don't know about you, but sometimes I like to go and download premade sims to fill up my town. I've seen what generates on townies and I'm not one to take those chances.
This premade Tiana is ready to jump into your game and get to work catching a prince and building a delicious empire.
5.

Cloche Hat Conversion
This hat is just absolutely perfect for this era.
It reminded me of the stylish olive overcoat and hat Tiana's mother dons in the opening scene, and the hat Tiana wears when she shows off the future site of her restaurant for the first time.
The Cloche Hat comes in fifteen different colors and is base game compatible.
6.

Tiara #3 (Original Mesh)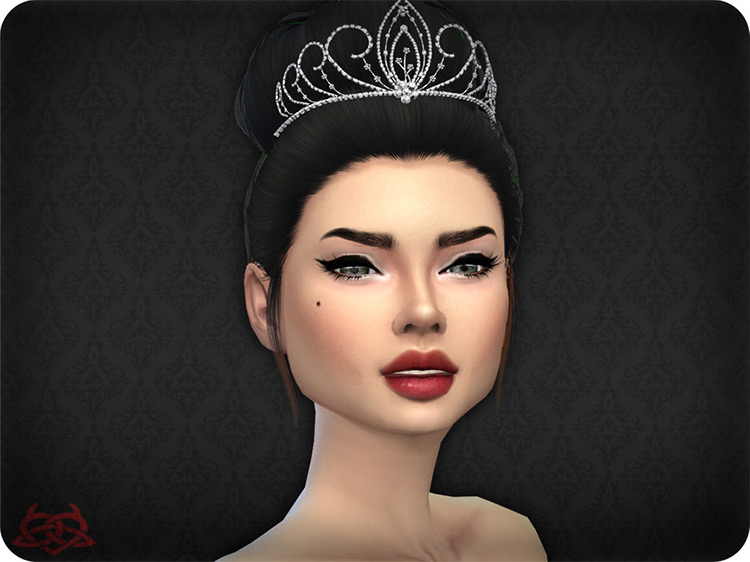 A stunning crown like this is fit for a princess. Princess Tiana, that is.
The tiny jewel flowers in the crest of the crown are just the icing on top of this already gorgeous headpiece.
There are fifteen recolors available to choose from in case silver is not your style, or if you like your crown to match your outfit.
7.

Tiana's Palace Dress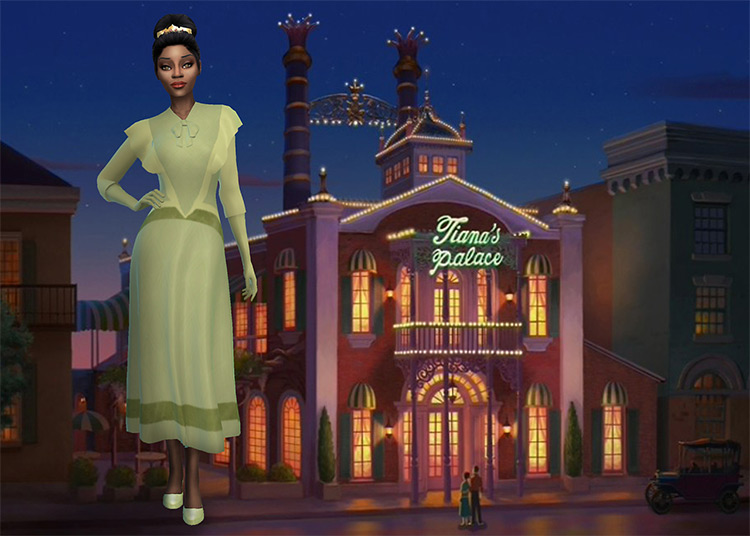 What a recreation! I'm always blown away by Stardust Sim's Disney recreations, and this is no exception. This lovely dress is based off Tiana's dress from the end of the film.
Stardust Sims also included gloves and shoes to match this gorgeous green dress, so you don't have to worry about matching – just accessorizing.
8.

Balsam Hair – greenllamas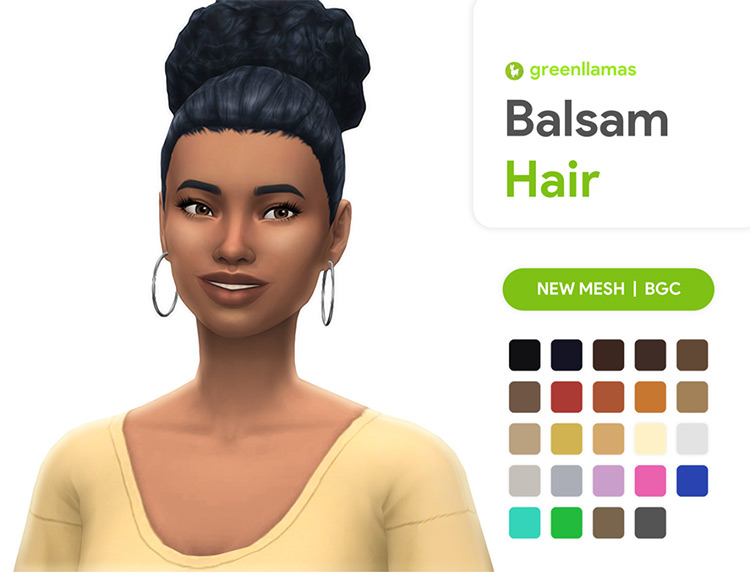 Get the look from Tiana's wedding with this voluminous updo and get hitched in style.
It's also Maxis Match, so it will blend seamlessly into your game.
This chic hairstyle is perfectly complemented by a twinkling tiara and sparkling ball gown, and soon enough your townies will be singing and dancing the night away in true New Orleans fashion.
9.

Princess and the Frog (CC Pack 1)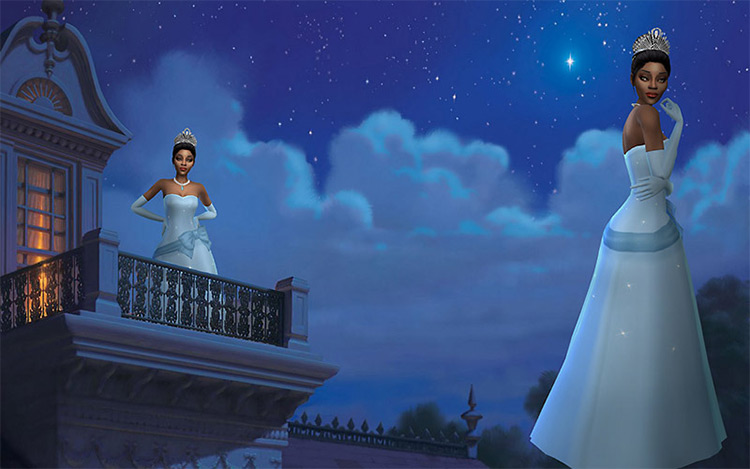 It would be a shame not to include some of the stunning dresses Tiana wears throughout the movie.
Stardust Sim has brought our princesses waitressing dress, her amazing blue gown, and the fashionable white dress from her restaurant dream.
There are gloves available to download to match the blue gown, and you will need Get to Work for the mesh with the yellow waitressing dress.
10.

Tiana Pack #2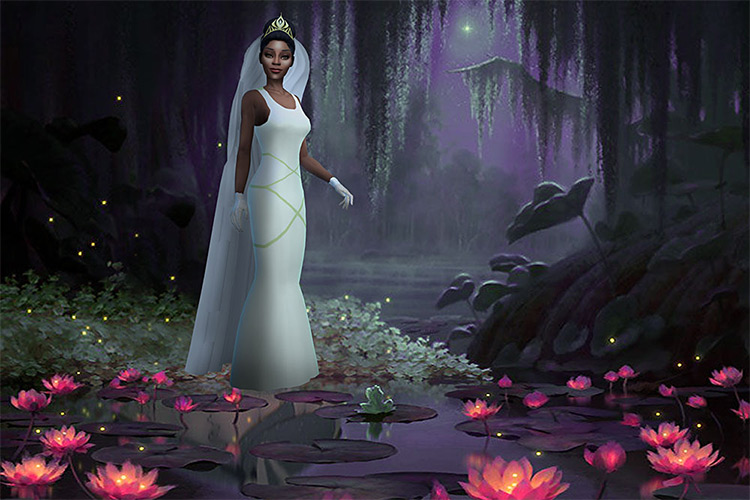 My favorite Sims 4 Disney creator strikes again with this amazing ensemble of dresses for our hard working, jazzy princess.
This pack includes her gorgeous medieval themed dress, her timelessly sleek wedding dress, and her frog-tastic lilypad gown.
If giant ball gowns are not your thing, the lilypad gown included in this pack is the perfectly subtle glam that Tiana more than deserves.
Browse:
Disney
Lists
The Sims 4
Video Games