Best Tiara CC To Feel Like A Sims 4 Princess
This post may contain affiliate links. If you buy something we may get a small commission at no extra cost to you. (Learn more).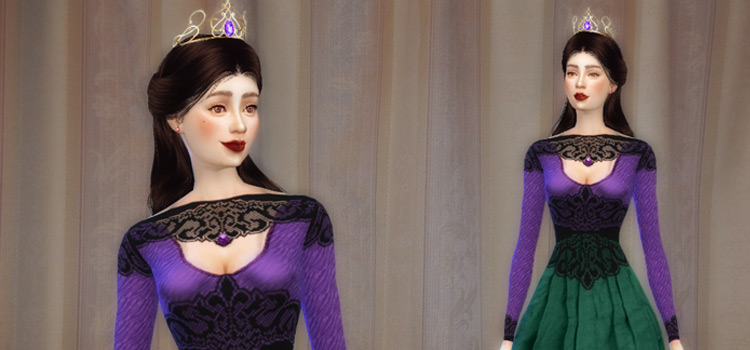 To create a beautiful sim bride, princess, or queen, tiaras are simply the most important.
Everyone loves to stand out and feel special, even sims. Having a stunning tiara to grace the lovely head of your sim gives off some real beauty.
What says royalty more than a gorgeous crown? Nothing!
With the right tiaras, your sims could look exceptional even amid other royal families.
The in-game tiaras just don't do it and with so many tiara CCs out there, finding the perfect one can be incredibly draining. So instead I've made this list to save some time—hope you find something gorgeous!
10.

Winter Tiara
Made with fireworks snow crystals, this stunning jewelry really brings out the sparkles.
Have your royal sim looking gorgeous during the winter holidays with an accessory as lovely as this.
I love the simplicity of this tiara.
It also comes in three different colors, so your sim could rock this crown with a variety of dresses.
9.

Pearls and Crystals
A beautiful crown like this one will surely make any sim feel like a queen.
Endowed with pearls and crystals, its unique and simple style easily gives that gorgeous touch.
It's also available in four beautiful colors and is perfect for a royal event or outing.
8.

Traves Tiara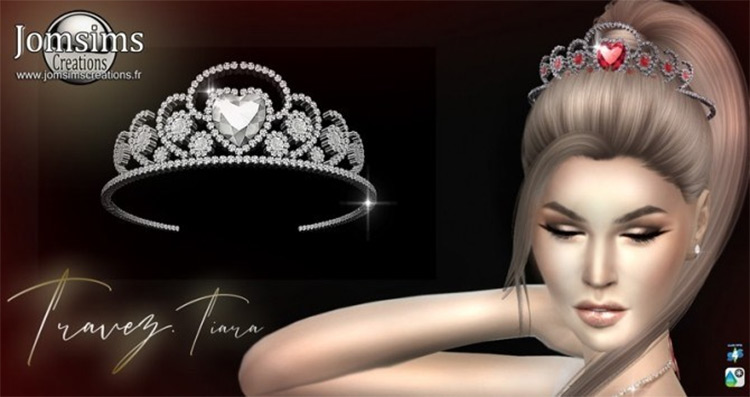 This crown is a true beauty to behold.
You'd wish to place it on your own head! And while you sadly can't, your sim can, and that's good enough for me.
I love the blend of round stones and hearts here. To make things even better, it comes in six unique shades to go with almost any color of dress.
This tiara would be gorgeous on a bride or a princess.
Its different colors make it suitable for both weddings and events.
7.

Libertay Masquerade Diamond Tiara
The masquerade diamond tiara signifies both sophistication and beauty.
Any sim wearing this lovely accessory is sure to turn heads in any room.
Complete your sim's outfit with a crown as stunning as this before leaving for that ball.
It's available in a variety of stones and comes in three different dark & beautiful colors.
6.

Sparking Tiara for Toddlers
Here's one for the toddlers!
It's simple, stylish, and unique. Make your little sim feel special every day.
Wear this for a casual, formal, or party outing and you're sure to look your best. It goes well with only "simpler" hairstyles, but once it fits, be prepared to be the envy of the room.
5.

Kokoshnik Tiara
Take one look at this stunning tiara. Go on, look! It'll be tough to look away, and it looks even better on your beautiful sim lady.
Designed for formal occasions, this tiara has a unique and rather simple arrangement of diamonds.
It would look great on your queen sims for a coronation, ball, or any other formal royal events. Heck, maybe even at your own wedding.
It's fine girl, you do you!
4.

Ultimate Royalty Pack
I love this tiara CC for two reasons.
First of all, it's so gorgeous! The arrangement of emerald stones and diamonds just looks outstanding.
Secondly, the tiara comes with a matching necklace and a pair of earrings.
With this full package you don't have to worry about picking the perfect necklace to go with it.
Of course, you could be creative and mix things up. But it's not necessary. Just look like a queen and live yo' life.
3.

Victoria's Emerald Tiara
You can't possibly take a look at this glorious tiara and look away. You would want to go for an event, just to have a chance to wear this beauty.
The arrangement of precious stones on this tiara is remarkable and it would be the perfect accessory for a bride, queen, or princess.
It comes in six different colors and can be worn with all shades of dresses.
2.

The Elegant
The perfect name for the perfect tiara. Elegance truly defines this accessory.
Every princess(ot queen) would love to have this piece of jewelry.
And with this amazingly stunning tiara, you don't have to be a princess to look like one.
This could be worn on special occasions like coronations, balls, weddings, or any events that require you to look your best.
And trust me, you'll be lookin' your best!
1.

Layla Crown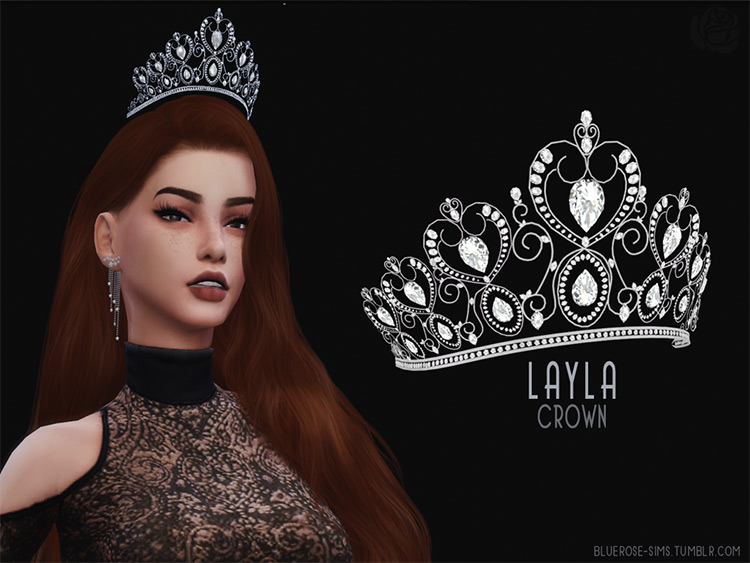 And here's my number one pick.
One look at this tiara and you'd understand why.
The Layla crown was crafted with so much elegance and style. Not too complicated either.
It's just simple, beautiful, and perfect.
It comes in three swatches and would look awesome on your beauty queen, bride, or darling little princess.
Wear this with the right outfit and any sim would look top shelf among every other gal in the room.
Browse:
Lists
The Sims 4
Video Games