Sims 4 Tie Dye Clothes CC (Guys + Girls)
This post may contain affiliate links. If you buy something we may get a small commission at no extra cost to you. (Learn more).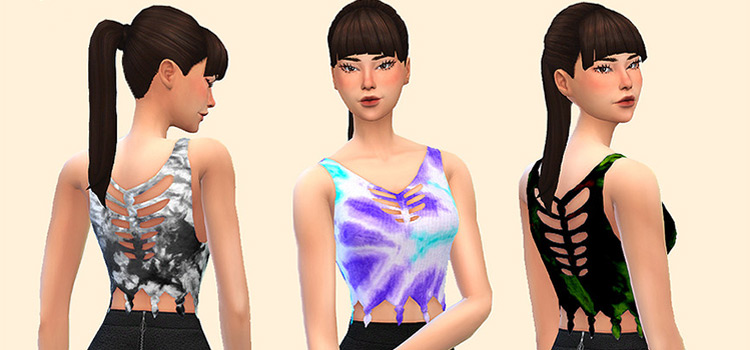 The concept of tie dye genuinely fascinates me.
I have a vague idea of how it's done but, honestly? The process seems so ridiculously simple for something that looks that good. Regardless of what colors are used, the end results always look so artistic.
Not sure if I can rock that kind of print myself, but I'm certain your Sims can!
Here's a collection of tie dye CC you might want to add to their wardrobe.
1.

Happy Camper Tie Dye Shirts by Simulation Cowboy
Bright, cheerful, and loud — these tees definitely live up to the set's name.
The models, on the other hand? Little questionable.
There are three different tops in this pack, and each one boasts a psychedelic mishmash of yellows, blues, pinks, and neons. A definite must-have for when your Sim's wardrobe is looking plain and muted!
2.

Tie Dye T-Shirts for Women and Teens by juanni84
For the 60s-loving tie-dyed chick who wants all their shirts decorated in brightly-colored splotches, this set's for you.
It contains four different top styles (cropped, tank, off-shoulder, and deep-v) all boasting one design; tie-dyed and proud!
3.

Tie Dye Maxi Dress for Women by juanni84
Capture your Sim's free, fun-loving spirit with this cute and colorful maxi dress from juanni84!
Love 'em, hate 'em, or feel completely neutral towards them, there's no denying that tie-dyed patterns give off infectiously cheerful summer vibes.
Send your Sim off to the beach (or the beachside bar!) in this technicolor stunner.
4.

TieDye Halter Dress by Pinkfizzzzz
Same vibes as juanni84's Tie Dye Maxi Dress, only saucier and sassier! (And shorter; it's well above midi-length).
The cheerful tie-dye effect actually offsets the slinky silhouette, making for a pretty unique outfit.
The swatches aren't as bright and neon as the other tie-dye patterns we've seen on this list, but the splotchy-ness and randomness of the colors are ever-present.
5.

Surendra Shirt by Robin
Defined by the creator as a "bright and vibrant collection of tie dyes," this Surendra shirt is oozing in personality.
If your Sim needs to make a cheerfully casual statement, this is the shirt to do it.
Trust me; all fifteen designs – regardless of color combo – have the same chill, summery vibe.
6.

Tie Dye Graphic T-Shirt Hollister by sofkr
Hollister, but make it tie-dyed? Not a problem.
This casual tee by sofkr boasts a softer tie dye design.
The swatches are mostly muted shades paired with plain dirty white. It's a quieter look, for sure, but that doesn't make it any less summery!
The shirt works exclusively for Male frames (and is base-game compatible to boot).
7.

Tie Dye Top by Puresim
Whereas sofkr's tie-dyed Hollister tees are soft, light, and faded, Puresims' Tie Dye Top is the exact opposite.
These babies are dark and deeply saturated, with black (rather than dirty white) being the main color in the mix.
Its vibe is a little less vibrant summer because of that, but it's still super chill. Comes in three colors – blue, aqua, and charcoal.
8.

Tie Dye Swim Shorts by Puresim
What could be more summery and beach-ready than tie-dyed swimwear?
This snazzy pair of swim shorts is available in five different flavors of tie dye.
And I say "flavor" because most of the color combinations look like cotton candy and/or peppermint swirls.
9.

Cutout Tie-Dye Swimsuit by DarkNighTt
Coincidentally, this colorful tie dye swimsuit by DarkNighTt also looks like fluffy cotton candy.
It's the prevalence of the soft pick, I think, and the fluffy-looking color splotches. The shades feel more spring-y than summer-y, but that doesn't detract from this being a hella cute swimsuit!
Plus I like the back cutouts. Very trendy.
10.

Tie-Dye T-Shirt with Sunglasses by Sims House
Now this pattern surprised me.
I'm very used to equating tie dye with multicolor and psychedelic. But Sims House's custom shirt looks like a cool, casual, more-expensive-than-it-should-be shirt by some artsy indie brand. That is to say, it's incredibly stylish.
The design's pretty unique (in terms of tie dye patterns, anyway) and I like the sunglasses hanging from the collar. Nice touch!
11.

Tie Dye Outfit by redcherrysim
It's good to know there are tie-dyed options for kids, too!
This pretty Tie Dye Outfit by redcherrysim is a cute, colorful summer set for Children.
A nice breezy top with spaghetti-thin straps and a sensible pair of board shorts. All in vibrant colors, of course.
12.

Tie-Dye T-Shirt and Briefs Set by Pelineldis
Pelineldis' clothing set includes a long-sleeved shirt and matching briefs in six different tie dye patterns.
Together, the whole ensemble looks like a particularly comfy set of jammies, which is simply adorable.
This set works for both Male and Female Child frames, by the way.
13.

Tie Dye Tank Tops by SimmieV
Who knew muscle shirts could look so vibrantly friendly?
Well, if Female Sims can have tie-dyed tanks, Male Sims certainly can!
These vivid, vibrant, eye-catching tees are sure to keep your Sim cool and comfy during the sweltering summer days. If you've got The Sims 4: Seasons installed, this is definitely prime Hot Weather wear.
14.

Tie Dye Cut Out Swimsuit by Black Lily
Not to be confused with the other tie-dyed swimsuit (also with cutouts!) on this list, Black Lily's Tie Dye Cut Out Swimsuit is an asymmetrical one-piece ensemble with plain bottoms and gorgeous tie dye print on top.
The colors on this are on the softer, subtler side, resulting in a quiet tie dye pattern that's less "psychedelic" and more "abstract work in pastels". It's pretty cute!
15.

Lee – Men's Tie Dye Shirt by CherryBerrySim
Of all the tie-dyed shirts for Male Sims that I listed here, I think this one's my fave.
The color combinations are soft and pleasing, but not muted or understated. They're still plenty saturated; just not as loud.
And the shades all blend together in this visually pleasing way that reminds me of summer mocktails.
Plus one of the designs has a pouting bear on it. Cute!
16.

Tie Dye Woven Printed Top by Harmonia
This top gives off the same vibes as Black Lily's tie-dyed swimsuit (with cutouts).
It's asymmetrical, it's hanging via one strap, and it boasts a beautiful tie dye pattern (of course).
I will admit, though; the woven texture makes the tie dye print look more like 'abstract zebra' or 'colorful camo' print.
But it still makes for an interesting ensemble!
17.

Tie-Dye Tank Top by simmingwithboba
This top gives me crazy "boho beach girl" vibes, and I'm here for it!
If your Sim is a free-spirited gal who knows how to beach hop and party at the same time, this is the top for them. It's cute and super casual.
Plus the tie dye pattern totally brings the summer party vibes.
18.

Tie That Dye 2: Electric Boogaloo by goldenwaves
Came for the pretty preview photos, stayed for the name.
And the actual clothing items, because they're actually really cool.
There are six different tie-dyed tops in this set, and the vibes range from sunny and casual to funky and artistic.
I love how the creator incorporated the tie dye print in ways that suit the pieces. The tube top, long-sleeved crop, and fluffy sweater are definitely my faves!
19.

Blue-Fin Tie Dye Shirt by McLayneSims
The pattern explains the item name, actually.
The blue and white streaks definitely feel more fin-y than zebra-y, and I guess we have the natural splotchy-ness of tie dye to thank for that.
I didn't even know the tie-dyed method could form this sort of pattern but, hey. You learn new things every day.
20.

Tie Dye Teez Vol2 by SimmieV
These shirts are the definition of "tie-dyed tees".
The cut is simple and the colors are loud, but not obnoxiously so.
The combination of shades and saturations range from psychedelic Technicolor to nature-inspired abstract.
This means there should be one or two swatches in this eight-swatch set that suit your Sim's personal taste.
Browse:
Lists
The Sims 4
Video Games