Gorgeous Tight Dresses For The Sims 4 (Free CC)
This post may contain affiliate links. If you buy something we may get a small commission at no extra cost to you. (Learn more).
The Sims 4 offers a plethora of options for the jeans and t-shirt wearing Sims out there.
But if any of the Sims in your game are more likely to hit up the club or karaoke bar, and need something fashionable to wear, you'll find that the options are a bit limited.
Specifically, the tight dress options in the game are… well, just not there.
If you've been cycling through the same five to ten EA-made dresses that actually show off your Sim's curves. And I'm here to let you know that it's time to retire them.
And we'll be replacing them with some amazing alternatives that'll have you wishing you'd found them sooner!
Snag your favorite dresses here and watch your Sim become the "it girl" in San Myshuno's nightclub scene!
Kimberly Dress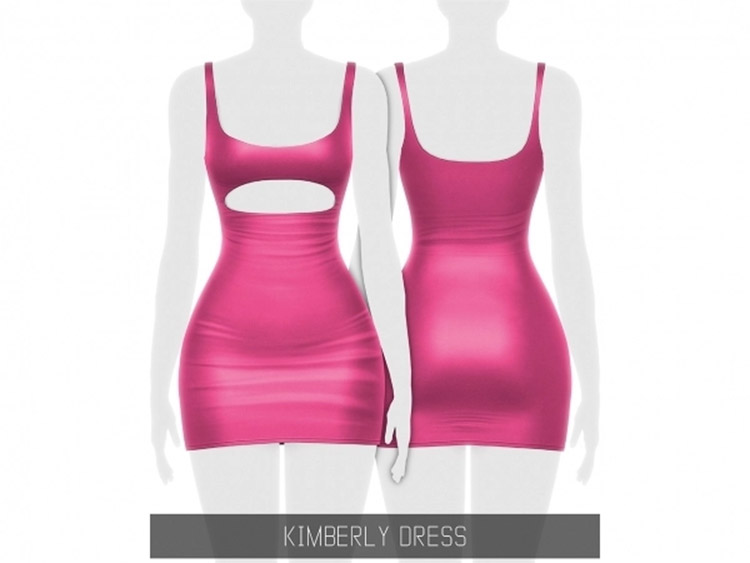 This one's sure to turn heads at your Sim's next club or party visit.
The Kimberly Dress by Simpliciaty is skintight, with a unique cut-out just below the bust line to show off some extra skin.
Choose from 20 solid colors, or five bright neon shades, for a total of 25 swatches.
And it's named after the tight dress icon herself, Kim Kardashian.
So you know it's good.
You could even toss in some Kardashian-styled CC with this outfit and take your Sim's look to the net level.
Tight Dress (Long Sleeve)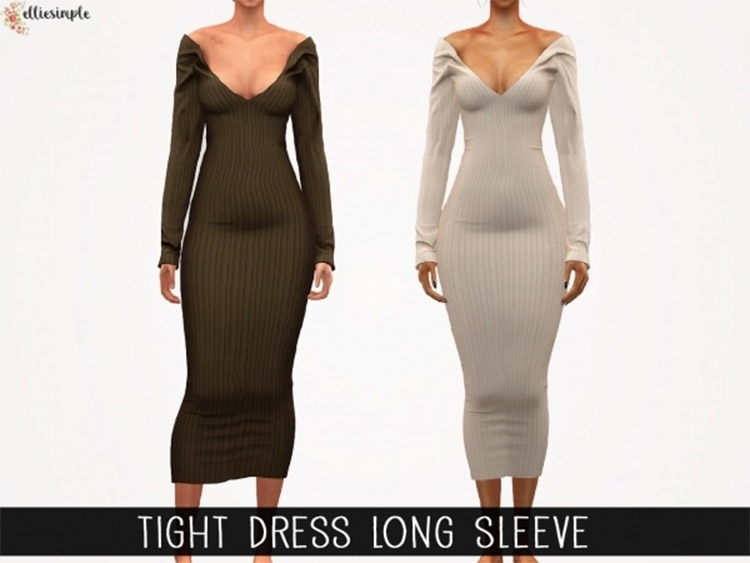 Want a tight dress without having to show skin?
Elliesimple's CC long-sleeve dress does exactly that!
With wrist-length sleeves and a mid-calf hem, the dress lets your Sim's curves do the talking – without having to show too much skin (with the plunging V-neck top showing just enough).
With 30 varying colors, you'll be able to play around until you find the perfect shade.
And if you dig long sleeved dresses then we've got even more options worth checking out.
Ruby Dress
If the Kimberly Dress was inspired by Kim K, then this Ruby Dress has to be patterned after The Sims legend herself, Bella Goth.
Creator Camuflaje's awesome dress here comes with seven different swatches in all.
But my favorite is the dark burgundy.
The whole design flares out at the hips and narrows at the legs, to provide the illusion of an hourglass figure.
It's perfect for a romantic date ensemble, but feel free to have your Sim wear it while lounging around the house in honor of Bella herself.
Tight Dress v2
Simpliciaty's back again, this time managing to do the impossible with the Tight Dress V2.
It's form-fitting, but also looks comfortable.
With a mid-sleeve length and rounded hem, it manages to accentuate the waist without being skin-tight.
Truly a must-have compromise for those wanting a curve-hugging outfit, but not the discomfort that comes with it.
And because Simpliciaty's awesome like that, we can get this dress with 15 color variations.
Hearts Dress
Seriously, I heart this dress.
It's a brilliant design by Paogae, and super adorable.
You'll get an otherwise low-key black turtleneck dress, which then becomes unique with heart-shaped cutouts on the front and back.
This is definitely one to pair with a bunch of accessories for that high-glam look. But it also stands out all on its own.
S4 Cutaway Bodycon Dress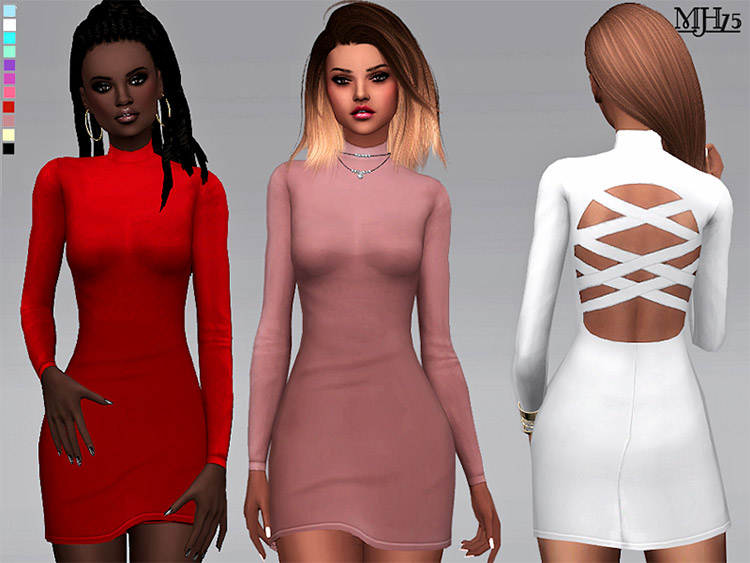 Long sleeves with a shorter hem?
Yes please!
This S4 Cutaway Bodycon Dress by Margeh-75 switches up the tight dress standards by pairing wrist-length sleeves with a mid-thigh length.
There's 11 different colors and two meshes:
One solid dress, and another with an open crisscross strapped back.
Pair this with some leggings and it'll make the perfect Spring party 'fit!
Scarf & Off Shoulder Tight Dress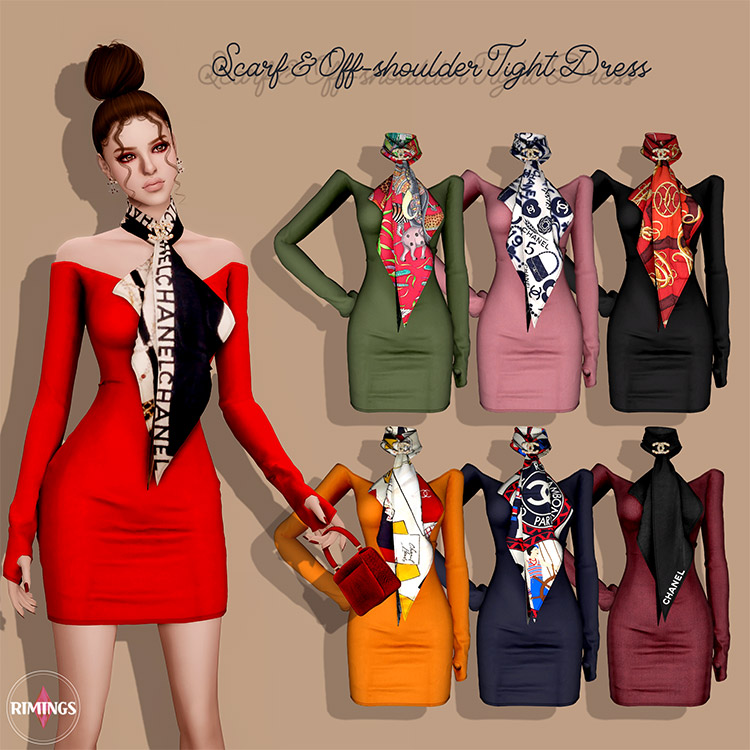 There's one word to describe Riming's incredible tight dress CC:
Fashion.
From the off-shoulder sleeves to the gorgeous high-end label scarves, and the incredible 20 color options, this one's more than just a tight dress.
If your Sim had to pick an outfit for a vacation to Champs Les Sims, let's just say this would be their first option.
If only we could visit… *Cries in Sims 3*
A-Line Mini Dress Set
A little sparkle, a little shine, a little lace.
That's what sets this A-Line Mini Dress apart from the rest.
While there is your standard solid dress, it's the glittery & sparkling number (and its equally beautiful lace counterpart) that steals the show.
And let's give a big thanks to CC creator EsyraM for this one. More variety is always a good thing!
Bonus points for the A-Line hem that gives this dress a smooth silhouette.
Just amazing all around.
Cami Strap Slinky Dress
Summer's the perfect season for tight dresses.
And OranosTR's Cami Strap Slinky Dress CC will become your Sim's go-to in the warmer months.
The light airy straps and plunging back offers freedom from restriction, while still clinging to your Sim's body to show off every dip and curve.
I could see my Sim wearing this on a date in Sulani or Selvadorada for sure!
Chiara Dress
Here's what I'm thinking right away:
Show stopper.
That's the first word that comes to mind with this Chiara Dress CC.
Mxfsims's creation is so amazing that it's hard to put it in words (but I'll give it a try anyway!)
The narrowed straps at the neck and the A-line cut at the top will make your Sim the envy of everyone else around them. I mean, how can you pass this up?
Its sleeveless, offers a mid-thigh length design, and comes with 13 color swatches.
All these features make this dress a must-have for your Sim's wardrobe.
Browse:
Lists
The Sims 4
Video Games