Sims 4 Toddler Beds CC: The Ultimate Collection
This post may contain affiliate links. If you buy something we may get a small commission at no extra cost to you. (Learn more).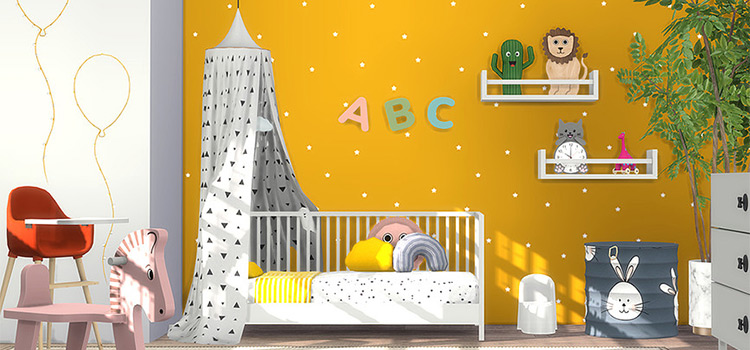 There are two types of simmers when it comes to toddlers:
Those who try to max every skill and complete every aspiration, and those who age their toddlers up as soon as possible.
Regardless of which one you are, it's always fun to prepare for your little virtual bundle of joy by decorating their rooms to inspire the sim you want them to become.
A doctor? A mad scientist? A pro athlete?
Whichever you have your eye set on, décor is key to showing off the personality you dream your little one of having. And the first place to start is where they lay their tiny heads – a toddler bed.
1.

Sue Toddler Set at pqSims4
This adorable set reminds me of making blanket forts with my sisters. We would search for wooden clothespins and blankets around the house until we could all fit underneath our creation.
To be honest, our end result was nowhere near as polished and fancy as these canopy toddler beds.
Four calming color options come with this cute CC set, making it easy to personalize bedrooms without having to change much more than the color scheme.
2.

Dakota Kids Room – Toddler Bed by Severinka_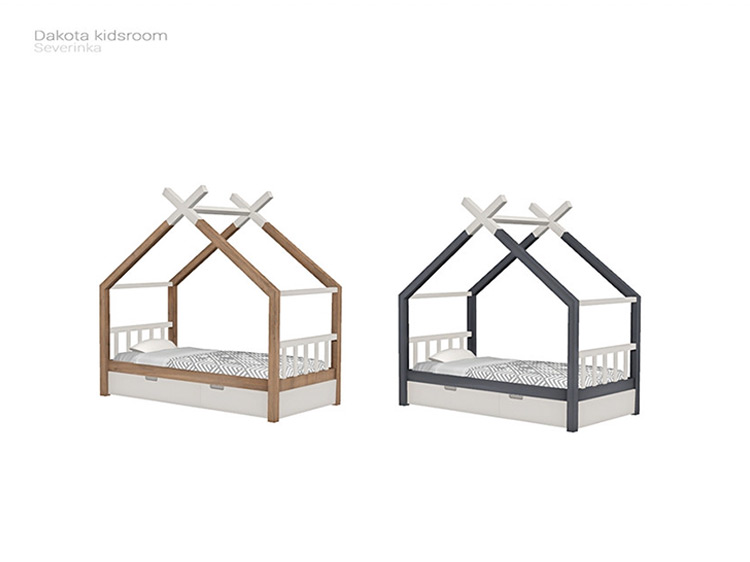 I love the minimalistic teepee vibes this toddler bed gives off.
It has such a modern, sleek look that fits in perfectly with your modern farmhouse décor goals.
The best part about this bed is that there is an identical kid's bed option by the same creator.
Sometimes I just want to age my toddler up and not have to re-do the entire room. Can you blame me?
3.

Functional Toddler Bunk Bed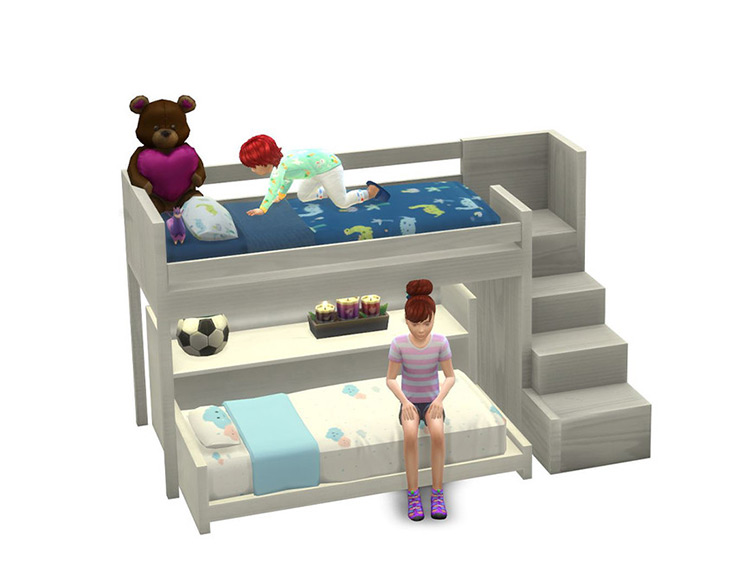 "Functional" is an understatement.
This bunk bed can not only be used by both toddlers and children, but it also can fit a bed or a dollhouse underneath.
Don't get me wrong, I love the dollhouse.
It's just way too big.
This bed set finally gives me a cute and feasible way to have a dollhouse in my toddler and children's rooms. Just make sure to place the object far enough from the stairs so it can be used.
4.

Omali Toddlers Bedroom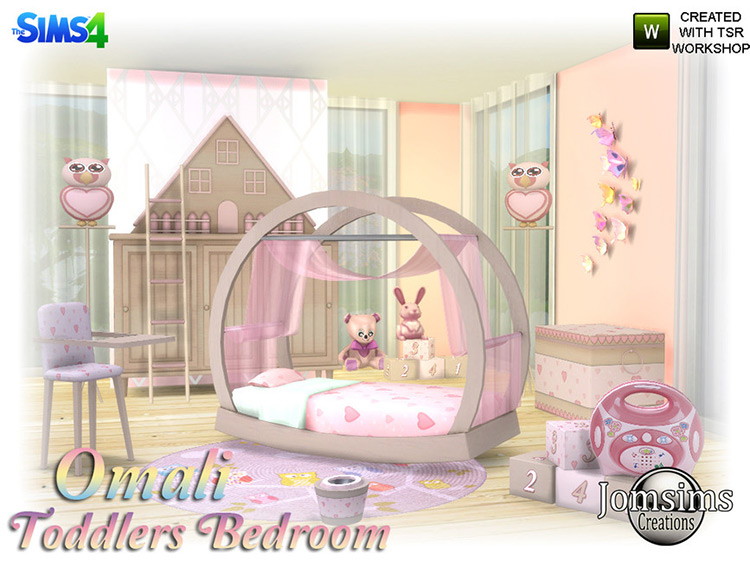 This adorable bed set gives me Cinderella carriage vibes and I am here for it!
I've always loved canopy beds. But this is such a fun and inventive take on that type of design.
It almost looks like you can rock your little sim to sleep.
This set comes with four different color options, and also includes matching highchairs, toy box, and toilet, as well as cute matching decorations.
5.

Arcane Illusions – Little Fairy Furniture by Severinka_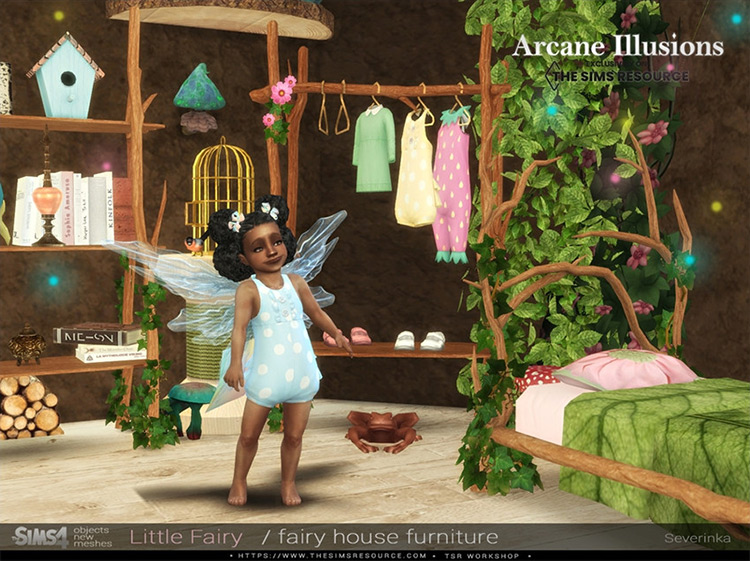 Does anyone else miss fairies?
Spellcaster is cool and all, but I miss fairies and their little tree houses from Sims 3.
So, why not make your own fairy house?
With this set, you get 12 pieces of enchanting furniture, including matching bed sets for toddlers and children. Just throw in every plant in the game and you have yourself the perfect fairy hideaway.
6.

Diego Mystery Decor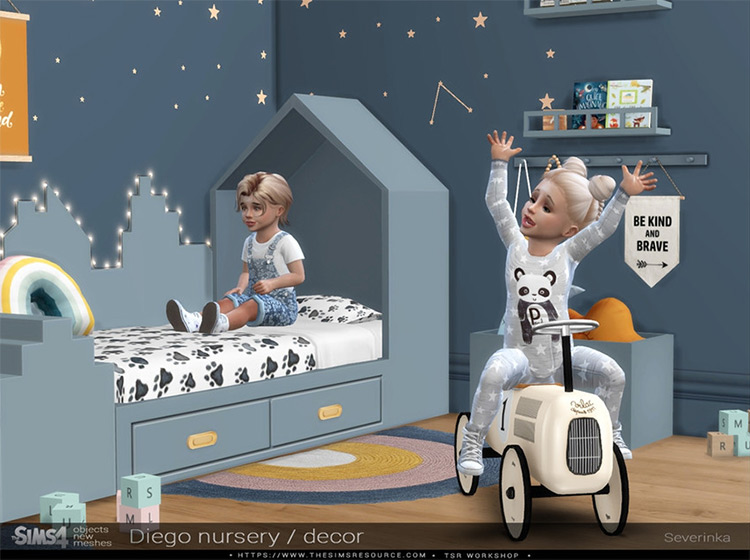 Okay, this skyline bed is just absolutely captivating.
If your sim wants to grow up to be rich and famous, or if their parents already are, this is the perfect set for you.
I also love how easily two beds can connect with the décor.
This set comes with two color options for nine different items, including cute stars for your walls.
7.

Magical Place by SIMcredible!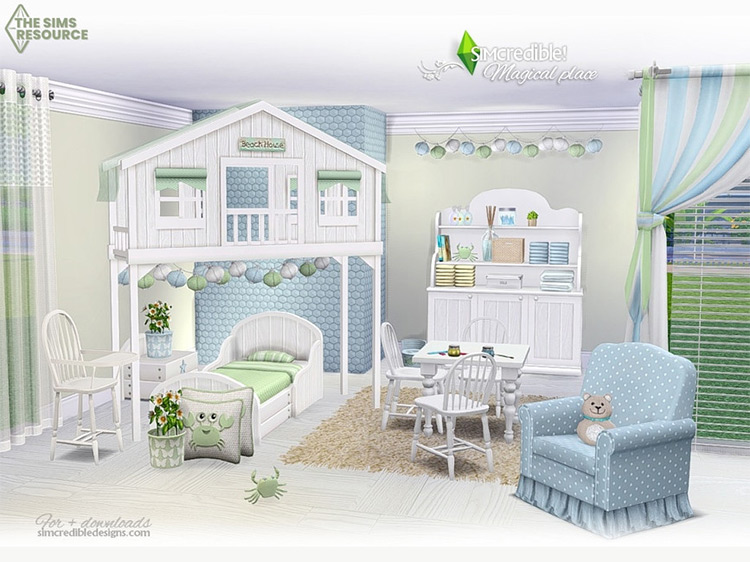 This costal inspired toddler bed also comes with a matching indoor treehouse.
Just like everyone else, I always wanted one of these as a kid.
I really love the color of the wood on all the furniture here and the design of the toddler bed, it really would fit in so easily in Brindleton Bay.
The CC set comes in three different color swatches to fit your little sim's personality.
8.

Antwerpen Toddler Bedroom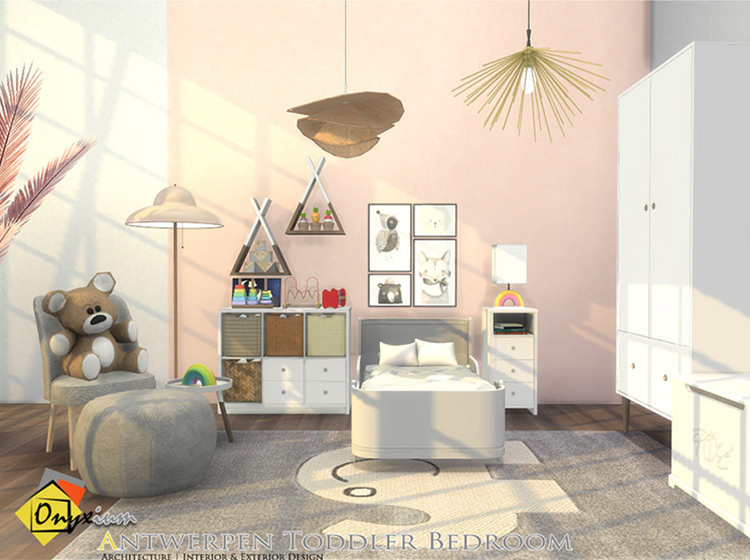 Whoever designed the toddler beds at EA is unrealistic, because I don't know a single toddler that likes to make their bed.
That's why I love this set.
The toddler bed comes with a ruffled blanket – not too messy but not picture perfect either. I like my kids' rooms to look cute but lived in.
And this set also comes with adorable little teepee wall shelves that make me want to go camping ASAP.
9.

Princess Nursery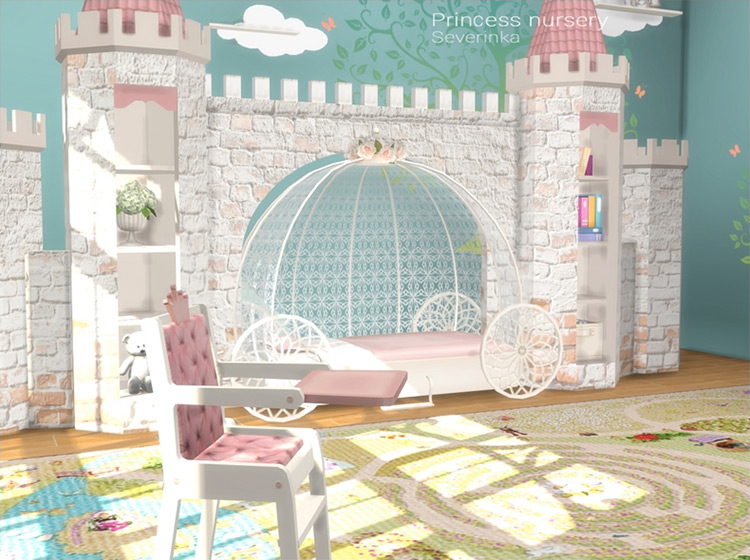 I take back what I said earlier – this bedroom set has insane Cinderella carriage vibes which is why it's so aptly named the Princess Nursery.
Just like entering a beautiful carriage parked outside the castle gates, have your tiny sims dream of handsome princes and strict curfews with this picturesque toddler bed set.
Complete the look with an included highchair with a crown, a potty with a dress, regal décor, and one of the bed castle towers actually also functions as a bookshelf.
10.

Classic Toddler Bed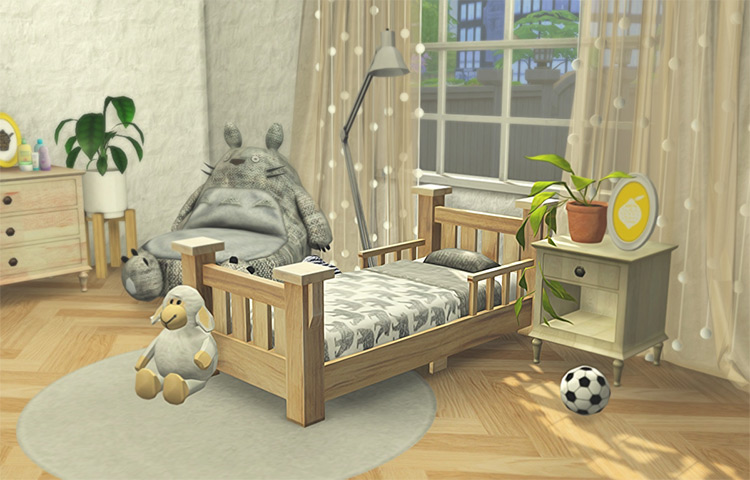 If you're looking for something new that's not over the top or themed, this is for you.
It's a recolor and redesign of the classic toddler bed in the base game. So it's totally Maxis Match and requires no expansion packs.
Unlike Sims 3, The Sims 4 doesn't have endless options for color and textures.
So it's nice to find some new and improved swatches sometimes for the old tired and true content.
There are 14 new bed frame swatches and 18 new designs for the toddler mattresses.
11.

Toddlers Beds Addition Pack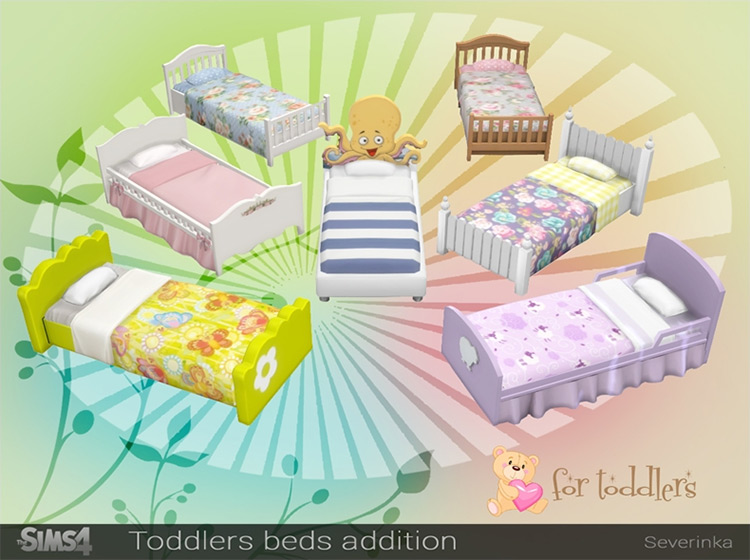 I won't lie: I love themed kids furniture.
It's okay, you don't have to act surprised. My favorite of the set is the fun nautical bed with the giant octopus, but the little sheep bed is my runner up.
Have your tiny sims count their sheep to sleep in this baby sheep bed. Say that ten times fast!
There are seven different beds included in this pack, each cuter than the last.
12.

[Evelina Nursery] Toddler Bed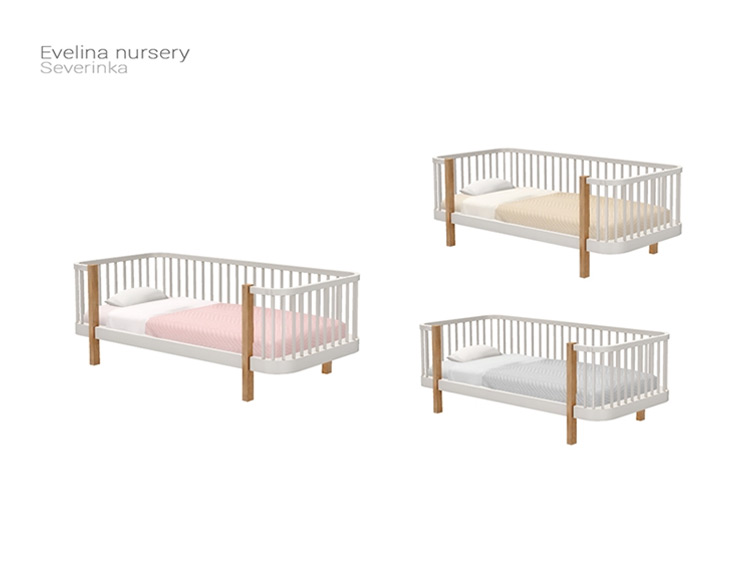 If you have ever watched a toddler or had a toddler, you know they tend to end up in a totally different position in the morning than you left them the night before.
Which is why I love this crib style bed.
It's more realistic and a less drastic change from a basinet to a regular looking bed.
If you put this toddler bed up against the wall, it will look just like a bigger crib. Three color swatches are available.
13.

Stibium Toddler Room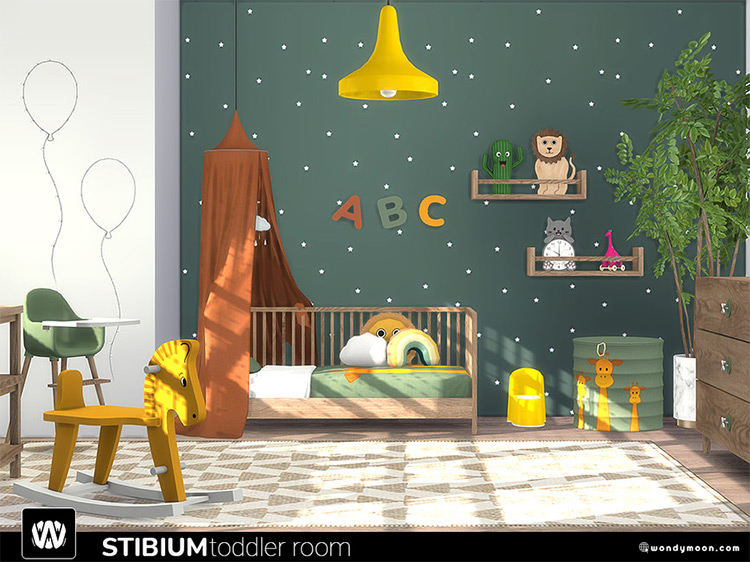 This magical toddler bed set reminds me of sleeping under the stars. The little canopy at the head of the bed and the little mobile inside of it are the details I love to find in CC.
Not to mention the absolutely precious light up balloon wall decorations and the matching shelves.
There are three different color themes for the set available, including my favorite: a neutral grey with a sheer white canopy.
14.

The Kids' Room: Infant bed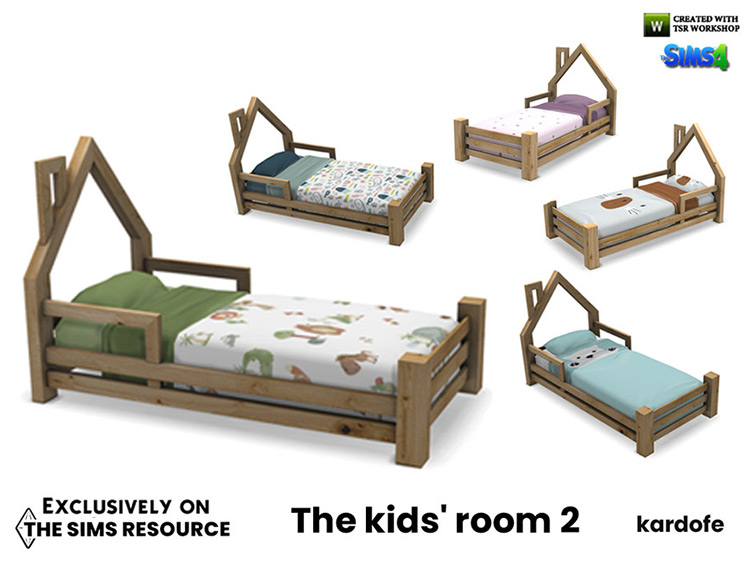 I just love this little house toddler bed.
It's simple and yet so unique and creative.
I like to use these in my rags to riches playthroughs, since it's minimalistic but still fun. I have also used these in my 100 baby challenges, since they look so darling stacked next to each other.
The best part of this bed isn't the style, as great as it is. It's the comforters. There's a cute orange and white cat sheet set, a peeking polar bear set, and three other fun designs.
15.

Rabbit KidsRoom Toddler at Aifirsa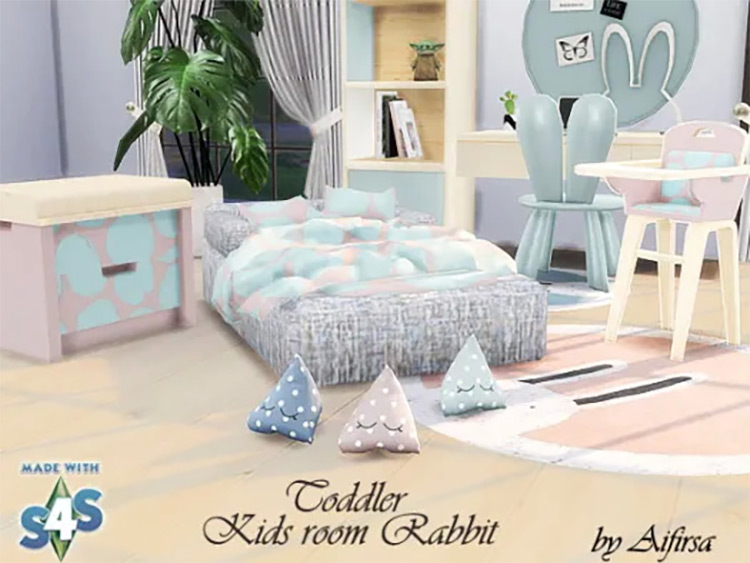 The best part about this set is the oversized comforter.
Like I said before, I really love the look of lived-in items. And the oversized comforter really has that "yeah, we live here, it's not perfect" feel.
This set also comes with a functional toy, matching toy boxes, and matching highchairs. Plus there are two color schemes to choose from.
Browse:
Lists
The Sims 4
Video Games