Sims 4 CC: Best Toddler & Child Glasses (All Free)
This post may contain affiliate links. If you buy something we may get a small commission at no extra cost to you. (Learn more).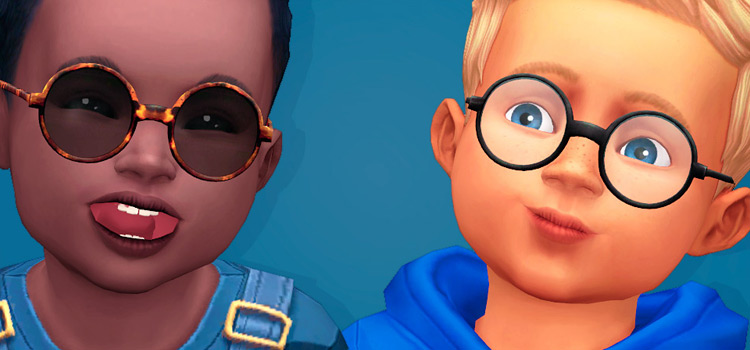 Although popular consensus says the average acceptable age for kids to get glasses is six to twelve, recent studies suggest that even toddlers (12 to 36 months old) can reap the benefits of corrective eyewear.
I ruined my eyes at the ripe old age of seven, and I thought that was way too early. Glad to know I'm not alone!
So since toddlers can wear glasses now, here's a collection of 'em for your Toddler and Child Sims – all Maxis-matched and ready to go with any Sim family.
1.

GTW Glasses Conversion Child to Toddler by glitchysims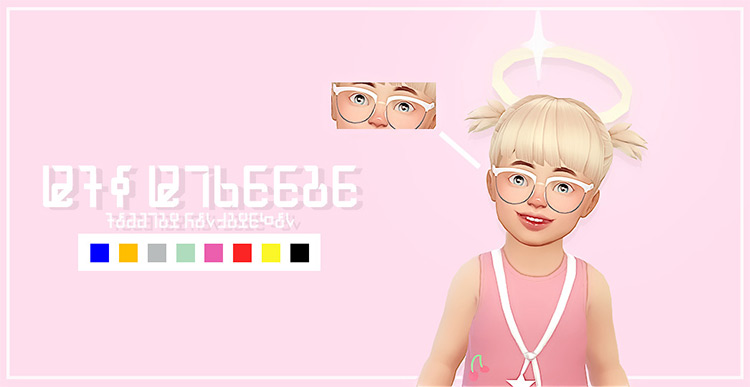 This conversion by glitchysims makes it so that Toddlers can now wear those cute, top-rimmed glasses from The Sims 4: Get to Work.
Hey; if your Toddler Sim absolutely needs corrective eyewear, it should be one that matches their bubbly, youthful charm.
2.

Bateman Glasses by Tamo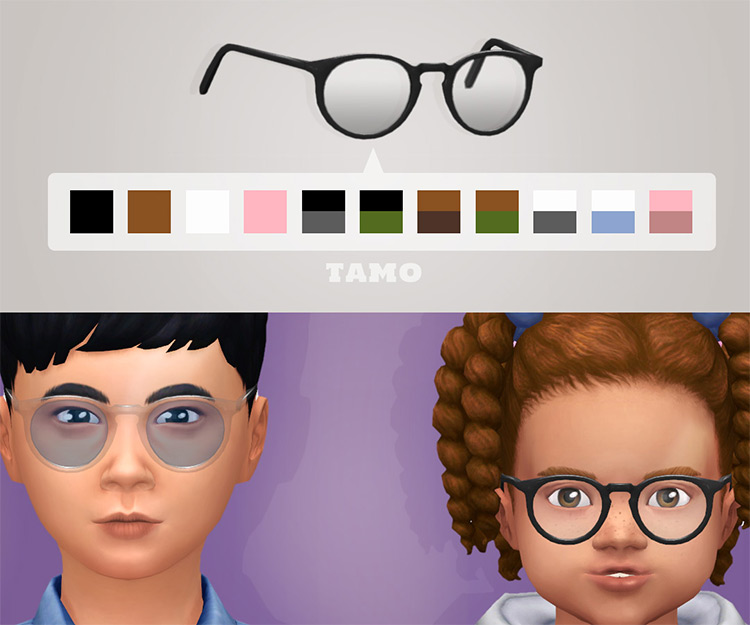 I love CAS items that work for all ages.
I mean, I get that not all styles are age-appropriate, and that some designs work better on younger or older frames, respectively.
But in the case of these cool Bateman Glasses from Tamo, these thick-rimmed circle lenses suit the kids and the adults just fine.
3.

Square + Round Glasses by caster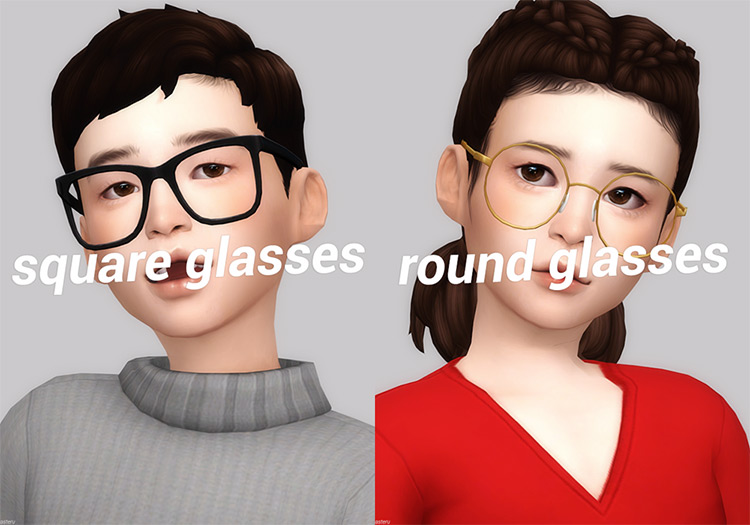 Square glasses with thick rims, or circular glasses with wire-rimmed frames? Sims CC creator casteru offers both options to suit a wide range of different face shapes and facial features.
Plus, they made this style series compatible for both Sims Children and Toddlers (and you can get the toddler-friendly version here).
Gotta love the variety!
4.

Ripple Glasses – Kids by blahberry pancake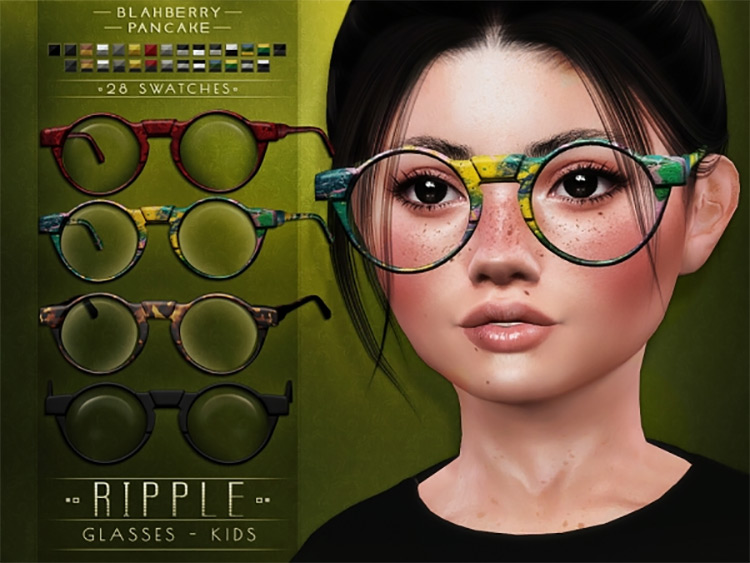 Not sure if the design of these frames is called "tortoiseshell" or "paint splotches." What I am sure of is that they make for a cute, quirky pair of kids glasses.
I especially love how obvious the color-spatter patterns are thanks to the size of the frames.
5.

Vision Glasses Child by Suzue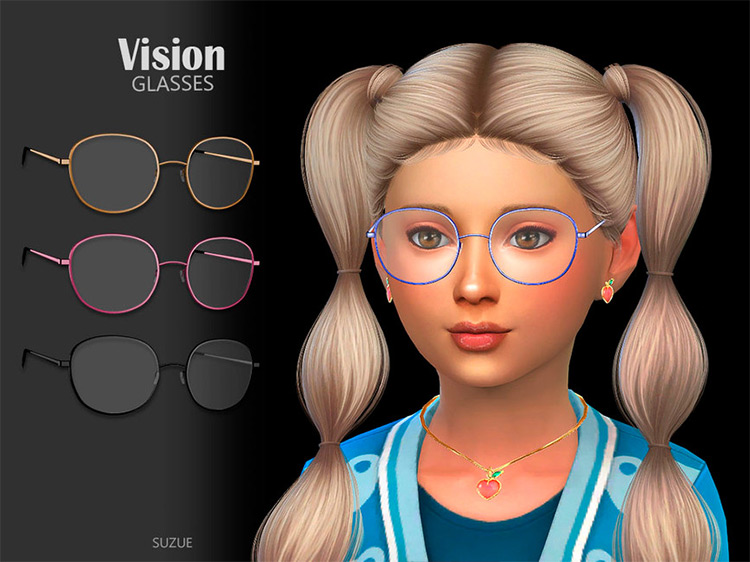 Sleek, simple, and stylish.
For practical Children who prefer a no-fuss, no-muss style of eyewear, these Vision Glasses by Suzue fit the description perfectly. The thin, solid-colored frames really help accentuate the universally-flattering, rounded-square shape.
6.

Geek Glasses Child + Toddler by Suzue
Classic geek glasses never looked so stylish!
Absolutely love how slightly oversized these look on Children and Toddler frames, especially since their faces are smaller and (often) chubbier. Plus, the color options are very age-appropriate!
Colorful, blocky, and lots of patterns. Here's the Toddler-friendly version by the same creator.
7.

Toddler Aviator & Hipster Glasses by qvoix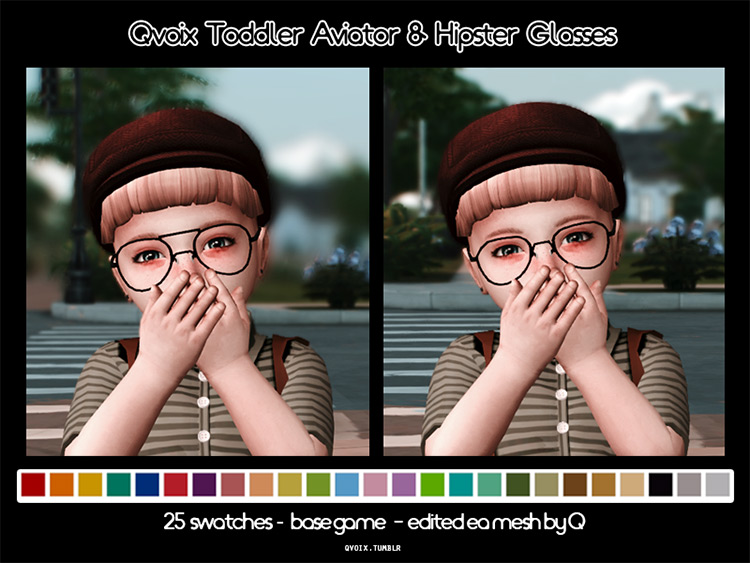 I had no idea that the difference between aviator glasses and hipster glasses was a second bar at the top of the frames, but there you go. You learn new things every day.
I mean, the shapes of the lenses are different, but there's not a lot of variation.
They're both look (to me) like very rounded, upside-down triangles.
8.

Simlish Clubmaster Ver. 2.0 by Tamo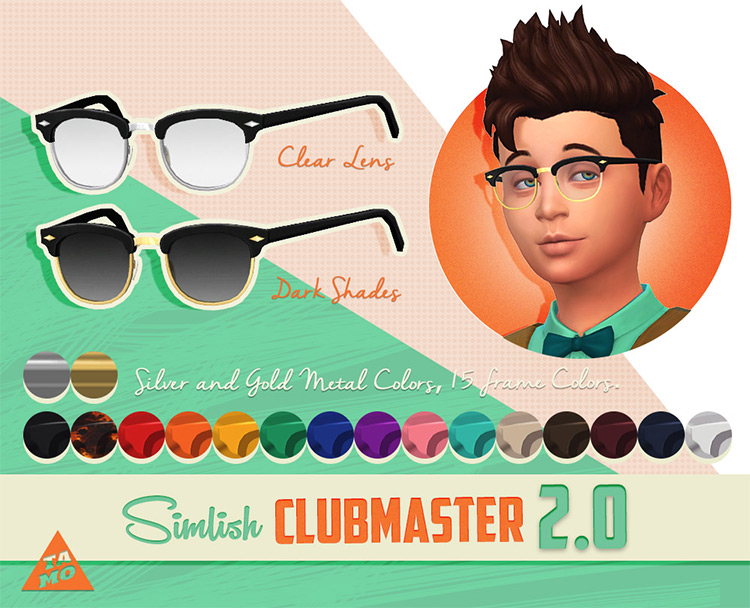 Like I said earlier; CAS stuff for all ages. I'm a big fan.
These browline-slash-wayfare glasses work for Children to Elders, and they come in two major designs: clear lenses and tinted lenses—or, basically, regular glasses and sunglasses.
You can choose either silver or gold for the wire rims, and then you have another fifteen options for the frames up top. That's a total of thirty swatches per design!
9.

Solitude Glasses Kids by blahberry pancake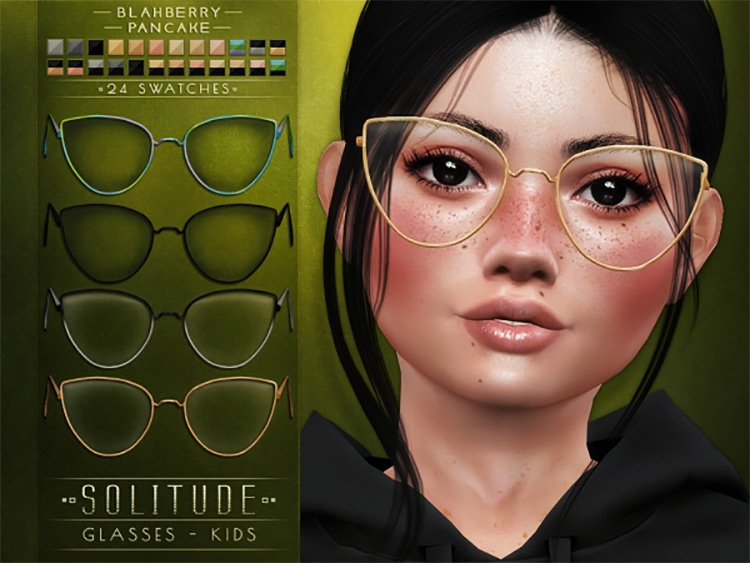 Who knew cat-eye glasses could look so good on kids' faces?
It's not just the model Sim in the preview photo, either. I tried these on my Sim's kids, and they looked great. The sharp, upturned corners really flatter round and almond-shaped eyes!
10.

Circular Glasses Kids by blahberry pancake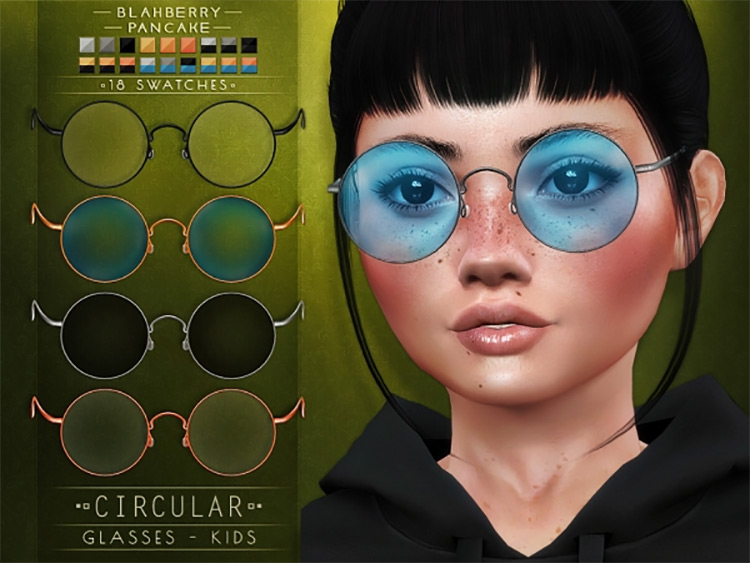 These elliptical lenses by blahberry pancake come in eighteen interesting colors, and they're a hundred percent kid-friendly.
I do have to point out that some of the swatches change the lenses from translucent to color-tinted. But if you want to keep things classic, don't fret; there are still plenty of frame color options for clear/regular glasses.
11.

Elision Glasses Kids by blahberry pancake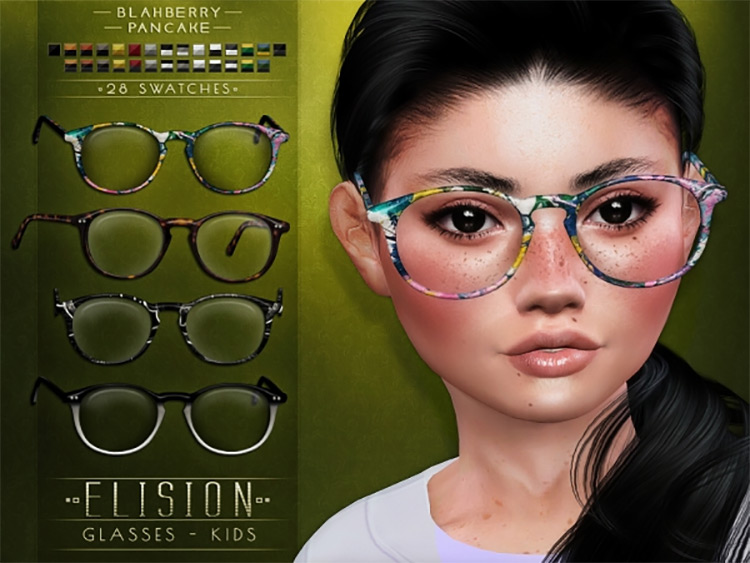 A confusing but nonetheless fashionable mix of styles come in this CC set.
These Elision glasses for Children are stunning!
Of the 28 design options, there are only a handful of solid-colored frames. The rest? A mishmash colors, patterns, and vibrant hues.
Boring glasses? We don't know them.
12.

Plain Glasses by blahberry pancake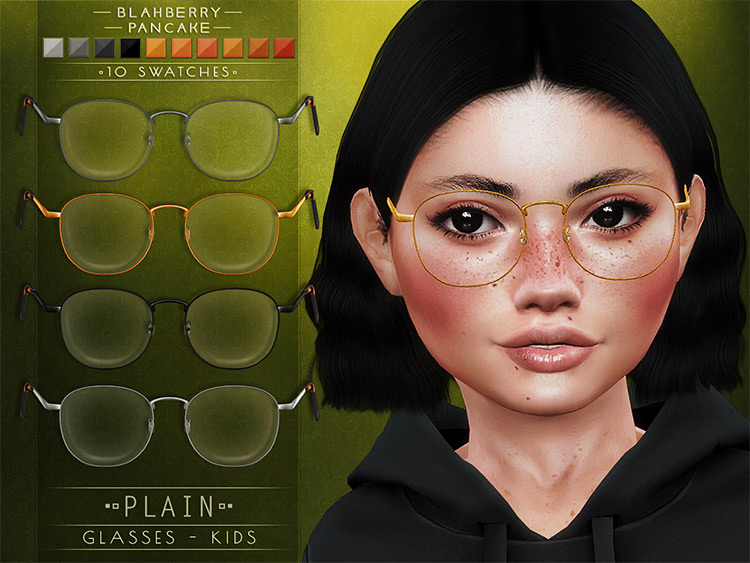 Now these glasses are my kind of eyewear.
They're simple, they're practically transparent, and they look hella elegant—even on a (Sim) child's face.
Wouldn't really recommend this if you want something colorful, quirky, or whimsical. But if you prefer something stylish and classy, then yean. You're gonna love these.
13.

Translucent Glasses Kids by blahberry pancake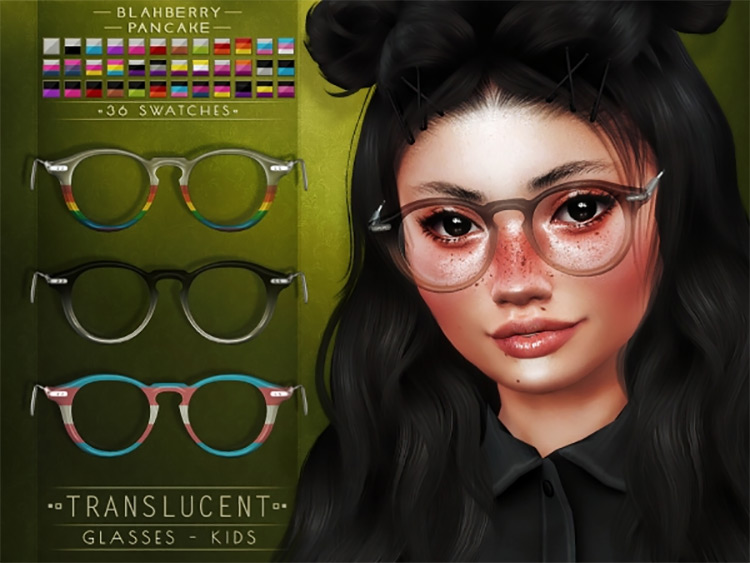 Circle lenses with quasi-cat-eye frames.
Fashionable? Yes.
Works for kids? Also, surprisingly, yes!
I actually like how the pulled-out corners of the frames sharpens the otherwise soft roundedness of the lenses. It's a whole contrasting-complement thing that creates an aesthetic visual, overall.
14.

Thick Round Glasses Conversion v3 by Tamo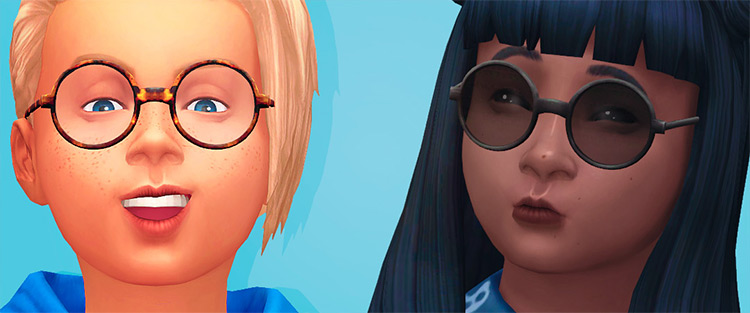 I'm pretty much doomed to equate round glasses with Harry Potter, so hey. Them's the breaks.
These glasses by Tamo are exactly as the name describes them to be; round, circular lenses outlined in thick colored frames.
They work for all frames and all ages, making them a great grab-and-go option for when you need an all-inclusive CAS item (matching family glasses, anyone?).
15.

PralineSims Veox Glasses for Toddlers by bellaasims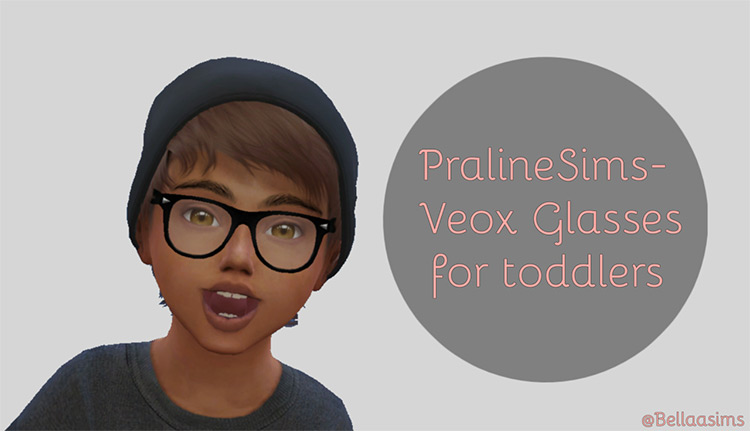 These Veox glasses are an interesting blend of large, square-ish lenses smoothened and softened by wayfare frames.
The original mesh by PralineSims had fifteen color options and was originally just for Adults/Young Adults. This conversion by bellaasims Maxis-Match-ified it and made it Toddler-friendly.
16.

Glasses Pack by casteru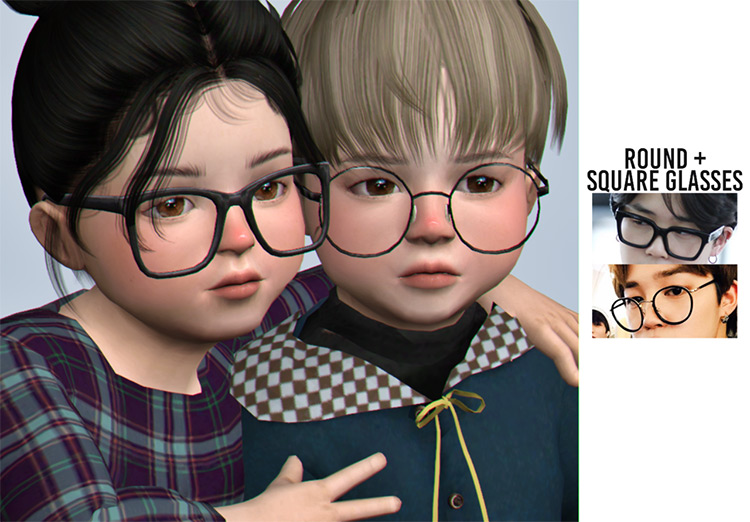 A lovely little grab-bag of Toddler-friendly eyeglasses for your Sim's fashionable, fresh, and/or funky tots.
From cat-eye sunglasses for cool cats and kittens to round circle lenses for practical little people, these custom corrective eyewear options from casteru are almost too cute for words!
17.

Posey Glasses by WildlyMiniatureSandwich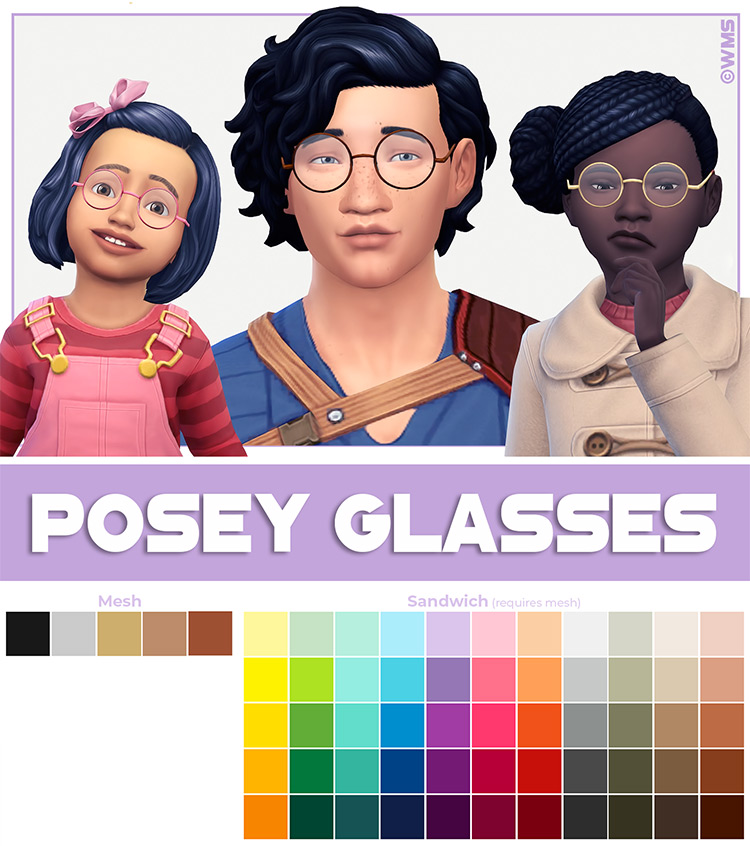 More circular glasses options for your Sims Children, Toddlers, and Adults.
The frames of these meshes by WildlyMiniatureSandwich come in five metallic swatches and 55 solid colors. If you aren't sure which meshes to get and you just want all the color options, you can grab the merged .zip file from the creator's website.
18.

Cat's Eye Glasses Version 2.0 by Tamo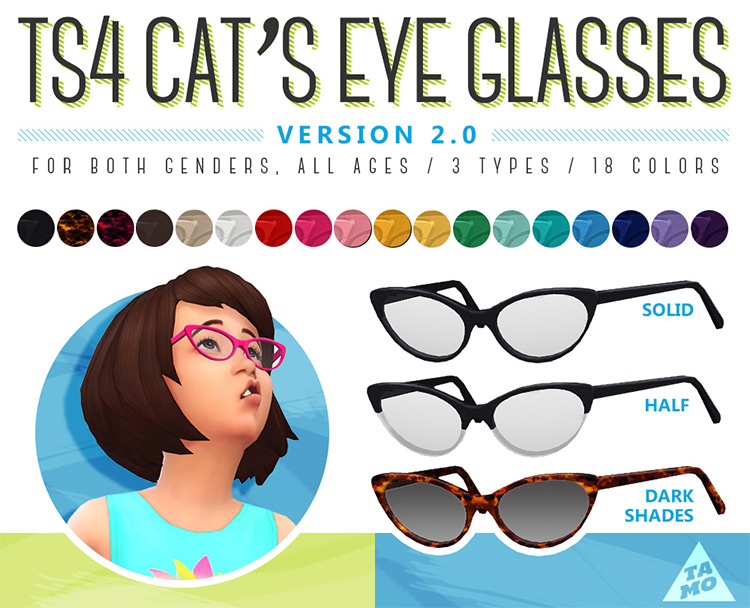 Honestly, the cat-eye frame shape for little Sims is growing on me.
Who knew that a flicked-up outer corner would look so good on cute, chubby faces?
This 2.0 version comes in three styles: full-on cat-eye glasses, browline-plus-cat-eye, and cat-eye sunglasses (aka darkly-tinted lenses).
19.

Now Glasses – Kids by jealousypixel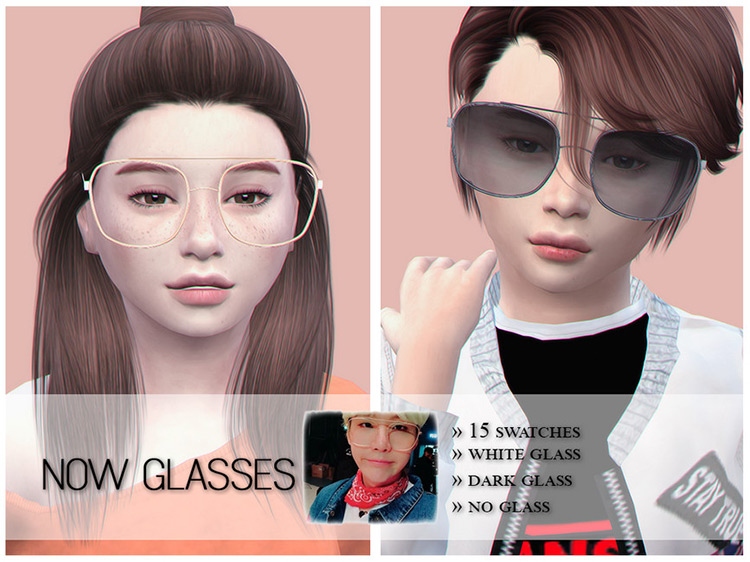 Here's a pair of large, fashionable aviator glasses for.
There are three lens variations, and each variation comes with five frame color options. This one's a bit unique with respect to the other custom glasses on this list in the sense that there's also a "no lens" option (beside the standard "clear lens" and "tinted lens").
20.

Buddy Holly Glasses by Tamo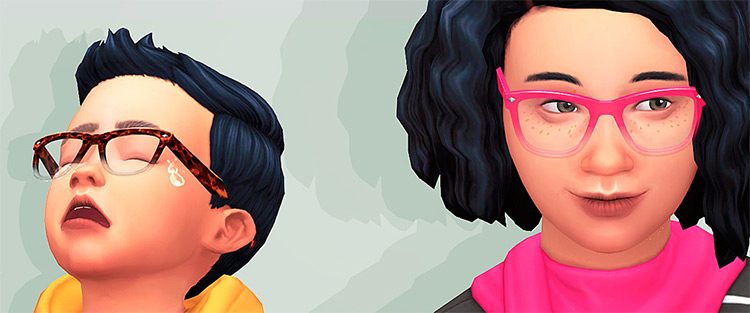 I have never seen a more satisfying preview photo than the one Tamo uses for their Buddy Holly glasses.
Check out the grid pic at the bottom where all the frame colors and designs with both the dark and clear lenses options are showcased. It's incredibly clever.
Not much else to say about these glasses except that they're stunning and definitely suit all ages.
Browse:
Lists
The Sims 4
Video Games