Best Sims 4 Toddler Clothes CC: The Ultimate Compilation
This post may contain affiliate links. If you buy something we may get a small commission at no extra cost to you. (Learn more).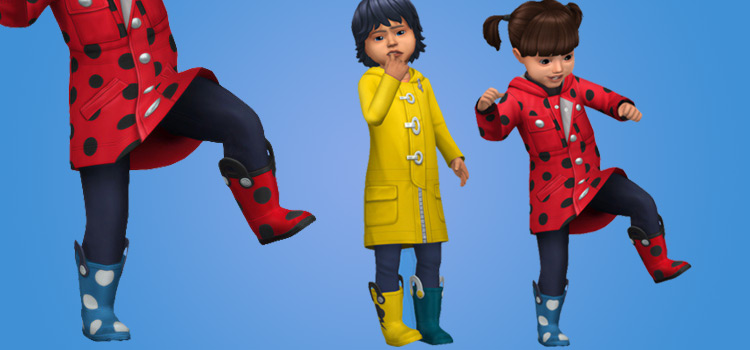 Taking care of toddlers is really hard work.
And the only payoff is getting to enjoy how cute they are.
Um, I'm only referring to Sim toddlers, obviously. Children are precious and our future and all that.
But having a toddler (or multiples, Heaven forbid) is rather intense in this game.
They have so many needs and so little time. Unless you're a super Sim parent, there's a lot of crying and tantrums.
So what makes it bearable? The precious outfits you can put them in.
Clearly this is a common belief among Simmers, since there's nearly endless amounts of CC out there for the tots in your game. But who has time to sift through it all?
We do – and now you can give them any style outfit, from typical cutesy kids clothes to high fashion items that even adults will be jealous of.
1.

Rolled Tot Jeans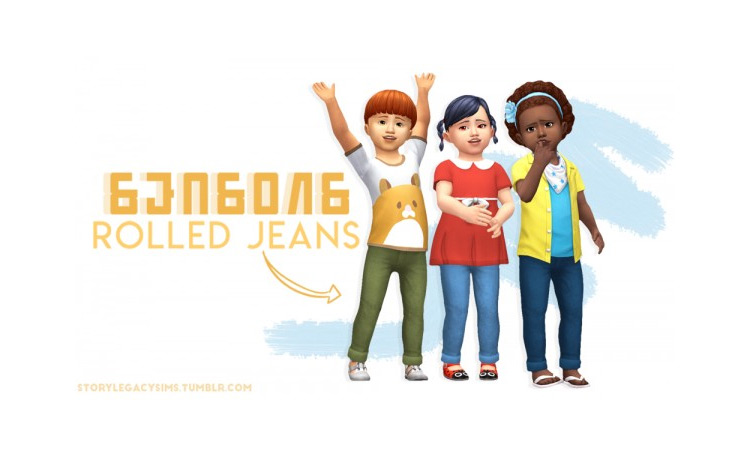 Jeans are the ultimate neutral type of pants, as well as incredibly fashionable.
They're like the base for so many good outfits – and that's no less true for toddlers.
These tot jeans have a great denim texture, as well as little rolled cuffs on the bottom. You wouldn't think such a small detail makes much difference, but this somehow makes for an even better more put-together look.
Your Sim's toddler won't look like Mommy just threw on the nearest clean thing she could find.
Their pants are rolled, someone planned this outfit!
2.

Toddler Fall Sweater Collection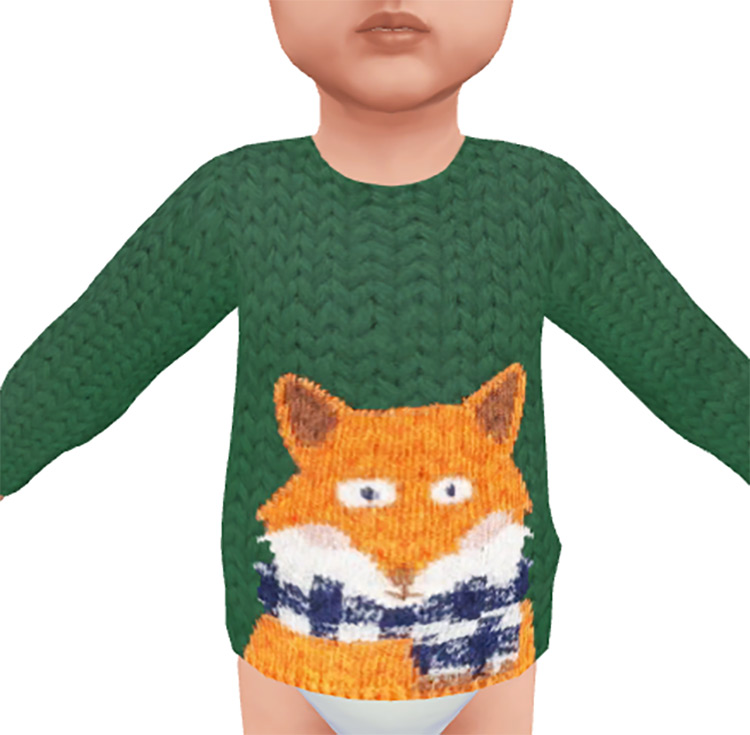 If you have Cats & Dogs, then chances are the toddler sweater that came with it is already one of your favorite things in CAS.
But with just a few swatches…well, let's just say there's some truth to that saying about too much of a good thing.
This amazing recolor set totally revamps the sweaters you already know and love, just by adding some new designs and textures.
They're all just as wholesome as they were before, but now you'll have a bigger variety to choose from.
The designs here include plenty of critters too, as well as some more general patterns like stripes.
3.

Toddler Shoe Pack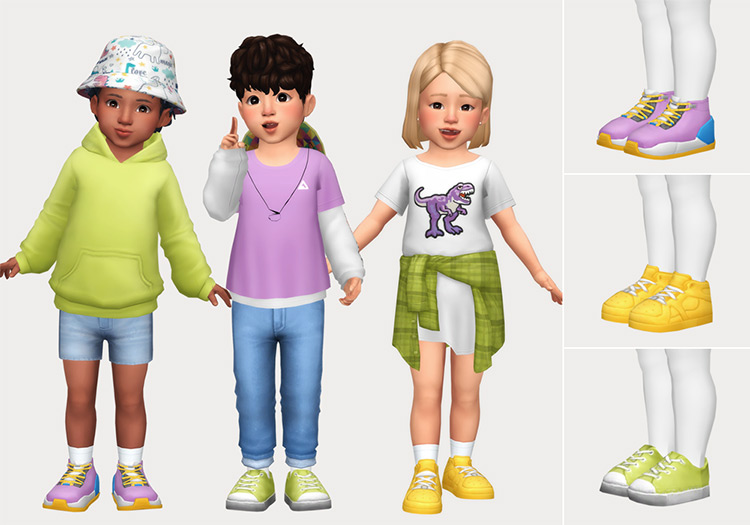 Footwear definitely comes with its own set of struggles in this game.
After years upon years of cycling through those same base game sneakers, it can feel tedious to place them on yet another toddler.
Again… too much of a good thing.
Sure, they were cute and exciting the first fifty times.
But now? Eh.
And when it comes to casual footwear there aren't many other options that will fit throughout the Sim year.
Sandals are always there to switch things up – but that's not a good idea during winter.
And this shoe pack from Casteru offers three new options that are fresh and unique.
The first one is a cool boot design, perfect for your Sim's kiddo to run around to their heart's content.
Next is the classic canvas sneaker. Everyone's had them, everyone loves them. They're simple, stylish, and look especially precious on little ones, you ask me.
And for the last item, your toddlers can now wear high-tops.
These are just as detailed as the other two pairs of shoes, and they look so cool. They're sure to be the envy of all the other kids at the parent mandated playdate.
Each of these sneakers comes with their own 25 swatches, allowing you tons of freedom in CAS.
Will you just give your tots normal casual outfits that look mixed and matched? Or a head-to-toe outfit all in one color?
4.

Long Sweater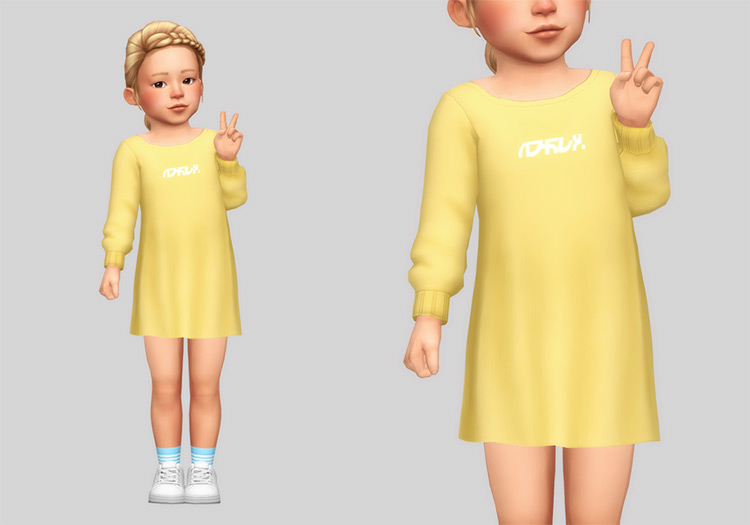 A toddler's wardrobe usually isn't as perfect as your Sims would leave you to believe.
They grow so quickly that most parents are eager to use hand-me-downs that may not quite fit yet.
Oversized clothes may be the in-thing nowadays for adults. But they were just a typical part of little kid fashion long before that, like this customized sweater.
It looks like it was made for a kid a couple years older.
The sleeves are a bit bunched and the sweater stops mid-thigh, making it similar to a dress.
And there are 20 swatches, including some with Simlish writing.
5.

Toddler Doggy Shirts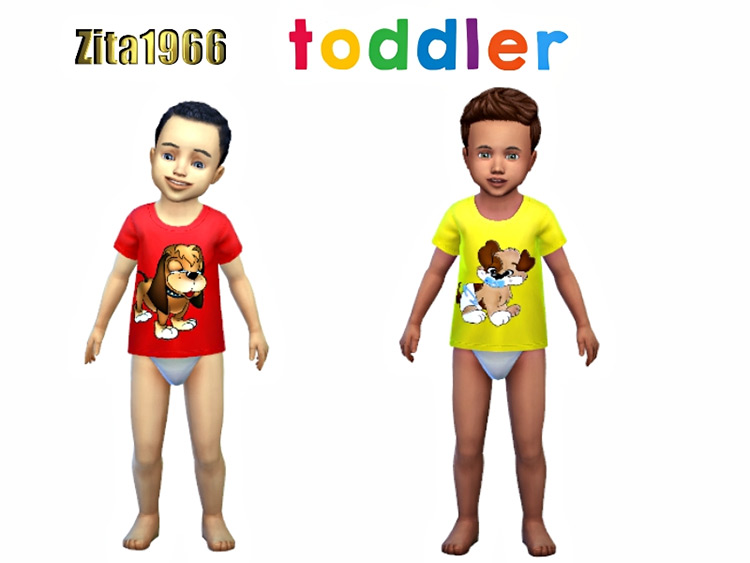 There's no need for a toddler's wardrobe to get overly complicated, unless you want it to.
They need stuff that can take a little dirt (and more than a few stains).
So what's perfect for that? T-shirts!
They're far from fancy – but still allow some expression.
With these toddler tees, you'll have a couple swatches to choose from, each with its own distinct doggy picture.
Stuff like this is perfect for expanding your Sim's closet so you have more to choose from.
For everyday outfits, basically any pair of pants or shorts will go nicely with these.
And if your Sim family actually has a dog, these could go perfectly with some toddler pet poses.
6.

Dinosaur Clothes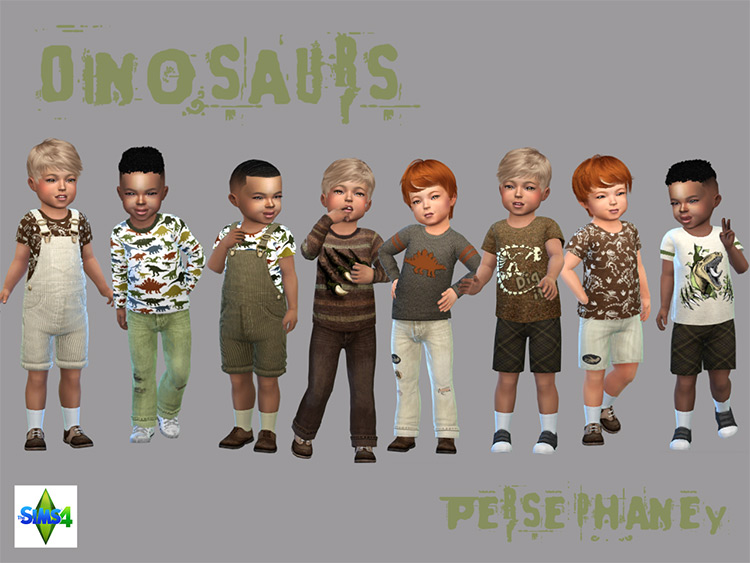 Lots of people may love dinosaurs.
But that love usually starts in childhood.
I don't know what makes that such a universal truth, but some lovely clothes have come out of it.
This is a whole CC set dedicated to giving your toddlers all the dino-themed threads they could ever desire.
You'll have everything at your disposal to give them: overalls, sweaters, shirts, and shorts, with everyone's favorite large and long-dead reptiles.
That's a new way to describe a dinosaur, huh?
There are even some really unique designs too. In one, there are claw marks like the dinosaur is clawing its way out from inside the toddler.
Just what every parent wants to see!
7.

Toddler Suspender Outfit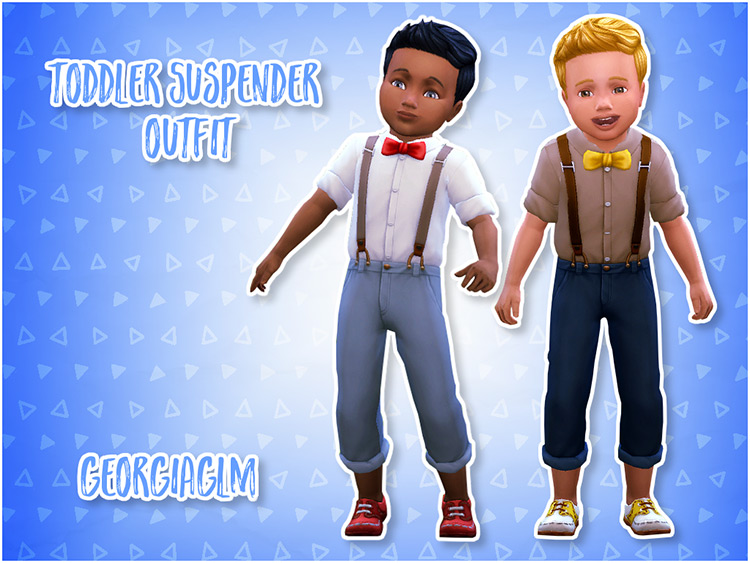 This was actually the very first piece of custom content I ever downloaded.
I had no idea what I was doing, but this outfit is just so impossibly, ridiculously adorable, I knew I had to have it.
And four years later, I still do!
Generations have lived and died in my game. But the toddler suspenders remain.
It's like they're passed down from parent to child.
They really are that reusable. Many outfits may seem repetitive, or eventually you feel like they're tied to a specific Sim.
But something about these just allows them to be used again and again.
I mean, they're perfect!
The little bow tie, rolled pants, suspenders… seeing your little Sim in this just melts your heart.
8.

Toddler Skinny Jeans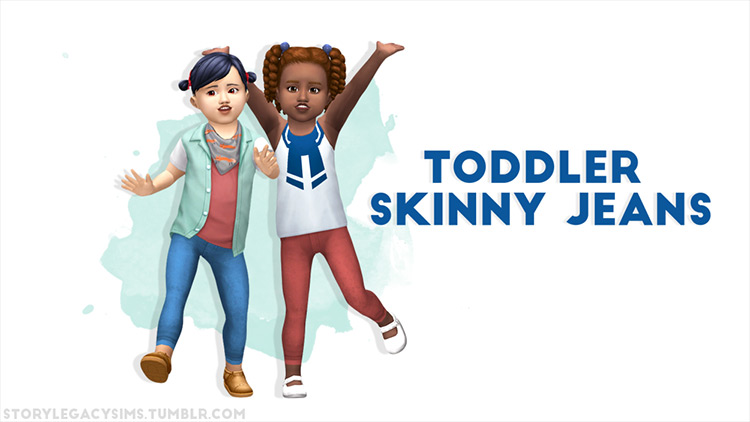 Skinny jeans are crucial in a functioning society.
Yes, you read that right. All of that extra fabric will just weigh you down, and poor little toddlers don't deserve that!
Okay, so maybe they're just fashionable. Non-skinnies certainly have a place – but to the modern eye these are what look best.
These are fairly simple, with a subtle denim texture and a slight cuffed effect at the bottom.
You'll have nine swatches to choose from here, including black, white, red, and green, plus two blue shades. Since, ya know… they're jeans.
9.

Toddler Tees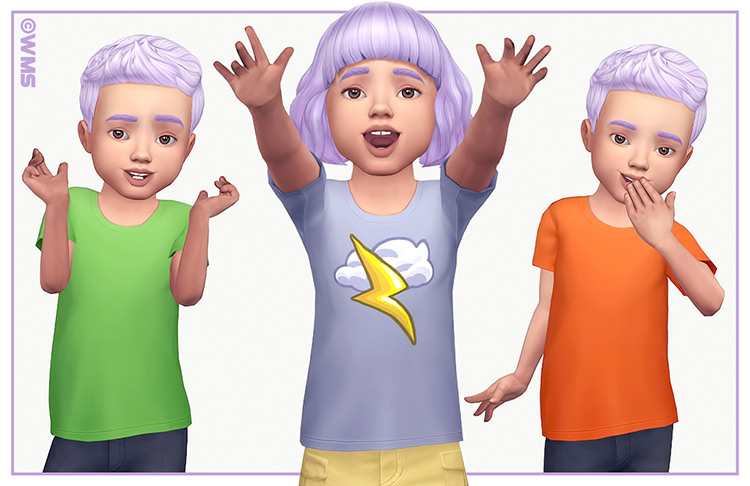 As we've already established, t-shirts are the cornerstone of anyone's wardrobe, even toddlers.
They're the best neutral casual option that you can rely on year-round.
No matter the weather or season, tees can get you through. If it's warm, tees alone will suffice. If it's cold, then they're the easiest garment to wrangle a coat over.
They're always a win-win.
So it's a shame that toddlers have so few… or they did, until now.
These amazing recolors took the base game shirts we're all used to and gave them totally new looks. You'll get a whopping 55 solid colors, as well as 20 graphic options to boot.
And the graphic tees bring some fun new designs for your toddlers, like a grilled cheese sandwich, a dog, and an alien, amongst plenty of others.
10.

Lil Sweatpants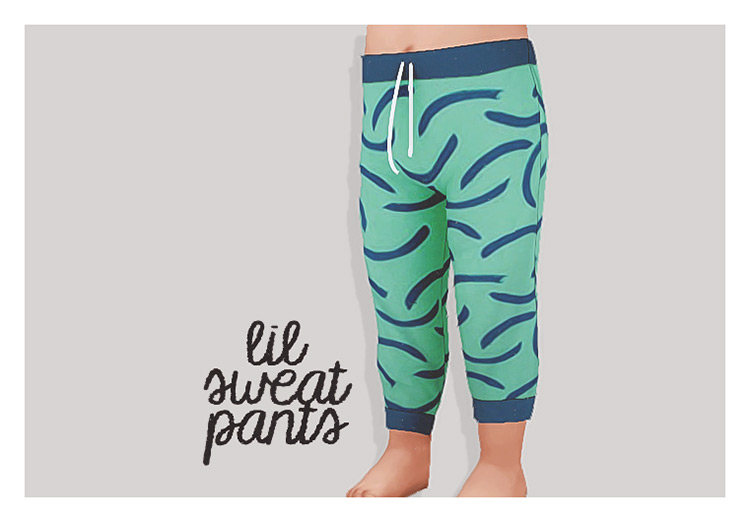 You're never too young to chill around the house or go grocery shopping in sweatpants.
Gone are the days where these were seen as frumpy.
People have woken up at last, and realized life's just too short to put on "real" pants every day.
Okay, so maybe I'm projecting a little…
But there's something especially precious about seeing a tyke in sweatpants.
You know they aren't exercising!
Everything is cuter the smaller it gets anyway.
People, animals, food… there's some psychology there, I'm sure.
These sweatpants are a great addition to CAS because they're just so simple, filling an obvious void.
Now your toddlers can be just like mom and dad, hanging out in sweats all day.
11.

Toddler Cardigan Outfit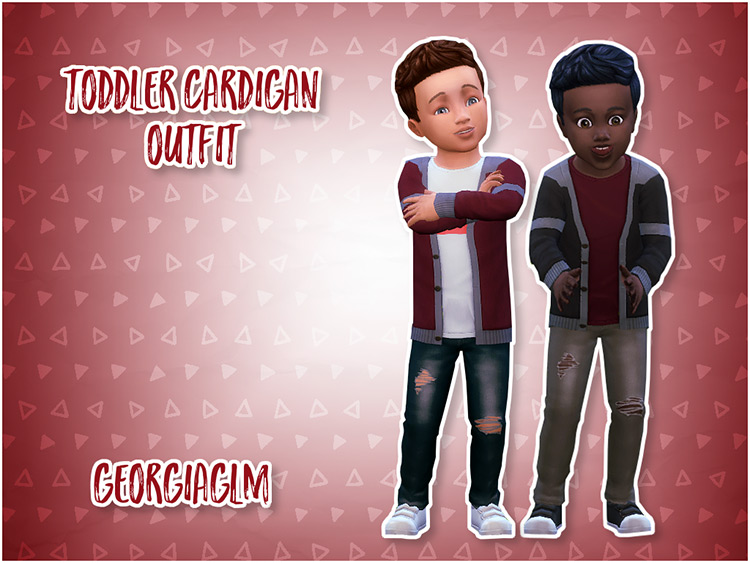 You can turn your tots into the posh little gentlemen you raised them to be with these cardigans.
That's right, not a sweater, but a cardigan.
We're getting fancy!
It's a simple knit design layered over a solid t-shirt.
While it's great to dress your toddler in this lovely cardigan for everyday wear, this will also be a solid contender for holiday outfits, too.
If you have Seasons and get super into it as I do, then you know what a conundrum it can be picking out nice Harvestfest or Winterfest outfits.
You don't want to go too formal with suits and dresses – but it's just not right for the kiddos to be wearing t-shirts on Winterfest day.
This is a perfect medium.
You can keep it casual by pairing it with jeans, or give them khakis to make things a little more dressy (like for a Winterfest family photo).
12.

Suzy Suspender Dress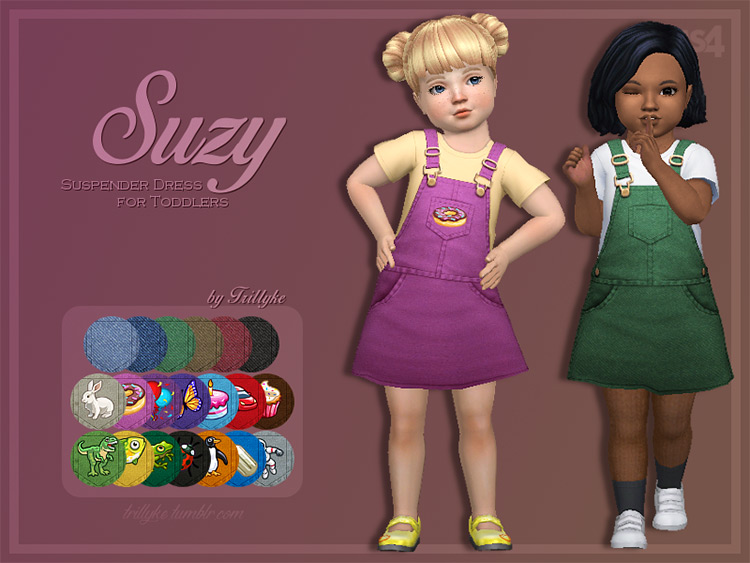 Suspenders make everything better – especially toddler clothes.
It's a classic look that has been around for decades, and just keeps making comebacks.
This adorable dress has a denim appearance, and it's all held up by the tot's tiny shoulders thanks to suspender straps.
Those have some great details too, including buckles.
You'll have a lot to choose from with the swatches here as well.
There are plenty of solid colors, as well as some little accents on the front pocket like animals and food.
The two pillars of a toddler's life, of course.
13.

Ribbed Skirt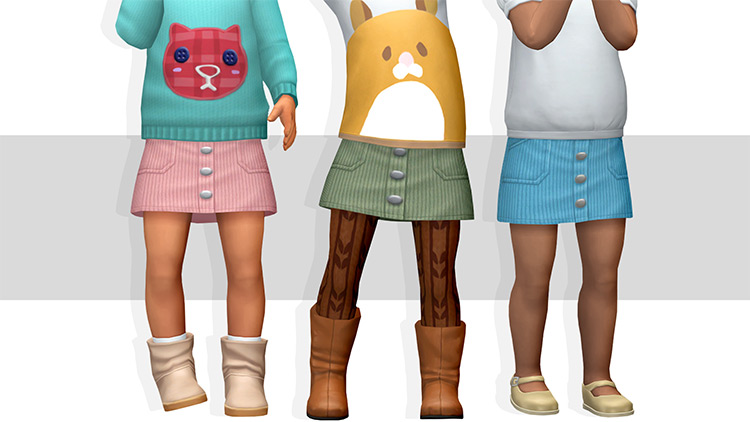 Texture can be a really important tool to make clothing look less plain, both in real life and with CC for The Sims.
This ribbed skirt has a sort of corduroy look, as well as three buttons and pockets.
It's a pretty amazing skirt for a toddler, better than many for adults.
But that's the way it goes.
If this piece looks familiar, you may recognize it from Eco Living, just for children.
But this creator saw the vast opportunities for such a lovely skirt and made it base game compatible for all toddlers!
It still comes with the same 12 awesome swatches too.
14.

Eden Dress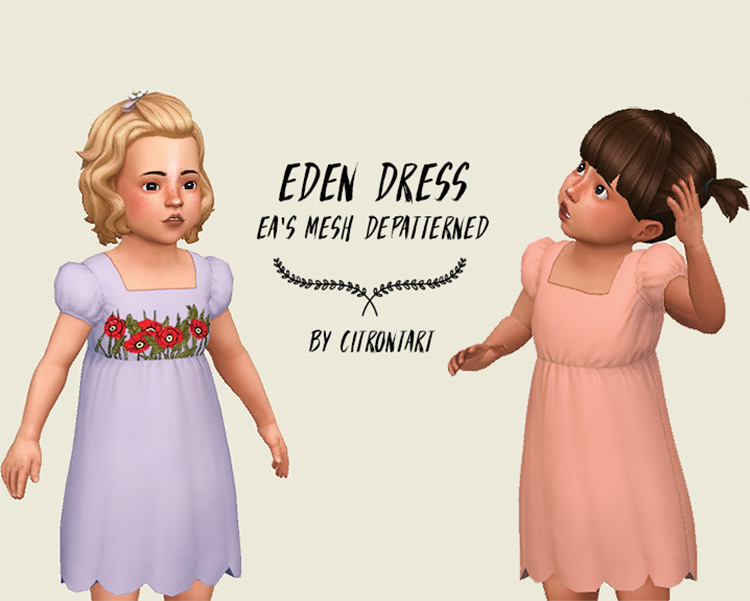 Here we have a reimagining of one of the dresses we got in a patch, now new and improved by floral embroidery.
I assume that's where the name comes from, since it's as beautiful as the Garden of Eden!
OK that may be a slight exaggeration.
Most people probably wouldn't equate a Biblical paradise with Sims CC, but that should tell you how much I like flower designs.
They're just such a simple little way to spruce up any item, how could you not love it?
Well in case you have an answer to that question, there's also an option for plain dresses here, with a nice selection of solid swatches.
15.

Basic Jean Shorts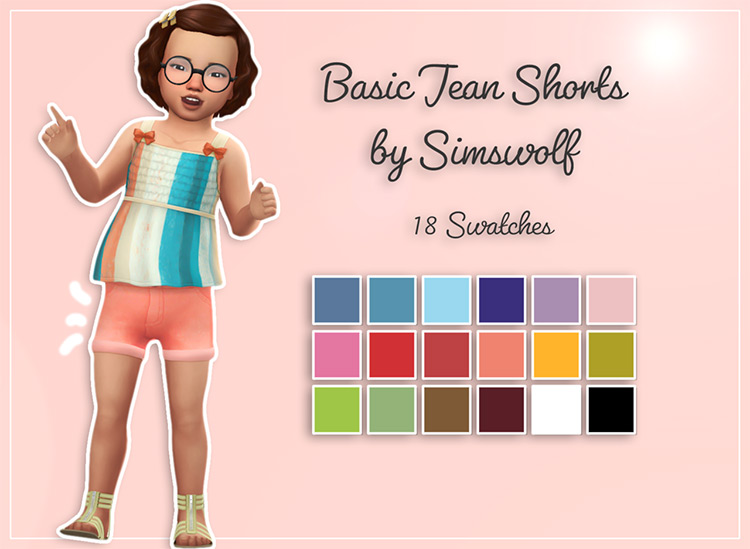 Jean shorts are perfect for toddlers for the same reasons they're so loved by adults:
They're durable and stylish.
Good ol' jorts can withstand a lot of wear and tear, which they're bound to get from a toddler in the summer months.
These are stylishly rolled up at the bottom and come in a wide array of swatches.
This creator really included the whole rainbow, too, so you'll be able to coordinate awesome outfits for both boys and girls.
It doesn't get much better than these for spring and summer bottoms.
I always like to dress my toddlers so they're ready for whatever the day brings, whether that's playing in the rain or going on the slide a thousand times.
Jean shorts can do it all!
16.

Toddler's Leggings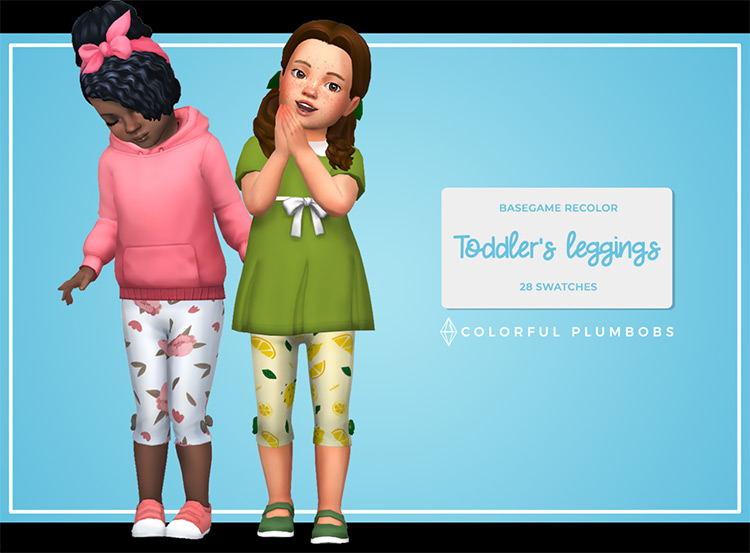 Leggings might be the greatest invention of the past fifty years.
They're probably older than that, but whatever, they only became a beloved staple in the past decade or so.
Adults across the world know how wonderful leggings are.
Not quite as heavy on the pajama vibes as sweatpants, yet more comfortable than almost any other "real" pants. They're right in the middle of the scale – which is exactly what makes them so great.
Toddlers can even get away with wearing them in situations adults might not.
Fancy dinners, weddings, and day to day events alike might require a little more from non-toddling folk.
But when you're little, you can wear what you want.
So why not take advantage of that? Put your tots into these incredibly fashionable and comfy leggings.
As the creator of these beauties points out, they're very versatile. They can be worn with anything, in any situation.
And these are available in 28 patterned swatches.
I'm far past toddlerhood, but I must say, I'd wear these myself!
17.

Mismatching Wellies & Shoes
It's important to let toddlers have independence.
But if you let them dress themselves, the results may not be as aesthetically pleasing as you'd like.
But it'll be a precious moment to get on film so it can follow them for the rest of their lives.
This fun little CC set makes it possible for your toddlers to wear mismatched wellies and shoes.
Ah, the innocence of childhood. It's the only time one could get away with wearing two different shoes without possibly getting a reputation.
When a toddler does it, it's just cute. That's the rule for a lot of things.
18.

Toddler Cheongsam Dress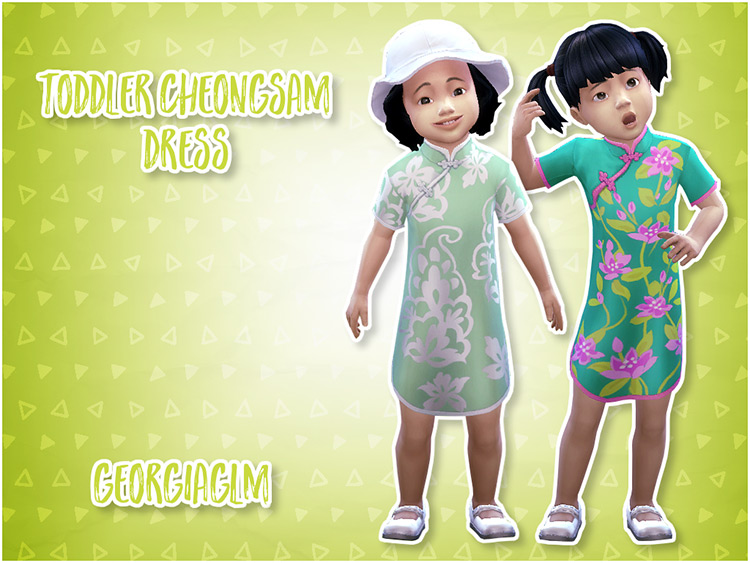 A Cheongsam is a type of Chinese dress that has been around for nearly a hundred years. Its form-fitting & vibrant design has stood the test of time, and become a wonderful example of the lovely culture they originate from.
This dress in particular originated from the City Living pack, though.
And it wasn't available for toddlers, so talented Simmer Georgiaglm decided to fix that.
It's a pretty unique dress if you're only used to seeing base game stuff. So this alone will really take your toddler's wardrobe up a notch.
Plus this CC comes in 12 swatches, and maintains EA's original Maxis-Match silky texture.
19.

Coli Dress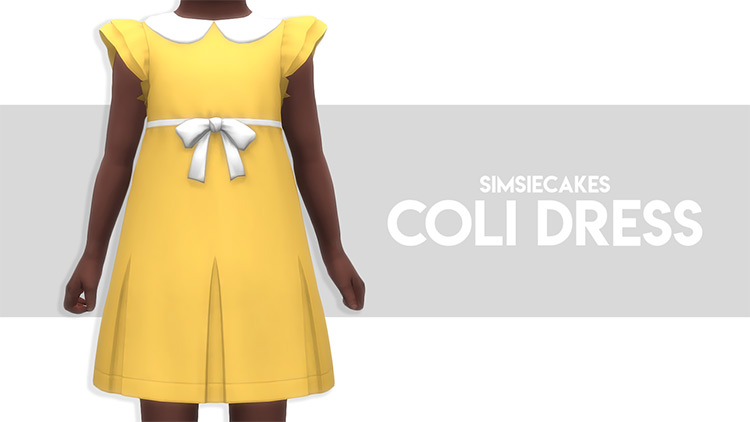 Now here's a classy little dress for your tots.
It may be simple, but it is mighty, with great little details such as the collar and matching bow at the waist.
Collars and bows, now there are two things to make sure your little lady looks the part.
There's even a slight pleated effect at the bottom, giving it an added bit of realism.
This is yet another timeless look that will work during Decades Challenges, just as well as modern times.
It's pretty and elegant – just the kind of thing many toddlers love.
With 20 swatches in total, there's sure to be something for everyone.
20.

Doodle Cats Hoodie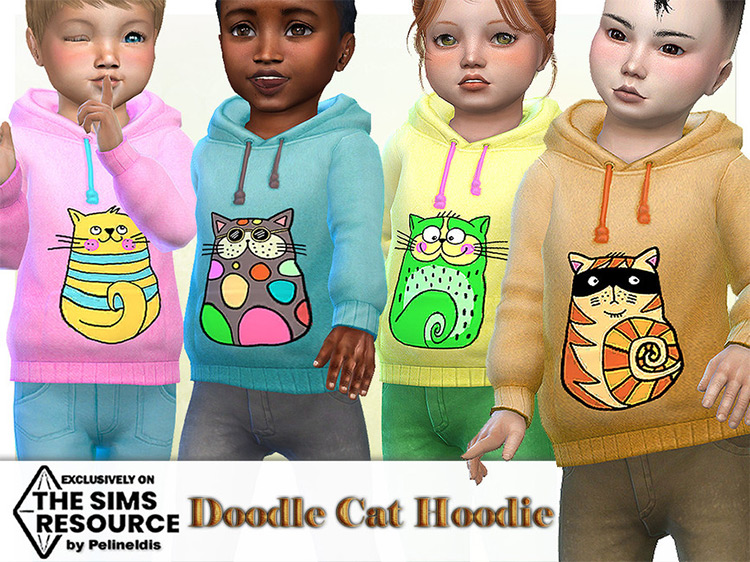 It's a little worrisome how much my own personal style overlaps with content available for toddlers…
But come on, doodle cats! They're cats that are doodled!
These hoodies have cool graphics of cool cats, using quite an array of colors and designs.
They certainly pop – and will be an interesting choice for any toddler.
And in this CC set you get four swatches, each one featuring a different kitty and color. The hoodie strings will even match some part of them, which is a rather amazing attention to detail.
We might have hoodies in the game already. But none like these.
And that's just what makes custom content so amazing.
Browse:
Lists
The Sims 4
Video Games