Sims 4: Best Toddler Earrings CC To Download (All Free)
This post may contain affiliate links. If you buy something we may get a small commission at no extra cost to you. (Learn more).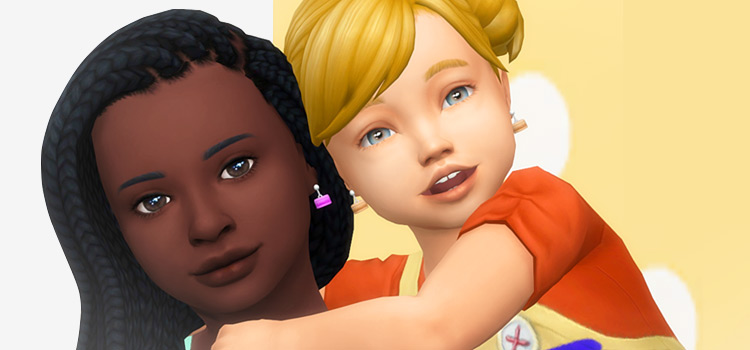 They say fashion begins at any age. Now that you've decided to have your little baby sim graduate from crying in the bassinet all day, and transition into a toddler, the fun really begins.
There's an abundant choice of clothes and accessories for your Sim toddler to wear. But sometimes you need extra oomph to make them the coolest kids on the block.
But what else could you add to have them looking their best while you set them on the path to adulthood?
Unfortunately, TS4 lacks accessories in the toddler department. And that's where CC come to the rescue!
Have a look at our custom content list featuring some of the best earrings for toddlers that make you go, "damn – I wish they had this for my kids in real life!"
12.

Pearl Earrings
Let's start with the basics: this pearl earring CC pack by Victor Miguel.
Give your toddler timeless vibes with the quintessential accessory.
Nothing shows class more than a trusty pearl earring. Classy doesn't necessarily mean boring either, as these earrings come in 20 colors, including fun hues such as turquoise, pink (6 shades of it!), and yellow.
Girl with a pearl earring? More like a toddler with pearl earrings amirite?
11.

Mariposa Earrings
Next up is the Mariposa Earring set by the popular GiuliettaSims, also known as Feyona.
These earrings are butterfly-shaped with the wings filled with diamond studs and a choice of seven-colored stones in the body.
This is a girly design that will probably go with a sundress and some cute sandals.
They also scream opulence and will let your neighbors know that you have enough simoleons in the bank to rival the Goths.
10.

Princess Earrings
Up next is another one by GuiliettaSims.
When your toddler refuses to believe you when you say that she's a princess, why not get her these princess earrings?
The crown-shaped stud, meant to be shown off, features one round diamond in the middle and a pearl drop. It comes in gold and white gold.
With these earrings, your little girl can finally feel like a legit princess. It's a whole other story when she asks where her castle is, though.
Hey, at least you could pair her up with a tiara though. Thanks, custom content!
9.

Macaron Earrings
Give your toddler something that looks good enough to eat with these macaron earrings from hypergnomesimblr.
These drop earrings are in the shape and likeness of the revered French confection. And they're delicious.
This is a great everyday casual earring for any Sim toddler. It comes in 23 color variations, so you'll never run out of things to match it with.
Hypergnomesimblr is also generous enough to allow recoloring and editing, including the mesh!
8.

My Little Star Earrings
Baby.. you're a star!
No, seriously. Give your toddlers some star factor with these simple star earrings by MaretaSims.
The CC comes in the colors black, silver, white, red, purple, and green.
And the best thing is, it's compatible for both genders so even your male toddlers can rock these.
They'll go great for everyday wear, cause you'll wanna remind other Sims that your toddler is a star every chance you get!
7.

Small Hoop Earrings
Wearing hoop earrings is almost a rite of passage to women (and maybe some rappers).
Most toddlers you see in real life usually have these little hoops hugging their lower ear lobes. Start them young with these smaller hoop earrings that'll prepare them for their future.
Why not add another semblance of real life on your Sims world?
Created by CmarNYC, these hoops are available in casual, formal, and party wear.
6.

Diamond Studded Cross Earrings
"It's not just a phase, mom!"
Looking to raise your own little goth child?
Get that goth look down to a tee with the help of these diamond-studded cross earrings from Onyx Sims.
Pair these with an all-black ensemble with jet black hair. Wednesday Adams must be shaking.
5.

Sloth Earrings
It's almost a universal fact that everyone loves sloths. How could you not?
They're the most chill creatures to walk (crawl?) this Earth.
Proclaim your allegiance to the sloth life with these drop earrings featuring the lovable and lazy creature by Blah-berry Pancake.
This CC set features the sloth in all its glory, hanging from an invisible branch.
Remember, you didn't choose the sloth life. The sloth life chose you.
4.

Feather Earrings
These feather earrings by the talented Andreyloversims add a bit of a boho and carefree vibe to your toddler's look.
Perfect to match with custom toddler dresses, these earrings are a fashionable addition to your kid's wardrobe.
And I love the design here. Feathers symbolize freedom, which is pretty ironic since we're talking about The Sims… but don't let your Sim know that!
3.

Ice Cream Earrings
Here's another one by Andreyloversims featuring everybody's favorite dessert: ice cream!
These drop earrings won't melt in your toddler's ears. Plus they're a totally age-appropriate accessory with this confectionary treat.
Featuring 9 colors in total, you can rep your Sim's favorite ice cream flavor for sure.
And 100% guaranteed not to give your sim a brain freeze. Win!
2.

Snowflake Stud Earrings
We can't wrap this list without another appearance from GiuliettaSims, who seems to be dominating the Sims 4 earrings CC game.
You have to breathe a sigh of relief here, because popular culture does not translate to the world of Sims 4.
After all, if it did… you'd also be bombarded by that popular song from the now-classic Disney, Frozen.
What was it called? Chilly? Iced? One of those!
The cold never bothered your Sim anyway, even if she wears these snowflake stud earrings.
1.

Baby's First Diamond Studs
Closing this list is an all time-classic that we just had to place in the top spot.
Everyone has a diamond stud: from your grandma to your classmate's mom, to even your favorite rapper.
A diamond stud is a must-have accessory to your Sims toddlers, too.
It goes with any outfit, and is something they can wear up through adulthood.
It's also usable for both females and males, so you can have your toddler looking like a total G in any attire.
Browse:
Lists
The Sims 4
Video Games