Best Sims 4 Toddler Eyelashes CC (Maxis Match + Alpha)
This post may contain affiliate links. If you buy something we may get a small commission at no extra cost to you. (Learn more).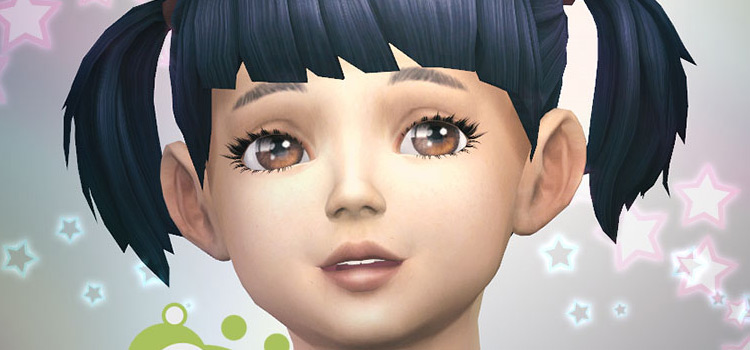 All of The Sims games encourage suspending disbelief.
Can't climb out of a pool because the ladder's gone? Normal.
Setting the whole house on fire trying to grill cheese? Normal.
Becoming a chess grand master after playing 20 to 30 games? Normal.
Ergo, Toddler Sims absolutely can wear fake eyelashes and/or get eyelash extensions. And, hey. If it makes for prettier, cuter, and more interesting Toddlers, then why not?
1.

3D Lashes Version2 for Kids & Toddlers by kijiko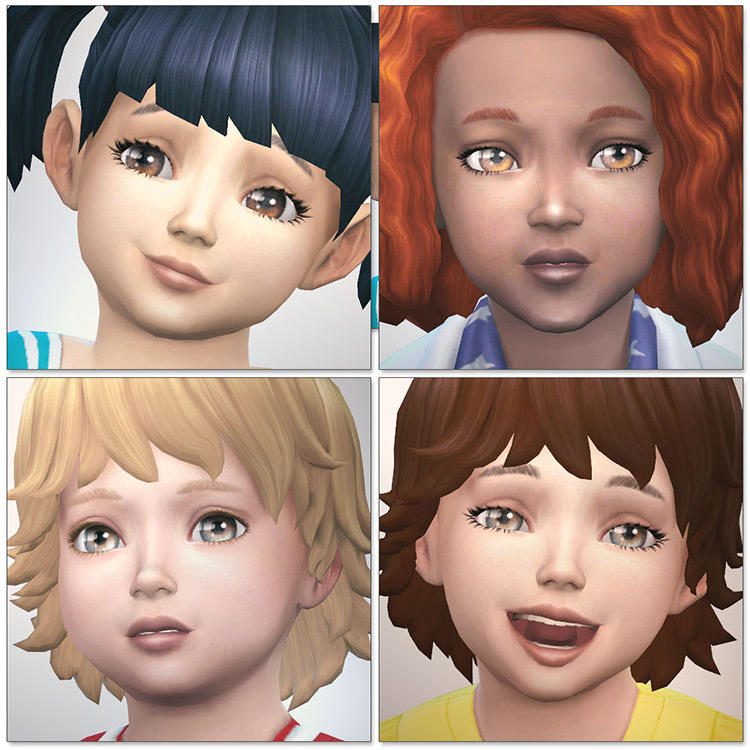 If you ever search "Sims 4 toddler eyelashes cc," I guarantee you kijiko's 3D lashes will be the top recommended result across the board. By a landslide.
It feels like every TS4 Toddler Look Book or Create A Sim: Toddler video out there uses these eyelashes as a permanent replacement.
Honestly, though? Can't say I blame them.
These lashes are thick, defined, and very pretty to look at.
2.

3D Lashes Version2 for Skin Detail [Experimental] by kijiko
Want to enhance your Toddler Sims' doe eyes? Use kijiko's 3D lashes (version 2) to mix and match top and bottom lashes 'til you get the effect you like.
Yup! This is pretty much their 3D Lashes Version2 for Toddlers, only it's under the Skin Detail category.
And if I'm reading some of the feedback correctly, there are slight tweaks to the graphics? Can't be too sure as I always run TS4 in Laptop Mode, but both versions (original version 2 and Skin Detail version 2) worked fine in my CAS.
3.

Thick 3D Eyelashes for Male (Toddler) coffeemoon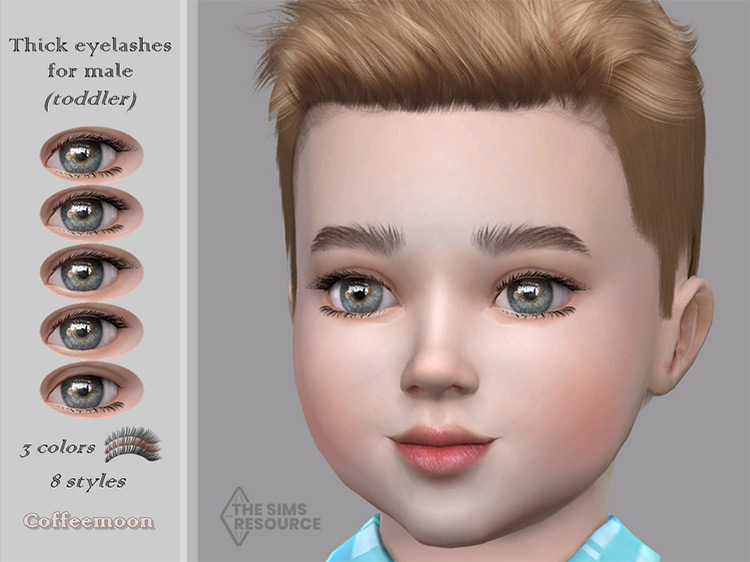 Now these are some luscious lashes.
They're nice, thick, and come in 8 different styles.
The individual hairs aren't so much separated as they are clumped together, creating clean, distinct lines that frame the eyes.
4.

Classic Eyelashes for Male 3D (Toddler) by coffeemoon
"Classic" is actually a pretty good descriptor for these lashes.
They have 23 different styles that all work great with different eye shapes.
There are ones that have longer strands on the outer corners (for enhancing almond-shaped eyes) and ones that have fairly short but nicely separated lashes all across the line (great for round doe eyes).
5.

Kids Eyelashes 07 by BAkalia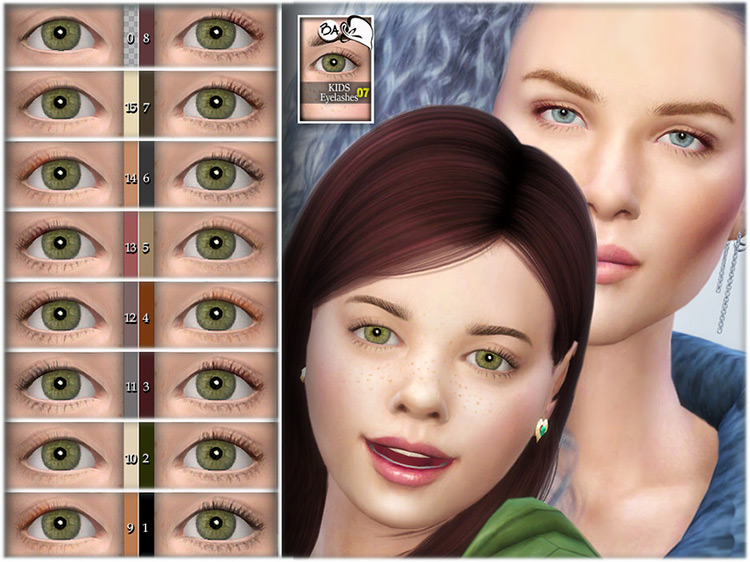 These custom eyelashes were initially created for Kids.
However, according to the creator (and I confirmed later in CAS), they can work for other age groups.
They have a wispy, feathery feel to them that comes off as more realistic than the EA default lashes—aka more Alpha CC than Maxis Match-y.
6.

Wet Lashes 3D (Toddler) by coffeemoon
Coffeemoon's custom Wet Lashes 3D for Toddlers come in two variations:
Long and beautiful
And long and beautiful with lower lashes
Many people (me included) would pay good money to have that sort of length, volume, and definition for our lashes.
And while I am very aware that this sort of lash style isn't realistically achievable for toddlers, it's the Sims 4. Suspension of disbelief is sort of a prerequisite for playing.
7.

S-Club WM TS4 Eyelashes BB 201701 by S-Club
Soft, short, and whisper-thin.
These lashes work great when paired with wide doe eyes and big, round eyes. The shortness helps complement the shape and make the eyes look more open without further exaggerating their size.
I also love how delicate they look on tiny Toddler faces.
8.

MM (3D) Eyelashes by radeu
Don't be fooled by the lack of Toddler Sims in the preview photo; these lashes work for all ages and genders.
They have a thick, pointy, painted-on look that works extremely well with Maxis Match cosmetic CC (aka skinblends, eyes, eyebrows, etc.)
9.

MM (3D) Eyelashes V2 – Bottomless by radeu
Basically radeu's MM (3D) eyelashes, but without the bottom lashes.
The pointiness and painted quality is still very much present, but there aren't any visible strands on the lower lashline.
These are my go-to for creating pretty almond-shaped eyes, and I think they'll work just fine with Toddler features too!
10.

Extra Long Lash Extensions 3D (Toddler) by coffeemoon
Before we begin, IRL toddlers definitely do not need eyelash extensions.
But TS4 Toddlers are fair game, so go ham.
These custom lashes are long, feathery, and gorgeous. They're an absolute treat to look at when paired with literally any eye shape. A dark, reddish-brown color is also available if you want a softer, gentler look.
11.

Natural Eyelashes for All Eye Shapes 3D (Toddler) by coffeemoon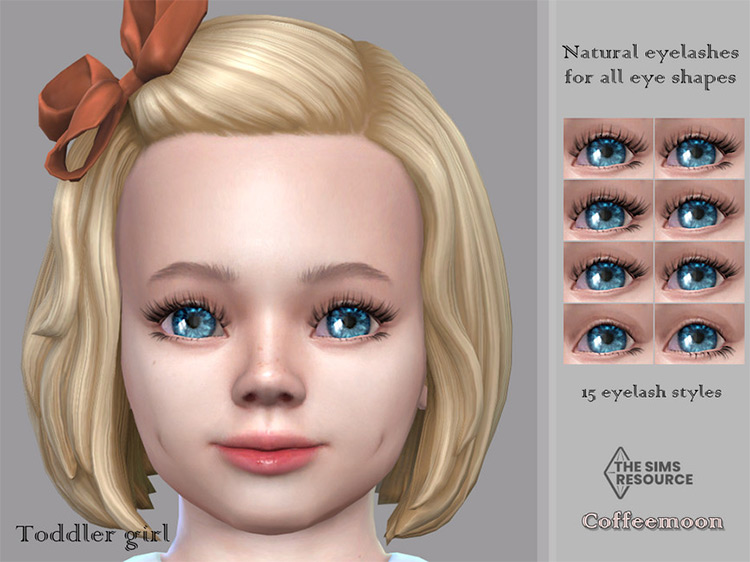 Long, short, dense, sparse… whatever eyelash style you want, you can probably find it here!
Coffeemoon's Natural Eyelashes for Toddlers comes in 15 variations, and I'd say they're all pretty diverse.
Sure, all 15 designs curl up and out (or down and out, in the case of the lower lash line) which is not very representative of us with stick-straight eyelashes. However that's just me nitpicking.
Trust me; the styles are beautiful and varied and definitely warrant a download.
12.

Invisible Eyelashes (Toddler) by coffeemoon
I genuinely thought this was a mod at first (like something that would automatically eliminate EA eyelashes) but, apparently, it isn't!
It's just seventeen very delicate and fragile-looking lashes for your Toddlers.
There isn't an explanation from the creator regarding the name either, so I'm going to guess it has something to do with how thin and barely-visible the strands are.
13.

Slim 3D Eyelashes (Toddler) by coffeemoon
What I love about this creator's CC titles is that they're very descriptive and straight to the point. What you read is exactly what you get.
In this case, these are indeed very slim eyelashes for Toddlers.
I wouldn't call them wispy or feathery, really — especially if you take into consideration the creator's Invisible eyelashes for toddlers.
But the strands do have more of a thin, slender feel.
14.

WM Eyelashes 201705 by S-Club
Some short, straight, and thick lashes to compliment hooded and downturned eyes (methinks).
Just like radeu's MM (3D) Eyelashes series, don't worry about the lack of Sim Toddlers in the preview photos. Because this CC works with all TS4 life stages.
15.

Bobur 2D Eyelash #05 by Bobur3
I know it just says "eyelash" in the title, but this is actually a beautiful eyelash + eyeliner combo that works for all ages.
I will say that it's a little too mature to use for Toddlers, and it's unarguably the furthest thing from natural.
However, it does have two color options, and the smudged brown is more forgiving and blends better than the matte black swatch.
If you want Toddlers with just very sharp, defined eyes, this combo will do the trick.
Browse:
Lists
The Sims 4
Video Games