Best Sims 4 Toddler Furniture CC & Mods (All Free)
This post may contain affiliate links. If you buy something we may get a small commission at no extra cost to you. (Learn more).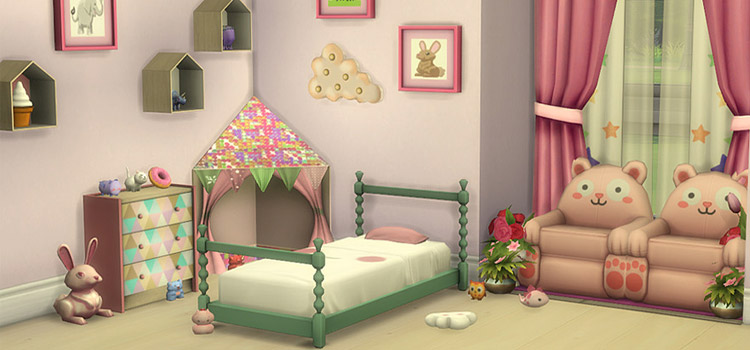 Real question here.
How often do you play with a Sim family long enough to see it grow and expand? I know that I, personally, have a really hard time sticking with a family for longer than a couple of (real time) days before I want to move along to another one.
I'm trying to get better about this, though. So I figured some new CC for the little ones in my family would help hold my interest a bit longer.
Below are some of some of the absolute best build/buy mode CC for toddler furniture & decor, and some of these are going to totally change how you play your game.
Pokémon Toys by NynaeveDesign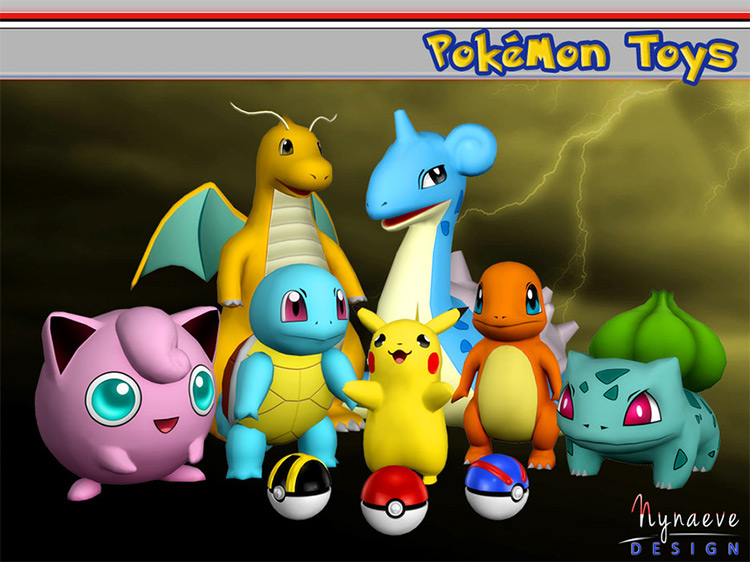 When the real world meets The Sims world, it's one of my favorite things.
Having the types of toys that I would have loved to play with as a kid (or even now, let's be honest) in my game is just the best.
This set of Pokémon toys is the perfect example of blending our world with our Sims.
It's a set of ten toys, including first generation Pokémon and a few Poke balls. And they come in varying colors.
Your toddlers are going to love these, I guarantee it!
And if they need even more, we've got a whole list of Pokémon-themed CC worth checking out.
Dreamer Bed Canopy by Nadileinscc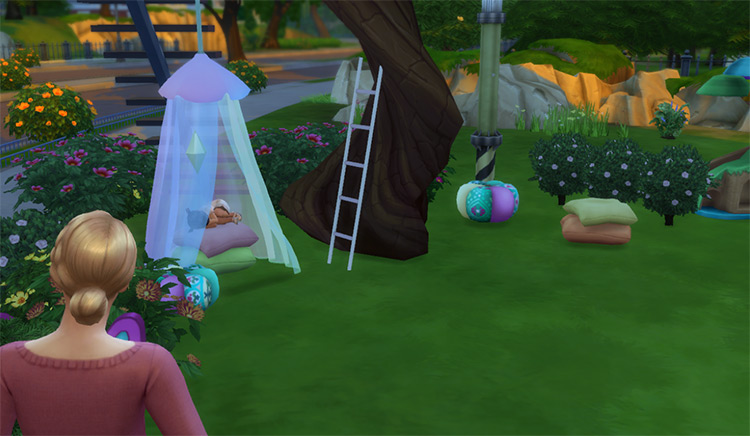 All I ever wanted as a kid was a canopy to hang over my bed.
In my head, I thought if I had one that I was some sort of fairy tale princess who needed to be swathed in silks while I slept.
I did, eventually, get a canopy. And it was just as magical as I thought it would be—until my dog tore it up… but that's a story for another time.
This dreamer bed canopy by Nadileinscc would look so perfectly dreamy hanging above your toddler sims' beds, or even somewhere else in their bedroom to create a cute little nook.
It also comes in 14 swatches, so you have plenty of color options to choose from.
Evalina Nursery by Severinka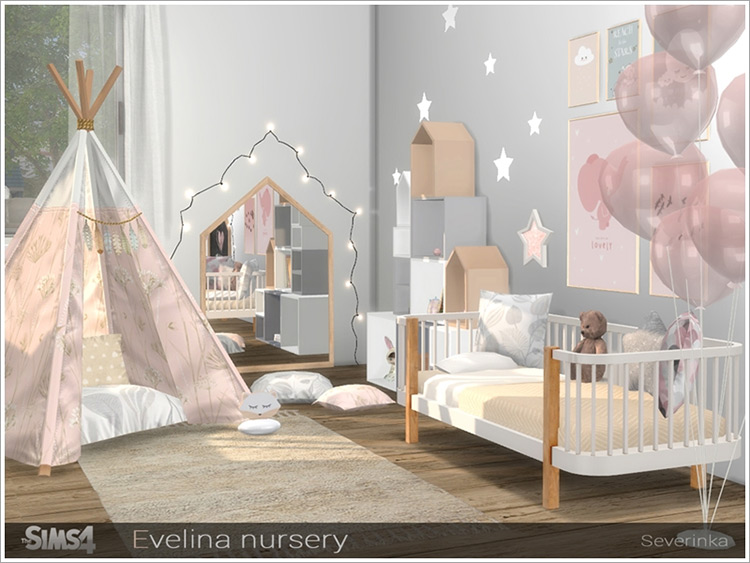 I'm not sure if I'm the only who does this, but as soon as my Sims find out they're expecting a baby, I immediately start decorating the nursery.
I like to pick a lot of gender-neutral designs for my kids, too.
And this set by Severinka is perfect for just that!
This cute Scandinavian-style set comes with nine objects varying from a bed to decorative pillows to a new floor lamp, and even a wigwam! You're going to love all of this.
Tiny Twavellers Pack by Felixandre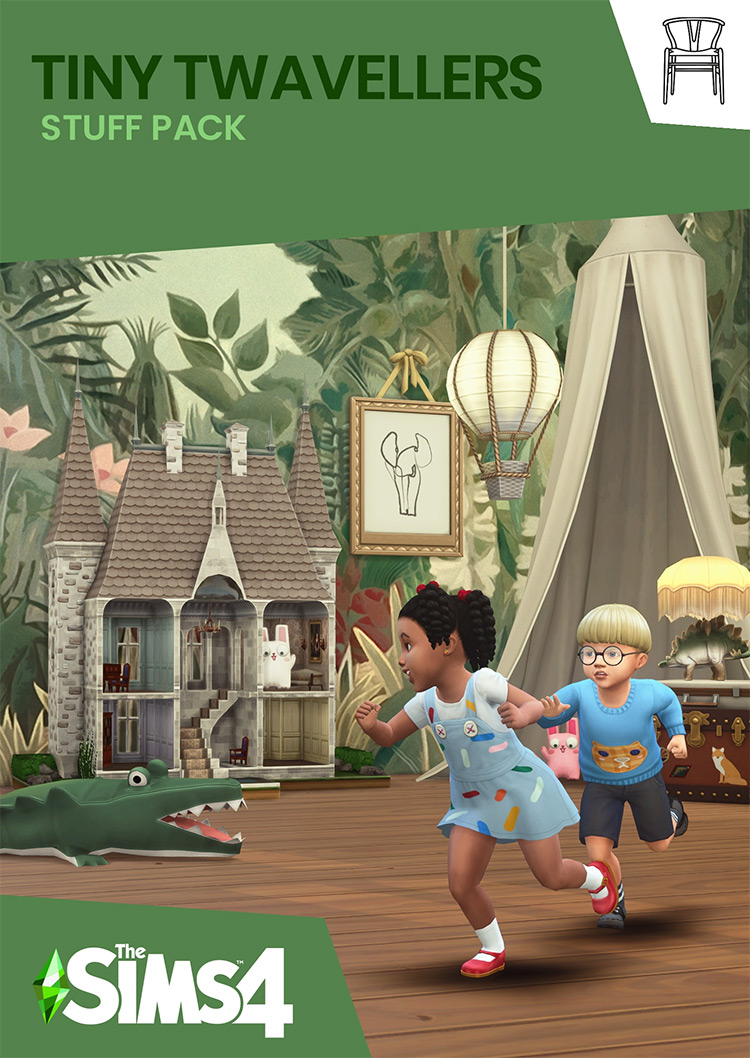 Oh, this one is so good.
Creator Felixandre has created quite a name for themselves in the CC world. And it's completely warranted – because they make some of the best furniture I have ever seen.
This Tiny Twavellers pack has some beautiful items that, in my opinion, could perfectly match some of the items we've gotten from EA in the past.
They have given us some beautiful new dressers, tables, even a changing table, and a toddler bed that all have a ton of swatches as well as a gorgeous wood selection.
There are also toys, lights, shelves, and even a tent to put over the bed.
I'm telling you, it's incredible.
Toddler Foods Set 1 by Littlbowbub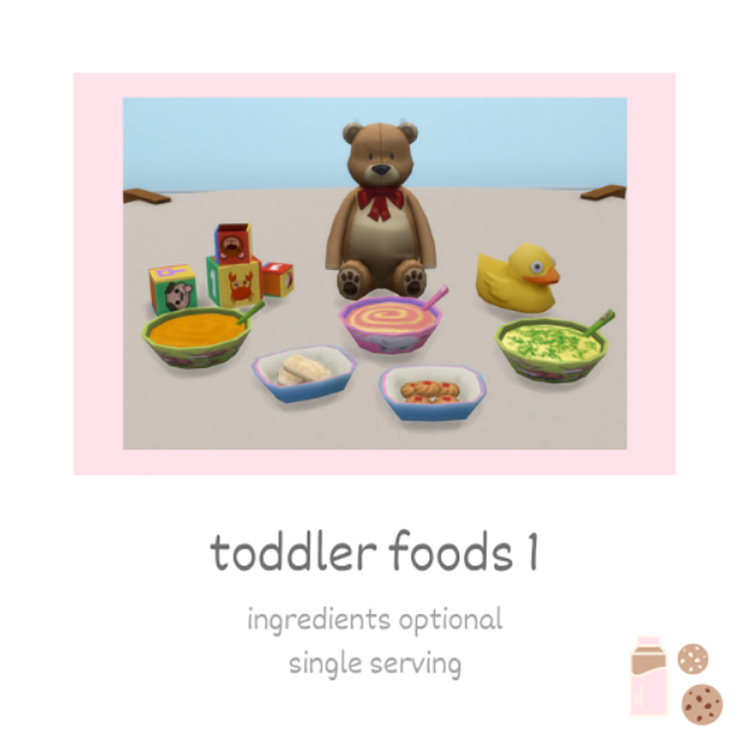 Littlbowbub is one of my favorite CC creators.
In a world full of CC clothes and houses, they're working their absolute hardest to give our Sims some new food to enjoy.
I for one have always struggled to get my toddlers to eat in game. And who can blame them when all they have to pick from is peas and chicken nuggets?
With this pack, though, your littlest Sims now have a variety of grab-n-go snacks that won't slow them down from their play time.
Also, they look delicious—think I could get some? Yummy!
LUNO Toddler Room by Nordica-sims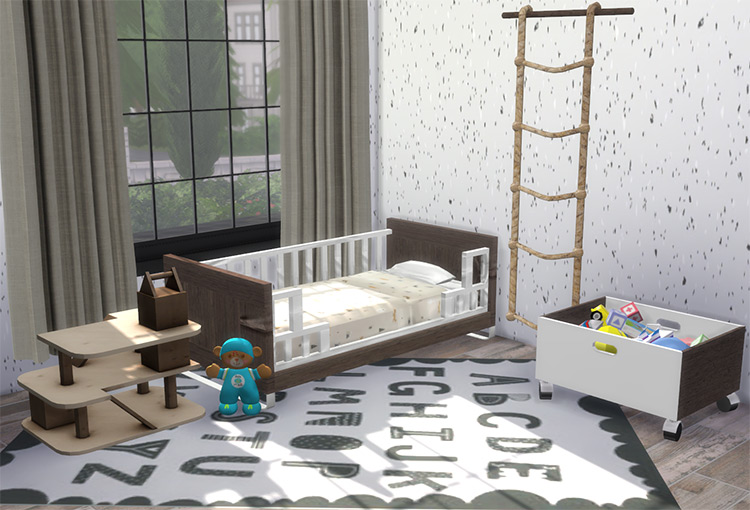 Do you ever have a little Sim whose personality just doesn't fit some of the furniture that you have in your game?
What if your little guy doesn't want a room full of animals or stars, but instead they want some cars to play with and a rope ladder to climb on?
Well in that case, Nordica-sims has their back.
This little LUNO pack comes with a new bed, a rug, a new stuffed bear, a toybox, and car garage dollhouse, and even a decorative rope ladder, all in various swatches that your toddlers are going to really love.
Cutie Pie Bear Chair by SimPlistic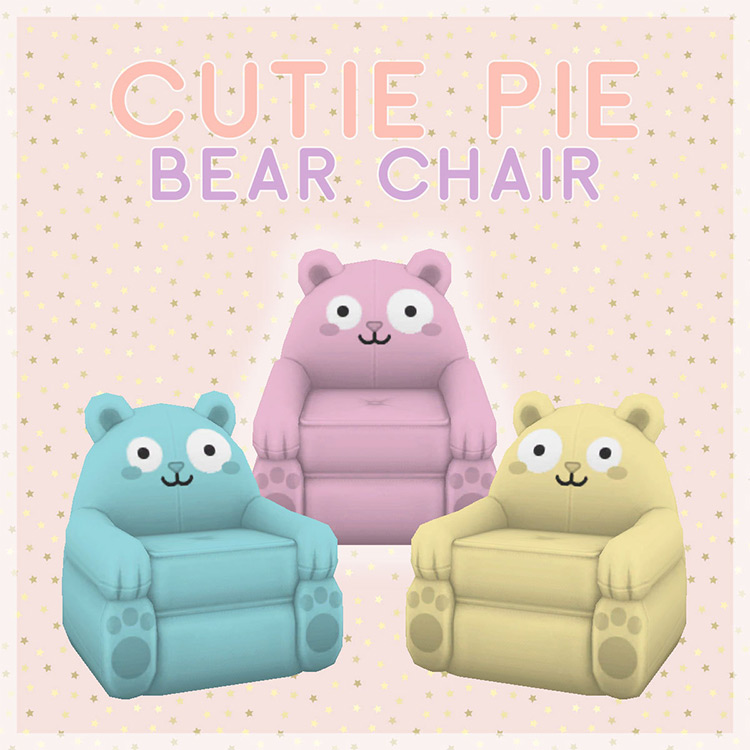 SimPlistic has a ton of nice recolors.
And this adorable bear chair is just one of the many objects for the smaller Sims.
It comes in nine adorable pastel swatches, and can be downloaded alone or as part of their Cutie Pie Kids Room Set.
Coast 2 Pool by Kardofe
One of the cutest things about toddlers in The Sims 4 is their interactions with their parents. And one of my favorite things to see is the kiddie pool interactions!
It's just too cute, so I always make sure I have one in my house with kids.
This Coast kiddie pool by Kardofe comes in three very beachy swatches, and is a bit simpler than the EA pool we already have with the palm tree.
Your kids (and even adults) are going to love splashing around in this one.
Ken You Not Dollhouses by Ravasheen
Don't get me wrong, I love the EA dollhouses that we already have.
But why do they have to be so large?
Sometimes my rooms aren't even big enough to hold those bad boys!
Ravasheen has really come to our rescue with these tiny dollhouses, though!
They're small and still functional, and come in five different styles. All of your kiddos are going to flip when they see these!
Pre-School Stuff by Around the Sims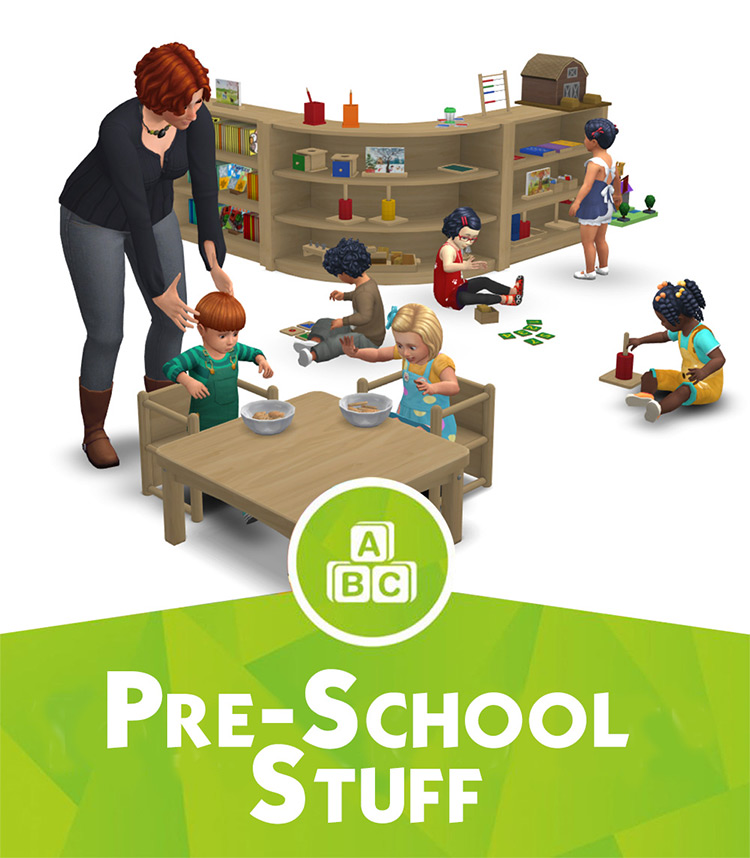 The next five items on this list are all by Around the Sims, and I'm not lying when I say that I had a hard time only selecting five to talk about!
They're so incredibly talented, and a lot of their stuff focuses on toddlers too.
This Pre-School CC set comes with toys, bookcases, and tiny tables for your little ones.
And the set is so well-made that it could have been created by EA!
It's a big pack, too, coming in at thirty-one items for your toddlers.
Toddler Playpens by Around the Sims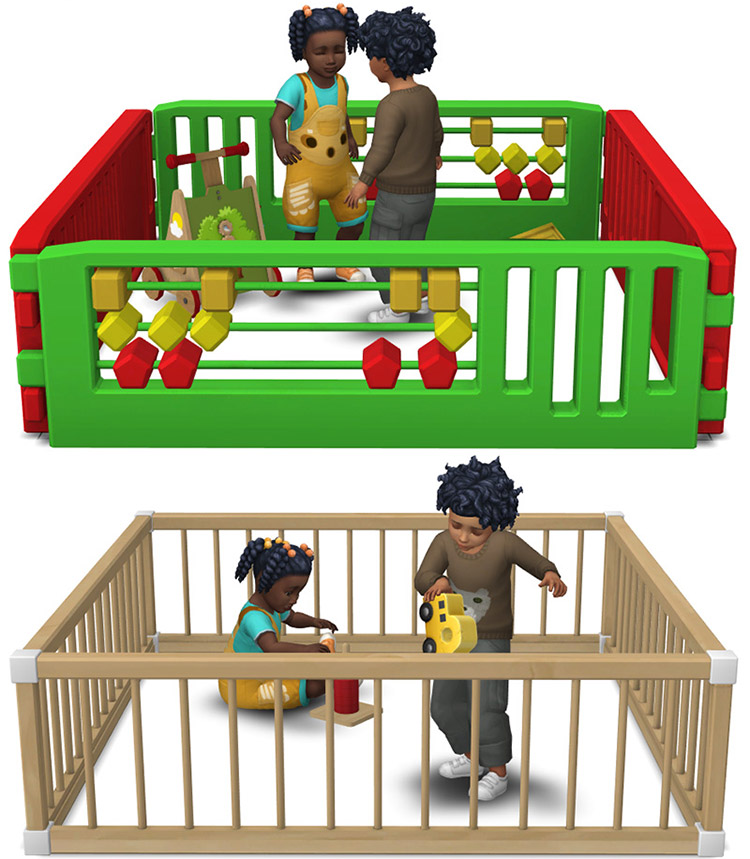 I can't be the only one who loses track of their toddlers in game, right?
Well Around the Sims has this great play pen CC (in three variations) to help keep those little guys and gals contained.
This would be great if your Sims work from home, or are cooking dinner while also trying to keep an eye on their kiddos.
Because The Sims 4 doesn't actually have playpens, you'll need to place the pen over your kids, and it'll keep them locked up safely.
When they want them out, your big Sims can just add the pen to their inventory, and it'll let them out.
Mini Market Dollhouse by Around the Sims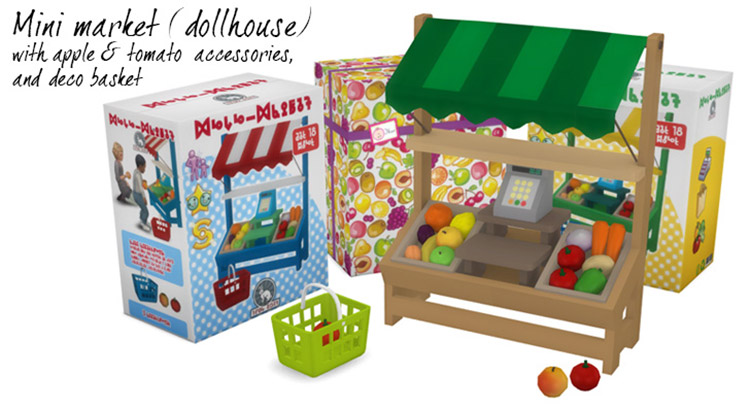 As part of their past Christmas set, Around the Sims created this adorable dollhouse that looks like a tiny cash register + produce stand.
It's awesome.
It comes with little apples and tomatoes, and a cute decorative shopping basket!
This CC will be so great for your tiny toddlers to gain imagination points, and it might even teach them how important those fruits and veggies are.
Mini-Chairs & Mini-Tables for Toddlers by Around the Sims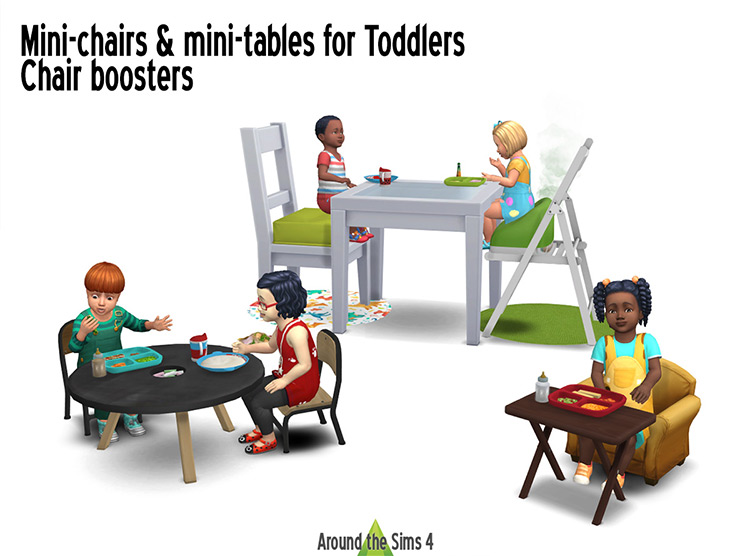 Now this CC might just be my favorite of the bunch.
Around the Sims has made these teeeeny tiny little tables for your toddlers to eat at. And I'm so incredibly grateful for it, because I hate fighting with the highchairs!
The cutest, in my opinion, is the little arm chair an TV tray.
How cute would that look in your Sim's living room?
If you don't have room for another table, though, this set also comes with booster seats so your toddlers can join their family at the adult table.
It also has a couple of cute mats to place under the table to catch their messes.
Drink-O-Baby by Around the Sims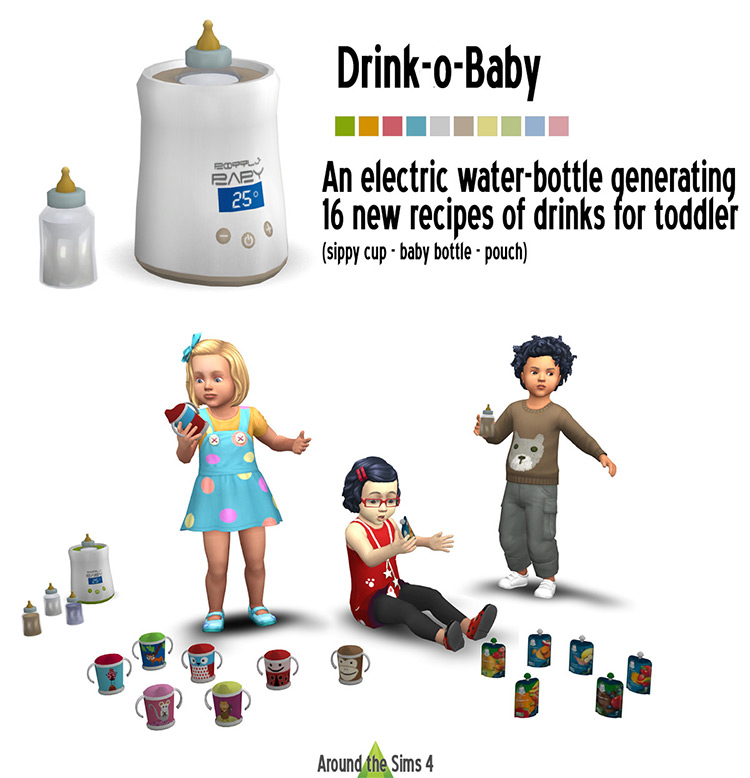 Okay, now this is so cool.
We all know how many gadgets we have in our world for our kids in the kitchen.
But now your Sims can have some fun with them as well!
Around the Sims has made an electric bottle warmer that you can place on their counter, and it'll make sixteen new drink recipes for your toddlers.
You can pick between juice pouches, bottles, or sippy cups.
Or you could also buy them individually in Build/Buy mode, if you don't want the bottle warmer out in your kitchen. It's all good stuff!
Nutri-Baby by Around the Sims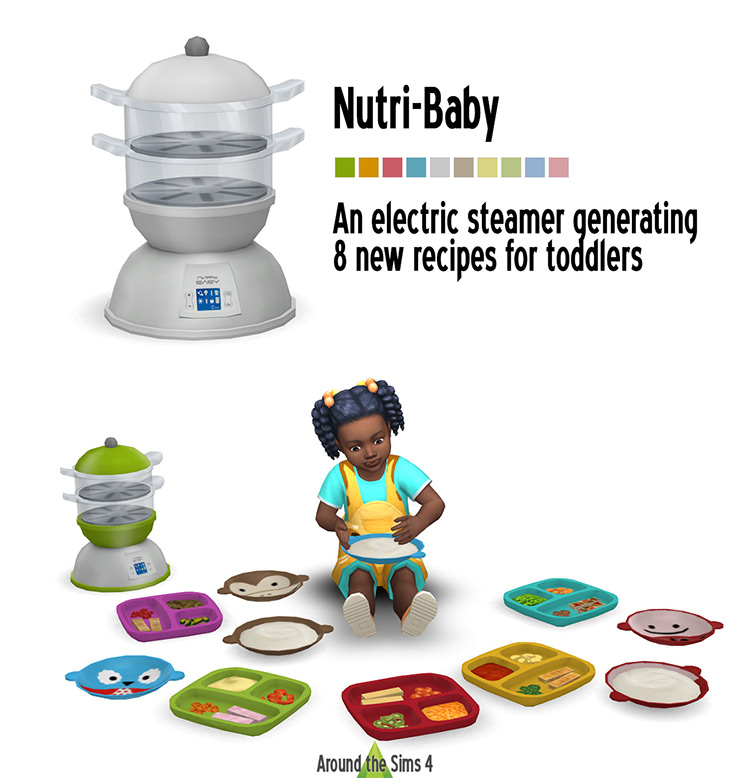 In the same realm as the previous CC pick, we've got another one here from Around the Sims.
For this CC they've made an electric steamer for your kitchen that generates eight new food recipes for your tots!
And just the same as before, you also have the option to purchase these meals in build/buy mode if you don't want the steamer.
They all come on adorable little trays that are just the right size, too.
Browse:
Lists
The Sims 4
Video Games