Best Toddler Pajamas & Sleepwear CC For The Sims 4
This post may contain affiliate links. If you buy something we may get a small commission at no extra cost to you. (Learn more).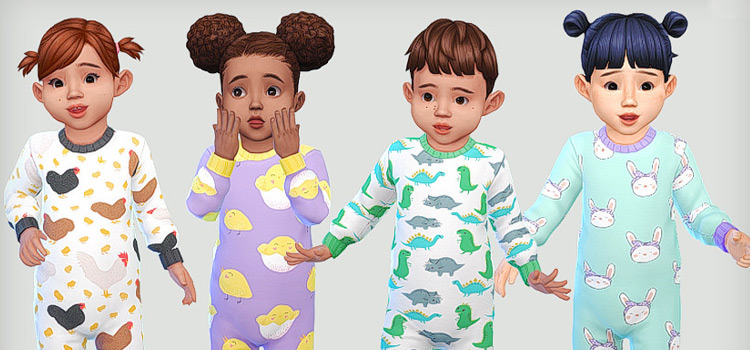 To really bring the fun and creativity of pajamas into The Sims 4, custom content is a must.
That's the only way to have dozens of swatches, and really simulate the awesome options available to us in the real world.
We've covered PJs for adults, but what about the little ones?
No need for bedtime to be boring. So get your Sim's toddlers ready for bed in style with this collection of custom pajamas.
1.

Sweet Dreams Tots PJs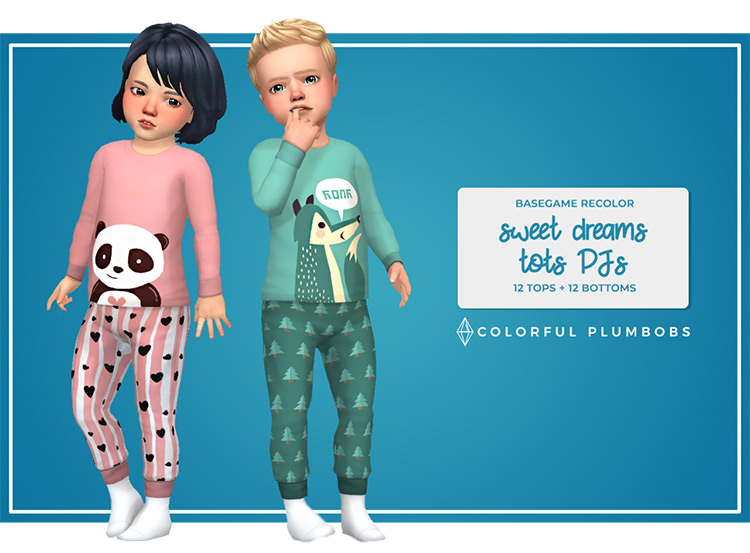 This simple set of tops and bottoms has got everything a kid could want to wear.
Cute critters, patterns, and bold colors?
Heck, most adults are down for that!
These are a nice little update after having the same base game swatches for so long.
2.

Sleep Tight Tots PJs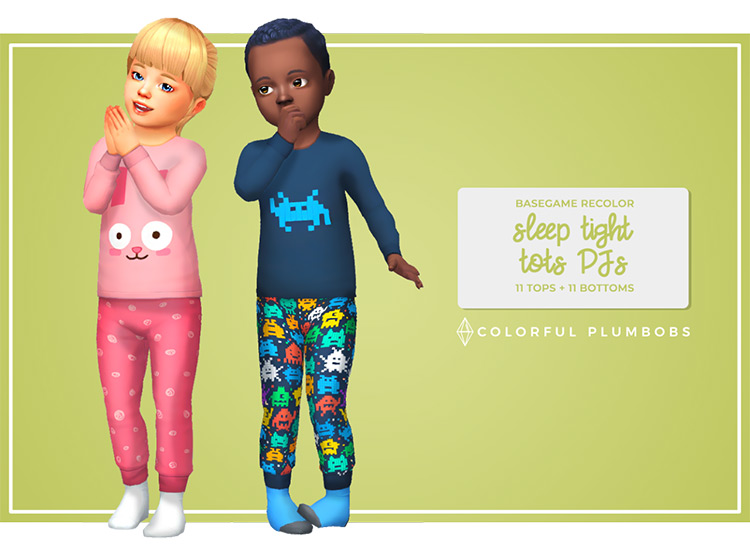 In case the above set isn't enough, here are even more recolors.
Just as before, they feature some pretty fun designs. Our dear old friend the Freezer Bunny is even included.
And just like EA's version, they can be paired up as a matching set, or mixed up.
3.

Hoodie-less Onesies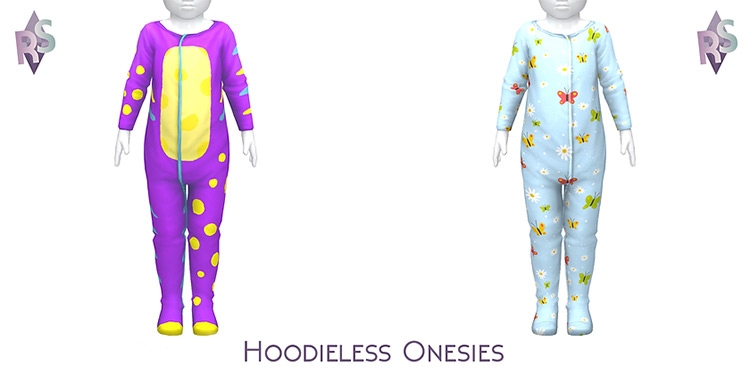 You've heard of boots with the fur, now here are pajamas with the feet.
With the hood removed, we now have a new option for toddler sleepwear that's both cute and classic.
In addition to the original swatches that have been there all along, RenoraSims has also added some great custom patterns.
4.

Toddler PJ Set by WildlyMiniatureSandwich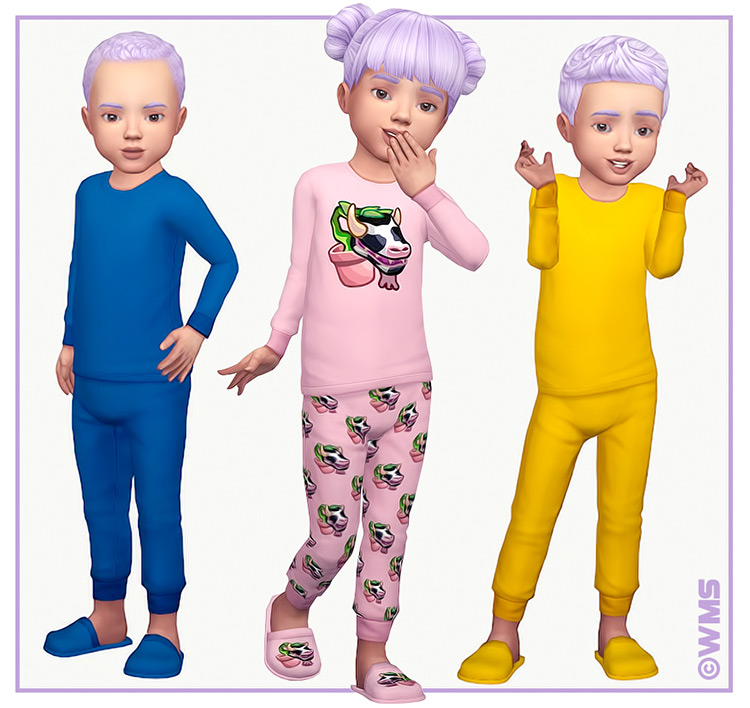 If just a few swatches won't do and you need tons of options, then WildlyMinatureSandwich is the creator for you.
This set has a shirt, pants, and slippers, and each item comes with 75 swatches total.
Basically it's every hue for solid colors you could want, plus several cool graphics.
5.

Under The Sea Pyjamas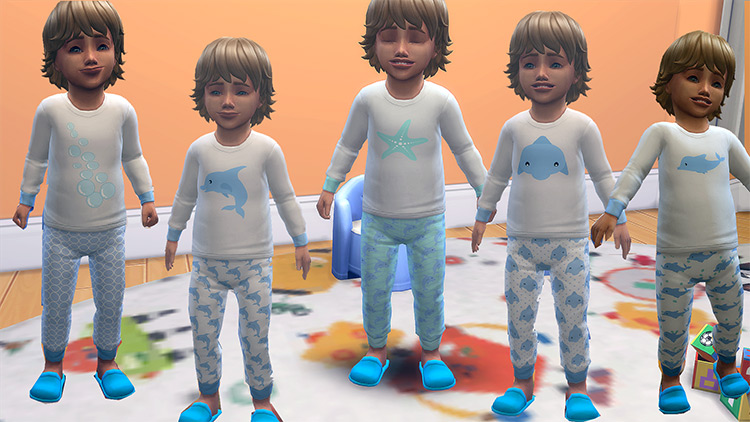 The base game PJs get an ocean-themed makeover here.
Kid-friendly sea creatures and a mostly blue color palette definitely drive home the vibe. They were made just for the boys, so this set can be something unique to your little dudes.
6.

Toddler Onesies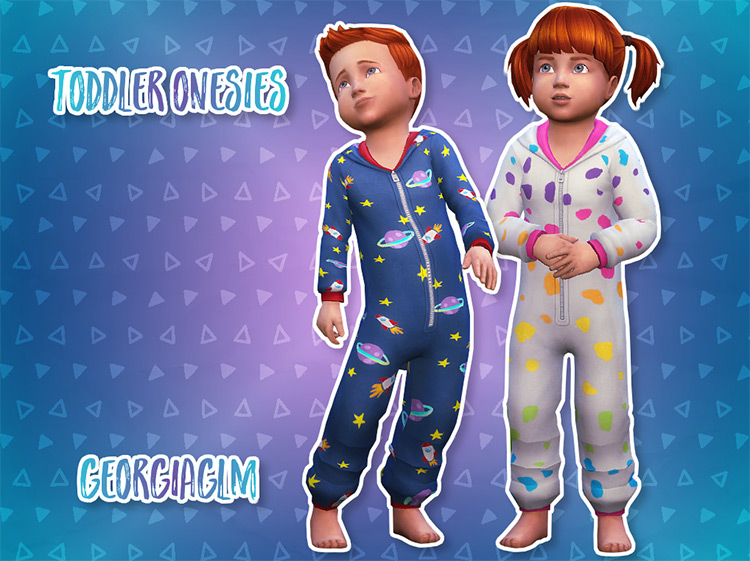 You've gotta respect onesies for being so convenient. They're all one piece so matching tops and bottoms isn't a concern, and they just look so cozy.
All a toddler will need is some socks or shoes, and they're ready for naps or playtime either one.
7.

Hamish Outfit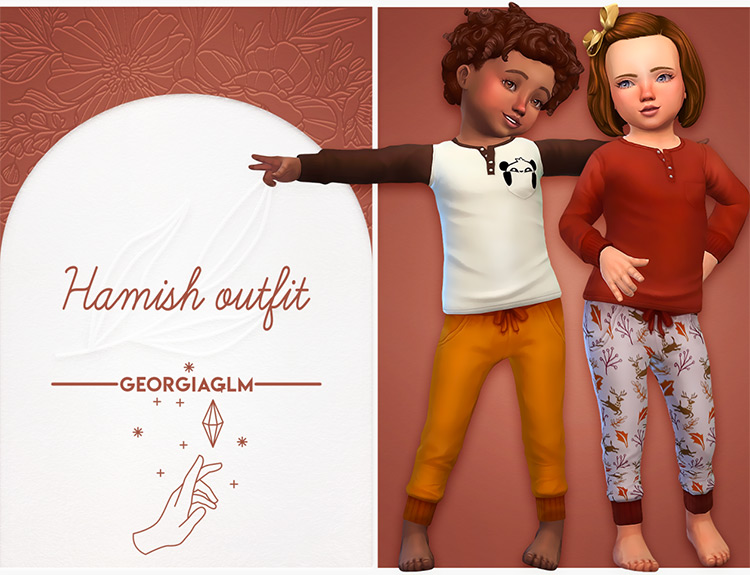 Tiny Living brought us tons of fantastic new clothes and hair, but the pajama set was perhaps the most necessary of all.
This outfit has all sorts of cool swatches, many of which have seasonal color palettes and patterns.
Now they're base game compatible, just for toddlers!
8.

Toddler PJs By Deelightful Simmer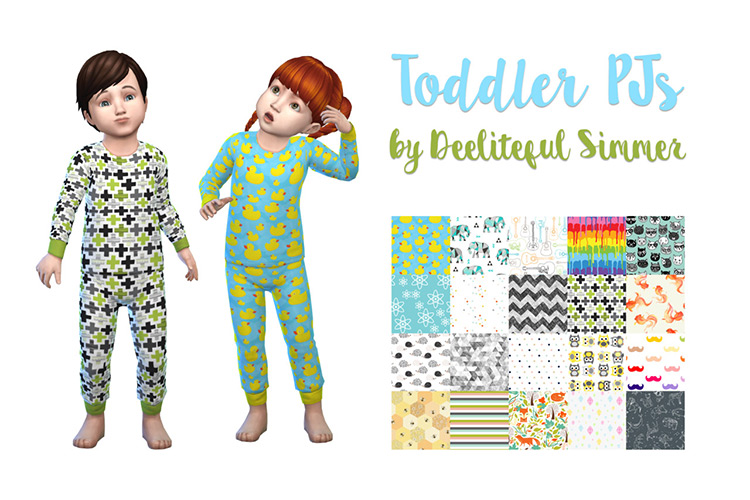 A wide variety of unique patterns transform these base game jammies into something totally new.
Some of them are quite busy and colorful, but more traditional animal prints are available, too.
Although this isn't a onesie, some of the swatches make them look that way!
9.

Onesies For Tots (Maxis Match)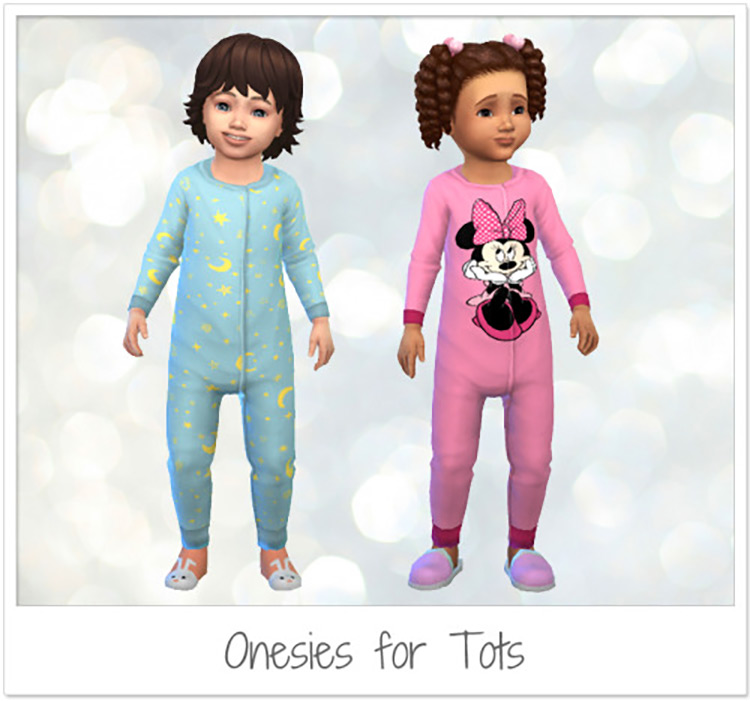 There's just something so innocent and pure about onesies, and the designs on these only enhance that.
Plus they're totally Maxis Match and should blend in perfectly.
The hood has been removed again here, and this time the feet went with it.
The result is something super fun and modern. With 20 solid options to choose from, there's something for every toddler.
10.

Edwardian Toddler Nightwear
Ever wanted to send your Sim's toddler to bed like it's 1902?
Well, probably not, unless you're doing the Decades Challenge.
But don't write this off just because they're old fashioned! That may actually be a positive thing if you like simple, rustic aesthetics in your game.
11.

Toddler Nightgown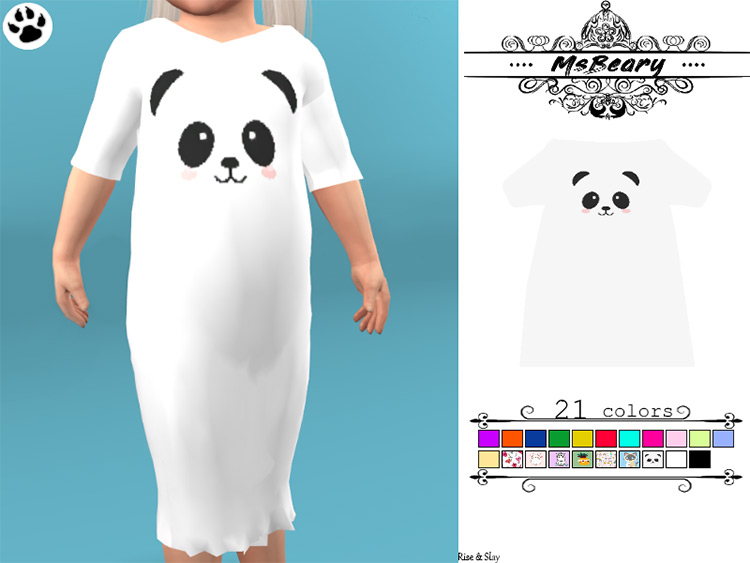 What's not to love about a nightgown?
It's basically just a big, long t-shirt.
Bedtime can't get much more comfy than that.
Solid colors and adorable animal graphics make up the 21 swatches found here, giving you plenty to choose from. Since nightgowns are already kind of hard to come by, this really is a treasure.
12.

Monobi Pajamas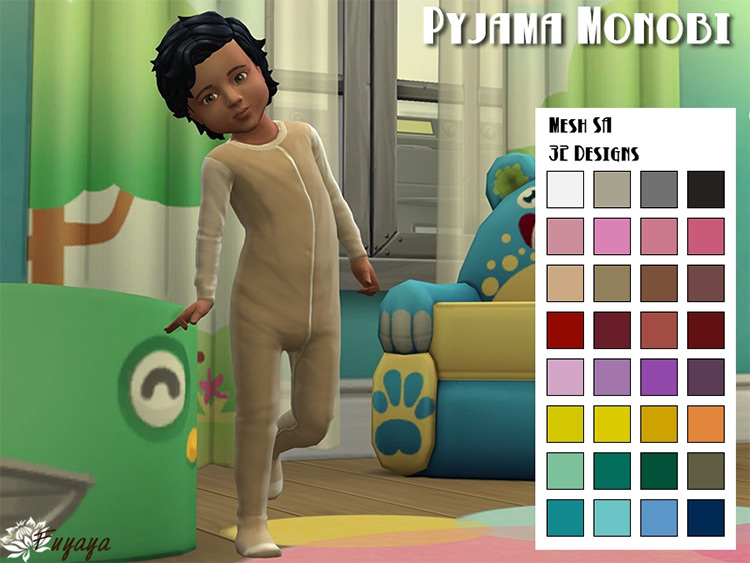 Here we have some more basic footie pajamas, available in dozens of options.
Although there are no funky patterns to be found, the solid colors are more than enough to make this a valuable addition to your game. These are a tried and true style for a reason.
They look great, and they're simple!
13.

Little Monster Pajamas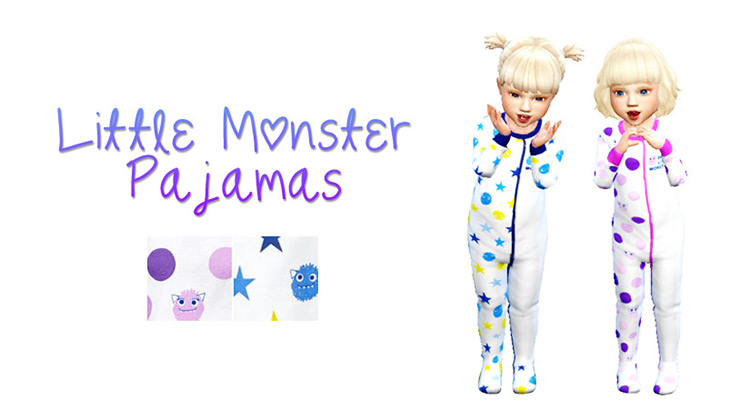 Just in case you do want your tyke's pajamas to have a more modern touch, these two recolors of the Monobi Pajamas should do the trick.
Both versions have little monster faces that are cute and friendly-looking.
Unlike the monster under the bed, these won't cause nightmares.
14.

Long Sleeve Onesies For Toddlers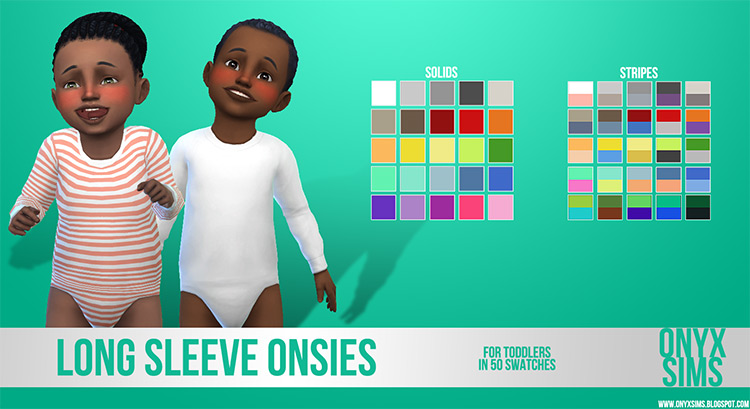 As far as convenience goes, this type of onesie kind of takes the cake.
The lack of legs is a distinct look, but it keeps diaper changes easy. Real babies don't just disappear behind some pixels, of course!
It's a pretty cute outfit that'll keep your Sim's toddler looking on the younger side.
15.

Galaxy Baby PJs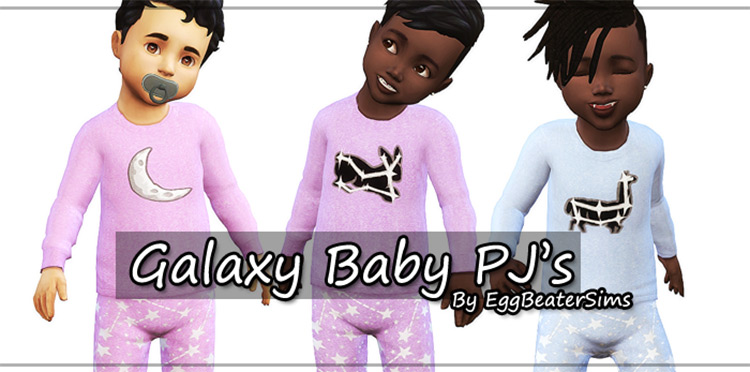 These have intense night time imagery that'll get any toddler ready to sleep… hopefully.
One of the tops has a constellation llama, which is a very fitting design! It makes sense that Sims would count llamas instead of sheep.
All 3 bottoms have a starry pattern, and the other top swatches include a moon and a bunny constellation.
16.

Little Monster Pajamas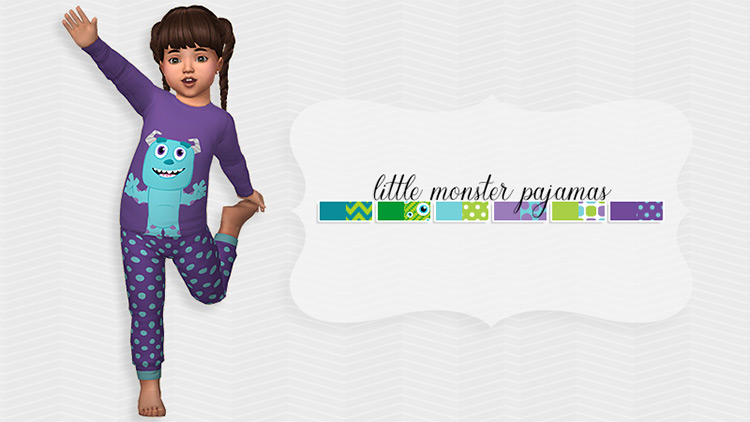 Monsters are a good choice as long as they don't have scary fangs or claws, which these don't.
The creator (Mama Bear's Sims) keeps these beats firmly G-rated.
Like so many other sets, these separate tops and bottoms can be matched, or you can just download one or the other to do as you please.
17.

Lace Trim Toddler Pajama Bodysuit Prints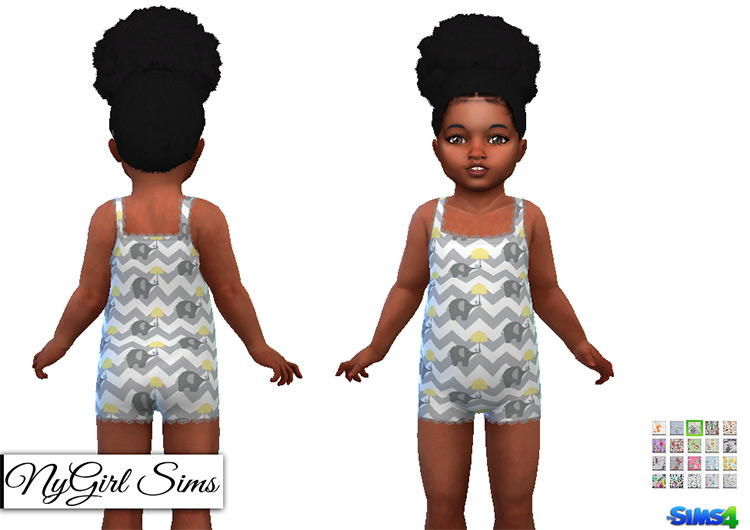 This little romper is like a tank top and shorts combined, making it perfect for summer nights.
It's already adorable but the lacy trim and busy, vibrant swatches really make it pop.
We've had an option just for boys. Now this one is just for the little ladies, and it's very pretty!
18.

Addisson Wenzy Pajamas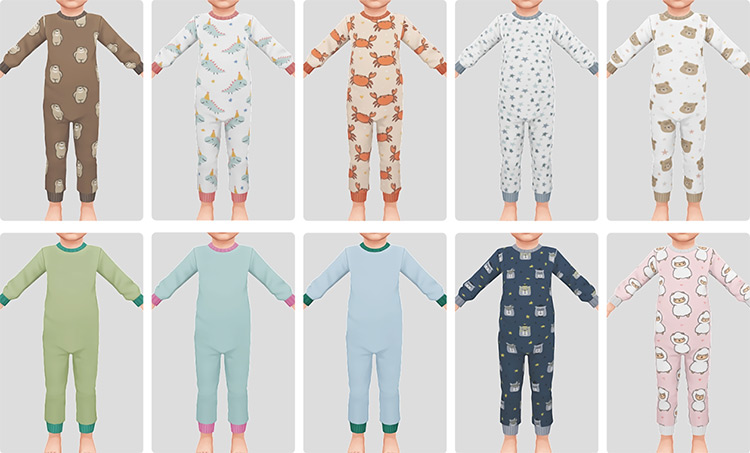 Here are some more nice onesies, complete with lots of swatches to choose from.
These have a more modern color palette, incorporating a mix of pastels and neutral shades.
As great as the solid options already are, the prints including bears, crabs, dinosaurs, and more are really something special.
19.

Toddler Farm PJ Bottoms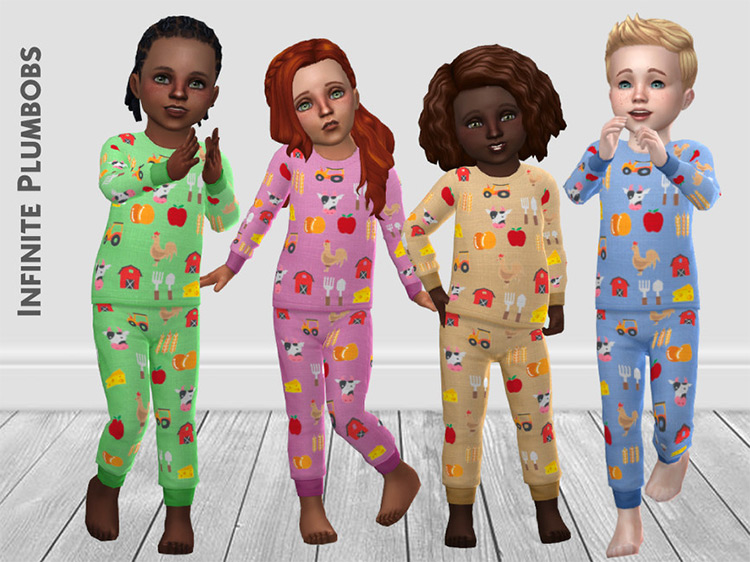 Ever since Cottage Living, The Sims 4 and its players have fully embraced the simple rural life.
We can always use more attire for that, of course.
Get the little ones in your game to appreciate such things early on with these pants covered in cows, tractors, barns, and produce.
20.

Child Base Game Pajama Shirt for Toddlers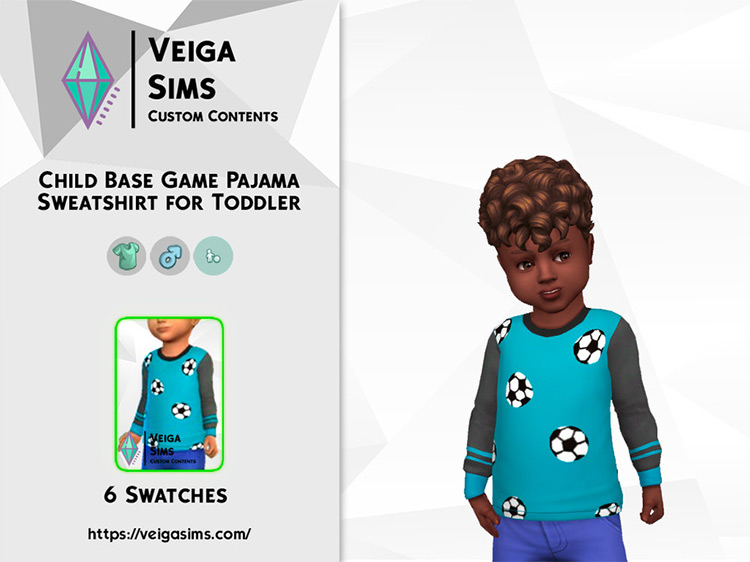 Although they're vastly different life stages, toddlers and children aren't all that different.
Sports and animals are loved by many, so they're a safe theme for clothes.
All 6 of the original child versions of the sweatshirt are included in this CC, such as the soccer balls and sloths, amongst others.
Now you can have some matching siblings!
Browse:
Lists
The Sims 4
Video Games