Best Toothbrushes & Toothpaste CC For The Sims 4
This post may contain affiliate links. If you buy something we may get a small commission at no extra cost to you. (Learn more).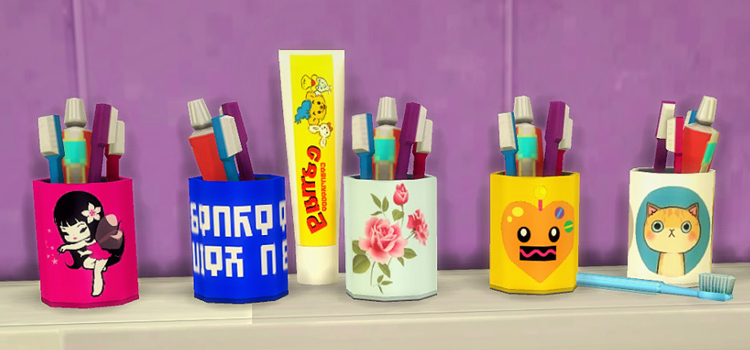 Right now, dental hygiene is a tiny and almost nonexistent part of a Sim's life.
Whether or not you send them over to brush their teeth won't affect them much at all.
They won't even do it autonomously, so unless you take the lead, a Sim can go their whole life without a toothbrush touching their teeth.
That's a rather harrowing thought when put like that, right?
Well you can easily integrate this aspect of real life into your game. All you need is a little CC, and maybe an awesome mod if you really want to go all out.
Everything you need to add this into your Sim's everyday life can be found right here – from bathroom accents to functional stuff for dental hygiene.
1.

Dental Care Mod + Clutter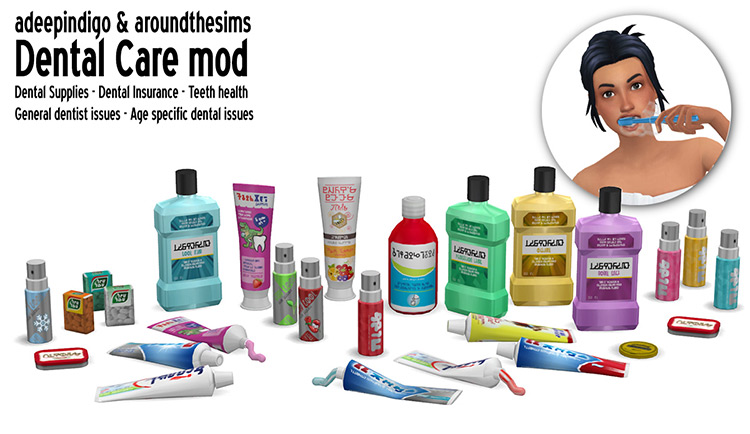 If you'd like to bring the full complexities of dental hygiene into your Sim's lives, then this is just the pack for you.
It really has it all – including capabilities for an overhauled, functional dental care system that will work alongside the brand new Maxis Match objects.
But if you're just after some stuff to clutter up your Sim's bathroom, don't worry.
Everything can also be used as strictly decorative items. And they sure do look great!
There sure is a lot to unpack regarding the functional capabilities, though… so let's get back to that.
The mod itself comes from creator Adeepindigo. And it'll fully introduce your Sims to the minty world of dental care.
Your Sims will need to contend with dental insurance, which they immediately have as long as one Young Adult or older Sim within the household is employed. Watch out if they ever get fired, though; they'll lose their insurance, and the 40% coverage that comes with it.
The health of your Sim's teeth will now be a really big deal.
They'll no longer be able to get away with never so much as lifting a toothbrush. All of the same regular care humans need is also required for your Sims to have top notch health, even dental appointments.
And if they do slack on their hygiene, well, all of the same real world consequences will apply.
Their relatively easy lives will now have the dark cloud of cavities and potential root canals looming overhead, and I think that's great.
Now as you'd expect, they'll need supplies. And that's where the clutter comes in!
This is honestly one of the most comprehensive and detailed packs I've ever seen.
It includes various types of recognizable toothpaste and mouthwash, though they all come in Simlish styles to fit the game.
You'll also get decorative toothbrushes with 14 variations, breath freshener, and mints, plus some supplies just for kids.
2.

Kala Bathroom Toothbrush
Our Sims are practically stuck in the stone age with the current state of toothbrushes in the game.
All they use is the old school type, the now totally outdated stick with bristles.
That's a little dramatic, of course – and there's nothing necessarily wrong with the basics… but there's so much more!
I already thought battery operated brushes were pretty cool. But they've even advanced beyond that.
There are even rechargeable options nowadays.
It's hard to know exactly which type this brush is, but it's still a modern update. You can tell by the little power button.
This looks like a first-rate toothbrush and the swatches only make it better. The standard three options are black, gray, and white, but if you really want something a bit prettier then the creator has some brighter recolors available.
3.

Teeth Hygiene Set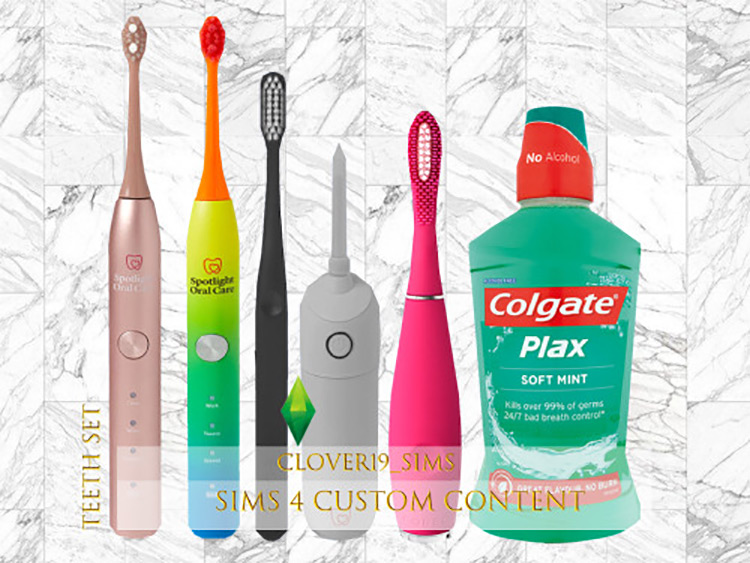 Here's a simple set of all the dental hygiene basics.
Four toothbrushes are included and they're surprisingly… beautiful?
That's never been a word I'd use to describe a toothbrush before. But clearly I've been looking at the wrong ones. There's even a rose gold one here. Rose gold!
Another is multicolored in bright colors, practically tie dye.
Both of them are the newfangled electric kind, too.
Your Sim's hypothetical flossing needs will also be met with this set, thanks to the equally fancy electric water flosser.
And what morning or bedtime routine is complete without a good old minty mouthwash? A decorative bottle of Colgate Plax is also part of this set.
4.

Platinum Toothbrush Holder
The bathroom is one place you probably don't want overly cluttered.
No room deals with more bodily fluids, including whatever you may spew into the air while brushing your teeth, so… yuck.
Keeping some semblance of organization is key for a clean and happy home. And a simple toothbrush holder will guarantee there's a place for everything.
This handy little rectangle (already set with toothbrushes and toothpaste) will mount right onto your Sim's wall.
It's great to add further decor to the space – and walls are one place where clutter never seems as obvious!
5.

Erbium Toothbrush Holder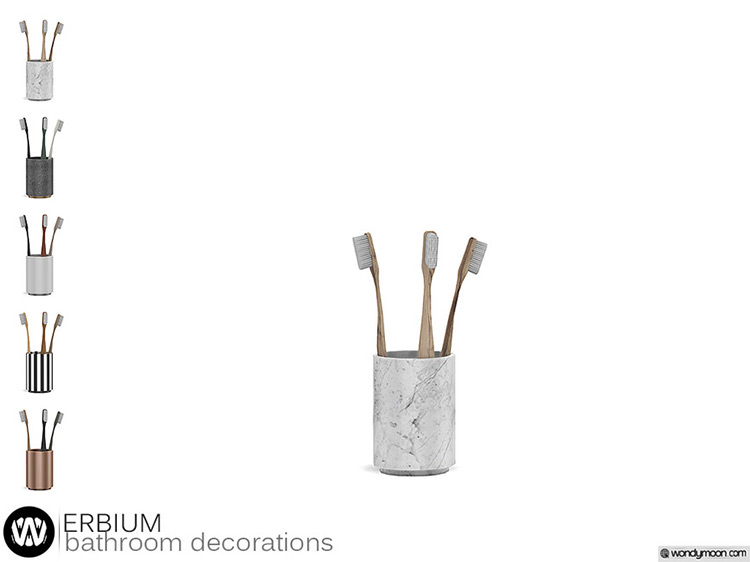 Cups have naturally served as toothbrushes holders seemingly for eons. And there's nothing wrong with sticking to the classics.
However, Wondymoon has given it a fresh new touch.
These holders come in 4 variations, which include a marbled design, a striped one, and two metallic swatches.
You can't overlook the toothbrushes themselves, either.
Depending on the swatch, they may even be wooden! That'll be a great, subtle decor choice for a ton of bathroom themes, like rustic or cottagecore.
6.

Basegame Toothbrush Set Override
Even if you aren't particularly bothered by the base game toothbrushes, it can be nice to switch things up now and again.
Depending on how long you've been playing The Sims 4, you've probably been looking at the same super basic brushes for several years now.
That's no fun.
Maybe it's just me, but part of the reason I love custom content is because I've used the base game furniture a billion times.
And having new options keeps things interesting!
This awesome override will replace the base game toothbrushes with vibrant colors like white, aqua, and purple.
7.

Mouthwash CC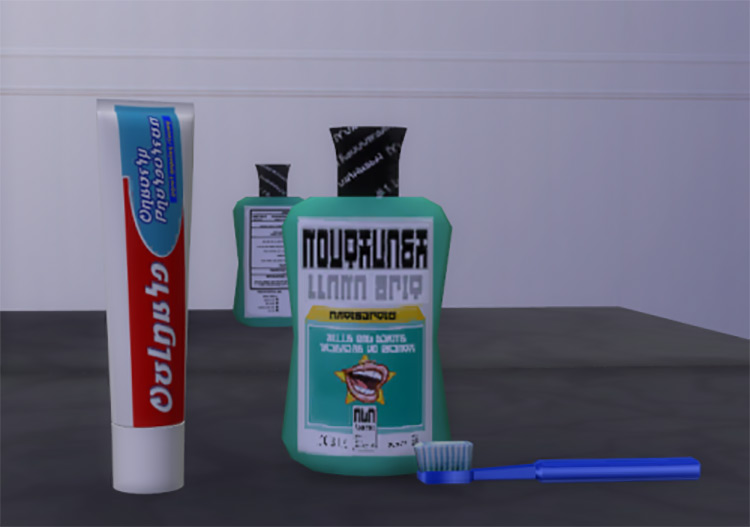 It's a given that after your oral hygiene routine is complete, your mouth should feel clean and refreshed.
Nothing accomplishes that quite like a mouthwash.
It may burn, but I like the way it hurts. No pain, no gain!
This creator took what was originally another Simmer's CC shampoo bottle and turned it into a glorious, realistic-looking bottle of mouthwash.
It's very detailed despite being Maxis Match – and everything is written in Simlish.
If you've ever thought something was missing from your bathroom clutter, this is probably it.
How many bathrooms don't have at least one bottle of mouthwash sitting on the sink, counter, or in the medicine cabinet?
Surely not very many.
It's as crucial as a toothbrush itself!
8.

Automatic Toothpaste Dispenser
Since The Sims games are adored around the world, CC can actually introduce you to all sorts of new items.
In other words, the first time I learned that automatic toothpaste dispensers exist was when I came across this creation.
Now I'm envious that my Sims can effortlessly stick these babies on their wall!
It's a small wall accent, with a tube of toothpaste inside.
They even come with a Minion swatch too – presumably to entice the kiddos to not fake brush.
We're all onto that "wet the toothbrush" trick in this day and age. Besides, if you have the Parenthood pack, that small task is a great boost to their Responsibility trait.
And this is the only item like this I could find online, so it'll truly be a unique addition to your builds.
9.

Sim4fun's Toothpaste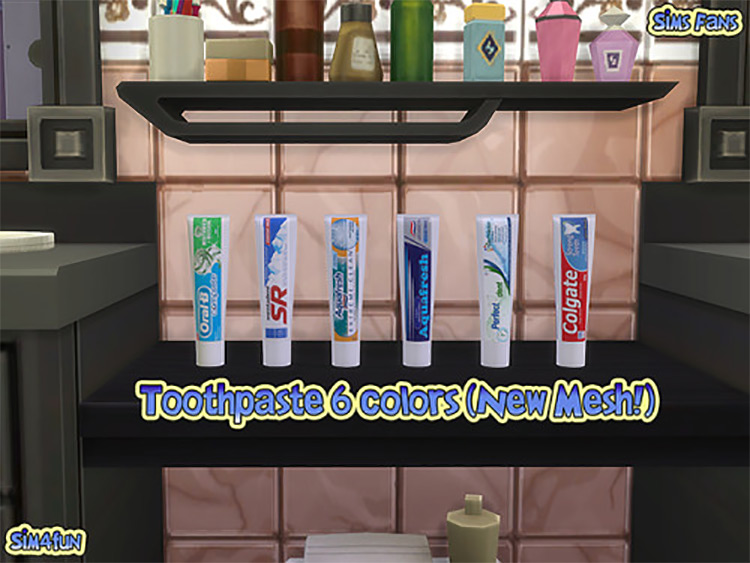 Most of the supplies involved in dental hygiene are quite straightforward.
And toothpaste tubes wind up tossed on a counter or shelf.
That's the kind of realism and simplicity you can bring to your Sims with these tubes. They're practically indistinguishable from the real thing.
Colgate, Aquafresh, and Oral-B are just three of the brands represented here!
As always, the "bb.moveobjects" cheat will allow you to place clutter essentially anywhere you want, blending these seamlessly into the rest of your décor.
It can do some amazing things and eliminates the clunky look that results from objects snapping to where they're "supposed" to be.
10.

Cute Bear Toothbrushes
It's no secret that getting kids to take dental care seriously is important. The younger, the better.
A lot of behaviors, beliefs, and lifelong habits start in childhood – and every parent wants the good ones to stick.
What'll convince a kid that brushing their teeth isn't dull & tedious?
Maybe some adorable toothbrushes?
Heck, I'm an adult and will take a bear toothbrush, thank you very much.
The bathroom no longer has to be the only room in the house with little-to-no signs that children live there.
Check out these small decorative items and see what you think of all 6 color variations – plus they've already got toothpaste on the bristles ready to go.
Browse:
Lists
The Sims 4
Video Games