Sims 4 CC: Best Towel Racks & Towel Holders (All Free)
This post may contain affiliate links. If you buy something we may get a small commission at no extra cost to you. (Learn more).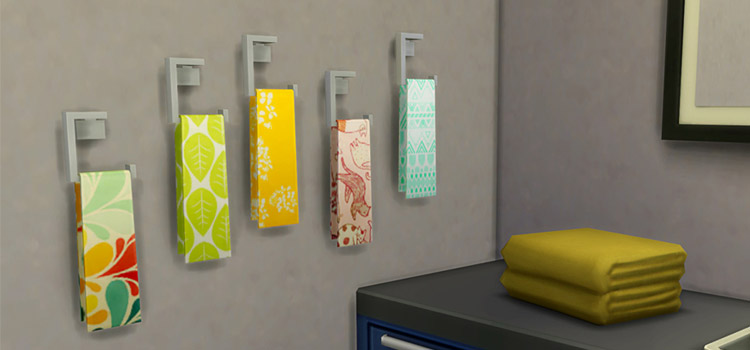 I think it's safe to say we were all fussed at by a parent at least once for not hanging our towels up.
When you're young, you just don't understand the purpose or usefulness of a towel rack.
Tossing it on the floor after a shower is a lot easier. But the results aren't nearly as nice. After a few days, things will definitely start to get smelly, and the towel itself may even be ruined with mold.
But you can save yourself a lot of trouble by just hanging the darn thing up. So it makes sense that racks have now expanded to include so many different types and designs.
Our Sims might not really have to worry about gross towels – they have enough gross laundry on the floor to contend with.
But their bathrooms are still far too empty most of the time.
And hey, their houses are usually filled with stuff that's aesthetically pleasing over function anyhow.
So let's get into all of the wonderful ways towels can be hung in The Sims 4 with a bit of CC!
1.

Bathroom Acacia – Towel Holder
First up, we have a unique holder that incorporates a rather underappreciated way of storing towels.
As long as they're not wet, some rolled up towels make a bathroom or spa look very neat and organized.
Have you ever tried to roll a one? It ain't easy.
Then again, neither is folding them.
Maybe I just don't know what I'm doing.
But when it comes to The Sims, there's no guesswork.
All you have to do is look at an item, determine that it looks good, and place it. This slanted stand is sure to be a match for your Sim's bathroom, coming in very neutral, mild colors and wood swatches.
2.

Bathroom Lusso – Towel Rack
I bet you first clicked on this article, you were thinking about the type of towel racks that hang on walls – like we already have so many of in the game.
Well, I've surprised you twice now haven't I?
It's easy to forget there are so many different methods of towel storage available, such as this floor rack.
It comes complete with one large towel as well as a smaller one, which will really give your bathroom the look of one that sees a lot of use.
3.

Functional Towel Rack
Okay, real talk – how silly is that bathroom shelf we have in game that you can hardly place anything on?
I actually just recently discovered that you can't place anything on top at all, even with cheats.
That's what makes decorating in The Sims 4 so frustrating.
No one on Earth has a big beautiful shelf like that in their bathroom, that isn't completely full of stuff.
At long last, creator plasticbox has fixed that issue for us.
You can now use that wall rack to store towels, toiletries, and anything else you desire.
4.

Limoges Towel Holder
Here we have another CC option for a modern floor towel holder.
I think there are two types of people when it comes to towels.
There are those who love to find stylish ones with zany patterns, and then there are those who just don't care.
It is just a chunk of fabric to dry yourself off with, right?
Well, there's nothing wrong with enjoying the little things in life. And as sleek and cool as this holder is, I really love all of the different swatch options the creator included for the towels themselves as well.
5.

Forest Fantasy Bathroom Decor
The bathroom is one space that can use all of the relaxing attributes it can get.
It just so happens that nothing is as relaxing as the outdoors. Animals, trees, plants.
Remembering the world beyond your window does wonders for your mood.
And for many people, there is simply nothing better than feeling at one with nature.
If you agree, Soloriya has got you covered.
This lovely rustic CC set will make your Sim's bathroom cozier than you ever thought possible. The towel racks really do stand out, with the bases being wonderful scenes including trees as well as bears, deer, and wolves.
6.

Cozy Christmas Towel Racks
Just hear those sleigh bells jingling, ring-ting-tingling, too…
Oh, what's that? It's spring?
Well, it doesn't have to be for your Sims!
I think we can all agree you can never have too much holiday decor, whether that's in the game or real life.
These towel racks will be a great way for you to add some Winterfest spirit to your Sim's bathroom – and that's one place that's usually pretty lacking in Christmas decorations!
7.

Caesium Towel Holder
The thing about floor towel holders is that you have to have floor space to use them.
I know that's a shocking revelation, but just bear with me.
If your Sim actually does have a bathroom large enough to accommodate such a thing, they're probably rather wealthy, which means they can afford nicer furnishings.
This towel holder is definitely the sort of thing an affluent Sim would love.
It's a simple design that's a little reminiscent of those fancy lawn chairs, bringing forth memories of warm days and beautiful weather.
Rich Sims are the only ones who get to experience that, anyway. The others are always too busy working to enjoy living.
Ugh. Can you tell I'm in the middle of a legacy? This towel holder is a nice incentive to keep going until they have room for something so nice!
8.

Leaning Towel Racks
You can't get much simpler than this one.
Sometimes, simple is a good thing. The best choice even.
Not everyone seeks fancy towel racks and modern designs, they just need something that'll get the job done.
These leaning racks will do just that, offering a nice alternative to the ones we're so used to seeing and using.
The design offers a long rectangular shape with a few slots already filled with towels, ranging from cute and pretty to neutral.
9.

Towel Racks CC Set
Wouldn't it be nice to literally make a statement with your towel rack?
These say all the things you want to see upon entering a bathroom.
There are welcoming and uplifting phrases, as well as a reminder to wash your hands and use soap.
They're all very charming, and overall create a totally new look.
10.

Regal Towel Holders
Again, sometimes simplicity reigns supreme.
For just something to place on the wall and take up minimal space, this holder is sure to please.
It has a circular base and a short arm that the towel hangs on, giving it a very 'reporting for duty' vibe.
There's no messing with pulling this one off the rack, or placing it back on. No room for errors, no room for fuss.
It's available in four swatches, but the gold definitely lives up to the regal name.
Browse:
Lists
The Sims 4
Video Games