Best Sims 4 Turtleneck CC & Mods (Guys and Girls)
This post may contain affiliate links. If you buy something we may get a small commission at no extra cost to you. (Learn more).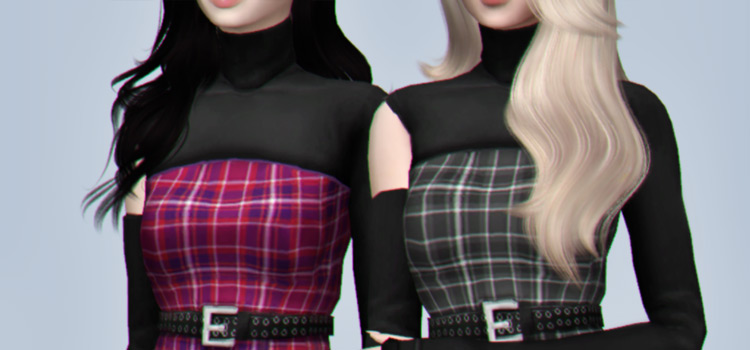 Ah yes, the turtleneck. A fashion trend that seems to come and go, and can be quite the controversial option for a winter top.
Personally, it's a favorite of mine. It allows you to ditch the bulky scarves and gigantic coats while keeping your neck perfectly warm.
Plus, they're a great look for styles that are academia, thrift chic, and boho, while also being a great work-appropriate option for your Sim's cubicle job.
And to help reiterate my points, here's my list of the best turtleneck custom content for TS4.
Let's see just how fashionable and practical a turtleneck can be.
10.

Chunky Cropped Sweater Recolor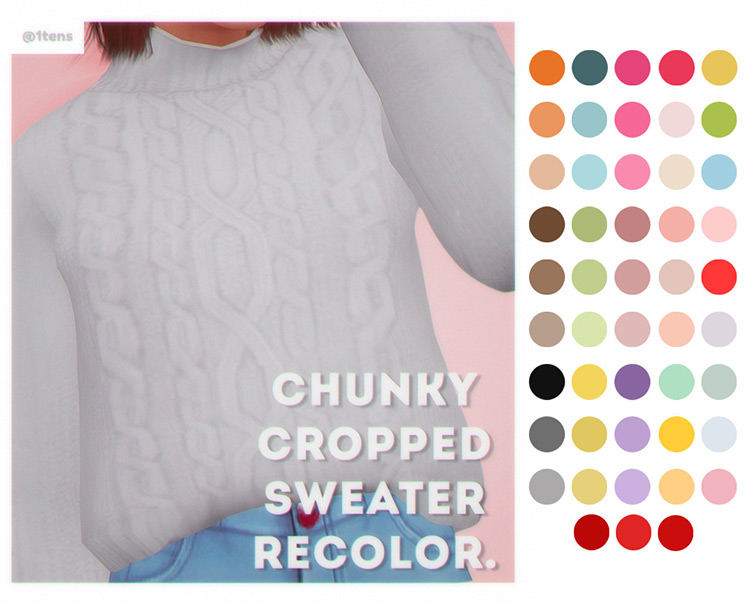 Let's start off by talking about what constitutes a turtleneck.
Some may say that the only true turtleneck is one that reaches all the way up to the chin.
But I would beg to differ.
Sometimes referred to as "mock necks", they're sweaters and shirts that have a slightly shorter fabric coming up the neck that keeps everything insulated and warm. And in my book, that's enough to sell me on the idea.
If you're looking for a sweater for your Sim that won't completely engulf their necks, but will keep them warm when the snow's falling, options like this Chunky Cropped Sweater CC are your best bet.
It's big, it's warm, it has the classic cozy sweater stitching, and it comes with 48 swatches. So you can match it to whatever accessories you want.
9.

Pure Sims Turtleneck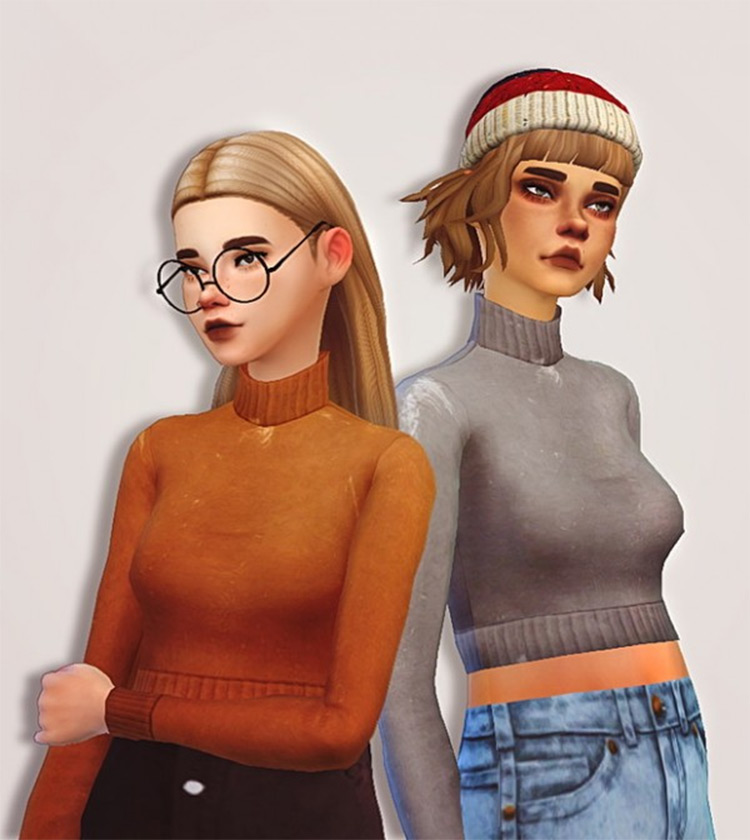 With a similar idea in this CC, this is a mock neck cropped sweater that might be a better option for fall.
These sweaters could be worn in early spring or late fall, because they're not the same thick type of sweater made for Christmas Day.
But they're not going to leave your Sim bare, either.
Also available in multiple colors, these sweaters have a bit of a distressed texture to them. Which makes them a great pairing with distressed jeans & boots.
Throw in a few minor accessories, like a hat for extra warmth, and your Sim is ready for whatever the weather brings.
8.

Marigold's Sweater Recolor
Marigold's Sweater Recolor is the perfect CC for when your Sim doesn't even want to think about going outside.
They want to be a homebody for the day!
Simple, comfortable, and doesn't require them to crank the heat all the way up. This turtleneck sweater is baggy in all the right ways, which is usually a good thing (right?)
Get your Sim to prepare their favorite hot drink and order a pizza for dinner, cause this Sim is getting ready for some major relaxation!
7.

Turtleneck Sleeveless Top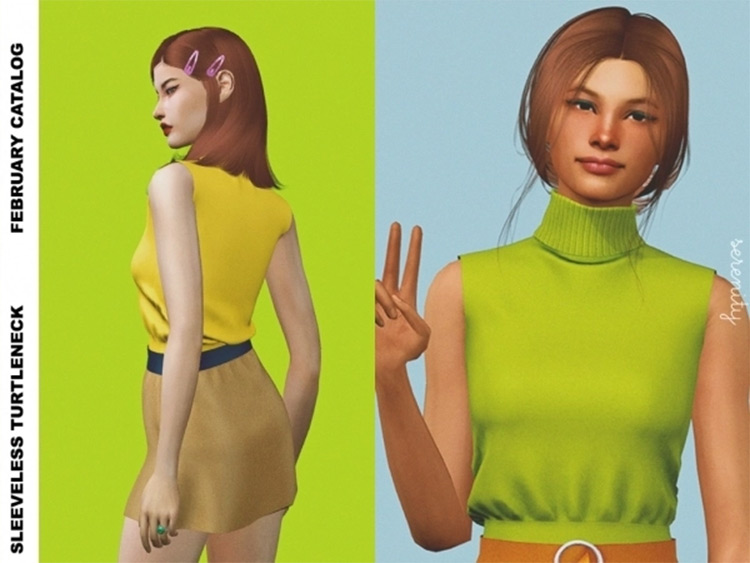 Love the look of a turtleneck, but the weather outside doesn't really call for your Sim to sport the look?
Well with this turtleneck sleeveless top, all of your problems are now solved! Well, not all problems, but definitely their wardrobe problems.
Instead of being in the form of a traditional long sleeve top or sweater, this CC comes as a tank top. So no matter the weather, your Sim will be kept cool and comfortable.
This top is available in 16 colors, and it has a nice retro-style to it.
That makes it perfect for wide-legged jeans, a pencil skirt, or even a pair of throwback sneakers to create an outfit.
6.

Clara Turtleneck Accessory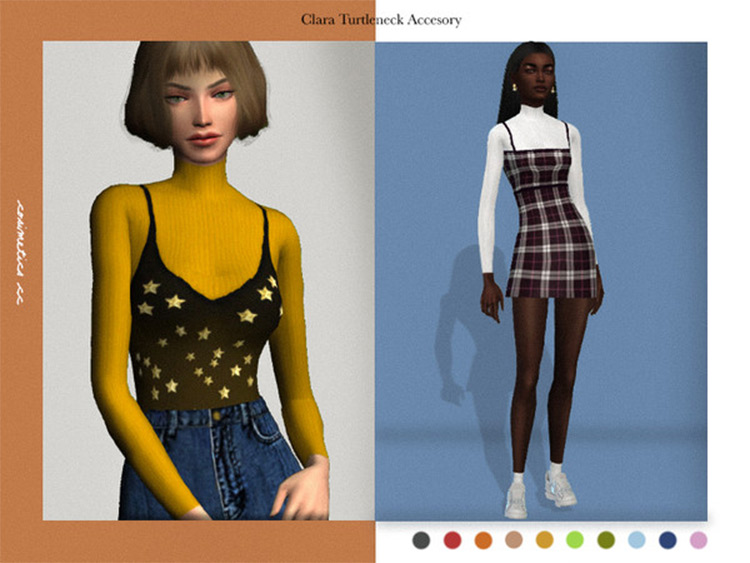 Everyone loves a layered look once in a while.
And with a turtleneck, you can layer to your heart's content.
Whether you choose to wear it with a baggy t-shirt, a thin spaghetti strap tank top, or even a dress, this Clara Turtleneck CC will appear right under the top layer.
So you can add it to all of your preexisting favorites that don't have the beloved long collar.
5.

Basic Turtleneck
So far we've seen a lot of turtleneck options for our female Sims, but what about for the guys?
Even though the game comes with a feature that allows both genders to wear the same styles, it can be hard to get the right look for someone who likes masculine style clothing (when all you have is extremely feminine).
Well sometimes we just gotta get back to the basics.
And we've got this basic turtleneck to the rescue!
It's what the name says: basic. Which is definitely not an insult. Because its plain, comfortable design makes it a perfect option for everyone in your Sim household.
Now all you'll have to do is choose between the 30 colors it comes in. Decisions, decisions…
4.

Amy Turtleneck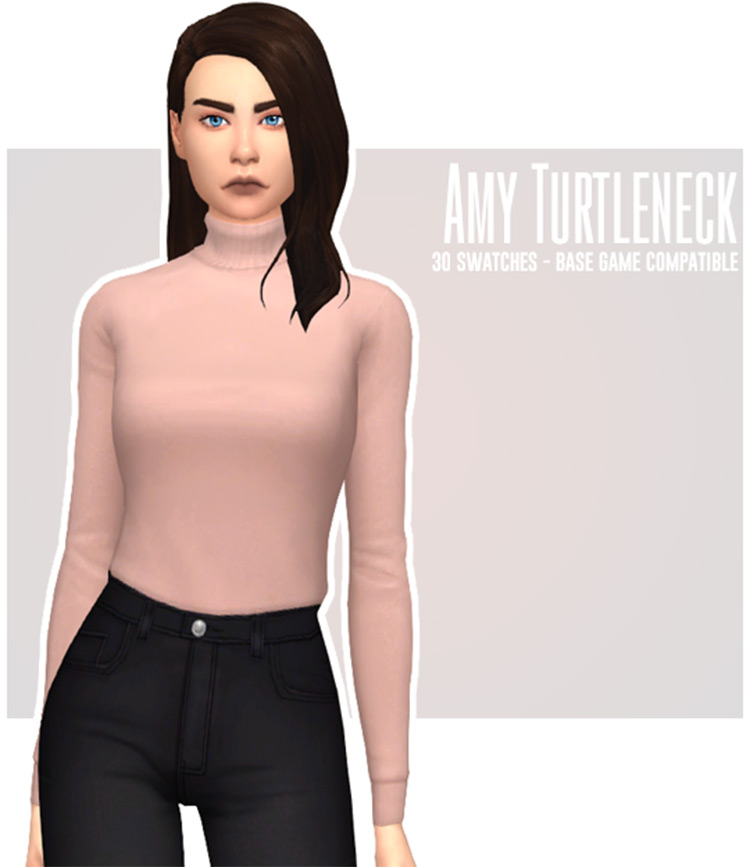 A lot of us get intimidated by the idea of rocking an extreme turtleneck, even if it's our Sims who are actually wearing the clothes.
But it's not as scary as it sounds.
Big bulky collars can complement a lot of outfits, especially if everything else is quite plain in contrast.
If you're up for the challenge of a big turtleneck that'll go all the way up to your Sim's jawline, then you should check out this CC.
It's slightly textured and hugs your Sims body perfectly so they can tuck it into their jeans and instantly have an outfit with tons of style.
3.

Clean-Cut Turtleneck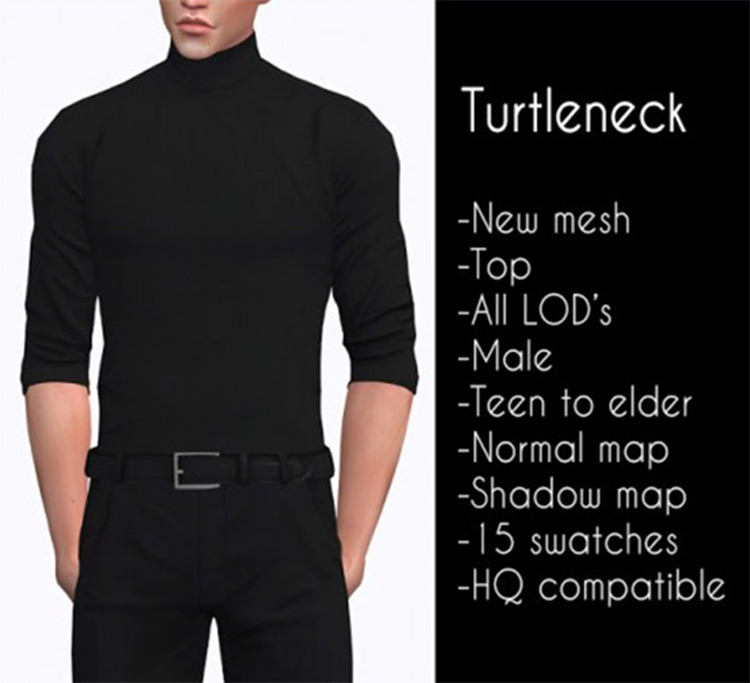 This is for the guys that like to keep it clean-cut and casual.
Featuring a monochromatic color palette, we have just a plain-old turtleneck CC.
And the simplicity of its name speaks to how this should be worn.
No fancy details, no crazy textures, nothing to distract you from how put-together and fashionable your Sim guys are.
Just a classic Turtleneck sweater.
2.

Cora Sweater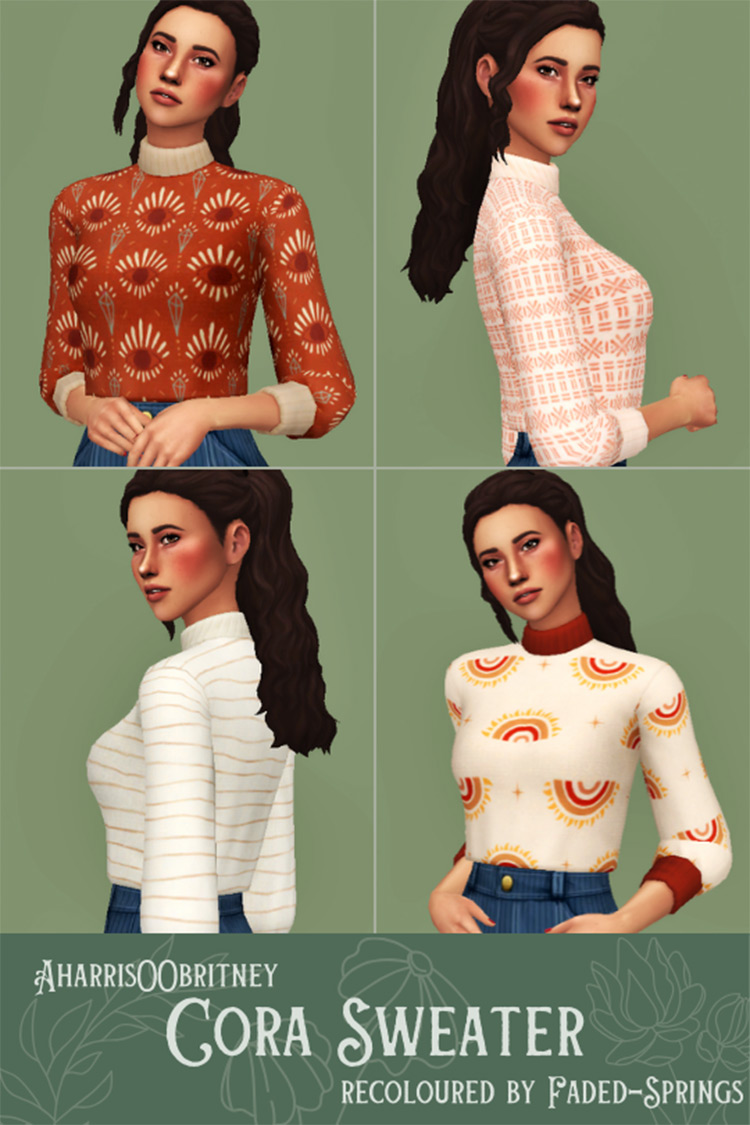 Now this Core sweater CC offers turtleneck sweaters in a variety of fun colors and patterns, all with a warm hue to them.
Did someone say the first day of fall?
Everything's here, from stripes to a style that looks like it was inspired by the art deco movement.
These sweaters are the easiest way to make a bold statement with your Sim's clothing.
1.

Alejandro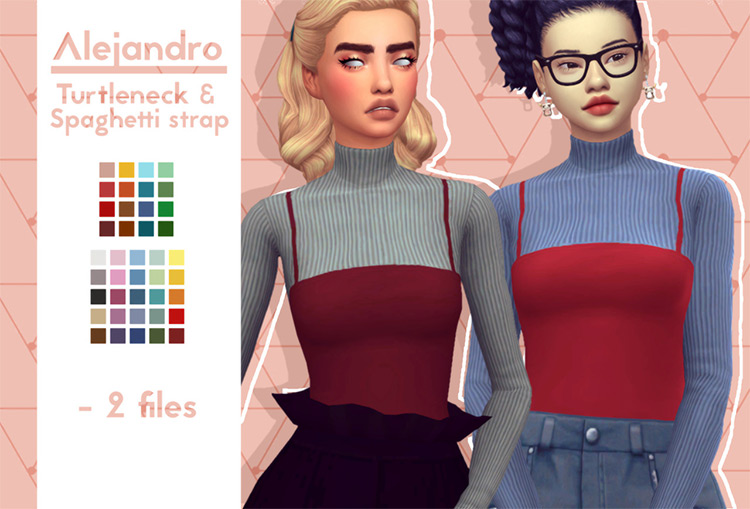 The Alejandro collection doesn't just come with one option for how your Sim can wear their turtleneck.
No, it offers two adorable styles they can incorporate into their wardrobe rotation.
One comes with a zip-up tank top style dress for a fun and casual look.
While the other option features a basic spaghetti sleeve top, to be worn with either a pair of pants or a skirt to match.
Never again will your Sim have to decide which style they like better, cause they can have both!
Browse:
Lists
The Sims 4
Video Games