Sims 4 CC: Best TVs, Soundbars & Sound Systems
This post may contain affiliate links. If you buy something we may get a small commission at no extra cost to you. (Learn more).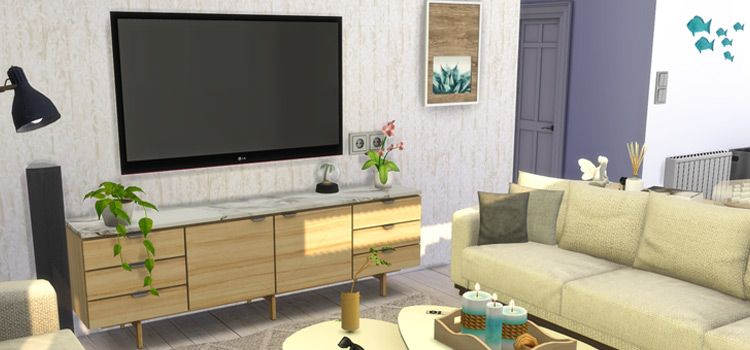 Most of us spend hours staring at a screen.
We check social media on our smartphones, play The Sims 4 on our computers, and watch lord-knows-what on TV, the big black boxes of joy.
Getting a new TV in real life is pricey. But that's not true in The Sims!
Even with thousands of Simoleons, there's no need to settle. Modders and CC creators are always hard at work, making addons to improve our game, and new TVs are a dime a dozen.
There are also plenty of soundbars and sound systems to beef up your Sim's TV-watching experience. So if you're in the market for some cool Sims-styled television equipment, well this list is sure to have plenty to choose from.
15.

Jersey Wall Television
We kick things off with a stylish flatscreen TV by creator Onyxium, available in both this wall-mounted version and a standing one as well.
Unlike most flatscreen TVs available for The Sims 4, this uniquely-shaped appliance is of the square variety. Your Sims better like 4:3 resolutions.
This is ideal for those spaces where a wide TV wouldn't fit. Or to simply add a bit of uniqueness to your entertainment set-up and make it work as part of the room.
14.

Higher Stereo Volumes
Other than better models for stereo systems and soundbars, there are plenty of things mods can do for your audio in TS4.
Creator An-dz brings us this little adjustment to the game's configuration files, enabling us to listen to a stereo's music from a far longer range than what vanilla supports.
Specifically, the sound will reach about 30% farther than before.
No longer do you have to remain zoomed-in on your awkwardly dancing Sim if you wish to enjoy some tunes in Simlish.
13.

Vitra TV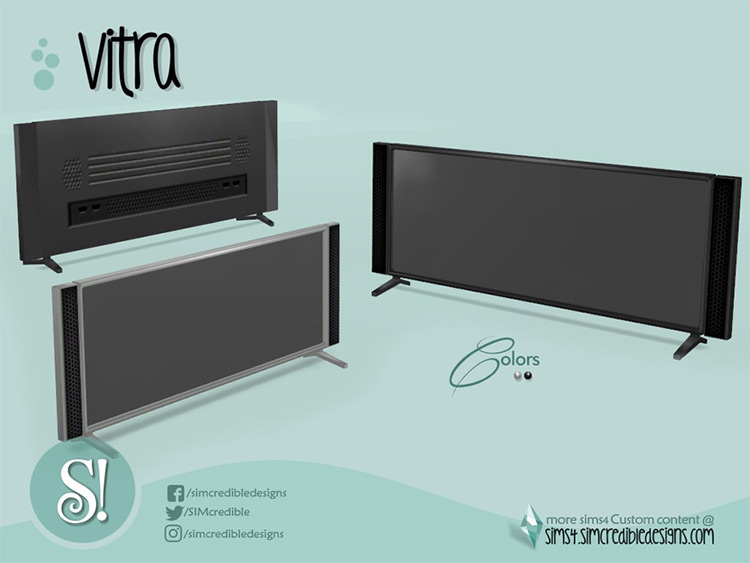 If square TVs aren't your thing, then this standard practical-looking widescreen TV by TheSimsResource user SIMcredible! is a great choice to cover your basic needs.
There's no lack of widescreen TVs in vanilla TS4. But none of the official EA meshes have the polish and detail of something like the Vitra TV.
It has a bit of an outdated design, but if 16:9 and beyond is what your Sim desires for their Netflix sessions, this will work.
Consider checking out the rest of the stylish Vitra set as well!
12.

Silicon Speaker Tower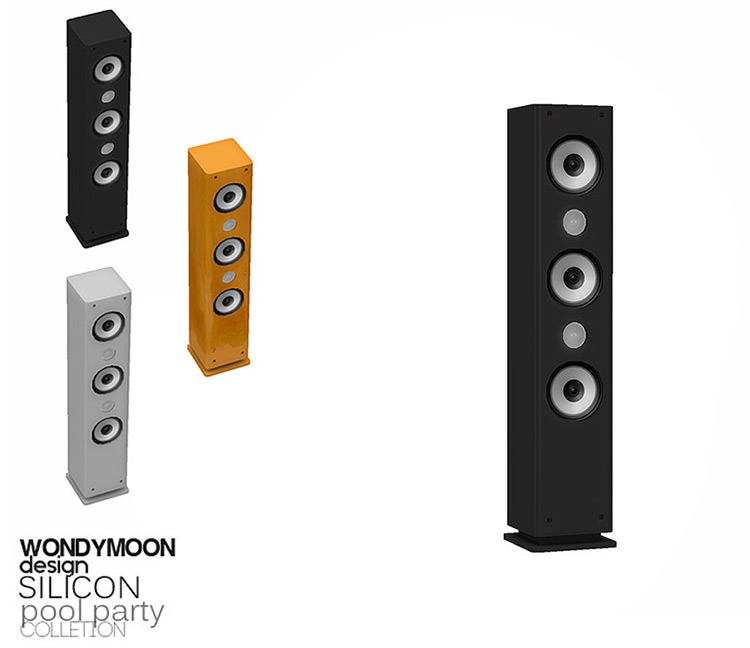 Watching TV on the sofa is fine.
But it's also important to leave the house once in a while.
If your Sim has a pool, then an afternoon swim might be just the thing to perk them up. And these Silicon Speakers are perfect for bringing some tunes outside for extra relaxation.
This CC is also an excellent option for audiophile teens with a need for a high-fidelity stereo in their rooms. You know, to blast Simlish Katy Perry jams.
The Silicon Speaker is part of Wondymoon's Silicon Pool Party set.
11.

Ununpentium TV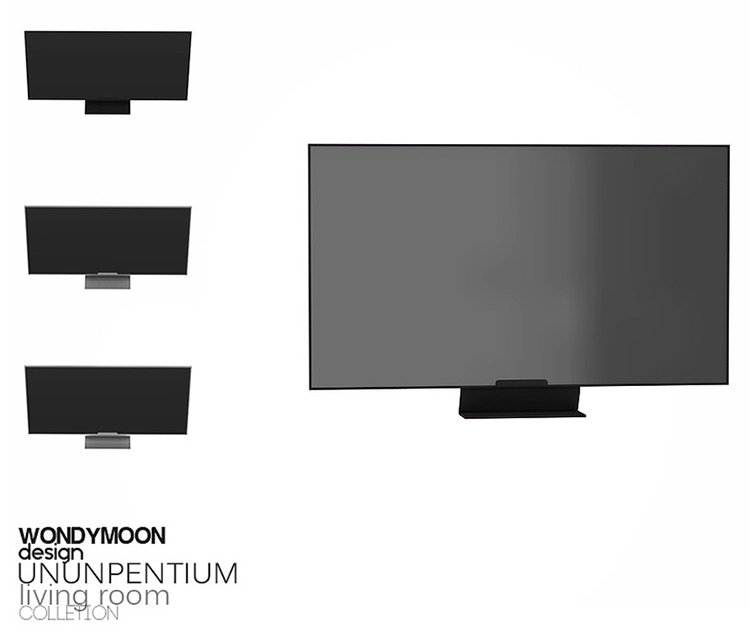 Creator Wondymoon also brings us this massive widescreen Unumpentium TV as part of their Unumpentium Living set.
Featuring good taste and lots of wooden surfaces, this living room set is perfect for the up and coming Sim with a love for delicate decorations.
This TV could also make a great centerpiece for many spaces, with a sharp high-quality design that will take your Sim poses & screenshots to the next level.
10.

Uzux Living Room Audio
If your Sim is the kind that loves to spend time in their studio, surrounded by polished dark wood furniture and lots of books, then the Uzux Living Room Audio system is ideal.
These tower speakers by Jomsims look absolutely amazing, and they're available in four sober colors to match any haughty furniture – black, brown, gray, and white.
Your room's solemn ambiance no longer has to come at the cost of high-fidelity audio.
You can also find a matching control system to have the complete Uzux Living Room Audio experience.
9.

Celestia Wall TV
Sometimes, simple is better.
And this wonderfully-modeled Celestia Wall TV provides one of the highest-quality black entertainment boxes available for The Sims 4.
It's worth mentioning that the Celestia TV has one of the most detailed backsides among the many television CC out there.
And this is especially funny considering that it's… you know, mounted on its back.
The TV is part of the Celestia Living Room set by creator ArtVitalex, which offers a comfy & creative room with lots of wooden surfaces.
8.

YUUZ Hi-Fi Audio System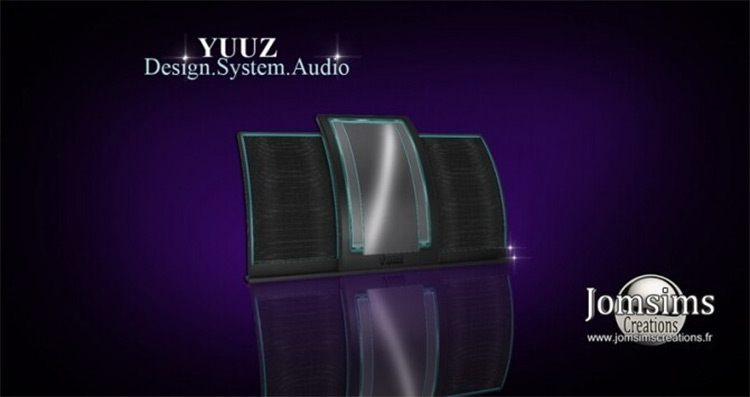 You may not know this, but back in the day, bars all across the world were littered with flashy jukeboxes.
Patrons could pay a couple of coins to listen to their favorite songs. This was even part of The Sims, if you're old enough to remember!
Well jukeboxes are a tad outdated nowadays.
But that doesn't mean you can't have a big, flashy music player as the centerpiece of your social spaces. Just walk up, choose a song, and send the whole room into a dancing craze.
Get this CC if your Sim is the kind of person who's enthralled by fancy new electronics and likes showing them off.
7.

Living Zhylon Standing TV
Most TVs shine for their shape, texture, or even their functionality.
But this Living Zhylon Standing TV by creator BuffSumm is all about its stand.
This twirly base is reminiscent of a whimsical location like Willy Wonka's chocolate factory. But you don't have to turn your Sim's home into an amusement park for it to look amazing.
This wonderfully creative TV is, as you could guess, part of the really unique Living Zhylom set.
Snatch this up if you want to turn your room into an eccentric millionaire's lair.
6.

Automatic Stereo System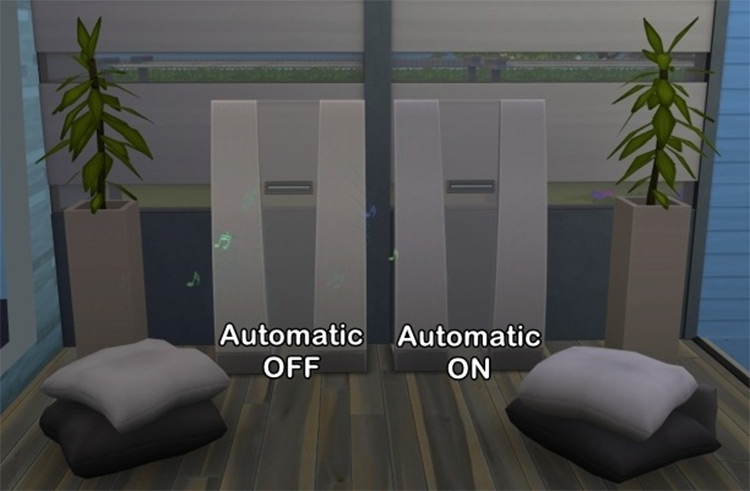 Don't you just hate it when a Sim gets bored of listening to the stereo, and just leaves without having the decency of turning it off?
If your Simoleons don't grow on trees and you don't want to keep paying high electricity bills, then this Automatic Stereo System by LittleMsSam is something you'll never want to play without.
Once installed, you can outfit any stereo with automatic shutoff for the low price of 250 Simoleons.
The stereo will now constantly scan the room for Sims (including pets) and turn off whenever there's nobody in the room listening anymore. Welcome to the future!
5.

Tuomo NAX Flatscreen TV
Yet another 16:9 flatscreen TV makes this list, thanks to its simple but sharp design by CC creator RightHearted.
This is just the CC I'd get if I was only getting started with customizing my game.
Its textures look good surrounded by Maxis' default clay-like characters, furniture, and building materials.
It's available in four colors you'd expect to find on any TV, and it's part of RightHearted Scandinavian Living set, focused on light colors and modern furniture.
4.

Smarter Than You Smart Speaker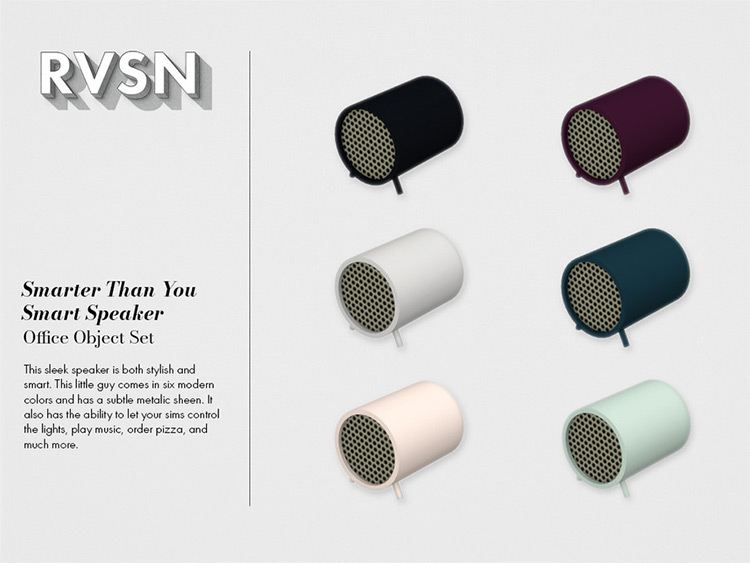 As time goes on, more and more functions are pushed into the same electronics.
This way you don't have to fill your pockets with items, or populate your living room with lots of equipment.
Modder Ravasheen does the same for TS4 appliances with their Smarter Than You Smart Speaker.
This will let you control the lighting, order food, and much more, in addition to playing music.
It's available in six modern colors, and its sleek design makes it an adorable decoration for almost any space.
Especially in smaller rooms where a bigger stereo would be too much.
3.

Black TV Sitcoms Movie Mod
I rarely sit down to watch TV nowadays.
But back when I was younger, I watched so many sitcoms you could have considered me an expert.
I like to give my Sims the freedom to become sitcom experts too. And one of the best mods related to the art of watching funny TV is Lover's Black TV Sitcoms Movie Mod.
What this nifty mod does is add extra menu items whenever you're choosing what to play on TV.
These new options include many shows that portray the black American experience in a relatable way such as The Game, Everybody Hates Chris, and Black-ish. Why not add some realism into your next session?
2.

Sonoma TV
We've covered many flatscreen TVs so far.
But as we approach the top of this ranking, I think a change of pace is needed.
This unusual TV by ArtVitalex has a curved design, allowing your Sims to immerse themselves in media like never before.
All while also showcasing your unique taste in appliances and decoration.
Less stylish Sims may feel a little intimidated by this avant-garde TV. But you shouldn't let that stop you from getting this beautiful piece of equipment.
1.

Home Cinema: Deluxe Edition
Let's face it: TVs are a second-best option when we can turn a room into a movie theater to watch movies, TV, and even play video games.
Well, maybe not in real life, but in The Sims? Heck yes!
This giant Panasonic TV matches the high-quality Klipsch sound system to create the ideal home theater for your Sims.
It's the biggest plasma display CC you can get, and everyone likes a giant TV.
Creator Lastrie did an astounding job creating these intricately detailed models. And I especially like the hyper-detailed Harman Kardon AVR made to go with the home theater.
Browse:
Lists
The Sims 4
Video Games