Sims 4 Twins Pose Packs (Newborns, Kids & Toddlers)
This post may contain affiliate links. If you buy something we may get a small commission at no extra cost to you. (Learn more).
If you've ever played the Sims 4 100 Baby Challenge, then you're probably a pro at increasing your Matriarch Sim's chances for twins (or even triplets).
Without any cheats or mods, the chance of your Sim giving birth to twins is 10%.
Unlocking different achievements or activating fertility boosts before trying for a baby can make this number go up.
But if you want to skip the trying and aren't currently playing a challenge, just jump into CAS! You can create a Toddler and clone him (or her) right then and there.
Once that's done, jump back into the game and take some sweet family photos with your brand new twins.
Here are some cute twin-themed poses to try out.
1.

Twin Poses Set by simskittykat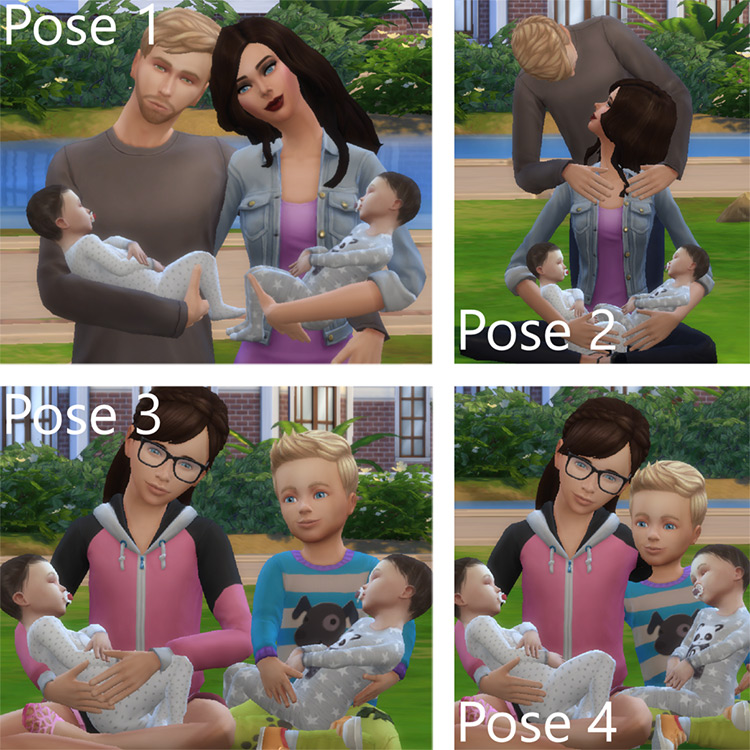 It's a wholesome little family photoshot for a family of six Sims.
You've got two parents, a Child, a Toddler, and two bouncy baby twins!
These four group poses will all need two toddlers modified to look like newborns using RedHeadSims's Toddler Height Preset (which you can download on in the description). You'll need the Short height preset for the poses to work.
This is a great pack for bigger households that have most life stages represented, because the third and fourth poses require a Child and a Toddler.
Watch how the Toddler cradles one of the twins; it's really cute.
The concept feels like a "welcome the newest members of our family!" photoshoot, what with the Sims very aware of the camera.
Granted the poses are pretty simple, but the quality is well above standard.
2.

Twins Set #1 by zairahsim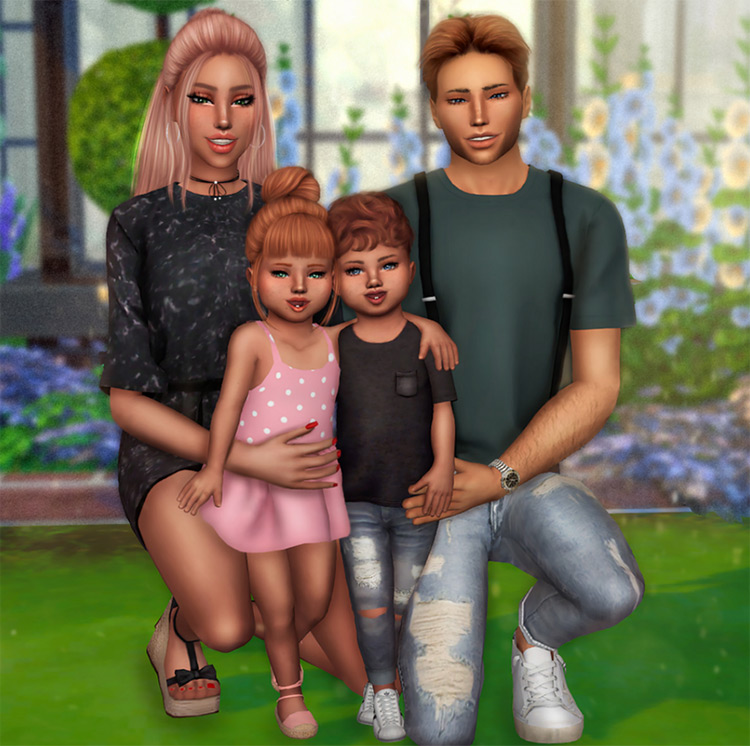 This pack contains only 2 poses.
One is a family pic of four Sims. And the other one is a candid shot of twin toddlers coloring their parent's face.
The first shot is a simple – but still hopelessly adorable – group pose for two Young Adults/Adults and two Toddlers. Definitely unisex, as none of the poses seem specifically Feminine or Masculine.
Unfortunately, the crayon Accessory that the creator used for the second shot isn't linked or mentioned in the description.
In fact, there is no description for this pose set.
Setup is pretty straightforward though, so it's not too big a cause for concern.
As for the crayon, I recommend using this Crayon Accessory by sweetformysims. It also comes with body paint!
3.

My Twins Pose Pack #1 by KatVerseCC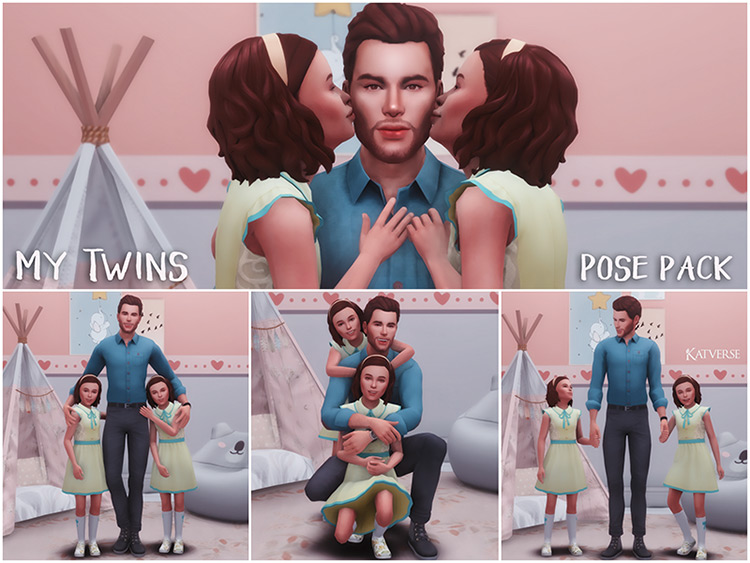 KatVerseCC brings us yet another awesome high-quality pose pack, and it is seriously so adorable.
The premise (as you can probably tell by the preview photos) is of a dad posing happily with his beautiful twin girls.
The poses are definitely unisex, too. I mean, I swapped the Male adult for my mom Sim and used twin boys instead, and the poses still looked excellent.
However, I really do like the creator's original Single Dad vibe.
It's just so sweet seeing how fond and protective a father can be for his baby girls.
Hands-down my favorite pose in this pack is the first one, where the twins are planting big kisses on their dad's cheeks.
4.

Twins Pose #03 by ayumea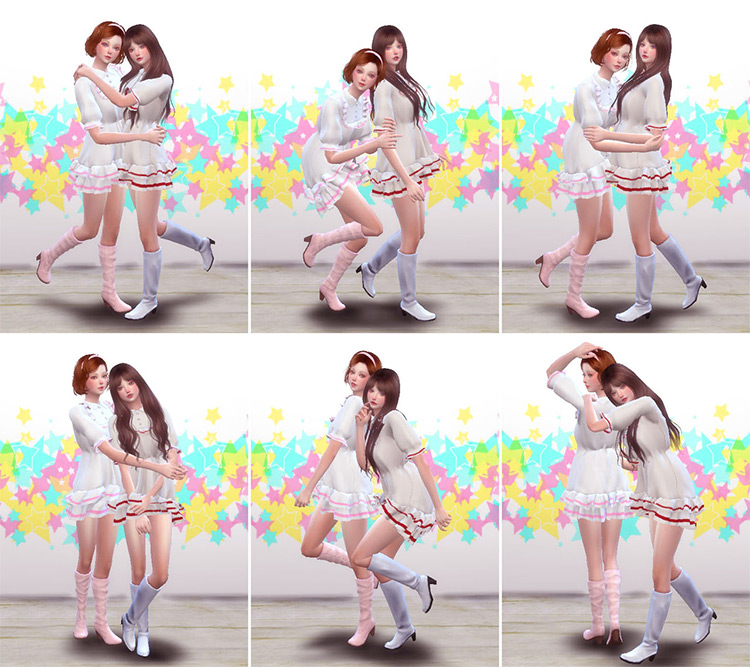 We've had plenty of twin toddlers and twin babies up 'til now, so here's a quick breather.
Presenting: a set of poses for Adults/Young Adults!
These poses could easily be done using two Sims completely unrelated to each other (think a BFF photoshoot or something). However, since the creator specifically labeled this pose pack as Twins, I'm including it in this list.
The concept (and poses) feels very straightforward. Nothing too fancy here.
At least this allows you to invest your time and effort on setting up the background and outfits instead.
There's also no specific narrative to this one, either; just two Female Adults/Young Adults posing all sweet and pretty!
5.

Family of Twins Poses by Bommie Sims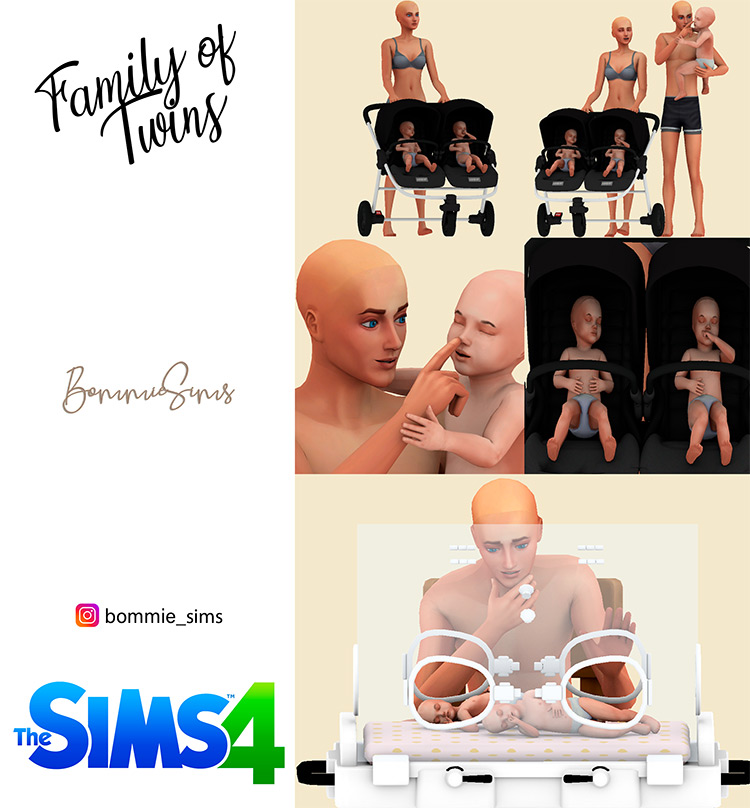 This pose pack requires quite a few accessories for it to work, but I promise the results are incredibly worth it.
Use the first two or three poses when you want to portray your family of five out and about on a lovely walk.
You will need RedHeadSims's Toddler Height Preset (Short) again in order to fit your twin Toddlers into the stroller.
Don't worry; everything you need is linked in the description, and the creator even includes some quick instructions for setup.
These poses don't really have a cohesive theme to them – especially the fourth one. But they're great to depicting slice-of-life scenes with your Sims.
For the poses requiring the baby stroller, place all teleporter statues in the middle of the first stroller cart aka the one to your left.
For the pose requiring the incubator, place all the teleporter statues in the middle of the incubator.
6.

Twinsies Pose Pack by boredsimscc
This pack is pretty similar to simskittykat's Twin Poses set.
There are two parents, a Toddler, and two newborn bundles of joy.
And all the poses are designed to look like family photoshoots showing off the newest addition (or additions) to the family.
There are four group poses for two adults, two baby twins, and one pose with a toddler holding the babies.
I have to mention how tender and genuine the poses involving the adults are.
Mad kudos to the creator; you can really see the fondness and love in the expressions. And they did a great job in terms of pose variations, too.
If these were real people posing, they'd probably post these sorts of pics to their Instagram.
The shots just have that kind of vibe.
Do note that you'll need RedHeadSims's Toddler Height Preset again – the small preset, this time.
7.

Mom & Twins Pose Pack by simmerdanicc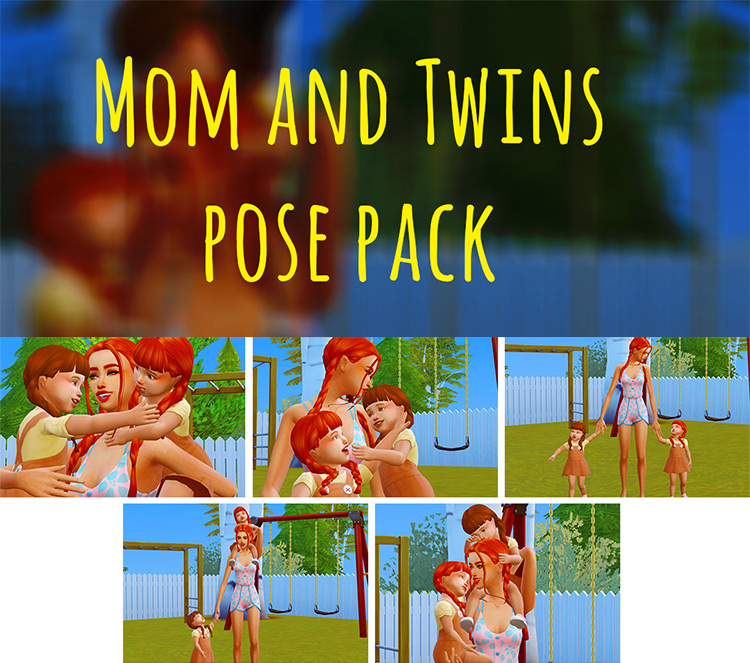 It's mom's day out with the kids, and it looks like she's taking them for a lovely stroll.
This has the same single parent vibe as KatVerseCC's My Twins Pose Pack 1.
You've got Toddler twins hanging all over their one parent, being sweet and clingy and just generally adorable. No double cheek kisses this time, but there are a lot of happy smiles and fond looks to make up for it.
Plus, mom looks to be a total badass, effortlessly toting around two full-grown toddlers, calm as you please and doing it so flawlessly.
There are five unisex poses in total for two Toddlers and one Adult/Young Adult.
Note: the link to the download on the creator's page is a bit messy, and there's a lot of navigating to be done. If you're having trouble accessing it then you can download the pose directly using this SFS link.
8.

Dad with Twins Pose Pack by softiesophiesims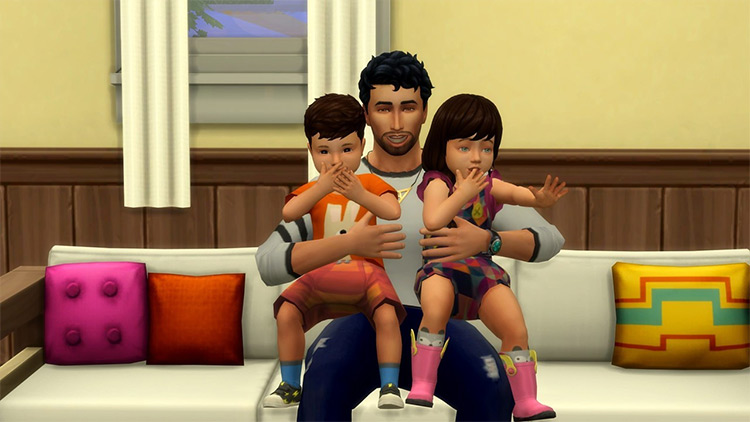 This pack is too precious for words.
If your heart doesn't melt seeing two tiny toddlers napping on the couch while their dad cuddles them, I don't know what to tell you.
It's just one pose, but it sold the whole set for me.
There are two other couch poses in the pack for one parent and two twin toddlers.
One has the parent holding the toddler aloft so they can airplane, and the other has them sat on dad's lap as they watch a movie (or at least, that's what I assume they're doing).
Overall, a really solid batch of poses that also happen to be unisex.
9.

Sims 4 Double Dose Posepack by Mel Bennett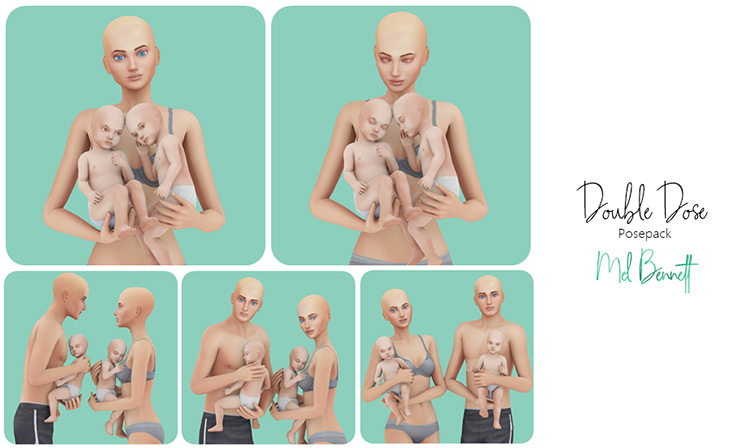 These twin poses have really opened my eyes to just how helpful RedHeadSims's Toddler Height Preset is for custom poses.
It's a darn shame that babies are technically just objects in The Sims games – but there's not much we can do about that.
Thank goodness for mods and CC, am I right?
That intro was just to let you know that you will be needing the Toddler Height Preset again for these poses to work. But as always, it's linked in the creator's description if you need to download and install it.
These poses have the same family-photoshoot flavor as most of the packs on this list.
The models' expressions are pretty subdued here – unlike, say, boredsimscc's Twinsies Pose Pack, where the emotions were clear as day.
But I can understand why some people would prefer that.
And it doesn't make these poses any less tender, though! 10/10 recommend.
10.

Mother of Twins Posepack by simtographies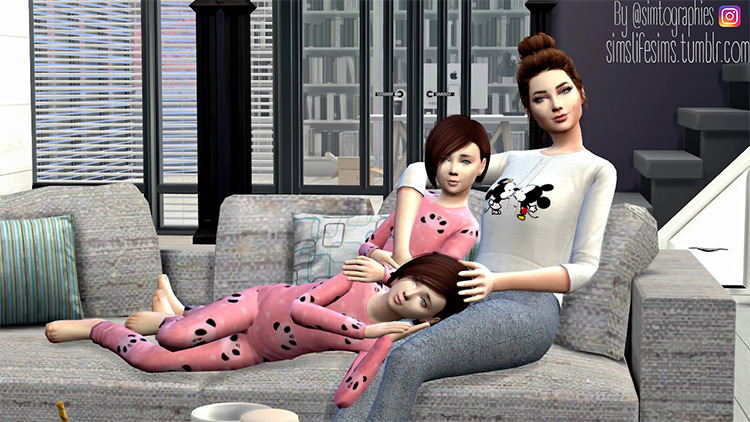 Last (but most definitely not the least) is this cute selfie-filled posepack of a fierce momma and her precious twins.
There are 8 poses in all: four with Child twins, and four with Toddler twins.
Four of the eight poses are meant to be taken as selfies, so make sure you position the camera at the end of the Young Adult/Adult Sims's arm.
Huge props to the creator here too.
Because not only are these poses incredibly cute and creative, but creator simtographies was also kind enough to include placement instructions in the download.
When you open the downloaded folder, you'll see an image file telling you where to put the teleporter statues for each pose.
This saves me the extra five minutes it would've taken me to figure out where everyone goes, so I appreciate the effort one hundred percent.
Browse:
Lists
The Sims 4
Video Games