Best Sims 4 Ugg-Themed CC (All Free)
This post may contain affiliate links. If you buy something we may get a small commission at no extra cost to you. (Learn more).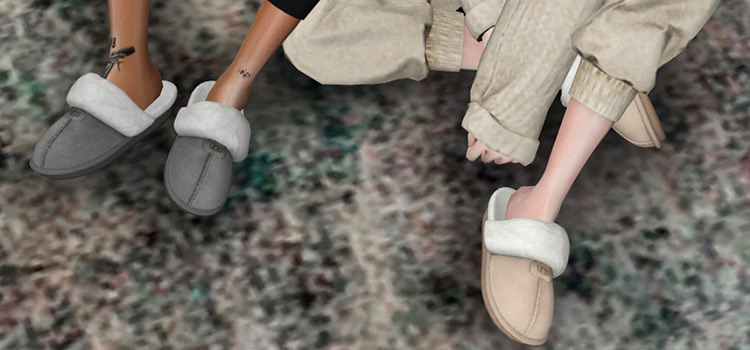 Who's got boots with the fur?
Your Sims have boots with the fur! Or at least they can, and not just any fur.
I'm talking about Uggs, some of the most popular footwear of all time. Everyone knows these tan sheepskin beauties when they see them – and that's because they are truly so versatile.
Leggings, skirts, jeans, dresses… what do they have in common?
They all go well with Ugg boots. The only combo I've never seen is shorts and Uggs, but hey, you can make anything happen in this game.
In fact, it's bound to happen with townies. That sounds like something they'd really like.
But no one cares about townies, this is about you and your Sims. And your Sims will have plenty to choose from with all this CC – and not just the Ugg boots you may expect.
1.

Ugg Boots Classic Mini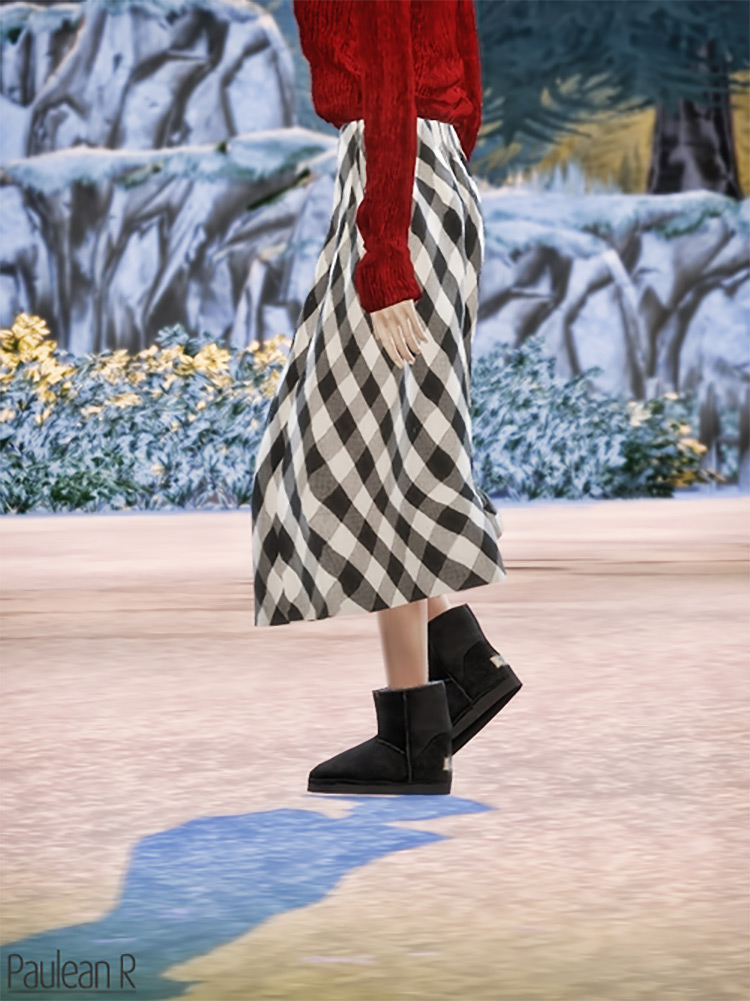 These boots may be mini when it comes to their stature, but they will be no small addition to CAS.
If you want your Sim to have Uggs that are as close to the real thing as possible, then these will definitely not disappoint.
It's as if this creator, Paulean R, reverse 3D printed a pair and just placed them into the game.
Oh what an amazing world it'd be if we could actually do that… But we can't, which makes this feat so much more impressive.
And these models have that same plush texture that Uggs are known for.
You can even see the stitching.
The tag on the heel will always be there to remind everyone just what your Sim is rocking. And with 12 swatches, you'll have plenty of leeway to color coordinate outfits!
2.

Ugg Boots Retexture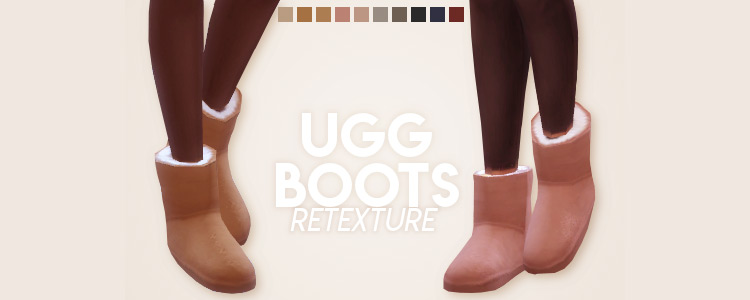 Now as fantastic as Paulean R's boots are, they're pretty firmly on the Alpha side.
In other words, they are indeed realistic. But they don't exactly match the game's cartoony style.
That's a big deal to some people who actually prefer Alpha.
But for you Maxis Match fans, we've got CC for you too so there's no need to fret.
Another creator (Blushchat) went ahead and gave the boots a retexture so they'll fit right in.
Everything that made them so great to begin with, still remains in these retextures.
They're just a little less detailed now.
Blushchat succeeded at tweaking their surface appearance enough that they won't look a bit out of place if you don't use a lot of Alpha CC.
3.

S-Ugg Boots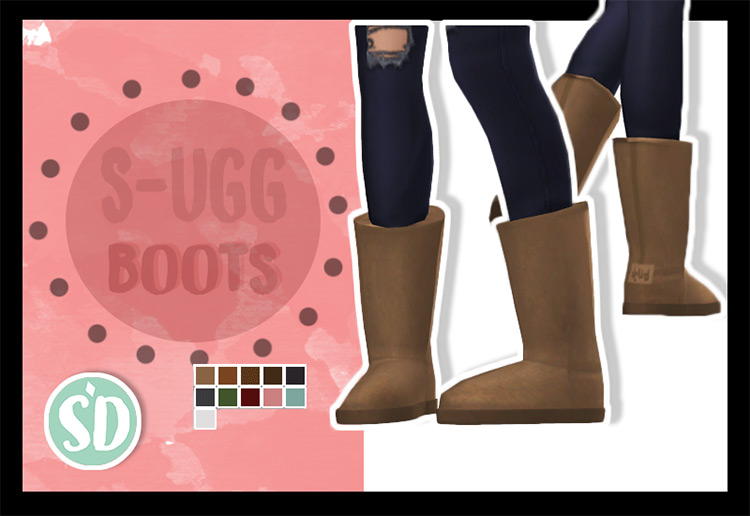 Here's a taller type of boot that offers a slightly different look from the shorter "classic" style.
These are definitely just as classic, albeit in a different way.
But Uggs are Uggs at the end of the day.
That soft, inviting boot has won the hearts of millions.
I agree with the creator that these are ideal for fall and winter.
This isn't the sort of footwear I'd recommend for trudging through a snow drift or walking across ice, but they definitely have a place for cold weather.
Chilly fall days just wouldn't be the same for many girls without an oversized sweater, tights, and of course, their favorite pair of Uggs.
And the holidays are especially a prime time to have them around, with all of the fun patterned leggings out there.
Your Sims get all of that and more at their fingertips, and these will complement just about anything.
They come with 11 swatches that are perfect as the leaves start to fall.
4.

Ugg Fluff Yeah Slides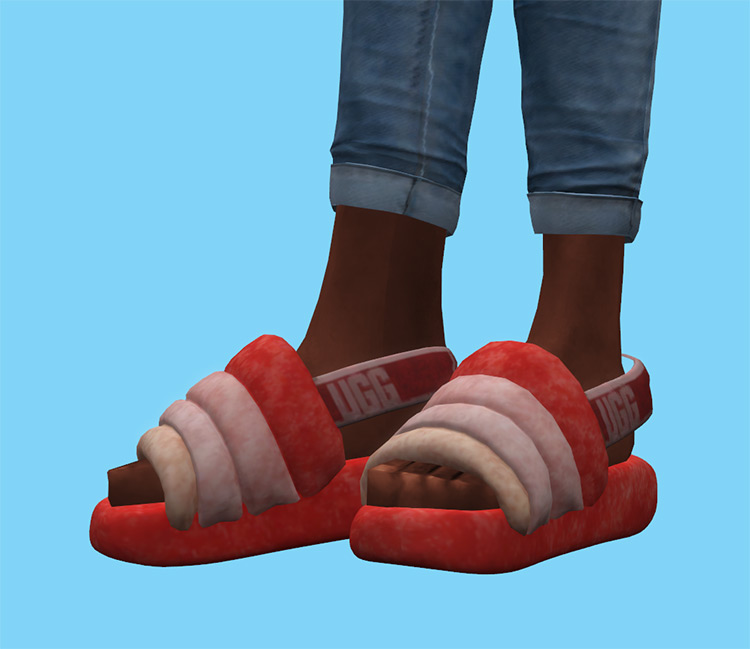 Being totally honest, I really wasn't aware that Ugg made anything besides those iconic boots.
Those have dominated their own little slice of the fashion world for quite a while now. So those of us who haven't looked at what else they have to offer may have been missing out.
Slides also are intensely popular, so I guess I shouldn't be so surprised an Ugg version exists.
And in case you're wondering, this isn't just something an Ugg-loving Sims player conjured up – this is a real thing.
I'm normally not envious of my Sim's footwear. But this will definitely be an exception.
These are incredibly thick and fluffy.
Wearing them must feel like walking on a cloud!
5.

Stylish Warm Ugg Boots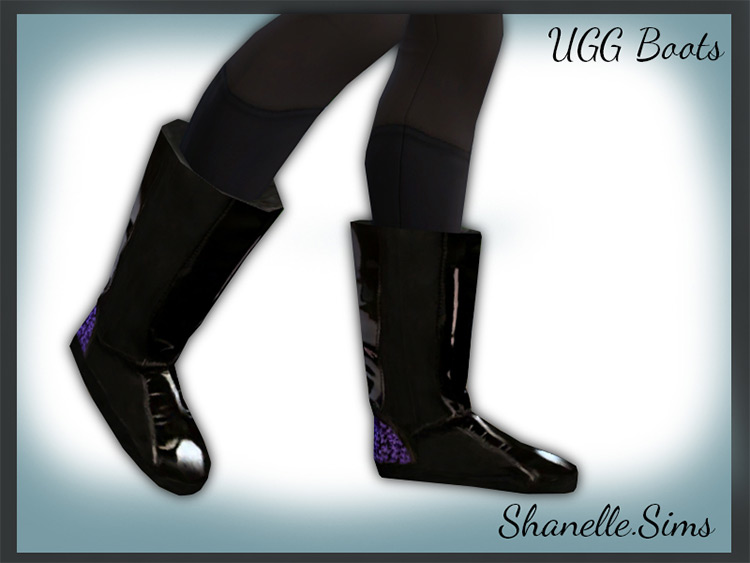 It's hard to improve upon something already so beloved, but Shanelle.sims has put a fun spin on Ugg boots in this CC.
These have a cool shiny appearance, but the best part is the glittery patch at the heel.
When has glitter ever done anything but make clothes better?
Well, I suppose glitter only makes something better if the application of it is intentional. Plenty of parents out there probably have some passionate feelings about it after the slime craze.
But here, there's no doubt that glitter is purposeful.
It stands out nicely against the black boot, and comes in four bright colors.
6.

Toddler Ugg Booties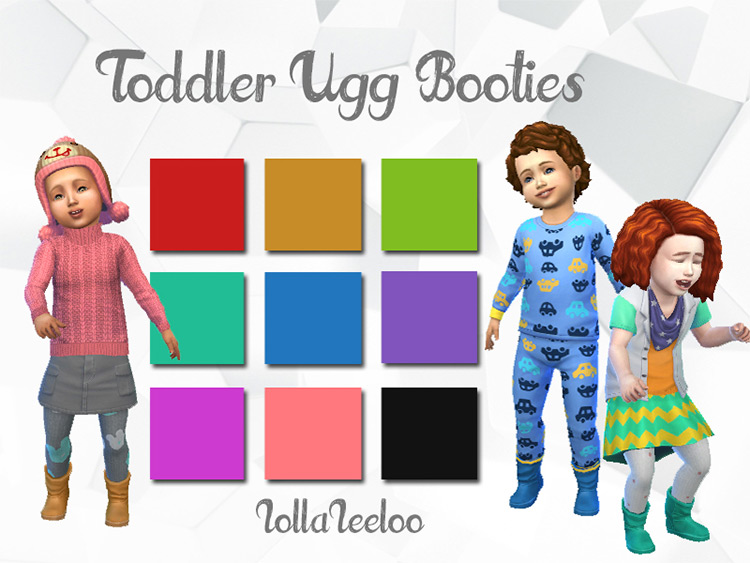 So few clothing trends are appropriate for all ages.
That's part of what makes Ugg boots so special.
Everyone looks cute in them, but it's hard to top the adorableness of a toddler in Uggs. Those of you with Seasons or Cottage Living already know how unbelievably precious those tots look in boots.
Their legs are so short, boots always go halfway up their legs, and something about that will just melt your heart.
You can use these on your Sim toddlers in most of the same ways you use them on adults, like with skirts or pants, or really anything you want!
One thing they can get away with that most grownups couldn't is boots with onesies.
The best part is that'll really show those chubby little legs.
7.

Ugg Classic Cardy Boots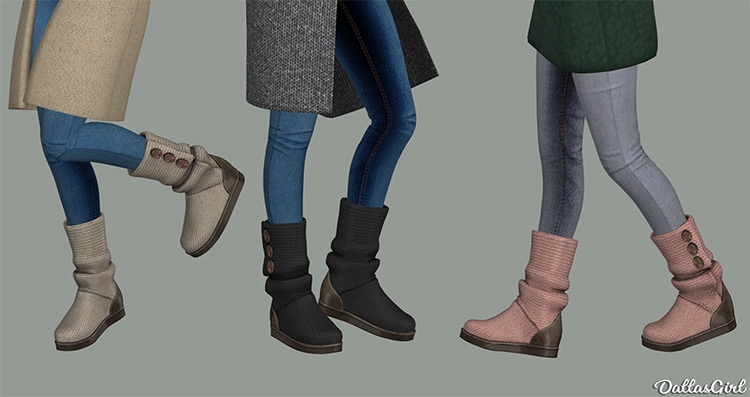 Cardigan texture is very notable.
That knit design just immediately brings a feeling of coziness.
It's what makes them perfect for those cold months where insufficiently warm clothing could be lethal.
These offer a little more visual interest, for lack of a better term, than the "original" Uggs.
Here, not only do you have the cardigan look, but also decorative buttons and darker lining for the sole and heel.
You'll seldom be disappointed by the amount of swatches Simmers include in their creations. And this is another one that knocks it out of the park.
With 12 swatches total, there's something for everybody!
8.

Classic Ugg Boots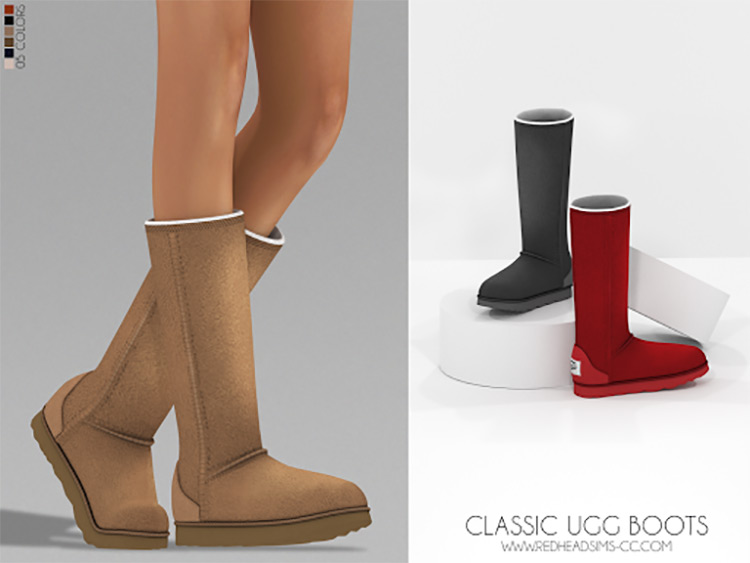 These are by far the tallest Uggs available to your Sims.
So if you really want them to be the focus of your Sim's outfit, this is the ideal boot.
They'll be just a few inches shy of your Sim's knees. But they still bring that classic Ugg look with subtle fur lining, a soft texture, and sturdy soles.
The stitching alone is like an added bit of depth – and something that's integral to the look of these boots.
One thing that differs a lot with CC is the style of the boot itself.
Some are meant for pants to go inside, and some will automatically go over top. These will be great for when you want your Sims to wear leggings or skirts, since the top is quite slim.
Oh, and if you're into knee-high attire then here's a list of even more goodies to try on.
9.

Comfy Ugg Boots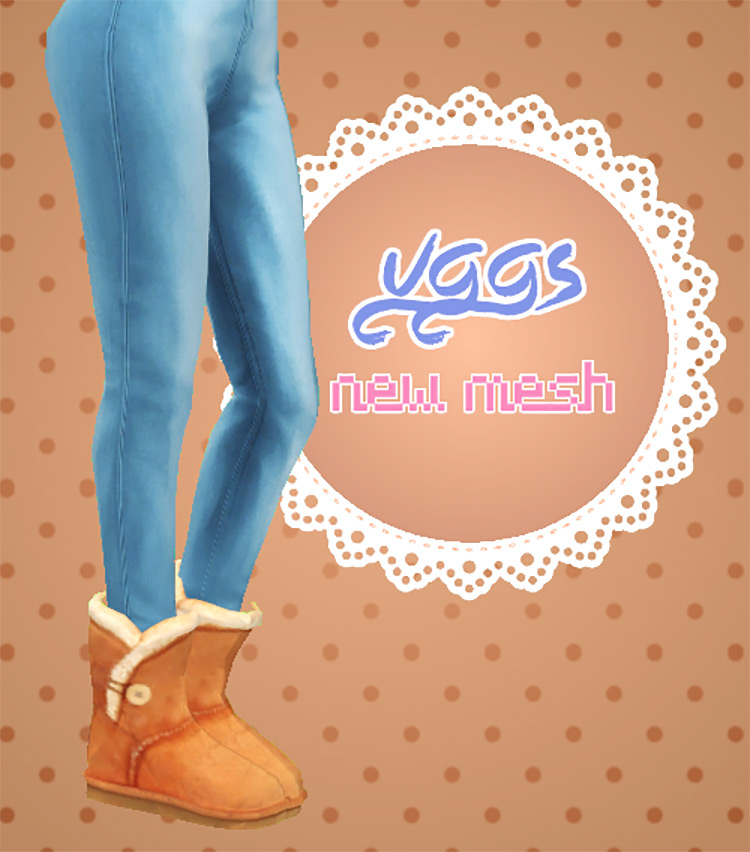 All Uggs are comfy.
That's kind of what they're famous for.
How could they not be with their entirely plush structure?
It's like wearing stuffed animals on your feet, only not as weird.
And this design is my personal favorite style of Ugg. It has a sort of western vibe with the shearling lining, which is thicker here, and more noticeable than the fur in other versions.
The color is a darker more natural tan and it's fastened with an elastic and button.
This CC creator did an awesome job of recreating all of that for our Sims.
And this is a lovely item that really lives up to its name.
10.

Ugg Coquette Slippers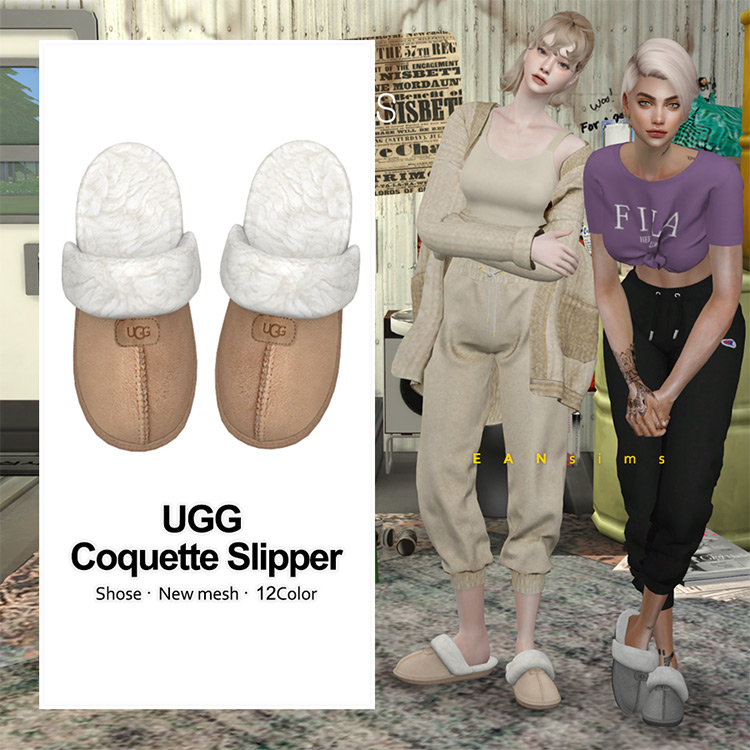 Here's something you may have seen a lot, but not known it was an Ugg product.
These slippers are rather iconic themselves, bringing together comfort and causal durability in equal measure.
Whether you're running errands, lounging on the couch, or taking our dog for a walk, the Ugg Coquette Slipper is the obvious answer.
They aren't like typical slippers that are meant to never travel much farther than from your bedroom to the fridge and back.
You can easily work these into everyday outfits for your Sims to add a firmly modern flair, without making it look like they're wearing pajamas.
And like always, the fur design is fantastic here. One look will tell you definitively that these are from Ugg, thanks to the little tag on top.
Browse:
Lists
The Sims 4
Video Games