Sims 4 Vampire Furniture CC: The Ultimate Collection
This post may contain affiliate links. If you buy something we may get a small commission at no extra cost to you. (Learn more).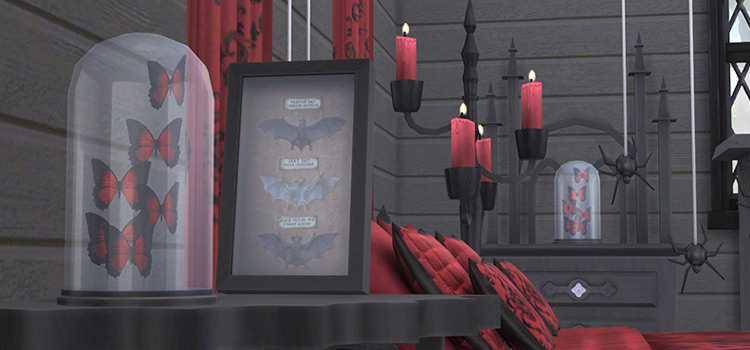 There must come a day in every respectable Simmer's career when they enter their vampire phase.
In the following weeks after that point, at least one family of vampires will spring from the darkness, with their not-so-humble abode following close behind.
But ultimately, the ghostly pale skin tones, raven black hair, and high gothic fashion that make up vampiric character design are the easy parts.
It's the abode that poses a real challenge.
Vanilla Sims 4 offers little in the way of good vampire furniture. The Vampires game pack has some fun pieces, but it also has its limits.
That's where the CC comes in.
Remember: there can be no Dracula without Bran Castle.
1.

My Little Monster Nursery Mobile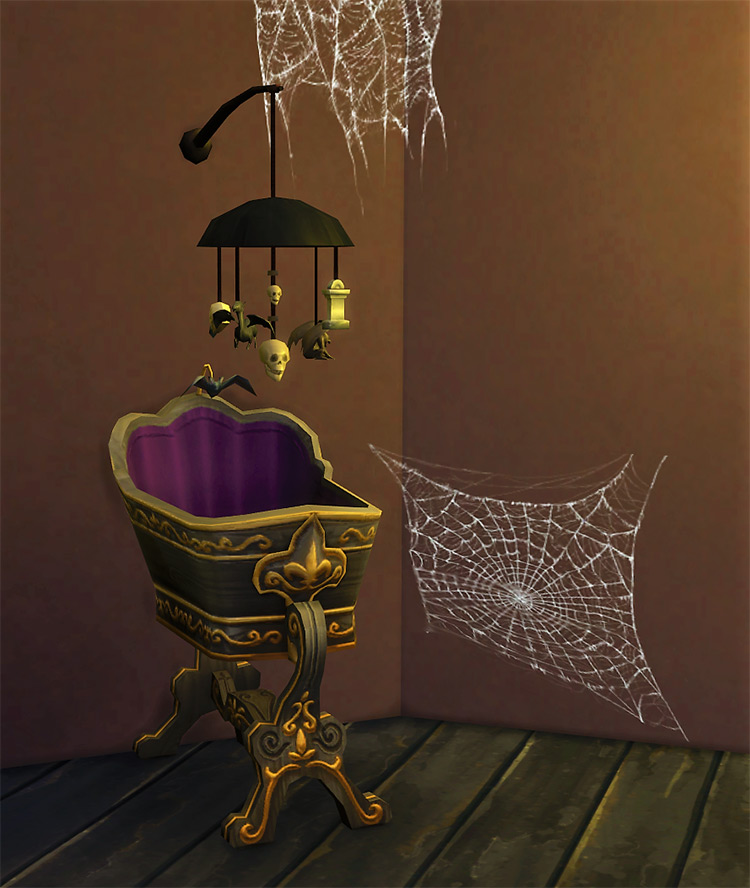 It's only fair to start off this list with something for the start of a new vampire's life.
And I don't mean a bitten vampire – I mean a baby!
This My Little Monster mobile features all the wonderful things a newborn wants to see parading around their head, such as skulls and tombstones.
It's sure to keep them occupied during the nighttime and lull them to sleep at daybreak.
In short, this mobile is the perfect way to welcome a vampire into this world – without having to expose them to the dangers outside of the castle.
So what are you waiting for? Now is the best time to get your cute bloodsucking baby this peaceful gift.
2.

Gothic Vampire Bedroom Set
If you need something for baby vamp AND mommy and daddy vamp, then this gothic vampire bedroom set is for you.
A royally dark baby crib and a matching queen size bed are only two of several furniture pieces, including just about everything a vampire family could want in their master bedroom.
There's a bedside table, lighting options, a wardrobe, and a rug (in the same gorgeous red fabric pattern seen throughout the room).
But the real selling point is the spacious vanity.
With that piece in their room, your vampires will never be plagued with getting red lipstick (or blood) on their teeth.
3.

Opulence Incarnate Bedframe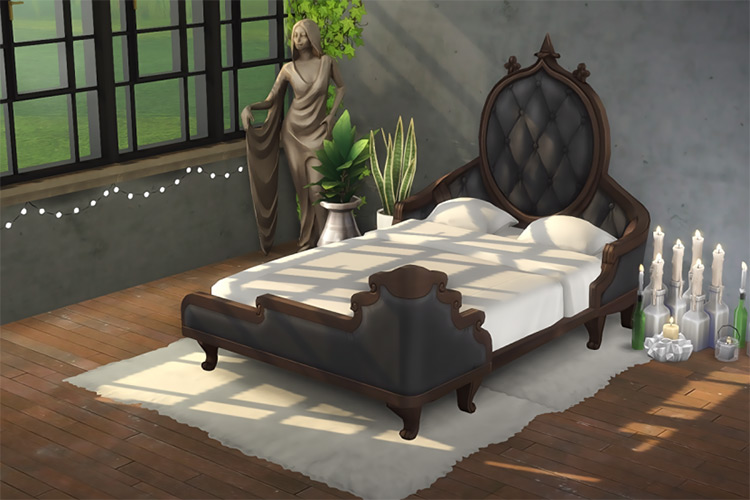 There's no such thing as an impoverished vampire.
And what better way to show off wealth and status than with luxurious furnishings like this one?
This custom bed is the type you get Instagram jealous of, because whoever's sleeping in this thing must have a life so glamorous and perfect… and this time, it's no illusion.
Although it doesn't seem to have any swatches, that's not really a problem given this bed's well-balanced palette of light and dark.
If I had to choose, it definitely leans towards the 'light' gothic side of the spectrum.
This is for the vampires that care more about luxury and comfort than edgy brutality.
4.

Gothic Seating Recolors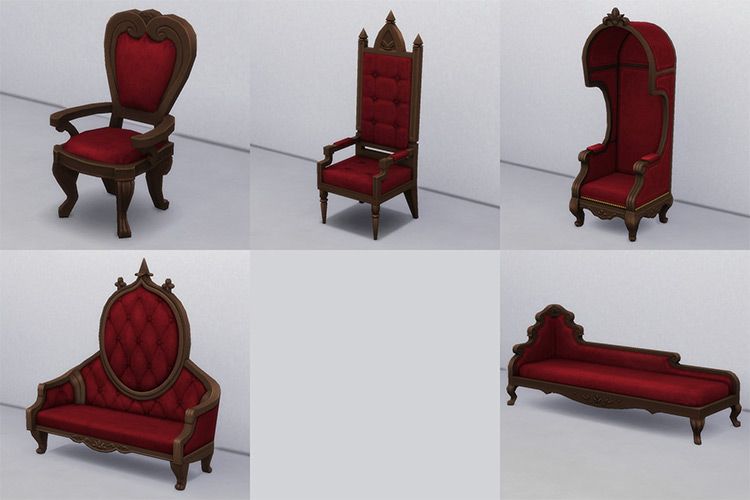 It's only fair to include a Maxis recolor on the list, as an ode to the gorgeous and brilliantly designed gothic furniture from the Vampire pack.
And of course, since it's a recolor, you will need the Vampire pack to use it.
All 5 of the available gothic seating in the gamepack are included in this mod – the only difference is that this time, they actually have the colors that you want.
There are 16 swatches in total, and together they make up a 'rainbow' of sorts.
A gothic rainbow.
Every color is muted (but rich) with the exception of the white swatch. So your vampires can experience a wide range of colors, without being reminded of the horrors of the sun.
5.

Funeral Parlor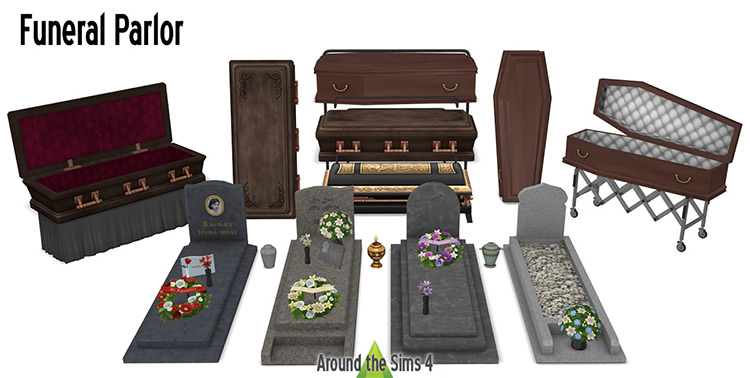 A funeral parlor is the perfect cover-up for a vampire (or two) in hiding.
Not only does it provide housing and a convenient day job, but it's an easy excuse for the stench of death and blood in the air.
This furniture set provides all the set pieces that a funeral parlor (or should I say vampire hideout?) would have: including coffins galore, funeral urns, and some well-kept graves.
Most of the furniture inside of the parlor can be regular old furniture that you'd find anywhere else. Nut being able to display your wares properly is paramount.
In the interest of that idea, this set comes with a coffin trolley, table, and shelf, so you can show off the 9 different coffin designs your parlor will have.
One of the coffins is actually a vampire bed.
But shh – don't tell your clients that!
6.

Victorian Vampire Framed Wall Photos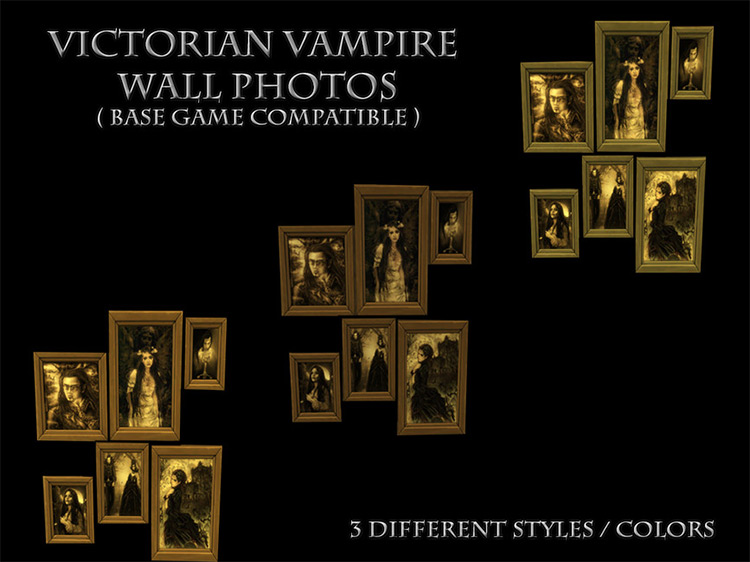 The perfect way to immortalize your vampire family's lineage (or at least immortalize them more than they already are) is through some totally-not-creepy family portraits.
This set of 6 Victorian framed photos will let you decorate your hallways with a sense of foreboding.
Not only is it vampire-y, but this CC set also gives off some very potent haunted house vibes!
And unlike some of the other CC on this list, it doesn't require the Vampire gamepack – or any other gamepack for that matter.
It's completely base game compatible.
7.

Blood Affirmation Shelf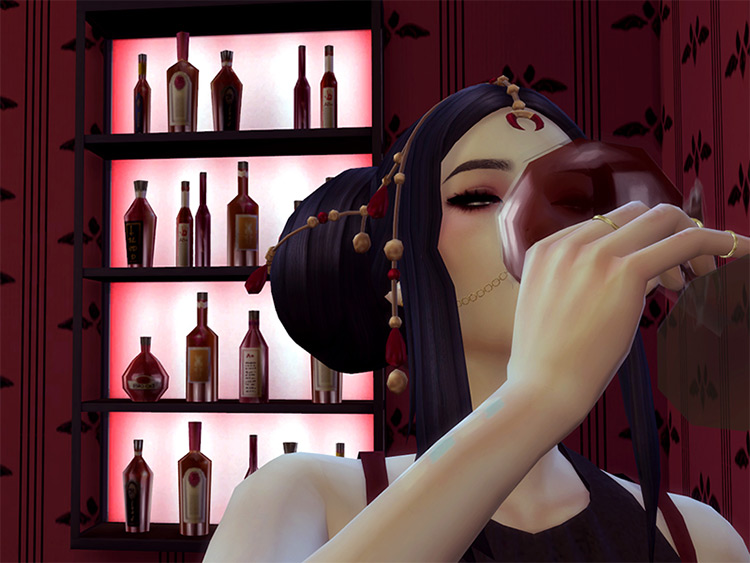 There's nothing more validating than a refreshing bottle of wine in the evenings after work.
Vampires aren't so different – just replace wine with a bottle of well-aged blood and you're good to go!
Well, that's exactly what this CC does.
Instead of the usual alcohol on the affirmation shelf, you get labeled containers of blood for your vampires to dine on.
The result is a modern nightlife version of the old gothic aesthetic we're used to seeing associated with vampires.
Don't get me wrong, gothic and Victorian styles suit them well.
But it's nice to see a change of pace.
You will need to have the Get Together gamepack to use this CC, though, since it's based on an item from that pack.
8.

Illuminated from Below Blood Cabinet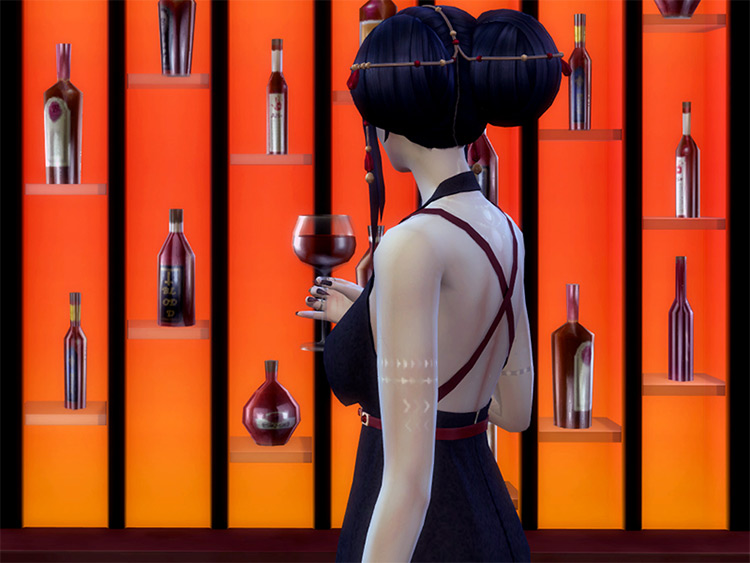 Just like the blood affirmation shelf, this cabinet is a vampirified reskin of an original item.
But this time, the item is the illuminated from below juice cabinet.
The original cabinet uses cool tones to fit in with the equally cool nightclubs of the Get Together gamepack.
But this recolor takes a demonic twist by using hellish orange and red. It's still just as cool, though.
Where the blood affirmation shelf is smaller and more compact, this cabinet acts more as a display case, to be used in a monster-only bar.
And just like its twin, the bottles have been conveniently transformed from juices and alcohol to blood.
9.

Vampire Bedroom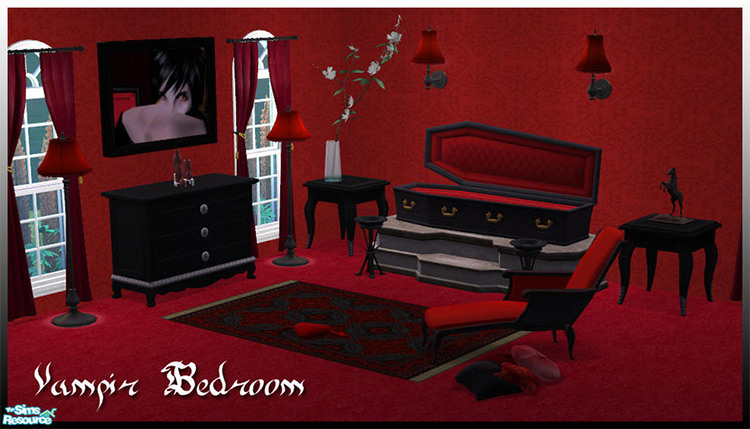 All the stories we hear about have vampires slumbering for years before awakening from their coffin in a cold, dark, and empty room.
While the cold and dark bits are wholly understandable, why does the room have to be empty?
Why not let them wake up in the comfort of a properly furnished bedroom?
It was that line of thinking that led to the creation of this vampire bedroom CC set.
It's much like a regular bedroom except bathed in black and red.
So this CC contains all the key parts of a vampired-centric bedroom build.
And of course, instead of a bed, you can add a cozy coffin for your vampires to retire to whenever they decide to take a century-long nap!
10.

Immortal Lights Collection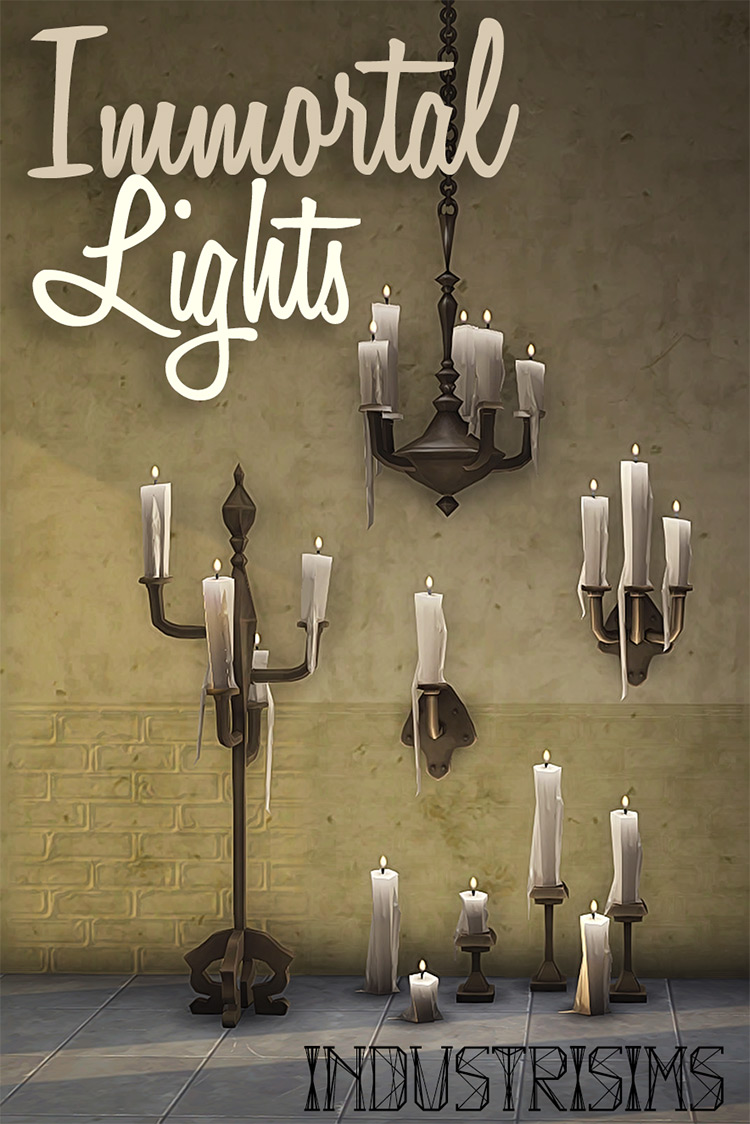 There's something a little magical about candles.
The dancing flame, the unique waxy scent… they're the stuff of dreams, for sure.
You can even use them for blood magic rituals!
And these lights capture and encapsulate this magic for the rest of eternity, all in 12 lovely candle designs.
Some of them are on the fancier side of things, such as a candelabrum and wall mounted candles.
But there are also plenty of candle solo-acts to place around your castle as well.
The best part is that these candles will live as long as your vampires do.
They're immortal, after all!
11.

Gothic Dining Chair & Table Set (TS3 Conversion)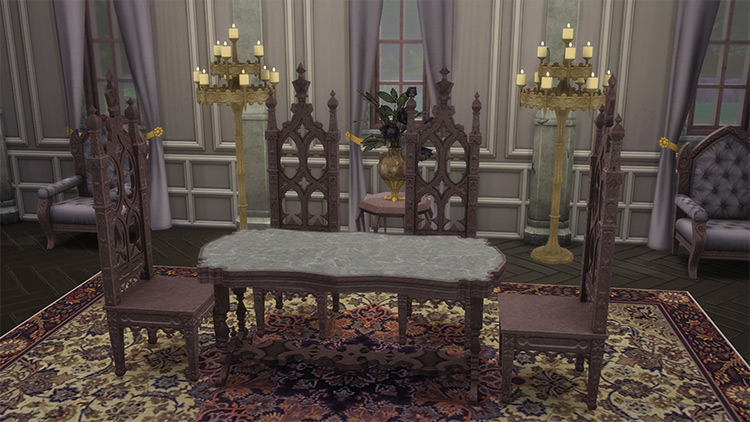 A traditional vampire has probably lived in their castle or mansion for a very, very long time.
As such, they've had plenty of time to collect all manner of vintage furniture.
Furniture like this gothic dining room set, fully converted over from TS3.
I don't know about you, but I'm pretty sure a vampire's lifespan covers multiple games.
And if there was a furniture set from TS3 that they'd want to keep with them for all of eternity, it would be this one.
It's a definite must-have for a vampire dining room – or at least one of them. Who knows how many rooms are in a vampire castle?
Either way, it matches the gothic style to a T.
And as you'd expect, this CC has the 4 original swatches for the chairs and the 8 original swatches for the table.
12.

Dark Nights Bedroom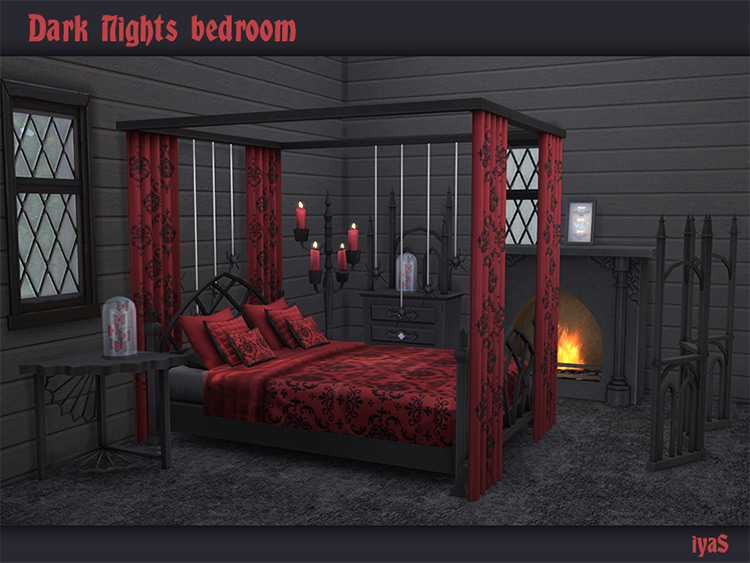 This CC set is yet another bedroom set that uses maroon, black, and gothic patterns to pull off the vampire aesthetic.
And just like the others, it includes all the generic and useful bedroom items a vampire would need. Stuff like dressers, bedside tables, and a bed (duh).
What makes it stand out is the set's usage of animals, insects, and arachnids in decor.
Yes, there are spooky Halloween spiders hanging from the ceiling.
But there are also jars filled with butterflies – and a case displaying neatly labeled bat corpses.
This set isn't just haunting; it's hauntingly pretty.
And there are 3 color swatches available for all of the items that use color (i.e. not black).
So this means the butterflies, candles, curtains, pillows, and mattress can all be changed to suit your color preferences – but the room divider will always remain grey-black.
13.

Gothic Décor Set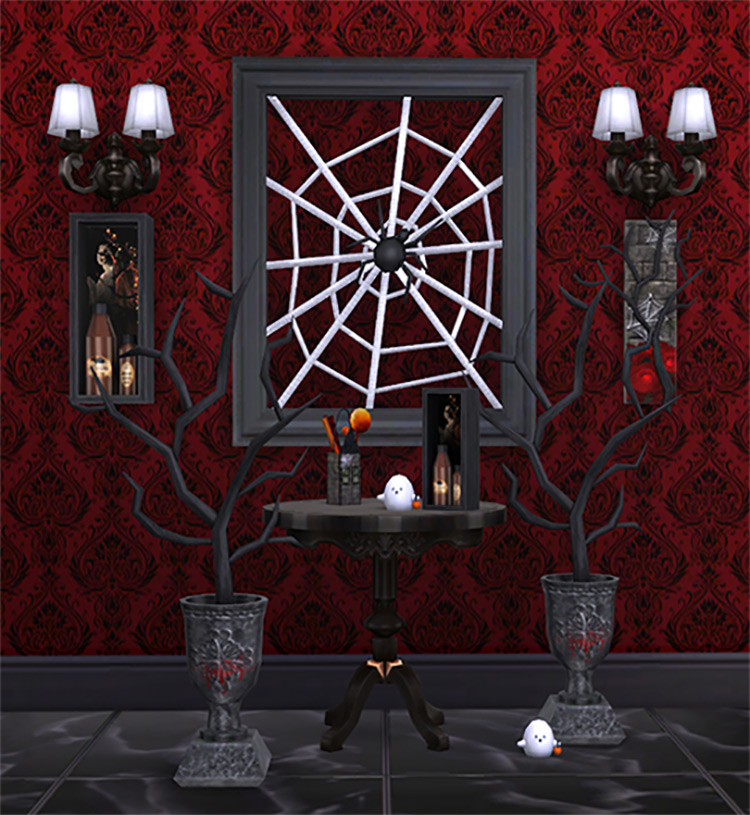 This set, made by the same creator as the "Dark Nights Bedroom" set mentioned above, has a similar creepy-crawly charm with a lighter tone.
It's actually a lot closer to Halloween party décor than it is to an upper-class gothic style.
It's pretty hard to look at that cute little ghost face and associate it with deadly vampires.
And the haunted house-styled bag?
Positively adorable.
Although it's not quite Hotel Transylvania levels of cartoonish, the vampires using this décor are probably on the playful and fun-loving side.
Sure, they suck blood.
But they can also throw some killer monster parties! Pun not intended.
Browse:
Lists
The Sims 4
Video Games