Best Sims 4 Vampire Makeup CC (All Free)
This post may contain affiliate links. If you buy something we may get a small commission at no extra cost to you. (Learn more).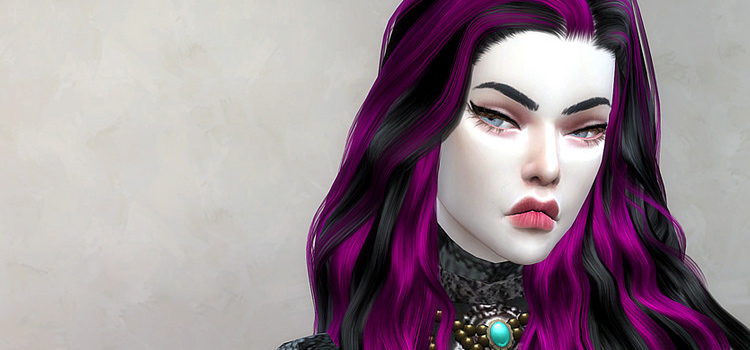 Here's an opinion I have, and I don't know how popular (or unpopular) it is:
I think Sims 4 vampires are the best vampires of the entire Sims franchise.
They have more skills, more powers, and more features than TS3 and TS2 vampires.
They also have a Dark Form, which I think was an excellent decision made on EA's part. Sims 3 and Sims 2 vampires didn't have that level of customization, so adding it as an option for this particular occult Sim in TS4 really sweetens the deal.
And if you need cosmetic items to glam up your vamp Sim's Dark Form, here are some CC sets I highly recommend.
1.

Demon Days – Vampire Stuff by Pyxis
This isn't actually makeup, but it's still considered a cosmetic mod. So I'm tossing this in here.
Mostly because I'm a big fan of Pyxis's work and the "monster content" they put out. Their stuff is always so charming!
This Vampire Variety Pack is no different.
Get your vamp a pair of intimidatingly sharp horns (found in hats) or really emphasize their undead status with a bit of sickly pallor (found in tattoos).
If you want to focus on the makeup aspect, head on over to eyeshadow. The creator gives us 16 deathly swatches of some pretty intense eyebags that can really turn a face sunken and twisted.
Plus, they look excellent paired with pale skin and matte black eyeliner.
2.

Vampire Duchess Makeup Set by LadySimmer94
This one may not be as bloody, gore-y, or as creepy as the other makeup sets on this list.
But according to the name, it was made for vampires.
Looks like Vampire Duchesses, specifically.
If your vamp is a proper dark duchess with all the form, breeding, and etiquette that befits their social station, then yeah; this makeup look makes a lot of sense.
It's a bold but elegant wash of color (6 colors, to be exact) all over the lids with some light blending up top.
It also comes with a single swatch of black winged eyeliner—with wings so sharp they could kill a man.
3.

Vampire Tears N01 by Pralinesims
What's more chilling than tears of blood streaking down cold, pale skin?
Very little.
So if you're going for the "tortured soul" kind of vampire, this custom makeup piece by Pralinesims could be your visual ticket.
As you can probably tell by the name, these are cosmetic tears that you can slap on beneath your vampire's eyes to give the illusion that they're crying blood.
And if you just want regular tear tracks, 3 of the 11 swatches come in clear/pale white; those look really good when paired against ruddy or rosy cheeks.
The other 8 swatches are all a bloody crimson red color, but they vary in number, shape, and placement of tear tracks.
If you want to go all out with the haunted look, I recommend slapping Pyxis's Vampire Pallor over some pale white skin to create a stark contrast.
Top it off with Pyxis's Vampire eyebags or some dark, smudged eyeshadow like the ones from Goppolsme's Halloween Vampire Set.
And speaking of…
4.

GPME Halloween Vampire Set by GoppolsMe
Heavy eyebags? Sunken cheeks? Cracked, pale lips?
Sounds like your typical undead, sure.
But! What if you used makeup to accentuate those features?
Guaranteed to make even the scariest of vampires look stunning, GoppolsMe's Halloween Vampire Set is the epitome of "subtle beauty."
The eyeshadow is deep, dark, and artistically smudged.
The blush is heavily saturated but still oddly flattering (even on different skintones).
And the lipstick? Three muted shades with a slight variance in opacity and tone.
But they all look excellent when used with both a ruddy pallor and a rosy complexion.
This pack (and maybe LadySimmer94's Vampire Duchess Makeup set too) is probably the most subtle and understated CC pack on this list.
5.

Vampire Blush CC by Taty
OK, this concept is so cool.
When I first saw the preview photo, I knew I had to try it out.
I mean, I am all for makeup sets that can make vampires look expensive, regal, and intimidating as heck.
But sometimes you just want something subtly unnerving. Something that tells you this is an occult Sim without going too deep into creature-feature territory.
It's why I'm a big fan of TS4 custom eyes with colored or black sclera, by the way. That simple, single feature is enough to tell you you're looking at something inhuman.
These vein-y blushes achieve the same effect.
They're an understated feature that's distinct enough and different enough to tell you that something about this Sim is not quite right.
And with 20 different swatches available, I'm confident you'll find the best vein-and-blush combo to suit your Sims's skintone.
6.

Skin Cracks/Skin Details by RemusSirion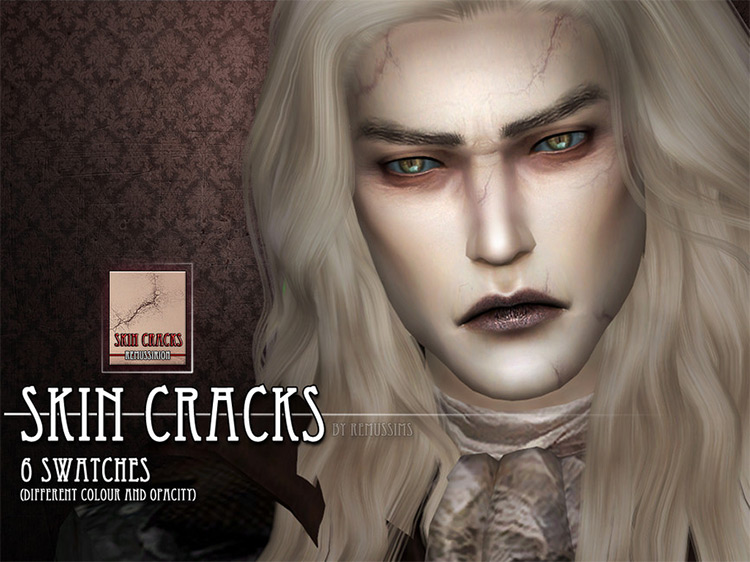 Okay, so, this isn't exactly makeup.
You can find it in Skin Details, not Face Makeup.
But because it's cosmetic (and looks really cool, let's not forget that), I'm including it in the list.
Plus, this CC being a skin detail means you can mix it with other custom makeup to create a look that's even more chilling.
For example, I paired these Skin Cracks (Skin Details) with Pyxis's Vampire Pallor (Tattoos) to really emphasize my vamp's paleness.
Then I used Pyxis's Vampire Eyebags (Eyeshadow) and GoppolsMe's Halloween Vampire Lips (Lipstick) and Halloween Vampire Blush (Blush) to top it all off.
It's a lot of cosmetic details, sure.
But the results are incredibly worth it.
Plus there are six swatches for the skin cracks with varying color and opacity. If one swatch looks too dark and/or exaggerated on your Sim, you've got five others to experiment with!
7.

Vampire Facepaint (Halloween #03) by remaron
This Vampire Facepaint CC set was a pleasant surprise — mostly because I didn't expect to like it as much as I actually did after trying it out.
To be fair, I thought the makeup was just the streaks of blood around the corners of the mouth.
Apparently not!
The whole look is the cosmetic set—pale skin, heavy eyeshadow, cracked lips, red eyes… the works.
The blood stains would have been enough to fulfill the vampire look. But this creator decided to go the extra mile. And I'm quite happy that they did.
There are 5 swatches for this look, but the only thing that really changes are the blood streaks and the redness of the lips.
The pale face, red eyes, and dramatic eyeshadow stay the same. What's even better is that this CC works with other CC items.
I tried it out with Taty's Vampire Blush for more veins, and the results were stunning!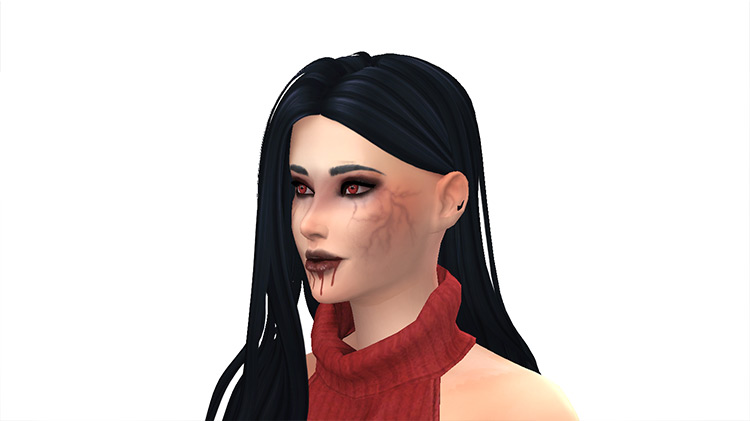 8.

Vampire Eyeshadows by Taty
There's something oddly artistic – and visually appealing – about eyeshadows that spread out, mask-like, over the eyes.
With dark, heavy opacity, it might look ridiculous.
Sort of superhero-esque (and that's not exactly the theme we're going for here).
However, with the right amount of blending and softness to the edges, it can look pretty darn regal.
These Vampire Eyeshadows by Taty hit that sweet spot.
They're a wash of color of your Sims's eyes that help deepen them dramatically—but not to the point of looking tacky.
And the slight spider veins that creep out from the corners add a bit of avant-garde flavor that totally works!
9.

Voodoo Eyeshadow by RemusSirion
This isn't makeup, so much as it is a cosmetic effect. But I really, really like it.
It's comparable to Pyxis's arm and leg gradients from their Demon Days – Vampire Stuff pack, only for the face.
There are eight swatches in this set, and they're all different.
Some swatches make it look like your Sim's eyes are permanently shrouded in shadow.
Other swatches look like an intricate veil covering the lower half of the face.
It's a unique and distinct take on occult makeup that I (and the Simmer's in the comment section) find absolutely gorgeous.
One comment said it gave their Sims a "dark, brooding look," and I absolutely agree.
It has this "elegant but dangerous" vibe that's perfect for deadly vamps.
10.

Halloween CC Set 2019 by DDARKSTONEE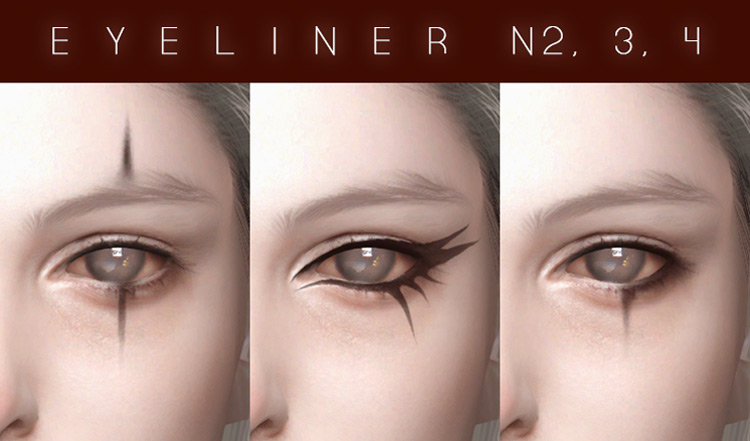 This incredibly extensive makeup set has 10 creations in it.
And they have so many swatches that I didn't even bother to do the math.
However, as tempting as it was to download all ten, I picked four items to test that I thought were the most gothic, macabre, and/or vamp-y of the bunch – here's the result:
Lipstick N28 – this lipstick is a highly pigmented cream lipstick that comes in 40 swatches. All of the swatches are dark, heavily saturated shades that look stunning against pale vamp skin. Some of the colors are even mixed with flecks of black, making it look even more gothic.
Eyeliner N2 – this eyeliner cuts through the eyes vertically, like a scar. There are 17 color options, and each color has 2 opacity options, making for a grand total of 34 swatches. It's not particularly macabre, but it's definitely gothic. And artsy too!
Eyeliner N4 – just like Eyeliner N2, there are 34 swatches; 17 colors with 2 opacity options. I found the design for this particularly interesting. The color lines the outer corners of the lower lashline before stopping in the middle. Then it flicks down. It kind of looks like artistic tears, or else a different take on Eyeliner N2. Try combining this with Taty's Vampire Eyeshadow for a particularly fun look.
Eyeliner N3 – 34 swatches for this one too. This is the boldest and most avant-garde of the set. The color lines the whole of the lower lashline and branches out, forming five sharp wings on the outer lower corner and one small one near the tear duct. This looks excellent when paired with the eyeshadow from LadySimmer94's Vampire Duchess Makeup set.
Browse:
Lists
The Sims 4
Video Games