Sims 4 Vampire Wedding CC: Dresses, Decor & More
This post may contain affiliate links. If you buy something we may get a small commission at no extra cost to you. (Learn more).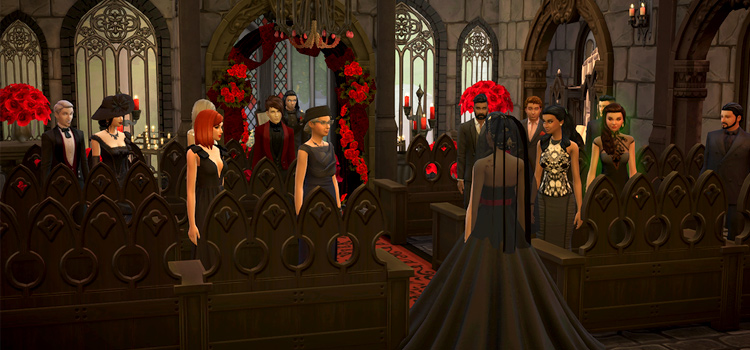 Vampires are undeniably the supernatural beings most equated to romance.
They're dark, mysterious, and their obsession with necks can lead to some steamy scenarios. So it's not a stretch to imagine these creatures of the night wanting to get hitched to their significant other.
But of course, they can't have a regular wedding. They're powerful, immortal, bloodthirsty creatures. Their ceremony should have at least some elements that reflect the darker aspect of their lives, no?
Gotchu covered fam; here's a collection of CC items to decorate & celebrate a vampire wedding in TS4.
1.

Vampire Wedding Cake Mod by Jaggid's Edje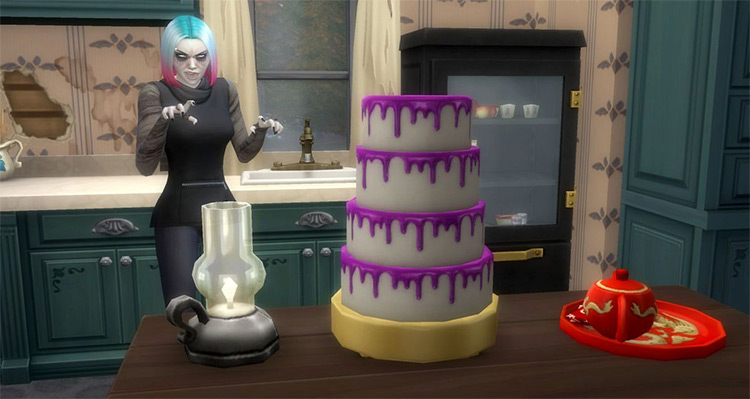 What's the point of having a Plasma wedding cake if your vampire can't actually enjoy it?
Look; if a Plasma fruit salad is a suitably thirst-quenching snack for vamp-y Sims, there's no reason a four-tiered Plasma Drip cake can't do the same!
This custom wedding cake mod by Jaggid's Edje makes it so that eating a slice of this cake will restore a modest amount of thirst for vampires. Normal human Sims who choose to partake, however, get smacked by a discomfort moodlet.
2.

Rore Stem Suit Top by red ear cat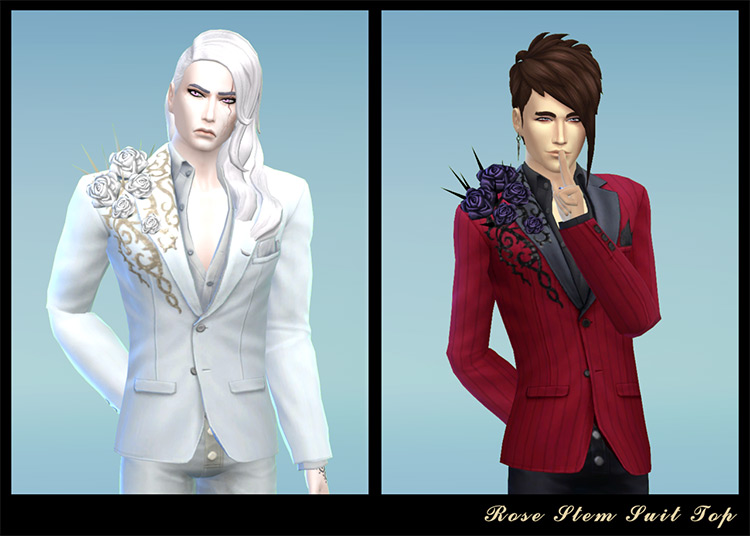 There are plenty of gorgeous and gothic custom dresses out there for beautiful, non-blushing vampire brides.
But you may be wondering; what about the vamps who need suits?
Where are their spiffy special event outfits?
Well, here you go.
This custom suit top by red ear cat blends the macabre and avant-garde in a way that only a fashion-forward vampire could. Roses and thorns sewn on the shoulder of a fetching two-piece? It's a genius, one-of-a-kind design.
3.

Custom Decorative Cake #02 by Oni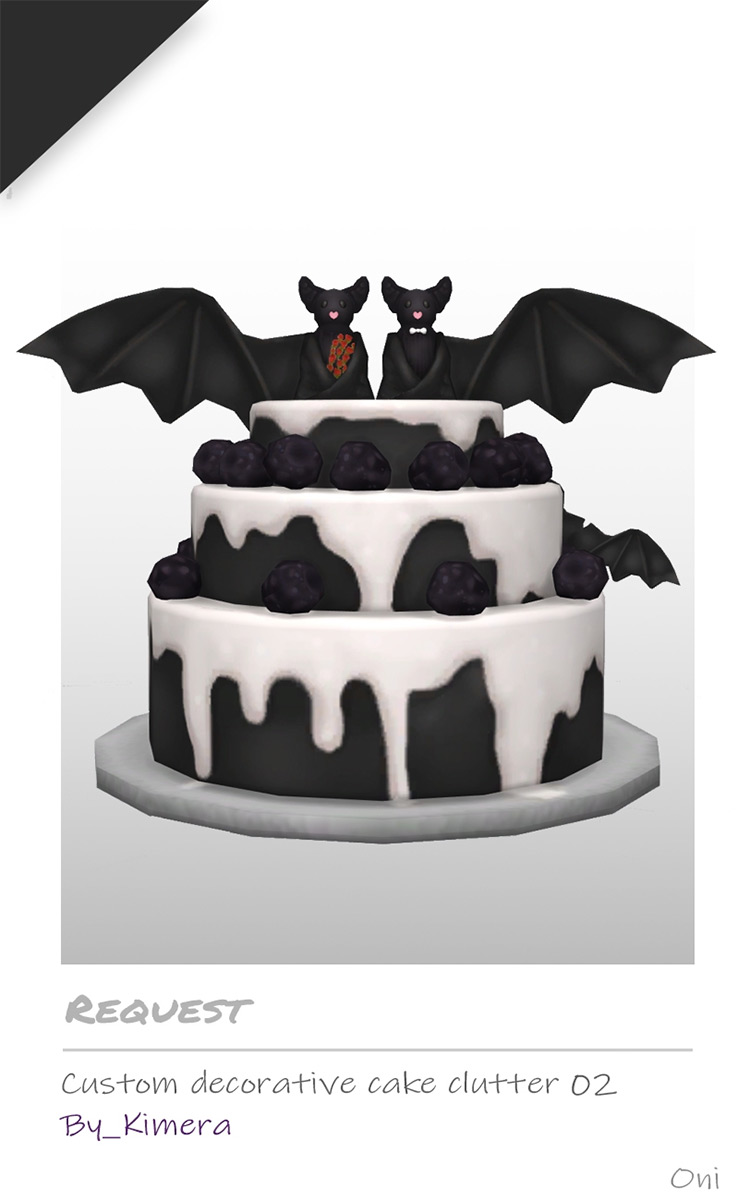 Is this or is this not the most adorable, vampire-themed cake you ever did see?
The color scheme, the tiny fondant bats, the matching batty cake toppers with heart-shaped noses?
This custom cake is proof that creatures of the night can have cute things, and those who say otherwise can uninvite themselves.
4.

Dark Wedding Arch by VictorialRidge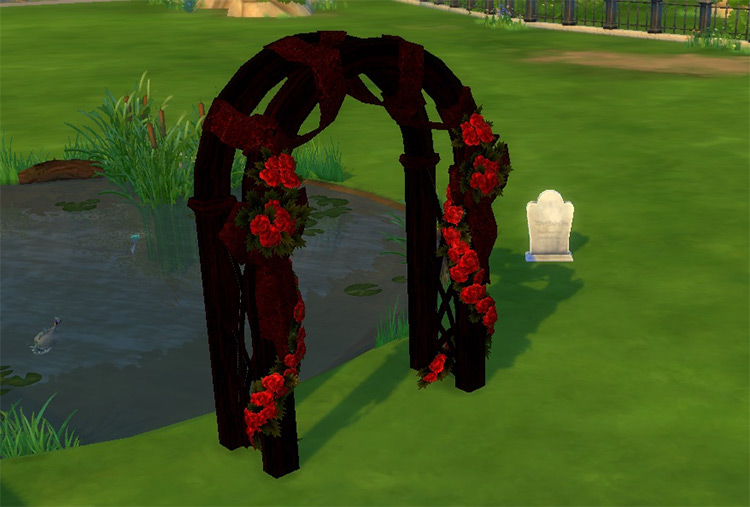 Your Vampire!Sims can now declare "I do!" beneath a beautiful bough of black wood and blood-red roses.
For couples dressed in customary white, this Dark Wedding Arch by VictorialRidge will create a stunning contrast. For those dressed in black or red, this arch is right on theme.
5.

Countess – A Vampire Mini Set by Lady Simmer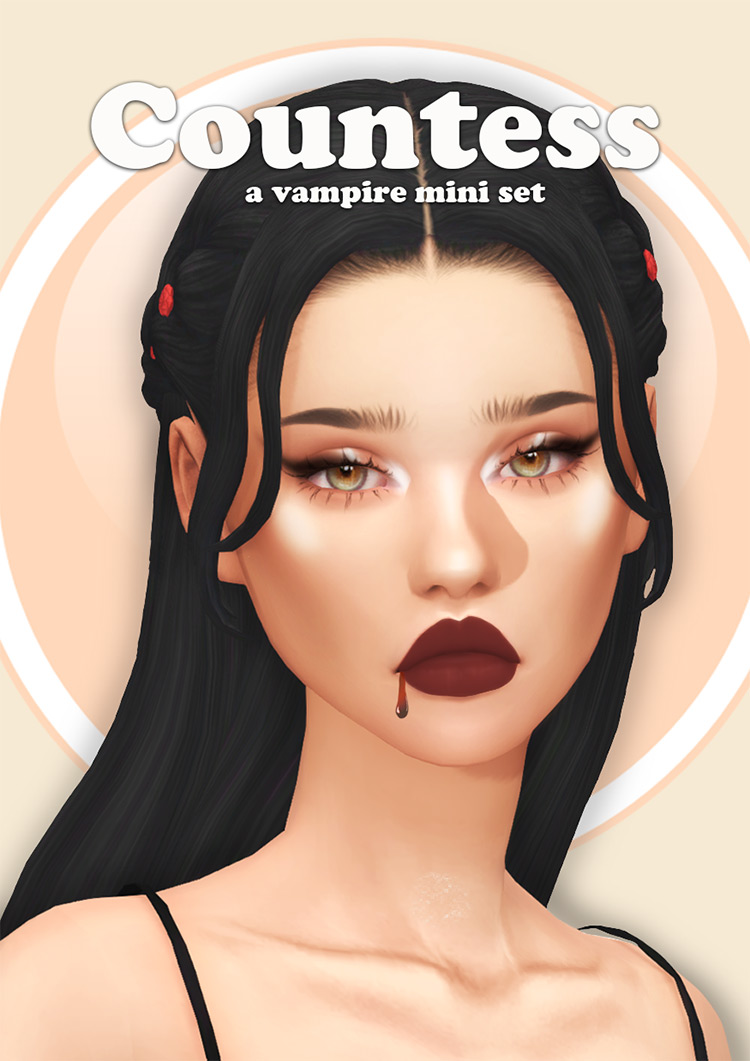 Just because all attention must be on the bride, doesn't mean the guests can't gussy themselves up a little.
A bit of contour to sharpen the cheekbones never hurt anyone. And since vampires are naturally pale and wan, a light dab of blush can do wonders for their complexion.
Finish off the look with a drop of bright red blood running from the corner of rouge-red lips. It's a much prettier picture than you think!
6.

Dracula's Corvin Castle Lot by Miss Ruby Bird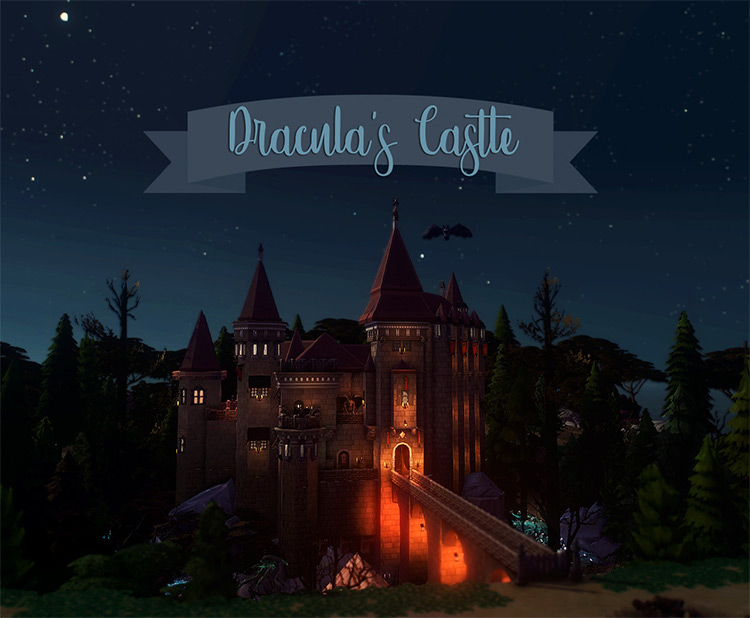 If you're a vampire, is there a better place to get hitched?
Didn't think so.
Inspired by the Corvin Castle of Romania (highly recommend you Google it; it's stunning!), this spectacular piece of architecture is every bit as grand, gothic, and darkly powerful as the (fictitious) man who lives in it.
The first floor is definitely big enough to host a night-themed nuptial, and there are plenty of rooms on the upper floors for guests to crash in afterwards!
7.

Rose Candelabra by Natalia-Auditore
If there's anything The Sims 4: Vampires pack taught me, it's that the creatures of the night (in the Sims universe, anyway) love to do things in style.
For instance, why settle for lamps or led lights when beautiful, antique candelabras are a valid option for mood lighting?
And why would vampires settle for plain, boring brass when they can drape roses around the candles?
It's undeniably romantic (and definitely not a fire hazard, no).
8.

Black Roses by nikadema and RightHearted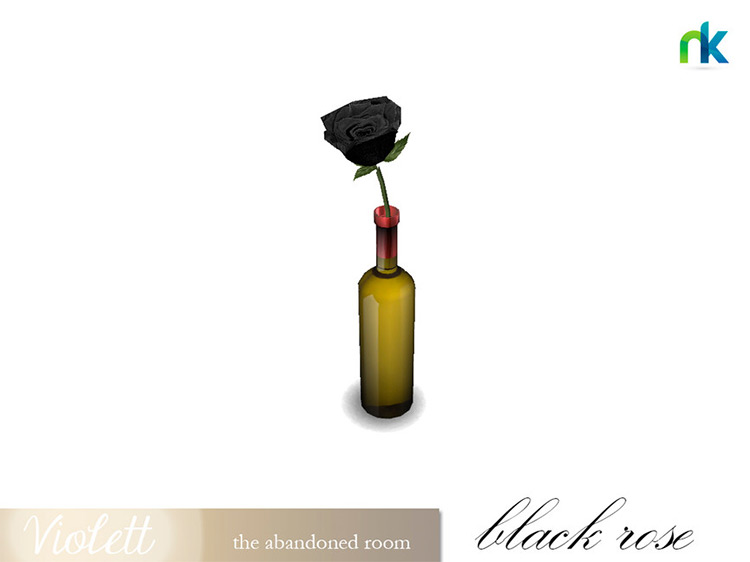 It may be cliché, but black roses for a vampire's wedding just seem to make sense.
Mix the display with red roses – or white roses flecked with red to make things extra spoopy! – and you've got a visual treat!
Nikadema's Violett Black Rose is a single rose in a wine bottle. Perfect as accent deco.
For clusters of black roses and bouquets, download RightHearted's Brie Rose Bouquet here!
9.

Roses CC by Natalia-Auditore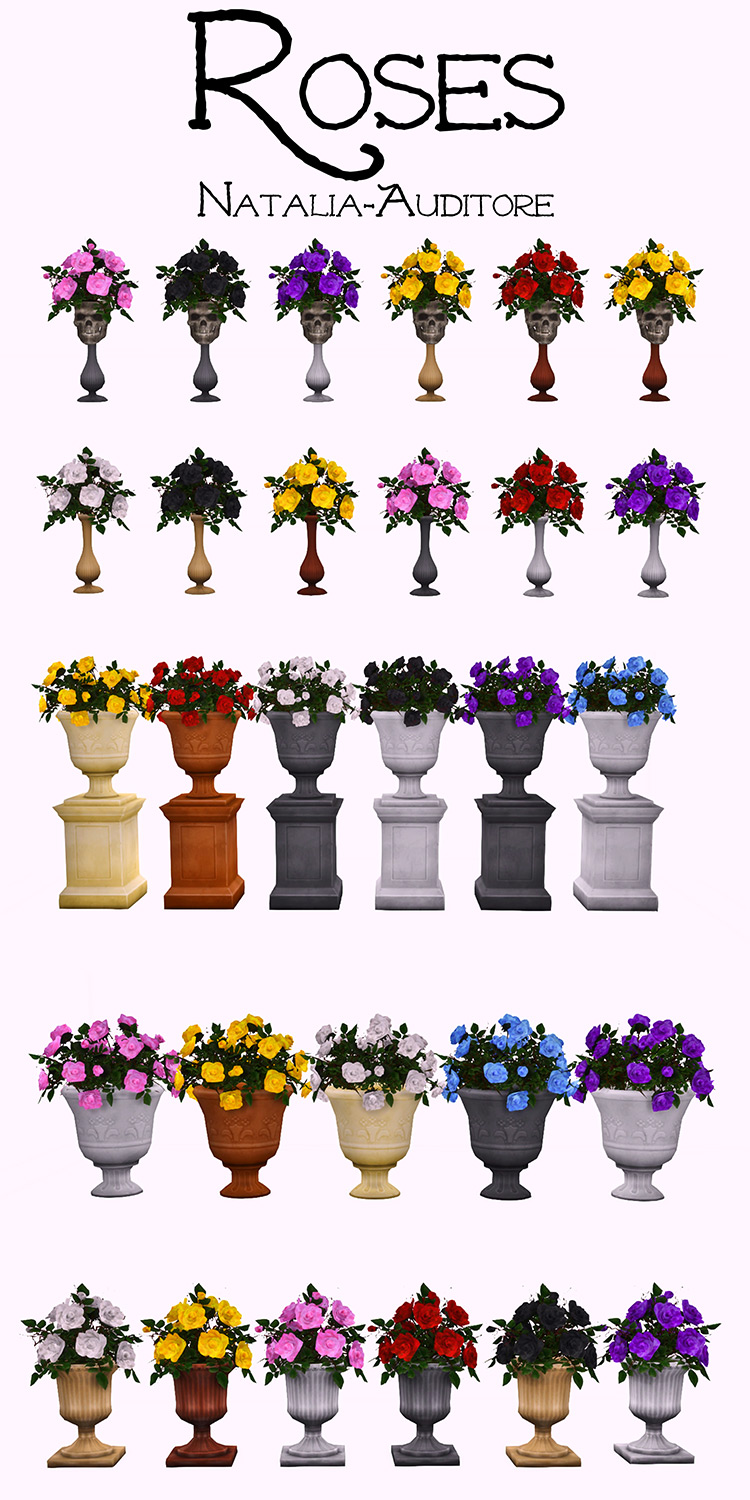 For romantic vampires who veer away from the typical "black as night" color scheme, Natalia-Auditore provides some striking rosy alternatives.
Dark purple, sunflower yellow, ivory white, pale blue… there are a lot of tasteful options here to suit modern or unconventional wedding themes. Plus they come with their own decorative container!
Yes, your eyes do not deceive you; there are indeed skulls on some of the vases.
Perfect for lords and ladies of the undead, no?
10.

Red Plasma Fruit Override by Natalia-Auditore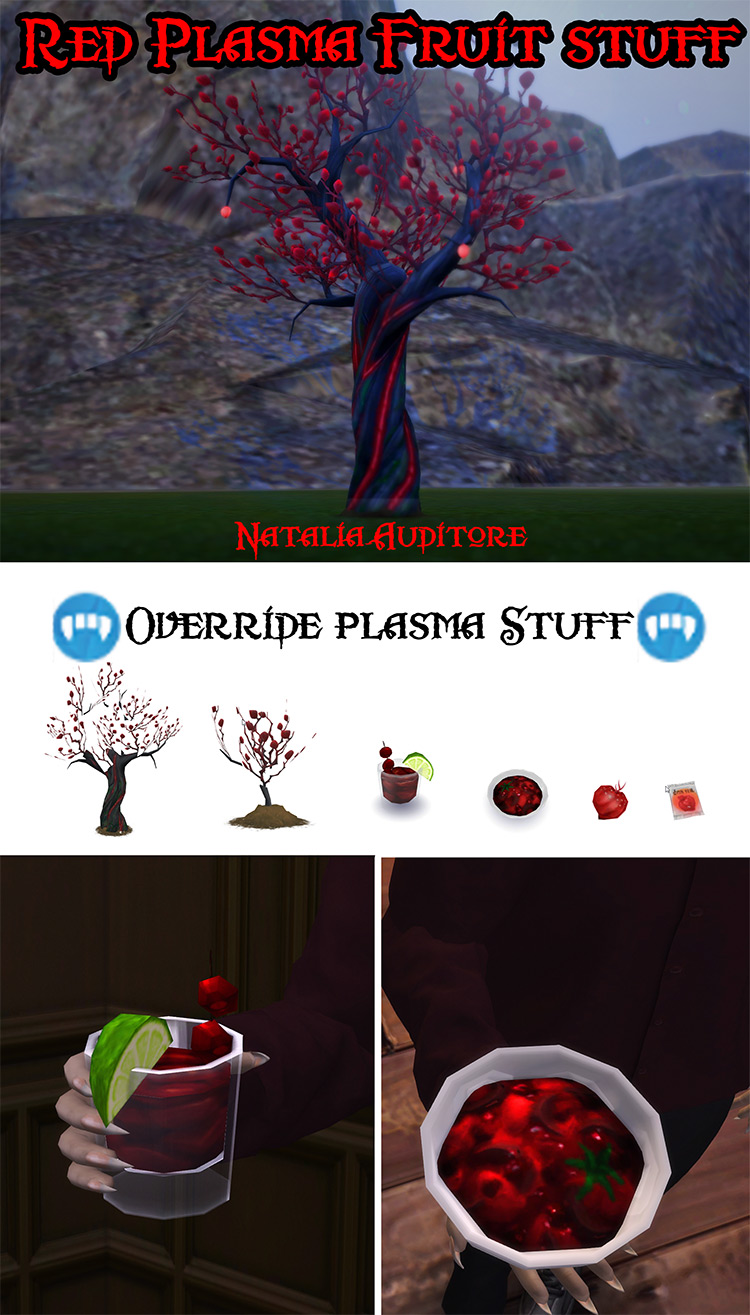 I personally have no qualms with Plasma fruit being electric purple.
However, I also see the appeal of Plasma fruit items colored a bloody crimson instead.
Sometimes you just want people to know exactly what it is your Vampire!Sim is drinking.
And in the context of a vamp wedding, bloody salads and crimson-red martinis would make for much better accent pieces against all black or ivory white décor.
11.

Allure Dress by Natalia-Auditore
This Allure dress is a bit too simple to pass as a wedding dress, even though it does have a white swatch.
But as a bridesmaid's dress or a wedding guest dress? Bingo.
It's got the flair, it's got the detailing, and it's got the gothic corset cut and shoulder ruffles going for it.
Pair it with some opulent jewelry – like jeweled chokers and chandelier earrings – to make sure your Vampire guest still stands out.
12.

Skull Seats by Natalia-Auditore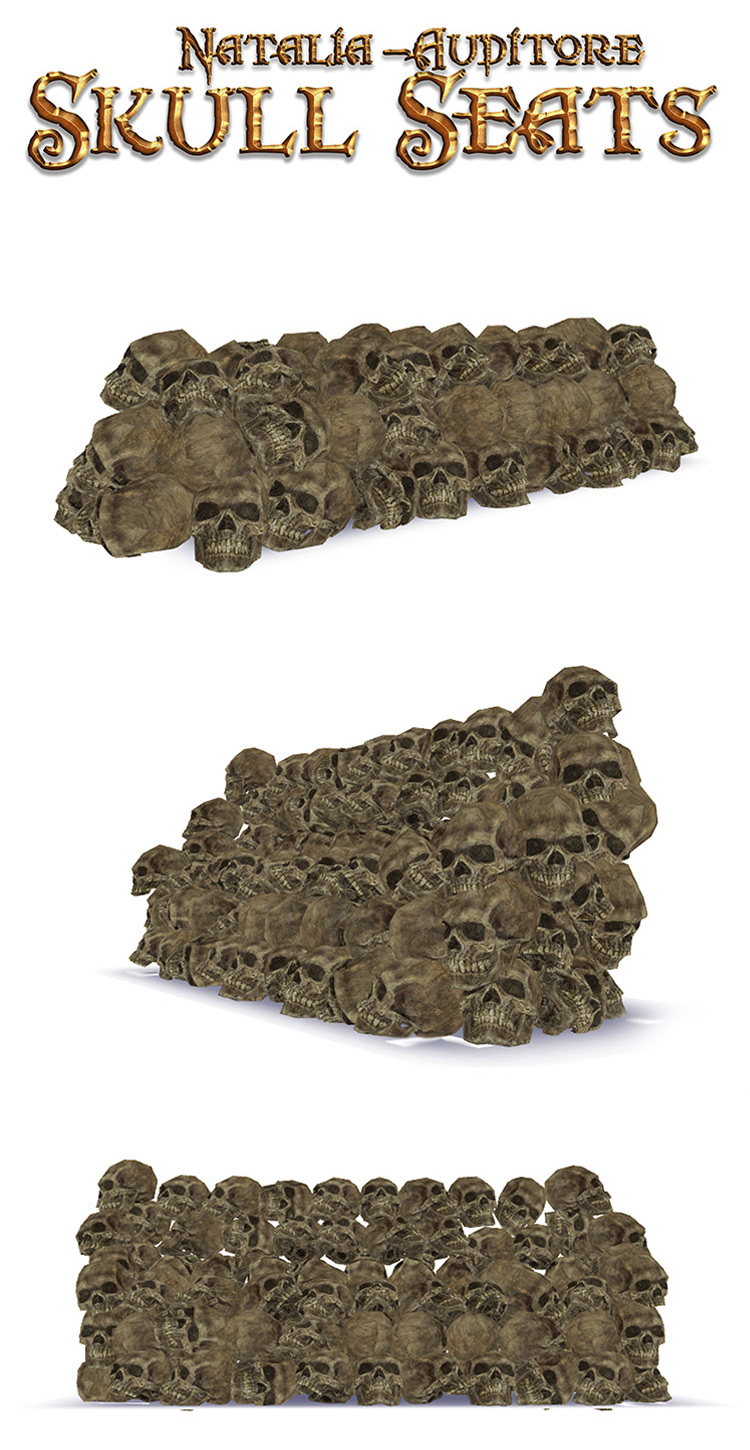 Practically speaking, I don't think the bones of your enemies make for very comfortable surfaces.
But as far as your Vampire!Sims are concerned, there's no difference between these skull piles and a cushy loveseat.
(Gotta love programming).
These seats may be a bit too macabre for a wedding, but hey. Some vamps prefer dramatic and unconventional over plain and boring, right?
13.

Dracula's Ring by Natalia-Auditore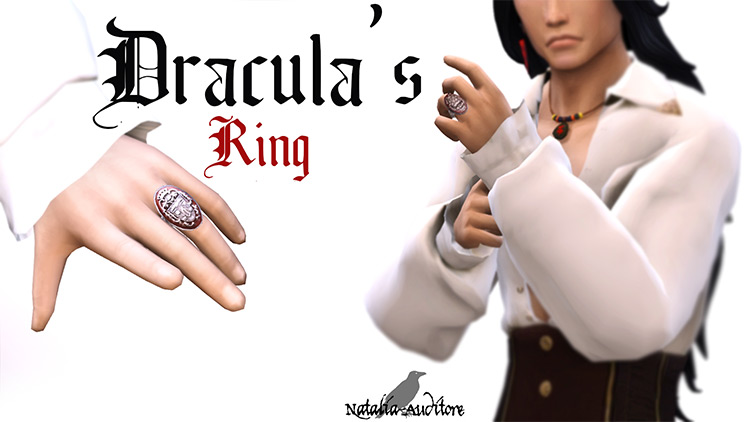 If you're familiar with the 1958 Dracula movie starring Christopher Lee, then you probably recognize this ring.
If not, just know that this is a pretty accurate Sims 4 replica of the Count's jewelry.
And even without the cinematic lore, I'd argue the ring is still sufficiently vamp-y.
14.

Twilight Engagement Ring by JinxTrinity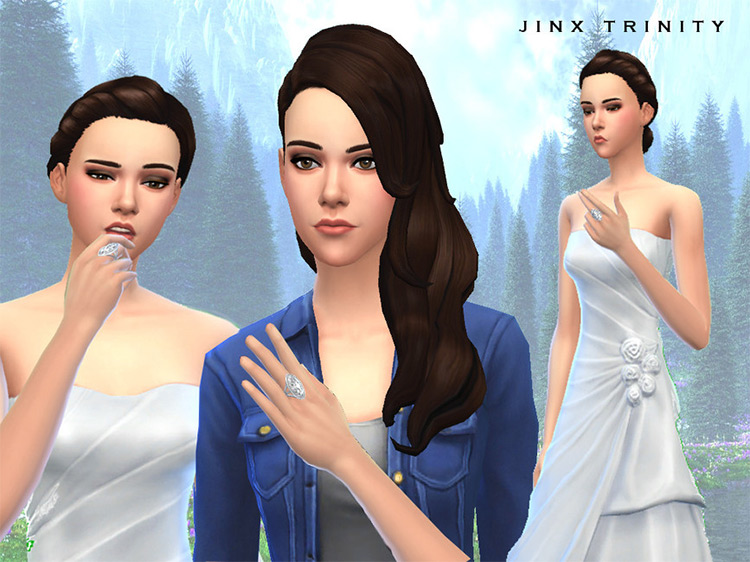 Natalia-Auditore's Dracula ring won't work for Female Sims. So I found a suitable counterpart — also from popular vampire media!
Behold, Bella Swan's engagement ring (from the Twilight: Breaking Dawn movie).
It's not as flashy (or as macabre, thank goodness) as Dracula's, but it's definitely prettier and a lot daintier. White gold will always be classy.
15.

Vampire's Foods: More Bloody, More Appetizing by Serinion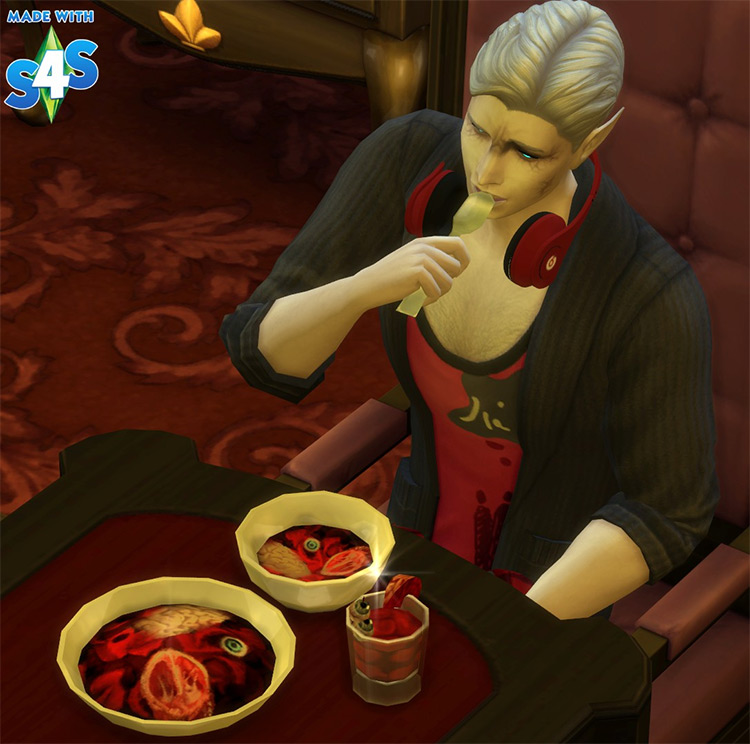 Your newlywed vampires deserve nothing but the best undead catering for the wedding reception.
Why go with regular Plasma fruit cocktails and salads – all purple and made to look like regular human food – when they could serve up dishes that appease their natural hunter instincts?
This mod by Serinion overrides the game's original texture for Plasma Jane and Plasma Fruit Salad (plus the bowl) so that both food items actually look like they're made with blood.
The other option even adds organs and eyeballs!
16.

Wedding Bouquet #3 by Colores Urbanos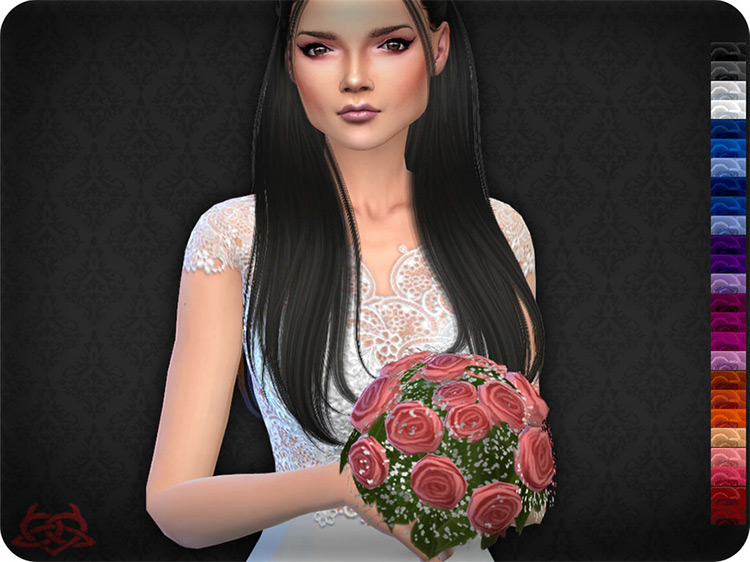 This isn't marketed as a vampire, occult, or undead item.
I just thought it'd be great if your vamp-y bride could use a bouquet of black roses for the ceremony.
Yup! The roses in this Wedding Bouquet 3 come in 25 different colors, and one of the options happens to be a bold, midnight black.
17.

Vladislaus Male Clothes Pack by Wistful Castle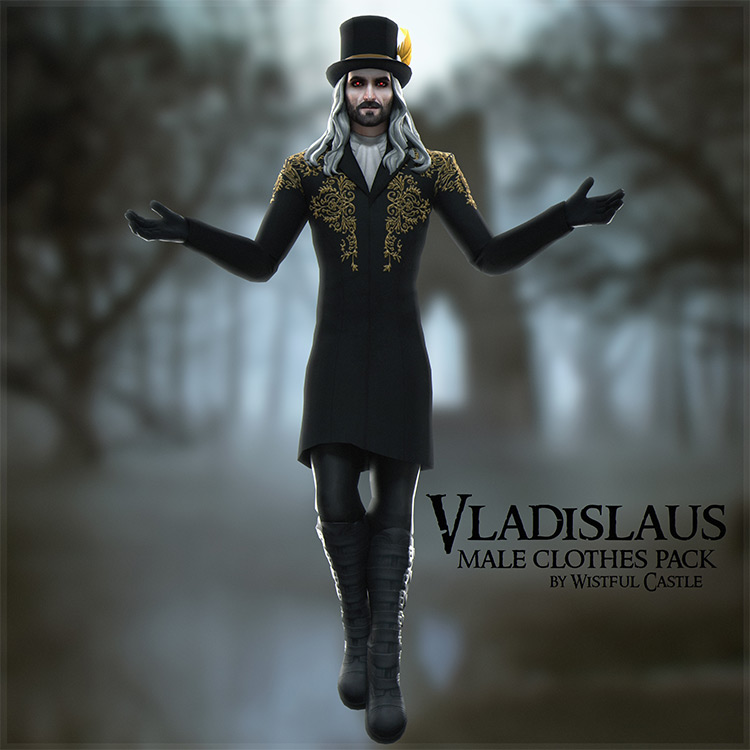 If the man himself – good ol' Vladislaus Straud – is showing up for the wedding, why not dress him up in something spiffy?
With a top hat!
This male clothing pack by Wistful Castle can be used by non-vamps too, but the intricate (almost ostentatious) details suit our undying Vampire mascot to a T. And there's just something about the mid-century top hat that feels so perfectly Straud.
18.

Willow Set by oydis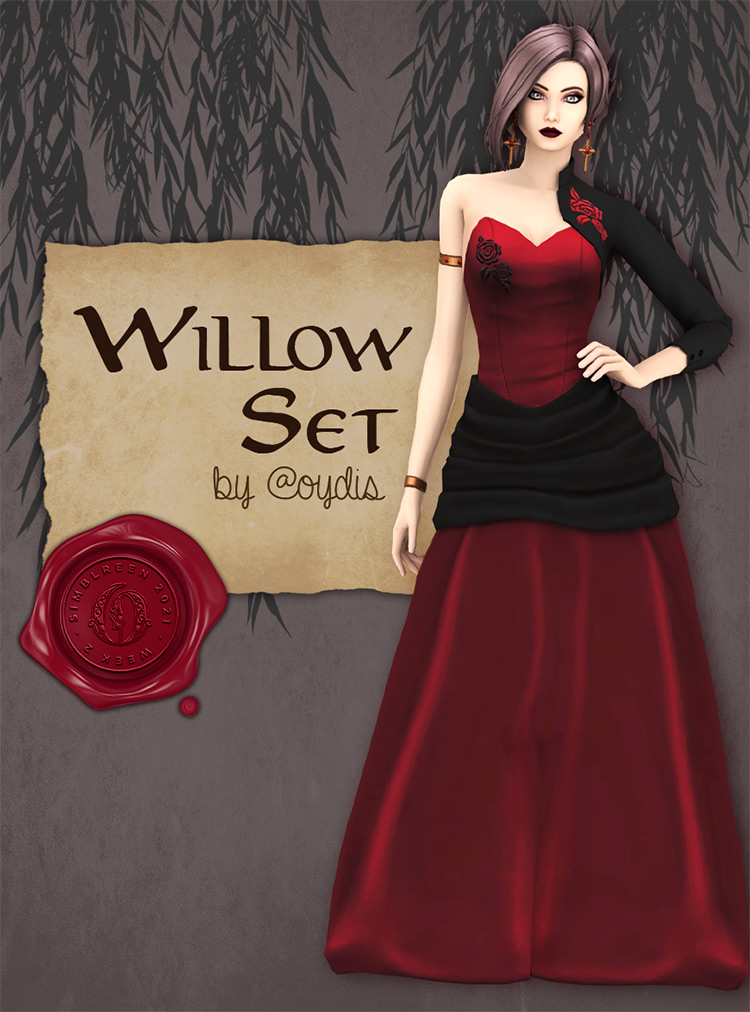 Inspired by gothic fashion elements, this custom CAS set by oydis is full of beautiful accessories that would suit a vampire with subtler tastes.
Sure; I've dedicated paragraphs to how flamboyant vamps usually are. But I'm certain there are creatures of the night who prefer delicate finesse over dazzling bling.
This set contains (among other things) a blood-red sleeve, golden armlets, a new, asymmetrical hairstyle, and gorgeous dangling earrings.
19.

Divinity Gravestones by bramblefinch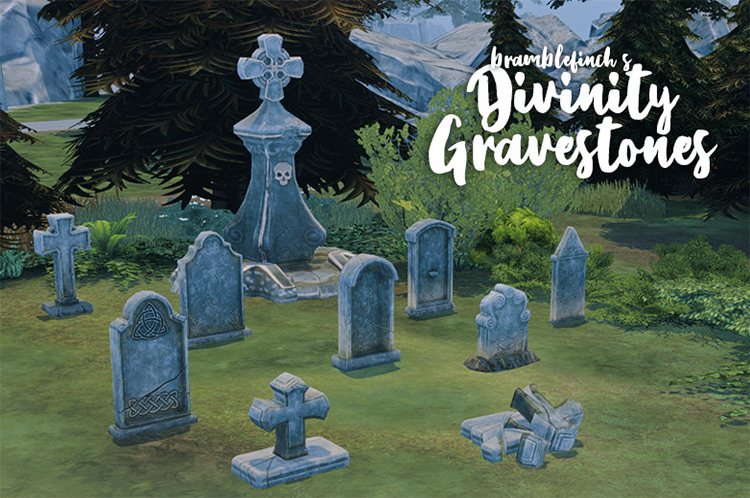 Not really ideal décor for a wedding, but the rules are different when you're a Vampire.
And if the undead bride and groom decide to get hitched in, say, their personal family cemetery, these Divinity Gravestones can help you customize the setup!
They're also decorative, so you won't have to worry about the guests suddenly weeping over the grave of someone they don't know.
20.

Soft-Simmers Simblreen Gifts 2021 by soft-simmer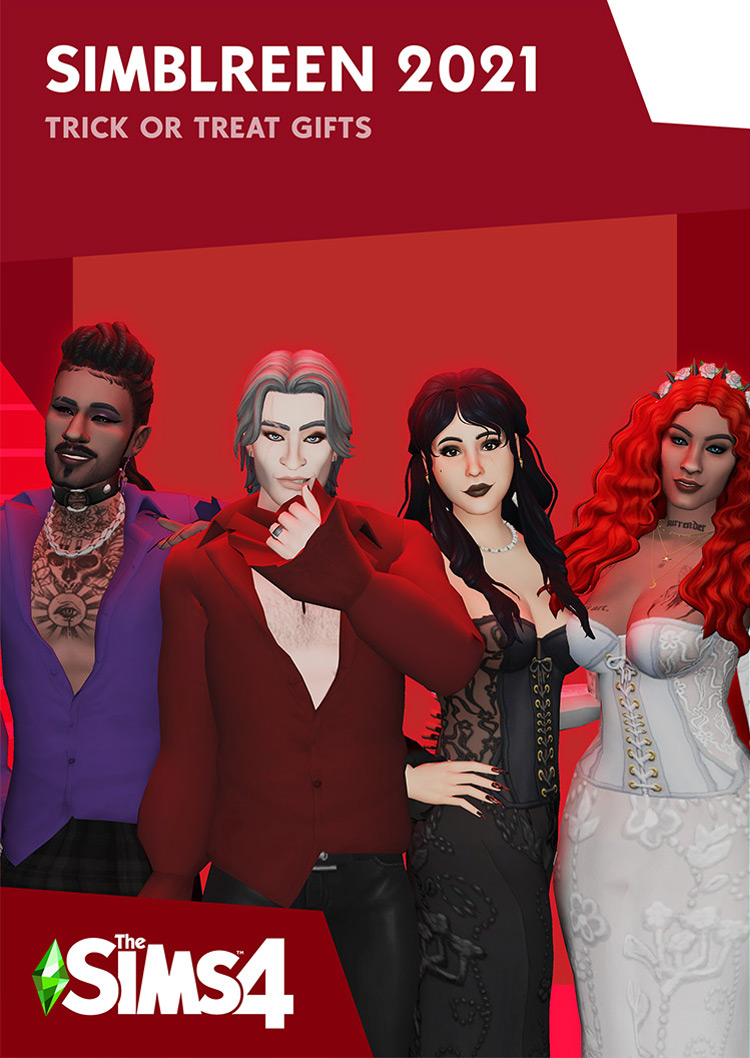 More outfits for the bridal party and/or the esteemed guests!
This CAS pack by soft-simmer actually contains one of my personal favorite gothic dresses; the Arabella Dress.
I'm a big fan of the corseted top, slight bell sleeves, and 3D embossed elements on the skirt. In black, white, or blood red, this dress is a stunning choice for the bridesmaids or the bride herself.
The Aleron Top is a bit too casual for the groom, but for the flamboyant vamp-y cousin who decided to arrive fashionably late? It's perfect.
Browse:
Lists
The Sims 4
Video Games