The Sims 4: Custom Vases & Flower Vase CC (All Free)
This post may contain affiliate links. If you buy something we may get a small commission at no extra cost to you. (Learn more).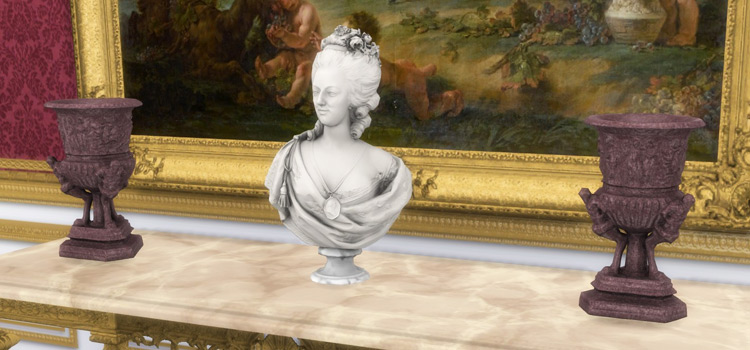 Not sure how to liven up your Sim's living space?
Add a plant. Or two.
Okay, ten.
Plants and flowers are some of the easiest ways to add a touch of comfort to a living space.
Depending on how many packs you own, there might be a decent variety of options for you to choose. Even so, it doesn't hurt to expand your collection, right?
Plus there aren't many vase-only options in-game.
Sometimes you like the look of a plant, but the vase it's in just isn't your thing.
That's when you download some of the CC vases on this list, use bb.moveobjects on, and never have to worry about it again.
10.

Paintings and Vases
The vases in CrazySimLady93's Painting and Vases collection are more accessories than centerpieces.
But they're still a nice touch to any living space.
The three-vase set comes in different heights, shapes, and designs for contrast.
And all of these look great paired with the small paintings included.
We count three swatches for the vases and 22 for the paintings, so lots of options to choose from!
9.

Living Vase 3 Mesh
Vase, or genie bottle?
Either way, we love the look of this CC by DOT.
This seven-swatch vase features a bulbous base and extends into a very thin opening.
It's fascinating all on its own, but could also pair well with in-game plants.
It's also part of the Living Set, which features the same vase with a braided texture on the bottom, and is also converted into table lamps.
8.

Coastal Extras – Flowers and Vases
Creator Simcredible is appropriately named, as their creations are always next level.
This Coastal Extras CC set comes with 20 items of uniquely made vases and plants, all with a beautiful coastal theme.
There are so many great ones here, but my favorites are the vase filled with seashells and the yellow roses in the white vase adorned with a shell accent.
And if 20 new CC items are a bit much for your collection, you can download them individually here.
7.

Collector Vase Large
More bottle than vase-like, Pilar's Collector Vase CC is one of those decor options that don't need plants to make it stand out.
Described as a mix of vintage and modern, we think that's really a great way to describe its shiny & metallic appearance.
Granted this may not fit in every single house you build. But it's a look that's guaranteed to grab your guest's attention.
This vase is base-game friendly, and if you like it, check out the whole Collector Study set it's included in.
6.

Vase v02
With such a simple name you may not know what to expect here. But this is a brilliant piece of CC:
Beautiful on its own, but wide enough to use with other plants for an extra bit of glam.
This creation from Severinka is part of a set, but this collection looks amazing all on its own too.
The multi-colored marbled textures look like something a Sim would pick up during a trip to Selvadorada, and these designs almost have a lava-lamp type shape.
There are five colors in total, and you'll find this in buy mode under decor/clutter.
5.

Coastal Living Vase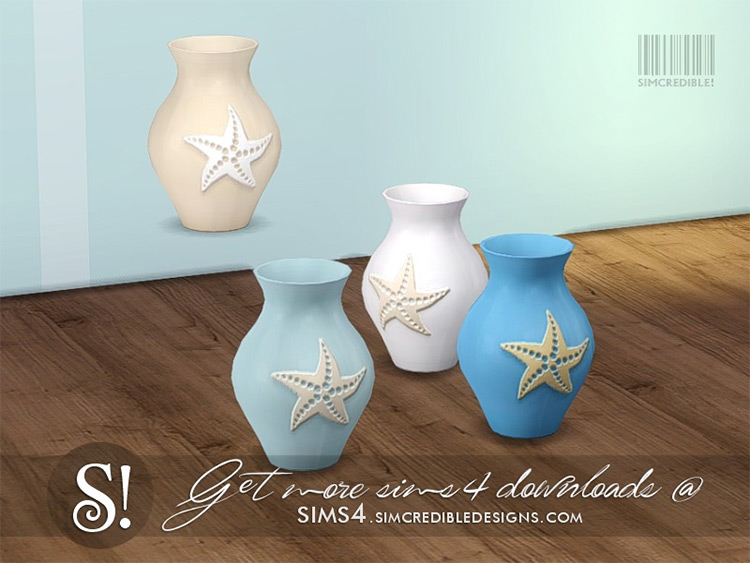 Simcredible is back with more coastal themed vases!
This is a Maxis-Match wide-mouthed vase, with a pretty starfish design on the front.
It comes in four colors: light blue, dark blue, white and tan.
And it can be paired with many in-game plants with the bb.moveobjects on cheat.
As with most Simcredible creations, there's no packs needed for this one. And it's also part of the Coastal Living set.
4.

Chinese Vase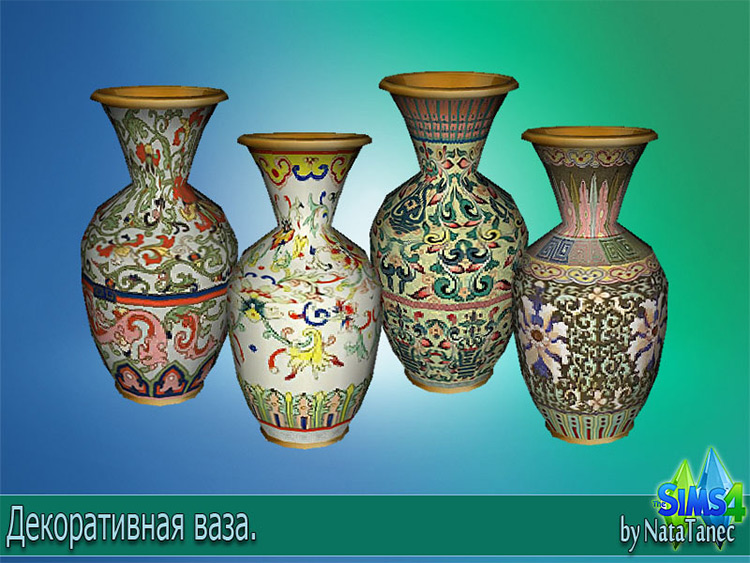 NanaTec's Chinese Vase CC is not only breathtaking in its intricate Chinese-inspired design, but it would also make great storytelling for wealthy Sims (perhaps they picked it up while in Shang Simla!).
There are four colorful swatches here, all of which depict distinct murals and patterns.
They also appear to be HQ, so Simmers who play with that CC might want to add this to their decor CC collection.
3.

Oppen Living Room Accessories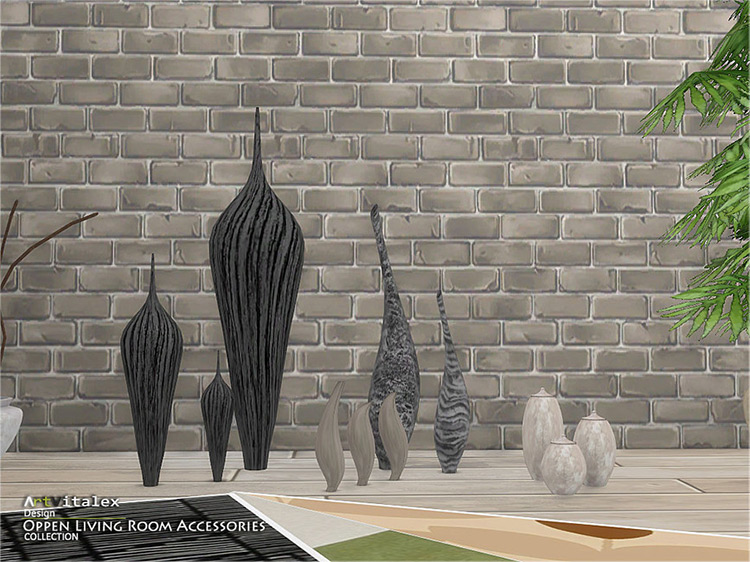 Vases, but make them art.
There is absolutely nothing practical about this CC by ArtVitalex.
But that's also what makes them stand out.
No fussing over what plants to put in these, and you don't even need to worry about having a green thumb. Because these vases are far too couture to be anything but high-end sculptures.
Download them all in one pack linked above, or download individually here. And the set also includes a rug.
2.

Tulton Cluttery Vase
BuffSumm's Tulton Cluttery Vase is a match made in heavy for all the quirky Sims out there.
Seriously, from its warped neck to the funky flower design, we could totally see someone like Delia Deetz making this – or Moira Rose from Schitt's Creek buying it (any fans reading this?)
Just remember to place these with bb.moveobjects on.
And if you want an equally out-there furniture set, here's a collection the vases are included in that Tim Burton himself would love.
1.

Monumental Vase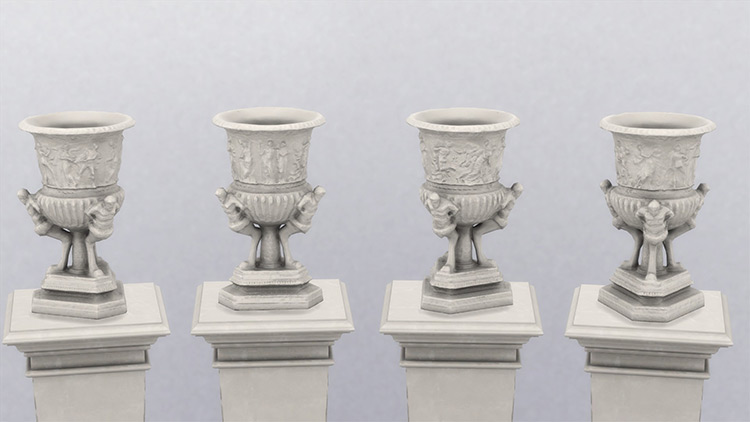 This vase is for all you historical simmers, or for those who just have filthy-rich castle-dwelling Sims.
Either way, this Monumental Vase by TheJim07 is correctly named:
Not only it is huge but it's also very intricately carved, with depictions of humans holding it up at the base, and what appear to be people around the outer edges.
In fact, the creator used a real-life vase by Italian sculptor Lorenzo Bartilini as inspiration.
And best of all, it won't set you back too much, since each vase just costs 700 simoleons.
Browse:
Lists
The Sims 4
Video Games