Sims 4 Vest & Waistcoat CC (All Free)
This post may contain affiliate links. If you buy something we may get a small commission at no extra cost to you. (Learn more).
Vests, waistcoats, and blazers are by far the easiest way to dress up an outfit – especially for men.
Just pop them on and voila: instant fashion.
Obviously, it's not really that simple in real life.
But in The Sims 4, that's pretty close to how it works!
The only problem is that you'll find vests in so many different styles, colors, and designs, that there's no way EA can keep up.
There's a single solution to our waistcoat cravings: turning to custom content. The community rarely disappoints!
1.

Baroque Shirt and Vest
This fun Baroque vest and shirt will start you off on the right foot as you search for your perfect CC.
For many, the appeal in a vest is that it's an easy way to dress an outfit up.
But let's not forget that it's also a great way to add more color to an interesting outfit!
Baroque vests are perfect for everything mentioned above (and lots more).
This CC doesn't have any recolors, but it still does an enticing job of combining rough and stylish personalities.
2.

Modern Man Collection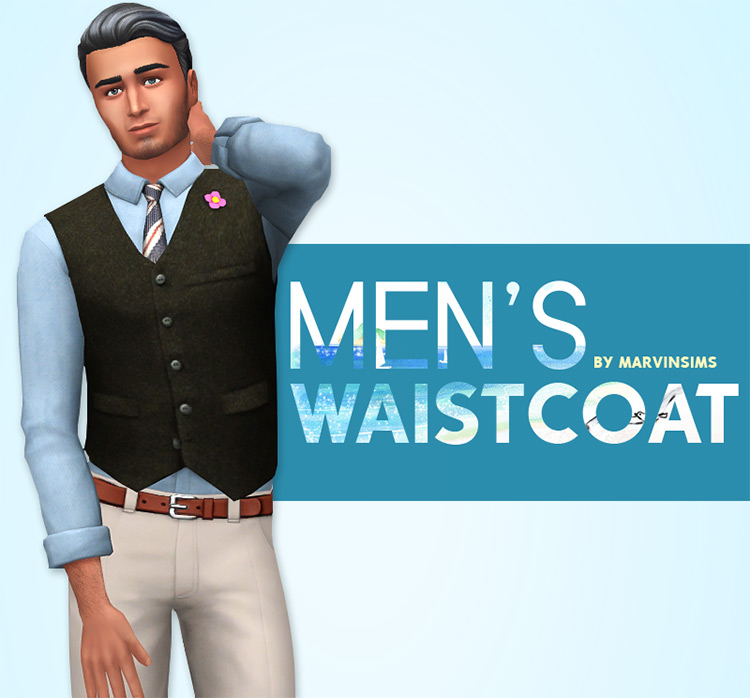 Colors, patterns, and cuts are all important, it's true.
But if it matches well, then even a rubber duck-print suit could work (don't quote me on that).
The Modern Man CC collection has every piece you need to fill out your Sim's wardrobe, and provide some variety.
It includes sport coats and waistcoats, and there are 28 swatches of dress pants to go with whatever top you choose.
But the best part?
The lapel flower accessories!
They might not be quite as cartoony as rubber ducks are. But they add some freshness and levity to a clean and professional outfit.
3.

Scholar Vest and Skirt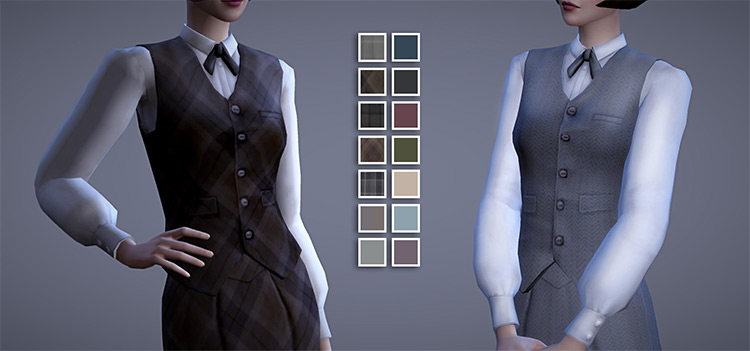 Tell me you're a librarian without saying you're a librarian.
Content creator Magnolian Farewell has blessed us with this handsome vest for women.
And it is, of course, done in Magnolian Farewell's signature dark academia aesthetic.
But even better, this CC comes as a set with a perfectly matching skirt to go with the blouse and vest!
And if you're not sold on the dark grey-brown plaids, there are 20 swatches including more cheerful colors to pick from.
You could even use the blouse/vest with a regular Maxis skirt from the game to brighten things up even further, since the set is Maxis-Match.
4.

Sleeveless Waistcoat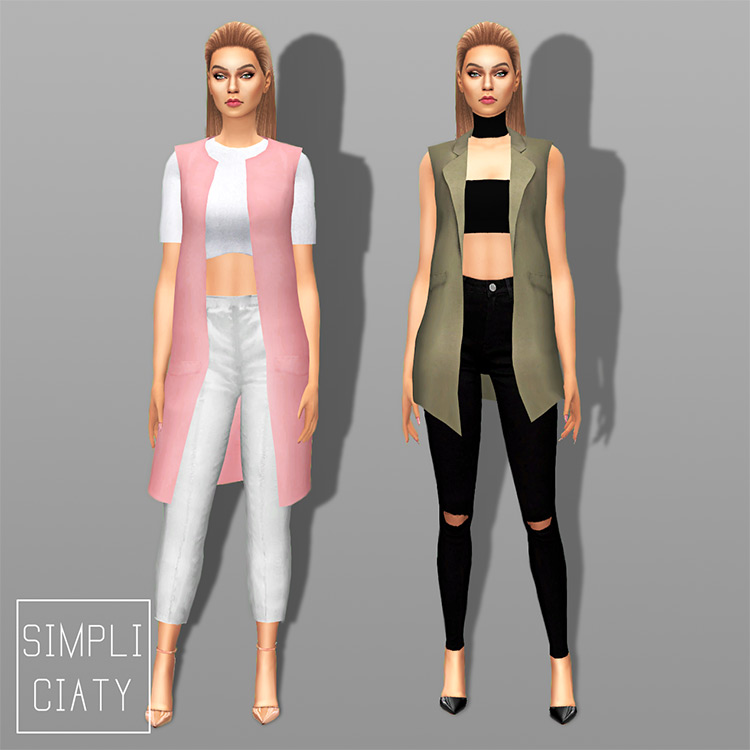 This sleeveless waistcoat is for female Sims, which is a breath of fresh air.
It's also a more casual option compared to many other waistcoats you'll find.
But that doesn't mean it's unsuited for work. It's actually perfect for a business casual workday in the summer, since it's way cooler (temperature and style) – but just as professional!
10 different colors means that this is versatile, too.
But the best part is that it has 2 options for collar styles. One of them is the usual blazer collar, but the other is a circle collar.
Needless to say, they both look fantastic.
5.

Kaleigh Vest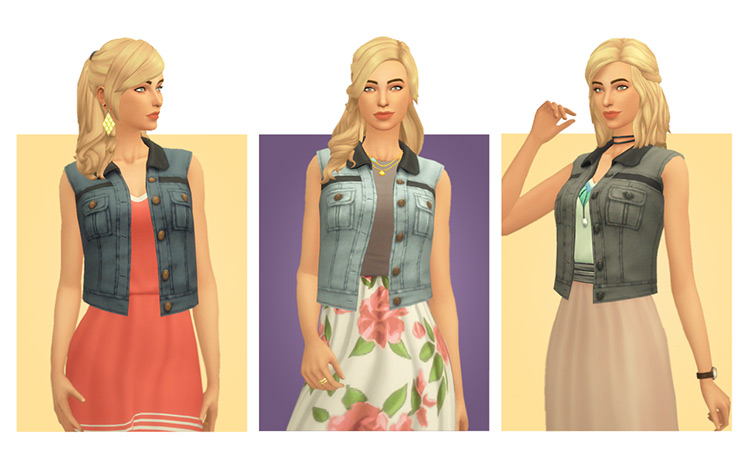 No wardrobe can be complete without a couple articles of denim.
For most people, that means a few pairs of jeans.
But then there are the real denim lovers – the ones who let denim infiltrate other sections of their closet!
If you feel the need to let your appreciation for denim go beyond jeans, then this Kaleigh jean vest will help you achieve just that.
Sleeveless and eternally fashionable, it has 10 color swatches in every usual shade of denim, plus a few unusual ones.
It's also Maxis-match, despite its wonderful denim texture.
6.

Lay Down Casual Waistcoat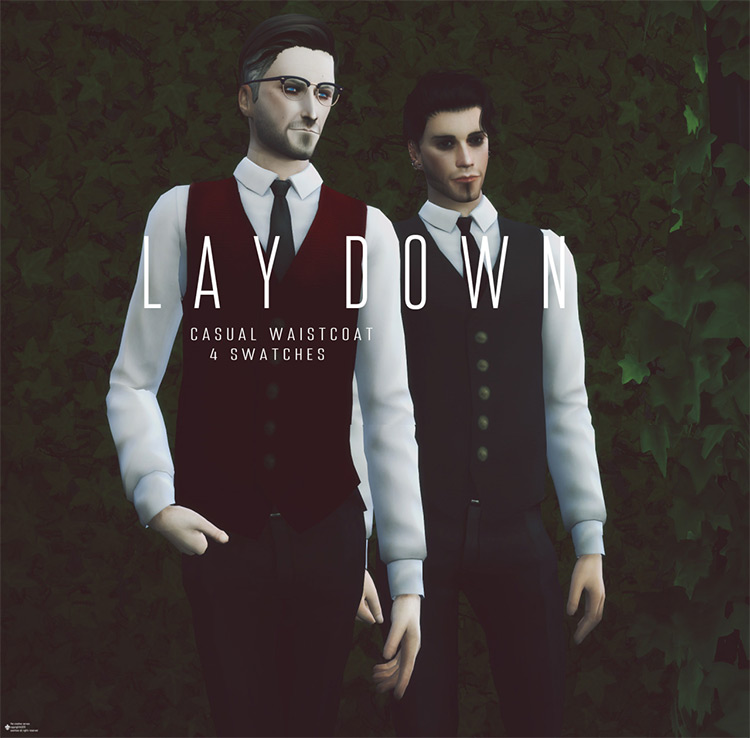 Yes, it has 'casual' in the name.
But that doesn't mean this CC is actually casual.
As impressed as I am by this CC, I'm a little scared of what the creator would consider professional attire if this is casual!
As far as waistcoats go, this cut is classic for bartenders, fancy baristas, or businessmen alike.
It's made for adult sims and comes with 4 swatches, which is surprisingly enough to cover the main styles you want from a slick waistcoat.
And no, your sims would never be called out for being "too casual" if they wore this Lay Down waistcoat to work!
7.

Smart Fashion III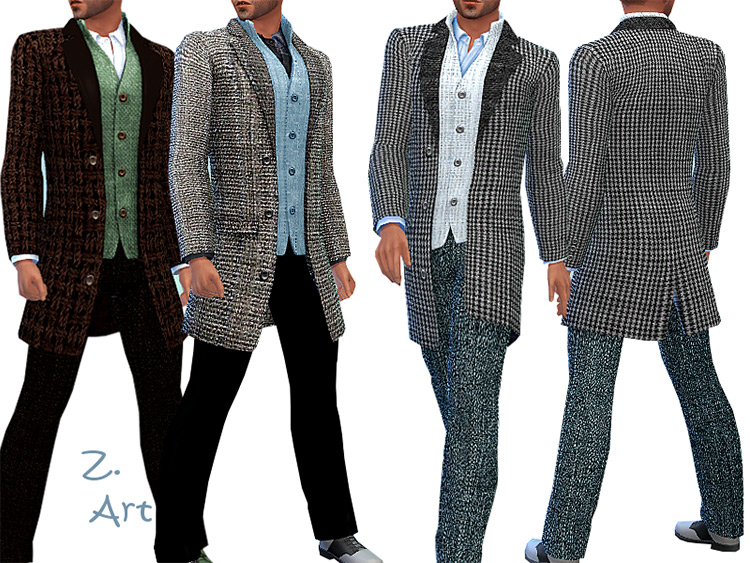 Vests are often meant to look fashionable and professional, more often than they're worn just to be useful or to protect you from the cold.
But sometimes you need to make sure your sims are staying cozy (or at least, look like they are).
Yes, even in their office cubicles.
These waistcoats are textured to look like woven fabric, and they're longer and thicker looking than many other waistcoats.
I still wouldn't suggest sending your sim to Mt. Komorebi, but it's a start!
8.

Men's Sweater Vests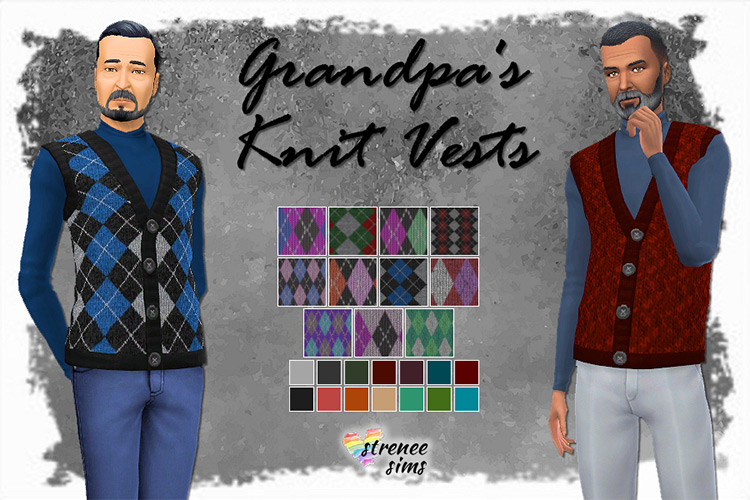 If you need something even cozier, then why not don a sweater vest?
These sweater vests use the same mesh as the ones from the Cats and Dogs gamepack (and look just as warm), but have way less of the "ugly Christmas sweater" vibes than the originals did.
The CC set comes in 14 solid colors, 11 argyle patterns, and the only requirement is having the gamepack.
If you don't have it, there is an alternative:
Streneesims has also made a crochet sweater vest set for women, and it's completely requirement-free and totally base game compatible.
9.

Cool Kitchen Stuff Tweed Vest Recolors

This CC is another typical male vest.
But don't discount its value!
Since the vest colors are actually an overlay, you can color the vest without coloring the t-shirt underneath.
That means no more picking from set combinations, and no more settling for a shirt pattern you don't really like just so you can get the vest color you actually want.
And in addition to being a great looking top, you can mix and match the 20 t-shirt colors and 10 vest colors to make the outfits that have always been out of reach!
10.

Vampire Lord Victorian Vest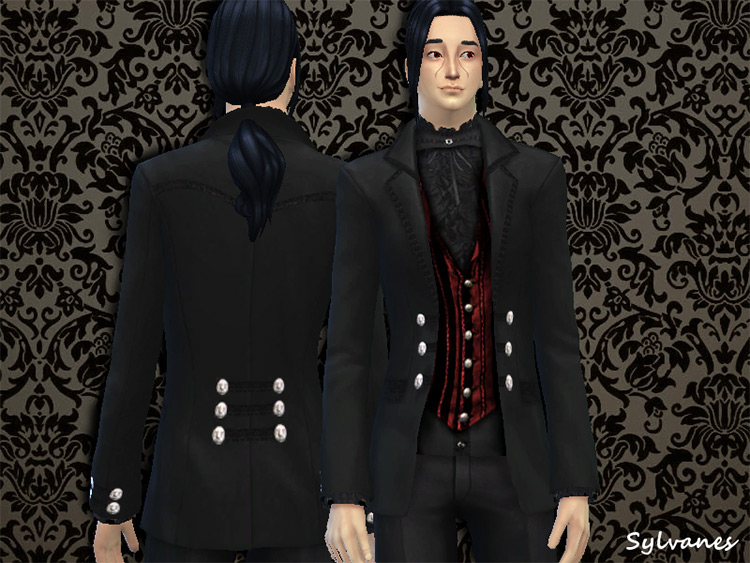 There's no denying that the vampires in The Sims franchise have really stolen the hearts – and blood- of many players.
Unfortunately, the Vampires gamepack doesn't come with all that many clothing styles.
And if you're gamepack poor (or if you've just spent your budget on the other awesome gamepacks), then good luck trying to customize your 'vampire' sims!
Although this Vampire Lord vest can't cure the turned, it sure can cure their lack of clothing.
Alternatively, you can use it for any Victorian gentleman in need of a touch up.
11.

Aon Leather Vest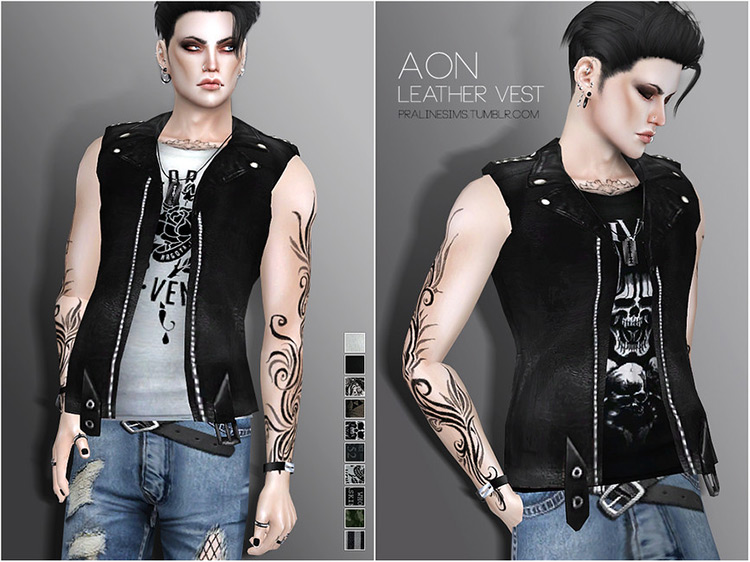 Not what you were expecting, huh?
Leather vests deserve to be on this list just as much as any other vest.
But while they still look incredibly sharp, they lend themselves to very different styles.
Is your sim a hardcore biker?
A fan of goth (or goth-adjacent) music?
Or do they simply have a rebellious sense of fashion?
There are 15 swatches in this CC, but they don't change the color of the leather itself. Instead they change up the shirt underneath, so you can let your sim's personality shine through.
12.

Waistcoat Outfit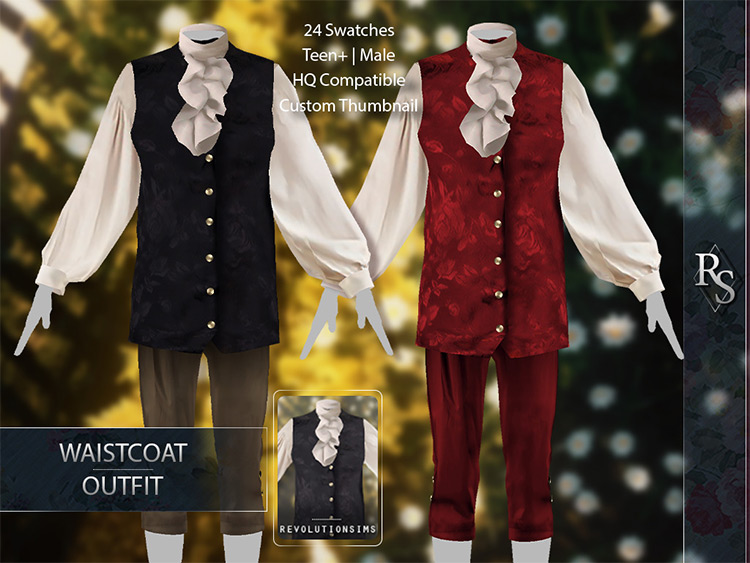 Historical CC isn't exactly unpopular – but it can be hard to find creators that cater to that specific need.
This waistcoat does just that, with 24 royal swatches to boot.
Most waistcoats are designed for a business mogul or the like. And this one could be too, but only if that businessman is from colonial America!
Alternatively, it would also suit any medieval prince in a historical romance.
Keep in mind that this is designed with teens in mind. And to be fair, most teens in historic contexts would already be considered adults, which aligns well with the way The Sims 4 treats teens.
13.

F.A.T.E Zip-Up Top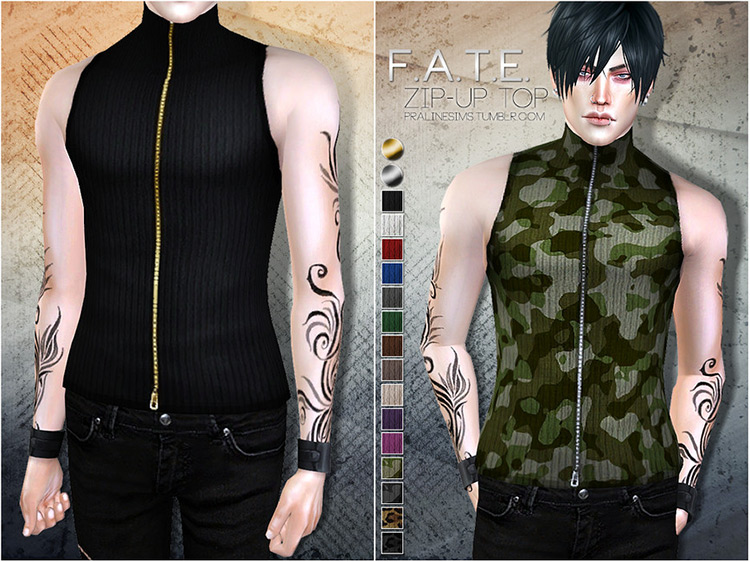 Call me childish, but sometimes I get sick of all the buttons.
Sure they look great, but button-ups are such a pain to put on and take off.
Besides, they take away valuable seconds that I could have spent wasting time in The Sims 4!
This F.A.T.E vest, on the other hand, utilizes convenient modern technology known as "zippers" to hurry up the changing process.
Nevermind that your sims can change their clothes instantly… zip-up tops are a must-have!
The other convenient part of this CC is that it comes in 15 colors and it isn't Alpha enough to stop you from using it in a Maxis-match world.
14.

Dazz Denim Vest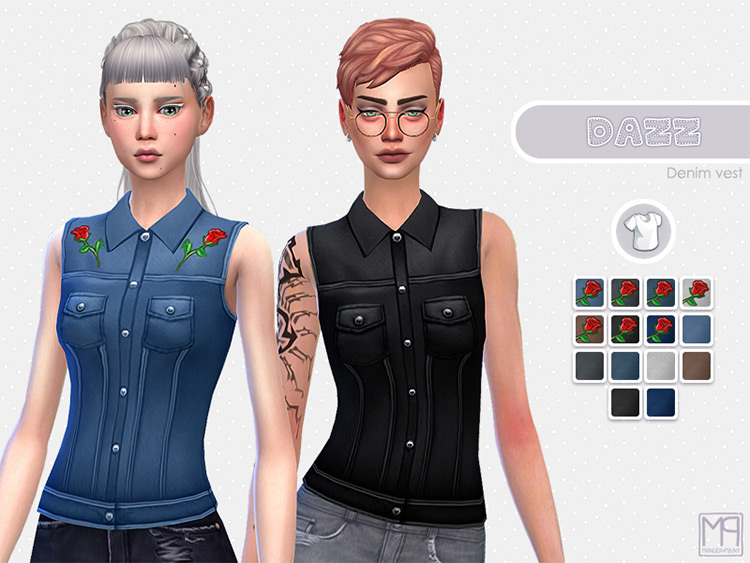 The Sims 4 might not have much in the way of motorcycles.
But that shouldn't stop you from dressing up your sim like she's the head honcho in the SimNation's toughest biker gang.
Manueapinny's denim vest may look simple, but it isn't for the faint of heart.
You'll have homebody sims shaking in their boots!
This CC has 7 basic color swatches, plus 7 more with the same colors but rose decals on each shoulder.
If that isn't iconic, I don't know what is.
15.

Top and Vest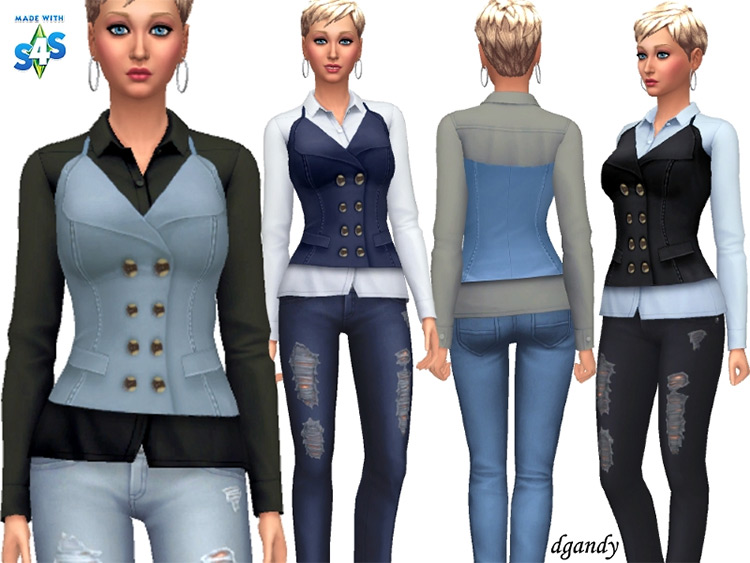 This top and vest is a pretty straightforward pick – especially compared to some of the wilder options on this list.
Still, it's packed with personality, featuring exaggerated buttons and collars almost as big as the attitude of whatever sim chooses to wear it.
Although it's a casual-leaning vest, it's still professional enough that you could get away with wearing it to work.
But it's chill enough that you could even wear it around town!
Browse:
Lists
The Sims 4
Video Games