Sims 4 CC: Victorian Era Décor & Clutter Packs
This post may contain affiliate links. If you buy something we may get a small commission at no extra cost to you. (Learn more).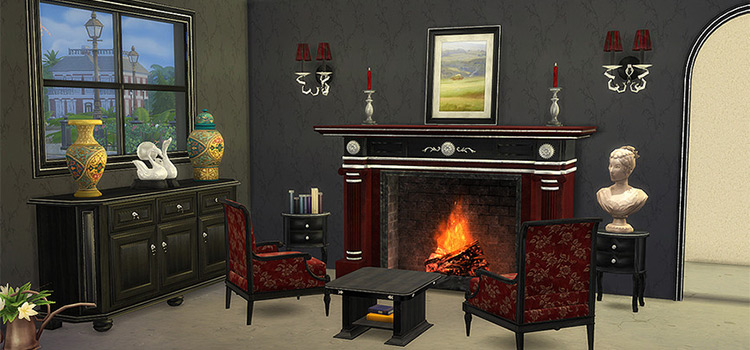 I'll admit that I failed History, but don't worry; everything I recommend here is labeled, described, or marketed as Victorian.
(For those that aren't specified, I triple-checked with Google).
I may also not a huge fan of historical designs or period themes, but I totally get the appeal. The word Victorian is practically synonymous with elegance, richness, and nobility.
This time period has no doubt been romanticized by popular media, but that doesn't make it any less appealing.
If you want to add some character by way of clutter to your Victorian build, I've got one or two pieces listed down below that you might be interested in.
1.

Victoria AddOn Set by BuffSumm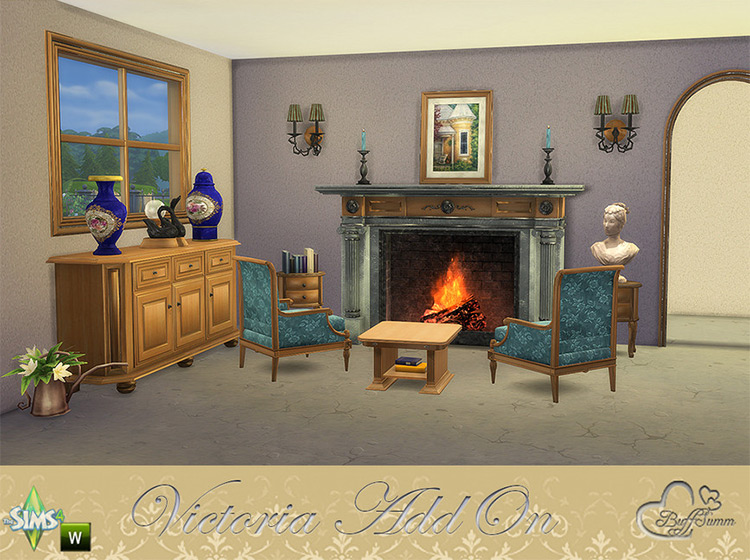 If your Victorian build is ever in need of some finishing touches via hand-painted accents, check out BuffSumm's Victoria AddOn set.
It contains items like floor vases, sculpted lamps, and a decent-sized painting to prop on your fireplace.
2.

A Set of Victorian Paintings by meleah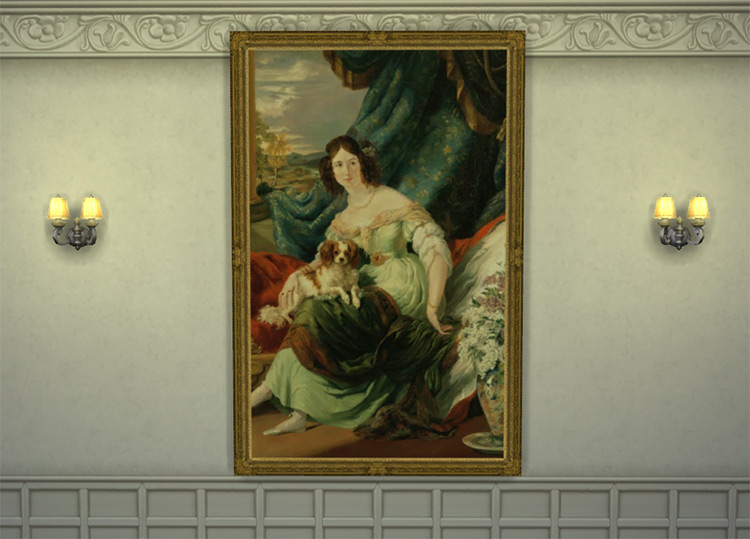 Exactly as it says on the tin; a set of Victoria paintings that'll instantly class up any plain, boring wall.
Make it the centerpiece of your Sims' creepy (and unnecessarily long hallway) or use it to add a masterful pop of color in your Sims' drawing room.
3.

TS4: Historical Portraits by Historical SimsLife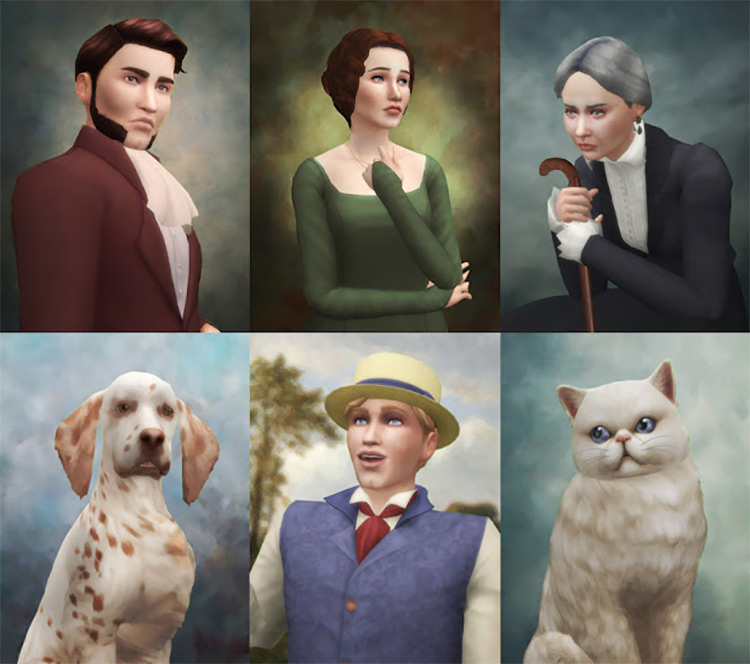 If you prefer portraits or single-subject paintings to adorn your Victorian build, Historical SimsLife gives us six stunning options.
They include a beautiful young lady, a rather stern-looking gentlewoman, a cat with stacks of pedigree, and what I think is Mr. Darcy from Pride and Prejudice.
4.

Off-the-Grid Typewriter by MadameRia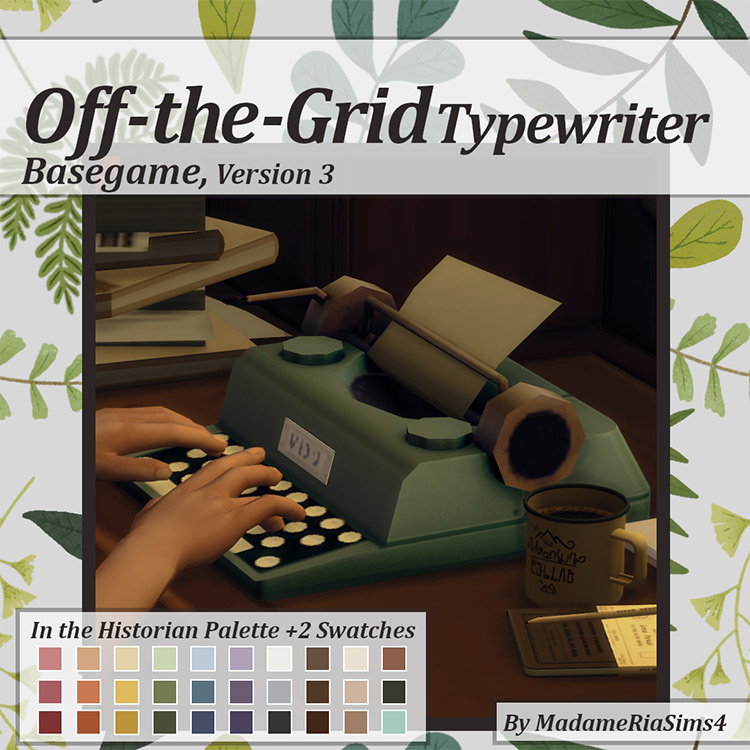 A very frantic Google search confirmed that they did, indeed, have typewriters during the Victorian era (1837 to 1901).
Therefore, I'm proud to include this beauty in the set.
Not only is it a functional off-the-grid writing device (for all freelance Sims out there), it is also 100% Maxis Match with gorgeous color options.
5.

TS4: Old Map Painting by Historical SimsLife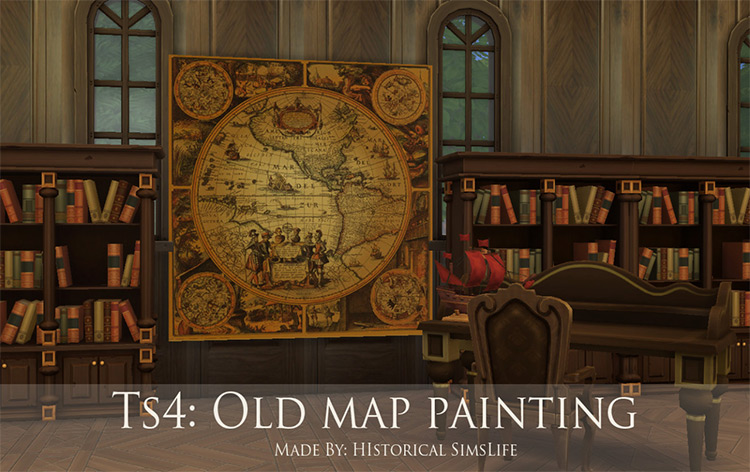 What would a proper Victorian Sim need a giant map of the world for?
No idea.
It just looks like one of those things a noble 1880s person would have in their library. Right behind the desk holding their prized bronze astrolabe heirloom.
6.

Derelict Pile of Books by kardofe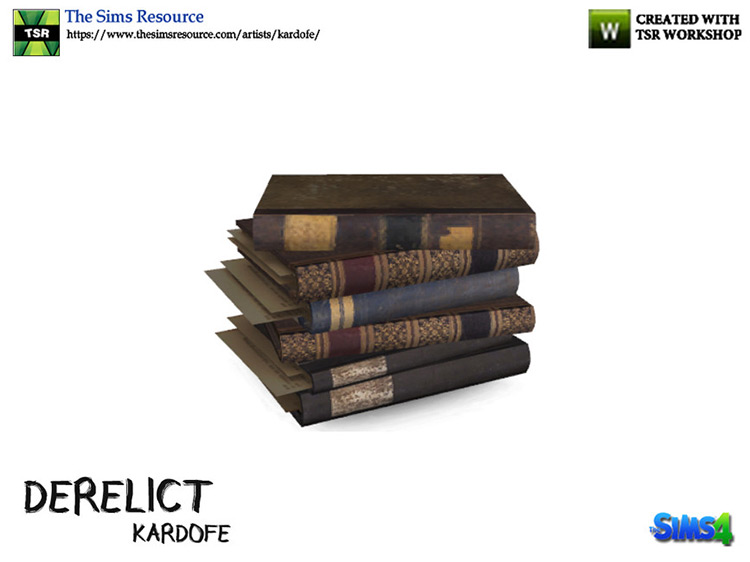 This is from kardofe's Derelict set, so it's not marketed as a Victorian piece.
However, the worn, aged look of the books combined with the sort of gold embossed spines gives it a very antique look.
Plop these on a corner table in a Victorian library and no one would be the wiser!
7.

Classics of the Genre Books #1 by Maruska-Geo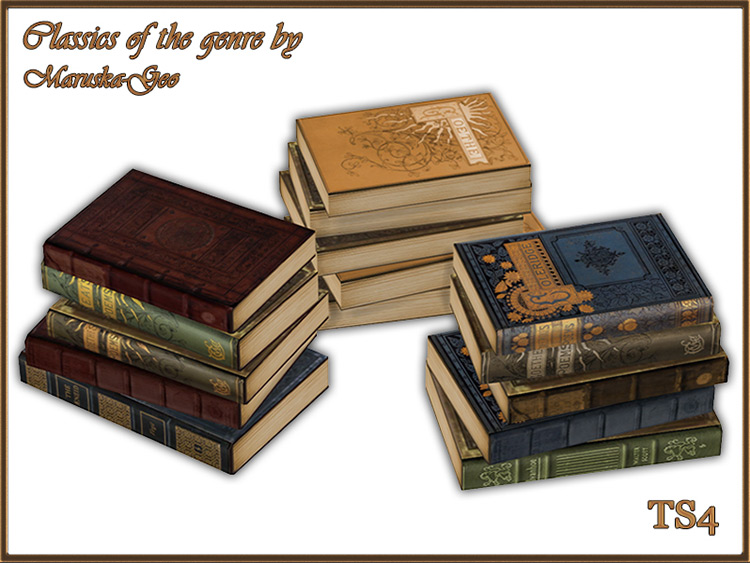 If you prefer some newer – and better preserved – books for your Sims' Victorian library, Maruska-Geo's got some great options.
I like the nod to actual masters of classic literature, like Goethe and Coleridge.
8.

Zia Antique Standing Books by RightHearted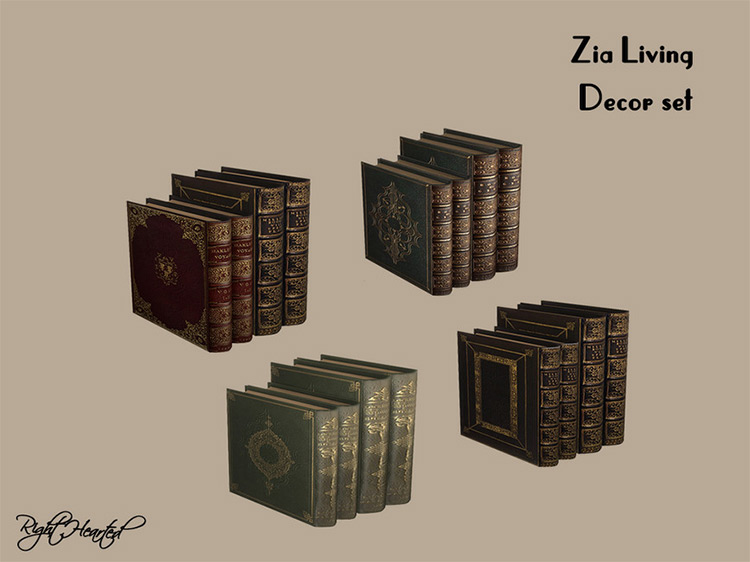 This vertical stack of four books quite frankly looks like it belongs behind a protective glass case.
The volumes look like expensive, first-press versions of priceless classics that no one should ever touch. I love the gorgeous gold accents on the spines, though.
9.

Candelabra – 2 Versions by Natalia-Auditore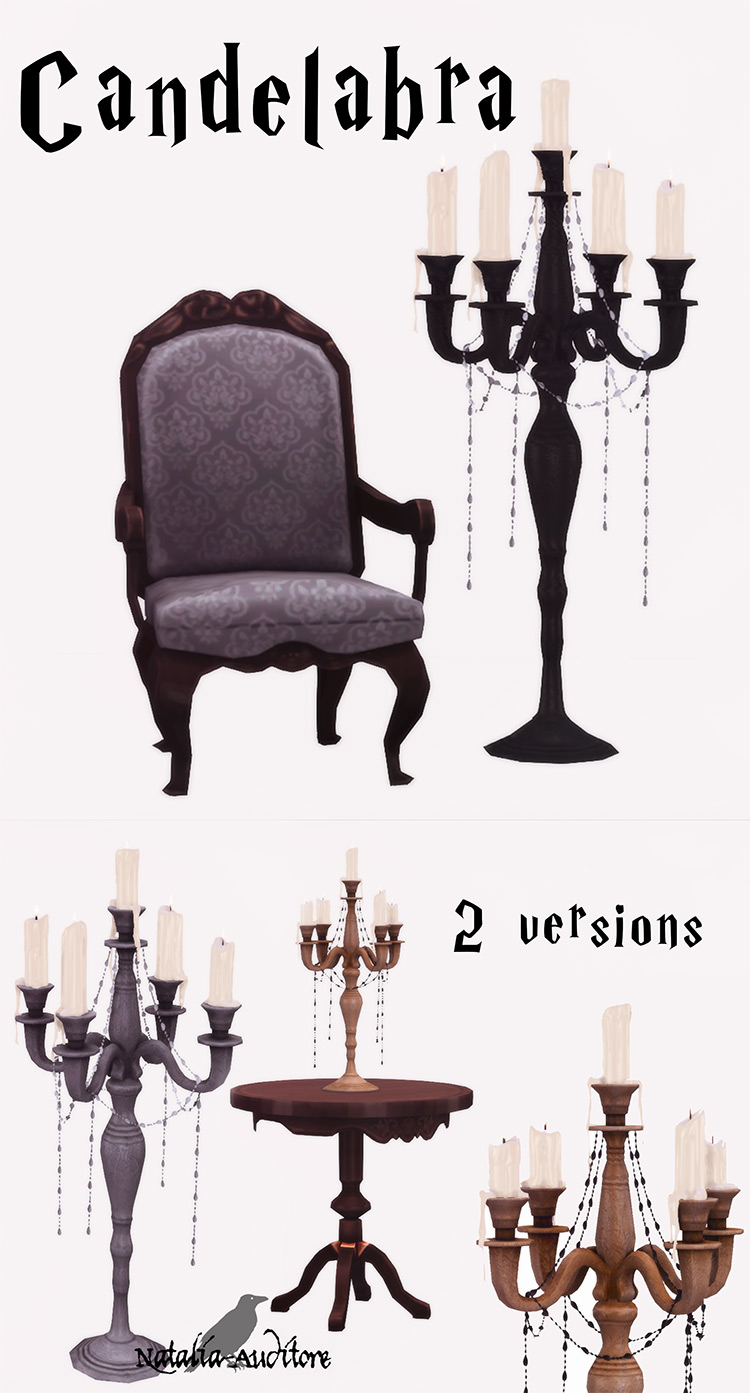 In certain lighting, a Victorian build can be a bit creepy. And unnerving.
I think it's a combination of the vintage vibes and the slightly Gothic designs.
This candelabra is absolutely beautiful (and welcoming) in brushed bronze and silver.
In black, though? You might as well invite Count Vladislaus Straud IV in yourself.
10.

Rose Candelabra by Natalia-Auditore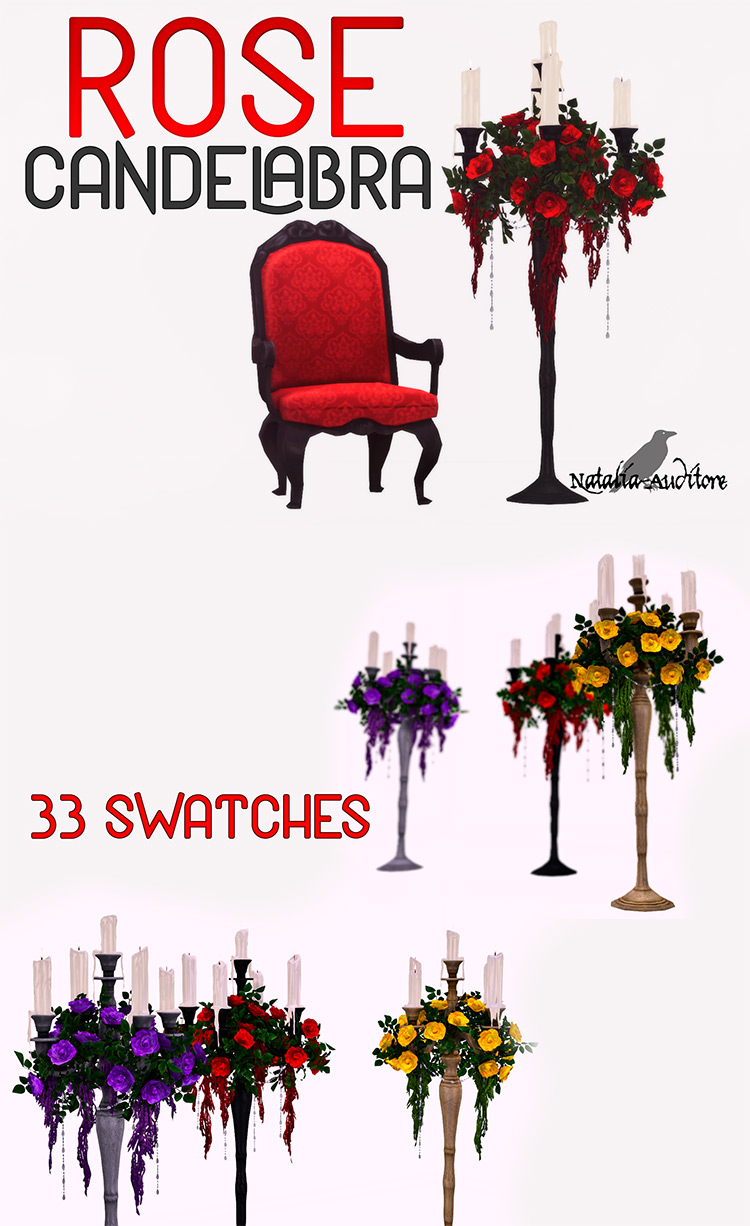 Yes, this is the same candelabra.
Only instead of beads, the creator added roses. I think this is the original iteration of the mesh, actually.
Either way, it looks stunning.
Definitely more Gothic Victorian now, but that concept (when executed well!) always makes for darkly attractive builds.
11.

ScandiFever Old Décor Telephone by SIMcredible!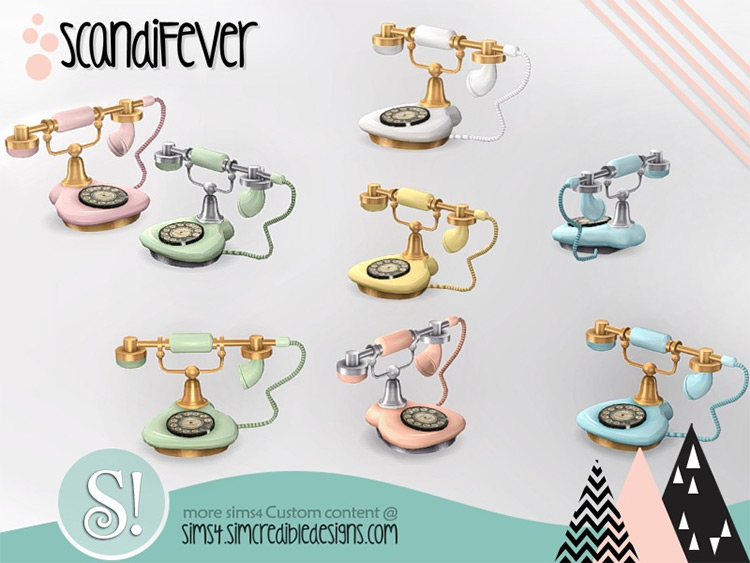 Their design may seem clunky and inconvenient now, but you can't deny the charm of old telephones.
In an emergency, yeah, you probably don't want to waste time wrestling with a wheel.
But as a purely decorative object, vintage dial-phones – like this deco telephone from SIMcredible!'s ScandiFever set – are so visually pleasing.
12.

Victorian Divider from TS3 by TheJim07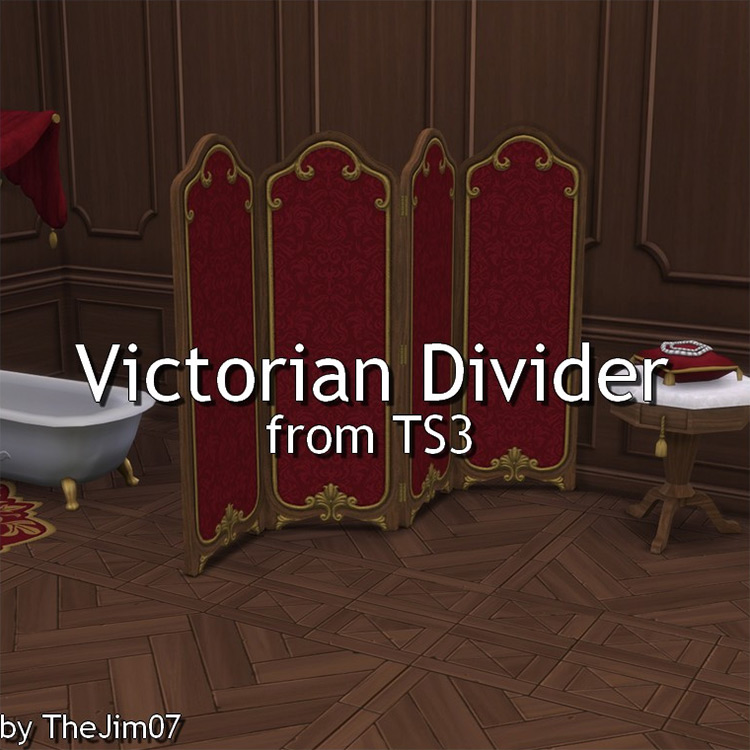 How do you establish boundaries like a proper Victorian gentleSim?
You plop down a floor divider.
One in a stunningly rich, red color accented with a black, gold, or brushed bronze frame.
13.

Antique Fireplace Screen by TheJim07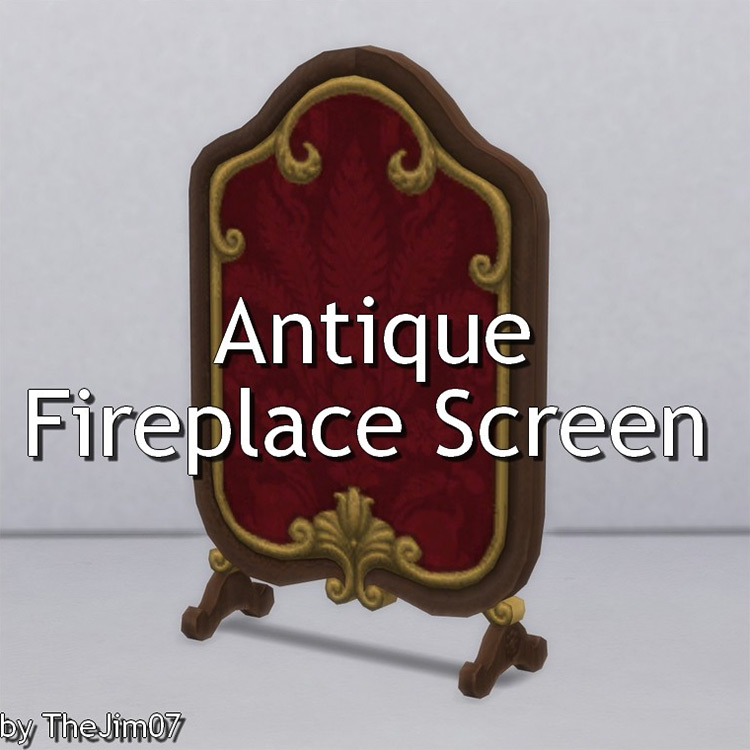 Just like the divider, this Victorian fireplace screen is accented with an ornate golden frame topped with a stunning fleur de lis on the bottom.
The frame doesn't change color, but the base color of the screen itself comes in about thirty different swatches.
If you're not feeling the royal red swatch, try a soft ivory or rich forest green.
14.

Clocks and Phone from TS3 by TheJim07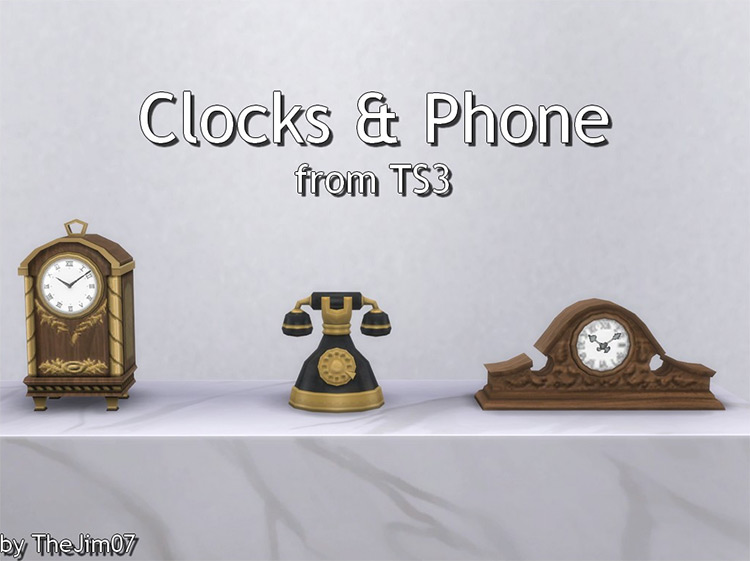 A generation clock, a vintage rotary phone, and an antique chronometer.
What do they have in common?
They all belong in a Victorian mansion.
They're antiquated, classy, and they look like the sort of priceless pieces collectors willingly buy for thousands of dollars a pop (even though they're really only $125 Simoleons in-game).
15.

Zia World Map Chest by RightHearted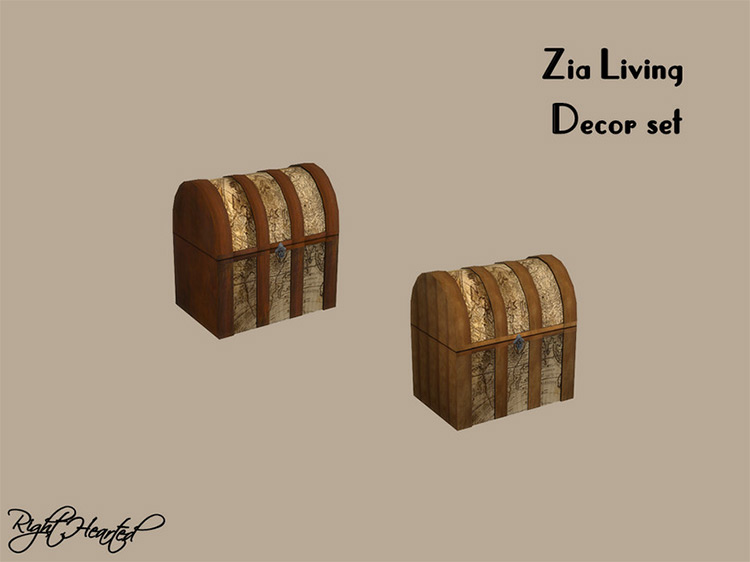 "Vintage Victorian" is what I'd use to describe this chest.
It's got that tastefully ornate look that's pretty par for the course with a lot of furniture and décor during that time period.
You can choose between a deep mahogany and a lighter wood color.
16.

The Gray Woman of SimCity by AdonisPluto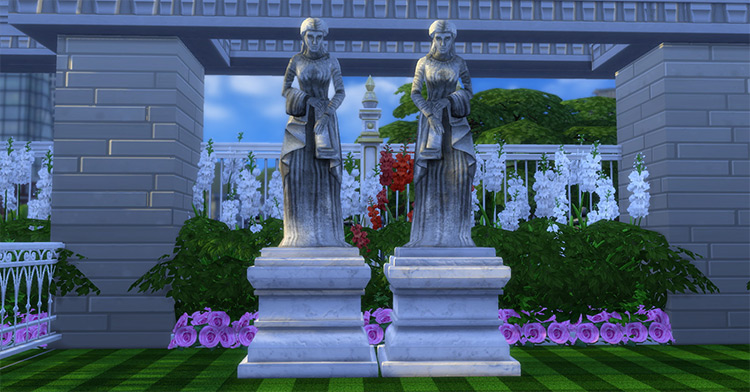 Bit of interesting lore with this one.
And by "interesting", I mean completely on-brand for a Sims storyline.
AdonisPluto's TS4 conversion of this interesting statue bedecked in period drapery would look excellent as the centerpiece of a labyrinth—or positioned at the entrance of one! 25 clothing options and a mirrored version make for lots of decorative possibilities.
17.

Elegance Pose by AdonisPluto
Give The Gray Woman of SimCity a friend in the form of the Classy Updo Lady from the "Where the Green Fern Grows" object (from The Sims 4: Romantic Garden stuff). I never realized how well she'd stand on her own until AdonisPluto separated her from her leafy cove.
Now, she looks stunning as a standalone Greek goddess sculpture.
18.

A Ghibli Set by Mechtasims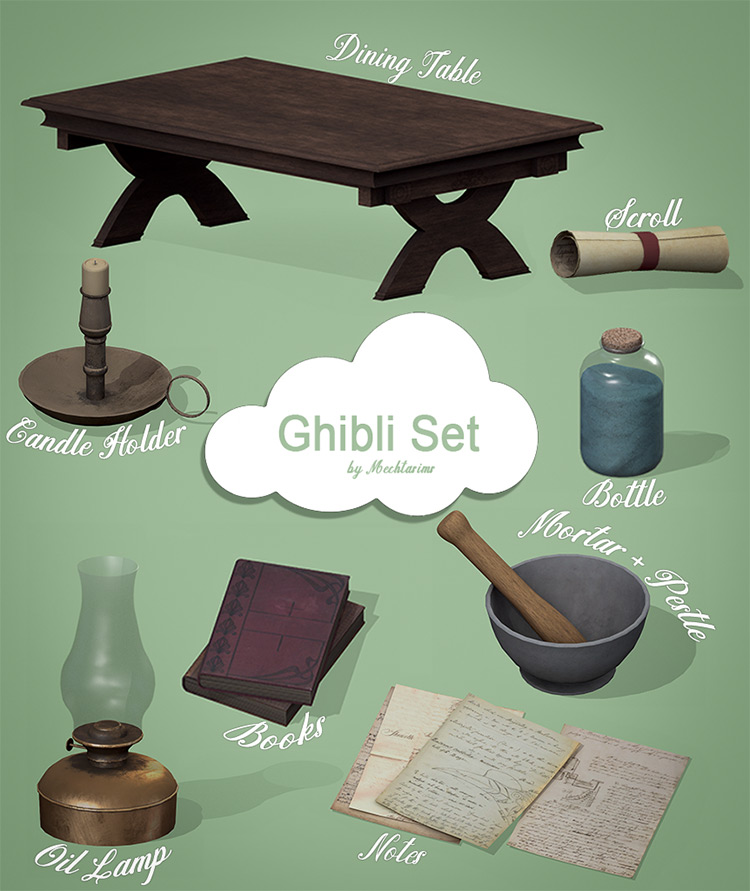 I think it's lovely that this CC set of well-crafted items was made for a cause.
The Ghibli Museum in Mitaka, Japan experienced a huge financial setback during the COVID outbreak, and CC creator Mechtasims did this decorative drawing room set to help raise awareness.
The décor here – especially the oil lamp and candle holder – could definitely be used in a Victorian build!
19.

Vintage Lace Victorian Indulgence Curtains Recolored by Simmiller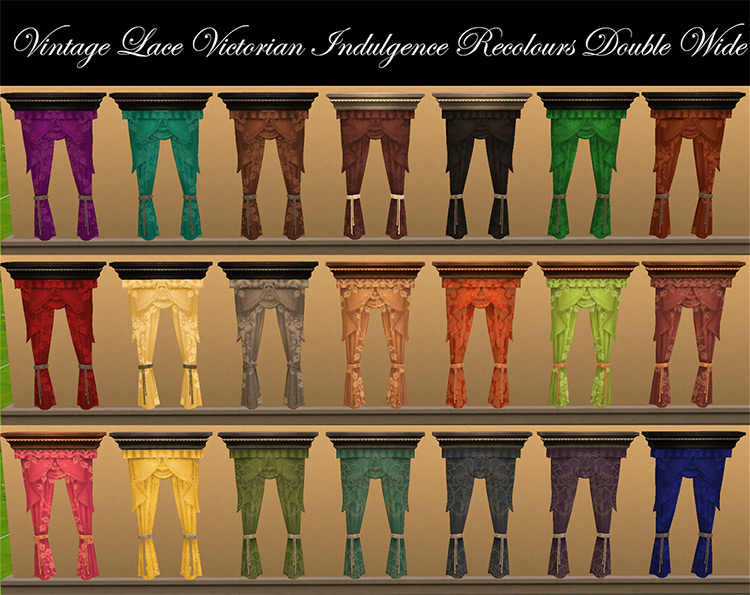 These lacey vintage curtains – or drapes, as one classy Victorian Sim might say – add a splash of rococo to any room.
If the windows in your drawing room, library, or grand parlor are letting in far too much natural sunlight, these curtains can help shield your Sims' delicate eyes.
20.

Grand Century Curtains by TheJim07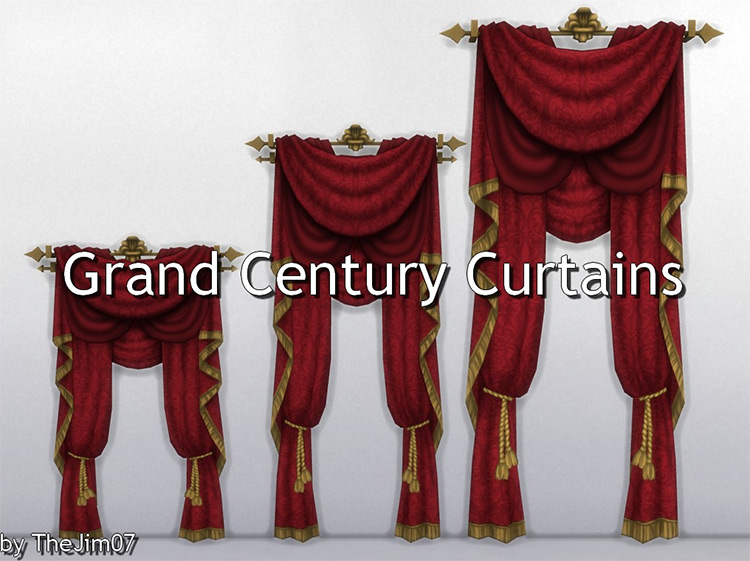 Basically Simmiller's Vintage Lace Victorian curtains, only a tad bit more ornate and grandiose. It's definitely not as subtle as most of the items on this list.
But if your Sim feels like flaunting their wealth through heavy lace and embroidered linen, then by all means.
21.

Victorian Vampire Framed Wall Photos by Evemore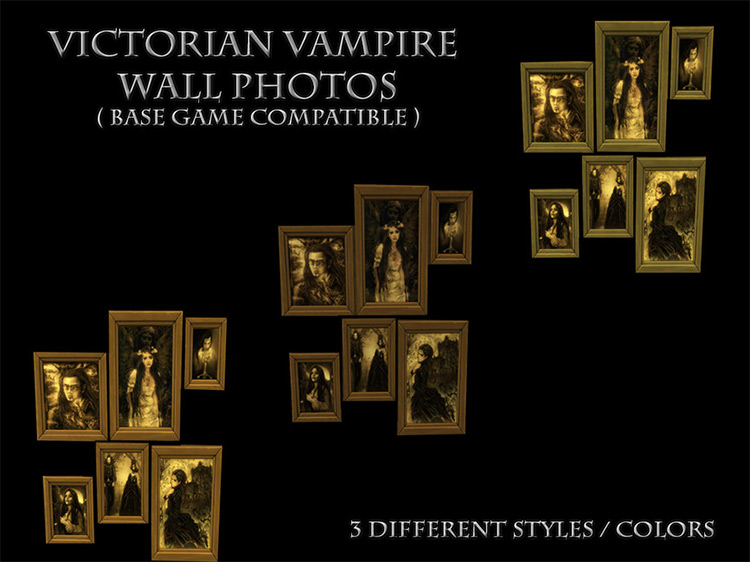 We finally get a taste of the occult!
Vampires are definitely not a modern concept. And if there was ever a time in history for them to have risen to full power, it would probably be during the Victorian era.
Are these decorations for a haunted manor?
Or are they simply family photos of great-great -great-great-great-Aunt Dimitrescu?
Either way, highly recommend.
22.

48 Traditional and Contemporary Rugs by sionelle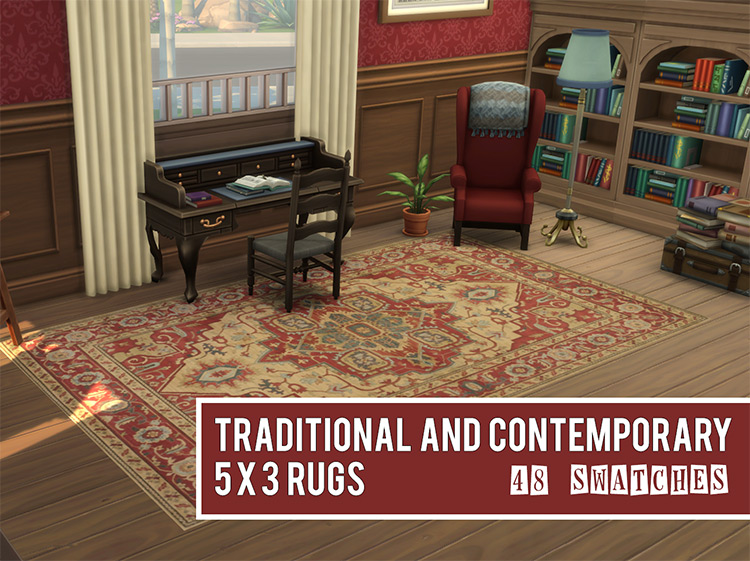 As someone who can't furnish rooms aesthetically to save her life (both in the Sims and IRL), I feel like a rug is the quickest way to make it look like you know what you're doing.
Plop a rug (or two) down beneath a table, by the door, or at an artsy angle and, voila! Suddenly there's a pop of color breaking up the monotony of the floor.
Since sionelle's 5×4 rugs come in 48 patterns, I'm confident you'll find a whole bunch of designs suitable for your Victorian build.
23.

Glass Bottle Decors for Antique Pharmacy by pocci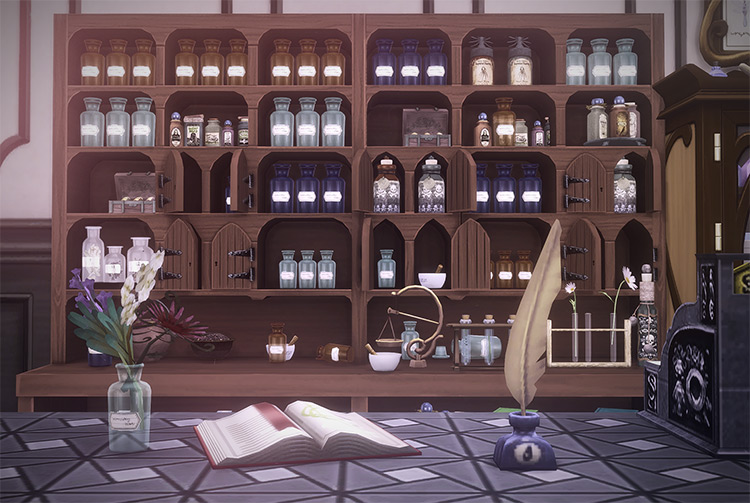 Your Sim doesn't need to run an antique pharmacy to use these decorative glass bottles.
The setting could be Victorian or Victorian Fantasy and these colorful, elegant, potion-bottle-esque items would make sense.
24.

Antique Basin of TheJim07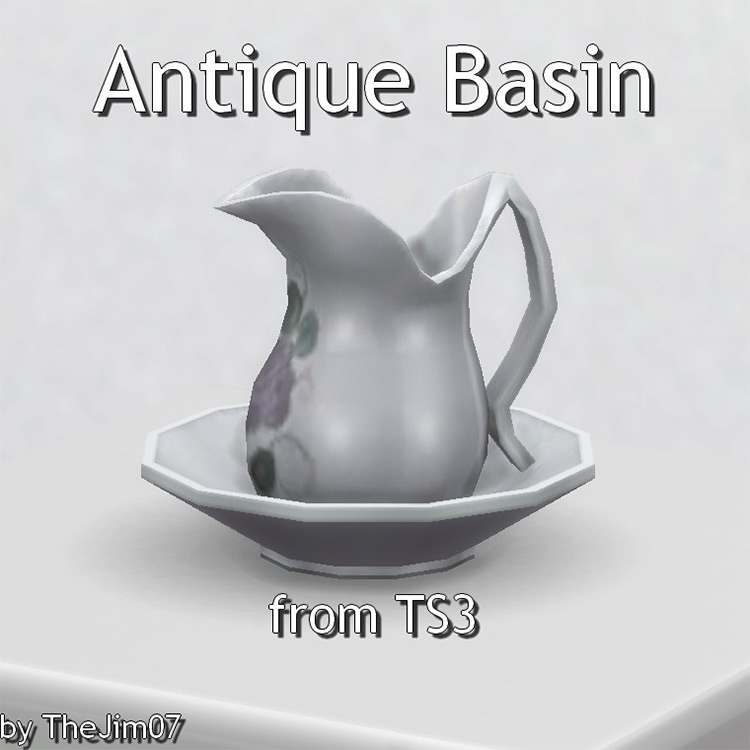 Before indoor plumbing, these things were a godsend.
They're pretty multipurpose, too.
This basin CC by TheJim07 may be antiquated, but it still makes for an elegant decoration piece.
25.

Enigmatic Tapestry from TS3 by TheJim07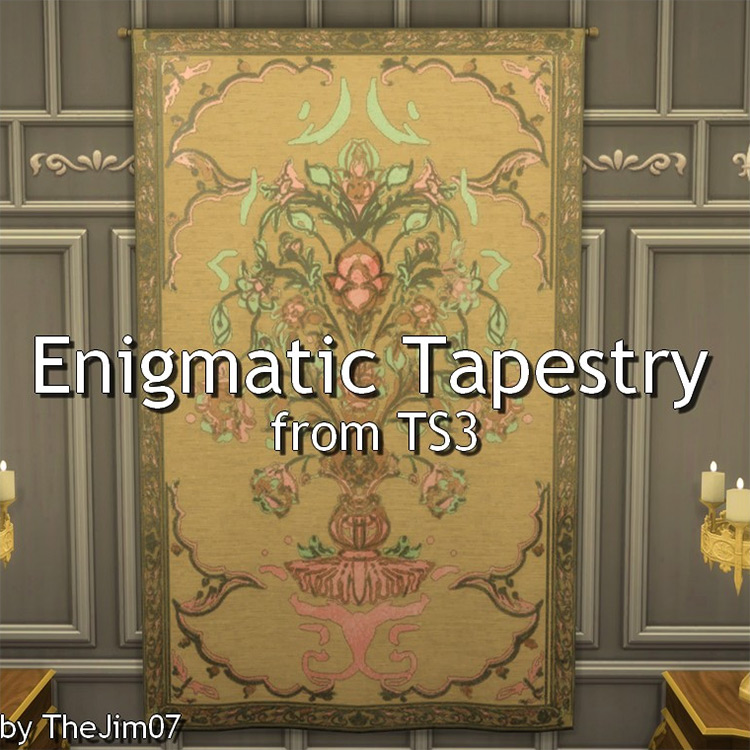 What does your Sim need with a tapestry this big?
Not sure, but most decorative items don't need a reason.
They just need to gussy up a room. And you'd best believe that's what this huge floral tapestry does. In certain swatches, one would even think this tapestry a coat of arms.
26.

Two Globes from TS3 by TheJim07
Pair these two globes with Historical SimsLife's Old Map Paintings from item number five and you've basically created the study of a young, adventurous scholar.
Or a geography professor obsessed with his profession.
Either narrative works!
27.

Old Mill Ivy by veranka-s4cc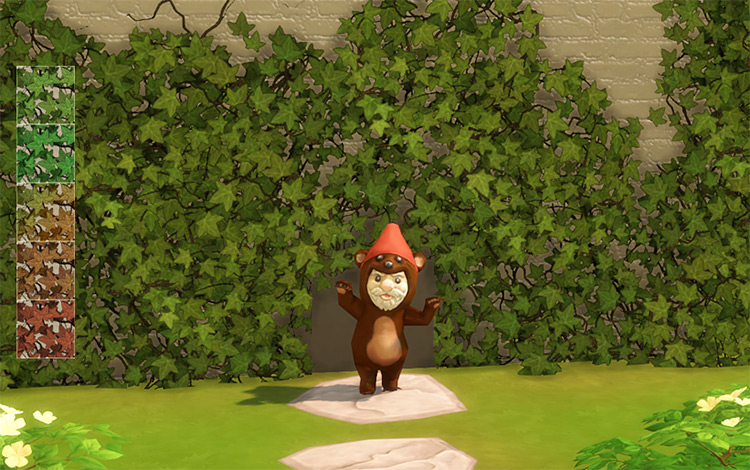 I guarantee that if you Google search images of Victorian manor walls, there'll be a handful covered in ivy.
No matter how sparkling the mansion, a Victorian home always seems to have ivy crawling up the walls.
Ergo, this CC set can help you add some accurate texture and decorative depth to your Victorian build!
28.

Old Photographs 1 & 2 by RoxxyPLPL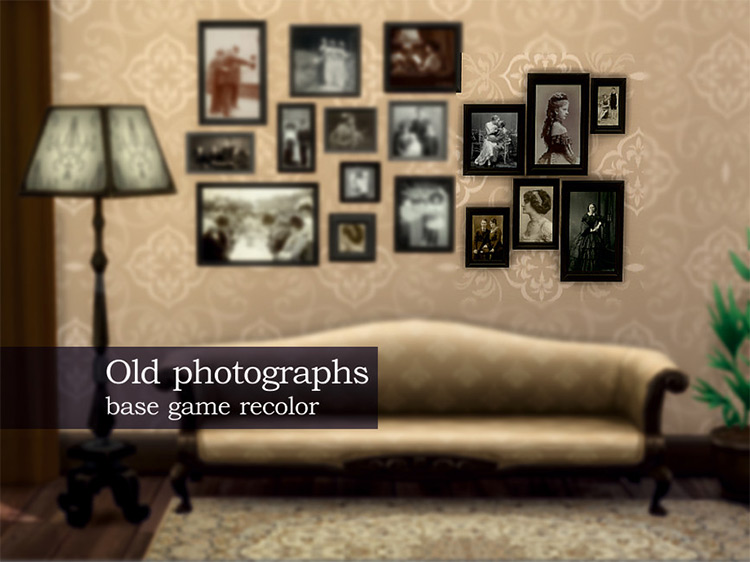 Just some casual wall décor in sepia and black-and-white.
I'm not sure how period-accurate some of these photos are, but if you're not too fussed about details, these would look awesome in an old-timey parlor.
And here's part 2 for more swatch options!
29.

Victorian Floral Art by Wykkyd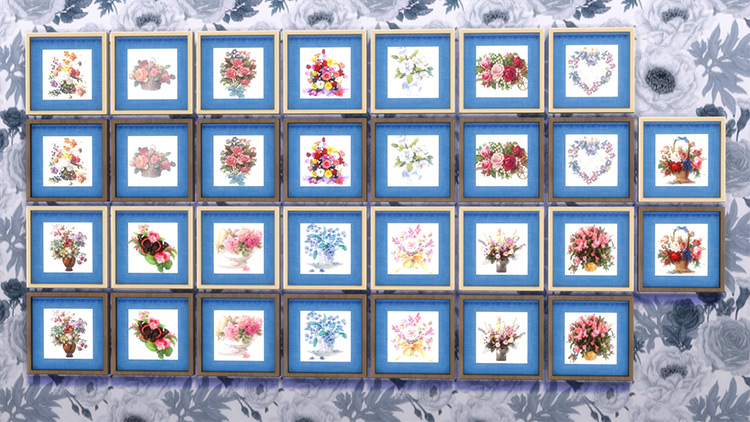 Not into colorless photographs?
Then how about some framed florals?
The creator says that floral prints "always make a room elegant," and I'm inclined to agree! These watercolor masterpieces are quite pretty indeed.
30.

Bioshock Infinite Office Conversion by vmsimscreations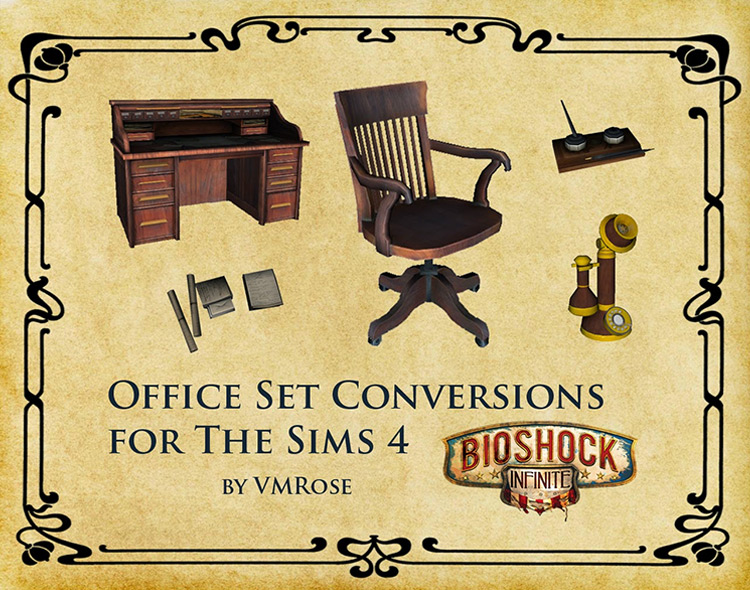 Lastly, this Bioshock conversion came as a pleasant surprise.
I didn't realize the set was leaning more Victorian 'til I saw the desk and chair were labeled as such.
And then I saw the candlestick phone, ink well set, and desk papers and thought; yeah. This is a Victorian study for sure.
Plus, the items can downloaded individually. So you can mix and match just what you need for your unique Victorian-era study.
Browse:
Lists
The Sims 4
Video Games