Sims 4 Victoria's Secret CC: From Clothes To Cute Clutter
This post may contain affiliate links. If you buy something we may get a small commission at no extra cost to you. (Learn more).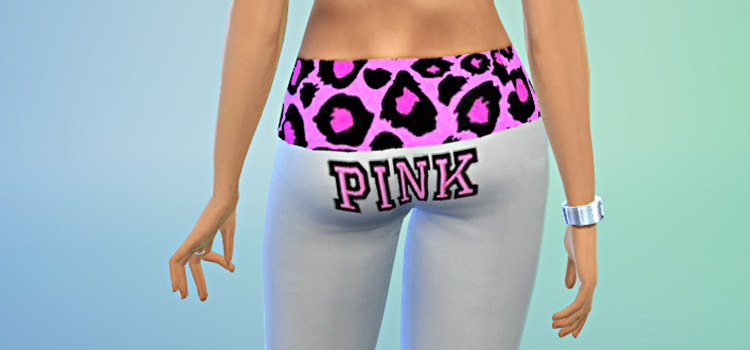 Victoria's Secret is a brand offering one of the hottest lines of lingerie for women.
It's so hot that it spawned an annual fashion show in 1995 where millions of people watched supermodels walk the runway.
From then on, Victoria's Secret became a household name in the lingerie market. But like other brands who failed to adapt to the times, they're now struggling to survive and moving in new directions.
The brand has had its ups and many downs, but no one can deny the fact that it was iconic.
But either way, if you're a fan of the brand then definitely check out these TS4 Victoria's Secret CC packs.
10.

Victoria's Secret Decor Set
You've probably seen your first Victoria's Secret product not from your mom's closet, but her vanity when you were younger.
Back then, the sickly-sweet scent of VS fragrance must've been intoxicating and alluring.
Fast forward a few years and you'll realize that maybe that scent isn't for young kids after all…
Have your Sims own a set of seductive fragrances from Victoria's Secret, the textbook scent of your typical girl next door.
9.

Knotted Baby Tee
Black Lily's Knotted Baby Tee is that one Victoria's Secret item you'll buy on a clearance sale, even though it's not usually your style.
It's a simple tee that would probably cost around 30 bucks just because the VS logo is printed with glitters on the front.
But if you want your Sim to show some skin without having to bare it all, then this CC is worth trying on.
8.

Victoria's Secret Crop Top
Unlike its scandalous sister, Victoria's Secret's PINK provides more socially acceptable coverage in its apparel line.
Sportswear, swimsuits, sleepwear and underwear, PINK has been there to supply the stylish needs of teenagers and college-aged gals.
Having the word PINK emblazoned in all caps on a crop top won't probably age well. But a Sim can make it work – somehow.
7.

Pink Fitness Outfit
Eating low carb food and enduring a Keto diet are only half of what a Victoria's Secret Angel does before showtime.
Most of the time, Angels are working out to maintain a picture-perfect body that 95% of the human population doesn't have.
I guess for your sims it won't matter either way, though.
So if that body type is #goals for you, then have your Sims workout like VS Angels while promoting brand love with this PINK Fitness Outfit by Saliwa!
6.

PINK Underwear
For teenage girls, stepping into a Victoria's Secret store to buy padded bras and bikini-cut panties was like the first step into womanhood.
However, VS would never directly market skimpy lingerie to girls aged 12-17. Instead they have the PG-13 sister brand, Pink, to serve as the trial stage for the big leagues.
Victoria's Secret's PINK has a sportier style and (thankfully) lesser amount of lace, perfect for young women eager to replace flower-printed underpants.
Give your cranky teenage Sims this PINK Underwear CC that's available in 30 swatches!
5.

Angel Set
For the faithful, there's no greater honor than becoming an angel in heaven.
For aspiring models, there's no greater honor than becoming an Angel at Victoria's Secret's annual fashion show.
Getting a set of wings is a marker of Angel status. But not all are blessed to wear them on the runway.
So consider your Sim lucky to own a pair!
4.

Sporty Undies Set
There are more than enough brands that sprouted up in the last 5 years to offer more affordable underwear than Victoria's Secret.
But being the mecca of lingerie, VS still has some cute collections that merit a fitting every now and then.
Get your Sim a two-piece set of sporty PINK undies available in 2 versions and 20 swatches!
3.

Fantasy Bra
For Victoria's Secret models, getting their first pair of wings was a step closer to the ultimate goal: to wear a Fantasy Bra.
Every year, one lucky model is chosen to put on the most uncomfortable bra ever with a price tag of over a million dollars.
Long-time VC Angel Candice Swanepoel was the annual tribute to wear the Royal Fantasy Bra back in 2013, and it's what this CC is based on.
This 10 million dollar bra impresses with an egg-sized ruby and a horde of diamonds and yellow sapphires.
Having hard jewels as nipple protectors is a luxury most people will never experience in their lifetime, but it's a great gift to deserving Sims.
2.

Angel Wings 02
From gigantic snowflake wings to wings made out of balloons, the Victoria's Secret Fashion Show is not one to shy away from creating spectacles.
More than the underwear, viewers were more fascinated with the Angels' wings, which reportedly takes over hundreds of hours to make.
It's the hallmark of every VS Fashion Show – to not have a 5-foot tall accessory on your back is not worth the attention.
Stamp a pair of these Angel Wings onto your Sims for a heavenly transformation to supermodel supreme!
1.

Victoria's Secret & Balmain
At its core, Victoria's Secret is a lingerie brand.
Which is why it's a no brainer to choose this Swarovski-encrusted underwear as my top pick.
This super bra is designed to be a shiny spectacle for events with no strict dress codes. And it comes with enough precious stones to require its own security detail.
Spice up your Sim's style with this CC from NitroPanic and become a true convert for unnecessarily lavish underwear made with love by Victoria's Secret.
Browse:
Lists
The Sims 4
Video Games