Retro Sims 4 Vintage Car CC: The Ultimate List
This post may contain affiliate links. If you buy something we may get a small commission at no extra cost to you. (Learn more).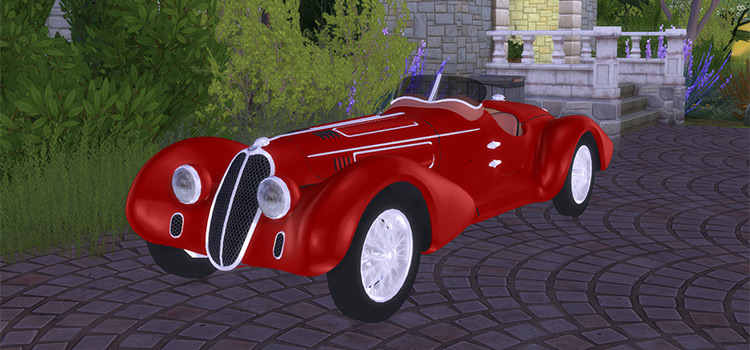 We go after vintage stuff for different reasons.
Some of us might be playing an old-timey challenge.
Or we might be attracted to vintage cars as an escape from our mass-produced lives. Because they symbolize a gilded age where creativity and attention-to-detail prospered.
Whenever a well-maintained & glossy convertible from the 60s drives by, we're abruptly transported to better times – even if these "better" times only exist in our imagination.
It's similar to playing The Sims 4.
And Simmers love a whimsical fantasy life where it's possible to become a millionaire by selling mushrooms from your backyard.
Let me show you some lovely vintage vehicles to spend your Sim's backyard mushroom money on.
1.

Volkswagen Bus (1965)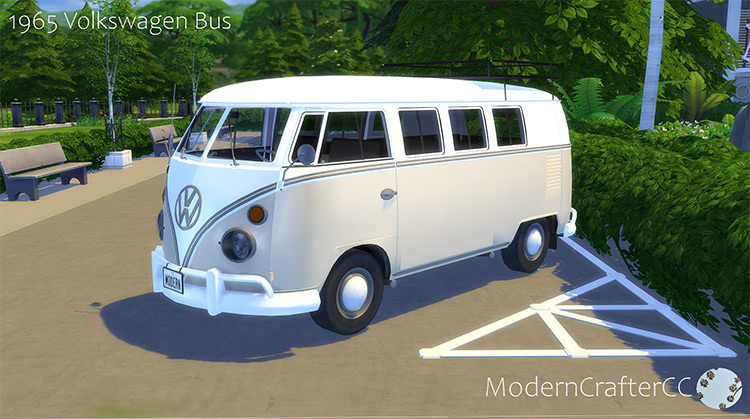 As anyone who's marveled at the psychedelic colors of Scooby-Doo's Mystery Machine knows, the Kombi was a hippie favorite during the 70s.
It was one of the first modern passenger vans. So you could fit your entire mystery-solving commune there!
Along with hippie transportation, the Kombi was used by governments and enterprises worldwide for different tasks.
This CC's creator included 30 different color options to match the vehicle's versatility.
2.

Mercedes-Benz 300 SEL 6.3 (1972)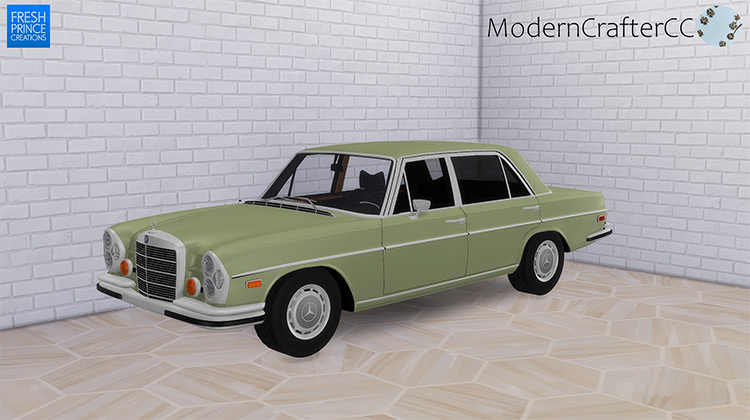 Contrary to the Kombi, Mercedes-Benz was associated with high-income businessmen rather than hippies back in the 70s.
The design of its vehicles is much more sober, projecting an air of luxury and nobility anyone climbing the status ladder would appreciate.
The Mercedes-Benz 300 SEL 6.3 is one of the rarest production models from the time period – not due to its design, but for what's under the hood.
With the engine of a Mercedes-Benz M100 V8 and the body of the smaller M109, it could reach a top speed of 220kph, making it the fastest sedan on the road for several years.
3.

Toyota Sprinter Trueno AE86 (1985)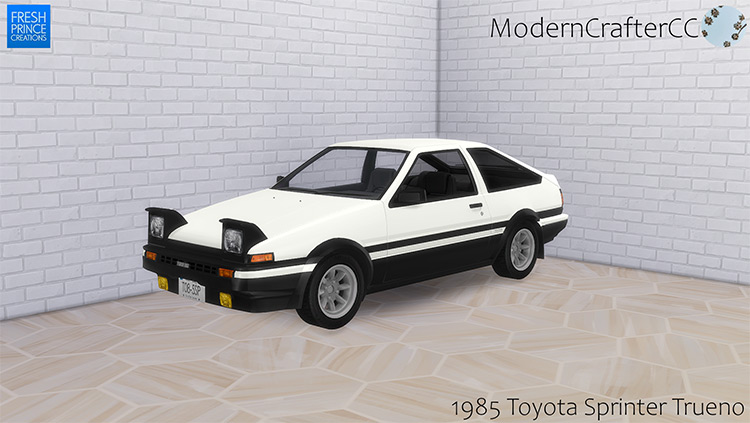 Fans of classic drifting anime Initial D will recognize the Toyota Sprinter Trueno as Takumi Fujiwara's racing and tofu delivery car.
The AE86 was affordable, lightweight, and easily modifiable, making it a staple of early drifting in Japan.
It was also super-popular in legal stock racing and rally.
Any Sim who loves drifting or delivers tofu will cherish having the "Hachi-Roku" parked in the driveway.
4.

Ferrari 250 GTO (1964)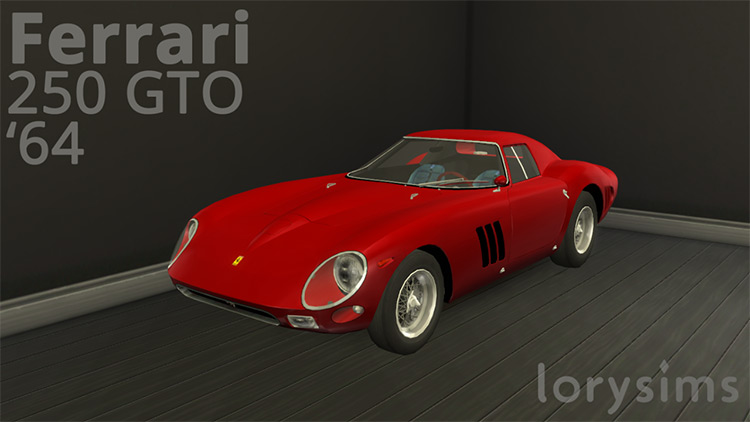 The Ferrari 250 GTO made its fame on American and European race tracks, where its incredible performance and attractive body seduced the masses.
It's considered one of the most collectible cars ever – and thus one of the most expensive.
The highest recorded sale price rose up to $70 million USD!
Anyone would go crazy at the opportunity of owning one of these. But only a Sim who's got more Simoleons than they know what to do with could realistically own one.
5.

Dodge B-Series (1953)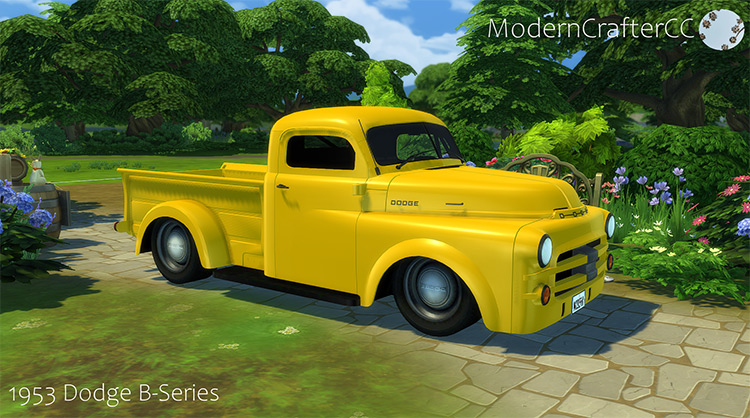 Not to be confused with the Dodge B-Series van, this classic pick-up truck was a common sight in the post-war era.
The B-Series pick-up truck was discontinued in 1953, but the last production year was arguably the best for its design. It received several updates, such as automatic transmission and some visual tweaks.
This fantastic CC features a somewhat low-riding B-Series, which you're more likely to see in a renovated car than the original.
6.

Maserati A6 GCS (1953)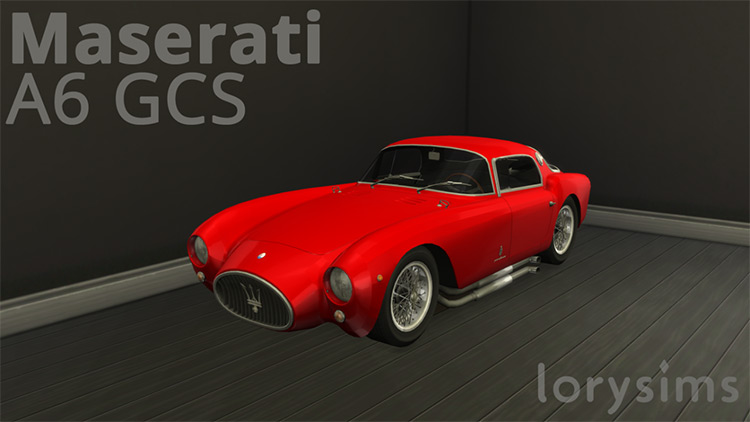 The Maserati A6 line was a series of grand tourers released by the Italian luxury manufacturer between 1947 and 1956.
Not to be confused with the 1947 model, known as the "monofaro" for its single funny cyclops headlamp, the 1953 GCS is easily one of Maserati's greatest achievements.
At the time it performed like a beast – and even today, it looks the part.
This CC set is inspired by four "Berlinetta" style sports coupés designed by legendary automobile stylist Aldo Brovarone and built using the A6 GCS chassis as a base.
Not even Madonna could remain this sexy for so long.
7.

Alfa Romeo 33 Carabo (1968)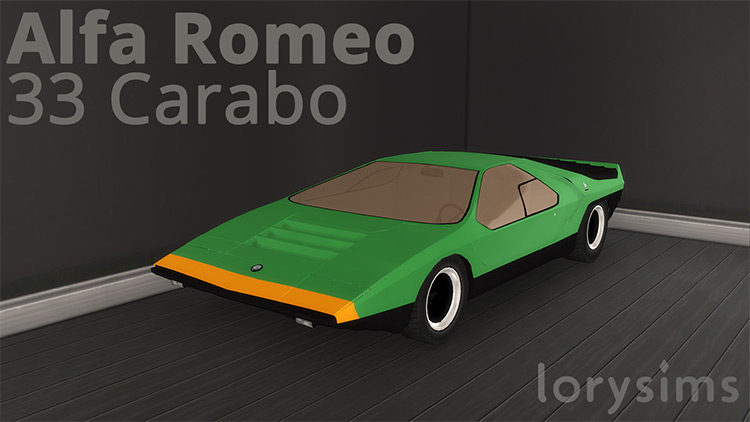 Sometimes, designers are allowed to go wild, with results that defy all expectations and blow us away.
The Carabo is a prime example.
Designed by auto design studio Bertone, the Carabo is a futuristic concept car with a wedge-like design that replaces the original Alfa Romeo 33 Stradale's feminine curves for stark and modern straight lines.
This avant-garde design must have looked a lot like Elon Musk's Cybertruck to people in the late 60s, though it's much easier to see the beauty in the Carabo.
"Carabo" refers to "Carabidae" beetles, also known as common ground beetles.
If you've ever seen one then you'll recognize the bright green and orange colors.
8.

DeLorean DMC-12 (1982)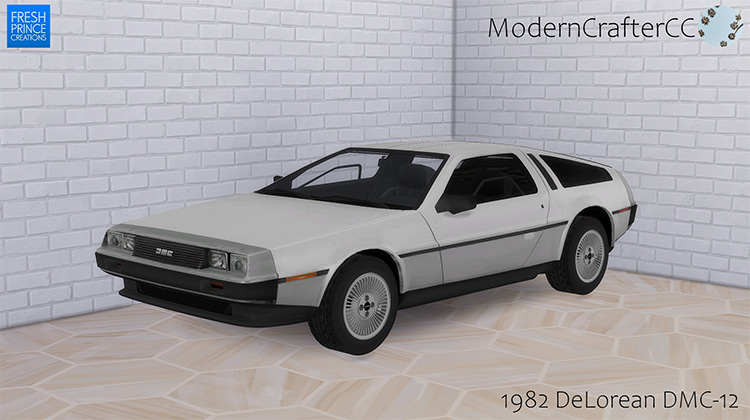 The DeLorean DMC-12 is one of the younger cars on this list.
But what it lacks in age, it makes up for in fame – thanks to its appearance in Back to the Future in 1985.
Whenever I see a DeLorean, I can't help but wonder if it'll speed off into the future, leaving only flaming tire marks and dumbfounded onlookers in its wake.
A few of the design choices you just don't see anymore (and really didn't see much back then) are the brushed stainless steel finish and the iconic gull-wing doors.
9.

Ford Mustang Boss 429 (1969)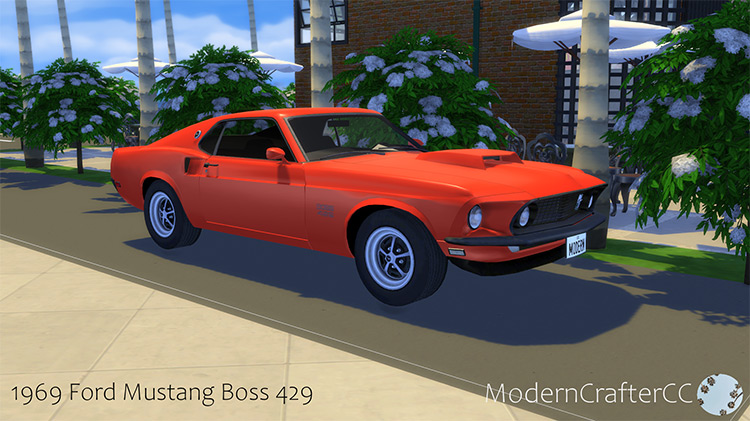 If your Sim fancies themselves a collector, they'll love the stunning Ford Mustang 429.
It is one of the rarest & most expensive muscle cars ever produced.
The Boss 429 was primarily created to get Ford's fancy new 429 semi-hemispherical engine approved for NASCAR racing, which requires it to be sold to the general public first.
Only a handful were produced between 1969 and 1970, and even less remain in one piece almost 60 years later.
The re-design needed for a Mustang to house such a powerful engine gave the car a cleaner, more imposing front fascia.
It also has the largest hood scoop ever seen on a production Mustang.
10.

Chevrolet Corvette ZL1 (1969)
Chevrolet's Corvette is the one car that can stand side-to-side with the Mustang as an undeniable American icon.
The Mustang Boss 429 may be one of the most exclusive muscle cars ever made, but it can't beat the ZL1.
After all, even the highest estimates say only two or three Corvette ZL1s were ever sold. And two of those aren't even in the books.
Even by today's standards, the ZL1's 460hp and 310kph max speed are outstanding.
This car fits an undercover billionaire, or some kind of immortal vampire who's been diligently taking care of their '69 Corvette for over half a century.
11.

Chevrolet Bel Air (1957)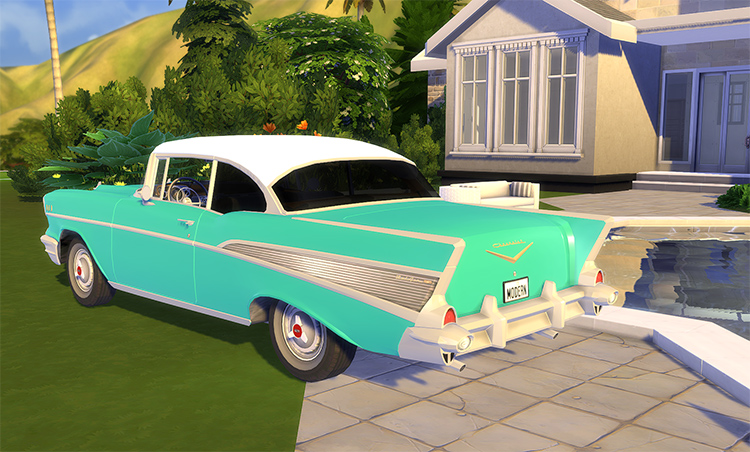 You won't find a car that screams "50s" like the Chevrolet Bel Air.
This full-size car from Chevy was an American icon during the post-war decade, advertising the comfort, luxury, and color of a bright future after WWII.
The bold design and flashy colors transmit a relaxed and leisurely aura.
I'm sure coming back to your Bel Air so you could drive home from work was a nice psych boost in the olden days – and if your Sims are going for a '50s era style, this is one CC item worth getting.
12.

Cadillac Eldorado Biarritz (1959)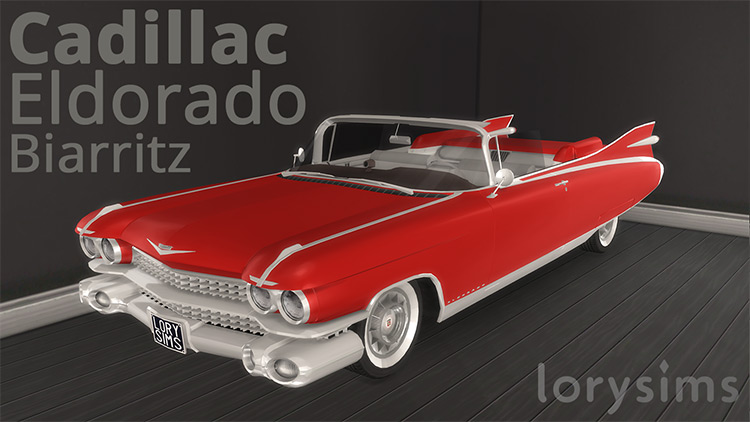 The Chevrolet Bel Air wasn't the only flashy car sporting bright colors & promoting a leisurely lifestyle.
With just as much color, style, and chrome, the Eldorado began production in 1953 as a special-edition convertible meant to showcase the design excellence of General Motors.
It became a hit, prompting a second-generation to be produced, then a third, and so on until 2002 where the now-unrecognizable 12th generation Eldorado was finally put to rest.
The 1959 fourth-generation Eldorado abandoned the bulky look of its predecessors for a lower-riding, longer and broader look with huge tailfins and dual-bullet lights.
13.

Benz Patent Motorwagen (1886)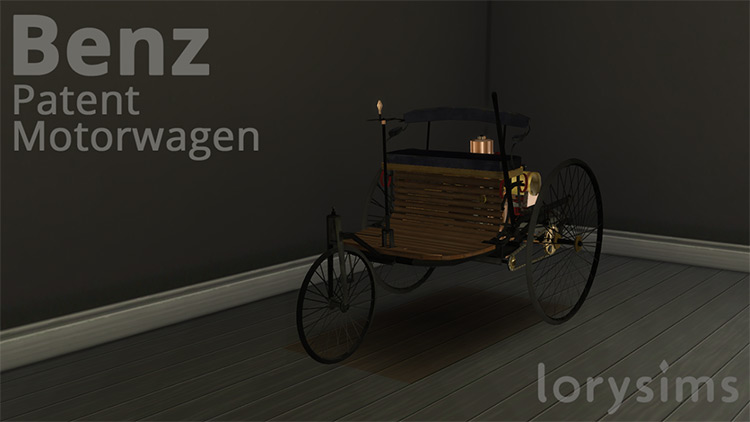 Are vintage cars better the older they are?
Vintage items are definitely more interesting the more alien they seem – though not so much that they'd belong in a museum.
The Benz Patent Motorwagen sits right at the edge.
Little more than an old carriage with a spark-ignition engine, this Motorwagen was patented by German inventor Karl Benz in 1886 and became the first real "motorcar."
I must imagine at least one person in the German countryside accused the man of witchcraft.
14.

Alfa Romeo 8C 2900B Mille Miglia (1938)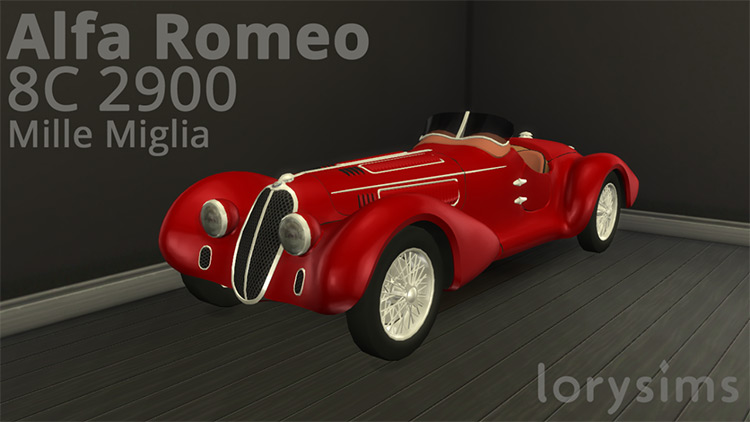 The Alfa Romeo 8C designation refers to its straight eight-cylinder engine, the Italian manufacturer's preferred racing engine from 1931 to 1939.
One of the most important races at the time was the Mille Miglia, and in 1938, Alfa Romeo's racing team was dead-set on winning with a car just like this one – hence the name.
I couldn't care less about its performance though.
The Mille Miglia rises above the competition because of its classic European race-car look.
They don't make them like this anymore.
15.

Ford Model T Touring (1927)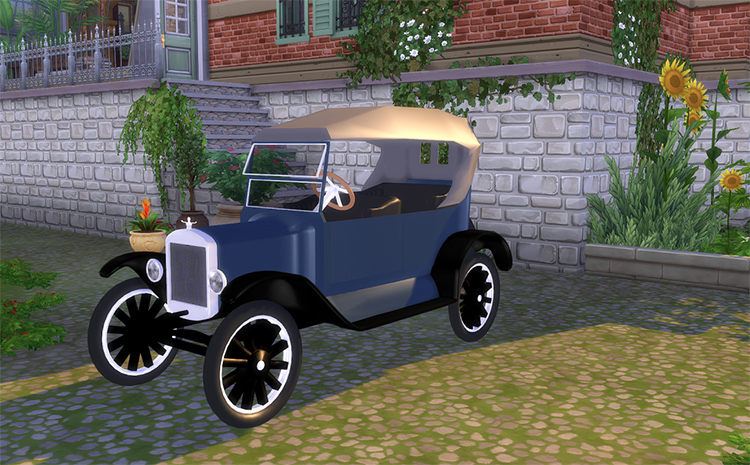 "People can have the Model T in any color – so long as it's black."
There are many reasons to remember Henry Ford, the father of modern car manufacturing.
But his quote on the Model T's color scheme is unforgettable.
It reveals his intentions with the Model T.
It's not that he loved the color, but that it was easier to produce, and the black paint was the most durable.
Sure, it wasn't the prettiest or the most comfortable vehicle. But it could be made by assembly line, dropping prices to a point where the middle-class families could afford it.
If you own a good-looking Model T, you own a piece of history.
Get it for a car-collecting Sim, or for a frugal immortal vampire who's cared for this beauty for almost 100 years.
Browse:
Lists
The Sims 4
Video Games