Best Sims 4 Vintage Dresses (Free CC + Mods)
This post may contain affiliate links. If you buy something we may get a small commission at no extra cost to you. (Learn more).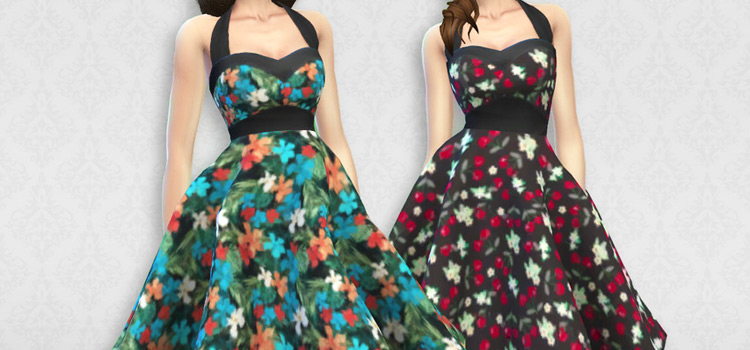 "Vintage" doesn't refer to only one time period.
It's an umbrella term for stuff from all sorts of ages past.
But even though that definition is a little vague, vintage clothing (especially styles from the 1900s) is remarkably identifiable. Vintage dresses, specifically, are a great way to spice up your sim's wardrobe – whether your Sim is the "born in the wrong era" type, or a bona fide historical sim.
Of course, there's nothing that can take the place of CC when it comes to historical clothing!
And I get the feeling that vintage clothing isn't high on EA's list of priorities.
So in that spirit, I've compiled this list of gorgeous vintage dresses for you to gawk at.
1.

Ida + Annie + Elsie 1930s Dresses
These dresses are supposedly made from cotton flour sacks.
Impressive handiwork, right?
The Sims 4 might not have any regard for fabric type, but it's an important detail in vintage clothing- especially for dresses.
After the roaring 20s came the dirty 30s, a time of huge economic downfall in both the United States and the rest of the world.
But fashion history marched onwards, and women in the 30s began sewing dresses out of old cotton flour sacks to save money.
The companies, in turn, started decorating the flour sacks to encourage purchases.
Despite everything, they do make rather handsome vintage dresses!
2.

1920s Lace Dress
The roaring 20s is a popular era for vintage fashion inspiration – especially if you enjoy American fashion history.
It's always fun to imagine the lavish parties and party outfits of the 1920s!
Even though I know that time period had plenty of problems of its own (and besides, you couldn't play The Sims 4 back in the 1920s), it's still exciting to romanticize the supposedly Gatsby-esque lifestyles that people had.
Flapper dresses are definitely some of the most popular 1920s dresses.
But this conservative lace dress CC still has all of the charm of that era.
3.

Edith Dress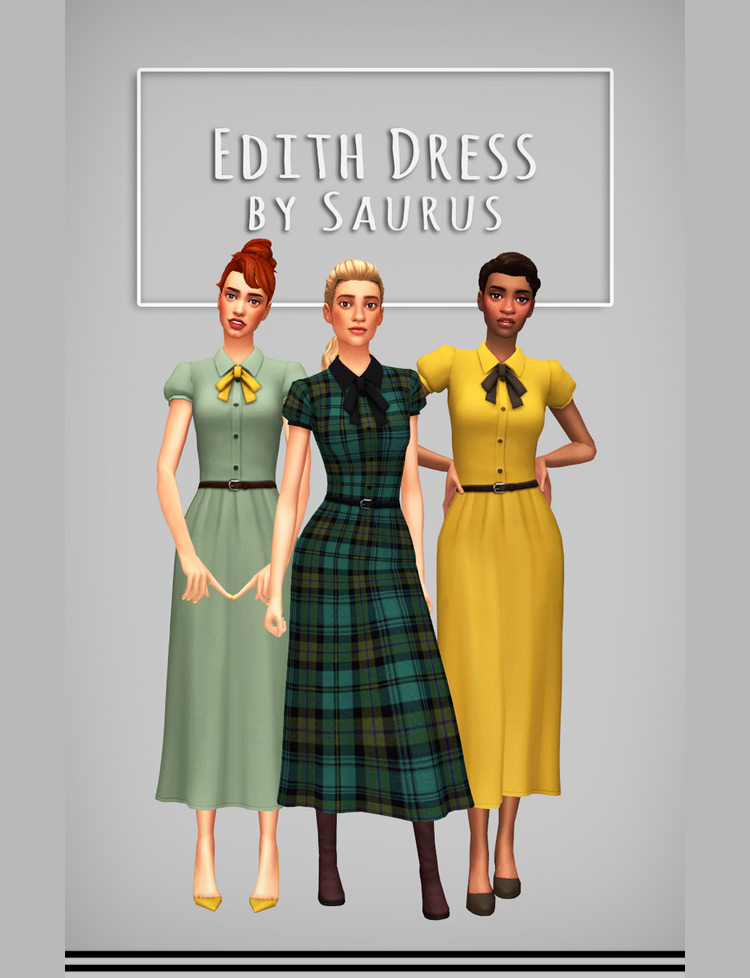 Scholarly and feminine, the Edith dress is a dream come true for lovers of vintage fashion.
The cut of the dress and the puff of the sleeves are enough to make the dress look vintage, but the necktie is what really sells the whole ensemble!
Despite the Edith dress being so obviously retro, it's also easy to imagine it in a modern setting.
It doesn't hurt that this CC comes in a massive 45 swatches, from floral and plaid to plain and pinstripes.
Whether you want to be faithful to an era or just enjoy some classy clothing, the Edith dress is a great option.
4.

Eleanor Dress
To your casual vintage fashion enjoyer, this dress might not look so different from the Edith dress.
After all, it has puffed sleeves, a maxi skirt, and a necktie.
But once you get past those surface level attributes it becomes clear that this dress is a truly faithful vintage piece.
Everything from the way the waist is cinched to the way the yoke is designed to the way the skirt falls is distinctly 1930s fashion.
Even so, it wouldn't look out of place on a contemporary librarian – or a particularly classically dressed Sim mom!
5.

1910s Day Dress
The 1910s doesn't get as much attention as other eras.
I mean, if it's not the 1920s or later, what even is it?
Still full of rich fashion history, that's what!
This vintage 1910s day dress is cozy, fashionable, and definitely deserving of some attention.
It has 10 swatches (3 of which are dark neutrals) and has the same classy look as dresses in the 1930s but with a totally different design.
6.

Lydia Dress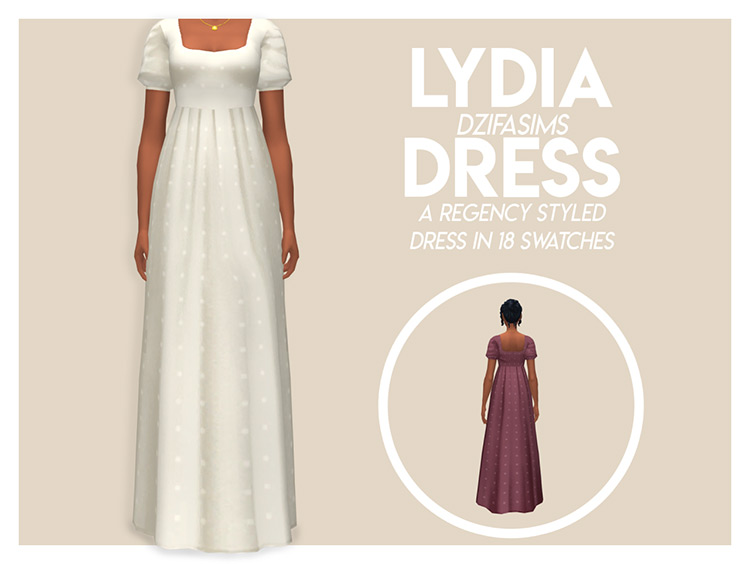 Any fan of Bridgerton is going to be familiar with the Regency era, at least in concept.
But the Bridgerton's depiction of the Regency era was far from realistic.
Dzifasims can do what "historical" TV shows cannot: realistic costume design!
This CC is directly modeled after a real life Regency era dress that was worn by Lydia Poultney in 1809.
That extra level of historical accuracy is what makes this Lydia dress the perfect outfit for your historical reenactment sims.
Although the gold hue of the original dress is hard to beat, this CC definitely tries its hardest to do just that with its 18 color swatches.
7.

1920s Party Fashion Set
With regards to vintage fashion, the American 1920s just wouldn't be the same without party attire and flapper ensembles.
Lots of Americans had money to spend and new ideas to share, and flapper party dresses were one of the many results of that reality.
Flappers wanted to break the mold and scoffed at the idea of tradition.
No matter what era your sim lives in, they'll be doing the same if they don this party set! In addition to a dress with 11 swatches, it includes a fur coat (6 swatches) and a hat/headwear (11 swatches).
8.

Addy's Surprise
The American Girl dolls and their stories have long served as a unique lens offering a look into American history.
They weren't a part of my childhood, but even I can see the charm!
Unlike most of the other vintage dresses on this list (which are mostly from the 1900s), Addy's Surprise is for a little sim girl a few decades prior, in the 1860s.
But the dress's dated look only makes it cuter.
With a few swatches to choose from and a big bow around the waist, this CC can work for weekend trips to town, for a schoolgirl's costume, or for anything in between.
9.

Doris Day Coat
As a self-proclaimed "sorta 60s" coat, the Doris Day coat is yet another vintage item that works for both historical and modern settings.
Despite its ability to blend in with modern day fashion, this Doris Day coat isn't just another dress CC using a random woman's name.
No, this coat was modeled after something that the 1960s actor Doris Day wore in one of her movies!
In my mind, that makes this coat definitely 60s – and not sorta 60s.
You also won't need to download any gamepacks to own this coat, since the mesh is totally custom.
You'll even be able to customize your outfit further, since it offers 12 patterned recolors.
10.

Late 1910s Practical Suit
Women have been working throughout history.
But during the 1910s and 1920s, more women than ever were joining the workforce.
Practical & professional "suits" like the one featured in this CC were must-haves for any working woman, and your sim is no different!
Don't worry though:
Your sim may need to dress appropriately for their work, but this practical suit comes in enough swatches to keep their wardrobe fresh.
Besides the 12 colors, there's even an extra swatch that features a red cross armband.
11.

Beatrice Dress
After looking at the 1910s practical suit from before, (or if you're familiar with other vintage women's work uniforms) it's clear where the Beatrice dress takes its inspiration.
There are a few differences, such as the buttons being to one side, but the style is largely the same.
Even so, this CC has a thoroughly modern twist:
It's far more form-fitting than many past eras would allow!
Plus out of its 45 swatches, it has a few that seem very contemporary.
I don't think many women in the 1910s would wear faux cow print, for example.
12.

1940s Winter Coat
It's common for vintage styles, particularly for women, to involve more layers than their contemporary counterparts.
Even in summer, historical women could be found wearing plenty of layers.
In winter, this holds true more than ever – and I must say, wearing layers in winter is far more palatable than wearing them in summer!
This CC is a 1940s inspired winter outfit, including a coat.
The entire ensemble is worn as one piece, but there are 9 swatches with different color combinations for coat, skirt, hat, and stockings.
13.

Sarah Dress
Popularized in the 1930s and 1940s but enjoying a long and rich lifespan, swing dancing deserves to be highly regarded if only because of the great dresses that it brought along with it.
This Sims 4 CC was designed after content creator ColoresUrbanos' real world sewing projects, which is how you know it'll truly be the ideal dress to twirl and swirl in!
There are no solid colors included in this CC, and there are only 4 swatches. So I may not be able to vouch for the historical accuracy of newspaper print swing dresses, but there's no denying how cute it is.
14.

60's Dress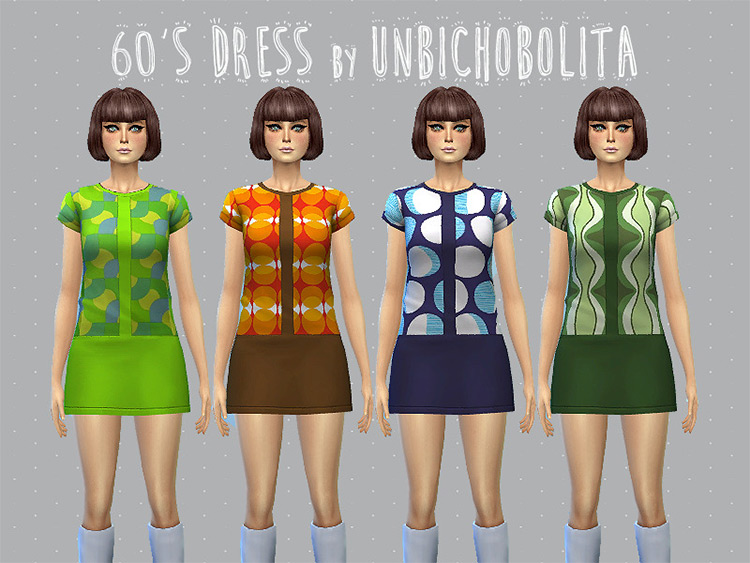 Using another custom mesh made by Sentate, content creator Unbichobolita made this recolor of a cute (but very modern) minidress.
Really, this recolor only drives home the fact that retro is the new modern.
Gone are the slinky sequin dresses and the clean contemporary patterns from the original dress, and in their place are the colorful and abstract patterns from the 1960s.
Some might say that they're too loud.
But I say that they're just loud enough!
You'll get 8 new 60s-inspired patterns with this CC.
15.

TS4 70s Clothes Set
Just like in the 60s, the 1970s were full of bright colors and loud patterns.
As the decades marched on, women's clothing became less conservative, and women were allowed to experiment with their fashion in ways they never could before.
This CC pack includes not only minidresses and short skirts, but blazers, sleeveless tops, and even those classic 70s high boots.
And each item comes in plenty of different swatches, too.
Dresses may be the highlight of this list, but without the rest of the outfit, you can't really say you're dressing vintage!
Browse:
Lists
The Sims 4
Video Games